Home
›
Sports Cards & Memorabilia Forum
The quest to EARN a Mickey Mantle 1952 Topps by the National. **1952 Topps Mickey Mantle +1933 Goude
1980scollector
Posts: 2,038
✭✭✭
**The quest to EARN a Mickey Mantle 1952 Topps by the next national**
The hobby keeps my mind off the daily grind of residential real estate sales , property management, being a father/husband etc. I really enjoy the art of the deal.
Well, my brother finished 141st in the WSOP Main Event and won $53,800 and he gave me $500.00 to do whatever I wanted with so after some thinking I want to try something.
My plan is to take that $500.00 and "flip" it until I have enough to buy a 1952 Topps Mickey Mantle. The plan would be to buy the card, in person, at the National. I believe in my ability to make this happen. In this thread I plan to try and let you follow along to make me accountable. We will buyer newer cards, older cards or anything we can "flip" to make a profit. My goal is to attain enough "flips" to buy a Mantle with really good eye appeal.
Of course, there will be times where I buy a card or lot that is less than the total cash I have on hand. I may have two or three transactions going at once. However, I plan to try and keep this simple.
First transaction, I bought this card via eBay for $475.00. This is the Joey Votto Bowman Chrome Gold Rookie / 50.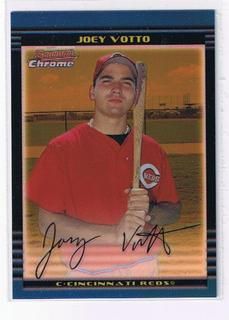 Got it graded at the National for $20.00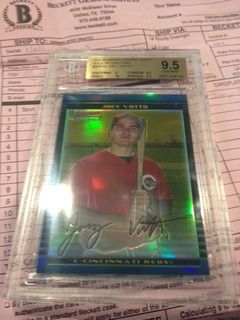 So that puts $495.00 into the card.
The plan was to hold this in hopes of them making a Playoff run but with the second knee surgery we decided to sell it and not take the risk.
Second transaction was the sale of the card.
Sold via Ebay for $1500.00 and has already paid/ shipped.
Votto sold via ebay
** Working on the following sets-2013 Spectra Football Hall of Fame 50th Anniversary Autograph set, 2015 Spectra Football Illustrious Legends Autograph set, 2014-15 Hall of Fame Heroes autograph set. **