Home
›
Trading Cards & Memorabilia Forum
I'll trade ya this for a 1952 Topps Mickey Mantle
Elemenopeo
Posts: 2,612
✭✭
Here's an idea I've been tinkering with for a while -- to try to gradually trade my way up from some dime-a-dozen card to a PSA-graded 1952 Topps Mickey Mantle. It's not an original idea. It's based on the same idea employed by the guy who, a couple years back or so, started with just a red paper clip and made a series of trades until he ended up with a house. I haven't heard of anyone trying something similar with sports cards, but I imagine someone has. Even so, I'd like to give it a shot myself. Today, seems like as good a day as any to get things started.
Here are the basic ground rules I'm setting for myself: The trades can only be one card for one card, though the cards involved can be sports cards or non-sports cards. No monetary exchange can be involved. The only expenses I'm willing to incur are those for shipping the card from my end of the deal. And the ultimate goal is to acquire a '52 Topps Mantle graded PSA 1 (or better, I suppose) with no qualifiers. Pretty simple rules, and they aren't likely to change, but I'll reserve the right to do so if some unforeseen circumstances arise.
I'm not looking for grossly lopsided deals (though I probably wouldn't turn them down), but I'll always be looking to gain value. Of course, I'll be gauging value based on the various guides and resources available to me and my own best judgment. And there are no particular kind of cards I'm looking for, but I will take into consideration a card's future trade-ableness.
And just so this won't be a completely self-serving venture, my plan for the Mantle, if and when I acquire it, is this: to hold on to it long enough to enjoy it for a while and show it off to family and friends (a few months, I imagine); then, auction it off and split the net proceeds with half going to charity and the other half going into my 2-year-old daughter's college savings plan.
In keeping with the red-paper-clip theme, I wanted to start with something truly pathetic. And here it is, a 1986 Topps #418 Alan Knicely in no worse than EX condition ...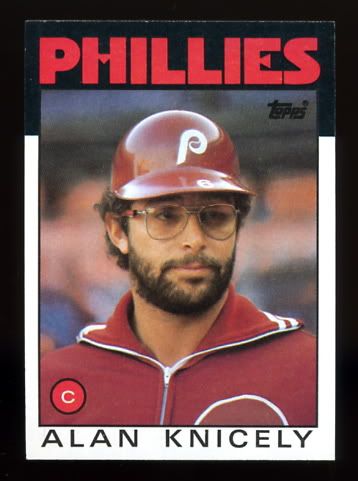 Yep, the plan is to parlay this baby into a '52 Mantle. I dug around the dregs of my collection a bit today, but didn't find anything that could really get under this one in terms of value and overall visual appeal. (My apologies to any Alan Knicely fans out there.) I actually pulled this last year in one of our group rips.
Obviously, the first trade, at least, will have to be with someone very sympathetic to the cause here because to say this is a dime-a-dozen card is really overstating its worth.
If you would like to make an offer for this or any other future card on the trading block, please send me a PM or email me at
[email protected]
rather than post your offer on this thread. After the first few trades or so (if it gets that far), I'll probably fish around for offers on other boards as well.