Home
›
Trading Cards & Memorabilia Forum
1990 Topps Frank Thomas NNOF revisited...introduction to my theory
BunchOBull
Posts: 6,187
✭✭✭
Ok, I know this topic has been mentioned dozens of times in the history of this forum, but I want to revisit it in the form of a project I've been working on for several months.
As I've stated before, it is my belief the NNOF error was the result of a strip of cardstock intersecting the printing dyes and several runs of the orange card sheet. Whether this was done intentionally or not, I do not know, but I lean toward unintentional because Frank was nowhere near the number one prospect at the time of the sheet's printing, and if this were an intentional error, I suspect a higher rated prospect would have been chosen to create this variation for.
If this theory is correct, there are potentially several other cards affected by black-less sections on their respective printings...
Namely, this defect could affect the Craig Biggio All-Star card, but potentially including the cards of Jim Acker, John Morris, and John Hart.
While no major print defect would be noticed on these cards, I suspect they, when taken from the sheets that produced the NNOF error, are missing ink on the black edging around some borders and, in a couple of cases, team names.
This is a recreation of what may have occurred...but the cardstock would have been stuck to the printing side...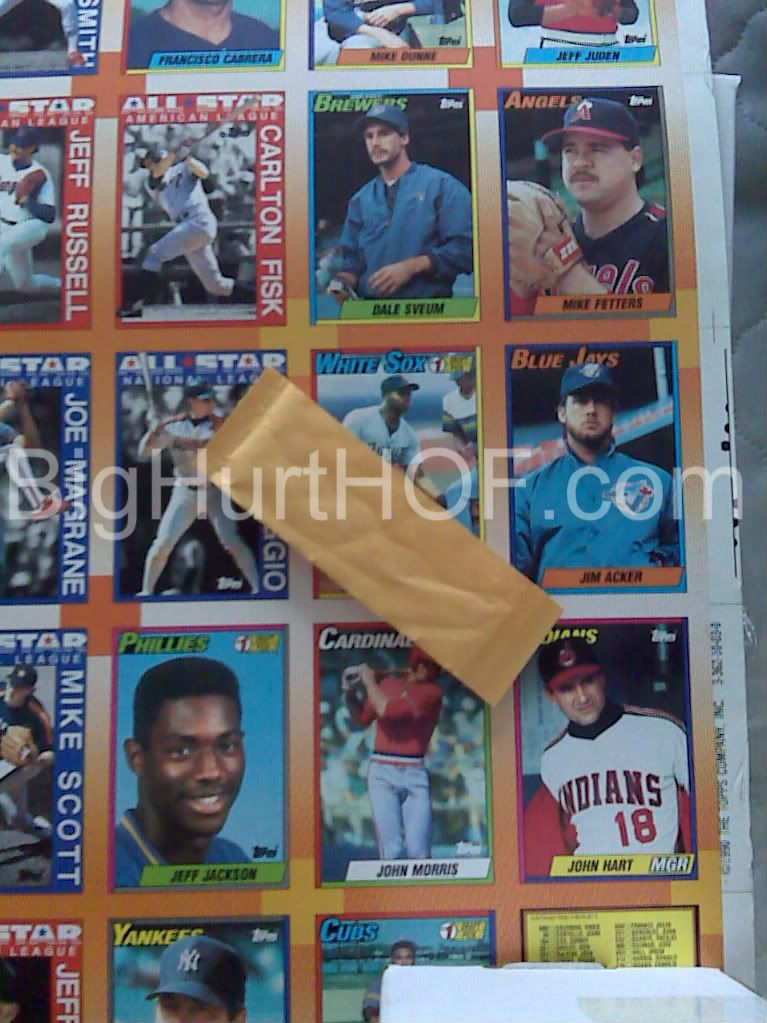 While the monetary potential for these supposed variations, less the Biggio, is very slim, I have been trying to locate an example of each. I wanted to be able to unveil them together as one display, but I've yet to uncover one example.
So, this is a shout out to everyone...be on the lookout for potential black-less variations of these cards. I think the concept is novel and brings a little bit of enjoyment to a widely overproduced set.