Home
›
PSA Set Registry Forum
1959 Topps baseball - official PSA thread
mariner
Posts: 2,520
✭✭✭
What the heck! I think that it is about time to start a thread on the great 1959 Topps baseball set. I hope that a bunch of you are with me on that. So here goes.
First of all, here are links to my Master Set and Basic Set. In my Master Set, I am missing only one card in it....the Spahn Born in 1931 variation card. Other than that card, I want to upgrade 3 PSA 7's....the Hoak card, Nichols No Option Statement and Hanebrink No Trade Statement variation cards. After that, I will be 100% 8's and 9's. In my Basic Set, it is 100% complete with needing only the Hoak card to upgrade to PSA 8. If anyone knows where I can find these cards, please let me know. My email is
[email protected]
link to 1959 Topps Master Set
link to 1959 Topps Basic Set
I thought that I would post a few scans as well.
There are a number of very active collectors out there working on this set. Hence, the very strong prices on ebay within the last year. The Del Rice card has recently gone over a grand several times when it has been on ebay within the last few months. Speaking of Del Rice, here is mine.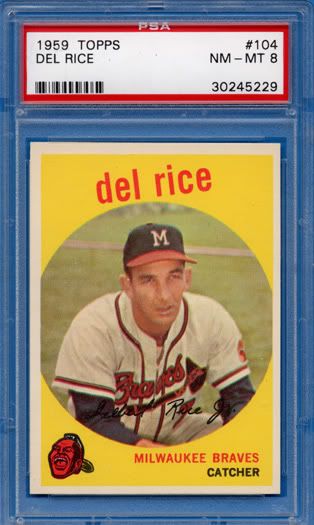 Here are two links to recent Del Rice auctions......unbelievable!
POP_W0QQitemZ8811348368QQihZ005QQcategoryZ55917QQssPageNameZWDVWQQrdZ1QQcmdZViewItem">Del Rice Auction #1
Del Rice Auction #2
1959 Topps was the first year that I collected baseball cards. The memory of ripping packs open as a kid is one that stays with you forever. It is no mystery then why it is my favorite.

One other thing, the '59 set has its fair share of very challenging cards. IMO, there are some cards that will always remain elusive and very low pop relative to other cards graded in the set.
What amazes me is the #1 set, JTM's 1959 Topps, which is owned by John McLaren has a weighted GPA of 8.80. I can not imagine how fantastic his set must look! Whew!!!
Don

Collect primarily 1959-1963 Topps Baseball
set registry id Don Johnson Collection
ebay id truecollector14