Home
›
U.S. Coin Forum
Charmy's BIG 2021 Chicago ANA Show Report w/tons of Pics!

ThePennyLady
Posts: 4,314
✭✭✭✭✭
Well, I'm back - like it or not! I am so happy that I got to be at a coin show again and this one was absolutely fantastic! It was the best show by far that I ever had! I was busy from start to end, got to see a lot of old friends and some great coins. I loved every minute being at the show! And I was also really looking forward to being able to bring the show to those who couldn't attend by preparing another one of my show reports. However, I read on another recent thread about some folks who don't seem to care much for my reports but to those folks, all I can say is just don't click on the link and move on - why spend time reading something you don't enjoy, only to complain about it later?
As you all know, I am a dealer as well as a collector so when I attend these shows and prepare my "reports," it is done from my own personal perspective of what goes on throughout the entire week of the show - from meeting collectors and dealers, finding great coins and exonumia for both inventory and my personal collection, seeing amazing exhibits and the ANA museum displays, having dinner (and wine) and catching up with old and new friends, attending club meetings, and of course ending with the ANA banquet. This is not a market report nor a report just about coins, but rather it's a report about people, sites, events and coins - basically everything that goes on (at least from my perspective) during a coin show. I realize some things I post will be redundant as I tend to "hang out" with the same people, and since I only deal in and collect pennies, I don't usually post photos of other types of coins unless it is something unusual. So for those of you who are interested, grab that cup of coffee (or glass of wine), sit back, and read on.
As I mentioned, after over a year and a half, I was so thrilled to be attending a coin show again! I started preparing for this show a couple weeks before I was to leave, organizing my coins, updating my inventory sheet, trying to remember all the things I needed to pack and bring with me. And when I finally settled in my seat on the plane, I was actually giddy with anticipation!
I arrived in Chicago on Sunday with no flight issues (and a big sigh of relief!), checked into my hotel and prepared for set up on Monday morning for Dealer Day.
I had decided this time to pay the extra $$ to have a table closer to the front and participate in Dealer Day to try and find more material for my inventory. I was really glad I made that investment as I found some nice coins (which has been hard to do during this past year) and it was a more relaxing atmosphere to be able to spend time hunting for coins with no crowds at dealers' tables. By the end of the show I was very pleased to have gathered quite a nice group of coins for my inventory, including one of the prettiest brown 1955/55 Double Dies that had quite a bit of red!
I also bought this really neat Conder token for my personal collection.
Here are some photos I took around the bourse floor as folks were setting up. PCGS was all ready to go and was doing business right from the start.
Curtis Mease

Northern Nevada folks

John at CRO

Chris Napolitano, Ian Russell Don Kagin

John Kent, in charge of pages

My dear friend Mitch Ernst, President of CSNA (Central States Numismatic Association)
I know others have already posted photos of the amazing Tyrant collection, but I was able to view it before the public was let in and could take my time examining some fantastic coins, so here are the photos I took - it is well worth seeing over and over again!
After Dealer Day ended, we headed over to everyone's favorite Rosemont restaurant, Gibson's Steakhouse. We were surprised to see how busy/crowded it was.
Me, Rick Snow and Mitch Ernst
Rick and his son Kenny

Of course Gibson's had a wonderful wine selection - I chose this delicious cab which came highly recommended by the waitress and went very well with the filet I had for dinner
It rained while we were having dinner, but luckily it had stopped before we headed back to our hotels. The convention center looked really pretty at night after the rain as I walked past it to my hotel.
The next day, Tuesday, I took the long and winding catwalk from the Hyatt to the convention center since it was cool and air conditioned! You could see the empty convention center from the catwalk!
At 8am as I came down the escalators toward the show you could see the crowd of dealers already gathering for the show
Soon the doors opened and all the dealers began streaming in.
Since my table was already set up from Dealer Day, I wandered around and took more photos
David Lange with NGC

Liz Coggan

Some forum members who stopped by my table to say hi
Lance

Brian Herriott

At 1pm, the public began streaming in - yay!

More forum members came by to say hi!
Phil Soditch/Habaraca

The brother of a long-time friend of mine from my paralegal days at Morrison & Foerster, Alan Flint, happened to live in Chicago and also happened to like coins, so he surprised me when he stopped by my table!

I had a couple of really great table neighbors from Modern CoinMart during this show, they were fantastic and fun!

Nathan McAllister, Advertising Sales Manager at the ANA, also came by

Two of the most wonderful, kind, generous, hard working numismatic ambassadors EVER - Nancy and John Wilson!

After the public was let in at 1pm, my table was packed almost until the end of the day. I had lots of sales and was thrilled to be "back in the saddle" doing what I loved and seeing all my friends whom I haven't seen in almost two years! Soon, of course, it was time to open one of the bottles of wine I brought from home - my very favorite Rombauer Red Zinfandel!
Anticipating that the restaurants near the convention center would fill up pretty fast, before I even left for the show I had made reservations at Gibson's for Tuesday night, so it was back to Gibson's again for dinner! While we were waiting for our table, I sat in the bar next to a gentleman who was just finishing his dinner. He asked the waiter for a slice of their carrot cake. The waiter and I both tried to tell him how HUGE their "slice" was but he was determined to order it any way. He told me he would "share" it with us. Even though we had warned him, he was still shocked when he received that "slice" of cake - it weighed about 4 lbs. and could easily feed 8 people! He cut off a small portion for himself and gave me the rest to share with my dinner party.
This time I had the seabass and even though I know white wine goes better with fish, I am a red wine lover so I tried another nice cab recommended by the waiter.
When I got to the show on Wednesday, I again walked around to see what more coins I could find and what other interesting things I could photograph.
Of course, I had to stop by and see the truly AMAZING 1933 $20 gold coin on display at GreatCollections' table! What an interesting background story this coin has!
Then I dropped some Conder tokens off with David at NGC for grading
Robert and Danette Voss stopped by to say hello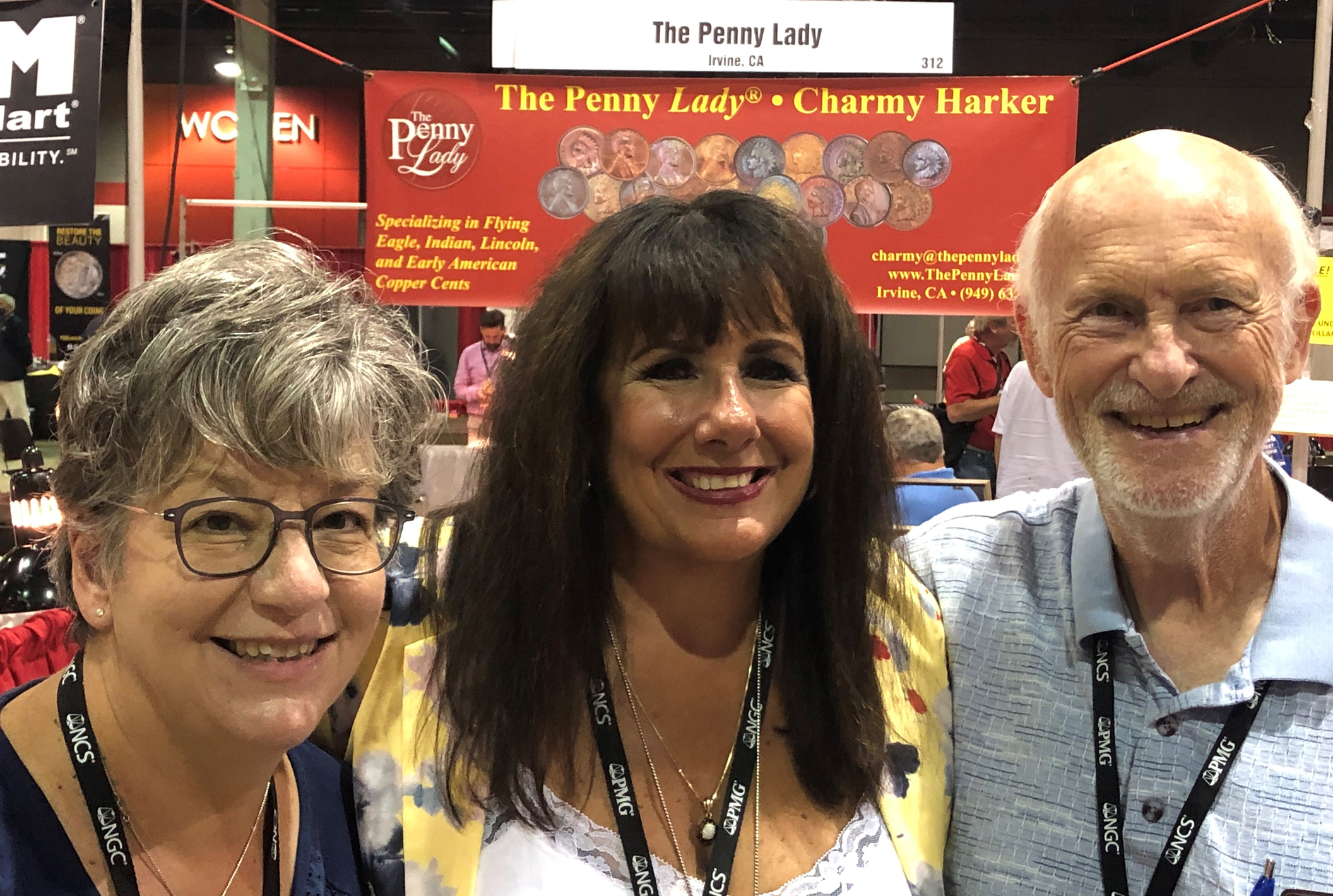 The Stacks Bowers table always seemed to be busy!
This is acclaimed artist Emily Damstra, whose designs are now on 11 United States coins including the new reverse of the popular Type II American Silver Eagle, she hand-signed a poster size (30 by 42 inches) canvas print of her eagle artwork and donated it to the ANA.
Wednesday was another super busy day, with lots of people shopping for Pretty Pennies! It was great to have inventory that was in such demand!
For cocktail hour, another dear friend, Linda Sekulich, stopped by and brought me a bottle of her favorite white wine, which on a warm day, was much appreciated!
Wednesday night we went to Capitol Grill for dinner, it was just down the road a bit and had a great selection of all types of foods. I truly enjoy getting together, dining and sharing some good wine with my friends - it's one of the best parts of being at a coin show!
Ron Guth and me

Karl and Joanne Stephens

Al Bolanger and Don Chinick

They really had some great dishes!
and of course wonderful wine!

Thursday morning I had an early board meeting with Women in Numismatics. One of our board members, Kathy Freeland, looked adorable in her special women's suffrage outfit!
Louise Boling won our Literary Award for her article on "Florence Nightingale: More Than the Lady With the Lamp" which was published in our Winning Ways magazine.
After I got to the show, a few more forum members stopped by to say hi
This is Larry aka DelawareDoons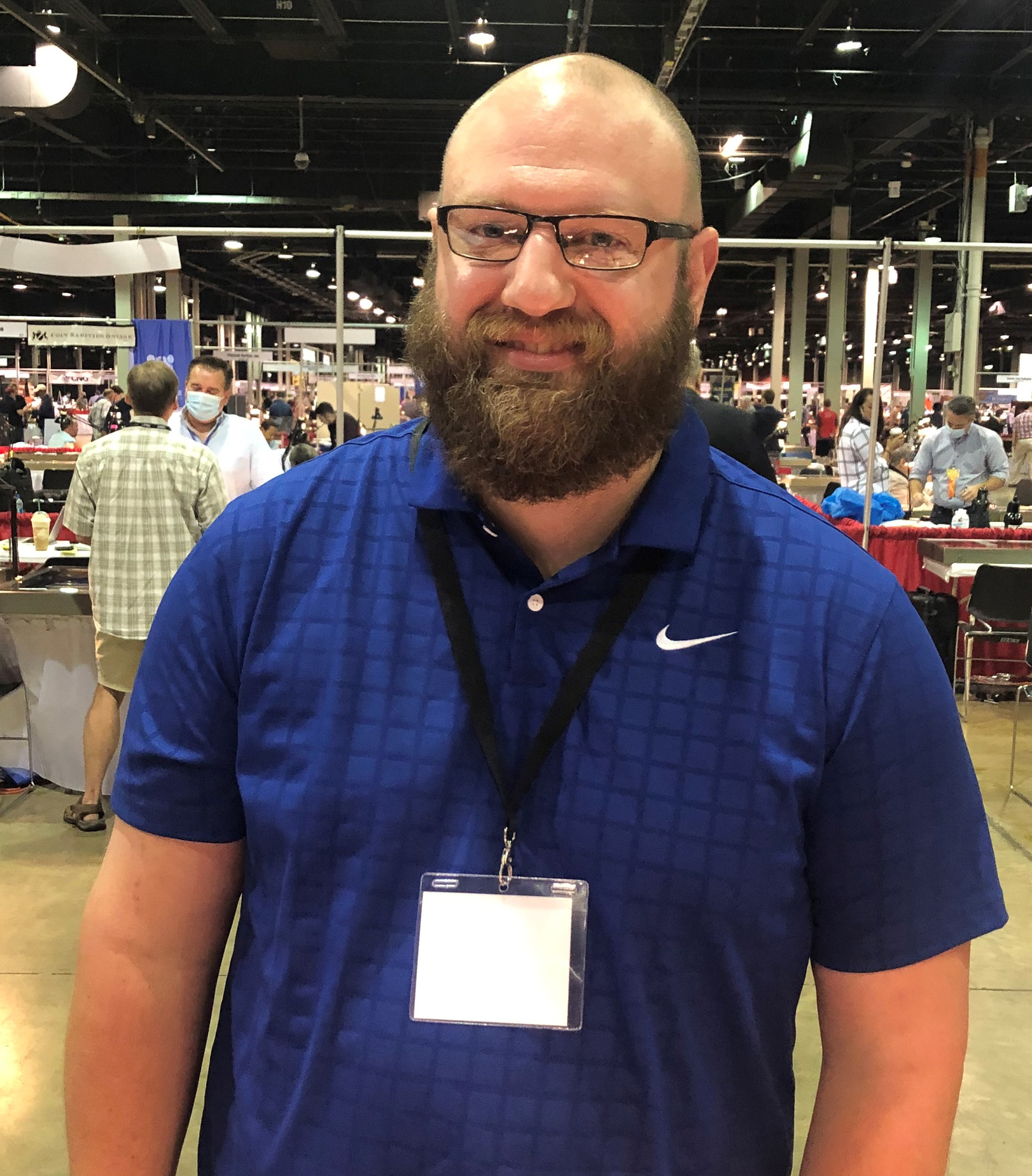 Another old friend, Mike "Noodle"

Forum member David Summers and his grandson Luke

Fred Weinberg found some neat pieces of exonumia in the back of his safe which he thought I might like. Of course, I snatched them up - one was an 1834 Large Cent "pie cutter" to add to my collection, and the other was a neat scarce 1909 Lincoln cent in an oval pocket mirror that states "Recalled by Government." According to an article in USACoins.com, "Secretary of the Treasury Franklin MacVeagh allegedly never studied the coin before its release. When he found Victor David Brenner's V.D.B initials displayed in plain sight on the reverse, Penny VDB was in for an immediate change. On August 5, 1909, just three days after its introduction to the world, MacVeagh stopped minting the 1909 VBD. Rumors of a recall abounded, creating a frenzy for the coin. In total there were 27,995,000 1909 VDB cents minted, and only 484,000 1909-S VDBs, making the latter one of the most sought after collector coins of all time."
John Kraljevich also had a very cool enameled Indian cent love token and a nice group of pocket mirrors set aside for me for my collection
President Lincoln also stopped for a brief visit with one of his favorite fans - me!
Ben Franklin made an appearance at the show as well!
It was nice to see Mark Jackson again
Larry Sekulich and his wife Linda - Larry was the instructor for the exhibit class I took several years ago at the ANA Summer Seminar - we've been friends ever since!! He continues to create amazing award winning exhibits, including his exhibit "Three Salutes for Mary" (pictured later on in this report) at this show where he won the Women in Numismatics award and the Stearns 2nd Runner Up award.
In order to shorten the ANA awards banquet, the ANA decided to divide up some of the awards they used to give out at the banquet. On Thursday afternoon, I was very honored to receive one of the Glenn Smedley Memorial Awards which, according to the ANA, the recipient must be "involved in volunteer service to the ANA either on a local, regional or national level … and should exhibit a positive attitude, strong communication skills, cooperation and dependability."
Rick Snow also received the ANA President's Award
After another very busy day with records sales for me, it was once again "happy hour" so I opened the other bottle of wine I had brought with me - this one was a Reserve Merlot from what I consider to be the best SoCal/Temecula winery, Wiens.
We had dinner with another dear friend of mine, Susan (Trask) Gingrich and her new husband Ritchie Gingrich, at Carlucci's. I don't get to see Susan very often, so it is a real treat when we can get together. Carlucci's had some amazing Italian food, so of course we had to have some nice Italian wine!
Rick, Ritch, Susan, me and Matt Chapman

When I got back to my room Thursday night, I had a very lovely surprise waiting for me!
Thank you Rick/ColonelJessup and Frederick Sean for this wonderful bottle of Heitz! That was extremely thoughtful of you and much appreciated!!
Friday morning I took some time to finally view all the amazing collector exhibits ahead of the banquet.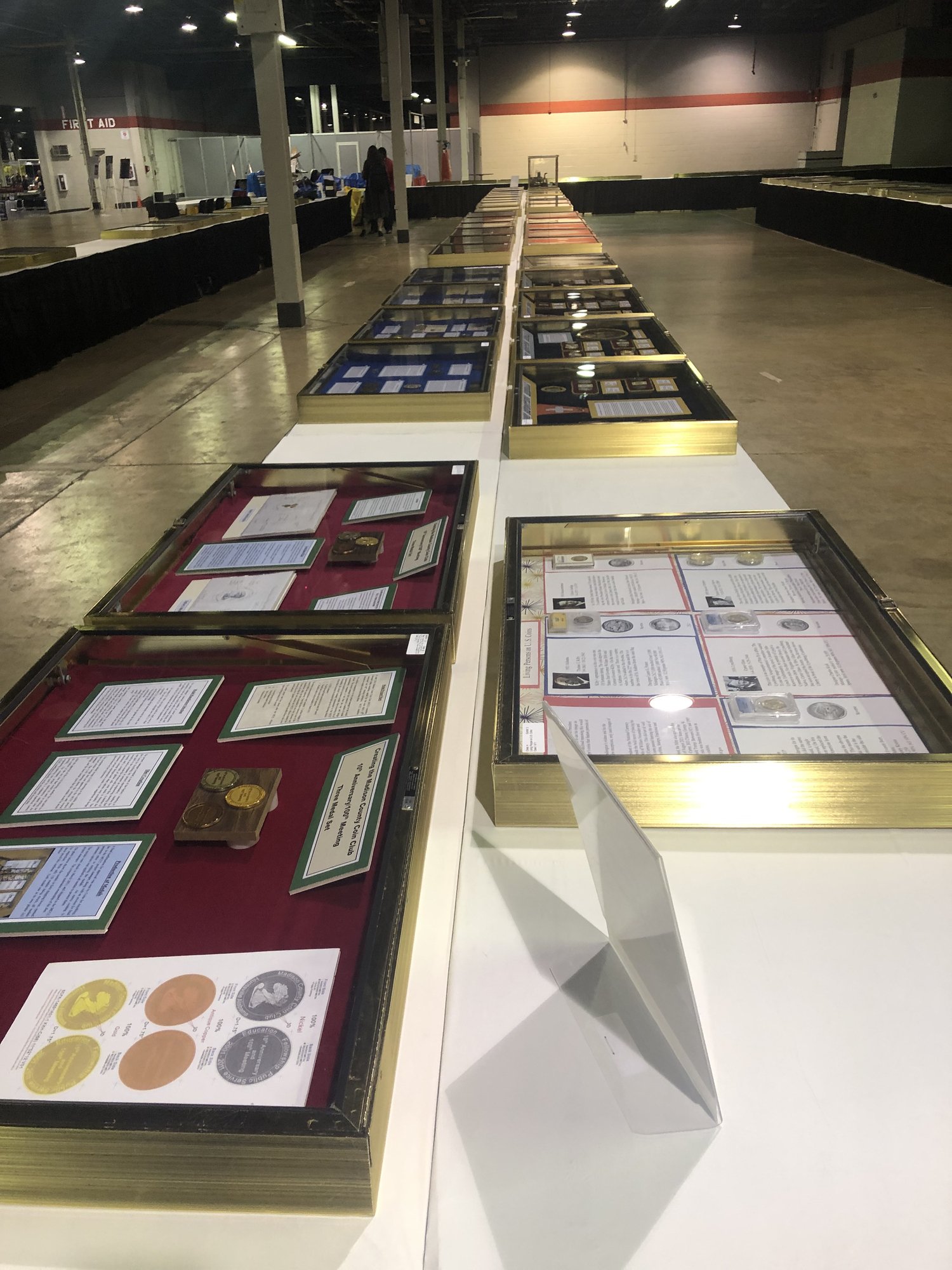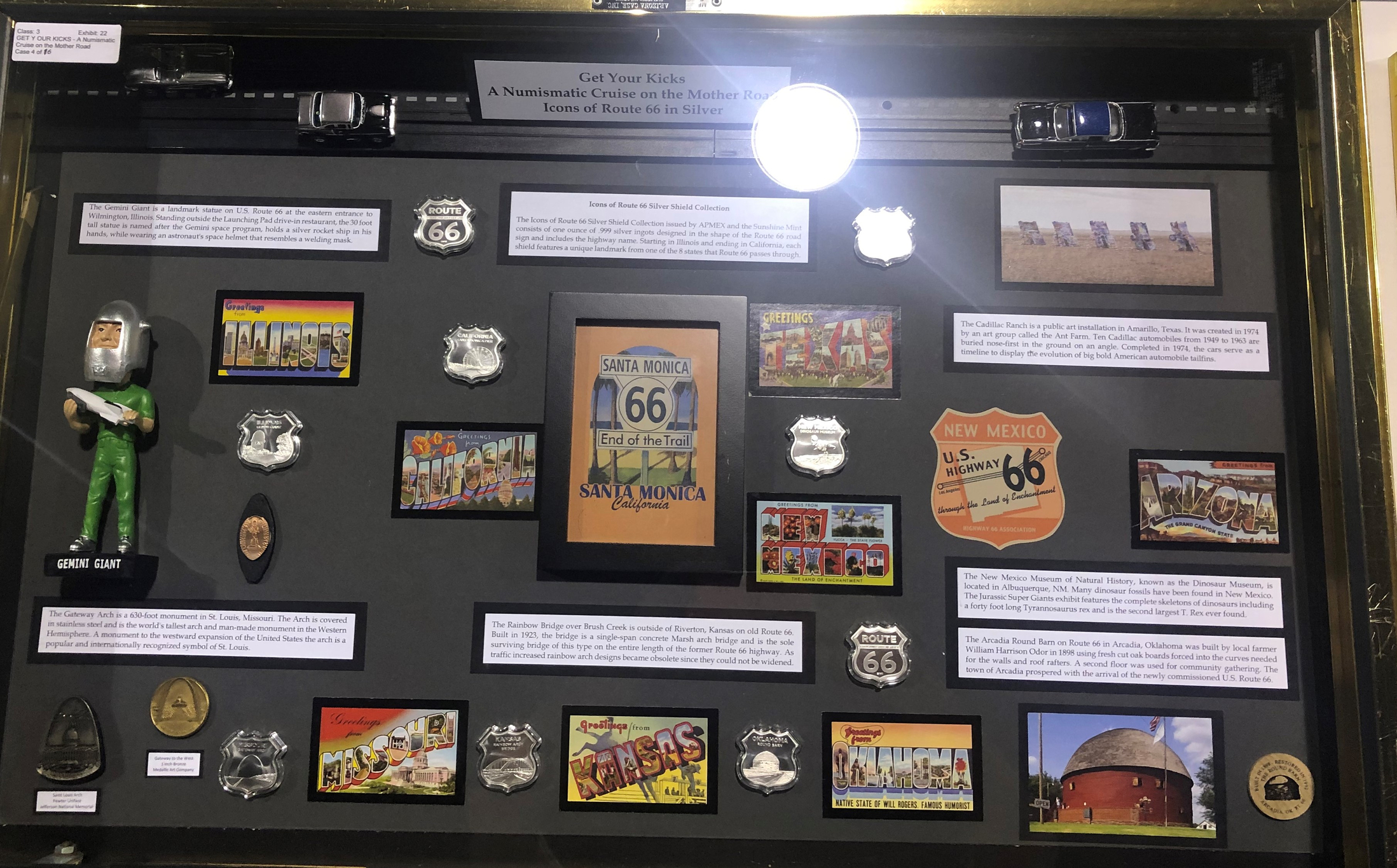 I stopped by to see if Rob with The Reeded Edge had picked up any new Pretty Pennies
Fred Weinberg and his beautiful posse!
Curtis continued to be busy at the PCGS table!
Hugh Wood Insurance table was just down the aisle from me.
It was so great to visit with past WIN President Lorraine Weiss, what a wonderful woman!
The bourse continued to be busy on Friday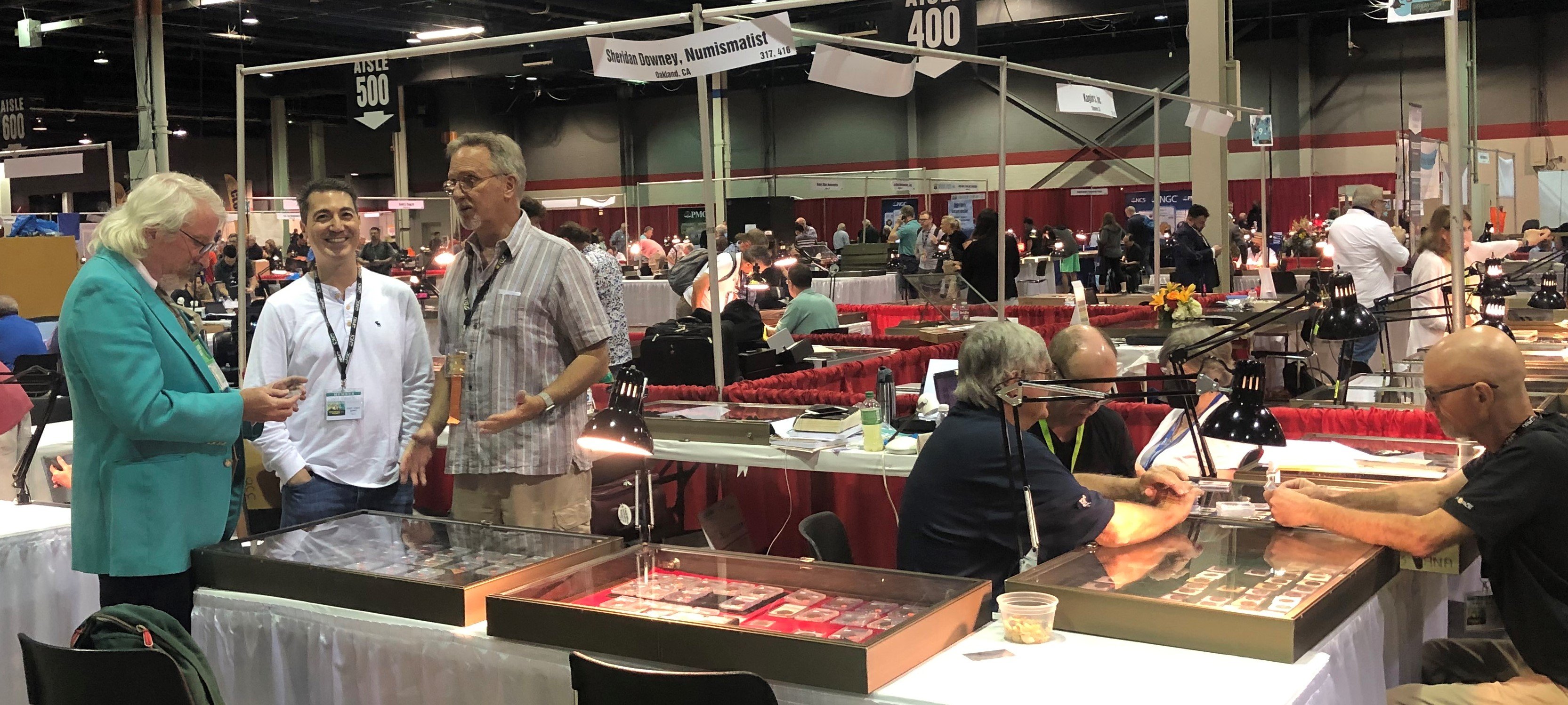 William Bierly stopped by with his wonderful book, In God We Trust
And my friend's brother, Alan Flint, came by again so we took a picture together

Kagin's table was right across from me so I went over to check out their coins and ask David if he had anything really cool. He showed me this very neat 1910 Lincoln Uniface Die Trial piece that he bought for his personal collection - wow, it was VERY cool!
They had this beautiful "reading room" set up near the front of the bourse floor. It was really beautifully decorated and very inviting if you wanted to read a good book!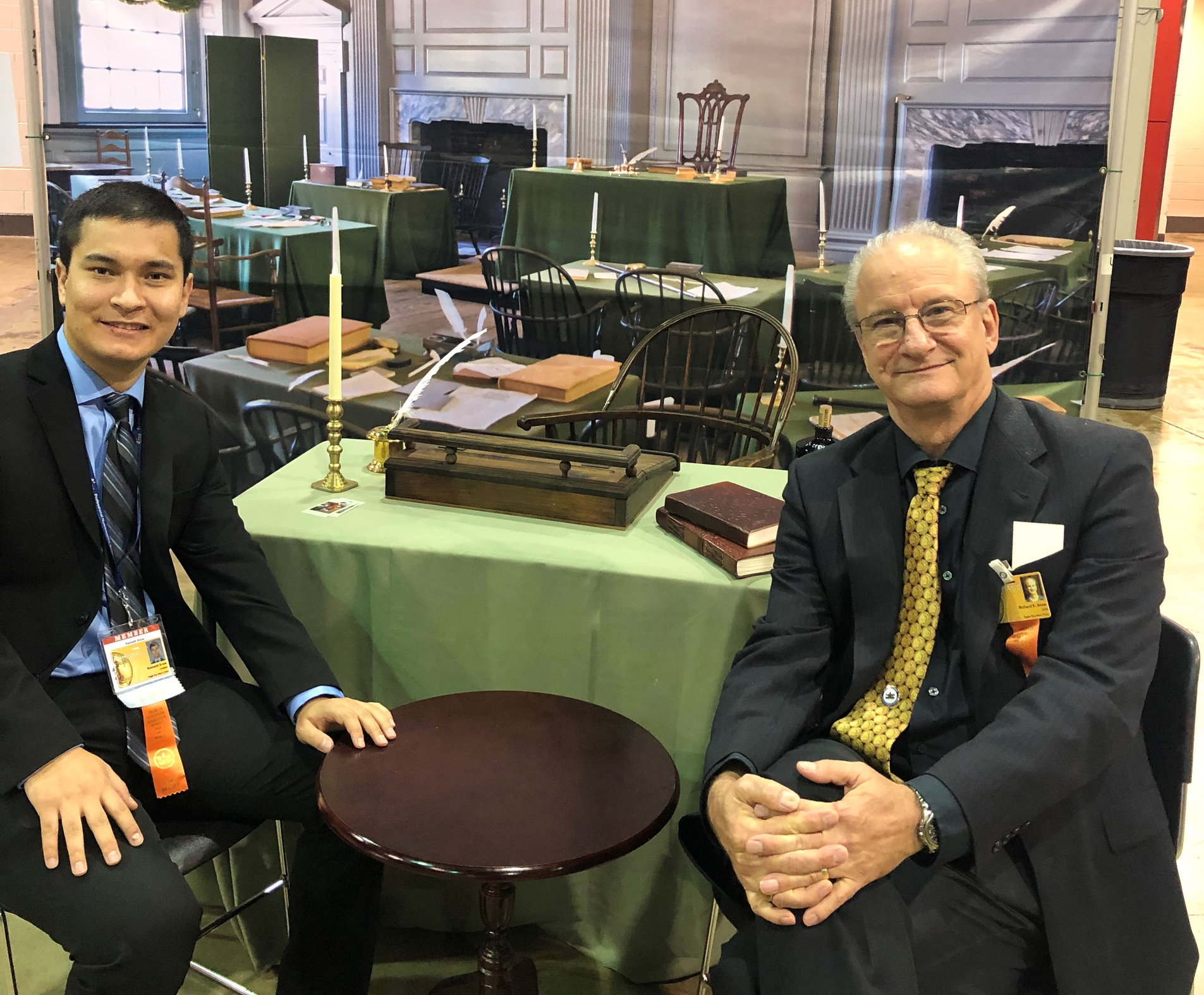 And I was finally able to open that wonderful bottle of Weitz wine that ColonelJessup and Frederick Sean had delivered to my room - mmmmmmmmm!
After the show, a group of us met over to the Hyatt bar before the ANA banquet. I ran into Rob Oberth (Coin Dealers Helping Coin Dealers) and Curtis Mease (again!).
Then it was on to the ANA banquet which I always look forward to.
I enjoy seeing all my friend collectors, exhibitors, volunteers, and hard-working ANA folks. When I greeted my good friend Mitch with a kiss on the cheek, my "lipstick kisses" seemed to become quite popular as I had a couple other male friends request a kiss on their cheek, and no one even wiped them off!
And this time the ANA held a LIVE auction!
I had my eye on one of the bottles of wine but it went too high so I dropped out. But I also had my eye on a beautiful diamond and ruby heart necklace and was determined to win it. So I held my bidder number up when the auction began but was outbid, then I did it again and was outbid. The third time I just help up my bidder number without dropping it. The other bidder bid twice more then dropped out - the necklace was mine - yay!
I jokingly refer to banquet dinners as "rubber chicken" dinners because in my past experience with business banquets, a little overdone chicken was the usual menu item. However, I have to say that the dinner that was served at this ANA banquet was excellent, with both perfectly cooked filet and chicken being served together, along with a delicious cheesecake for dessert!
Then it was time for the major awards, along with installation of the new ANA board
What a wonderful banquet! It was so great to get together and honor all these great coin folks after all this time! I loved it!!
Other than my WIN breakfast meeting, each morning I would grab a cup of coffee and breakfast sandwich down at the Perk's coffee place at the Hyatt and would run into Andy Skrabalak (Angel Dee's) and a couple other coin dealer friends. So each morning we started having coffee and walking over to the show together. I love Andy's dry wit and sense of humor and really enjoy my friendship with Andy and Alynne. (Despite Andy always asking Alynne if he has to continue being "nice" to me, I think I've grown on him!) Liz Coggan is also an amazing woman, smart hard working coin dealer, and someone I am also pleased to call my friend.
This was a super busy successful week and, even though I was exhausted, I was very sad to see it end. I did some decent business on Saturday, though it was slower than previous days which isn't unusual. I really had a great time the entire week, and especially loved seeing everyone. And the fact that it was such a good show was icing on the cake!
I headed home that afternoon, had an easy flight home, and was greeted of course by my sweet chubby Penny! She, like most cats, loves boxes so when I pulled out a couple double row boxes, she was quick to claim them!
Next up is a local Buena Park show, then (hopefully) the Long Beach show!
Charmy Harker - The Penny Lady® President of Women in Numismaticshttps://thepennylady.com/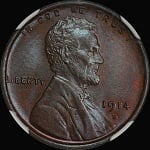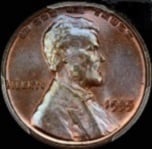 Leave a Comment