Home
›
U.S. Coin Forum
Has Anyone Heard Anything about a Trump Inauguration Medal?
BillJones
Posts: 31,699
✭✭✭✭✭
I buy inaugural medals now and then, mostly for presidents who made a mark in history, good or bad, who are not current enough to raise my blood pressure. According the experts the first official inaugural medals were issued for Benjamin Harrison in 1889. (I think that there are others that should be recognized before that, but that's my opinion.) The medal was small and attached to a ribbon, but it has to be THE RIGHT ribbon to official, and I don't have it. The rest of the 19th century medals were part of ribbon and disk combination.
Here is "half" of the Harrison piece.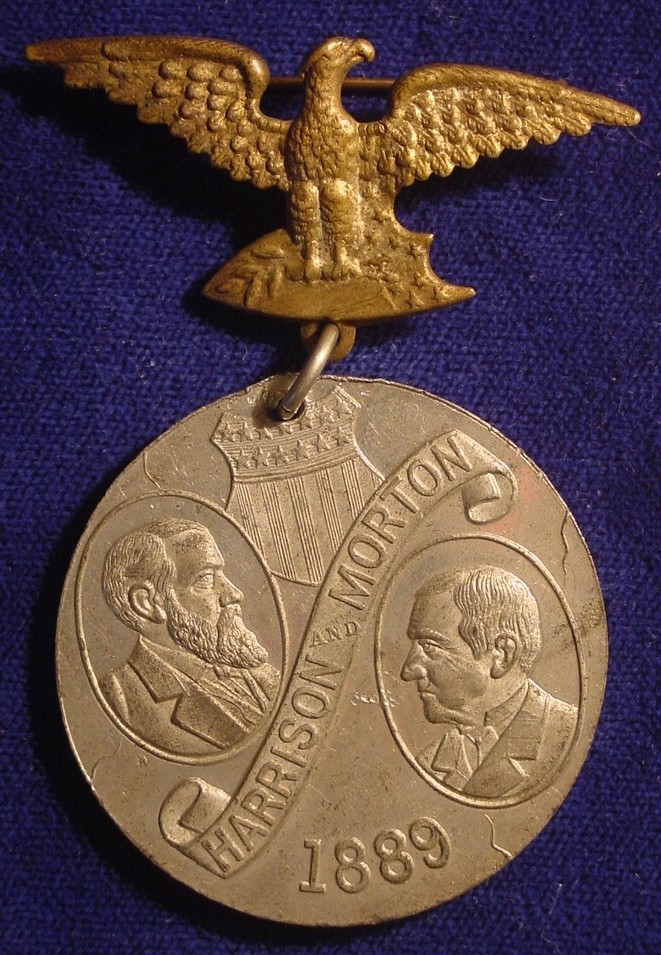 The reverse.
Here is an official 1893 Grover Cleveland medal.
Reverse
In the beginning these medals were given to supporters, campaign and inaugural ceremony workers, and well wishers. Then the inaugural committe learned that they could raise some money by selling them. The first medal that looked like the modern versions without a ribbon was issued for William McKinley in 1901.
The usual practice was to make bronze medals for sale, and gold medals for the president, vice president and chairman of the Inagural Committee. There were also a few silver pieces handed out to dignitaries.
In 1905 there were two inaugural medals, one designed by Charles Barber and another by Augustus St. Gaudens. This may have been the start of the "lack of admiration society" that existed between Theodore Roosevelt and Charles Barber.
Here is the Barber of "Davidson medal." The mintage on this piece was 3,000.
And here is the St. Gaudens medal which has a mintage of 125 in bronze and 3 in gold. Adolph Weinman, who designed the Mercury Dime and Walking Liberty Half Dollar, executed the design for St. Gaudens. Given the low mintage and the St. Gaudens connection, I don't need to tell you that this piece is expesive.
Oh well enough history for now. If you want more, I'll post more.
So what is going on with the Trump medal? I have no even heard a rumor about one.
Retired dealer and avid collector of U.S. type coins, 19th century presidential campaign medalets and selected medals. In recent years I have been working on a set of British coins - at least one coin from each king or queen who issued pieces that are collectible. I am also collecting at least one coin for each Roman emperor from Julius Caesar to ... ?
Leave a Comment