Home
›
U.S. Coin Forum
$100 REWARD FOR INFO LEADING TO / RECOVERY OF...

coindeuce
Posts: 13,467
✭✭✭✭✭
A LOST / STOLEN
eBAY purchase.
Allegedly shipped by eBay member
icoinbiz
on or after December 4 by 1st class Priority Mail, with a Paypal generated U.S.P.S. mailing label, with delivery confirmation. The following item:
1859 N.Y. State Agricultural Society award medal, Julian AM-62. Silver, 38 mm.
The images below provide any additional description necessary. I am in the process of contacting the U.S.P.S. facility where all non-deliverable, untraceable articles are held, in the hopes it may be recovered there. Any valid info can be reported to me by PM here.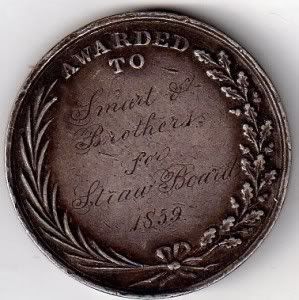 This item is currently (as of 8/21/21) offered by a California based eBay seller. As noted above this incident ocurred 11 years ago. I knew it would resurface eventually. Stay tuned. The seller has been notified.
Link to the current eBay listing:
https://www.ebay.com/itm/274785884242?_trkparms=aid=111001&algo=REC.SEED&ao=1&asc=20160908105057&meid=5633f7b52fe5432f88040de610c3da38&pid=100675&rk=1&rkt=15&sd=274785884242&itm=274785884242&pmt=0&noa=1&pg=2380057&_trksid=p2380057.c100675.m4236&_trkparms=pageci:cf42ede1-02ec-11ec-ae57-0ec516861fdc|parentrq:6b97087f17b0a44c2b55e4c3fffd3a24|iid:1
Leave a Comment