Home
›
U.S. Coin Forum
Charmy's March 2023 ANA PHOENIX NATIONAL MONEY SHOW REPORT w/lots of Pics!

ThePennyLady
Posts: 4,421
✭✭✭✭✭
It's been a while since I've attended an ANA National Money Show mostly due to conflicts, but not having any conflicts and being only one state away made it an easy decision. And I'm really glad this one fit into my schedule as, not only did I have a really good show buying and selling, but I had so much fun getting together with different friends for dinner at new restaurants in a different city! I also found a VERY COOL coin for my personal collection - as you will see further down.
Even though it's only a 6-hour drive, I decided to fly since the hotel parking was expensive as is gas, and because it's only a 1-hour flight. I arrived early on Tuesday and was surprised at how cold it was, but I and was happy to be back in Phoenix as it is a very pretty city and I hadn't been there in quite a while.
Took a quick Uber ride to the Hyatt downtown which was right across the street from the main convention center.
This is the view from my room.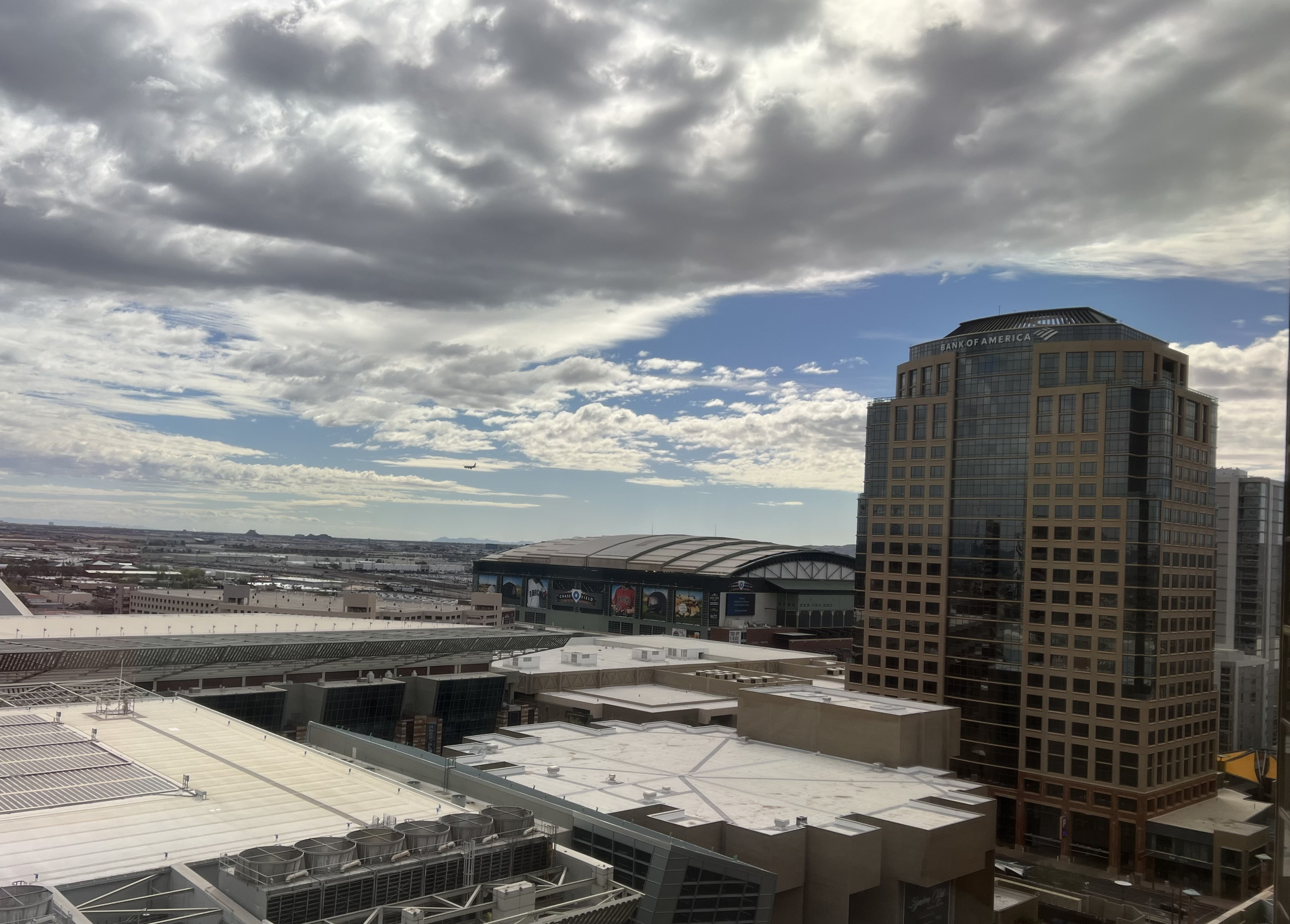 After settling in, I went to drop my bags off at security but soon found out that there was a glitch in our dealer paperwork as the ANA had forgotten to change the location of the security room from last year's show in Colorado Springs! However, thanks to a very kind and resourceful concierge man at the main convention center, I soon found that our security room was in the South Building a couple blocks away on 3rd Street.
So I headed there and checked my bags into security. Since many of my friends hadn't yet arrived in Phoenix, I decided to try my luck at the Talking Stick casino which was about a 1/2 hour Uber drive away. I had a lot of fun playing various table games and slots, but didn't come out ahead in the end.
Set up wasn't until 1pm on Wednesday but I headed over early to meet up with some of my dealer friends. Security was definitely beefed up for this show as I was approached as soon as I walked into the building and asked why I was there since I hadn't yet put my badge on. Once we were let into the bourse floor, it didn't take long for me to have my booth in ship shape order so I could walk around and do some shopping.
At one of the first dealer booths I stopped at, I was very surprised to see a Flying Eagle cent in a DOILY HOLDER - OMG! I have several Indian, Lincoln and even Two cent pieces in Doily holders, but I had never seen a Flying Eagle Doily and had to contain my excitement. Of course the dealer knew what he had and wanted a hefty premium for this piece, but after a little wheeling and dealing, we settled on a price and I was thrilled to put that beautiful little guy in my pocket so I could take it home and add it to my personal collection!
Back at my table, I had a dealer friend, Zachery Lauer, stop by and offer me this super rare 1944 steel cent. Although I would love to have added this amazingly rare piece to my inventory and/or personal collection, it wasn't quite in my budget.
Always enjoy seeing my dealer friends - and James Sego is definitely on that list!
As I was hoping, I ended up finding several pieces for my inventory - these are pics of all the Pretty Pennies I found throughout the show:
Soon it was time to open one of the bottles of wine I brought - I decided to go big on my first day at the show with this wonderful bottle of Caymus cab! It didn't even make it through the end of that day as it was shared with several dealer friends.
End of set up day
That night I had dinner with a couple of wonderful lady friends from the Grey Sheet that I had gotten to know over the last few years at the shows - they are fondly known as The Grey Sheet Ladies, Billie and Amanda Blattel!
Amanda had made reservations at a steakhouse that I hadn't heard of until I arrived in Phoenix called Steak 44 - and then I discovered it is one of the very best steakhouses ANYWHERE - and we soon discovered that was NO exaggeration! Steak 44 was truly amazing in every way - the food was fantastic, the wine was wonderful (we ordered more Caymus), the service was top notch, and the dessert was absolutely delicious! And the great company weas the icing on the cake - we ended up chatting and staying until almost closing time!
I had a bone-in filet with a butter truffle sauce that was SO TASTY AND AMAZING! We also ordered truffle cheese au gratin potatoes along with delicious creme brulee corn (yes, we didn't spare the carbs)!
Then came the dessert menu - each one of them sounded so yummy that we decided to try three different ones, and they did not disappoint! My favorite was the red velvet bread pudding!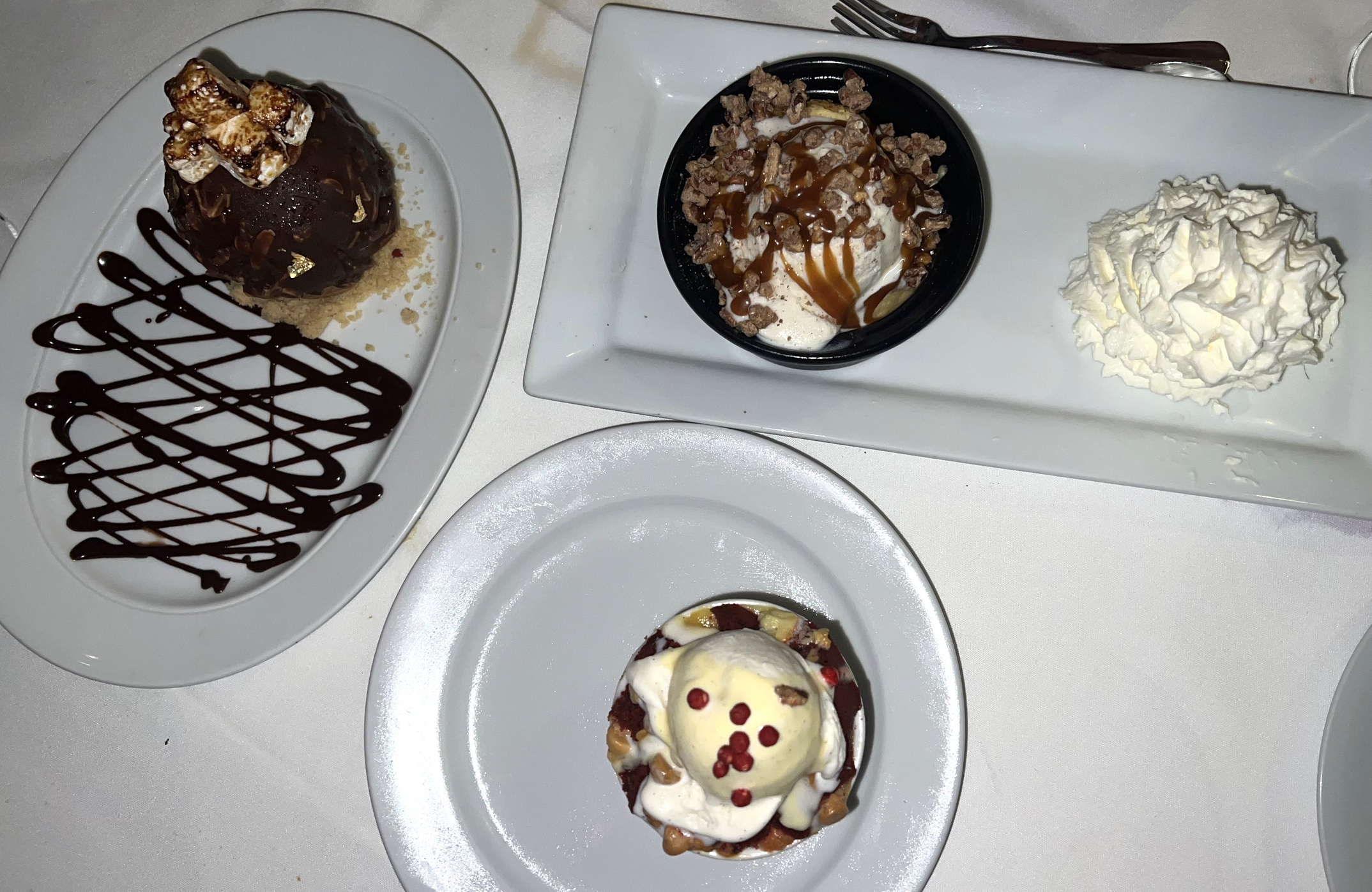 This truly was one of the most delicious meals I've had - the special sauces were so flavorful and really made each dish that much more tasty. I am so grateful to Billie, Amanda (and John/Greysheet) for treating me to such a wonderful and memorable evening - thank you, thank you, thank you!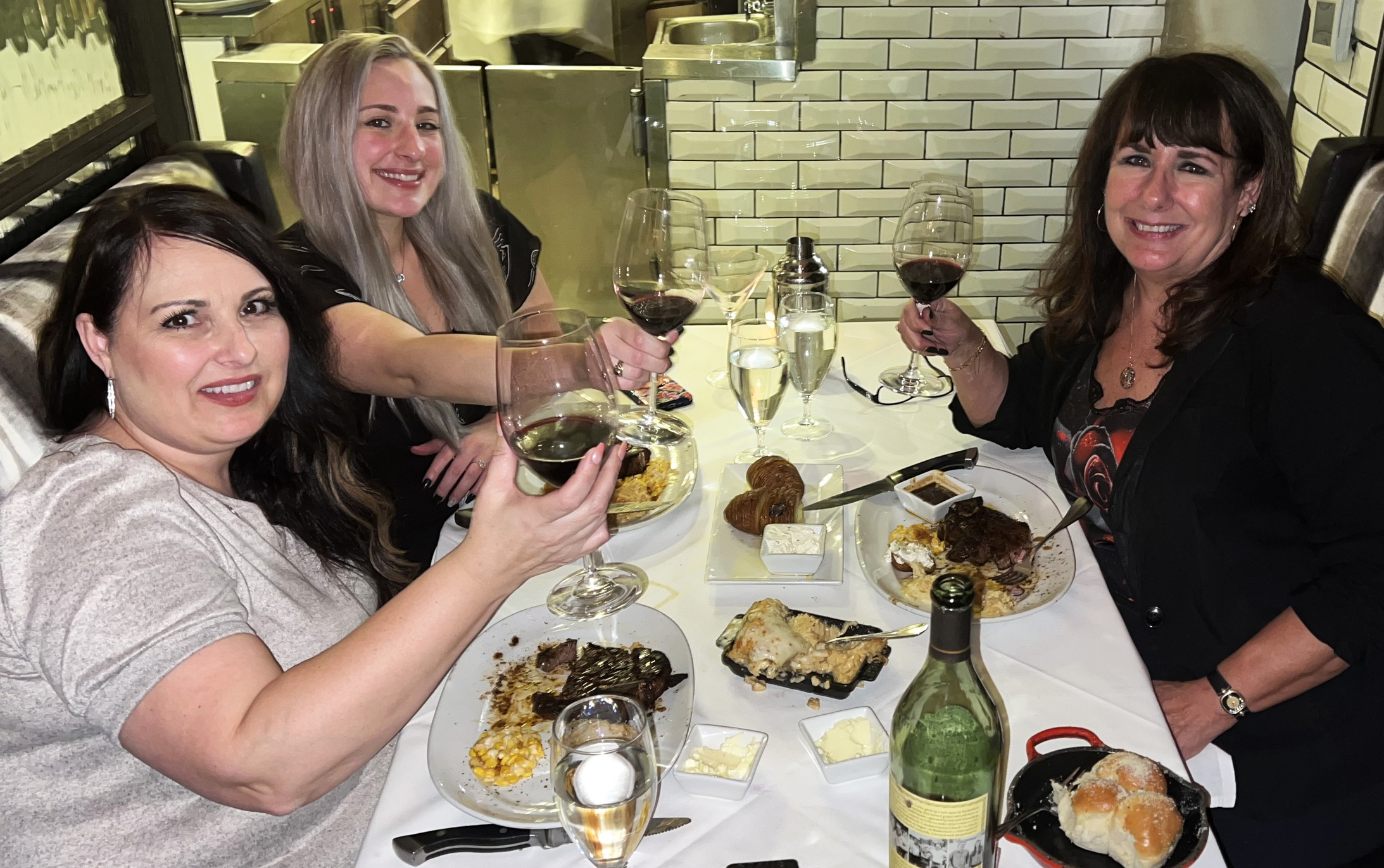 After dinner, we went back to the Hyatt and saw some other dealers at the bar, including Mary Lynn Garrett, so we stopped for a quick nightcap.
The show opened to the public Thursday morning (photo courtesy of the ANA)
It didn't take long for the show to become quite crowded with lots of buzz
Rich/Cladiator stopped by first thing and was very kind and gracious to bring me this wonderful bottle of Rodney Strong cab - which is where his wife works - thank you Rich! I opened it later that day, it was very yummy!
Doug Davis of Numismatic Crime Prevention does a fantastic job getting information out about numismatic crime around the country and how to help prevent it. I wholeheartedly support and praise Doug's efforts, and he was kind enough to stop by my table to thank me for my support and gave me this very cool Numismatic Crime medal.
During the show I bought a "pile" of miscellaneous pennies from a man who had inherited them from his dad and just wanted to sell them. They were mostly low grade Indian and Large cents, with a few inexpensive Lincoln cents thrown in. Included in this group was an interesting Robert Kennedy token that I hadn't seen before. I looked it up and though it's not rare, it wasn't that common either.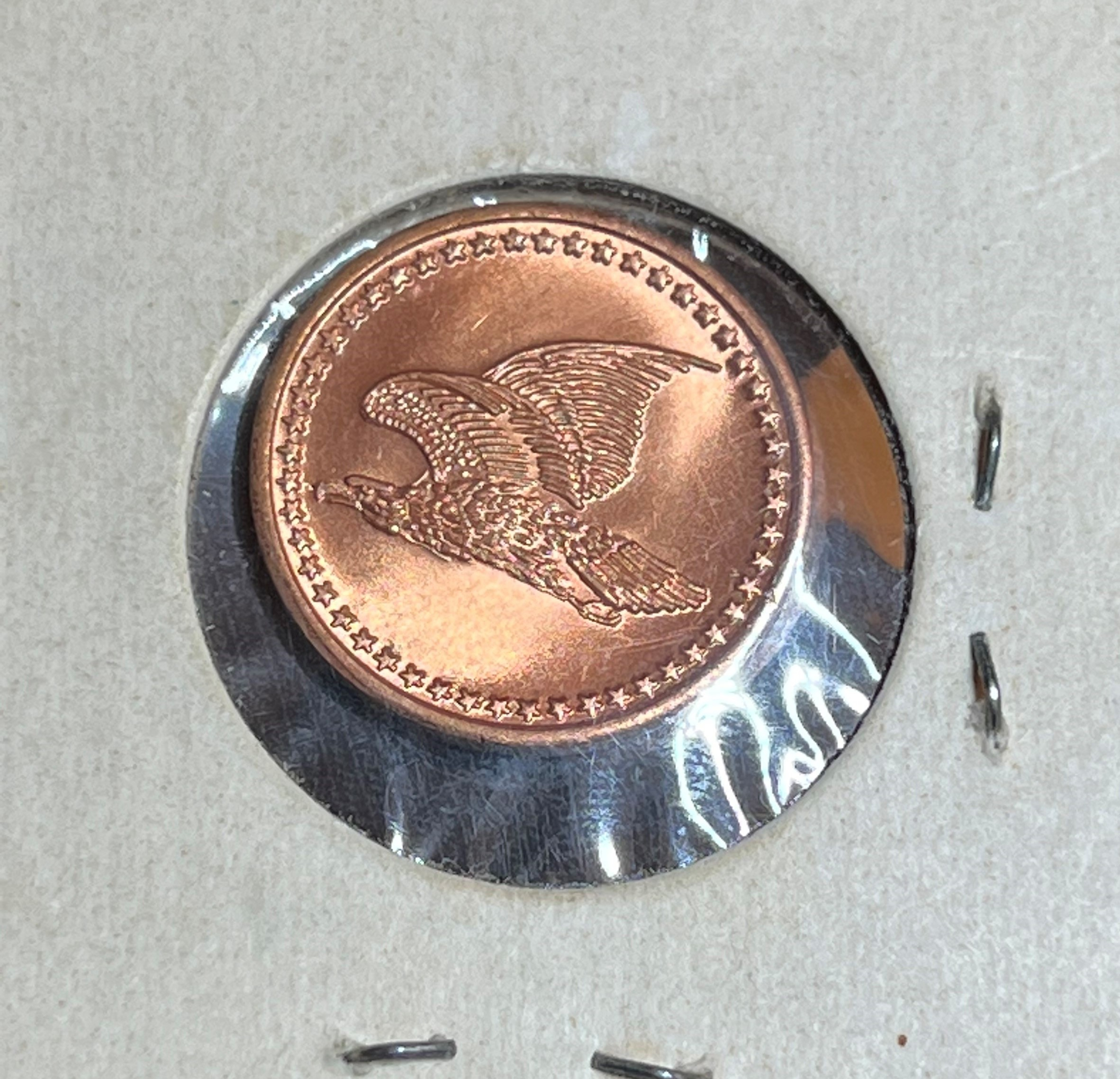 I was very busy the entire day, including late into the afternoon. In between sales, I had people offering me lots of pennies for sale as well. It was great being that busy, but I didn't have time to take many photos of the show. However, I made up for it the next day as you will see.
Thursday night I went to dinner with my friends Karl and Joanne Stephens at, coincidentally, another steakhouse, Mastros. It too was delicious and the service was great as well. To start with, we enjoyed this nice bottle of Albarino, followed by a Seven Hills Merlot.
It happened to be Karl and Joanne's anniversary so our waiter brought us this delicious butter cake to celebrate
After I was dropped off back at my hotel, once I again I ran into a group of friends at the bar (which happens to be right on the way to my room), including Billie and Amanda, so I joined them for a nightcap before heading up.
Friday morning when I arrived at the show, I made sure to tour the entire bourse before the public was let in so I could take photos of some of the very cool exhibits, the museum displays, etc.
Collector Exhibits

ANA Museum Rarities - including the very famous 1943 Bronze cent!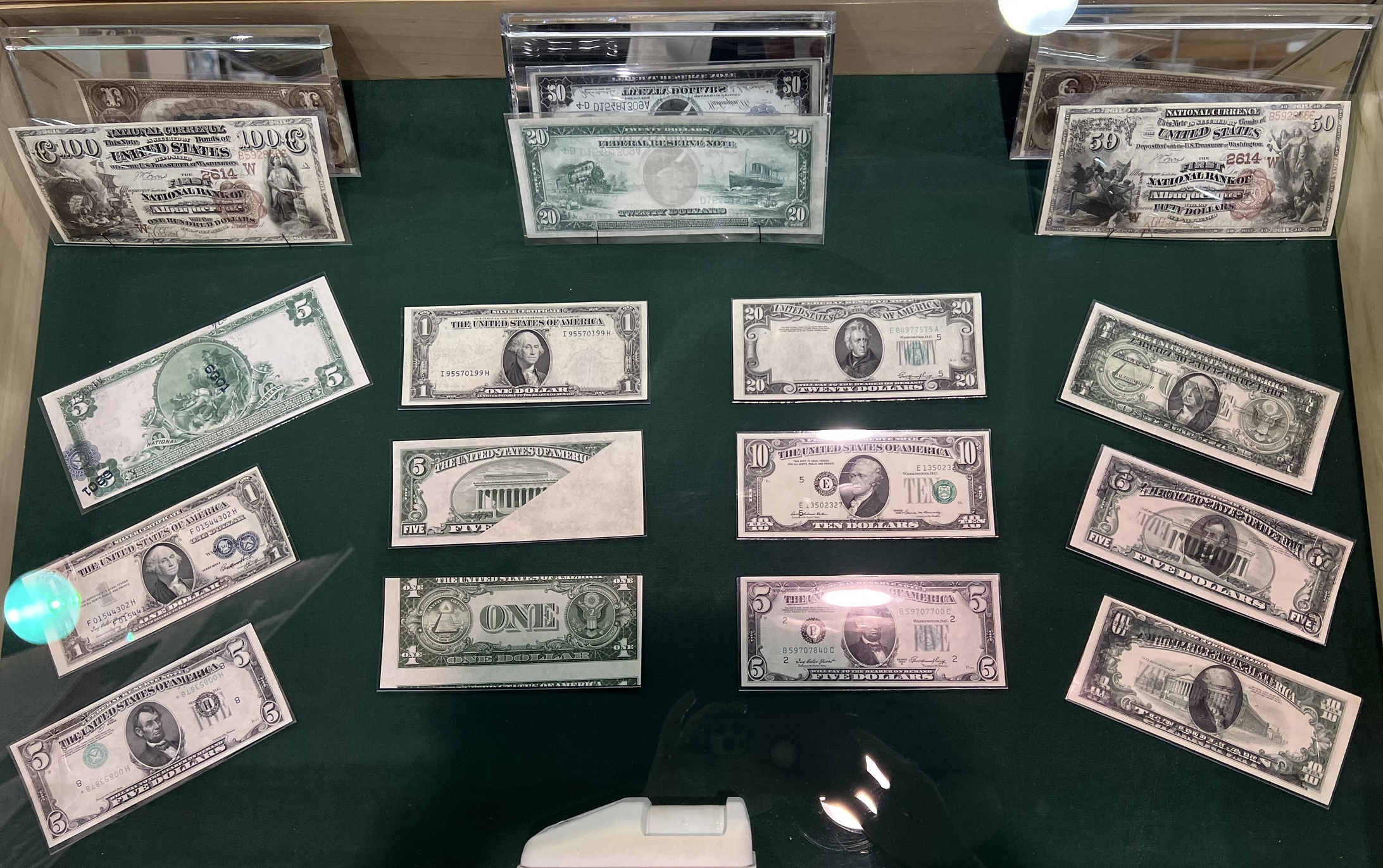 PCGS

NGC

GreatCollections

Kenny (in charge of PPI Security) and Sam (ANA Conventions Coordinator)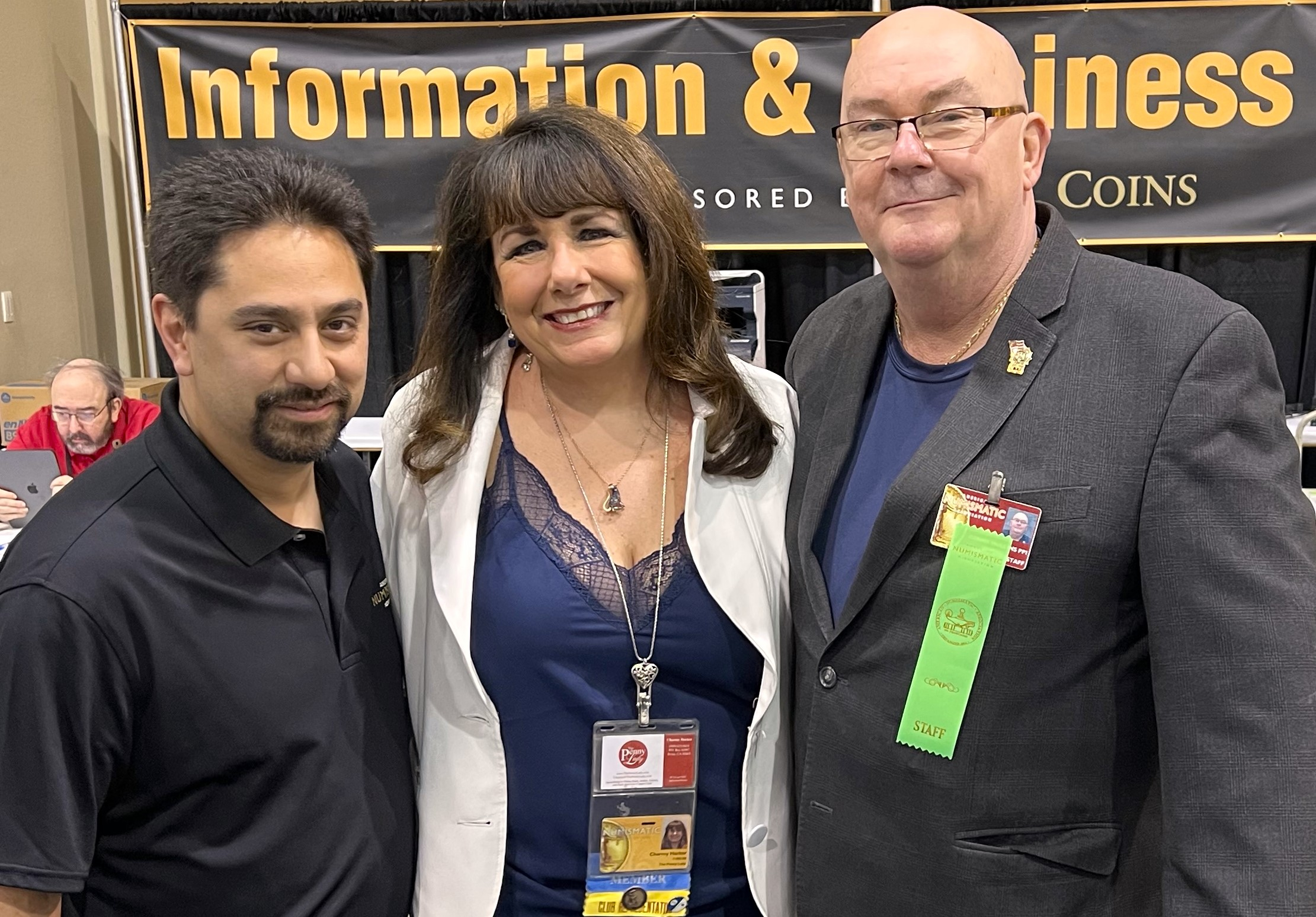 My friend Matt Chapman and one of his new purchases

These are two very unusual, very low grade proof coins that you don't often see!

Misc. photos around the bourse

Me and Ben

Couple of very cute kids who stopped by my table

Dealer friend from Tucson, Arizona, Tony Tumonious

Rick Snow and his son Kenny

Me and a fun group of YN's - Harrison, Beagles, Matthew Pavia, Jesse Vargas, Ryan Lange, Jack Smith, and Payton Lindeman

Some pics around the bourse
Soon, it was once again time to open one of the other bottles of wine I had brought with me - a delicious bottle of Del Dotto Pinot Noir from Napa - Del Dotto is one of the wineries I belong to and is my most favorite winery in Napa!

While I had several good sales and bought more material, as usual Friday's show was not as busy as Thursday's was.
Friday night I had another very fun time and went to dinner with a different crowd than I usually hang out with. Steven Schuch and his wife Nara had invited me to go to dinner with them, and Steven's brother John Schuch, Jr. who works with Northern Nevada Coin, and Chuck Hayes and Ashlee of Erie Gold Exchange also joined us. We went to Blanco Cocina and Cantina right near the convention center. It was a highly rated Mexican food restaurant and it too didn't disappoint.
Nara and I arrived first and decided to start off with a margarita along and a shot of tequila recommended by the bartender.
Our bartender was a wonderful young lady who enthusiastically chilled our shots before pouring them.

Here's the menu - I had the carnitas tacos which were amazing!

My hubby does a lot of research on all sorts of brands and types of tequila and he and I both really enjoy Don Julio 1942, so after dinner we had a shot of that too!
Our very fun group!

Saturday is what I call "family day" where there are much more families and kiddos perusing the bourse floor. I also have a lot more people stop by who have "handfuls" of pennies and want to know if they have anything of value, or some folks who found an unusual anomaly on a penny and think it may be very valuable, or folks who inherited a can or box or bag of pennies and would like to know which dates to look for, etc. I usually encourage them to get a Red Book and explain how it works so they can learn for themselves which dates have more value over others. And those who are interested in the anomalies and varieties, I tell them about the Cherry Picker's Guide. So Saturdays I spend a lot of time trying to educate these families so they have a better understanding of what to look for in the coins they inherited.
In between these encounters, I was happy to have a few large sales! Then soon it was time to pack up so I could catch my gratefully brief flight home!
At the airport, I sailed through TSA and headed to my gate. I didn't find any regular restaurants near my gate to grab a bite but discovered what they call a "pop up bar." It was actually quite nice, with a small menu of various food items and bottled/canned beer and wine.
Soon I was home safe and sound - and of course Penny was there to greet me!
Next up: The Buena Park show this weekend, then the Las Vegas Palace Station show in 2 weeks!
Charmy HarkerThe Penny Lady®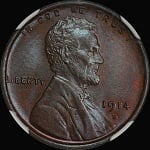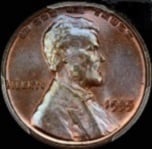 Leave a Comment