Home
›
U.S. Coin Forum
A Multiyear Quest to Find a Specific Coin Achieved Thanks to the Generosity of a Board Member
TomB
Posts: 20,276
✭✭✭✭✭
Folks might recall that a few weeks ago I started a thread asking for help in finding a specific coin. The cert number was listed as being in the private inventory of a user, but was not listed in any registry set and there was no way to contact the owner through the PCGS site. Neither the identity of the coin nor the cert number were shared by me on the board as I did not want to place pressure on the owner of the coin to sell. Rather, my goal was to find out who might currently own the coin and then inquire as to its possible availability in a sale. The coin has now been located, the owner contacted and the coin resides again in my collection. I will share the (likely too long) background to the acquisition.
In early September, 2001 my in-laws were visiting us from their home in FL. My wife and I had not had kids yet, but we did have three cats and my wife's favorite cat was rapidly succumbing to cancer. Upon their arrival, my mother-in-law (who was from Japan) went to see the cat and dropped to her knees to begin Buddhist prayers. She started to cry and then my wife started to cry while my father-in-law and I stayed in the background. A few days later the 9/11 attacks occurred and we, positioned between New York and Boston, were on edge like so many other folks in New England. I spent the day at the hospital I worked at in Providence, RI and we wondered if we would have to spring into action, as well.
That weekend, shortly before my in-laws made their drive back to FL, we went to a coin show in New Haven, CT. I had never attended that show before, but my father-in-law liked coins and I would always attempt to bring him to something local when they visited. There was no one in attendance at this show. The 9/11 attacks had put so much of life into a state of suspended animation and this show was within commuting distance to the fallen WTC towers. The show was silent. As I walked through the bourse there was only a single item that called my name. It was a 1952 year set in a Wayte Raymond National Coin Album page and the coins appeared to have lived together for decades.
The coins were mildly toned, generally matched and the nickels and cents were less toned than the silver issues. The page was set up in a PSD configuration instead of the PDS configuration that is so common today. This meant that the coins that occupied the center row were the San Francisco issues and the coin that was nearly in the center of the page was the 1952-S WQ. I approached the page and this is what I recall seeing-
I then flipped the page over expecting to see some cruddy coins, but instead the reverses were fine, too, though slightly less toned. Here is what I recall the reverse looking like-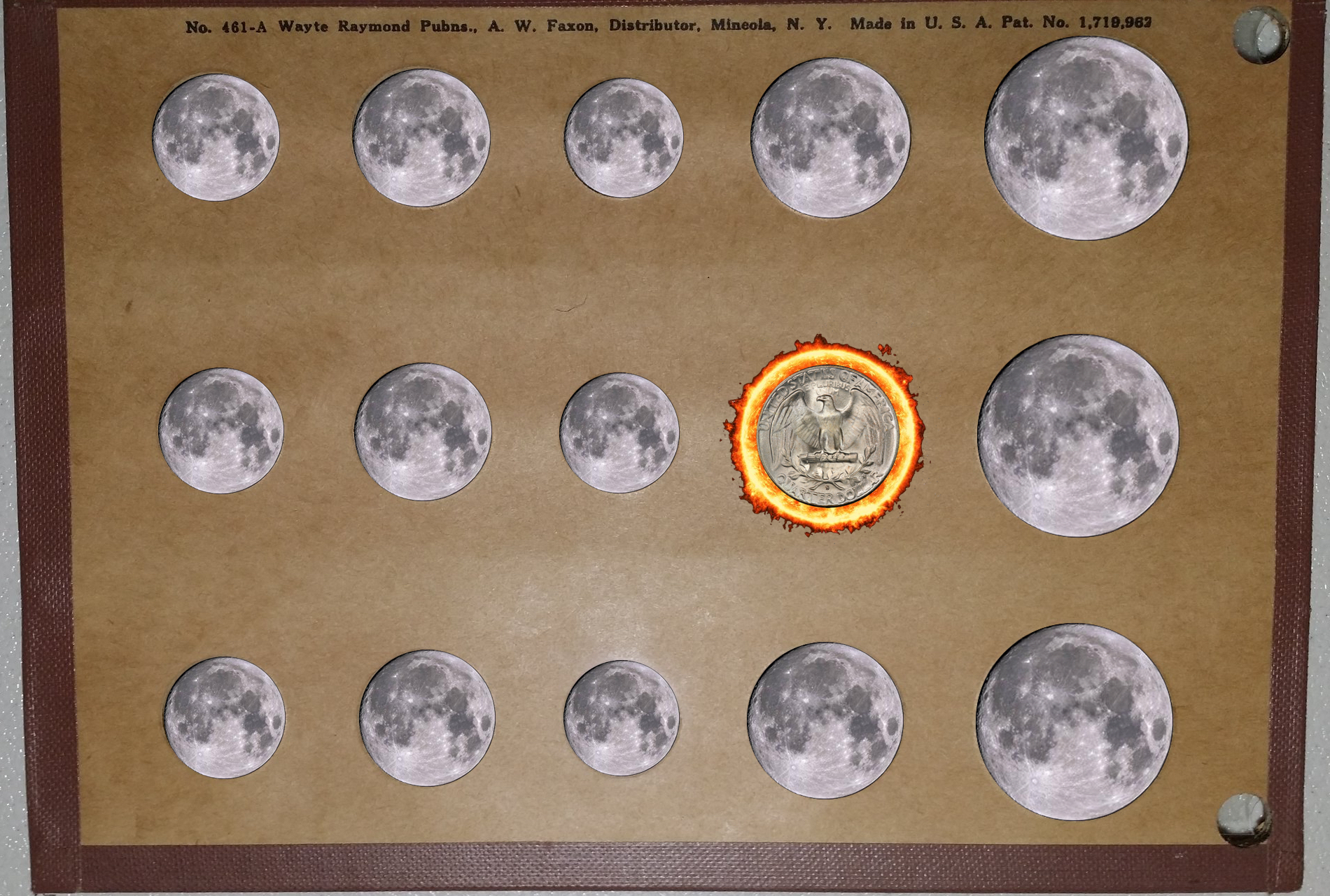 I purchased the page of coins for a very reasonable price, perhaps due to the recent 9/11 events and the fear that many folks had regarding liquidity, and then promptly replaced the 1952-S WQ in the page with an extra 1952-S WQ that I had laying around. For those not in the hobby at that time, it was not unusual to find nicely toned coins raw at shows and these coins rarely sold for much money. Some folks specialized in toned coins, like me, but most paid little attention to these modern pieces and the Roosevelt dimes and WQs that were beautiful could be found with some regularity. The WQ that took the place of this coin was okay and nothing special, but matched the look of the remainder of the page quite well.
My in-laws left a few days later, the world was definitely changed post-9/11 and the cat passed away two weeks after that. My wife was devastated.
The WQ was sent to PCGS and I expected it go garner the MS67 grade. Again, for those not active in the hobby at that time, the system of awarding plus grades had not yet been implemented and the grade of MS67 was pretty much the unofficial ceiling for the silver WQ series. There had been five coins that had received the MS68 grade across the entirety of the 1932-1964 series and 1640-MS67 pieces while most issues had single digits or a few dozen MS67 coins graded. Today there are 167-MS68 coins and over 10,000 MS67 pieces. I was stunned when the coin was returned as a PCGS MS66.
Some time later we were expecting our first child and I thought I should move some extra coins. The 1952-S WQ was chosen to go with me to a Baltimore show, but I really didn't want to sell it and I had it priced quite aggressively for the grade. After five dealers loved the coin, but balked at the price, I decided that if it did not sell to the sixth dealer that the coin would go home with me. Unfortunately, the sixth dealer specialized in toned coins and snapped the piece up. I immediately felt a pang of regret.
A few years later I decided to search for this WQ and found that it had sold twice in Heritage auctions, but both times as a PCGS MS67 with a new cert number. The second time it sold it had one of those vanity registry-pedigree labels with a collector's name on it. The HA images did not do the coin justice and they looked like this (first sale on top and second sale on bottom)-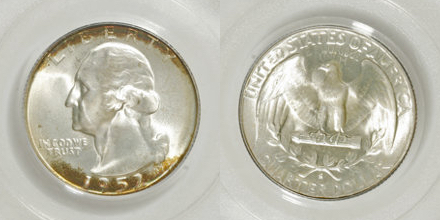 I knew it was the same coin and I knew it had a new grade and cert number, but the trail ended at that point. Later, the cert number that was associated with the coin as an MS67 also disappeared and became inactive. I was at a dead-end. Occasionally, I would search the available 1952-S WQs in dealer inventories or auction sites, but there was never a hit until one evening I was looking through all the 1952-S WQs imaged on CoinFacts and came across a coin that I knew immediately was my old piece. There it was, with a True View image, new cert number and previous MS67 grade, but the cert number neither led me to a set nor to an owner. Again, the trail ended.
Finally, I decided to start that PCGS thread asking for ideas as to how I might be able to contact someone by only knowing the cert number. One of the suggestions was to look at the coins immediately before and after the coin in question and see if any of those were in a published registry set. It was a good idea, but it led me nowhere. However, I kept plugging in cert numbers until I found a coin with a TV image that I recognized. It was a beautiful coin that I had sold to a client who also happened to be a PCGS board member. A few cert numbers later there was a TV for a second coin that I knew I had sold to the same client. I immediately reached out to the client and asked if he had the WQ in question and, if so, would he be willing to part with it for a very fair amount. He responded right away that he still had it and that the coin was mine if I wanted it. Holy Cow!
He told me he would ship it in a few days and would work up a price. A week or so later the package arrived and there was the coin, but no invoice and no price. The coin has that absolutely insane luster that the 1946-1954 S-mint WQs are known for, has tight arcs of color within LIBERTY and the date and has a reverse that glints like it is liquid silver in a furnace. Thankfully, no one ever attempted to remove the tiny speck of toning above IGWT that might appear as a detriment to some, but that I see as part of the history of the coin. I sent a message to the member who told me that the coin had so much history with me that he wanted me to have it as a gift. Holy Cow Again!
He also wanted to remain anonymous in any thread on the acquisition. So, anonymous PCGS board member, thank you for coming to my aid and for reuniting me with this coin that has so much value for me in the memories associated with it.
Thomas Bush Numismatics & Numismatic PhotographyIn honor of the memory of Cpl. Michael E. Thompson
Leave a Comment