Home
›
U.S. Coin Forum
Charmy's BIG HUGE 2022 CHICAGO ANA WORLD'S FAIR OF MONEY SHOW w/tons of Pics!

ThePennyLady
Posts: 4,421
✭✭✭✭✭
Wow, another summer ANA show has come and gone! While it wasn't quite the blockbuster show last year's was, it was quite busy, very well attended, and flew by! I was busy every day, bought a lot of great newps, sold some of them and much more, spent time with some great friends, attended some club meetings, saw some amazing competitive exhibits, really loved viewing the rare and very cool coins at the ANA museum exhibits, and especially enjoyed the fantastic Central America artifacts display which I understand was being displayed in full for the first time at this show - photos of all of these exhibits you will see later in this report!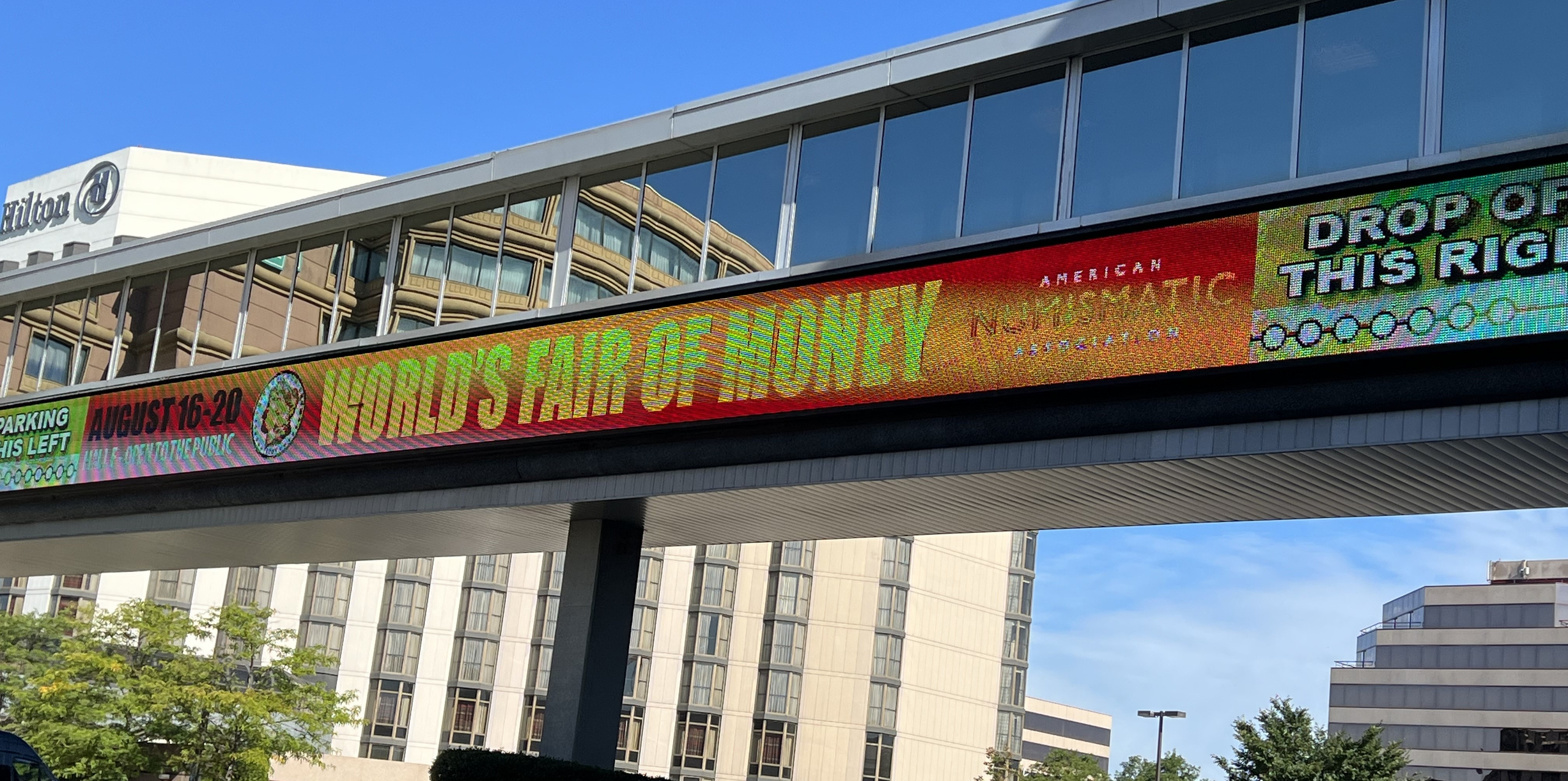 I did read some negative comments on another "show report" about certain aspects of this show, but I personally thought overall it was a very successful show and after speaking with several other dealers, they all felt pretty much the same. Everyone thought last year's show, of course, was one of the best shows we've had in many years, but that this year's ANA was still successful, busy, and well attended. Most dealers felt that having Heritage and Stacks auction lot viewing off site was inconvenient, but that was because GreatCollections is now the official ANA auction company (for which they pay a hefty fee) so it was my understanding that the other auction companies were not allowed to have onsite auction lot viewing as they were no longer "paying" for this privilege. Since there are some particularly nice lots in the Stacks auction that I am interested in, for this reason and since I don't live very far from them, I made sure to do my Stacks lot viewing at their offices before the show.
As others have mentioned, the dealer day is an important part of a large show for dealers and will occur with or without the host show's participation. And as a collector, I can understand the frustration with feeling like all the "good stuff" may be gone before the show opens to the public. But as you all know, along with auctions and some other avenues, this is one of the major ways we dealers acquire inventory. It is also especially convenient and generally more secure to have the dealer tables on the bourse floor rather than in separate rooms or at off site hotel rooms. It's also a significant additional revenue for the ANA - when the PNG ran dealer day, they charged $500 per table rather than $250 fee the ANA charged. For me personally, it is also nice not to be rushed to set up and get organized, and much easier to be able to view other dealers' inventory without interfering with their retail business.
One more thing I thought I'd address briefly what I know about the theft at the show that some of you may have heard about on dealer day where a case full of Rolex watches was stolen and the group of thieves (all caught on camera) just picked up the locked case, placed it upside down on a cart, and just walked off with it (the dealers had just taken a brief lunch break). They headed out some doors that were "guarded" by a convention worker but they distracted her and when her back was turned, the others pushed the cart out the door. It is believed they blended in with the other workers who were still on the floor moving/placing show cases at dealers' tables, etc. Believe me, we were all in shock over this brazen and well-orchestrated theft and I'm sure there will be changes made all around as a result of this. Even though this was a terrible event and very frustrating for all concerned, I know it is being handled by all the parties and authorities involved, I really would prefer not to have this show report derailed or focused on this incident.
So with that being said, on with my report! WARNINGL I took a lot of photos throughout the week, especially of the ANA museum, the Central America exhibit, and the competitive exhibits - so go grab that cup of coffee or cocktail, sit back and relax, and hopefully enjoy a fun read and pictorial tour of my week at the Chicago ANA show!
I always look forward to attending the summer ANA show as there is so much to do and see, and so many coins to buy and sell, I very much enjoy attending this show!
I left sunny OC Sunday morning, flew over beautiful Catalina Island, and arrived in Chicago that evening with no delays or any flight issues whatsoever - yay!
I settled in at the hotel and went down to the bar for a quick drink and bite to eat. I happened to sit down right next to Kenny, the show's security guard and very much enjoyed chatting with him. I've known him and seen him around at the all the major shows for years and he's always been very friendly and helpful anytime I've needed anything.
He even highly recommended a very nice cab that I hadn't tried before, which I really enjoyed!
Monday morning was dealer set up day and when I arrived I was really surprised to see how long the line was of all the dealers waiting to get in!
While I was searching for coins, I found a few
of what I call really "cool" coins that I took pics of
The 1825/4/1 Capped Head Left Half Eagle. JD-1, BD-1. Rarity-8 as a Proof (finest known) is truly awesome to see in person. It's currently up for auction at Stacks Bowers. Now, I have no "skin" in this auction piece whatsoever, but when I got to hold it and view it, it truly is beautiful, rare, and amazing just to see in hand. Here is only a very small part of the auction description: "One of the most important offerings in the numismatic market of the 21st century, Stack's Bowers Galleries is pleased to present a landmark early Proof gold rarity whose existence was lost to the collecting community for half a century. Its undeniable and universal Proof qualities, combined with the Proof-67 Cameo grade recently assigned by PCGS, confirm this extraordinary Superb Gem as the finest of just three Proof 1825 half eagles known."
In very pale comparison to the above coins, these are a few pieces I picked up throughout the show for my own very modest but, in my opinion, almost just as cool, exonumia collection:
1912 The Navarre Deposit Bank encased Lincoln cent pocket mirror (from Alan Weinberg)

1902 encased Indian cent "Spinner" by Drovers Journal with its original ribbon - I've never seen one like this before!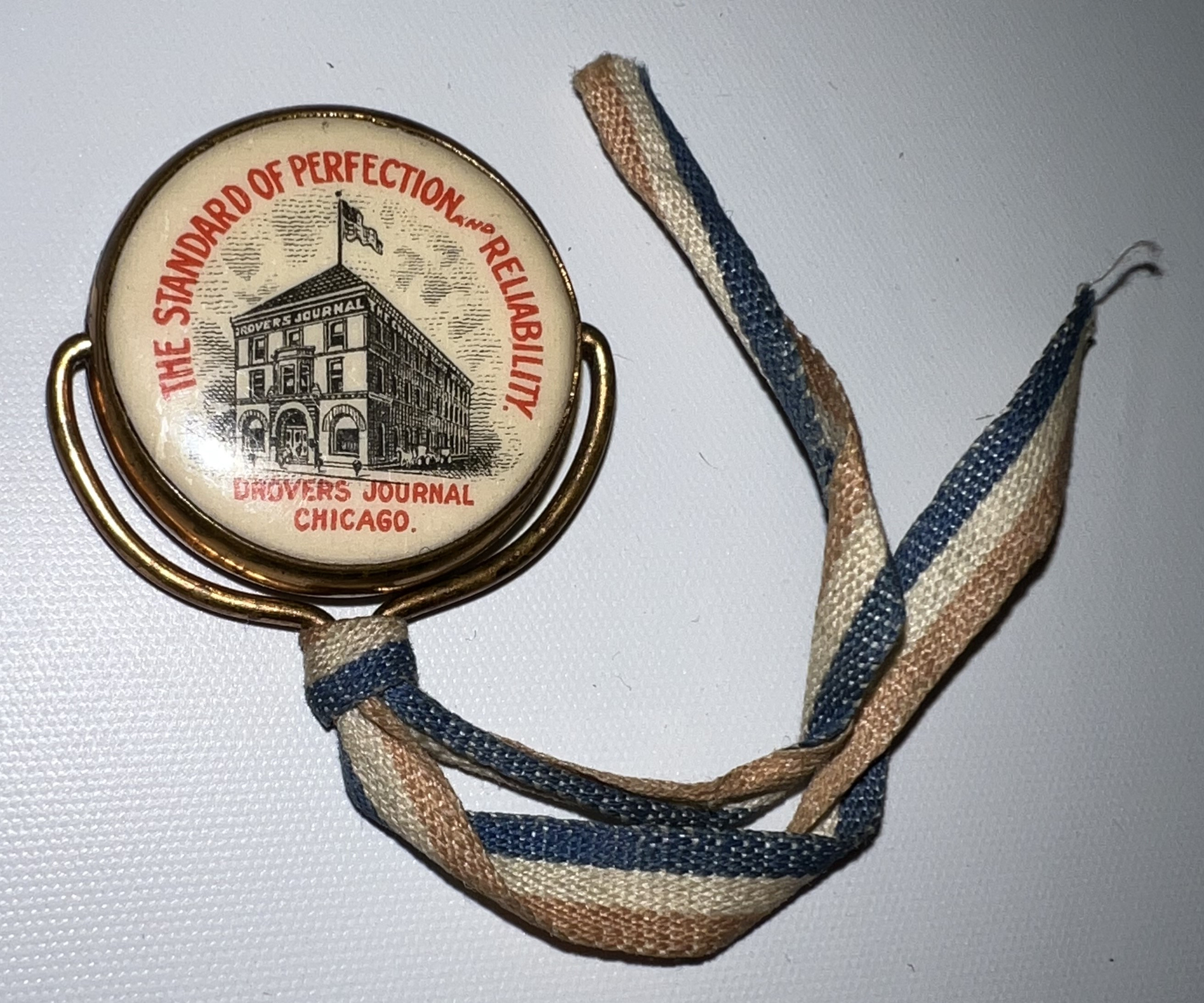 A neat simple 1952-S sticker penny from Nelson's TV in Palto Alto (from John Kraljevich)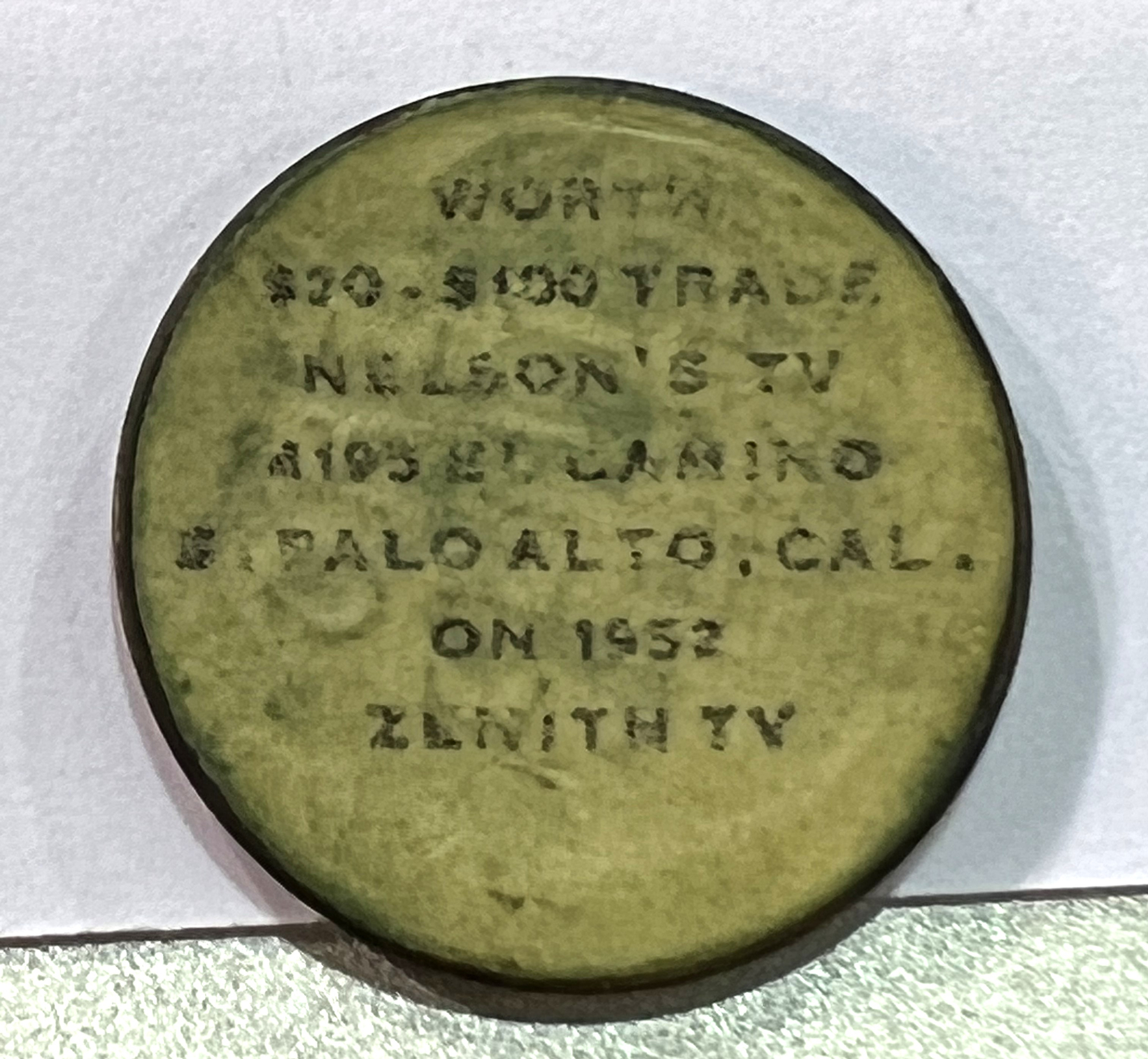 FYI, sticker cents are relatively scarce as, in addition to the stickers losing their adhesiveness to the coin and eventually falling or wearing off, when the Secret Service discovered businesses were advertising on coinage, which is illegal, they contacted the advertisers and required them to recall/remove any coinage on which they had placed stickers.
So after I had set up, organized my booth, and finished my "shopping" for the day, you know what time it was - time for wine of course! However, since we were "wrapping" up our Women in Numismatics organization, I had brought several gifts for our board members and my bag was too full to bring my usual two bottles of my "beloved" wine. However, I was able to pack one small half bottle of what I call "emergency" wine from my favorite Temecula winery! (I asked a wine friend who was driving to the show if he would bring me a couple bottles that I could buy from him, which he gladly did!)
After the dealer show ended on Monday, I met a group of my foreign coin dealer friends at Gibson's.
Of course, with Gibson's wine selection, we had some great wines!
And some great food!
Not surprisingly, there were several other tables of coin dealers all around us!
I arrived back at the convention center early Tuesday morning so I could get some paperwork done, process my new purchases, and take some more photos around the bourse.
Here are the hardworking folks at NGC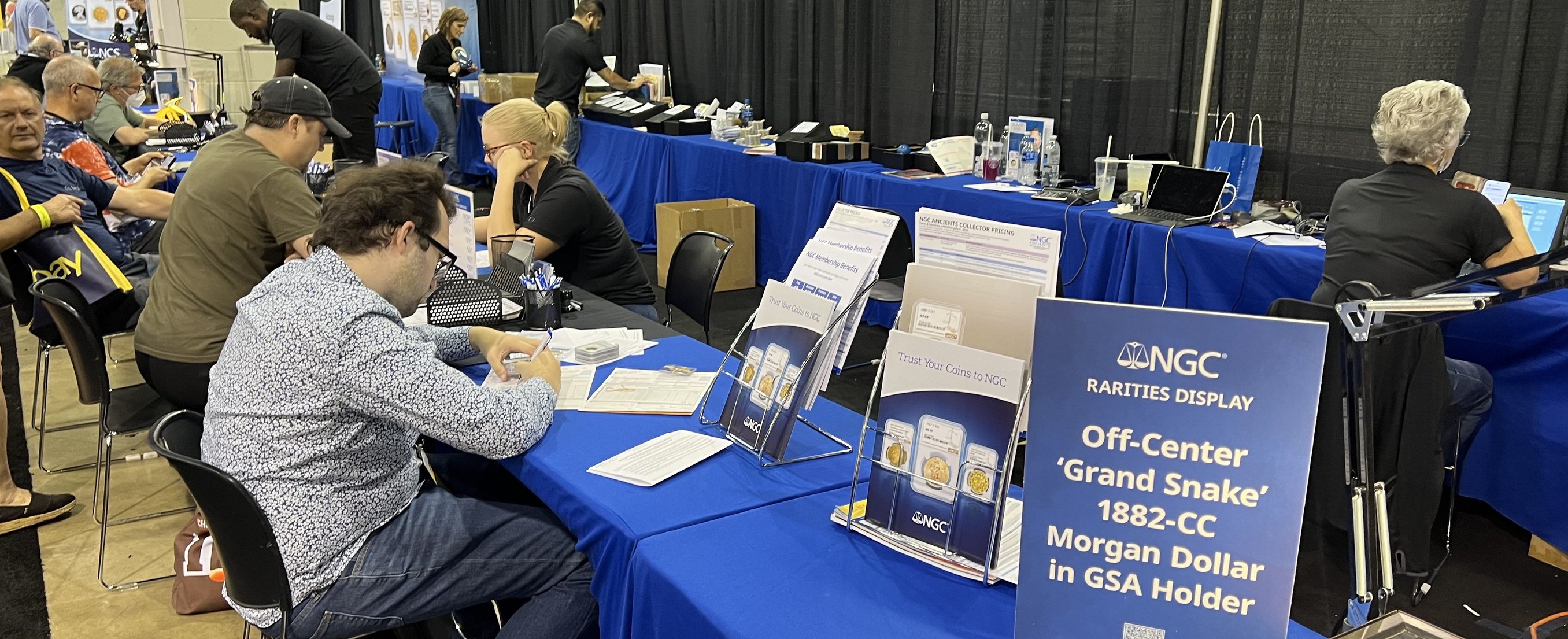 PCGS folks were always busy as well!
GreatCollections, the ANA's official auction company for the next 3 years, was front and center and had a lot of activity throughout the show!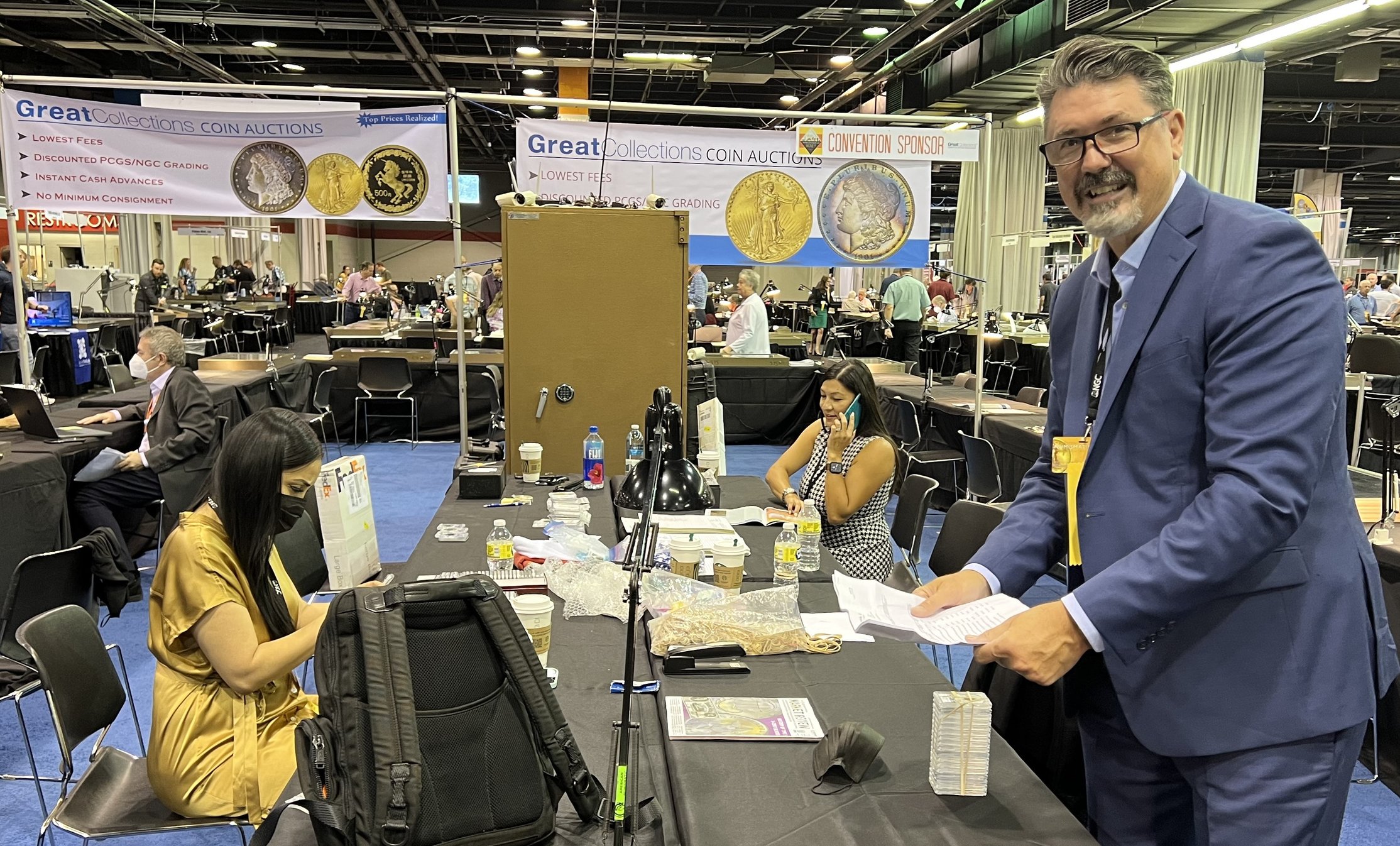 John and Nancy Wilson are amazing longtime and very friendly numismatic ambassadors, eager to greet everyone attending the show!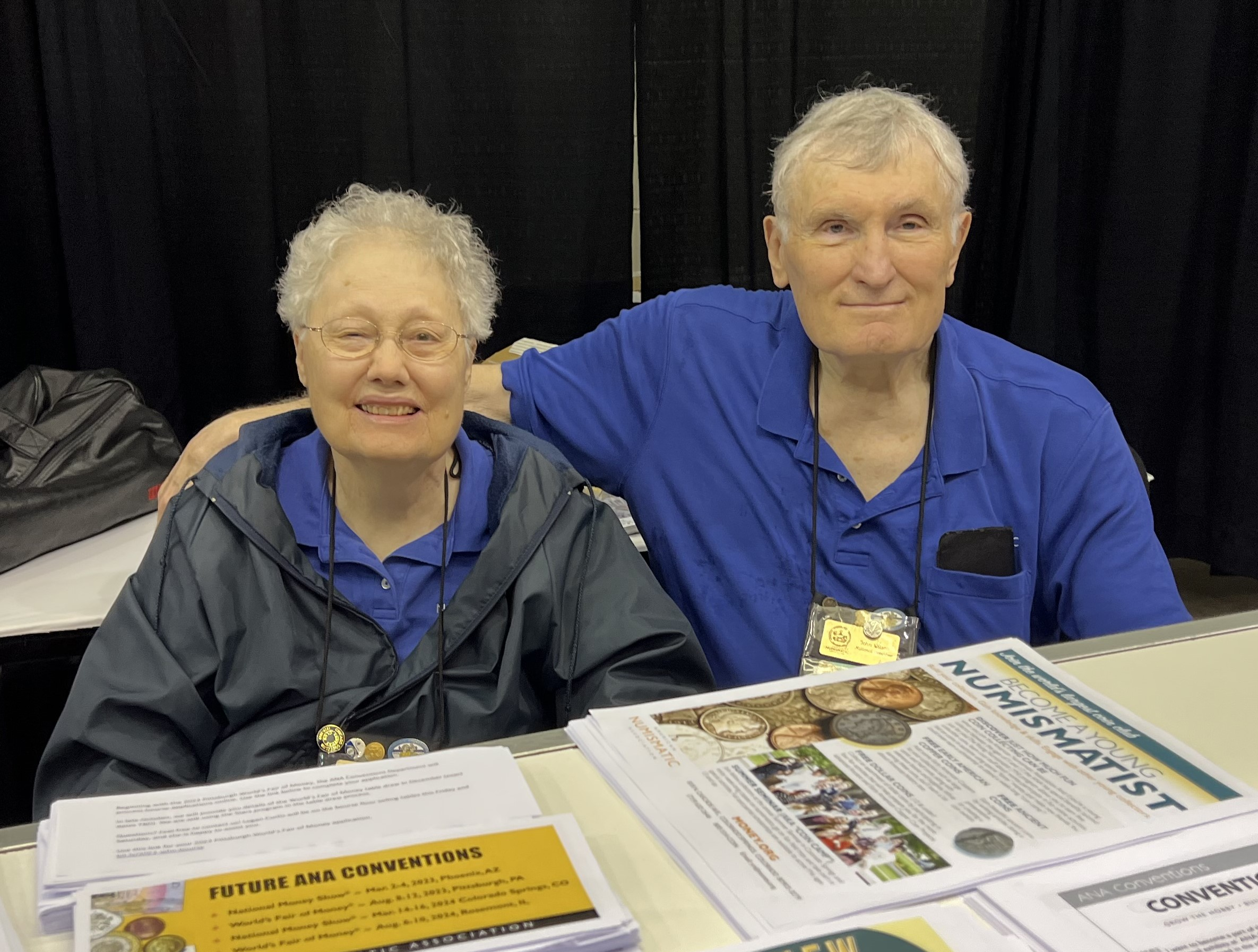 The public was let into the show at 1pm, and boy was there a HUGE crowd gathered at the door when ANA Executive Director Kim Kiick welcomed everyone to the show!


Tuesday afternoon was really busy and I was happy to have lots of folks stopping by my table.
After the show ended, a group of us went over to a local pub, Five Roses Pub, which is in the park just behind the hotels across from the convention center.
After dinner, a couple of us headed over to the Rivers Casino which is right next to the airport and only a few miles away. By the end of the evening, I was happy to end up $50 ahead!
Wednesday morning was sadly my last Women In Numismatics (WIN) meeting. I've been president of WIN for the last 6 years, but after a year of thoughtful discussions and meetings, the board came to the conclusion that WIN had met its goals and felt it was no longer really necessary to have a woman-oriented numismatic organization.
This is the basic content of my speech which I took from my final President's Letter that was just published in our last issue of "Winning Ways" which our editor, Dave Heinrich, artfully, carefully, and thoughtfully put together for us.
I can tell you it was very hard to get through my talk without tearing up and I had to pause a few times to gather myself as I will truly miss being a part of Women in Numismatics.
_"Women in Numismatics was formed in 1991 as a national non-profit organization that provided a networking and educational forum for female numismatists. Members have included new and established collectors, dealers, and those associated with numismatic-related organizations. WIN has encouraged fellowship among its members and promoted education through guest speakers and informative presentations. WIN has also provided educational opportunities to its members by awarding an annual scholarship to the ANA's Summer Seminar in Colorado Springs.
Now, after more than 30 years of service to the numismatic community, WIN has accomplished its mission and achieved the goals it set for itself. With some sadness but also pride in what the dedicated members and officers of WIN have achieved over the years, the WIN Board of Directors has decided to dissolve Women in Numismatics as of December 31, 2022.
Over the years, WIN has done its best to educate, mentor and guide its members through the wonderful world of numismatics and I hope we've left it a little better off. It has truly been my honor to serve Women in Numismatics and its members over these past six years as its president. I am thankful to all those who have been a part of and supported WIN. I am also grateful for all the new friends I have gained through being a part of Women in Numismatics.
And even though WIN may no longer be a formal organization, I'm sure I speak for the rest of our board members, that we will still be around if any of you need any assistance or guidance with any of your numismatic endeavors. In particular, please know that I will be honored to continue to help with your numismatic needs. Just email me at [email protected] or call me at (949) 632-0414.
I'd also like to personally thank each of our WIN board members for all they've done over the years to help our organization achieve its goals and to help me through my tenure as WIN's president. I could not have performed my duties without the assistance and dedication of each member of our board: Cindy Wibker (secretary and membership); Louise Boling (vice president); Kathy Freeland (publicity and member at large); Dreama Hurst (treasurer); Carrie Best (parliamentarian); Lisa Loos (publicity); David Heinrich (editor); and James Motley (webmaster). You have not only been my cohorts in WIN, but you have become my friends and I am so profoundly grateful for each of you."_
During the meeting, we presented Mitch Ernst (President of Central States), Kim Kiick (Executive Director of the ANA), and Bob Hurst (President of FUN) each with a check for just over $3,000 to use for educational purposes. These funds were originally given to WIN by the Newman Foundation for us to use for educational purposes, so we thought we'd pass it on to these organizations who not only supported WIN and gave us free space and booths during their shows for our meetings and presentations, but these organizations also have excellent educational programs and WIN was happy to help support their educational platforms as well.
We also awarded our volunteer webmaster, Jim Motley, with a check for $250 and a special medal depicting the Patron Saint Isidore Of Seville Medal which is regarded as the "patron saint of technology."
We also gave literary awards to Kathy Skelton Larry Sekulich for outstanding articles they authored for Winning Ways. And WIN will also make a $100 donation to the Ocean County Coin Club in NJ in memory of Kari Brower who passed away recently and who was a prolific author of numerous articles for our WIN publication.
At the end of the meeting, I presented each of our board members with a special Yeti WIN mug I had made to thank them for all their hard work and dedication to WIN. As I mentioned above, I could not have done my part without the support of each and every one of these amazing and dedicated people!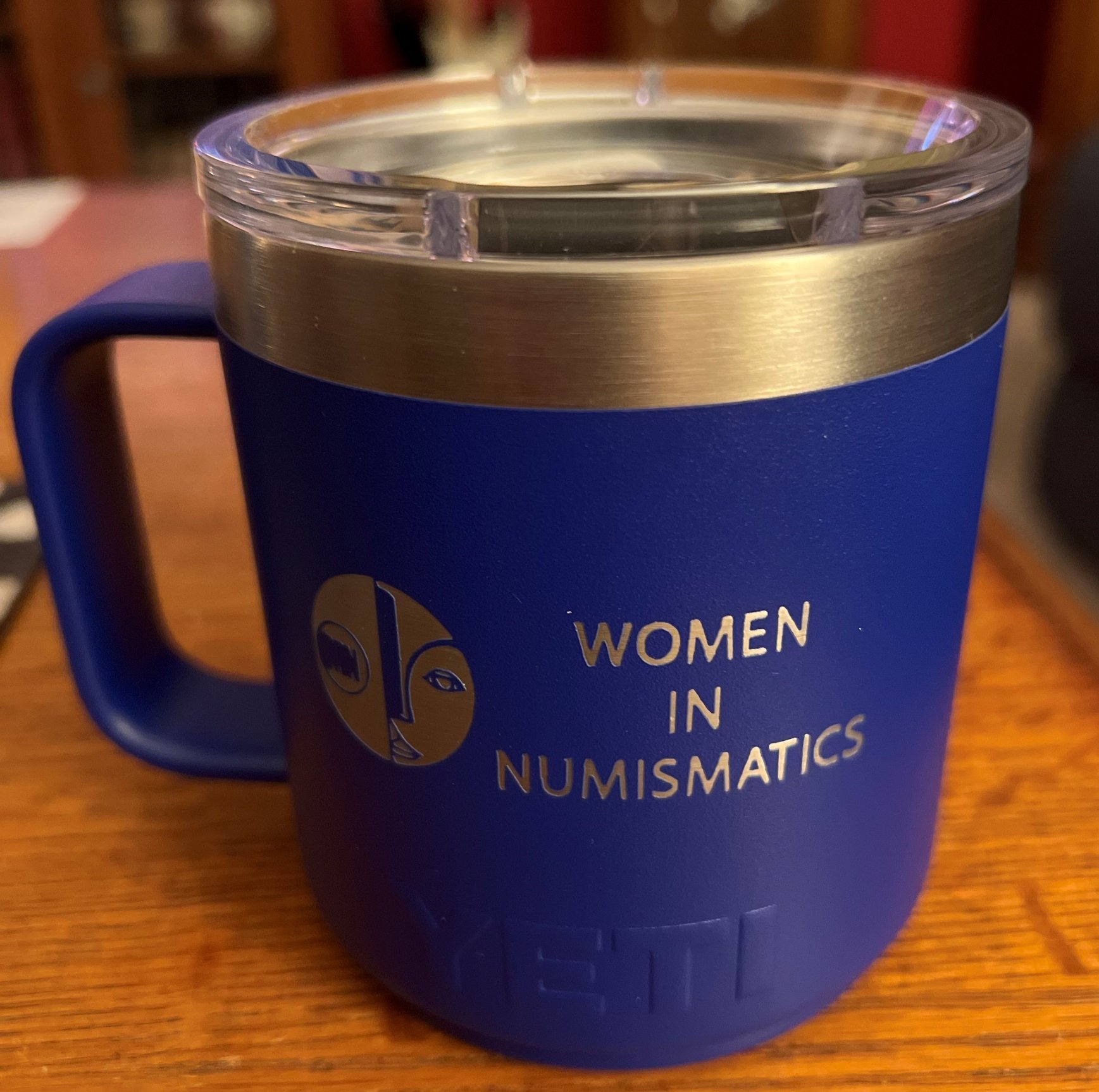 Here are a few pics around the bourse floor after the show opened on Wednesday morning
My awesome booth neighbors (who coincidentally were my neighbors a year ago at the last show!):
Todd/PursuitOfLiberty stopped by my table for a visit
Wednesday was steadily busy, and I was able to buy a few more pieces for my inventory. I also sold several coins from my new purchases, in addition to quite a few pennies from my uncertified boxes.
Here are the new coins I acquired throughout the show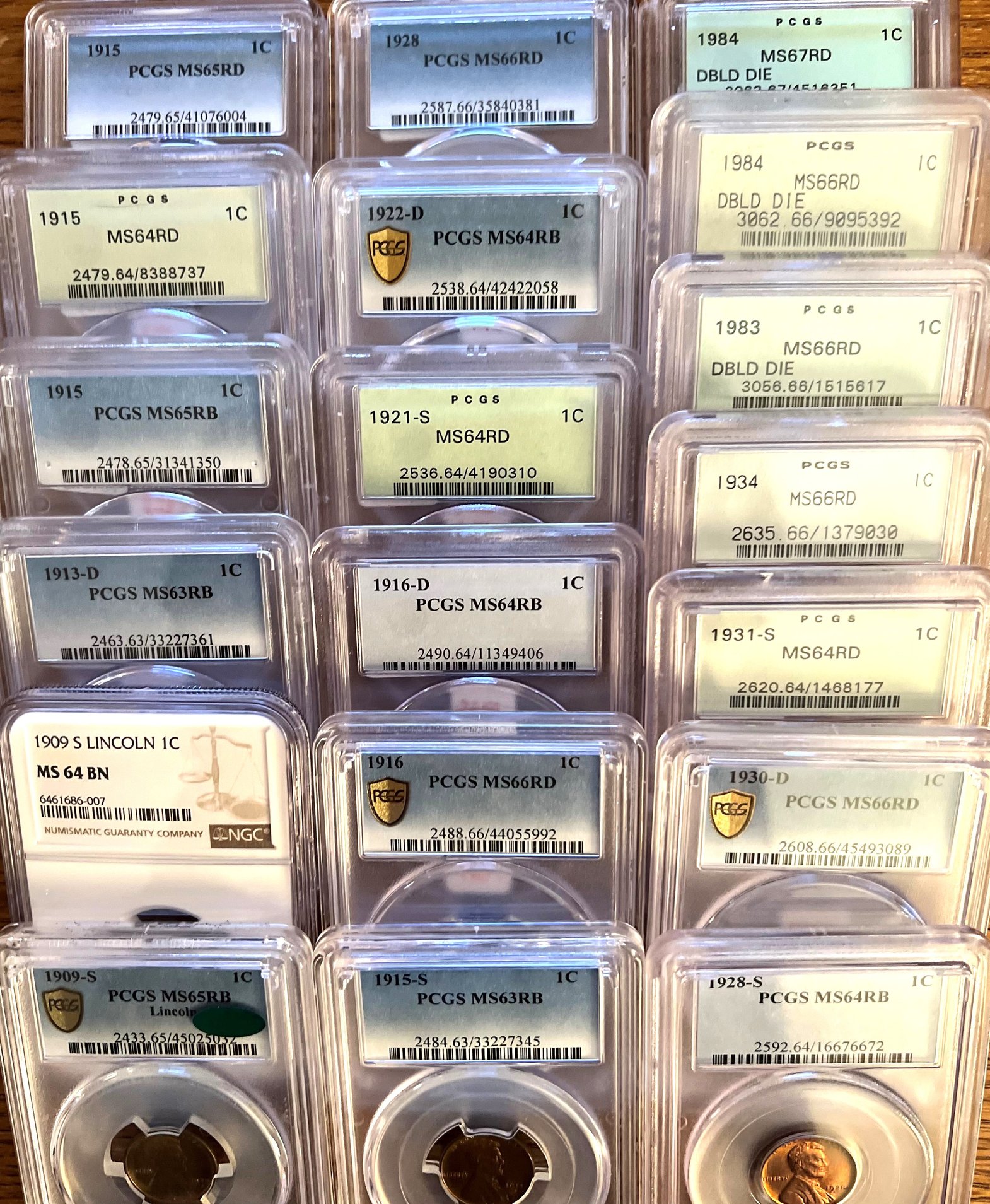 I posted in my last show report from Central States about the 1870 J-788 aluminum pattern cent I saw at the show, where there are only two known - one in PF66+ and one in PF65.
This is a spectacular pattern cent. It has deep mirrors and a beautiful cameo contrast. As only two are known, there are very few chances of acquiring one. The second example is the PR66+CAM from the Simpson collection, which came out of a nearly complete denomination set broken up around 2017-18. This (MS65) example comes from the Loye Lauder collection (Estee's sister) which was sold in 1983. The coin surfaced in the Dickson collection in 2021, just after the Simpson collection sale where the PR66+Cam came on the market."
I ended up purchasing the PF65 for my personal collection right after the CSNS show.
Well, the person who owned both coins also decided to part with the beautiful PF66+ piece as well and and I was honored that he gave it to me to sell for him. This is an absolutely stunning and rare piece and anyone who ends up with it will be very pleased to add it to their collection!
Soon it was time to take a breather and open one of the bottles of wine that my friend brought for me - Chappellet Cab. It was one I hadn't had before and it was delicious! (He has very good taste!)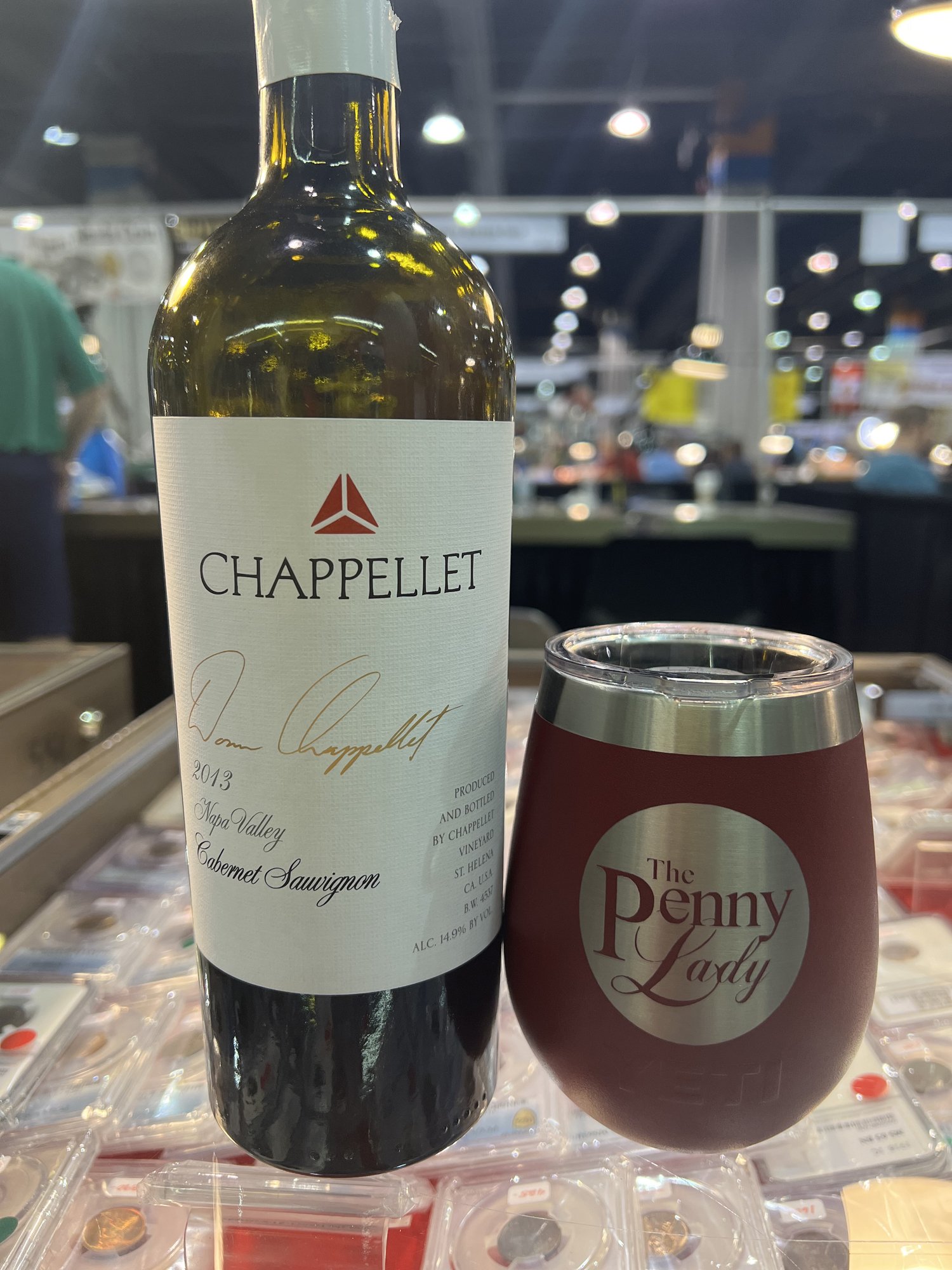 After the show on Wednesday, we headed to Carlucci's for dinner. What a wonderful Italian restaurant, one of my favorites!
The wine and food was amazing!
Thursday morning when I got to the show I decided to take some time to view the competitive exhibits before the public was let in. They had some very diverse, fun and interesting exhibits and you could tell that all the creators put a lot of time and effort into creating them. My personal favorite weas the WWII exhibit entitled "Wartime Change."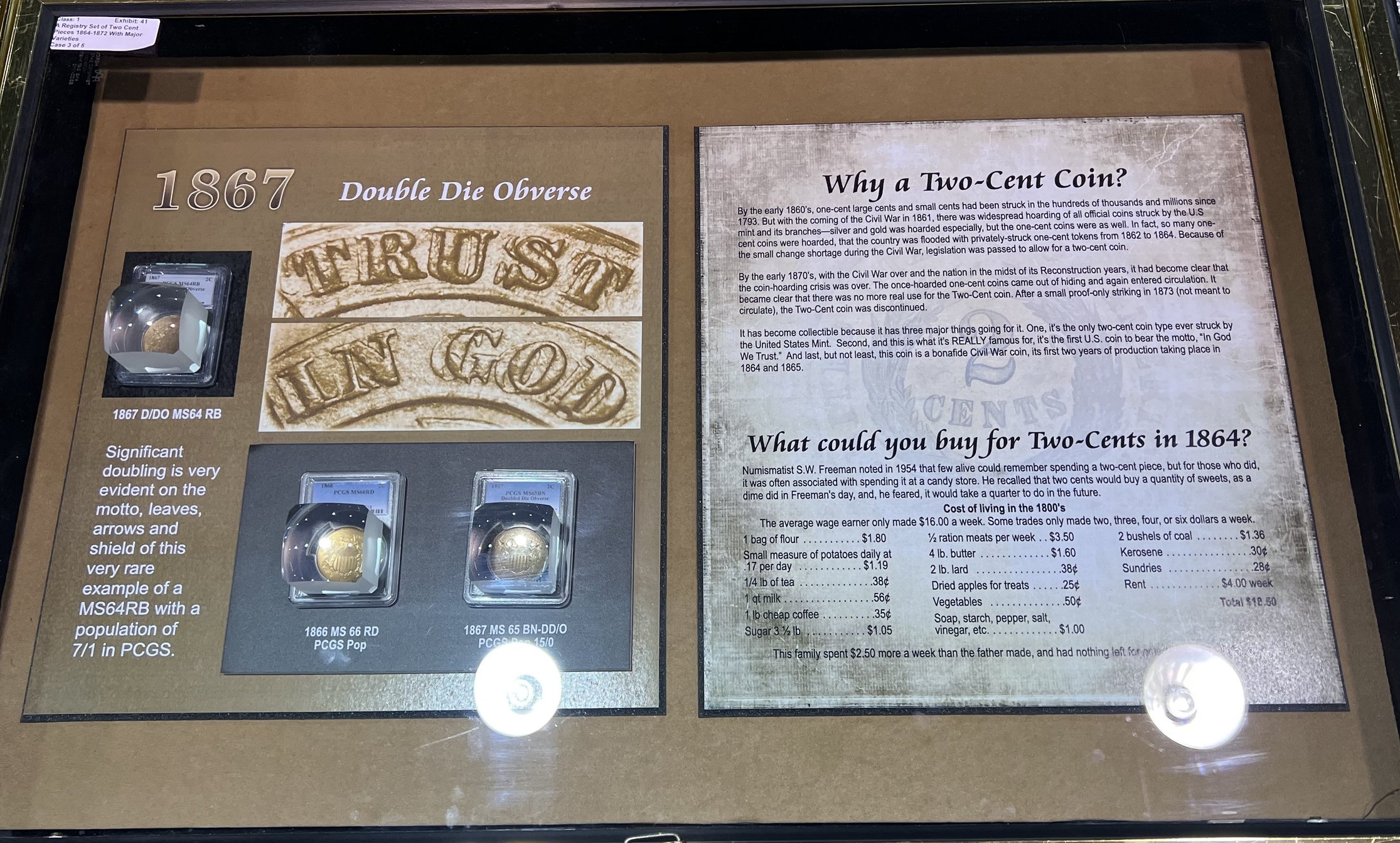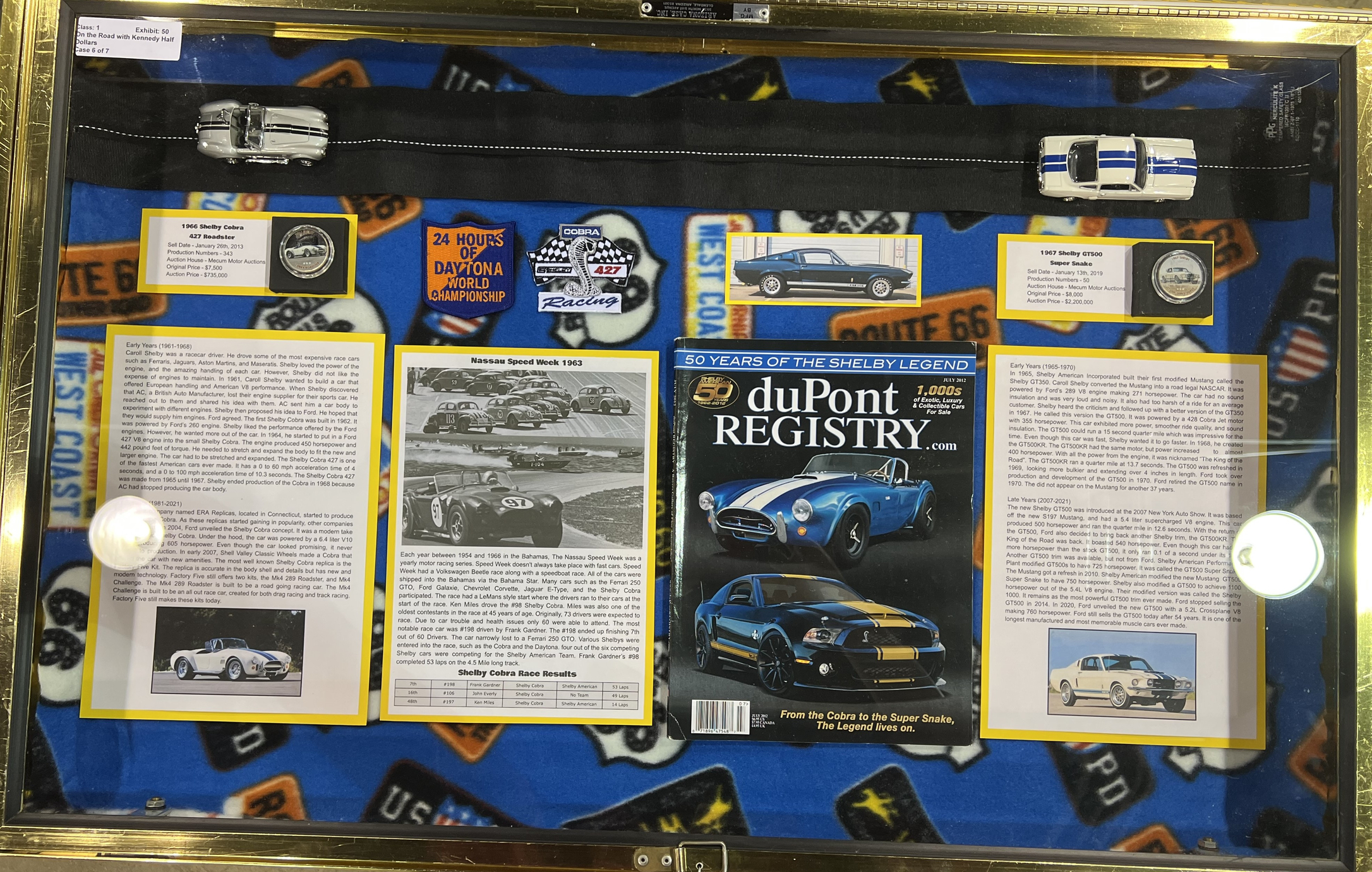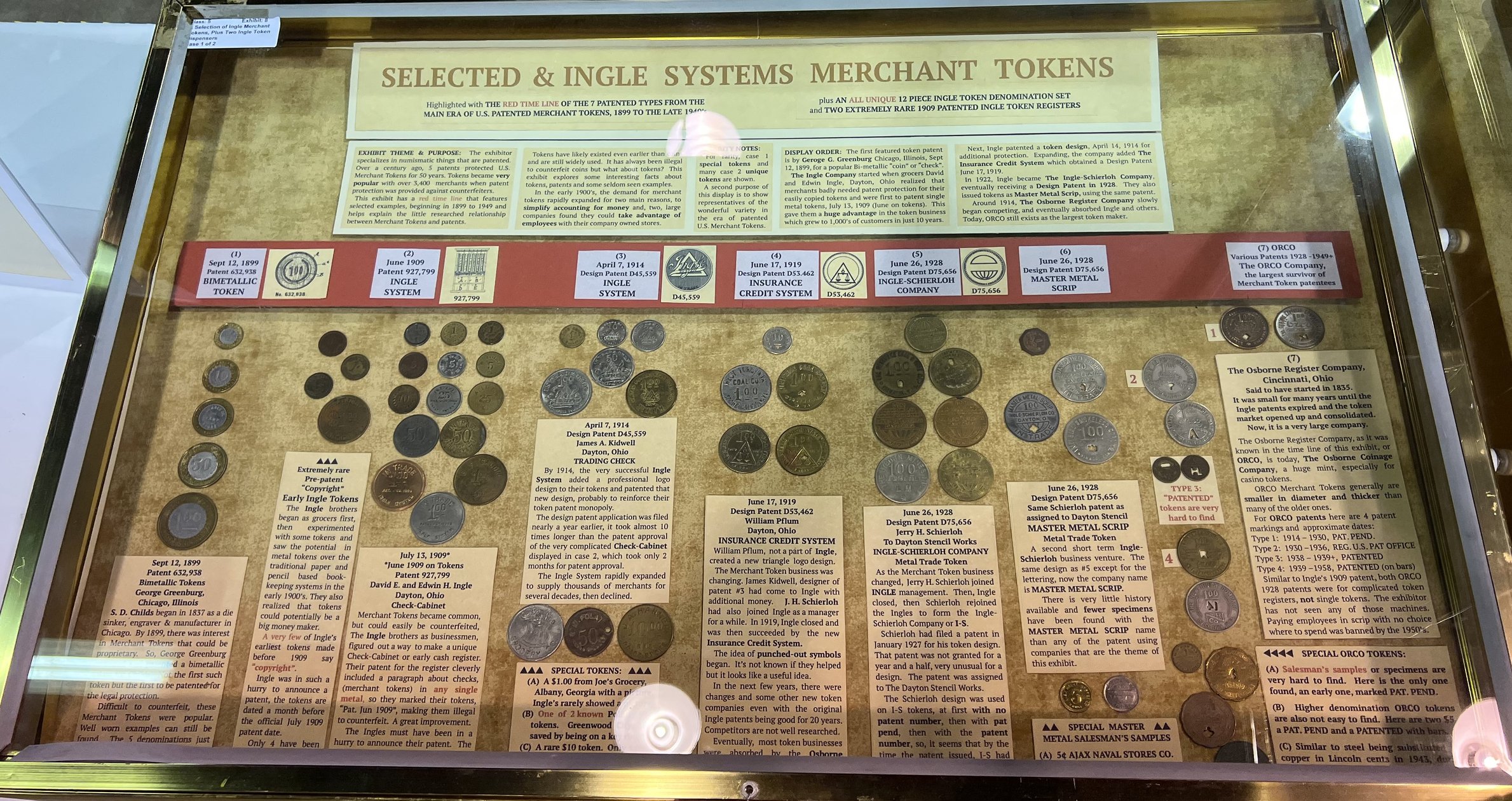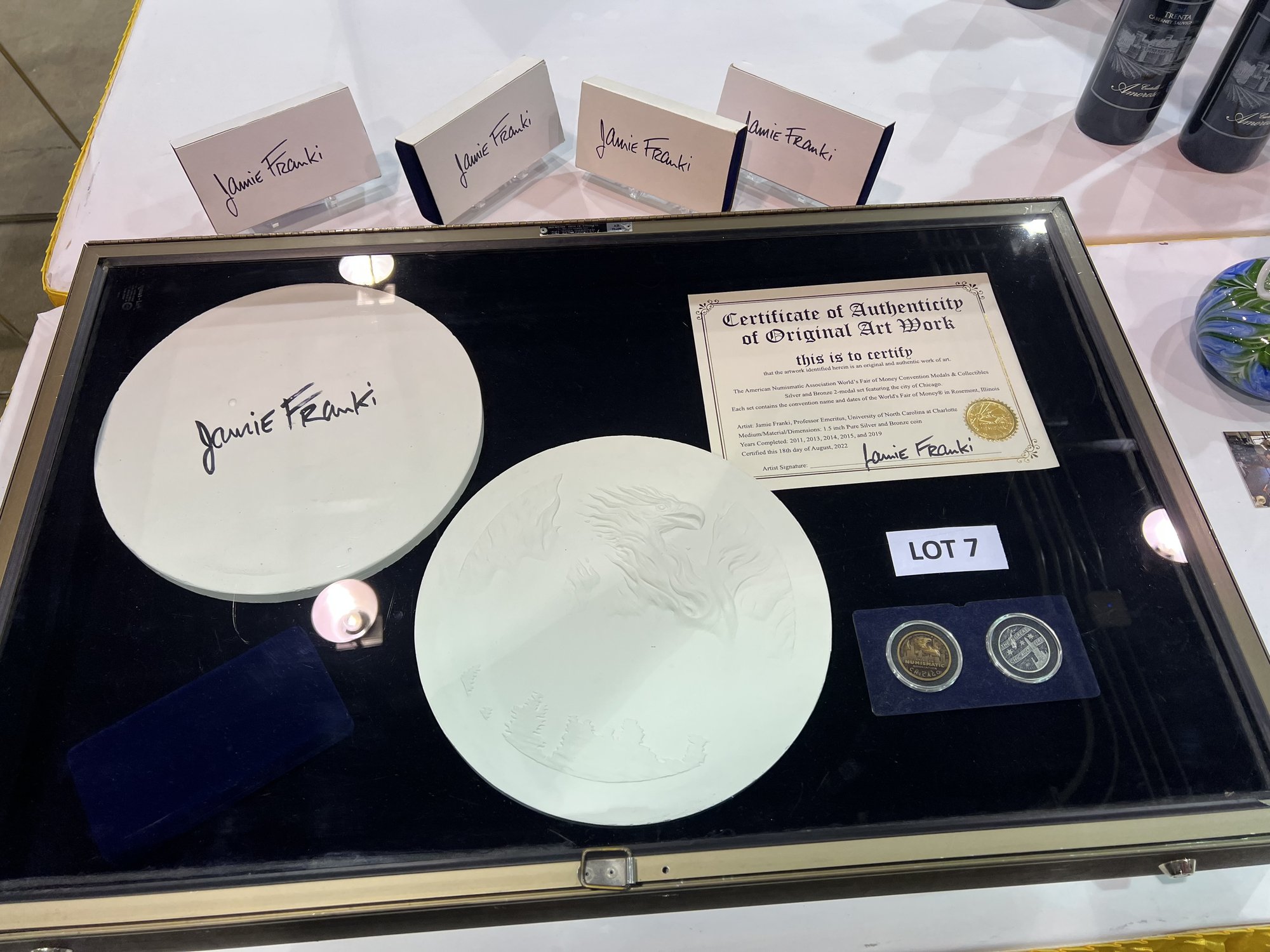 After the show opened to the public, several more forum members stopped by to say hi. It was great seeing these folks, some of whom I hadn't seen in quite a while!
Mark/ColoradoCoinGuy

Andy and Chris/Fishteeth

Doug Noblet who brought a bottle of wine from a mutual friend/customer of mine!

Roy Ash brought me this very cool antique hat pin made with Indian cents from the turn of the century

And Ben and Abe also stopped by!
After a flurry of business, soon things died down and I was able to have some of the other bottle my friend brought and which he knew was my very favorite wine - Rombauer Zinfandel!
Then 8 of us headed back to Gibson's for another evening of favorite food, fantastic wine, and fabulous friends!
Since Gibson's is a bit of a walk away from the Hyatt, I ran into this gentleman who was kind enough to walk me back to my hotel
Friday morning, I took time to explore the shipwreck exhibit and the ANA museum coins. Both displays were fascinating and amazing!
Central America exhibt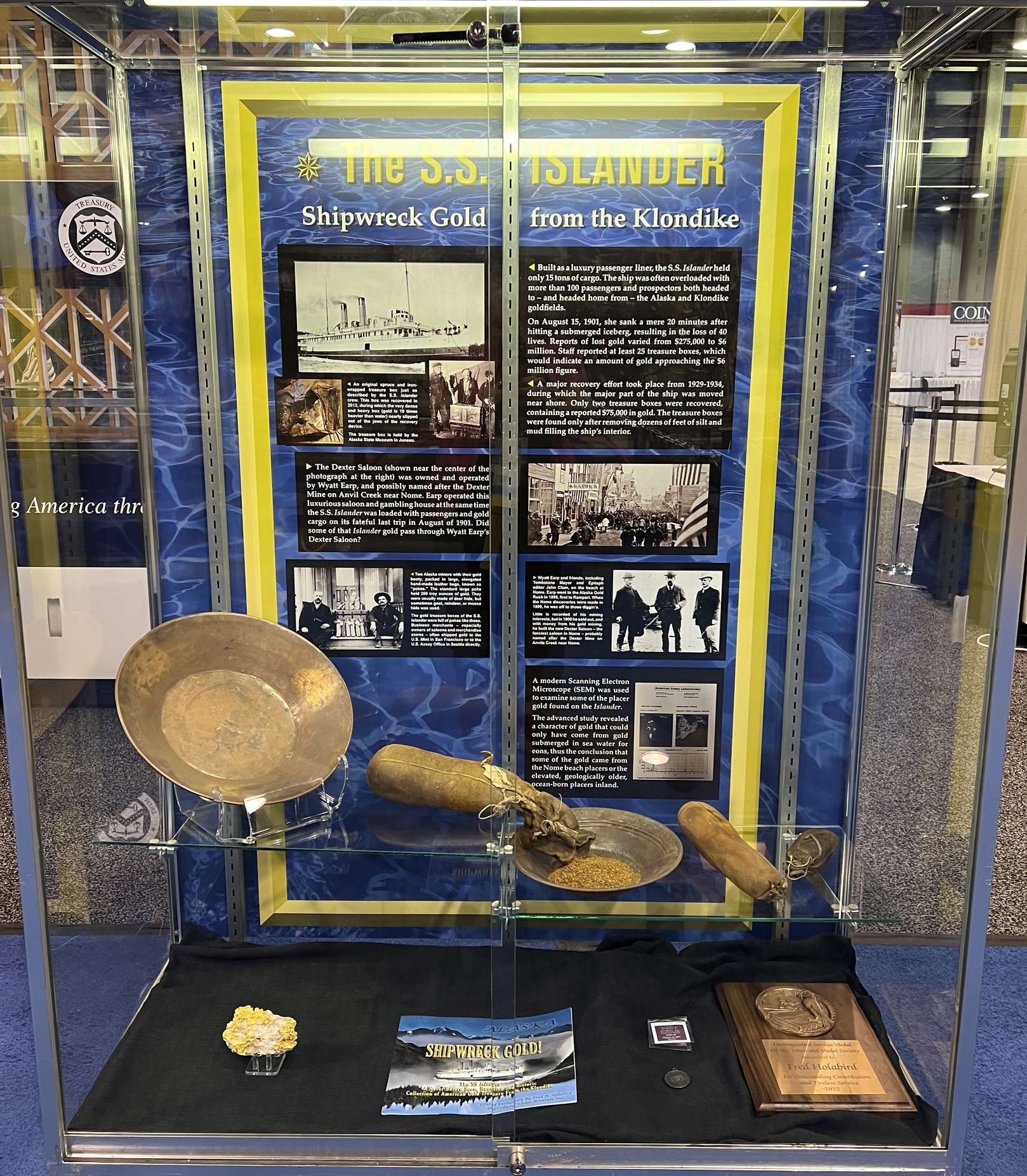 The ANA Museum exhibit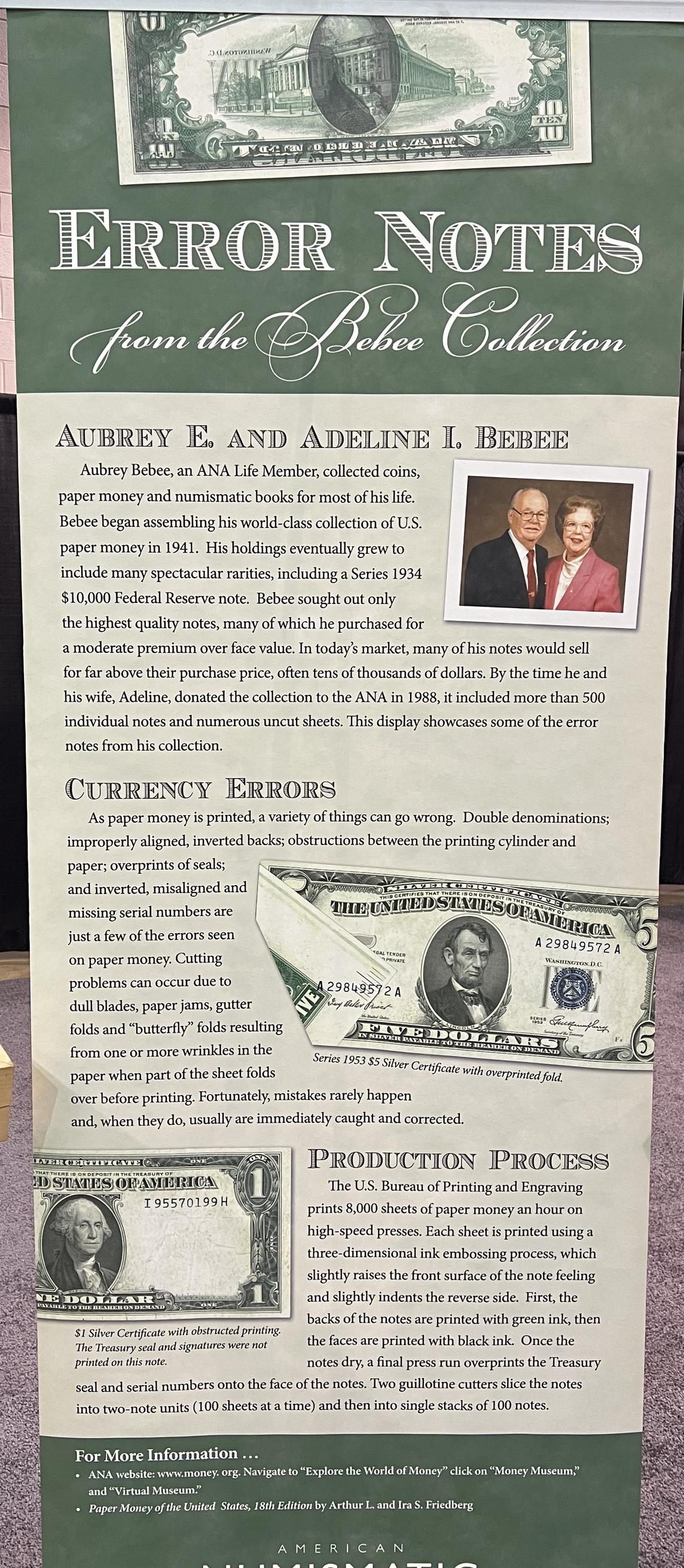 Friday ended up being one of my business days at the show. I had a lot of customers who ended up buying quite a few pieces from my inventory.
Later in the afternoon, Jerry Bobbe stopped by for a brief chat

I also ran into my good friend Ron Guth!
Then it was time to head over to the ANA banquet.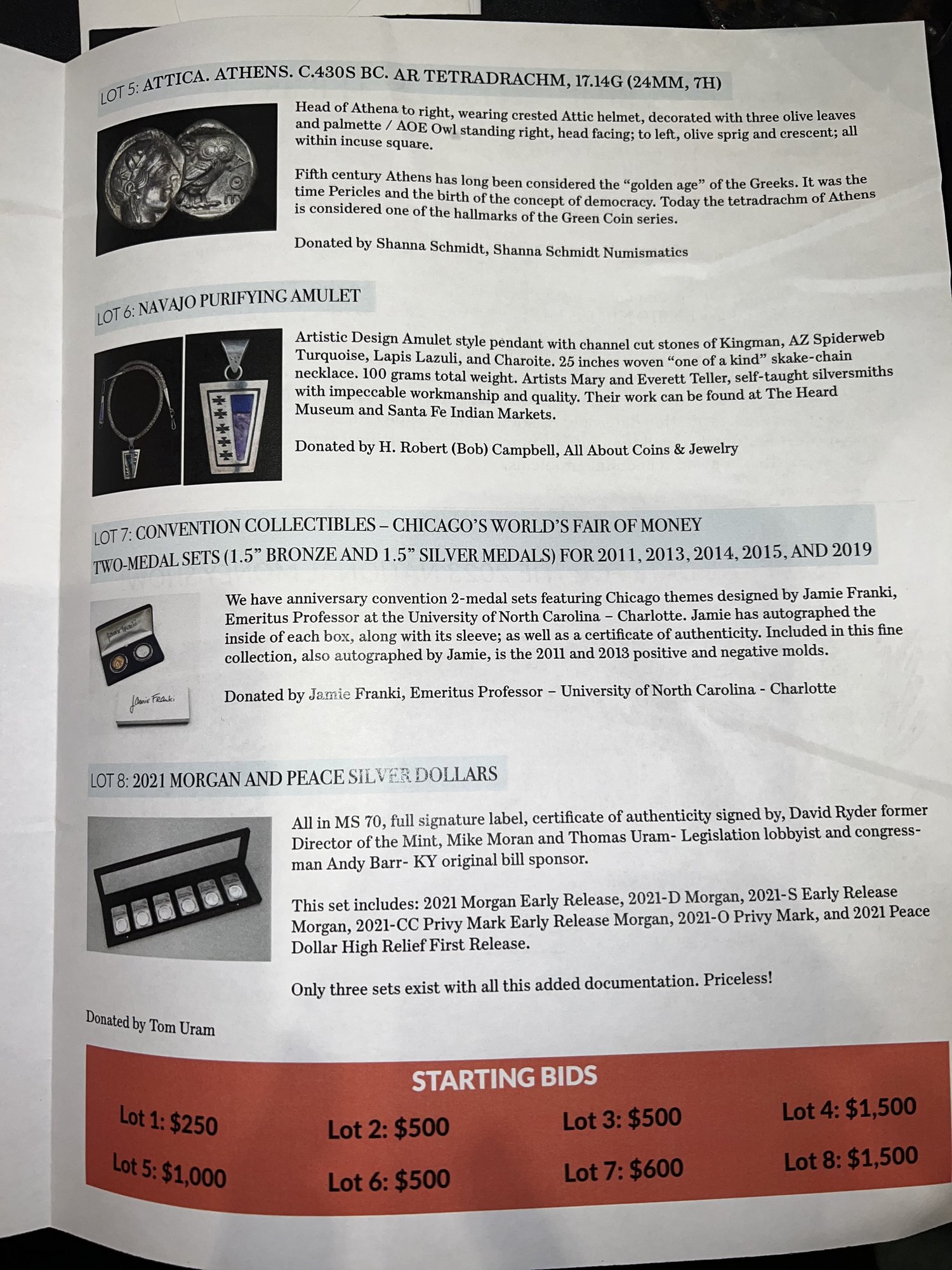 Abe Lincoln gave the most impressive and dramatic recitation of the Gettysburg Address that I've ever heard!
Michael Shutterly won Best of Show and 1st Runner Up for his two exhibits
Saturday was on the slow side as usual, since many dealers have to pack up and catch their flights around the country. It was raining and thundering throughout the day and we were all hoping it wouldn't affect our flights too much. Soon it was my time to pack up and head to the airport. I enjoyed a nice glass of wine before boarding my flight.
But soon, I found out my flight was delayed but only for an hour. My friend Greg Lyon was at the airport and I was able to join him at the Admiral's Club while I waited for my flight. There were several other coin dealers waiting for their flights as well and I enjoyed chatting with them.
Soon I was on the plane heading home!
Soon I was home with my hubby and my sweet Penny!

I had a great time and a great show! Next up - this week is the Las Vegas Palace Station show, then the Buena Park show in a couple weeks, and Long Beach the end of September!
Charmy HarkerThe Penny Lady®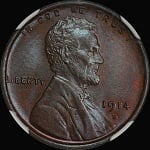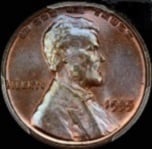 Leave a Comment