Home
›
U.S. Coin Forum
ANA Show Report
Project Numismatics
Posts: 1,150
✭✭✭✭✭
This is my first trip report, so please bear with me - it's long!
Thursday
I was originally scheduled to fly into Chicago Weds night, but alas family and work obligations led to a flight change and I arrived at O'Hare at 9am on Thursday. After a long walk and couple wrong turns, I found the shuttle center. In a stroke of good luck, the Hyatt bus happened to be waiting and the driver departed in short order.
The Hyatt Regency was an upgrade vs. my last trip to Rosemont in 2019 when I stayed in a hotel that wasn't connected to the convention center. I certainly appreciated not having to walk outside to get to the show.
My first order of business was to find my Dad who had graciously agreed to join me for the show despite the fact he isn't a collector. After linking up, we headed over via the long sky bridge to the convention center to register. Walking into Hall F, we beelined to the US Mint booth to secure two American Liberty Silver Medals.
PCGS was offering a special ANA show label for the medal to commemorate the show which I think will make a fantastic memento for both of us. So the next stop was the PCGS table to drop off the medals plus an economy and a regular submission. We only waited behind one person before a chair opened up and the always helpful staff took care of all three submissions in short order.
Having covered the essentials, we decided to start in the back of the bourse because the floor was crowded! There was tons of activity - nearly every dealer was engaged in showing a coin to one or more customers or evaluating a purchase or completing a deal. The buzz was great to see!
I had three main focus areas on the bourse - upgrading my low MS Peace set, filling holes in my F-VF barber half set and my barber dine XF set and working on my slabbed ~XF CAC 7070 set which is a fairly new endeavor.
Little did I know that this would be the copper show for me!
My first pickup was an 1835 half cent in CAC XF0. The slab was a bit scratched up but the price was right and I scooped it up.
After covering the back of the bourse, we broke for lunch and quickly resumed the search, starting on the left and moving row by row.
I completely struck out on barber dimes - my date/MM set is a little more than half way complete and I only found common dates on the floor and didn't see a single slabbed XF barber the entire show. I finally found one dealer with 3 original looking barber halves. He kindly pulled them out and mentioned that they were newps and he hadn't priced them yet. The 1899-S was gorgeous and he quoted me a very fair price and I quickly purchased without negotiating before he changed his mind!
I completely struck out on Peace dollars in 62-64. I was focused on 22D, 23D, 24S and 34D. One dealer had a 34D in 62 CAC but wanted strong 64 money for it and I passed despite the fact the coin was a solid 63. I am extremely picky in this series because all of the coins are common and it's best to wait for a PQ example.
Many dealers had stacks of Peace dollars and I would stop to ask about my four dates to which most dealers claimed they had several examples only for them to scrounge around and not find any!
After sitting with one particularly helpful dealer who went through box after box looking through his inventory at my request, I purchased a nice 27-P in 62 that looks more like a low-end 63. It's a dup, but I have an odd fondness for this date and have a few examples. Of the P mint Peace dollars, I think they are the hardest to find nice.
My next pickup was from Charmy who I had not previously met because I have never focused on copper. But with the start of my recent 7070, I knew I would be able to find something nice and after educating me a bit on 1857 FE varieties, I splurged a bit and picked up an AU55 CAC S-16.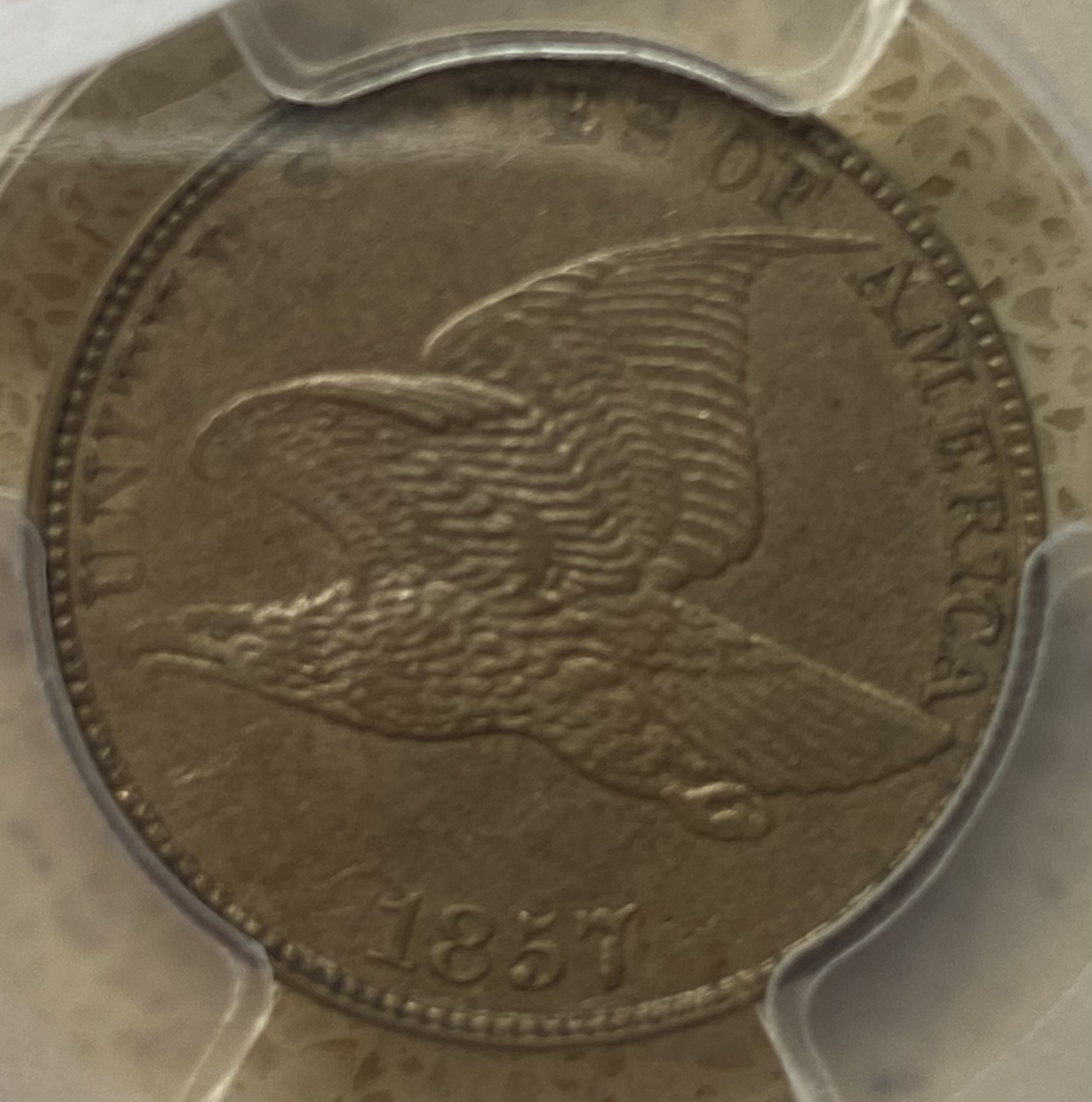 By 4:15, many dealers began calling it a day and we decided to as well. We had managed to cover the entire bourse (it was hard), but I had made notes to revisit certain dealers on Friday.
Dinner may have been the biggest win of the day. We made the decision to Uber to Forno Rosso which is about 15mins away. This is seriously the best Neapolitan style pizza I've had in my life. On top of it, the owner came out, chatted with us for a bit and handed us complementary limoncello to finish off the meal. Forno Rosso is listed on the Chicago Eater list of best Chicago pizza spots and it definitely lives up to that accolade. It's worth the trip - just do it!
Friday
On Friday, my primary goals were to revisit select dealers, view the exhibits and head over to the Loews for lot viewing.
At show open, I beelined for Reeded Edge and picked up an 1875 IHC in XF45 with a green bean for the 7070. The guys at Reeded Edge were already busy at 9:30am and they graciously accommodated my small purchase while dealing with much bigger clients simultaneously.
Next up was ANA exhibit viewing. The highlight for me was a merchant token exhibit which had a large focus on South Carolina including some unique pieces. I also enjoyed the Swiss currency exhibit which walked the viewer through the new Swiss note augmented reality app which makes the notes come alive with animation when viewed through a cellphone camera.
After exhibits, I stopped by the BCCS table and had a great chat lamenting the lack of available material. Hopefully next time I can make the club meeting.
After a lunch of leftover pizza, it was time for lot viewing. As others have said, it's a hike over to the Loews. Sitting down at Stacks, I focused on the Fairmont and Virginian offerings. Lot viewing is an amazing learning experience and is probably the best reason to travel to a large coin show. You see many coins quickly and can compare original coins to market acceptable to cleaned coins as well as learn how coins compare in-hand vs. online and printed pictures.
For dinner Friday, we made the trip out to another restaurant that had made the Chicago Eater top list for suburban hotspots - Chef Ping in Rolling Meadows. It's worth the trip. We waited about 30min for a table and we were not disappointed. Probably the best Chinese food I've eaten in 5+ years. Highly recommend getting out of Rosemont for food - Chicago area has some amazing food.
Conclusion
Wrapping up, I had the following observations:
1) CAC gold and silver dollars are HOT. Good luck finding or buying anywhere close to CAC guide or recent auction results.
2) (Lower priced) CAC copper is not hot. I made multiple buys and had other opportunities for decent CAC coins at below PCGS guide and the CAC premium is much more modest.
3) Original barber and seated material is extremely hard to locate - probably more so than usual. I kept an eye out for SLDs and halves and there was little available - halves were generally common dates and I only saw a handful of slabbed SLDs. Trade dollars outside the 78-S and other more available dates were also scarce.
4) There were plenty of YNs wandering around - with parents, as ANA pages, and working for dealers. Saw a few with Witter U hoodies on. it's great what the ANA, dealers and others are doing to support the hobby.
Thanks for reading!
Leave a Comment