Home
›
U.S. Coin Forum
Newps / Gold Type Set Update

Pedzola
Posts: 988
✭✭✭✭✭
Happy Saturday!
Wanted to give an update on my gold type set and share some amazing new additions. The registry link is in my signature.
First up, 1802/1 $5 in AU58 CAC. I had a really nice old holder 1802/1 in au55, which I have posted a few times. But then I saw this coin with a well-known dealer at a local show and it really spoke to me. Ended up trading in my 55 for this 58. Has great flash and color, my pictures don't really capture the character. The trueview is a little more exciting but this one is best viewed in hand.

Next up I was thrilled to acquire these 2 from a fellow collector with similar interests. First up, an excellent 1851 $5 in 62+ CAC. I had only recently purchased a nice 1857 in 58, but when I saw this coin it was an easy decision to upgrade.
These no-motto libs are hard to find in 62 or better. I love the huge date on this 1851. It makes a fantastic type coin, and a great upgrade for my set.

And last but not least, I am very excited to own my first "rattler." This 1813 $5 is a type I've been hunting for the past year. Early gold has been tougher to find, and lining up with my budget an even bigger challenge. The stars aligned for this one, and it might be the last $5 type for my set. The remaining small eagle and capped bust small diameter likely out of reach.
This 1813 has great luster and color, wonderful original surfaces. Some strike weakness on the reverse and very light adjustment marks on the obverse dont take much away. A really great coin.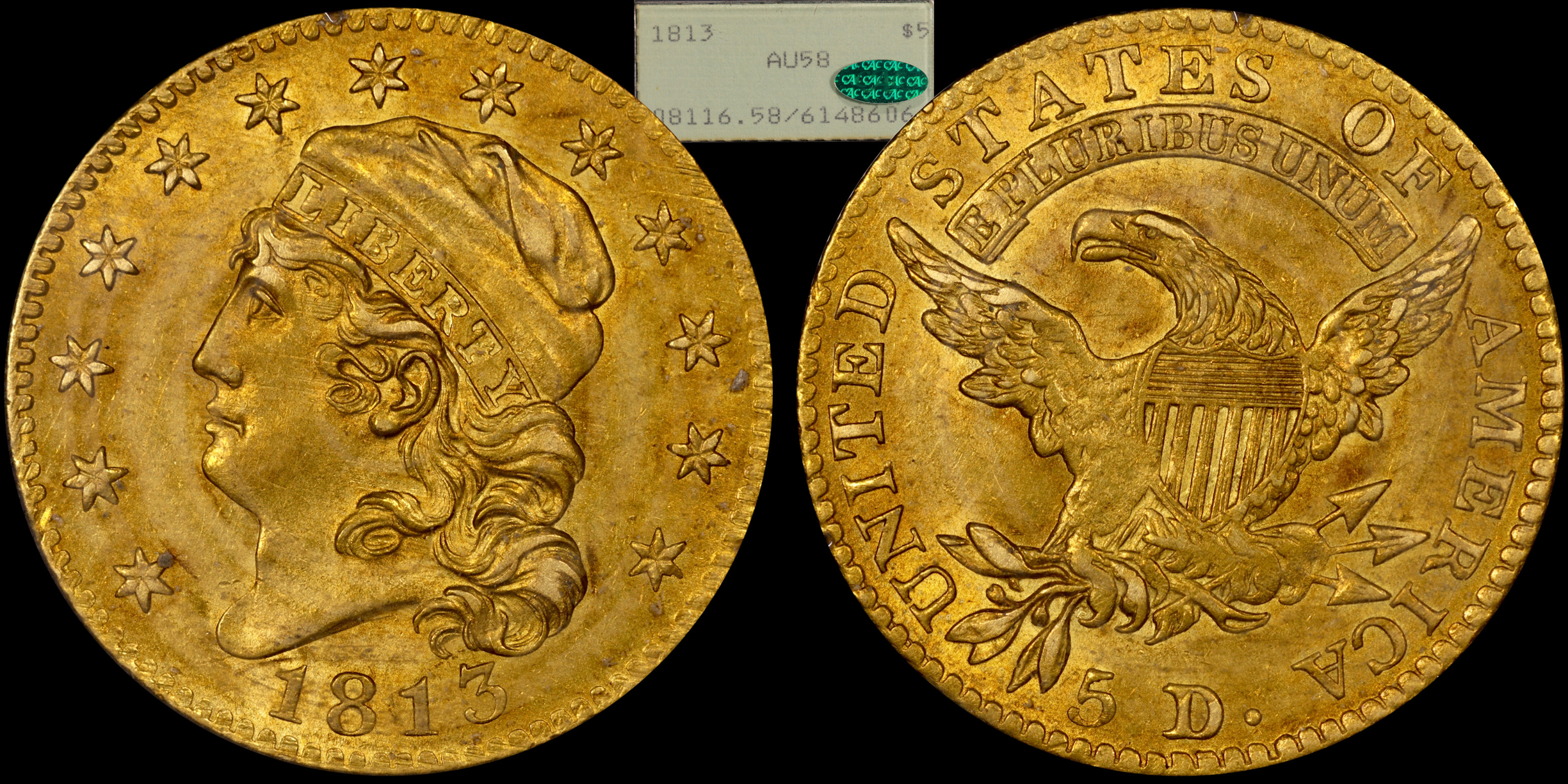 I will put a poll out to the group here. I like this coin a lot. I think 58 is the right grade. (maybe it could get a plus?). Inside this holder are some plastic bits floating around. I dont know how this happens, but they are there. They are loose and move when the holder is tapped. They seem to roll on the surface of the coin which concerns me. Is there any risk of damage here, should I get it reholdered? They are a nuisance for photography but I assume the coin has more value in the old holder. Its neat but I would love to get those scraps out of there.

So I probably need to give my bank account a break for a bit, but high on my list next is a type 1 gold dollar in 65 cac. There are a couple of others that are potential adds but I think I'm done with any big purchases for the year. Have made a lot of progress on this set in a short time. Have exactly 20 coins right now, feels like a fine time to pause and enjoy.
Leave a Comment