Home
›
U.S. Coin Forum
Charmy's 2017 FUN Show Report w/lots of pics!

ThePennyLady
Posts: 4,284
✭✭✭✭✭
First, let me say that my prayers and thoughts go out to the families of those injured and killed during the shooting at the Ft. Lauderdale airport. Even though we were at the convention center which is only a couple miles away from the airport, everyone was shaken up and shocked by what happened. I know a couple dealers were at the airport and got caught up in the evacuation onto the tarmac, but luckily they were okay and eventually made their way home. I felt bad for all the folks who were stuck at the airport especially on Friday, but also those who had to travel home on Saturday. Even when I left on Sunday, the airport was packed, and luckily everyone seemed to be demonstrating lots of patience.
I'd never been to Ft. Lauderdale before so I had no idea whether this FUN show would be good or not. So let me start out by saying that, in spite of the terrible events, this was the best show I've ever had! I was so pleasantly surprised by how busy I was, and part of it was due to the fact that I had just acquired a beautiful collection of PCGS MS65 RB Indian cents, and they were selling like hot cakes. But there just seemed to be a lot of collectors looking for quality material and I was very pleased to be able to help them fill holes in their penny collections!
I had an early flight on Tuesday before the show so the sun just coming up when I left Orange County.
I flew through Dallas and arrived in Ft. Lauderdale around 4pm.
Having never been to Ft. Lauderdale, and forgetting to do my due diligence, I hadn't realized how warm and humid it would be. Ughh! It was almost 80 degrees with about that much humidity as well. I brought clothes like I would have for Orlando so as soon as I arrived in my room, I peeled off my jacket, tied my hair up, and turned up the air conditioning to cool off.
Then I headed to the restaurant bar to grab a bite to eat and something cold and refreshing. The atmosphere at the bar by the pool was very tropical with great music and a nice cool breeze coming off the marina, so I thought a tasty Mai Tai was in order, along with a flatbread pizza!
The Hilton hotel is directly across from the convention center and located right on the marina, so there were lots of beautiful yachts, along with huge palm trees swishing in the breeze.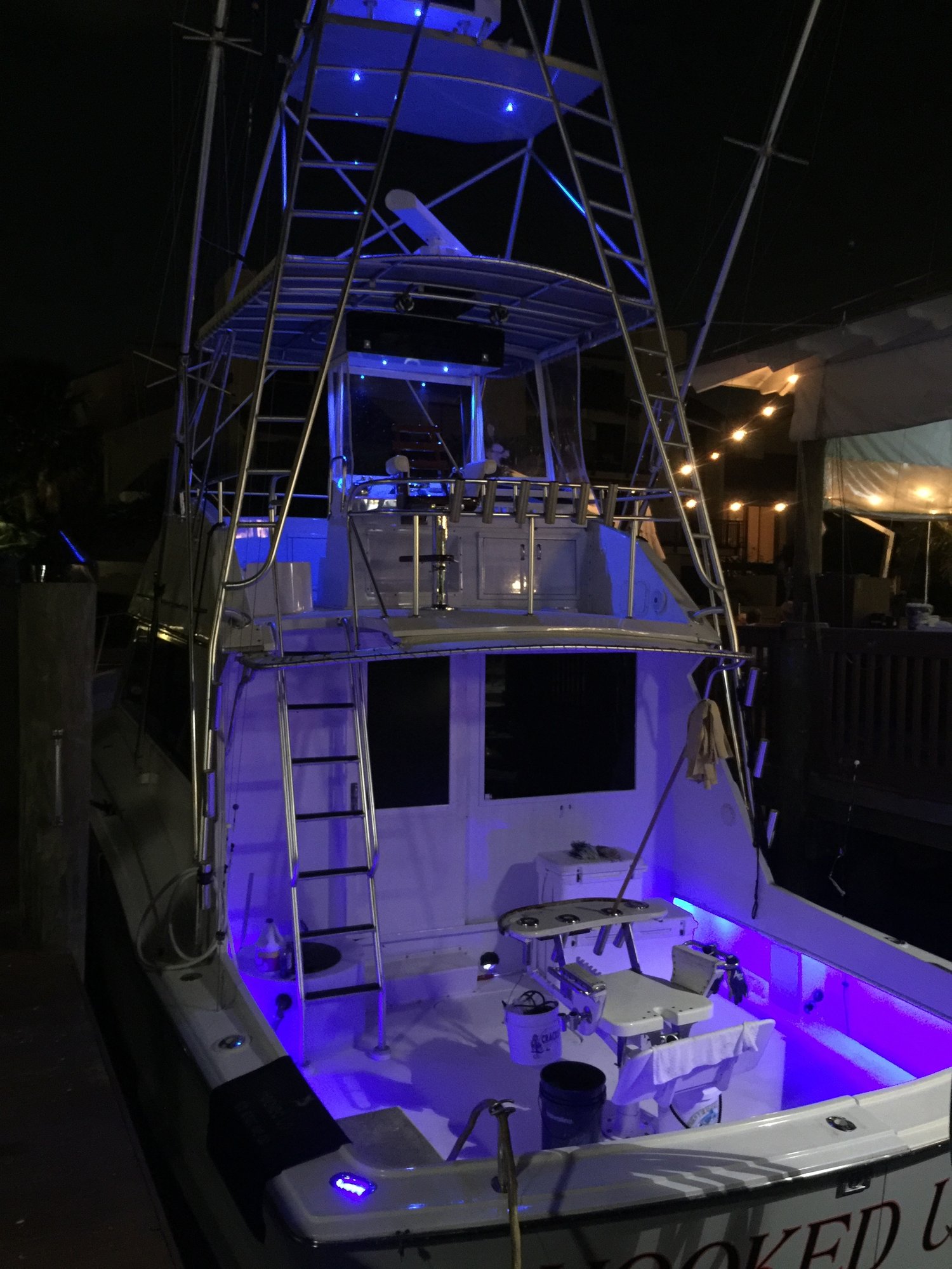 This is the view from my hotel room in the day and the same one at night
Set up wasn't until 2pm on Wednesday so I had a chance to check out the area a little bit. I even found a Total Wine and More so I could buy some wine!
I went over to the convention center around 1pm and there was already a large crowd of dealers waiting to get in!
After we were let in and found our tables, everyone began unloading and setting up their booths. However, there was no air conditioning in the room until several hours later, so it was quite sweltering and humid and very uncomfortable. But eventually the air came on and everyone quit sweating!
Mostly through vest pocket dealers, I was able to pick up several nice coins on Wednesday and throughout the show.
After I set up my booth, I went over to the exhibit area and set up my exhibit, "Penny Pots and Pins Made by Offenders and Defenders."
I didn't have a chance to view all the exhibits, but this one, also in my category, caught my eye. I didn't know it at the time I took this photograph of the first case, but it went on to win Best in Show!
After set up day ended, Rick and I headed over to the Hard Rock Casino on the Seminole Indian Reservation and had dinner at the Hard Rock Cafe. I love looking at all the music memorabilia up on the walls!
On Thursday morning when I was getting ready for the show, I was pleased to see this ad for the show on the tv!
When the show opened to the public, there was a large crowd who just kept streaming in. From the beginning until almost the end of the show on Thursday, I was constantly busy. It was the one of the best selling days I ever had! I was so excited to have so many people stop by to buy my coins. I didn't even get a chance to open a bottle of wine until after 5pm!
One of my girlfriends brought me this late birthday gift!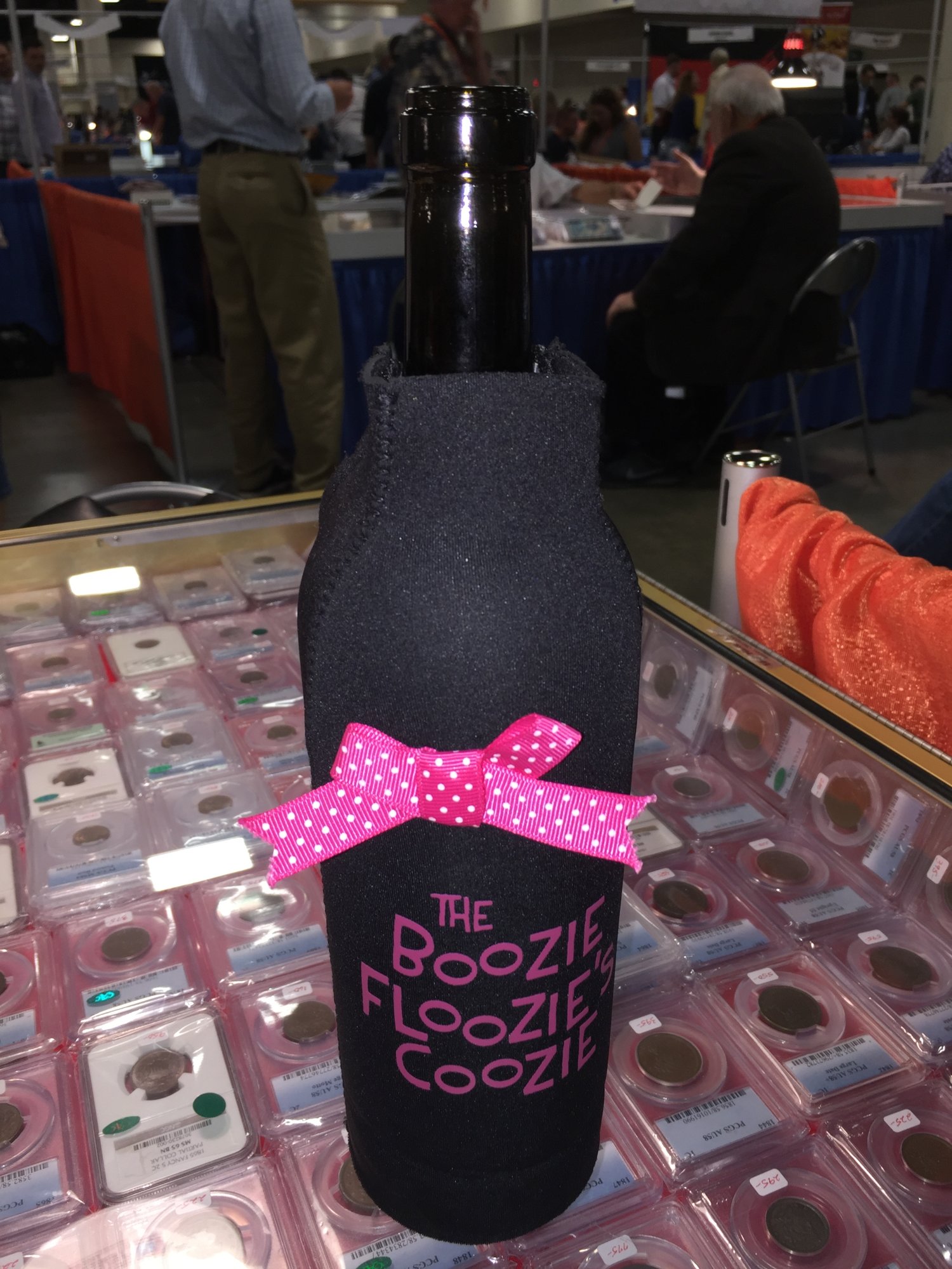 After the show on Thursday, me and my usual posse went over to the Blue Moon Fish Company for dinner. It was right on the water in South Beach and was a very nice restaurant with some great seafood!
On Friday, several folks stopped by to say hi.
Carolina Gregorio, a new female coin dealer
Jim/CoinNut
David/DPoole
I also had to pick up a new Conder Token at NGC and saw my good buddy David Lange
While at the NGC table, I saw another dealer friend, Bob Campbell
I had to drop off a coin for reconsideration at the PCGS table and saw David who is always smiling!
PCGS also had these amazing dollars on display!
Rick showed me this new very rare 1864-L Proof that he bought at the show! It's not as nice as the one that was stolen last year, but it is a beauty!
Even though Friday was not nearly as busy as Thursday was, there was still quite a good crowd, even in the afternoon.
On my way to one of my meetings, I took a quick photo of the great folks who work so hard registering all the dealers and collectors for the show!
Then I headed over to the Fly-In Club meeting
Chris Pillod was discussing a new find when we heard about the shooting at the airport.
After the show on Friday, I went with my foreign coin dealer friends to a restaurant called Thursdays. It was a beautiful and very enjoyable evening with some great wine.
Saturday morning I had an early WIN meeting up on the second floor. The room we were in overlooked the convention floor.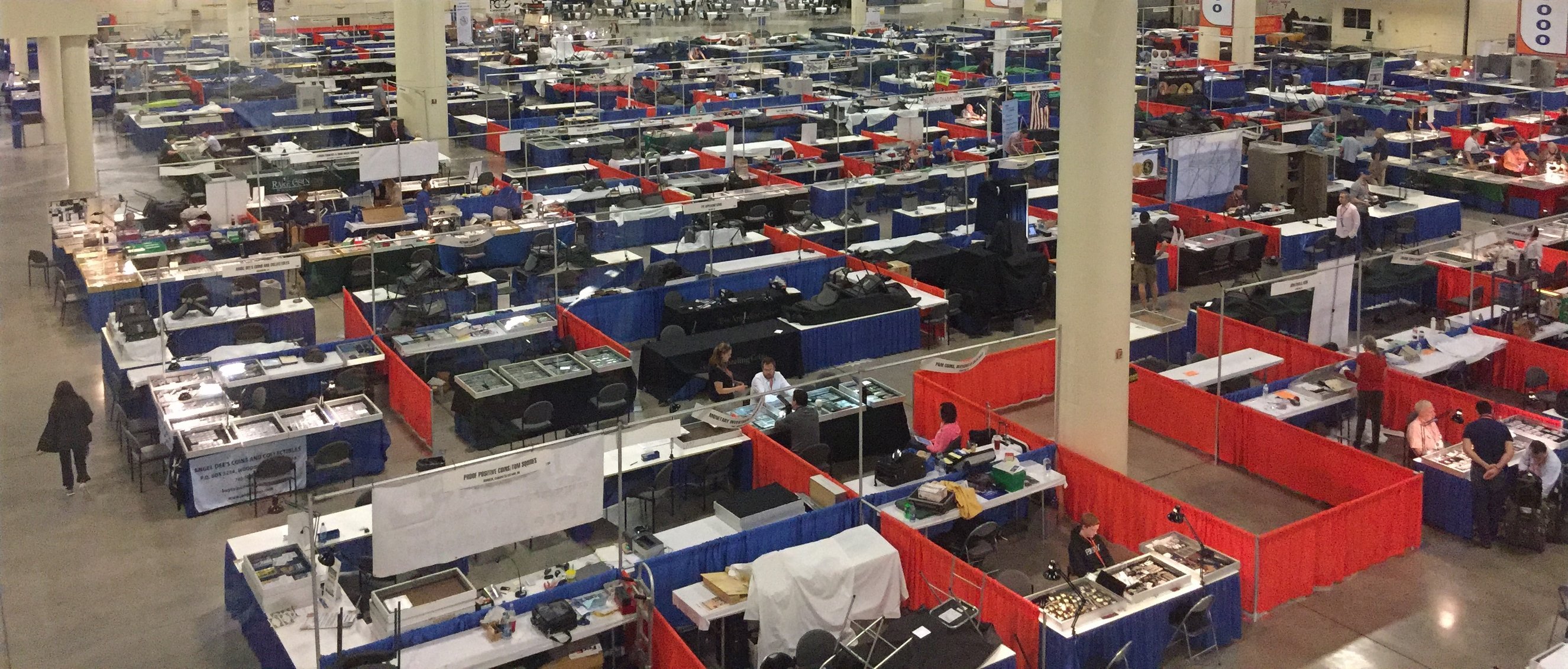 Mark Leighterman gave a very interesting and fascinating presentation on historical Florida gaming chips and equipment.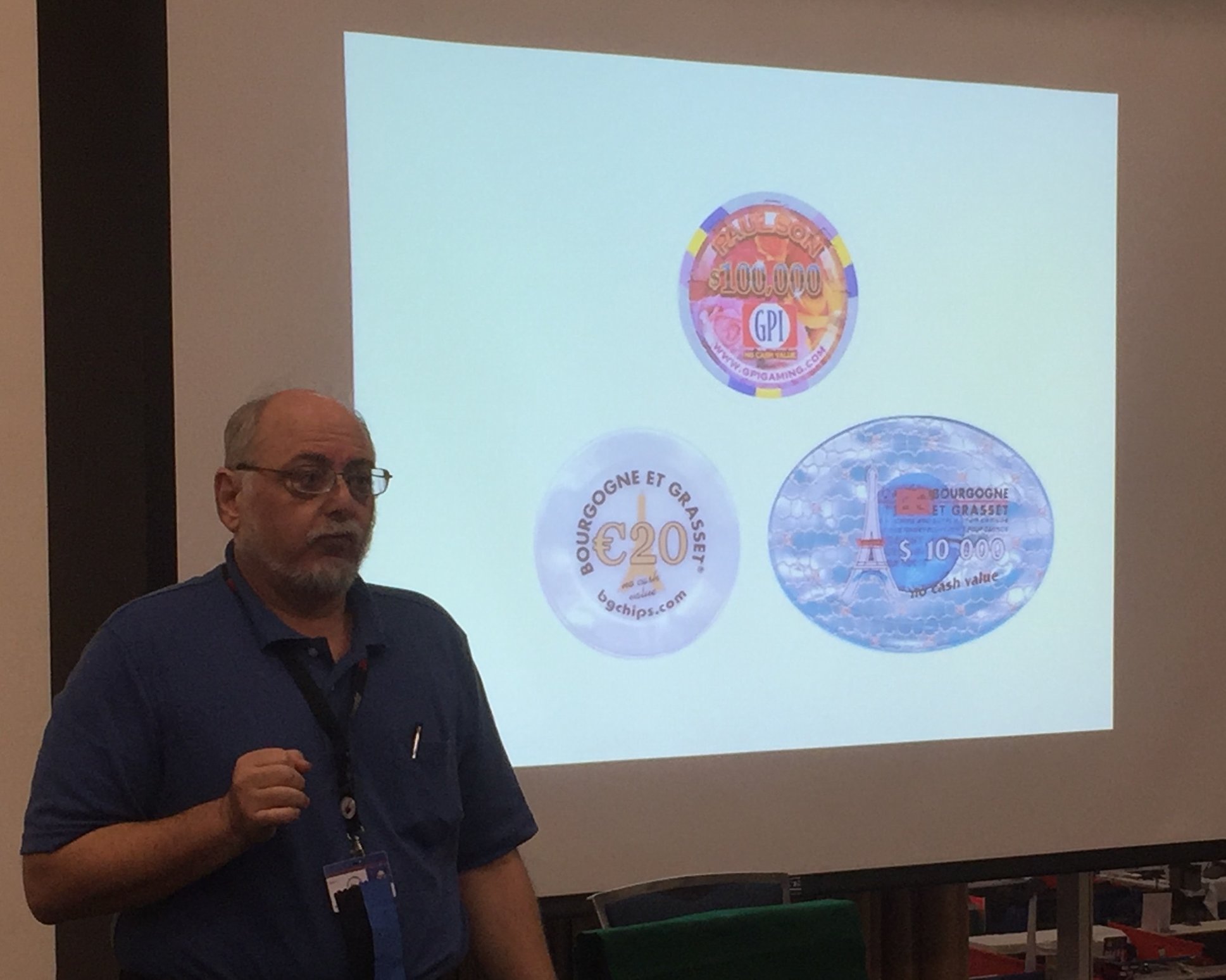 This is what happens when I leave ex-FBI agents in charge of my table while I'm at a meeting!
Throughout the day on Saturday, a few more forum members stopped by my table. I really appreciate seeing familiar faces at these shows, chatting about their collections and new finds, their family, etc.
Chris/Cmpball and Larry/IDHair
Lance/lkeigwin

Two adorable hard working pages!
The very friendly and hardworking guys at ANACS!
Outside the convention center it was overcast but still really beautiful
At 4 pm on Saturday they held the exhibit awards reception. I got third place but as I mentioned earlier, the Best in Show exhibit was really excellent.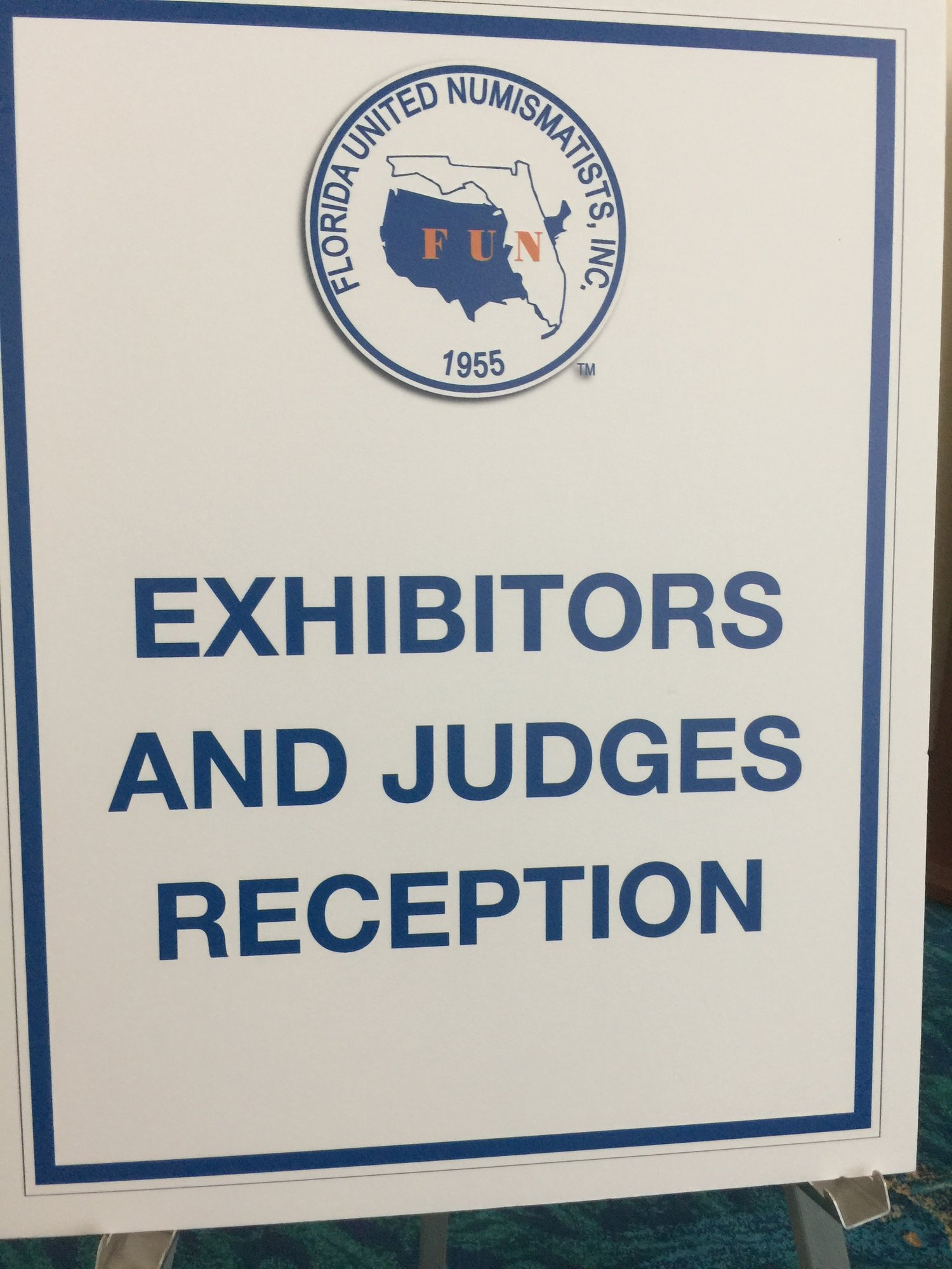 After the show on Saturday, I just went back to my room and sat out on the balcony for a few minutes.
Then I ended up having dinner back at the pool restaurant bar next to the marina where I ran into two forum members from the show. They are the nicest, funniest forum members!
Larry/IDHair and SaltySam!
Sunday was pretty much a ghost town at the show. There were several dealers still there but they were spread out all over the bourse floor. However, a customer who stopped by on Saturday returned and bought several nice Lincoln cents which really made my show that much better!
Soon it was time to pack up and head to the airport. I wanted to get these especially early due to the extra crowds and delays I kept hearing about. When I arrived at the airport, there were still several media vans and reporters doing interviews, lots of police, and long lines, especially in front of Delta (terminal 2).
After waiting in line for half an hour to check my bag, security went really fast, even with the private screening while they thoroughly searched my bags. Since I still have a couple hours before my flight, I went over to get some lunch and ran into Scott of Stacks Bowers who was on the same flight as me.
Soon it was time to board and once I was in my settled in my seat and the flight was ready to take off, I felt very fortunate that everything went very smoothly, including no delays in my flights. This is me so very happy to be heading home!
Bye-bye beautiful Ft. Lauderdale....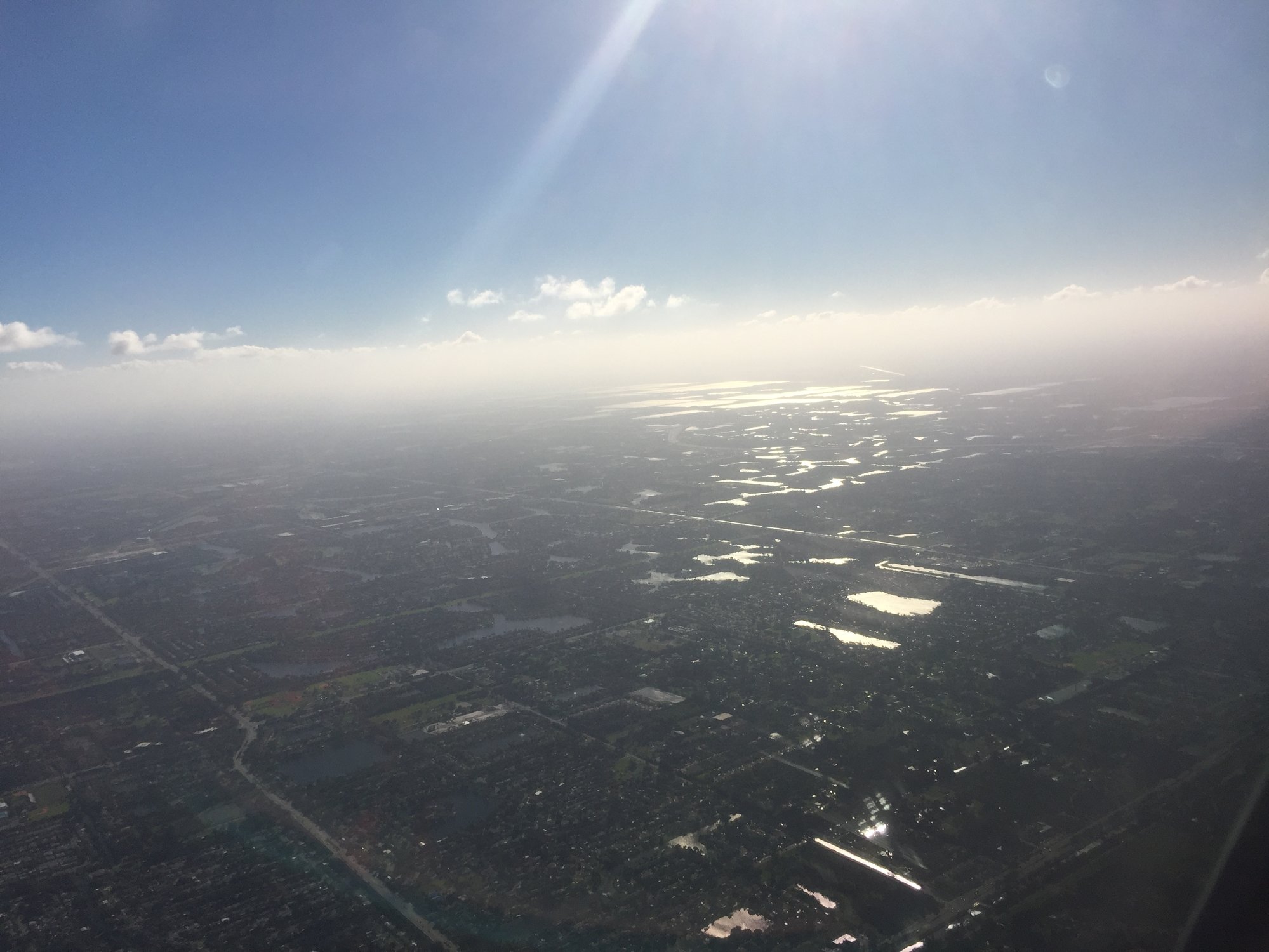 I changed planes in Dallas and right across from my gate was my very favorite store, Brighton!
Hello Orange County....
Oh, by the way, I also became a grandma for the first time a few weeks ago! So I was also very anxious to get back home to see my sweet little baby boy Ryder!
And of course my hubby and adorable lazy Penny who was happy to hang out with me while I put my feet up!
Next up: San Jose Show (January 19-22, PCGS Members Only Show (January 25-28), and Long Beach (February 15-18).
Charmy Harker - The Penny Lady® President of Women in Numismaticshttps://thepennylady.com/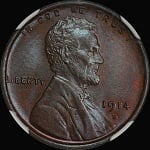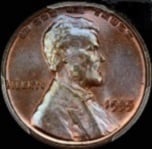 Tagged: