Home
›
U.S. Coin Forum
A Rare 1840 William Henry Harrison Campaign Medal
BillJones
Posts: 33,022
✭✭✭✭✭
Here is an early, very scarce William Henry Harrison medal from his 1840 presidential campaign. William Henry Harrison won the 1840 Whig Party presidential nomination in December of 1839. On May 4, 1840 the Whigs held a ratification / pep rally convention for Harrison in Baltimore, Maryland. National political conventions were often held in Baltimore in the 19th century because the city was centrally located on the Eastern Seaboard and had an easily accessible harbor. The "young men" aspect was undoubtedly intended to get the young and first time voters energized and enthusiastic for the upcoming campaign.
The 1840 William Henry Harrison presidential run set the standard for the modern political campaign. The Whigs pulled out all the stops with huge rallies, parades, barbeques and other events. At one point the Whigs built a huge ball, with slogans written on it, that was 10 feet in diameter and started to push it from Cleveland, Ohio to Lexington, Kentucky. The idea was to "keep the ball rolling" and get the voters out to polls. It was said the parade behind this ball stretched at one point to nine miles long.
The Whigs also issued a large number of tokens, ribbons and other campaign items. The output exceeded all previous campaigns, and would exceed most all succeeding elections until the landmark 1896 canvass. As a result there are many political medalets with Harrison on the obverse and a long cabin on the reverse. Here is a typical example, listed as WHH 1840-50.
The strategy worked. Harrison won the presidency despite that fact that the Whigs were the minority party and they were running against in incumbent president, Martin Van Buren. The voter turnout also impressive. Eighty-five percent of the eligible voters cast ballots, which is an amazing percentage compared with today's statistics, which usually hover around 50%.
Unfortunately Harrison's presidential campaign was much more exciting that his presidency. On Inauguration Day he stood in the cold and rain without a hat and coat and gave the longest inaugural speech in history. He caught a cold with developed into pneumonia, became progressively weaker and died 30 days after taking office. His vice presidential successor, John Tyler, proved to be more of Jefferson Democractic Party man than a Whig. He vetoed a re-charter for the Bank of the United States, which was the cornerstone of the Whig platform and soon became a president without supporters or a political party.
This piece is listed as WHH 1840-1 in Sullivan / DeWitt. It is a very scarce piece, and represents a significant upgrade from me. If anyone has an interest in my old one, which grades VF, send me a PM. I'll warn you these pieces are not cheap. My guess is there are no more than 20 of these pieces still in existence.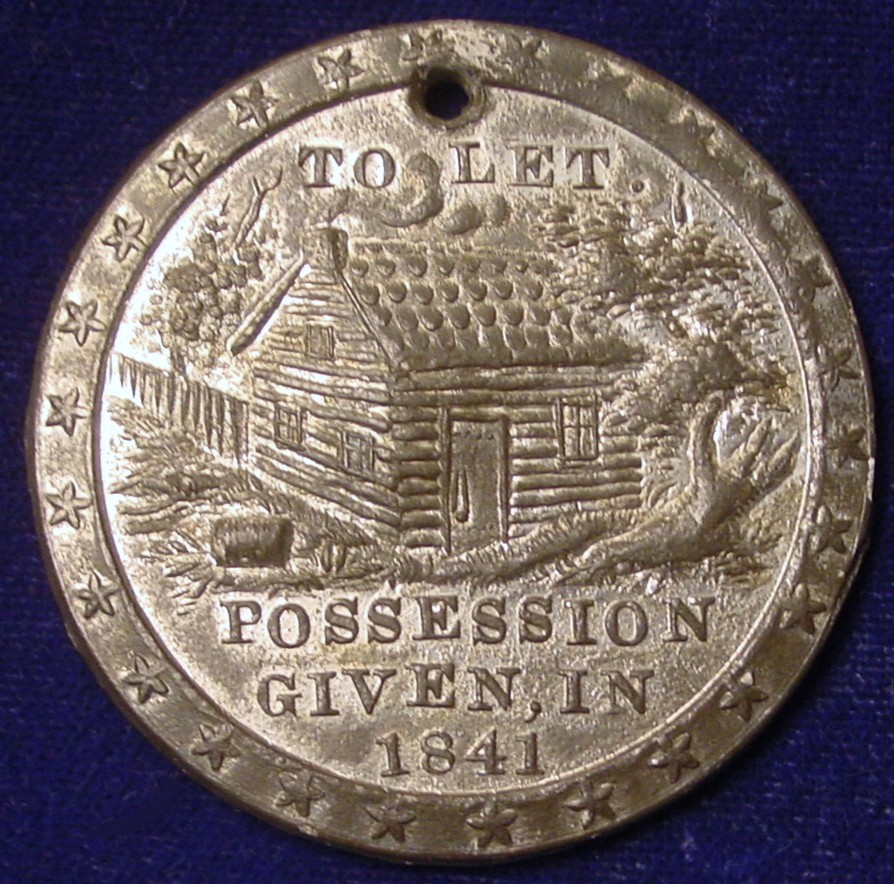 Retired dealer and avid collector of U.S. type coins, 19th century presidential campaign medalets and selected medals. In recent years I have been working on a set of British coins - at least one coin from each king or queen who issued pieces that are collectible. I am also collecting at least one coin for each Roman emperor from Julius Caesar to ... ?
Leave a Comment