Home
›
U.S. Coin Forum
Charmy's September 2012 LONG BEACH SHOW REPORT w/lots of Pics!!!

ThePennyLady
Posts: 4,029
✭✭✭✭
I believe the Long Beach show is getting better and better! CU is doing everything they can to improve the attendance by both dealers and collectors at this show. They had every table filled and also had very good attendance by the public.
Set up began at noon on Wednesday. The day was really warm but we had some light rain too, so that made it very muggy.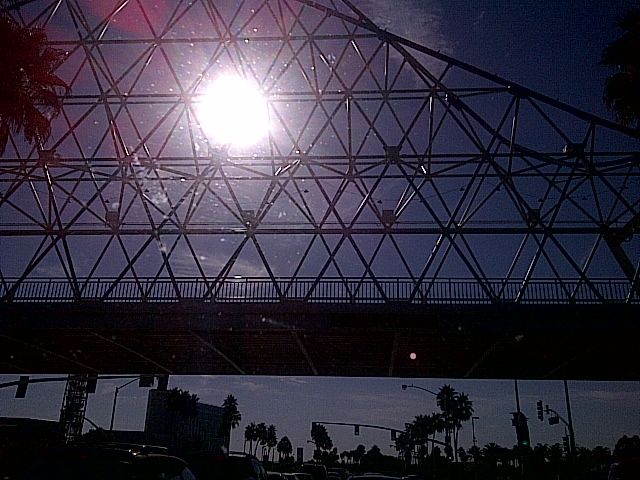 And since the large warehouse door was open in the back so the dealers could unload their inventory, they didn't turn on the air conditioner, so for a few hours it was terribly hot and muggy inside the bourse. They eventually closed the large door and turned on the air conditioner! This is the loading dock at the back of the convention center where most of the dealers load/unload (with the loading door closed)
After my booth was ready to go, I walked around the bourse to hunt for some coins on my customer want lists. I didn't find the specific coins I was looking for but found some nice raw early copper for general inventory.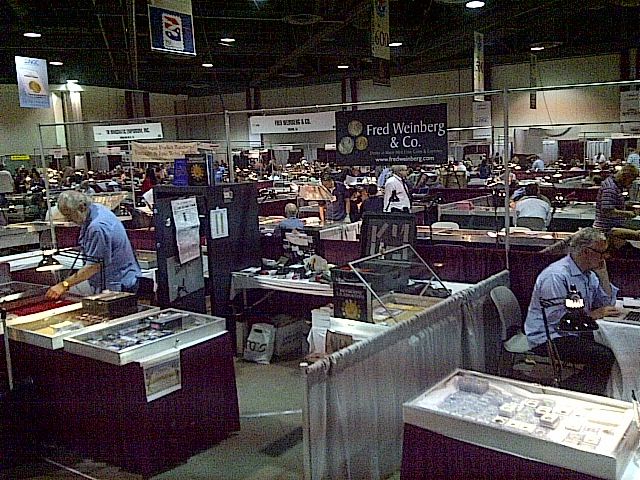 A friend of mine knows I collect penny teapots and brought me over three more for my collection, two Indian cents and a Canadian cent, so I decided to display them all in my case!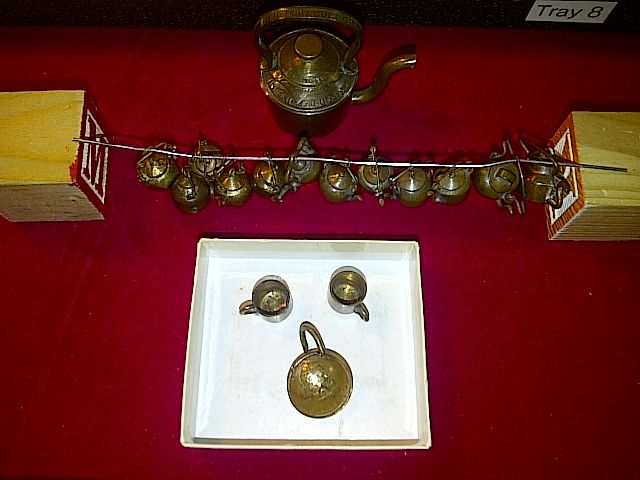 Soon it was time to open a bottle of wine I had gotten from Temecula! This is a very handy wine opener set my son brought me from Italy.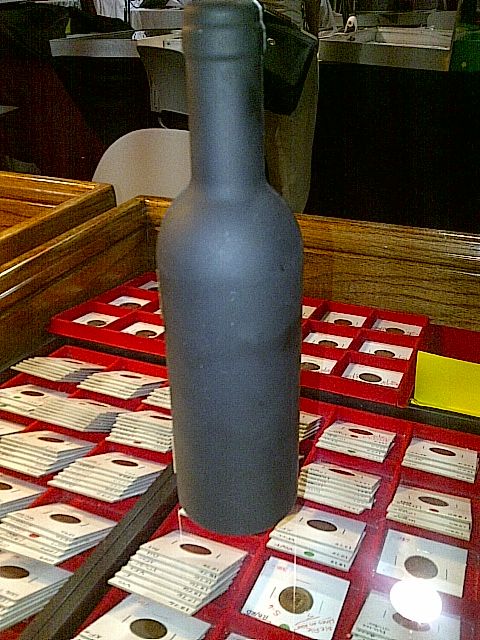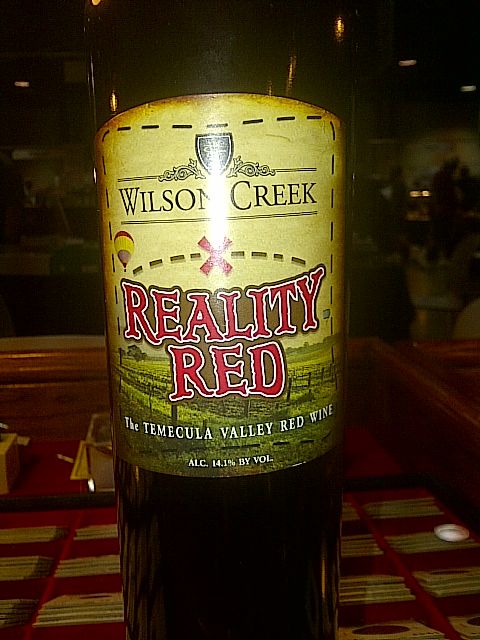 Then at 5pm, CU once again treated all the dealers to taquitos and beer.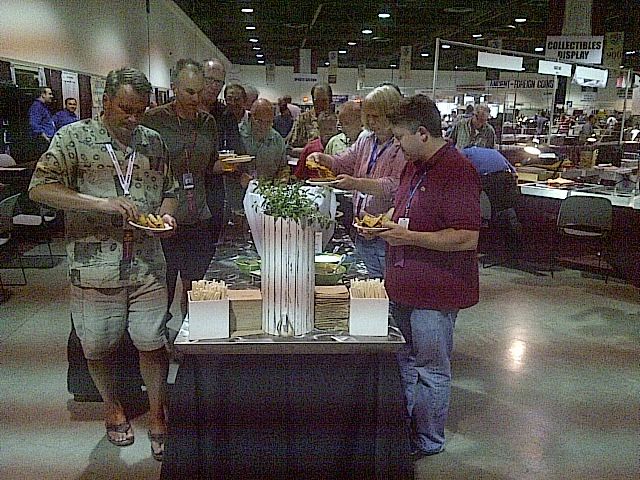 After set up, a group of us headed to our usual Wednesday night dinner spot in Naples – Pasta Al Dente. We all bring a nice bottle of wine to share with each other. Here are a couple of them.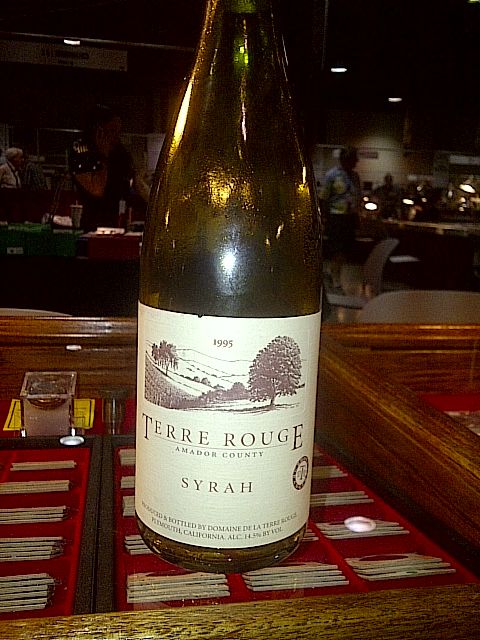 On Thursday, there was quite a bit of public coming through the doors and they eventually tricked back towards the center of the room where my table is, so soon we were quite busy. In between sales, several "vest pocket" dealers stopped by to show me their copper and I ended up buying quite a few nice pieces, including some 18th and early 19th century certified large cents. Later in the day I got a chance to check out some of the exhibits, as well as take some photos around the bourse.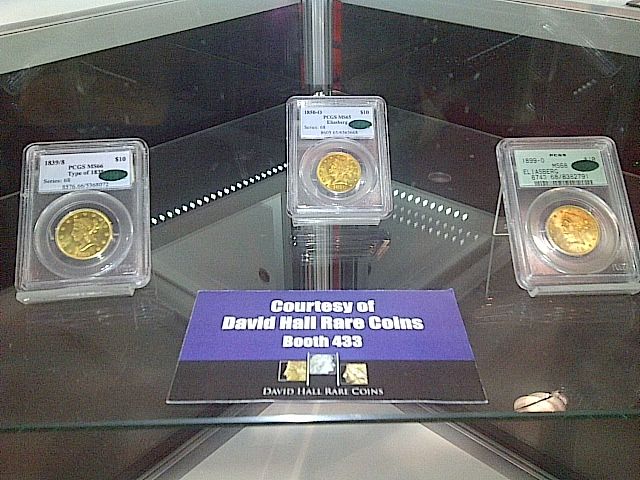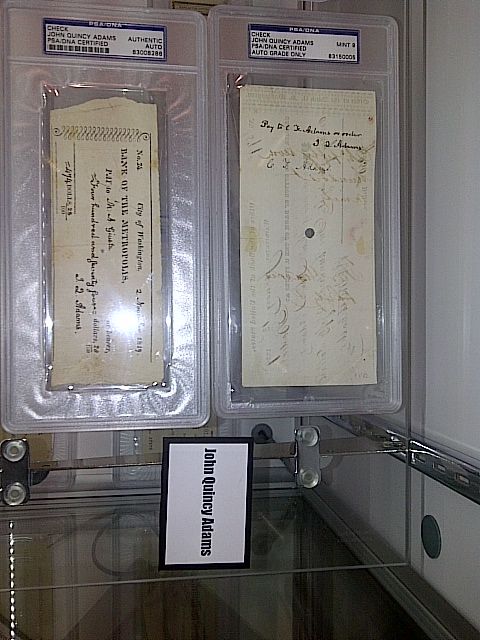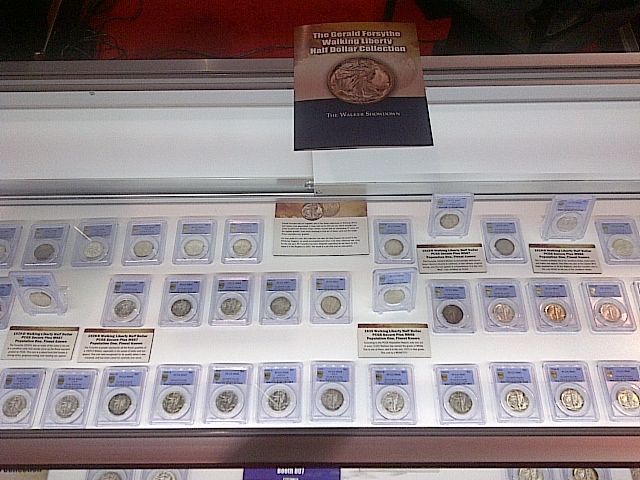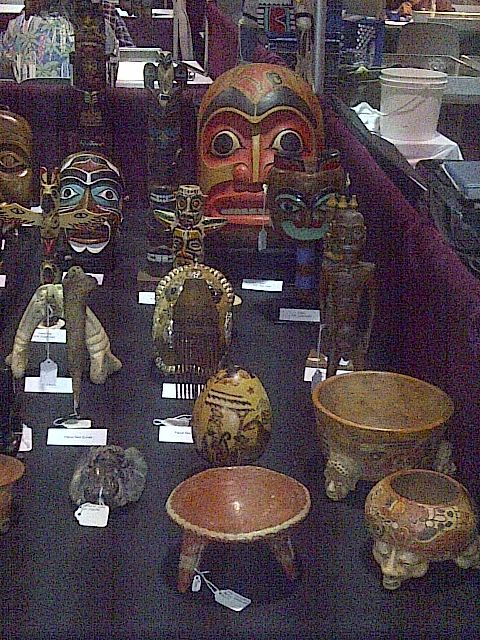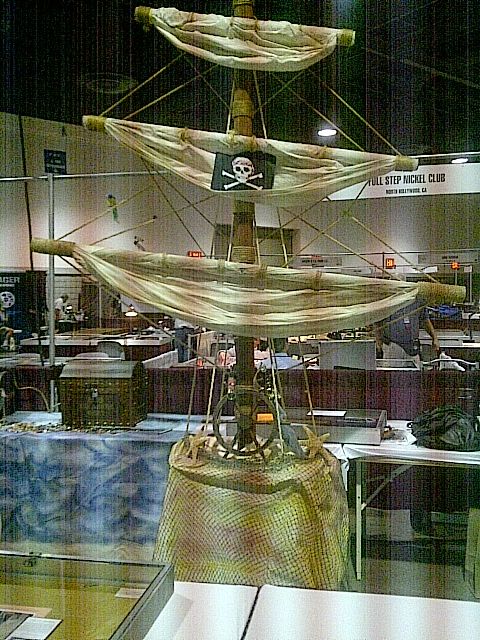 PCGS and NGC were busy as usual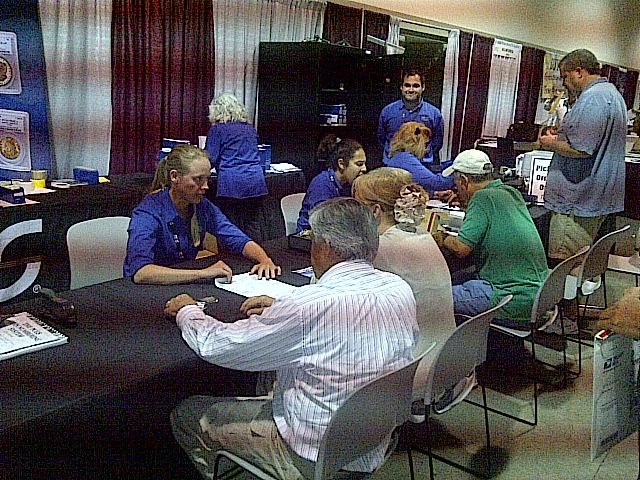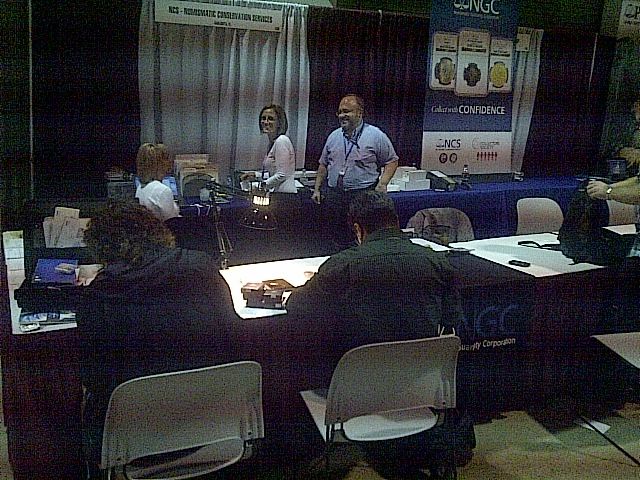 This is a very helpful map of the bourse and dealers set up in the middle of the room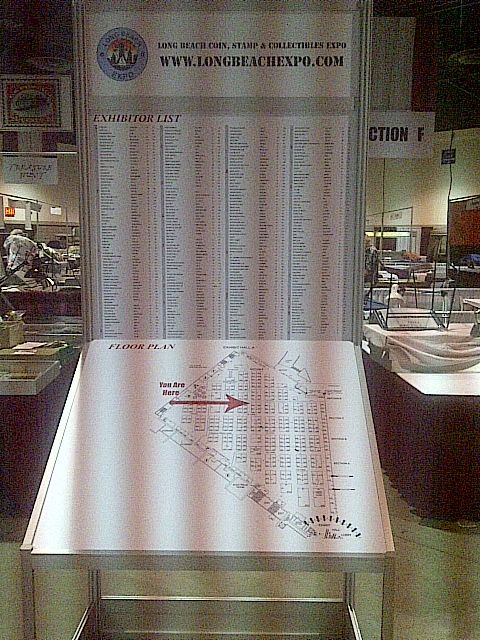 I also took photos of several dealers – including of course Mark Feld on two different days!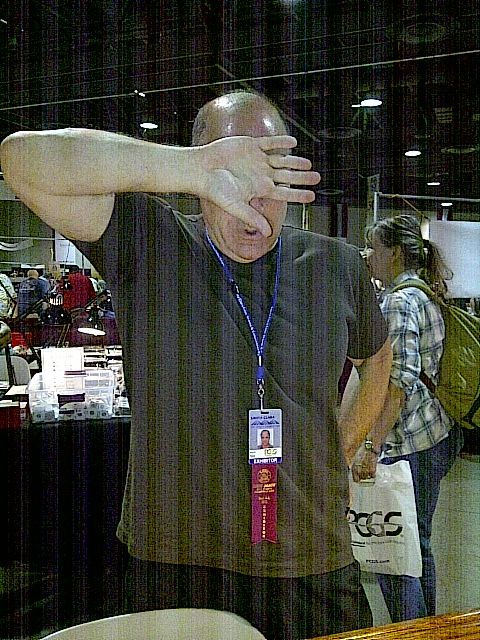 John from Sierra Gold & Coin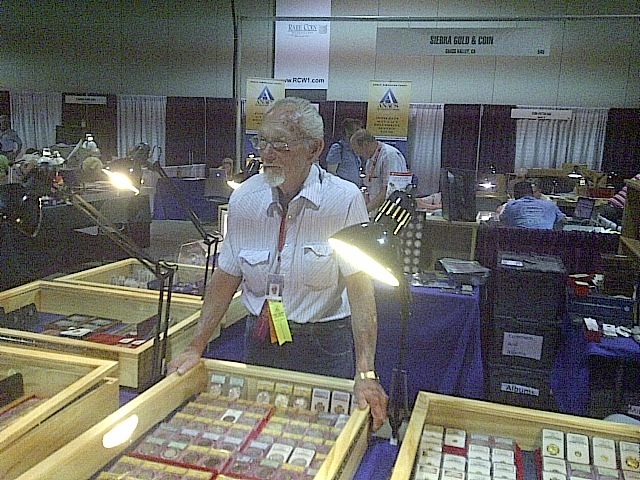 Bonnie with Albanese Rare Coins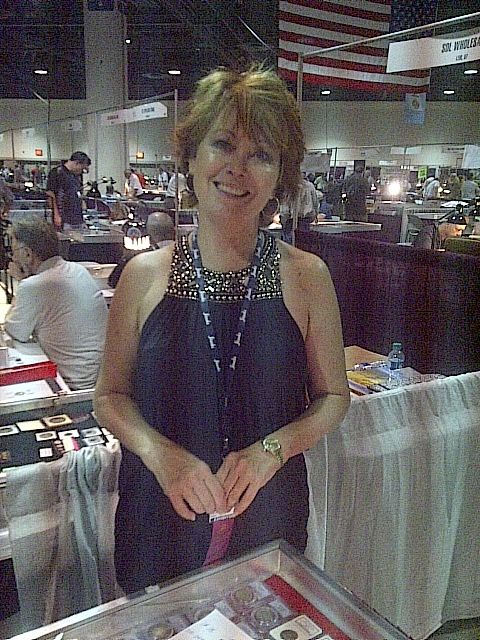 Larry Shapiro/PQPeace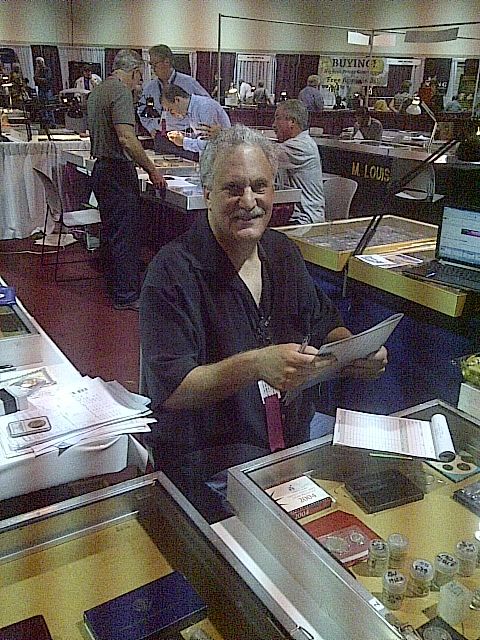 Todd Pollock/Blu62vette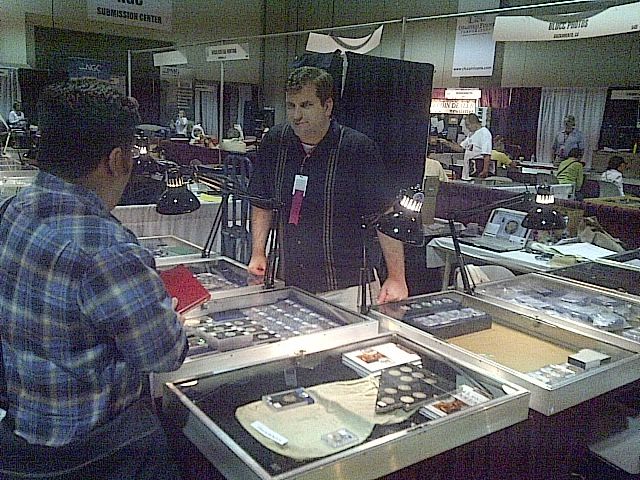 Rick Snow/EagleEye
More very cool errors at Fred Weinberg's table!
This is fellow forum member Bryce M who stopped by my table a few times to look at some pretty red Indian cents. Bryce is one of the nicest guys, very patiently waited for me to finish with some other customers, and was very enjoyable to talk with. He eventually bought a beautiful red 1909 Indian cent.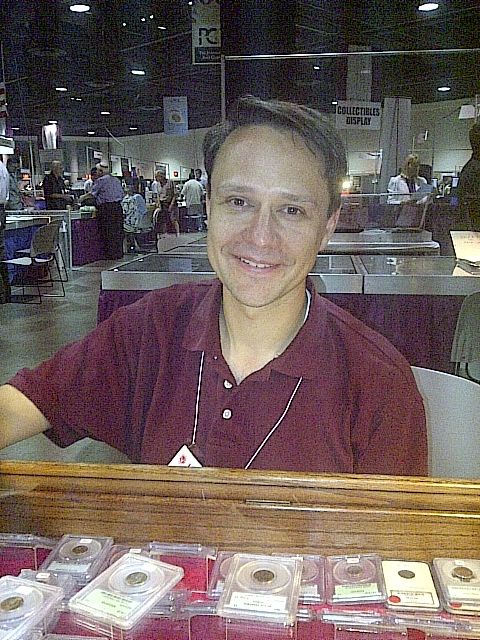 Later in the afternoon, we opened a very appropriate and quite decent bottle of "Three Coins" Syrah wine that I had brought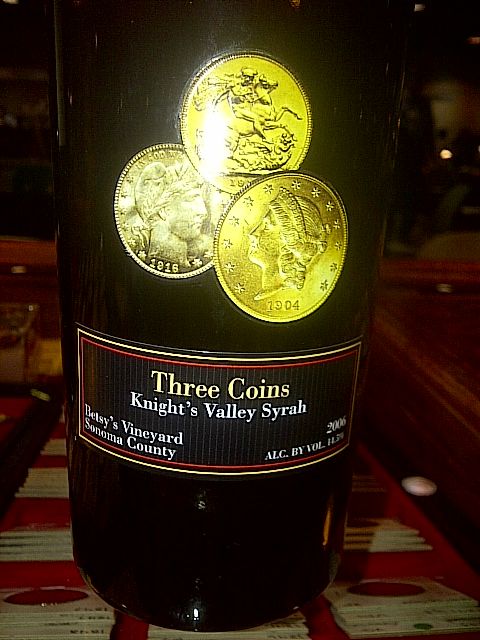 After the show, my son (who recently returned from a year in Italy and was helping me at the show) joined a large group of coin dealers at Napes Ribs. We filled our own separate room at the restaurant and then some! And the food at Napes Ribs is absolutely amazing, not to mention abundant!
Me and my son Erik
Rick Snow, Cindy (Logan's daughter Cindy of Vam's & More), and John (Grassy Valley Coins)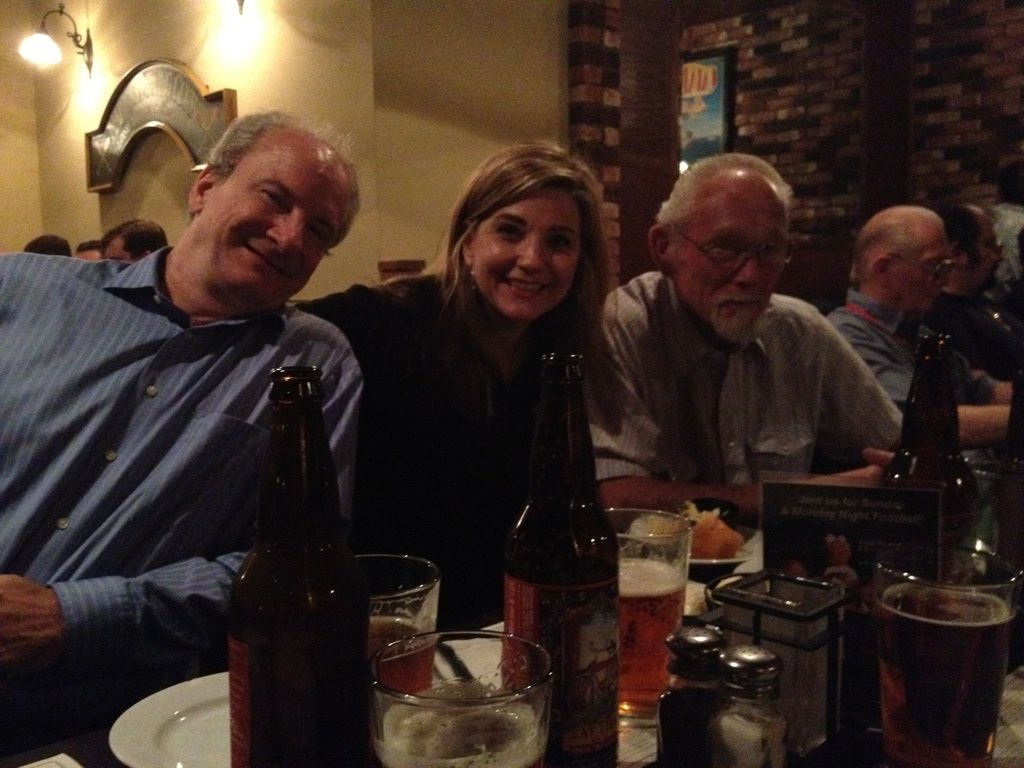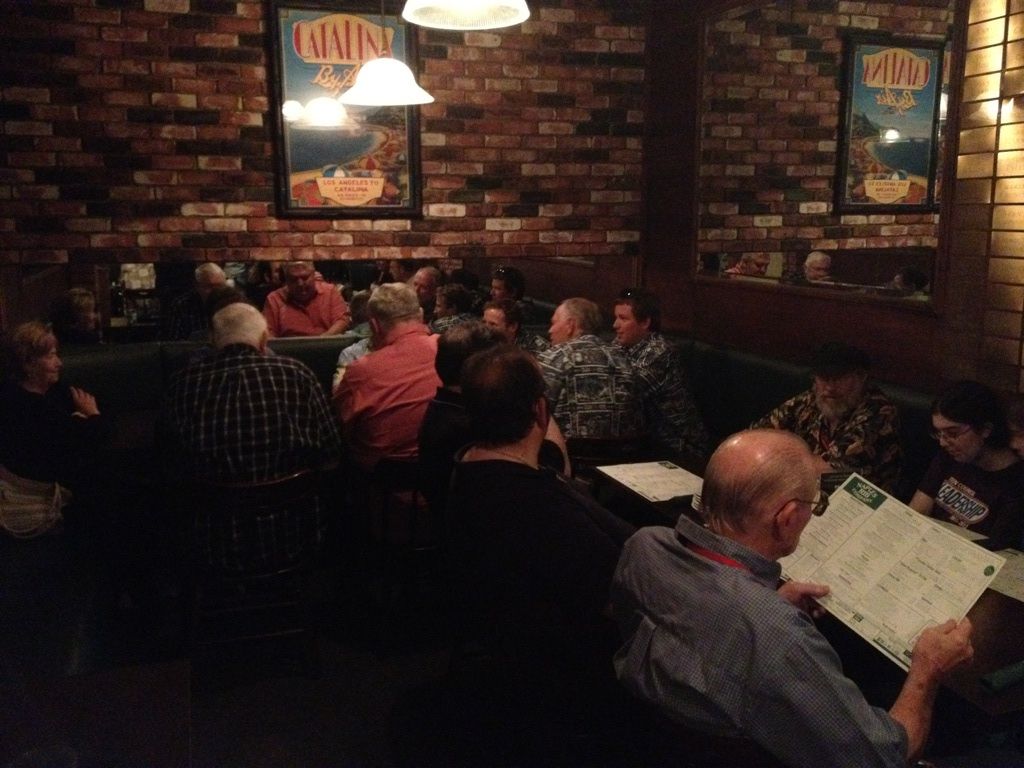 Jeff (a VAM guy) and Matt/BillGoat on the left, Todd and Ian Russell (GreatCollections.com) on the right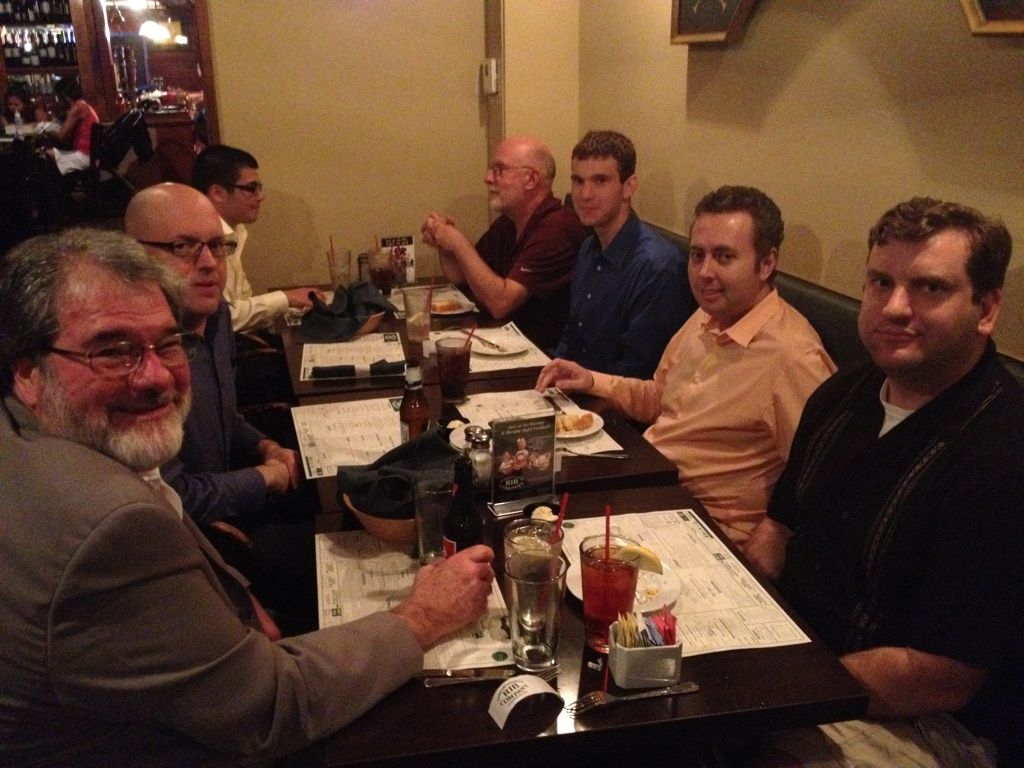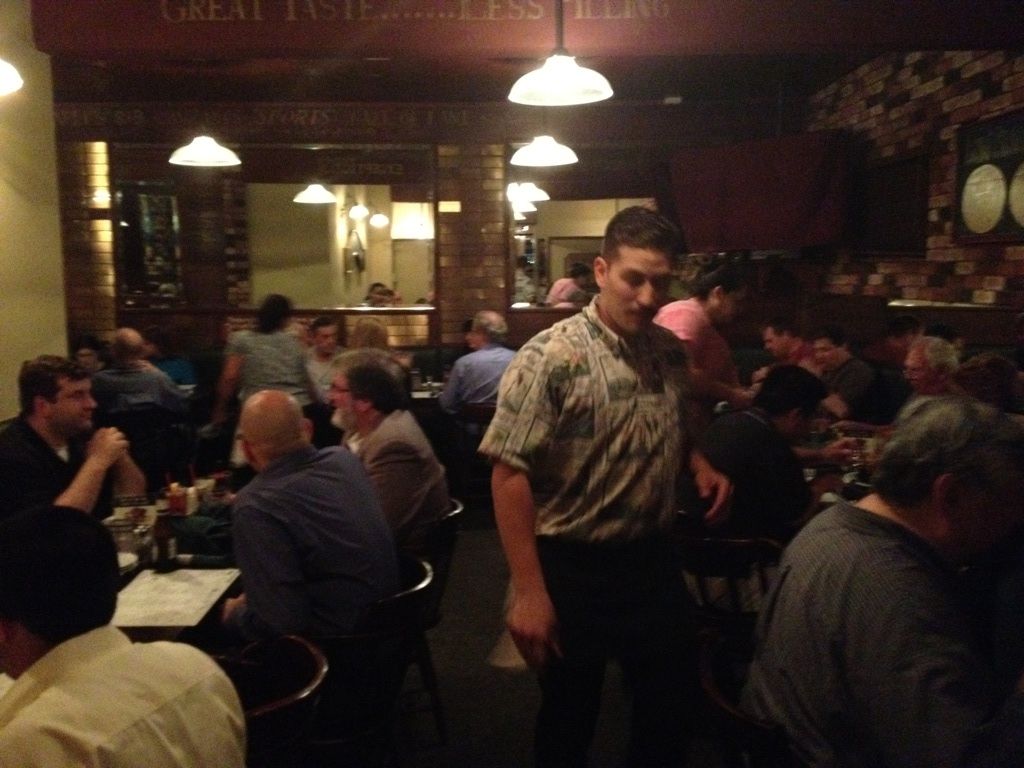 Me and Tim (one of the VAM guys)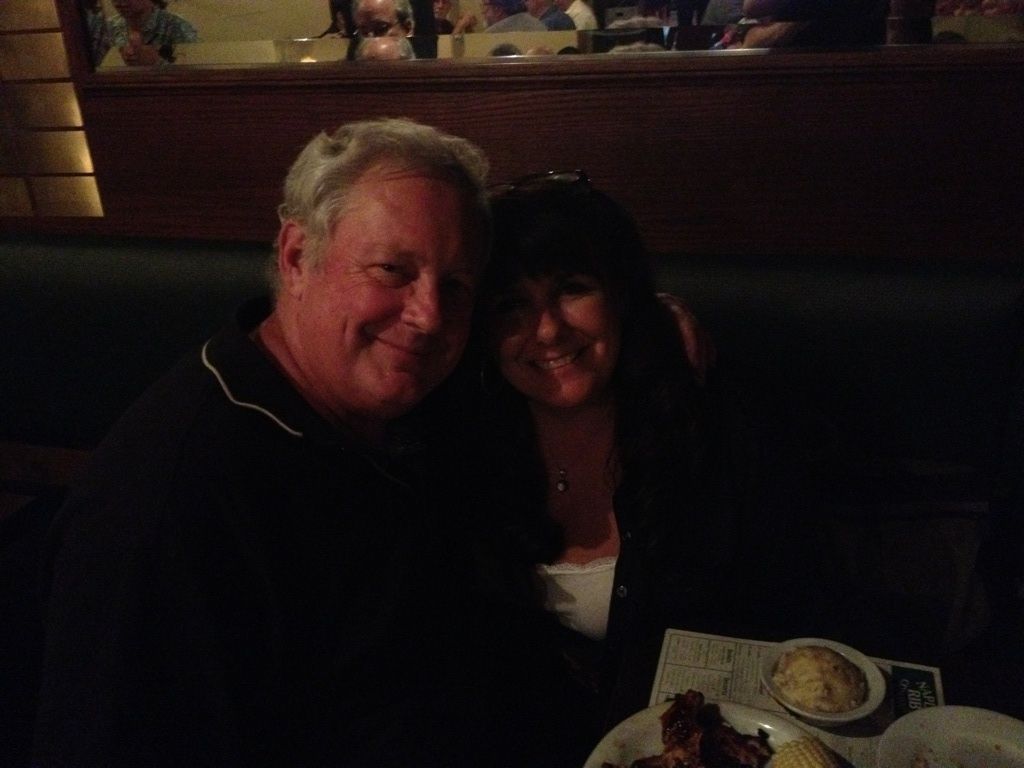 Friday started out a little slow but soon the room was abuzz with plenty of public meandering around the bourse. I ended up having a very busy day, and didn't even get to open the wine until later in the day.
This is me and my bff wine buddy Cindy of Vam's & More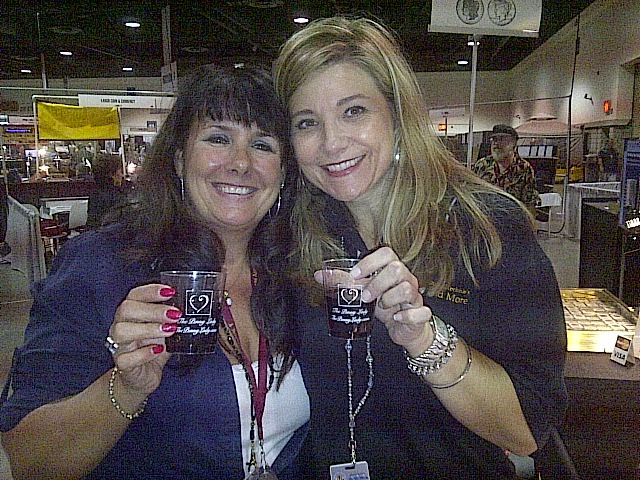 Friday night we went to another Italian Restaurant down in Napes called Russos. It was very very good! There were 7 of us, and we each had brought a bottle of wine. The restaurant was very kind and only charged us $5 per bottle for corkage (we usually pay anywhere from $10-$20 per bottle at most restaurants).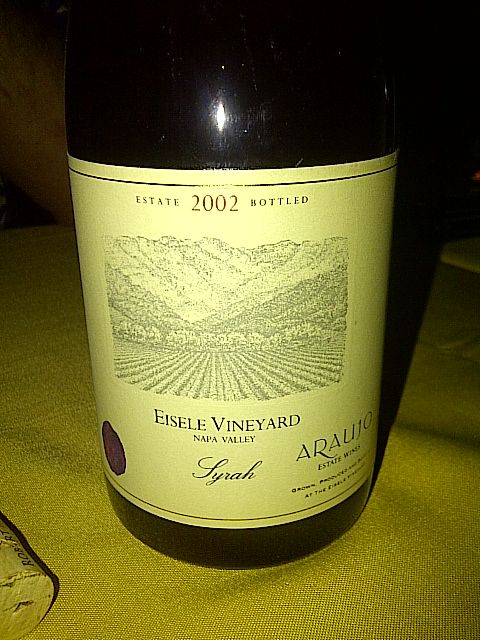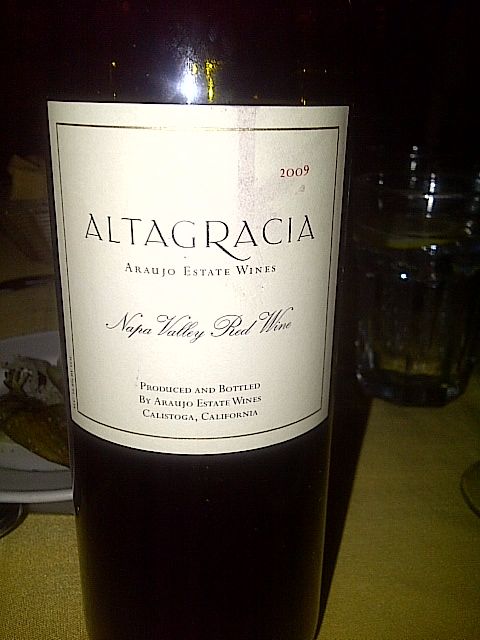 After dinner, a couple of the guys ordered these beautiful and delicious desserts – crème brule and cheesecake. They even torched the crème brule at our table!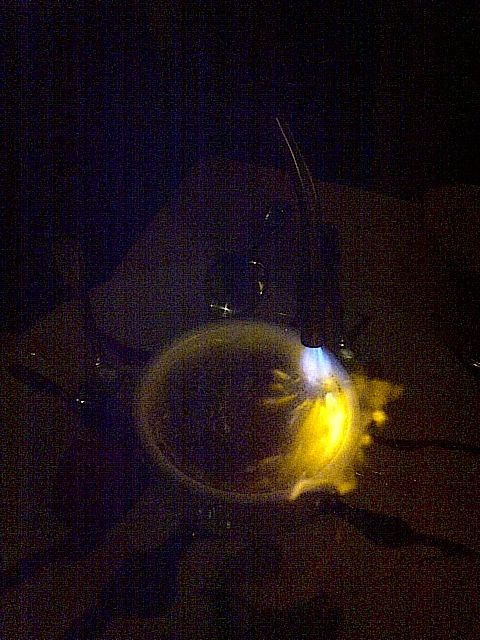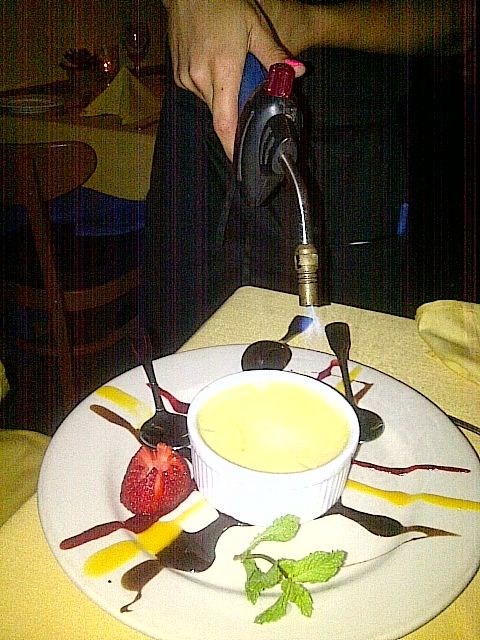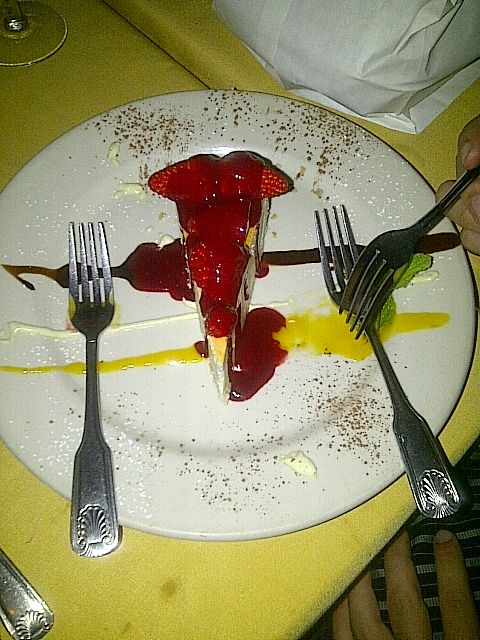 Saturday was pretty slow, which allowed me time to prepare a large group of coins to submit to PCGS, gather up coins for Todd to photograph, and pick out some coins to place in Ian Russell's auction at GreatCollections.com. Then, too soon, it was once again time to pack up and head for home.
Overall, it was a very good show for me, probably a B+. I heard some dealers say they had a pretty slow show, but I know of several who said they had their best show ever! Again, kudos to Expos Unlimited and Collectors Universe for working so hard to improve this wonderful show!
Charmy Harker - The Penny Lady®
President of Women in Numismatics
ThePennyLady.com