Home
›
U.S. Coin Forum
Mercury Dime - Key/Semi-Key Analysis
keyman64
Posts: 15,396
✭✭✭✭✭
For some folks, it seems very easy to select which coins are the keys and semi-keys for any given series. For myself though, while studying the Mercury Dime Series, I have learned that it is not so straight forward. I will even begin this by saying that this analysis is incomplete since I did not look at the circulated examples nor did I do my desired Market Availability Analysis. My focus was only on the uncirculated. And since I believe my sample sizes to be large enough for a statistical analysis, I only used the PCGS Population Numbers from June 9, 2012 instead of adding in NGC and ANACS numbers etc. I also included the 1945-P in the study for one reason, the Full Band designation rarity that it represents.
Different factors come into play when doing this analysis: Mintage, Survivability, and Strike Quality from the Mint.
Then there are the other factors that are much more difficult to measure such as demand, perceived demand and hoarding that might affect supply.
When I first started to learn the Mercury Dime series years ago, I understood the following to be the Keys/Semi-Keys: 1916-D, 1921, 1921-D, 1926-S, 1931-D.
Are they the keys? How key are they? How do they rank? Are there others? Should others be considered? How much does grade matter? How much do Full Bands matter?
There are several ways to look at this information. I decided on just a few ways. Below is my data. After the data is my personal analysis.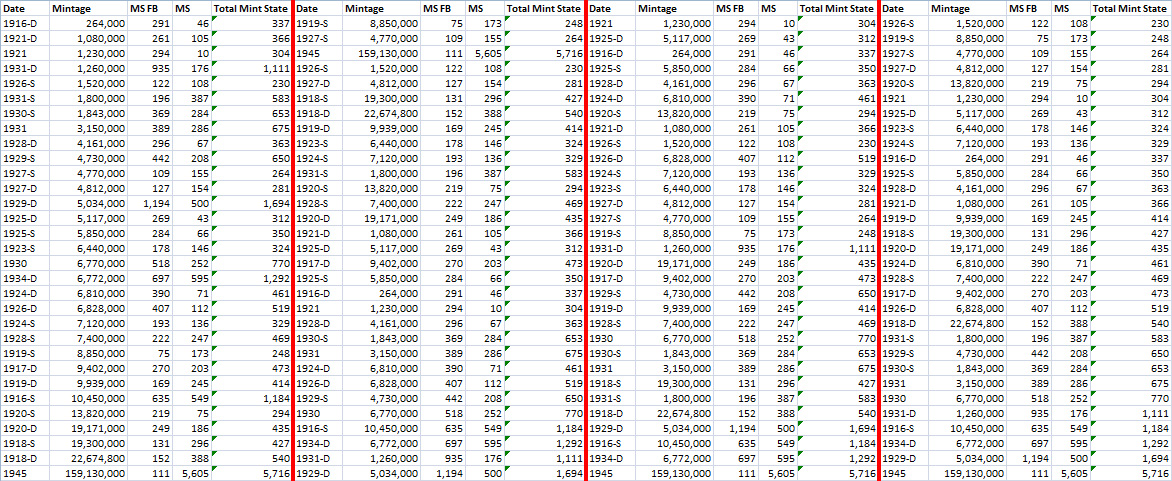 When you look at the data SORTED by MINTAGE you see the following list...the list I learned as a child:
01. 1916-D
02. 1921-D
03. 1921
04. 1931-D
05. 1926-S
06. 1931-S
07. 1930-S
08. 1931
09. 1928-D
10. 1929-S
When you look at the data SORTED by Total Mint State Full Band Examples at PCGS you see a very different list. This list should be studied a little if you wish to build a Full Band Set of Mercs. This list speaks to the quality of the workmanship at the mint, or the lack thereof actually...to a certain degree. You will notice the 1916-D(#19), 1921-D(#15), 1921(#20) and 1931-D(#30) do not even make the cut for the TOP 10 when it comes to scarcity in FB. This surprised me at first...then I thought about the crack-out game where people are resubmitting coins over and over again, hoping to get a coin in a higher graded holder...Ahhh, the motivation of money. Last year(July 12, 2011) when I did this analysis the 1931-S was in the #10 spot and the 1924-S was #11. So this is an example of how things can change from year to year when we have resubmissions happening.
01. 1919-S
02. 1927-S
03. 1945
04. 1926-S
05. 1927-D
06. 1918-S
07. 1918-D
08. 1919-D
09. 1923-S
10. 1924-S
When sorted by non-FB Mint State Examples at PCGS you again find a different list. This is an interesting list for those that are interested in building a Mint State set of Mercury Dimes but they do not want to spend the extra money on the Full Bands designation. It is very interesting because the non-FB examples are cheaper but this list shows there can be some serious competition for finding a few of them that will be just right for your set. Out of the Top 5 Lowest Mintage, only the 1931-D(#16) did not make this list.
01. 1921
02. 1925-D
03. 1916-D
04. 1925-S
05. 1928-D
06. 1924-D
07. 1920-S
08. 1921-D
09. 1926-S
10. 1926-D
When you combine the strength of the previous two lists to include ALL Mint State Examples the list comes into a little better focus I think. You will notice that the 1916-D just barely cracks the top 10 by 13 pieces...but here again I must stress the importance of the crack out game and the wonderful human quality called GREED.
01. 1926-S
02. 1919-S
03. 1927-S
04. 1927-D
05. 1920-S
06. 1921
07. 1925-D
08. 1923-S
09. 1924-S
10. 1916-D
Another question we can ask ourselves is which coins make all of the lists...or most of the lists and what is their average ranking? Let's take a look just for fun...because if you have really read this far then you are clearly a real coin geek/merc fan/glutton for punishment/data analysis junkie.........or maybe you are wondering where I might be going with all of this. I took this exercise on to see where the data might lead and to see if there were any clear answers. On we go....
Average Ranking From Above Lists:
Date Ave. Rank
01. 1926-S 4.75
02. 1921-P 7.50
02. 1927-S 7.50
03. 1916-D 8.25
04. 1927-D 8.50
05. 1921-D 9.50
06. 1925-D 9.75
07. 1919-S 10.25
08. 1923-S 11.25
09. 1928-D 11.75
10. 1925-S 12.00
11. 1924-S 12.75
11. 1920-S 12.75
12. 1931-S 16.25
13. 1924-D 16.50
14. 1919-D 16.75
15. 1918-S 18.75
15. 1926-D 18.75
16. 1930-S 19.00
17. 1931-D 19.25
18. 1929-S 19.50
19. 1931-P 20.00
20. 1918-D 21.25
21. 1945-P 24.00
So, where do we go from here you might ask...if you are still reading this. The next step would be to do a sampling of market availability. There are certainly different ways to do this. One way I would like to consider would be to find out how many times a PCGS Problem Free Mint State example of each of these dates showed up at Heritage Auctions in the past 10 years...then rank them. That would be interesting. There are other places we could go with this as well but you get the idea. We could even add weights to each ranking figure.
Based on what I have here so far, what might I conclude as the TOP 6?...and why?
01. 1926-S
I might just be trying to ruffle some feathers here but a little Heritage Market Availability Analysis sure would go a loooong way with this one. How many PCGS Mint State 26-S examples have you seen hit the auction block in comparison to the 16-D?
02. 1916-D
There have been way too many of these darn things saved which holds it back and there have been way too many of these things cracked out and resubmitted which lands it in this spot.
03. 1927-S
Here again is where I think a little Market Availability Analysis would help but it is my feeling that this coin would rank higher than the 21-P.
04. 1921-P
05. 1927-D
06. 1921-D
If you are building a MS FB set, things should be fairly clear. It should also be clear if you do not care about spending the extra money on Full Bands. If you are building a mixed set then you certainly have a few things to consider.
Well, as you can probably tell, I had some free time and I like Mercury Dimes. I hope someone finds at least some of this interesting or valuable. I hope a few folks that are either new to collecting or maybe just new to Mercury Dimes can learn something here. I know I lived way too long thinking that the top 5 keys/semi-keys were all based on the mintage numbers. Enjoy!
Greg
"If it's not fun, it's not worth it." - KeyMan64
Looking for Top Pop Mercury Dime Varieties & High Grade Mercury Dime Toners.
Leave a Comment