Home
›
Fossil giveaway winners! ricko (1st place), keepdachange (2nd place)

lordmarcovan
Posts: 43,112
✭✭✭✭✭
Giveaway done! Winners: ricko (1st place), keepdachange (2nd place).
There's more where these came from, so I might give some others away later.
---
While I was off running errands today, I was surprised to come back and see Laurentyvan posting on the World Coin Forum, offering to take up a collection to send me on a metal detecting tour to England! This has been a lifelong dream of mine. As a matter of fact, it came up in random conversation in the last couple of days when we were discussing some lovely Old World coinage or something, and I made a remark like, "Well, pass the hat around to send me over there with my metal detector, and I'll find you some", or something like that.
Little did I know that joke would be taken
literally
. He was asking for $15 shares to people who wanted to sponsor my trip! Dozens signed up, too, and several hundred dollars had been pledged, before the thread got deleted (for perhaps understandable reasons, as it might have quickly got out of hand.)
I had no idea that scheme had been hatched, and it is NOT going to happen, but I am moved that friends I've never met would think enough of me and my dig stories that they would send me across the ocean to pursue a treasure hunt. That will probably have to wait until I am retired, or can afford to do it on my own. It would be awkward to be doing it on somebody else's dime.
So anyway, It looks like am NOT going to Europe, on my dime or anyone else's- not anytime soon- but tonight I got something more valuable than the trip, and that's the knowledge that I have so many kind and generous friends here.
UPDATE! Stop the presses! There has been some activity behind the scenes! Perhaps I AM going to Europe, after all!
In celebration of that, and in keeping with the treasure hunting theme, I am offering a giveaway. I have not been out with my metal detector since last April (and that outing never got written up), but I have done a little fossil hunting over the past year, with some modest success.
So, for something a little different, how about some multimillion-year-old fossils, found right here in coastal Georgia?
Here goes.
---
Carcharocles Megalodon (Extinct Giant White Shark).
The
Megalodon
was a much larger ancestor of today's Great White sharks, and fed on marine mammals like whales. They are believed to have grown to as much as 20 meters long (66 feet), and are thought to have become extinct in the Pleistocene epoch, about 1.5 million years ago. These fossils were found in dredge spoil material from St. Simons Sound in Glynn County, Georgia.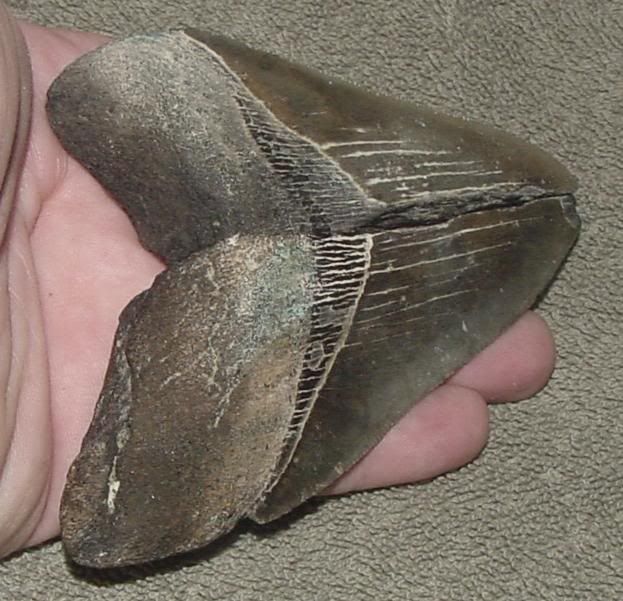 ---
Note that while it looks like I have one big tooth in my hand, it is actually the
halves
of two separate teeth, meaning two giveaways. Sorry, but I don't have any more whole ones at the moment. They are a very rare find for me. These were actually found by a buddy of mine who has much more skill and luck in finding them. I bought several from him to resell, and they went pretty fast.
I did manage to find a half bigger than either of these last summer, and on the same day, my eight-year-old daughter found her first shark tooth right near our house... and it wasn't the tiny, common kind one usually finds, either, but a nearly-complete 4.5" megalodon! Talk about beginner's luck! It's spoiled her, just as if she'd played golf and gotten a hole in one on the first swing. She still has yet to find a common small tooth.
Anyway,
post ONCE here to enter
. I will use a random number generator to draw two winners. First-place winner gets the bigger half (the one at the lower portion of the photo) and the second-place winner will get the smaller half. Though these are only halves, they're still pretty neat, and you could use 'em as paperweights or something. They still have the serrations along the edge and everything, too (look carefully in the picture at the edge of the lower half- see the little sawtooth serrations?)
I'll let this run for a few days before making the random drawings.