Home
›
U.S. Coin Forum
Bank of California - A numismatic visit
Dennis88
Posts: 5,831
✭✭✭
As some of you might remember from a couple of threads around here, in June I visited the US for the very first time (I live in Europe). To be precise, Northern California.
Every visit to California should include San Francisco, and like so many people before me I have fallen in love with the city, its people (most of them), the food and so much more. Certainly a city I will hopefully visit many more times in my still young life (I'm 20).
During my visit to SF I visited several historic places, including the old San Francisco Mint (post to follow), Golden Gate Bridge, Financial District and a lot more. In one of my postings shortly before my visit, one recommended the Bank of California with a small museum. Because I was in the Financial District anyway, I decided to try to find the place on California street to see if it was worth the visit. After walking into the wrong bank at first, I found the Bank of California's main office, a nice building of the bank founded in 1864.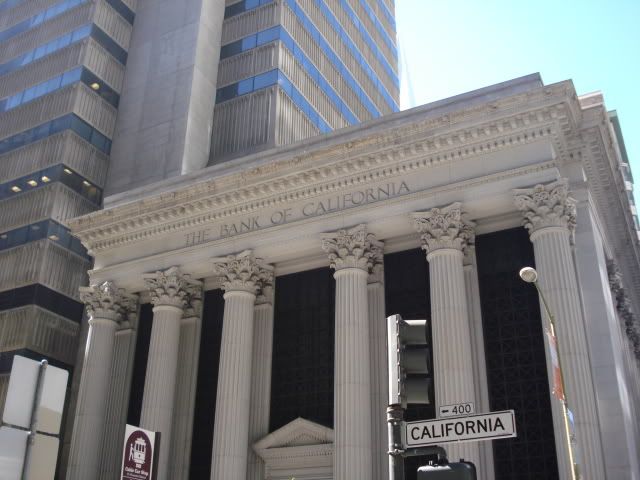 Outside view of the bank
Upon entrance I found the museum to be in the basement, downstairs. Small, as previously mentioned it certainly was as the whole place is not bigger then the average living room, if that large at all.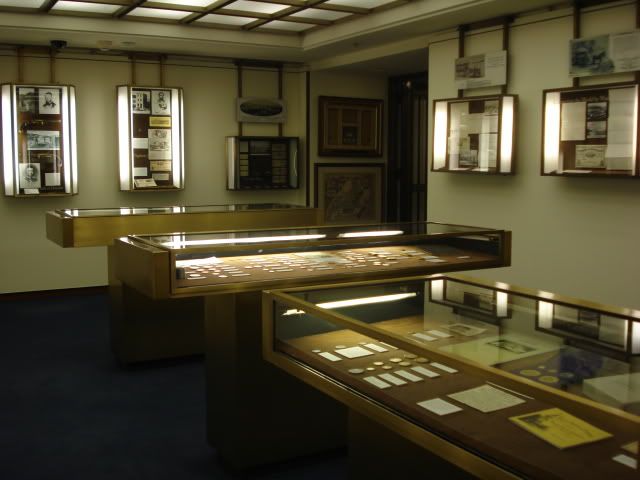 Overview of the museum
I slowly started to walk around a bit, as it was quite hot outside and the airconditioning was certainly welcome. First parts of the exhibition were a short history of California, especially of the Gold Rush era and a small part about the history of the bank itself. I immediately noticed that Pioneer Gold was a large part of what was there, at least 90%. Having just bought my first territioral gold coin (an 1849 Moffat & Co. $5 gold piece) I was certainly interested in this, and I was certainly glad that I found this place.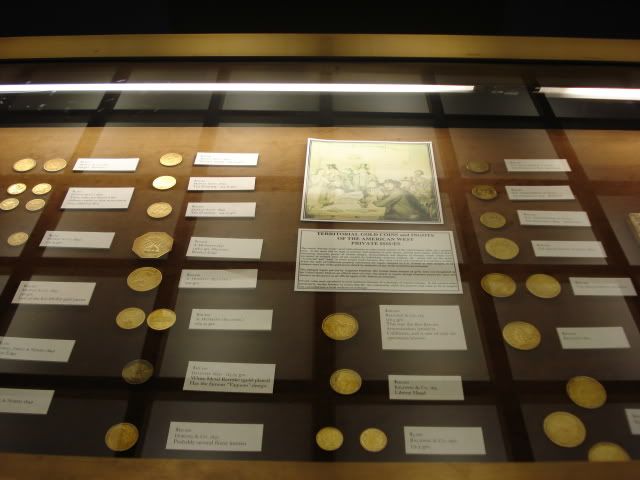 One of the display cases
One of the first items I saw were 4 notes of Gold-Backed paper money issued by the Mormons in 1849 in the State of Deseret were the Mormons moved to in the 1840's. These were signed by several people, including Brigham Young and issued in several denominations ($ .50, $1, $2 and $3) as the first currency printed west of the Mississippi. I had never seen or heard about these before, but I think it are some very historic issues. Anyone knows more about these?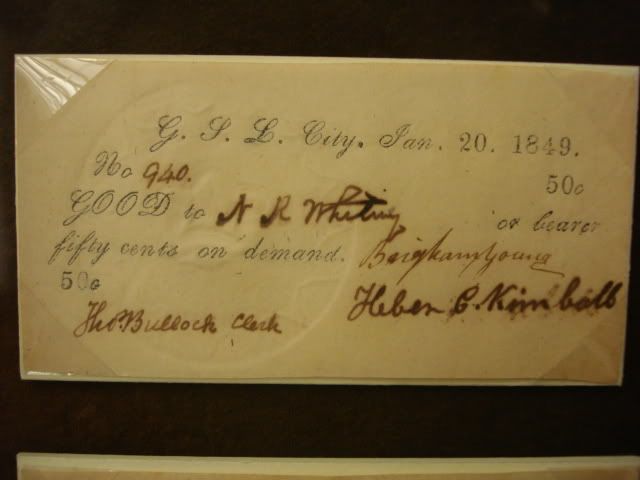 Mormon $ .50 currency piece signed by Brigham Young
Going over the display cases I discovered that not only the 1849 California Gold Rush was among the events highlighted, but other gold rushes afterwards (in particular Colorado) were also featured.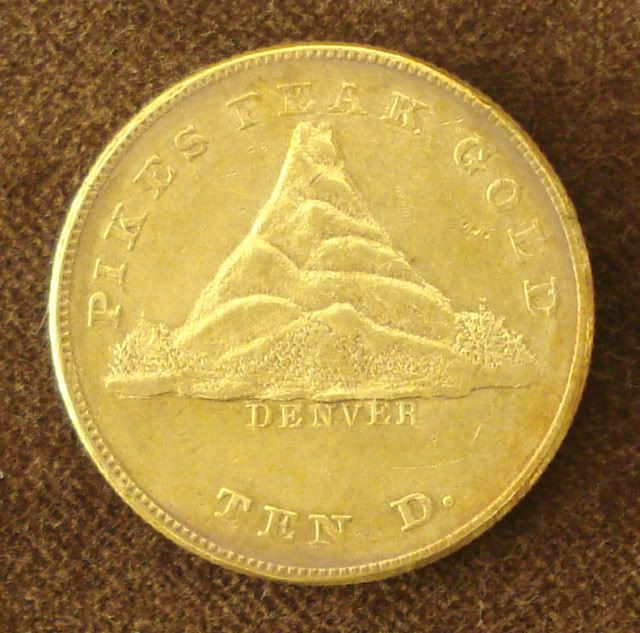 1860 Clark, Gruber & Co. $10.00 Pikes Peak
California territorial gold pieces were in every case. Included were multiple examples of Moffat & Co, Kellog & Co, Baldwin & Co, Norris, Gregg and Norris and Wass Moliter & Co pieces alongside lesser known firms. Many coins were in high condition although the overal mix between circulated and uncirculated was about 50/50. A few of the California territorial gold coin highlights: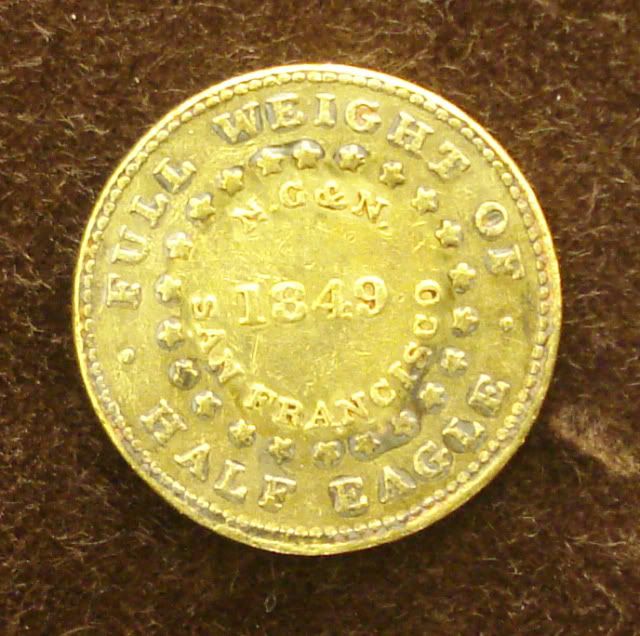 1849 Norris, Gregg and Norris $5, Plain Edge, Kagin-1 (R4)
1851 Baldwin & Co. $20 Kagin-5 (High R7)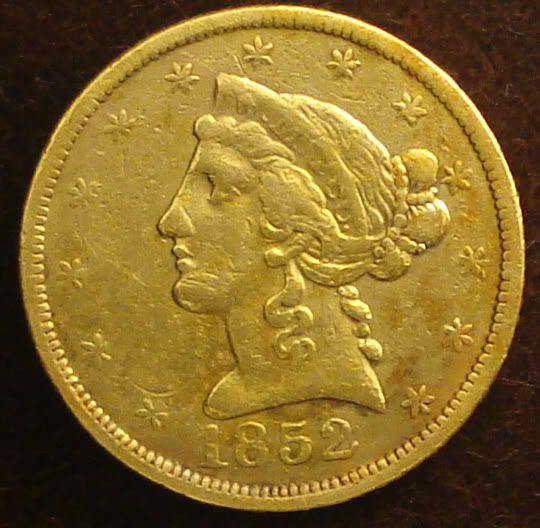 1852 Wass, Moliter & Co. $5, rounded bust, Kagin-1 (R6)
There were way too many highlights to put pictures of all of them in this thread, so I will only show the most important for now. Every item was simply described although some items, like Gold ingots had a bit more of an historic description.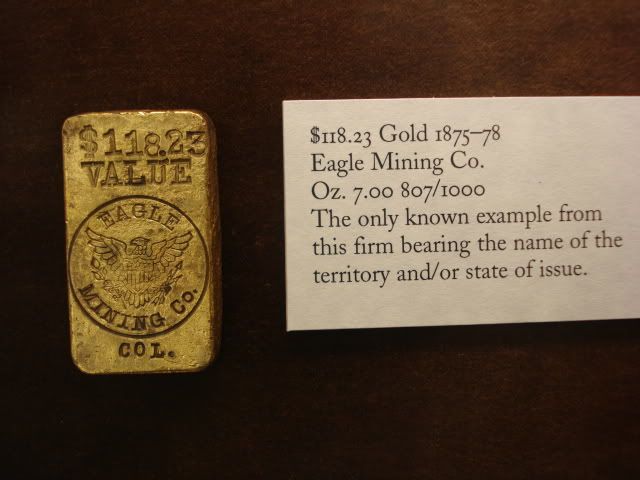 Another one of the ingots, this one shows the actual date of issue, January 11, 1853 (the 1-11 denotes the month/date of issue):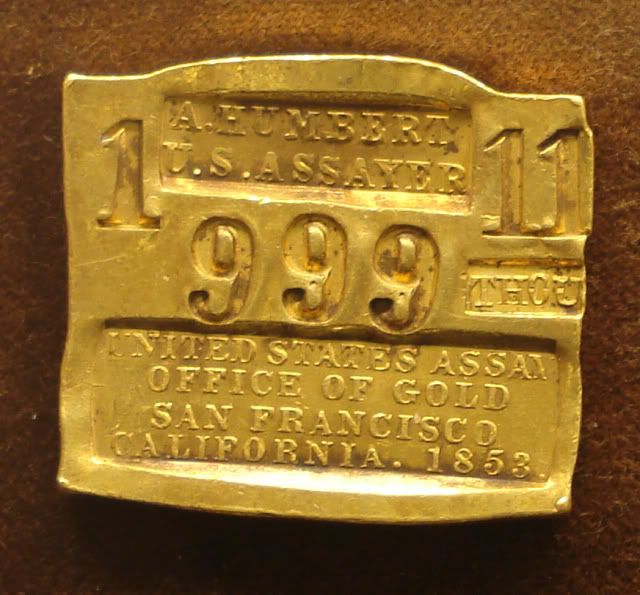 US Assay Office -Augustus Humbert Ingot
There were some territorial pattern gold pieces, most of them being excessively rare with almost no auction appereances. These were great to see, although most could only be viewed from one side. This is a much encountered problem at museums, and I think that a simple solution, like mirrors or whatever they can think off would be a worthwile addition. But even with only one side being visible, it was great to see some rare pattern/trail pieces: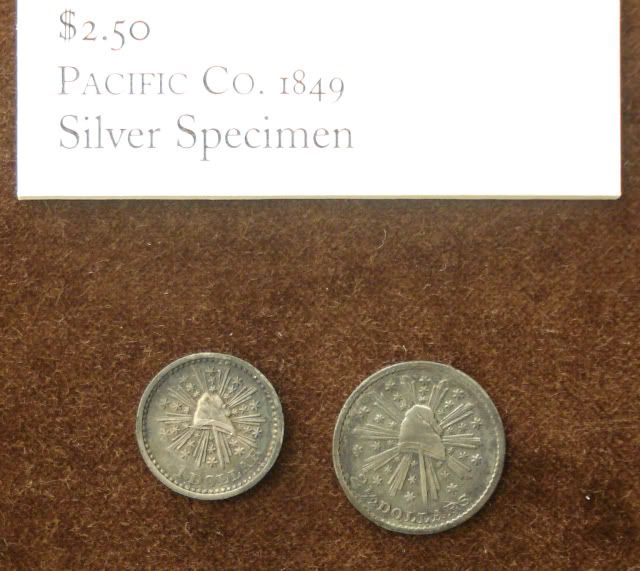 1849 Pacific Co. Silver Patterns, Kagin-1 (R8) and Kagin-2 (High R6)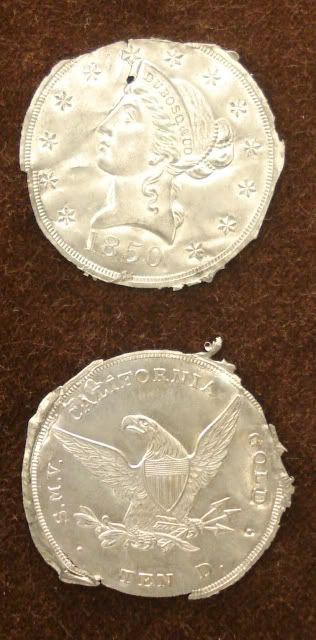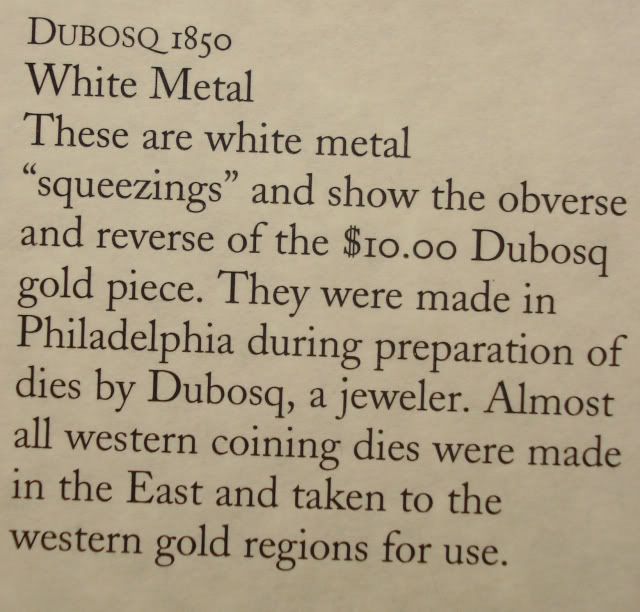 1850 Dubosq & Co white metal splashes, Kagin 3 and 3a (both R8)
My personal highlight was the following. Proof territiorial gold is rare. Only a few issues are known in proof format, and even then most so-called proof issues are disputed. The one below is, besides extremely rare a beautiful coin and a true proof. Many more US assay office issues were there, I'm unsure if there was a complete set of regular issues but I think they come quite close.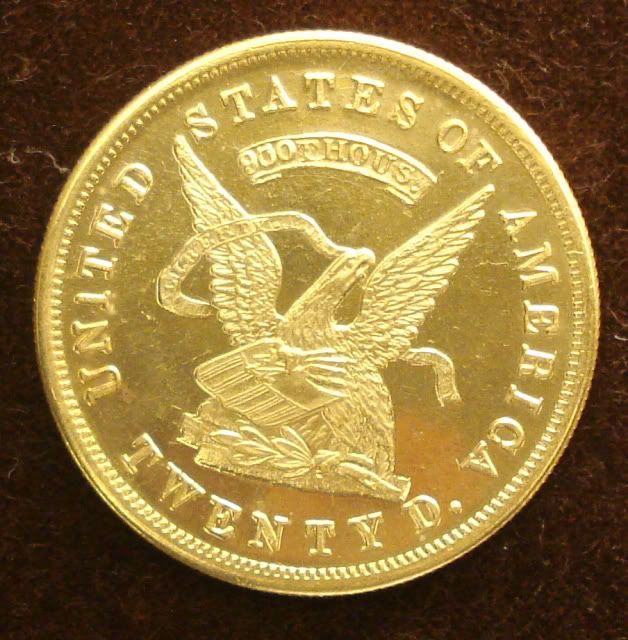 1853 US Assay Office $20 Proof
For lovers of slugs, here is the original hub:
There were many more great territioral gold coins and related items. As for regular issues, there was not much to see besides a few High-Relief 1907 Saint Gaudens $20 gold pieces. One highlight however, was a complete set of 1915 Panama Pacific Commemorative coins in the original box: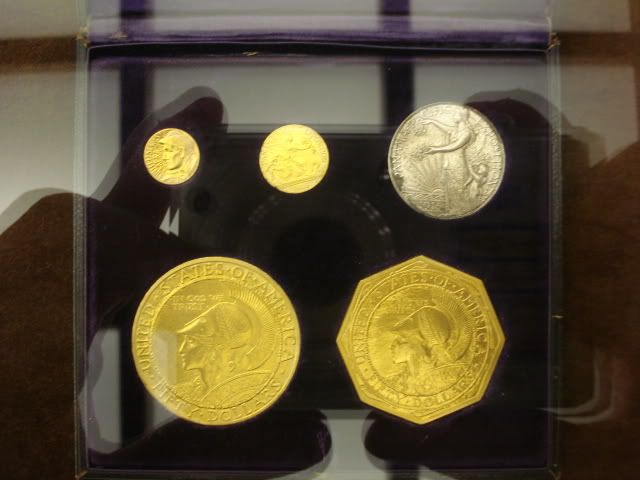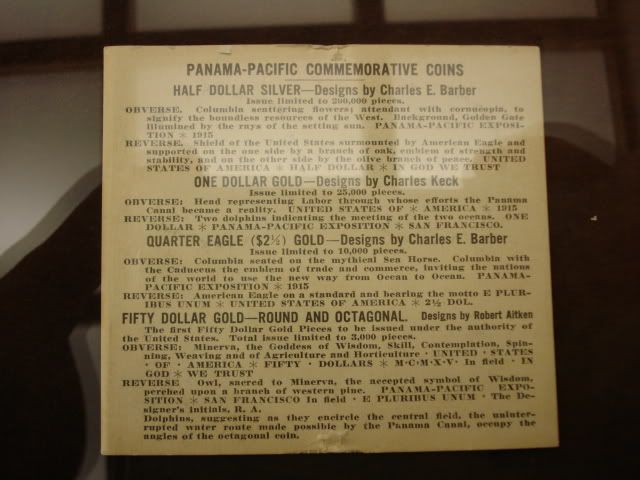 Overall I was certainly impressed in finding this impressive collection in this not so well known museum. I spend a full 3 hours there, and to be honest I saw nobody else. There is some more information about the bank itself and some other historic items, like a bullion scale and wagon and an old plaquette which hang at the site of the first San Francisco mint. I was delighted to see that all coins seemed to be correctly handled, not showing any signs of cleaning. This is certainly something other museums can learn from (for example. the Danish National Museum in Copenhagen has a very nice medieval coin collection, but all show signs of excessive cleaning).
For any coin collector who visits San Francisco this is a must see. The museum is free of entrance, and you won't be interrupted by guards or other annoying people. One of the best museums/exhibits I have ever visited.
Dennis
Leave a Comment