Home
›
U.S. Coin Forum
Henry Clay's "off year" election tokens.
BillJones
Posts: 33,033
✭✭✭✭✭
Among all of the United States historical figures, Henry Clay may have wanted to be president more than anyone else. From 1824 until 1848, Clay ran for president three times. During the seven election cycles covered during that time, Clay was "available" for the nomination three times. Only in 1828, when John Quincy Adams, who was running for reelection as president a member of Clay's party, did the "Harry of West," as he once called himself, not available as a candidate.
Clay's first run for president was in 1824. He finished last in field of four candidates. Since no one got a majority in the Electoral College, the election went to House of Representatives where John Quincy Adams was elected president. Clay did not issue any campaign tokens during the 1824 race.
Clay ran for president again in 1832. He lost by a wide margin to Andrew Jackson. The Clay campaign issued three varieties of tokens during that race. Only one of them is really collectable.
Clay was candidate again in 1836, but his party, which was now known as the Whigs, chose to run three regional candidates instead. Nevertheless, Clay's supporters issued this handsome piece. This token is quite scarce. I have seen it offered four of five times in 20 years, but almost all of those pieces were impaired. This one is has no problems. It is the plate piece from the DeWitt book.
Henry Clay was available again in 1840, but the party selected William Henry Harrison instead. Clay supported issued this piece for that election cycle.
Henry Clay won the Whig Party nomination for the last time in 1844. His opponent was James K. Polk. The Clay campaign issued many campaign pieces. This piece which shows a scene of economic activity was perhaps the most distinctive.
The Whig Party passed over Clay again in 1848 in favor of Zachary Taylor. Clay's supporters issued this piece which was one of his most famous quotes, "I'd rather be right than be president." Given his record, I don't think that was true, but it summed up his long years of frustration. The quote was not originally given in this context. Clay uttered it during a debate about slavery.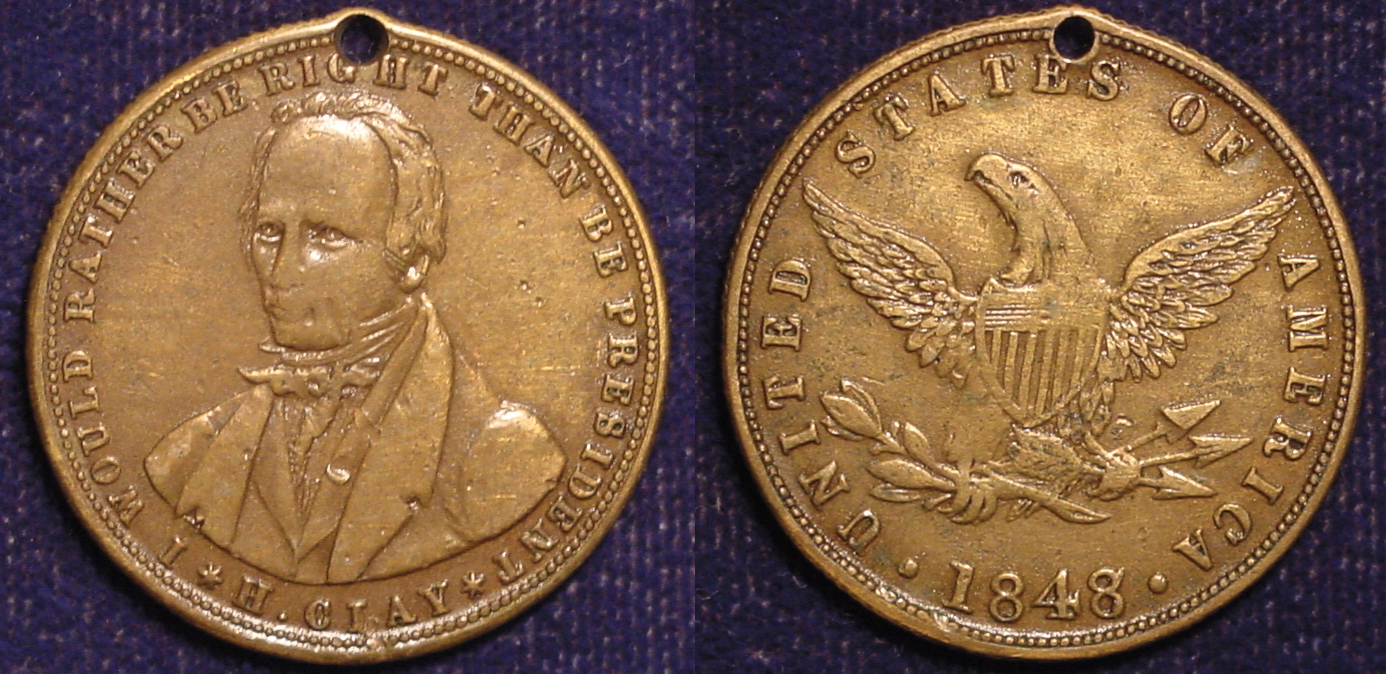 Retired dealer and avid collector of U.S. type coins, 19th century presidential campaign medalets and selected medals. In recent years I have been working on a set of British coins - at least one coin from each king or queen who issued pieces that are collectible. I am also collecting at least one coin for each Roman emperor from Julius Caesar to ... ?
Leave a Comment