Home
›
U.S. Coin Forum
I Did It! My Unique Indian Head Cent Set (WARNING -- Looong read)
winesteven
Posts: 3,740
✭✭✭✭✭
As some of you know, I've been working on a very unique Indian Head Cent set. While my Registry set is currently ranked #9, that is not what makes it unique. Several collectors have previously put together Indian Cent sets that are 100% CAC. A few other collectors have previously put sets together where every coin has Rick Snow's Eagle Eye Photo Seal. But according to Rick Snow, this is the ONLY set put together where EVERY coin has BOTH a CAC sticker AND an Eagle Eye Photo Seal!
Isn't having BOTH stickers redundant? No doubt there's a LOT of redundancy having both stickers. However, I believe that CAC and Rick Snow place different weights from each other on various factors. I believe that Rick Snow places a heavier weight on strike and die state than does CAC, and might also be a bit more strict on the amount of carbon spots/flecks than CAC, especially on coins graded MS66 and higher. On the other hand, I believe that CAC places a heavier weight on luster than does Rick Snow. By having both stickers, I believe I have the best of both worlds for this set!
My records don't go back to when I had raw coins, but it looks like my first purchase of a slabbed Indian Cent was back in May 2016. That coin has since been sold. The purchase of the first coin in my present set goes back five years, to September 2017. I bought that coin from Rick Snow.
A couple of collectors expressed disbelief to me when I shared my plan for the uniqueness of this set. At least one felt I would never accomplish it in my lifetime, but he did truly wish me good luck, and he's been rooting for me.
Putting together this set has given me the most fun and joy I've had from our wonderful hobby, even more fun than in completing my lifelong collection of my highly ranked Type Sets and a few other sets. However, it was not easy, and I'll describe the tremendous help I've received from MANY collectors and dealers in helping me accomplish this goal.
Thank goodness I have my own business, where my assistant knows very well I take time each day to search on the internet for coins. She also knows to interrupt me if I'm on the phone with a client and a collector or dealer calls regarding coins.
Every day I look at collectorscorner.com for new listings of IHC's. Every week I look at new listings of GC, DLRC, Heritage, Legend Numismatics and Legend Auctions, Stacks, etc. I also receive daily emails from many dealers showing me their newps.
Just as helpful, and truly super appreciated, is the help I received from the collector community and several dealers. Since they knew of this project, I would get pm's, emails, and phone calls pointing out coins to me that might fit the bill. Many have also sold me THEIR coins, including a regular forum member who sold me his 1877 MS65RB that had both stickers on it (for those that don't know, the 1877 is the key date in this series)! I've had collectors and dealers alike offer me coins without CAC's (some raw) and my purchase was conditional upon those coins receiving CAC stickers, as well as me seeing excellent photos, so I could make a determination if it was a candidate for Rick's Photo Seal.
I even had a collector let me know that he noticed that one of the very top collectors had just retired his IHC set. I jumped on that, and before that collector had a chance to consign his coins, I did quick detective work to determine how to contact him. I successfully negotiated buying seven of his coins.
Separately, I've had great cooperation from many dealers. If my research determined shortly before a major coin show that they had a coin or two in stock that I needed, and it looked real good, and had a CAC sticker, I would ask them if they could run the coin over to Rick Snow's table at the show to ask him if that coin merited his Photo Seal. Several dealers were kind enough to do this for me, and Rick Snow was super generous with his cooperation, especially since he was not the one selling me those coins.
But most of all, this set would not have been completed without the significant and critical help of Rick Snow himself, the world's foremost authority on Flying Eagle and Indian Head Cents. As many of you know, he literally "wrote the book" on Flying Eagle and Indian Head Cents! When I first discussed the challenge of putting together a set with these restrictions, I let him know I planned on having a minimum grade of MS64, and each bronze coin would be no less than RB. It was Rick that suggested I raise that minimum to coins grading no less than MS65. While I was in a position to afford this, I asked him would raising the minimum grade requirement keep me from ever finishing this set? He had confidence I would indeed be able to accomplish it. Looking back, I'm thrilled he convinced me to climb a steeper hill, and the result is a set that is fully GEM!
Rick also was kind enough to give me some pointers on what it takes for a coin to merit his Eagle Eye Photo Seal. I'll pass a couple of pointers on: The first three feather tips from the left MUST show some detail – the more detail the better. As I examined coins, sure enough I'd see coins with what looked like nice strikes, but those three feather tips were amazingly often very weak. Those would not cut it. Separately, while none of us like carbon spots and flecks, they invariably occur on many old copper coins. It's the nature of the beast. After a short time I learned roughly what is acceptable and what is not. MS66's have a lower tolerance than MS65's. The area where the carbon spots/flecks appear is a factor as well. Finally, Die State is important to Rick. Obviously, a coin struck from newer dies is preferable to coins struck from older dies.
Some may ask if I "settled" on obtaining some coins just to fill holes? While I'm still on the hunt for some upgrades, I strongly believe that with only one exception, I did not settle at all. As most of you know, when a copper coin has an "RB" suffix, that coin has to have at least 5% Red in it, and can have as much as 95% Red before it might get the RD suffix. My RB coins in this set all have a high percentage of Red. I encourage you to click on the hotlink below to the details of my Registry set. If you click on any photo, it will then allow you to see two or three other photos of each coin. I also included in the comment section the % red that Rick feels each of the RB coins has.
The one exception to settling is my 1890 MSRB. It was the last slot to fill, and in my opinion, the coin in hand is ugly (at least to me). So yes, I'm human. I settled for that coin, and I can't wait for the day when it gets upgraded, or even replaced with an eye appealing coin in that same grade.
As I started this project, one or two forum members felt that Rick's Photo Seal program was just self-serving. Now that I know Rick quite well, this absolutely could not be further from the truth. While I did buy coins from Rick that met my standards, the vast majority of the coins were bought elsewhere. Out of the 55 coins in the Registry set (and two other varieties shown in the photos below), only six were bought from Rick! But please don't think I'm being a pig. I've made sure to treat Rick fairly, and every time I get an upgrade, I have Rick sell those dupes for me. I'm super appreciative of all of his help. As noted, I absolutely couldn't have even come close to completing this set without his generosity and help!
While photos appear below, the goal of me showing those is for members to be able to see the labels. Coin details in those photos are poor. You will notice that of the 57 coins shown (55 make up the Registry set), 31 have a "+" grade (54%)!
Click on this hotlink to see coin photos with details, along with the comments section:
https://www.pcgs.com/setregistry/half-cents/indian-cents-major-sets/indian-cents-basic-set-circulation-strikes-1859-1909/publishedset/266583
Here are photos of the slabs in my Registry Set, along with two varieties - 1860 Pointed Bust and 1873 Closed 3. These photos hopefully clearly show the labels, but unfortunately do not show coin details. As such, I encourage you to click on the hotlink above to see coin details. Click on any photo from the above hotlink to see several photos of each coin.
Steve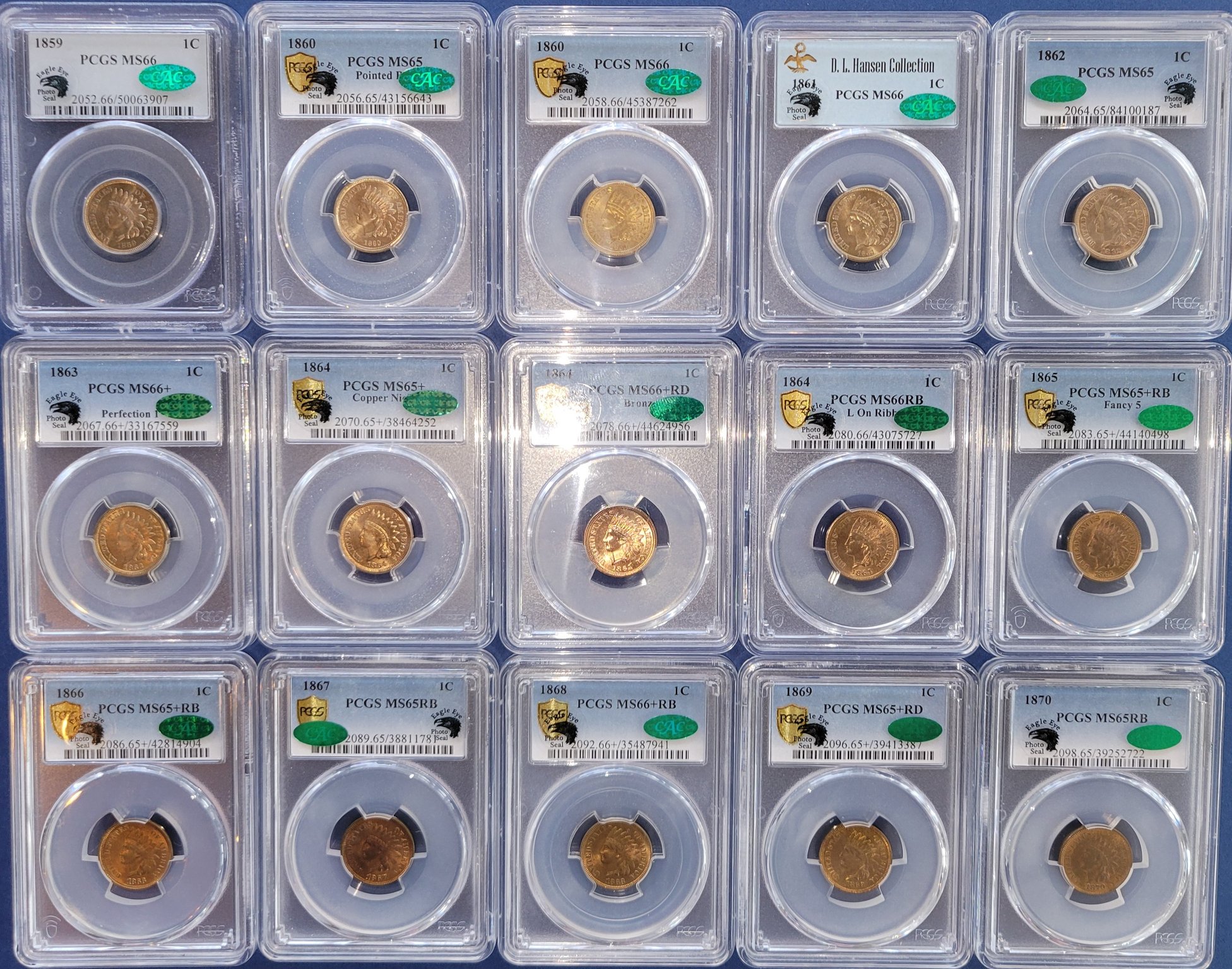 Leave a Comment