Home
›
U.S. Coin Forum
NBC RCA Medallion 1936
lilolme
Posts: 2,310
✭✭✭✭✭
This is from IMDb. I found this NBC medallion when looking at Eddie Albert (Green Acres) on IMDb. He was one of the actors in the first live television experiment it stated.
Below is the IMDb link to:
NBC/RCA Experimental Television Demonstration for the Press
https://www.imdb.com/title/tt4465628/?ref_=nm_flmg_act_204
It has this NBC medallion there. There are some additional old photos at the link also.
.


.
This picture (of the reverse?) came from a web search.
.


.
.
Below is some copy and paste from the NBC/RCA page and from Eddie Albert bio related to the first TV tests.
The first film made by RCA and the National Broadcasting Company for the press under practical working conditions, although previous demonstrations of laboratory television have been given. It represented the first showing of a complete program built for entertainment value as well as a demonstration of transmission.
Television program transmission was demonstrated for the press Friday, November 6 by the National Broadcasting Company in a 40-minute program illustrating RCA experimental developments. The pictures were broadcast from the transmitter on top of the Empire State Building, and were received on the 62nd floor of the RCA Building.
(Note: Above a copy and paste but this was done July 7, 1936)
Eddie Albert and Grace Brandt in Albert's "The Love Nest" was television's first original drama, and written by Eddie Albert.
Eddie Albert's television career is the earliest of any other American performer. It began years before electronic television was introduced to the public. In June of 1936 Eddie appeared in RCA/NBC's first private live performance for their radio licensees in New York City. This was very early experimental all electronic television system. Due to the primitive nature of these early cameras it was necessary for him to apply heavy make-up and endure tremendous heat from studio lighting. The basic makeup was green toned with purple lipstick for optimal image transmission by RCA's iconoscope pick up cameras. Since television was experimental Eddie Albert applied his own make-up and even wrote the script for this performance. His co-star was Grace Bradt.
.
.
Doing a search I found this on youtube which appears to be the experimental broadcast and is 48 minutes long. I did Not watch all of this but jumped through it.
At about the 8:30 mark it shows them standing on a RCA balcony and then across the way the Empire State building the other point of transmission.
The link below has a description of what is on the video. It has a video also and starts the same but is 38 minutes long (some edits it stated). It also has a history description for the event.
.
https://eyesofageneration.com/nbc-first-television-broadcast-july-7-1936/
.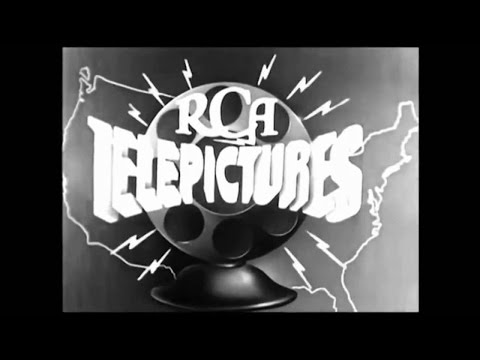 https://www.youtube.com/watch?v=HCnskv34NQQ
.
.
And then from HA 2010:
https://entertainment.ha.com/itm/movie-tv-memorabilia/awards/nbc-tenth-anniversary-commemorative-medallion/a/7018-50231.s
Sold for $298.75
.


.


.
NBC Tenth Anniversary Commemorative Medallion. A rare vintage medallion celebrating the first ten years of NBC's existence. Formed by RCA in 1926, NBC was the first major broadcast network in the US and helped define the Golden Age of American radio and television broadcasting. Today, NBC programming is available to 112 million households nationwide -- more than 98 percent of the population. This 3" pewter medallion has an art deco NBC logo and the years 1926/1936 on the obverse, and is inscribed "Tenth Anniversary/To Those who Have Shared With Us in the Advancement of Broadcasting" on the reverse. A fantastic piece of broadcasting history, in Very Fine condition with some tarnishing.
https://youtube.com/watch?v=2YNufnS_kf4 - Mama I'm coming home ...................................................................................................................................................................... RLJ 1958 - 2023
Leave a Comment