Home
›
U.S. Coin Forum
Central States Show Report
Proofmorgan
Posts: 699
✭✭✭✭✭
Hi All,
It has been a few years since I've been to Central States so I was looking forward to the "improved" show. The goals were to search for nice early gold, view the auction lots, sell/buy some bullion for a friend, try to upgrade some coins, and view a few coins set aside for me to look at by a couple dealers. Note: I decided to bring my wife along for the first time. I will post pictures tonight.
Wednesday Night:
We arrived into Midway without issue via a nice 1.75 hour direct flight out of Manchester, NH. Unfortunately, when trying to get to the convention center, Uber decided the ride should cost $150 for whatever reason (it was $45 from Schaumberg to the airport on the way back....strange). We decided to take a cab, which ran $90....only to be told that there was a customary time and a half that needed to be added for some unknown reason...as the driver overrode the cost to $135. That put a sour taste to start the trip. We headed to the hotel bar for a night cap and bumped into a few familiar faces from Stack's and PCGS and chatted a bit.
Thursday:
I woke up early to get the early bird entry. I was hesitant to pay the $125, but was glad I did after hearing about the public entry lines.....as well as the insanely long line at PCGS. I was able to view some nice early gold pieces brought in by NYGM and CNN/Stu Levine. The coins were beautiful, but I had a few consignments in limbo and the upcoming Bass sale definitely had me hesitant to make any significant purchases. There will be some dream coins will be up for bids in that sale.
My wife was somehow instructed to cut the public line and met me shortly after 10am. I showed her the "great four" display at great collections and I set her free to browse and tell me what she liked. Eventually, she showed me a buffalo nickel and 3 cent piece in PF68 with prices of $30K. I had to laugh, I guess she has expensive taste in coins.
I turned in a couple coins to try for a '+" and also had some OGH pieces true viewed ($5 total each....what a deal!). I struck out on the grading. PCGS is currently grading higher MS Early gold on luster over originality and color. It's a shame because more coins are starting to take a "bath" to accommodate. I connected with Doug Winter for awhile, which is always a treat and he is always very knowledgeable and insightful. As always, I swung by the CRO table to see some local faces and always some wonderful coins.
I was fortunate to finally meet up with EarlyAurum after years of chatting over the phone and text. We walked the floor for an hour to two and chatted about early gold. He was also able to see the coins that CNN and Stu had brought in and we debated back and forth which had the nicer 1807 $2.5. We also viewed the lovely Classic Heads from the Virginian Collection at the Stacks table. It was great to spend time with a fellow early gold collector.
Overall the show was well attended. There was some decent inventory at most tables, but the prices were definitely strong.
We headed to dinner at one of the nicer steakhouses in Schaumberg. Two separate ambulances had to take people out of the restaurant while we were there. It was an eventful dinner.
Friday:
The goal for today was to sell and buy some bullion for a friend and maybe run into some nice coins in the process. I was sent with a kilo and 5oz generic silver bars with instructions to trade up toward 50-100oz in a single bar. I was able to sell the silver I brought for $26.50 per oz at one table and buy the larger bar for $25.30 per oz at another. The result was an 87.26 oz vintage poured bar. By noon the bourse was seemed to be half packed up, which seems to be the trend at every show.
Next, I had to fulfill my spousal obligations of not spending every minute at the show and go out into the city to do the tourist-type activities and keep my wife happy....which is a nice break from the intense hunt on the bourse. We had some deep dish at Pequad's, which was nice and visited the SkyDeck. Our attempt to get a tour of the Blommer chocolate factory was unsuccessful, after catching the scent of chocolate while walking down a side street. We headed back to Schaumberg hit some balls at Top Golf, which was entertaining to say the least. The experience made me feel a lot better about my golf game, seeing stray balls flying all directions.
Saturday:
I decided I would make one last pass on the bourse to see if I could snap a late entry in someone's case. No luck. I did go back to the bullion dealer to grab two 106 oz vintage poured silver bars matching the one I purchased for my friend. One for me and one for my father, who did not attend this time. The same dealer had a 25oz poured silver Engelhard that was 1 of less than 50 produced. Needless to say, it was out of my price range for bullion. I was also able to grab about 50 oz of name brand bullion at generic prices at various tables. The bourse was about 75% packed up at this point.
Our $45 Uber provided a nice trip back to the airport, where I prepared my wife for my anticipated private room search. I knew over 300oz of silver would draw attention. I had loaded it all into a backpack, which was immediately pulled from xray. The young TSA employee was stuck holding the bag for the better part of 5-10 minutes while they had to coordinate a private screening. The TSA employee and myself both laughed about the weight of the bag. I was brought to the room and had to unpack the bars and answer many questions about why silver is a good investment and how you buy such things. One of the two officers even asked if they could hold one of the bars and I obliged. They both agreed it was likely the most interesting thing they'd seen in their 5 years on the job.
Overall, it was a great experience. I was successful on the bullion hunt, meeting great people, but struck out on the grading and did not pull the trigger on any early gold. I'm looking forward to the next show, which will likely only be FUN or whenever the Bass collection is available for Viewing/Auction.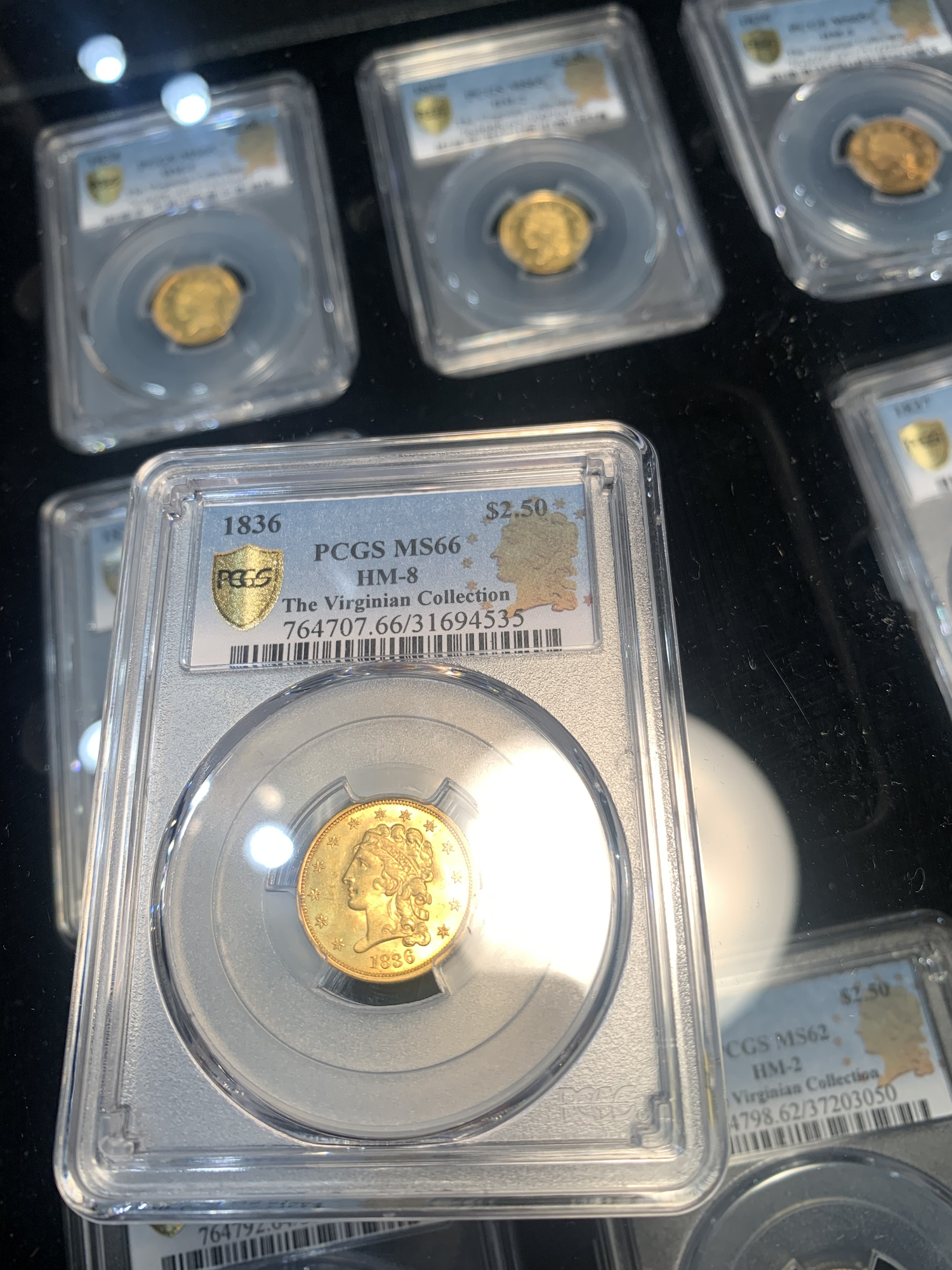 Collector of Original Early Gold with beginnings in Proof Morgan collecting.
Leave a Comment