Home
›
U.S. Coin Forum
Most Over the Top Original Mint Packaging?
Weiss
Posts: 9,884
✭✭✭✭✭
Seems like there are two types of numismatists: Those who hate original mint packaging or those who really, really hate original mint packaging.
On the other hand: My fascination with early slabs probably has something to do with the lessons I learned 40+ years ago as a collector: Original is best. Unpolished, uncleaned, unrestored.
Ok, so you've got super original. Do you have the original clamshell, the original COA, even the original shipping box? Fine, but do you have the original receipt AND the original sales flyer?
But those of us who are committed to this level of originality know it comes at a price: Space. Especially for pieces that need to be kept in a safe deposit box.
I've tried for years to keep an open mind about US mint packaging. Especially for items that might be made more for the general population than our opinionated group.
@kiyote 's post about the first spouse gold pieces made me stop and revisit this issue.
From a presentation standpoint, the packaging of the first spouse pieces is actually pretty spectacular. The gold-embossed, polished chintz textured outer slip, the matching gold-embossed inner box. The sheet of tailored gauzy fabric to protect the third gold-embossed custom casket with red velvet lining: either the domed, high polished burled walnut or the redwood(?), with satin upper liner (the 4th gold-embossing!) and velvet lower liner, heavy cardstock COA, and finally, the clear acrylic capsule.
It's over the top. It's borderline gaudy (really not as bad as it sounds, though). It's so much expense, and space, and volume. It must have taken a team to design, and an industry to produce.
It's too much, isn't it? When we, as a rule, we like slabs, flips, or 2x2s?
I mean, how many pieces like this do you have "on display"? Are these the most over-the-top examples of original mint packaging? Are there others you'd nominate?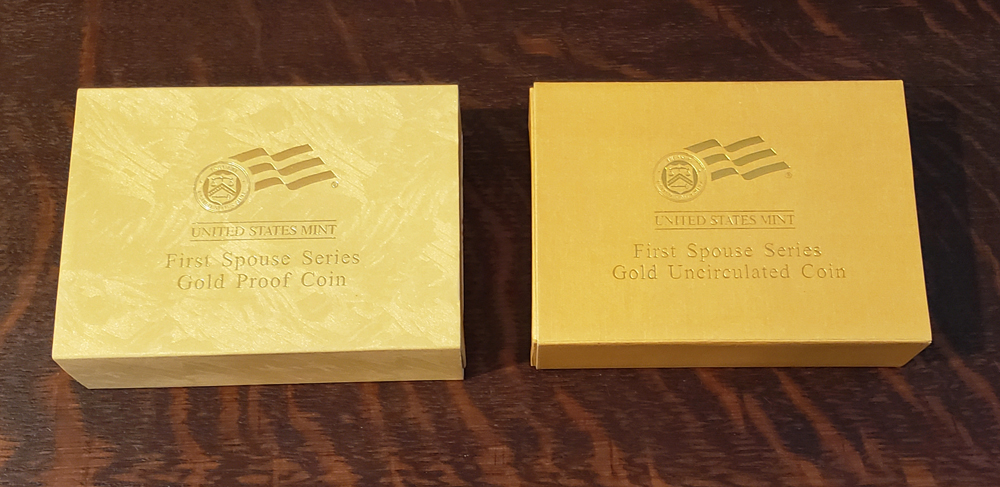 We are like children who look at print and see a serpent in the last letter but one, and a sword in the last.
--Severian the Lame

Leave a Comment