Home
›
U.S. Coin Forum
Charmy's 2022 FUN COIN SHOW REPORT w/tons of Pics!

ThePennyLady
Posts: 4,421
✭✭✭✭✭
Sorry this is a bit late, it's been a very busy week trying to dig out since I returned from the FUN show. IT was a really great show, and I was very busy with both sales and purchases. I worked hard trying to find coins for my customers as well as to fill holes in my inventory. The market is still quite strong, especially the penny market which remains very popular. Nice quality better dates have been harder and harder to find and are getting very strong prices. In some cases, I've been having to pay over the PCGS guide prices just to acquire quality key and semi-key dates. In any event, it was a very active show and from all accounts, very successful!
As with every FUN show I've attended, I was very excited to be once again participating in this show as it's always the best show of the year!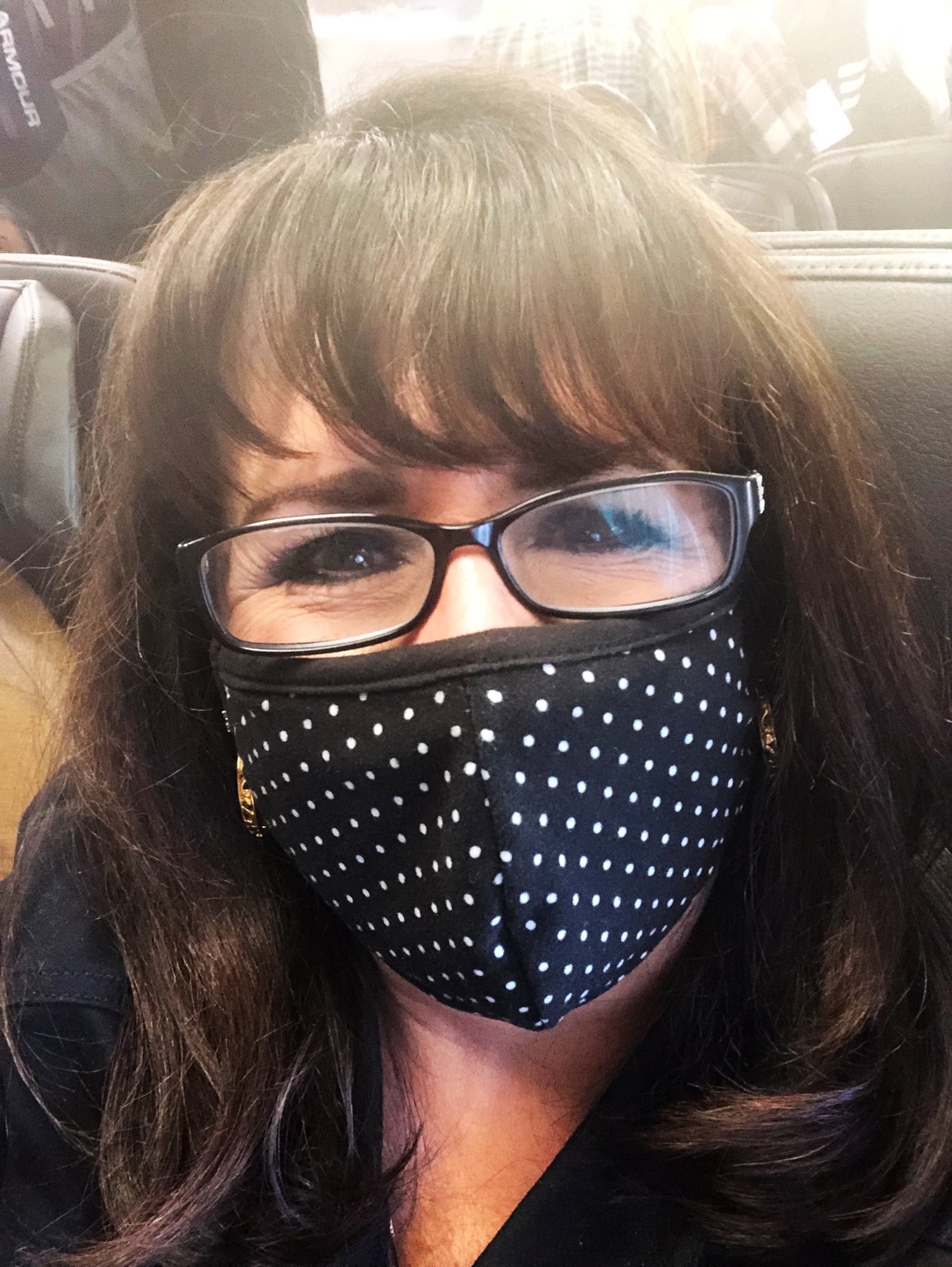 I left beautiful sunny Orange County for Orlando on Sunday since I had some pre-show business to take care of. For those of you who are interested in the aerial photos, planes take off from the John Wayne airport and fly up very fast to help with noise abatement, then they level off and (depending on winds) usually head west over the ocean before they turn around and head back east (or north or south), again to minimize noise over very expensive houses. There's also a curfew so no planes can take off or land before 7am or after 11pm.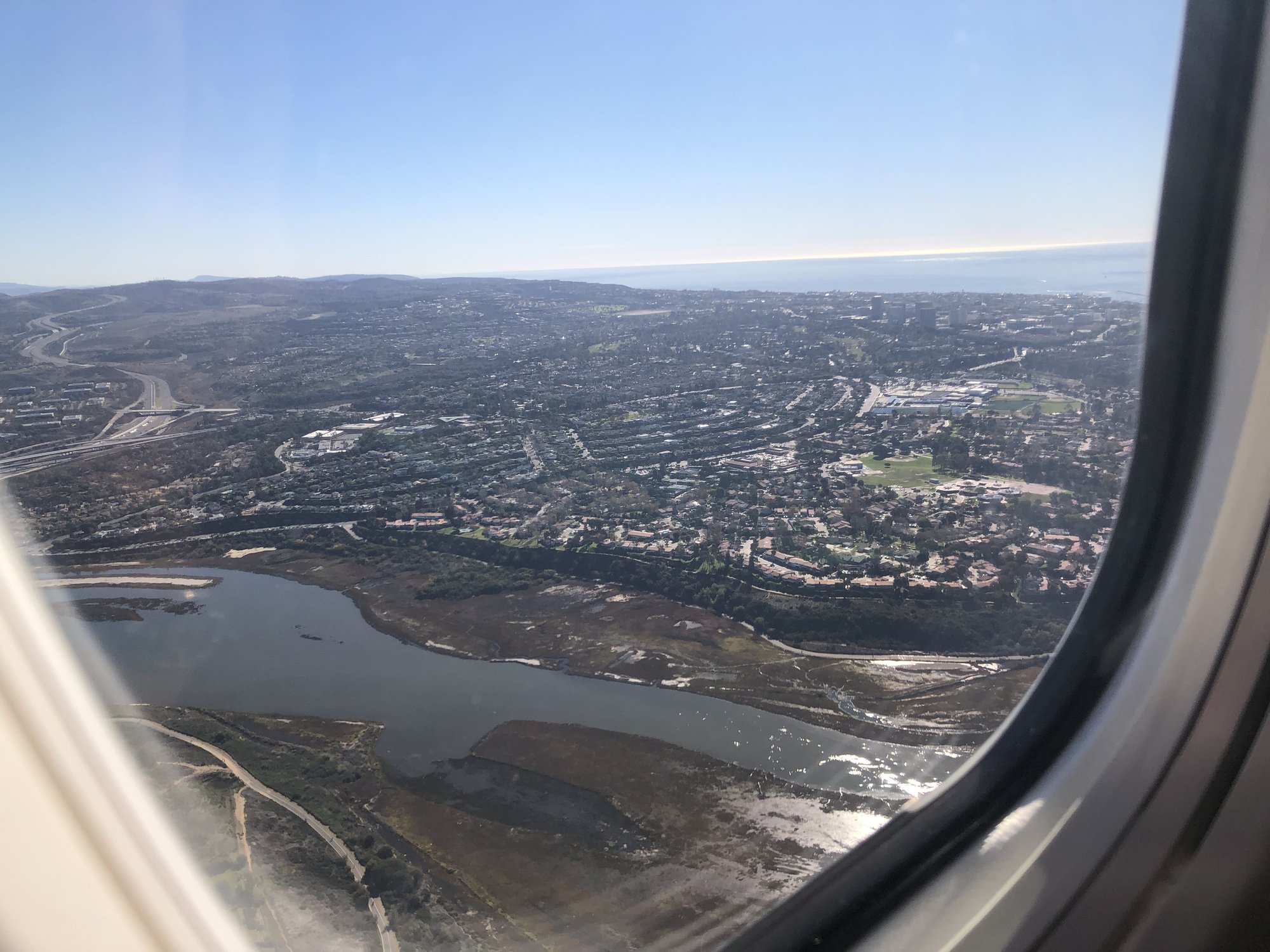 I flew over the Rockies, and changed planes in Dallas - they still had their Christmas decorations up at the airport. I was very pleased that I had no flight delays or cancellations and my trip was smooth sailing!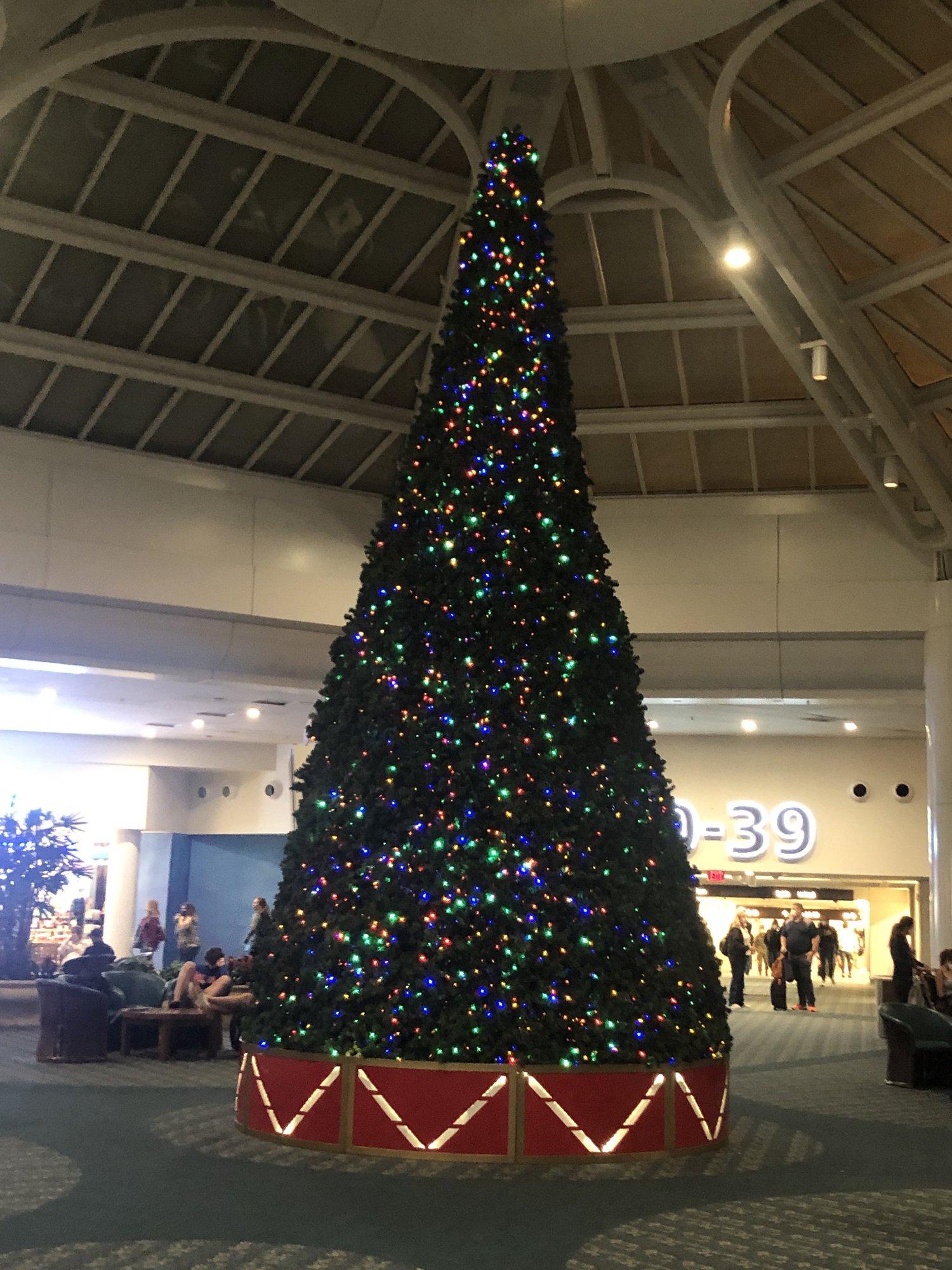 Then it was on to warm 80 degree Orlando, even at 8:30pm when I landed! I stayed at the Hilton which was connected to the convention center and was supposedly the closest hotel to the North Concourse. The hotel was beautiful and not very busy when I arrived.
So Monday morning I took my bags across the connecting walkway to the convention center. It was a gorgeous day!
When I entered the convention center, I was told the North Concourse was on the complete opposite side from where the walkway connected to the convention center and that you had to go down the elevator, outside and walk all the way around the entire convention center (there was no way to get to the North Concourse through the convention center). Boy, I wasn't expected to have to drag those bags that far - I'm guessing it was about a mile all together - but I did and was so glad when I finally arrived at the security room and could stow those heavy bags! Had I known how far it was, I definitely would have taken an Uber! Now I was free to do my business, go out to dinner, etc., without worrying about my bags. I also spent some time on Tuesday at the Hard Rock Casino in Tampa since I basically had that day all to myself.
Set up for the dealers was Wednesday at 2pm so I again walked the mile or so over the convention center, but this time I didn't have to lug my heavy bags with me. I checked in at registration, got my bags and waited along with a throng of other dealers for the doors to open!
Before many dealers arrived!

It didn't take long for all the dealers to crowd around the escalators and the elevators!

Set up was quick for me, then I wondered around the bourse floor to start buying coins. It was great to see many folks I hadn't seen in two years! I found quite a few Pretty Pennies to fill in gaps in my inventory, as well as some for my customers. These are all the coins I bought throughout the show!
I brought a nice bottle of my favorite Rombauer which I had up in my room, as well as two wonderful bottles of Del Dotto - a Sangiovese and a Cab - that I shared throughout the show. The Del Dotto was amazing, and me and my customers and dealer friends really enjoyed both bottles!
That night a group of us went to Maggiano's for dinner and enjoyed some more scrumptious wine! Maggiano's is right across from the Crooked House tourist attraction.
Ron Mirr, Greg Allan, Me, Neil Ulrich
The show opened to the public on Thursday morning at 10 am, so I arrived early to take some photos and also to process the coins that I had purchased the day before.
Me and by buddy Abe!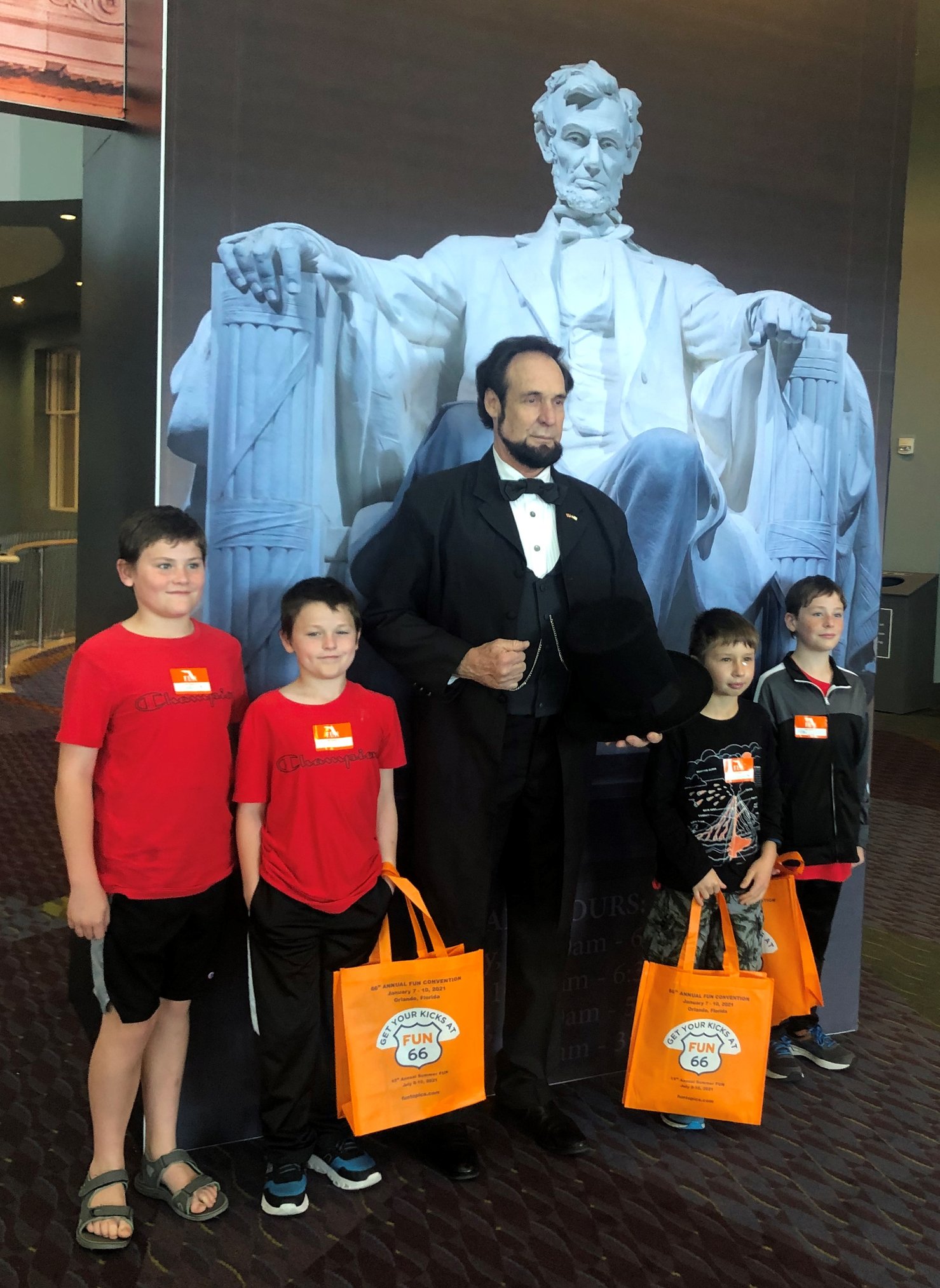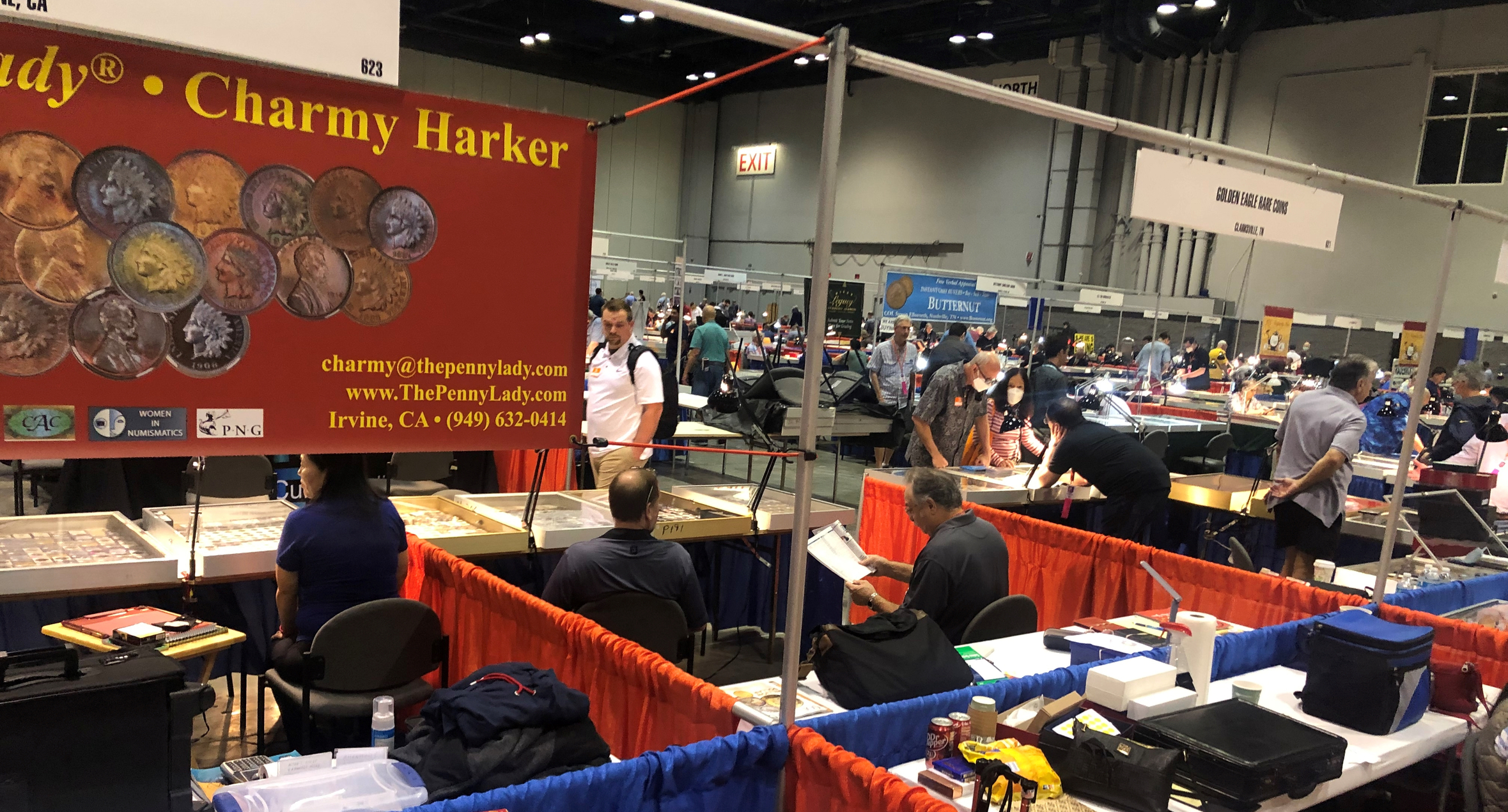 Not long after the show opened, a loud buzz filled the room - it was really great to hear that buzz because it meant there was a lot of business going on!
I soon became very busy, and forgot to take photos of some of the folks who stopped by. However, I did get these two:
Phil/Habaraca

Gabriel Green/Quality Rare Coins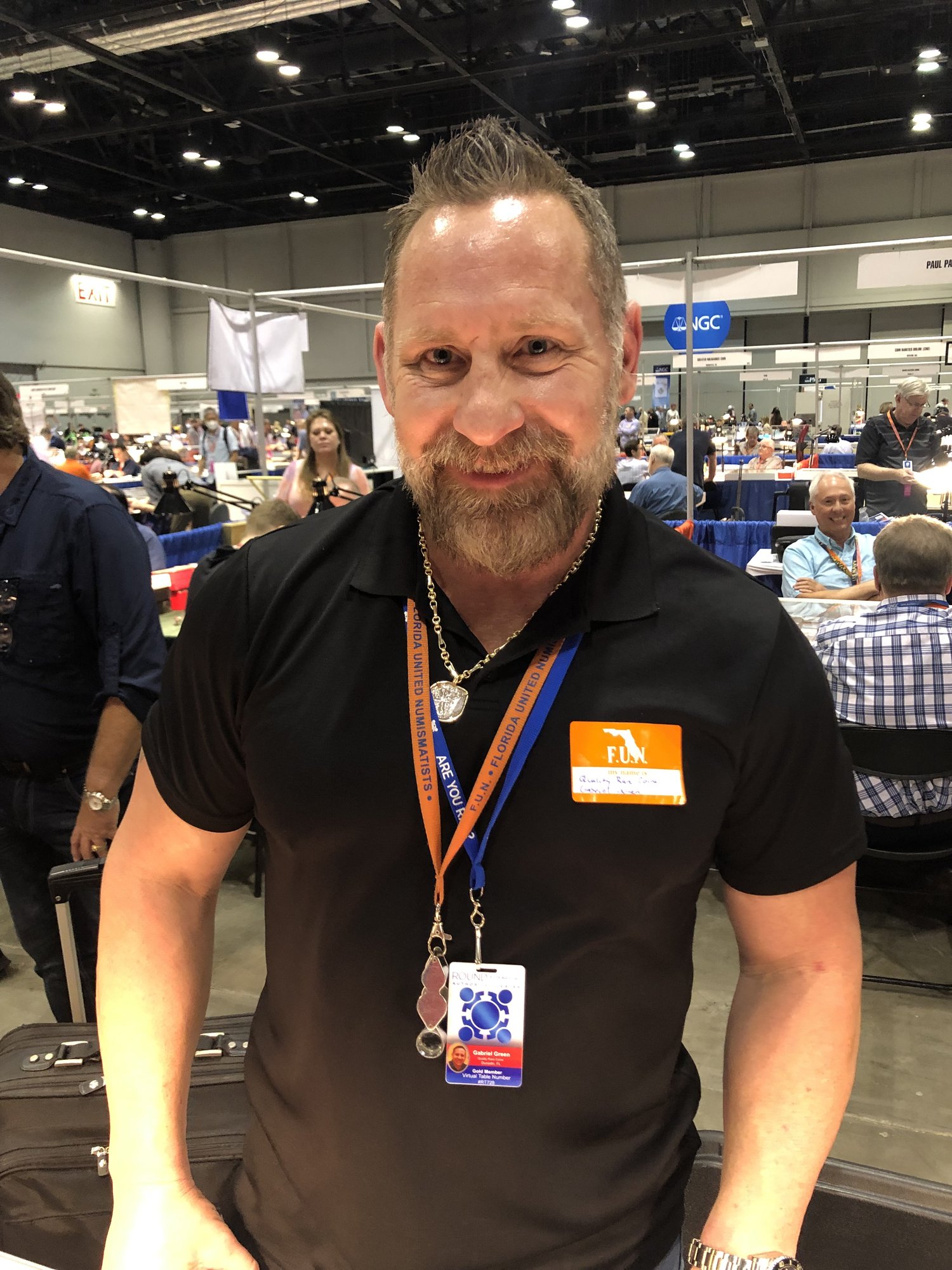 This is Stewart Bley's amazing collection!

PCGS was set up right across from Stewart's booth - they had a "lounge" set up so customers could fill out their forms without taking away from others who were all ready with their submissions.
The day seemed to just fly by, but of course I did manage to have some of my Del Dotto wine, and shared it with a couple of folks who stopped by. Then it was time to head out to dinner. This time we went over to Delmonico's with my good friends Karl and Joanne Stephens and Al Boulanger (foreign coin dealers).
We started off with a really nice Cakebread Chardonnay, then had a tasty bottle of Prisoner Cab that went well with my scrumptious Marsala steak and pasta! Delmonico's was very popular among the dealers as there were a few other tables filled with dealers from the show. And I can see why it was popular, the food was delicious and so was the wine!
The restaurant had some great cartoon drawings on all the walls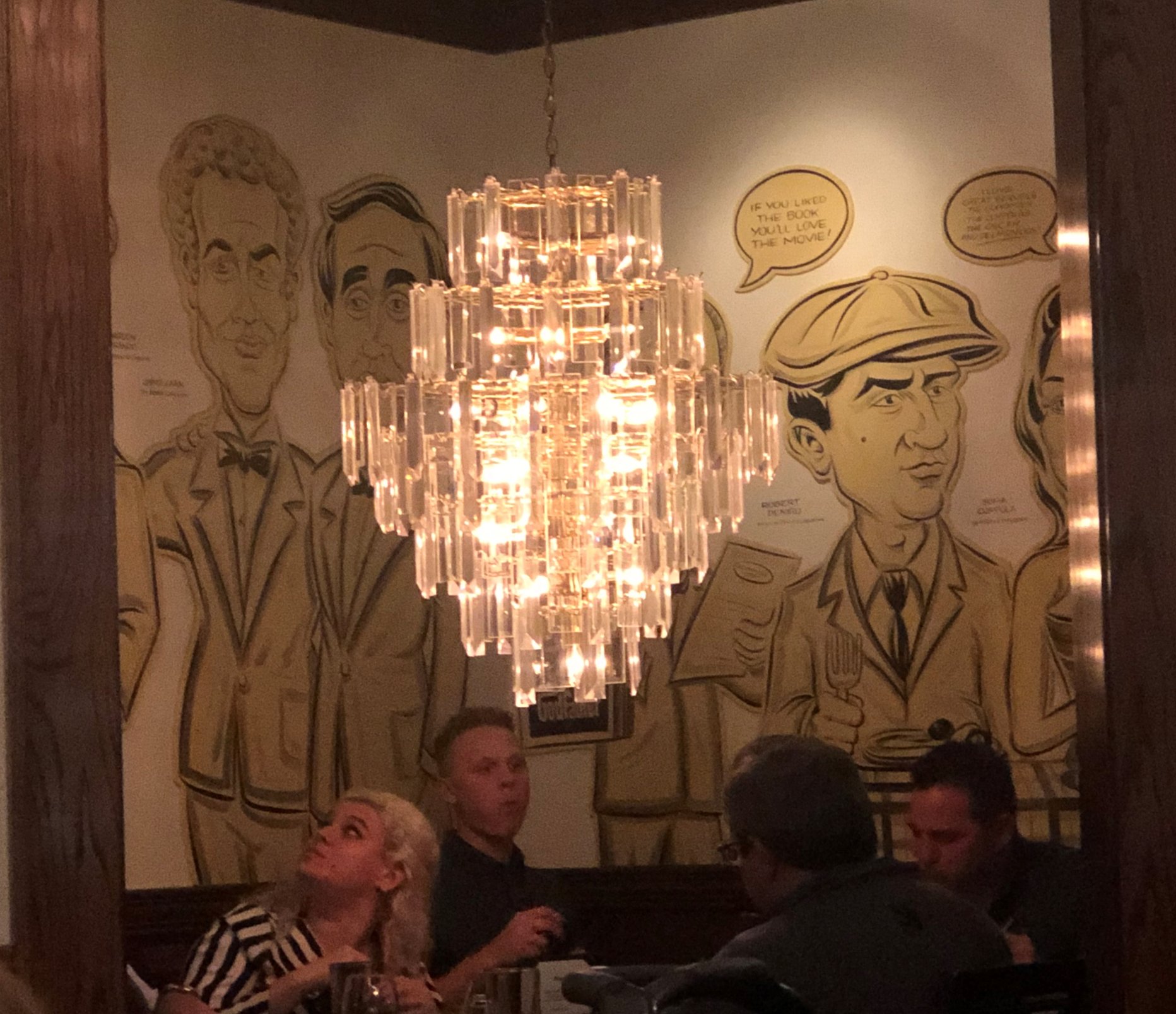 Friday morning I again arrived early so I could take some more photos around the bourse and get some more work done before the public was let in.
The PCGS table (that's Tom Reynolds submitting coins)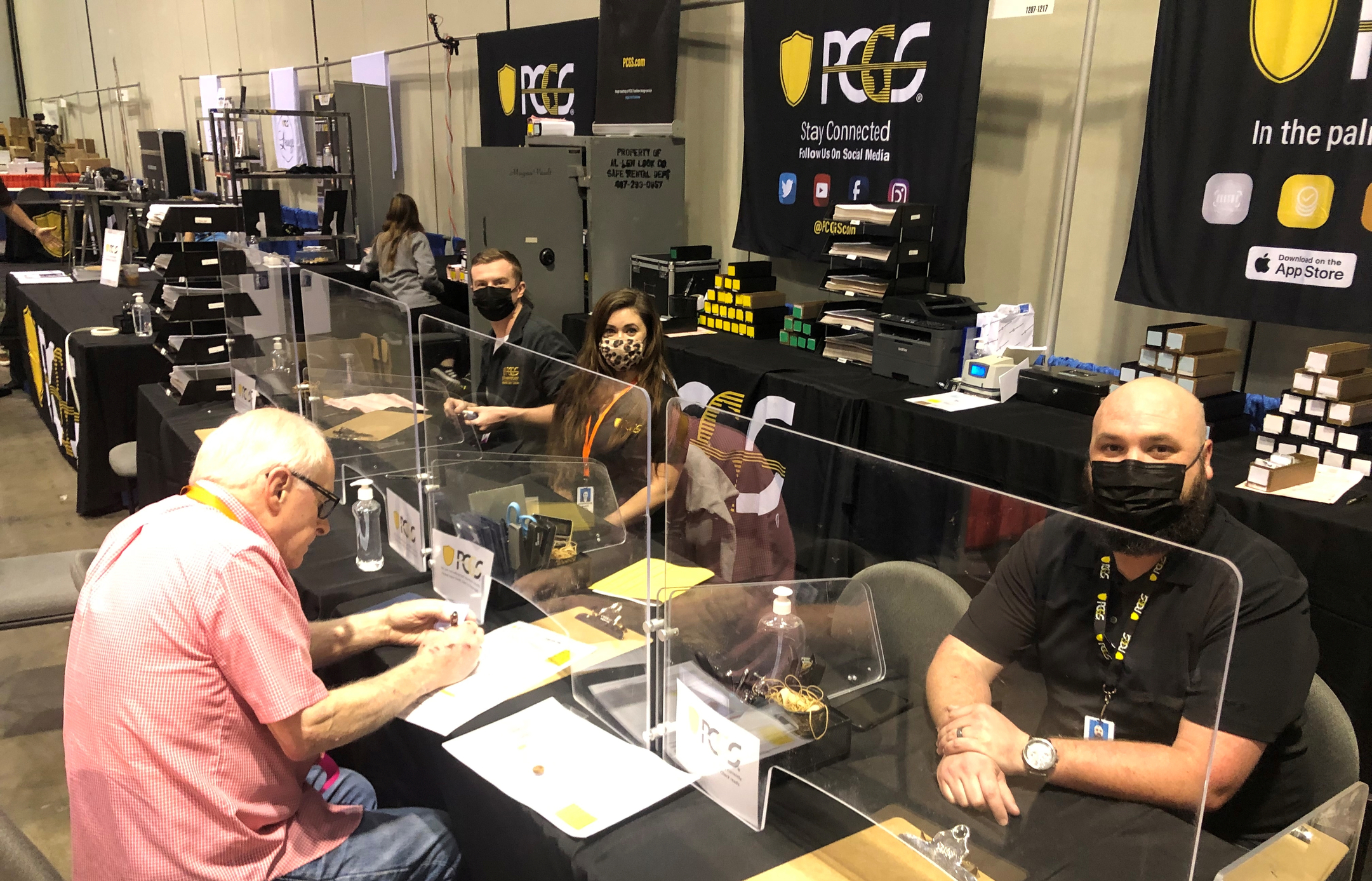 David Lange and the NGC folks

ANACS folks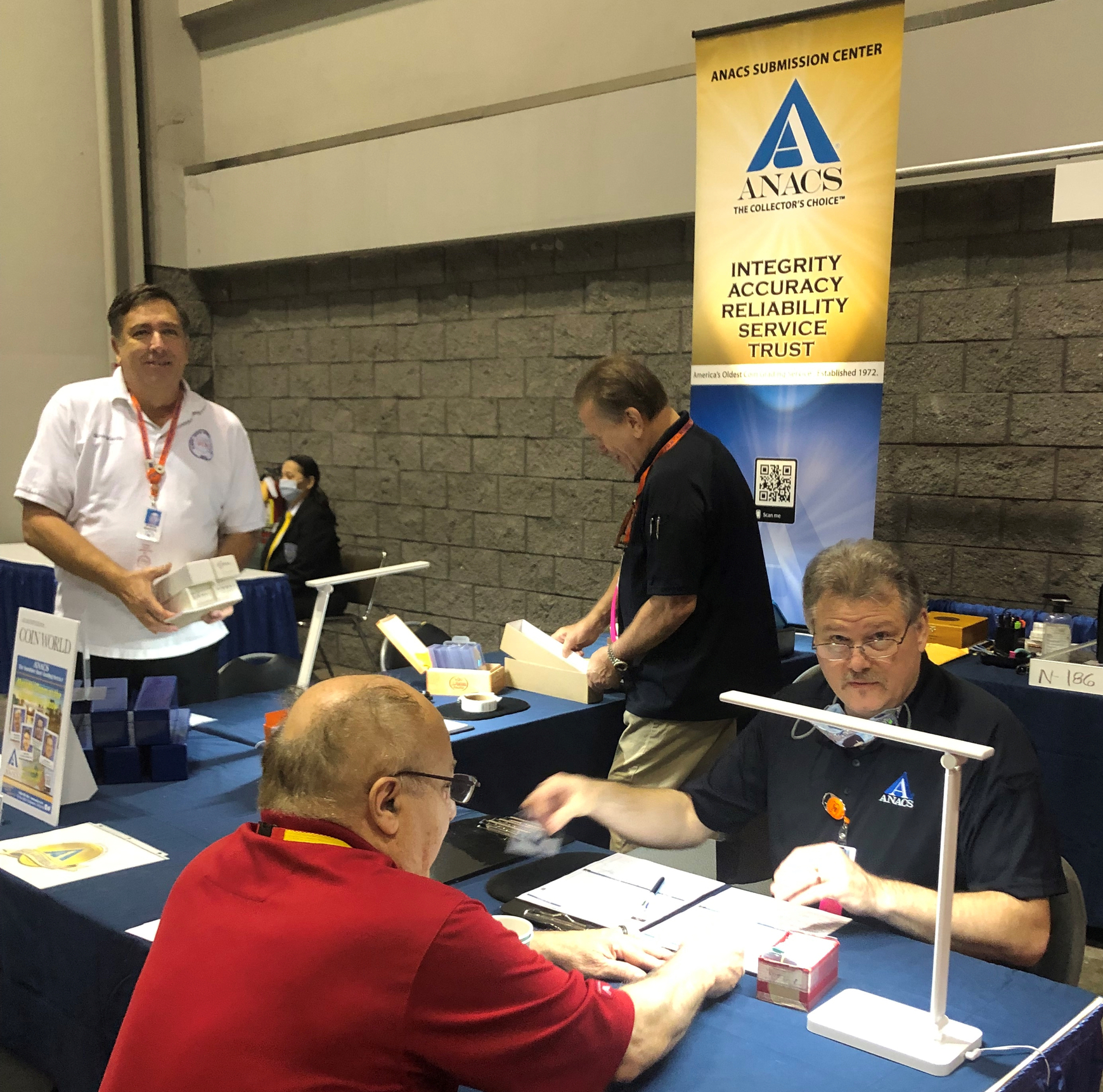 Tony at Northern Nevada Coins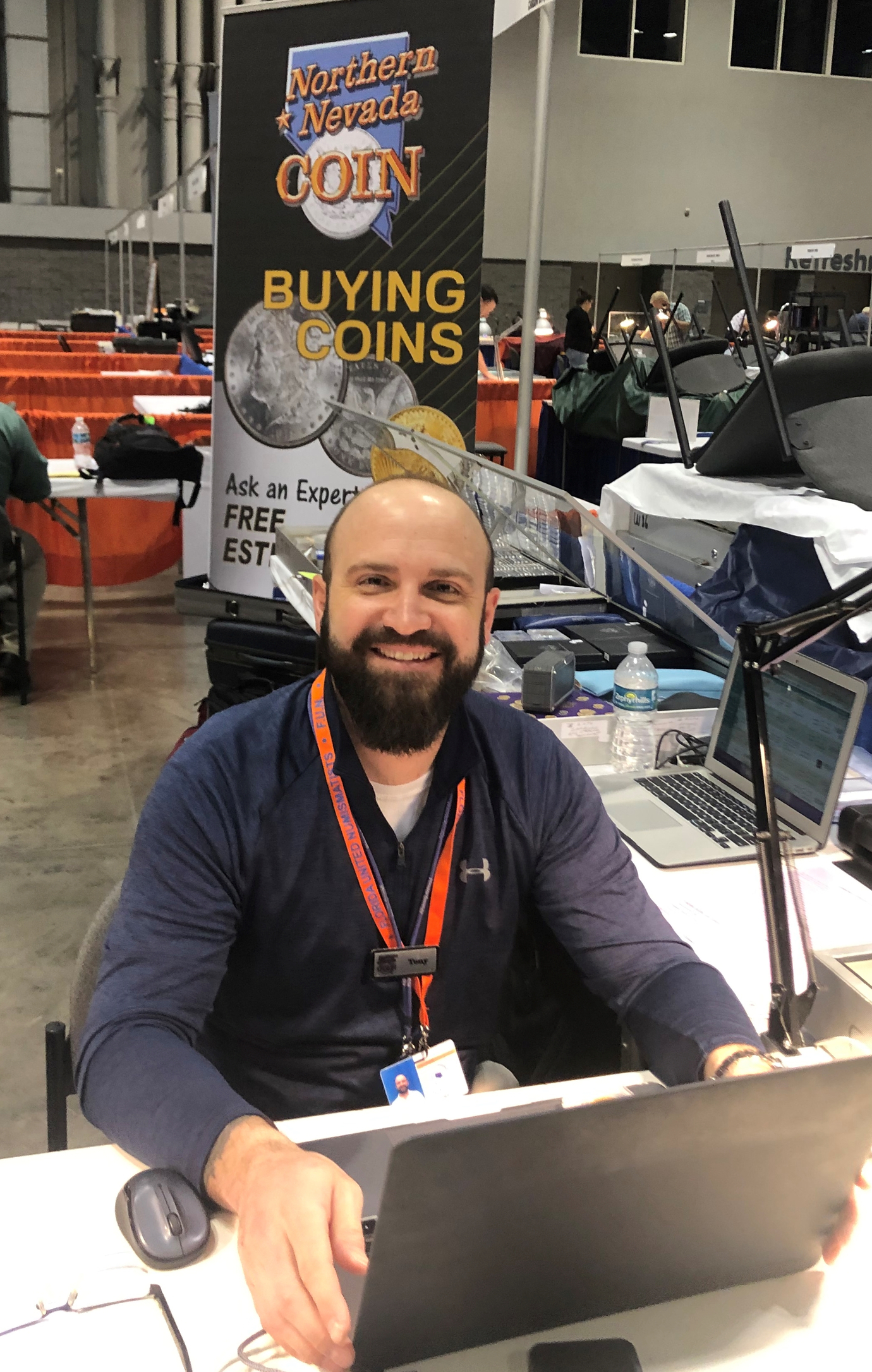 Wizard had a huge area full of supplies in the back of the room!

There were a lot of great exhibits this year - here are some that I found interesting: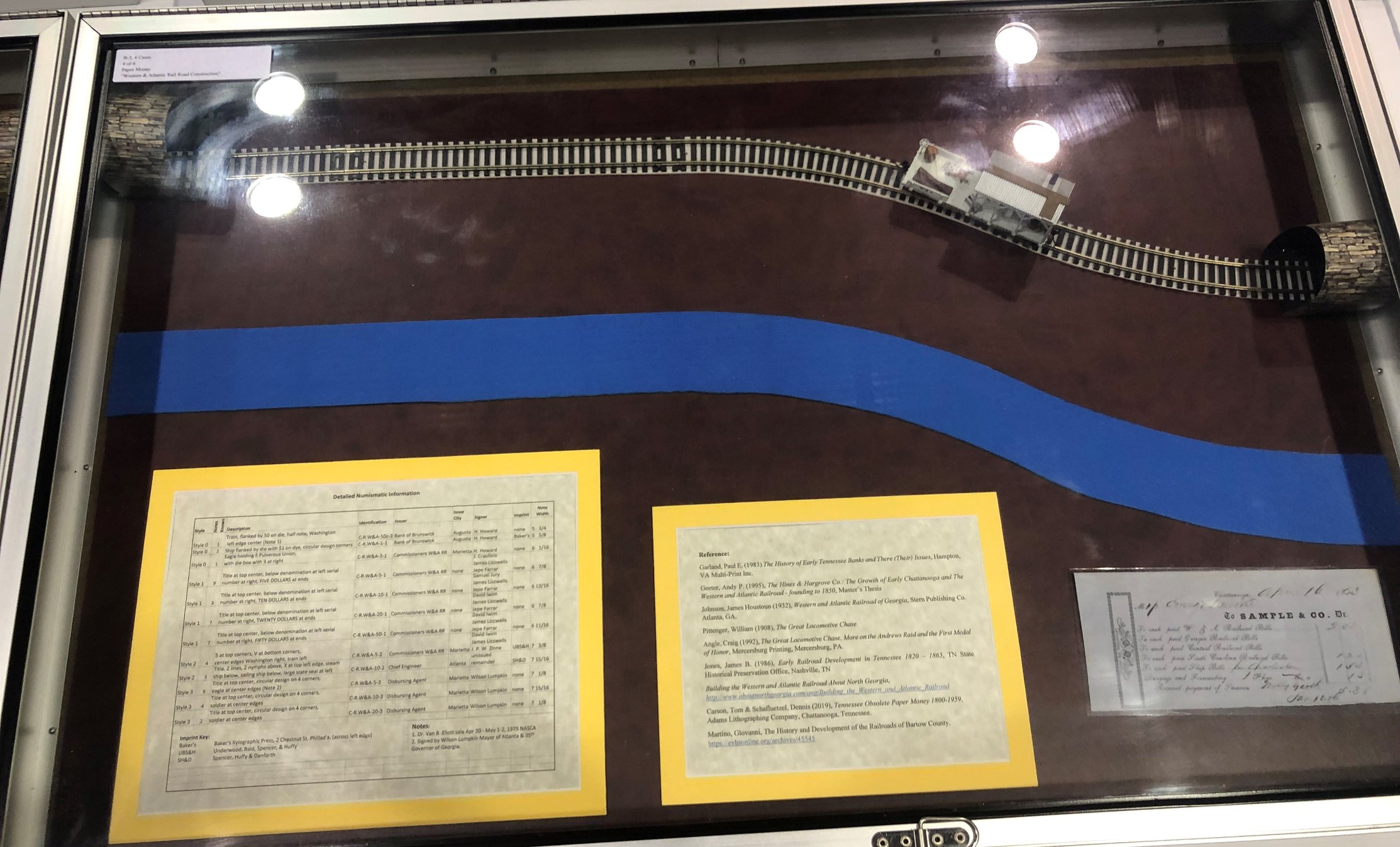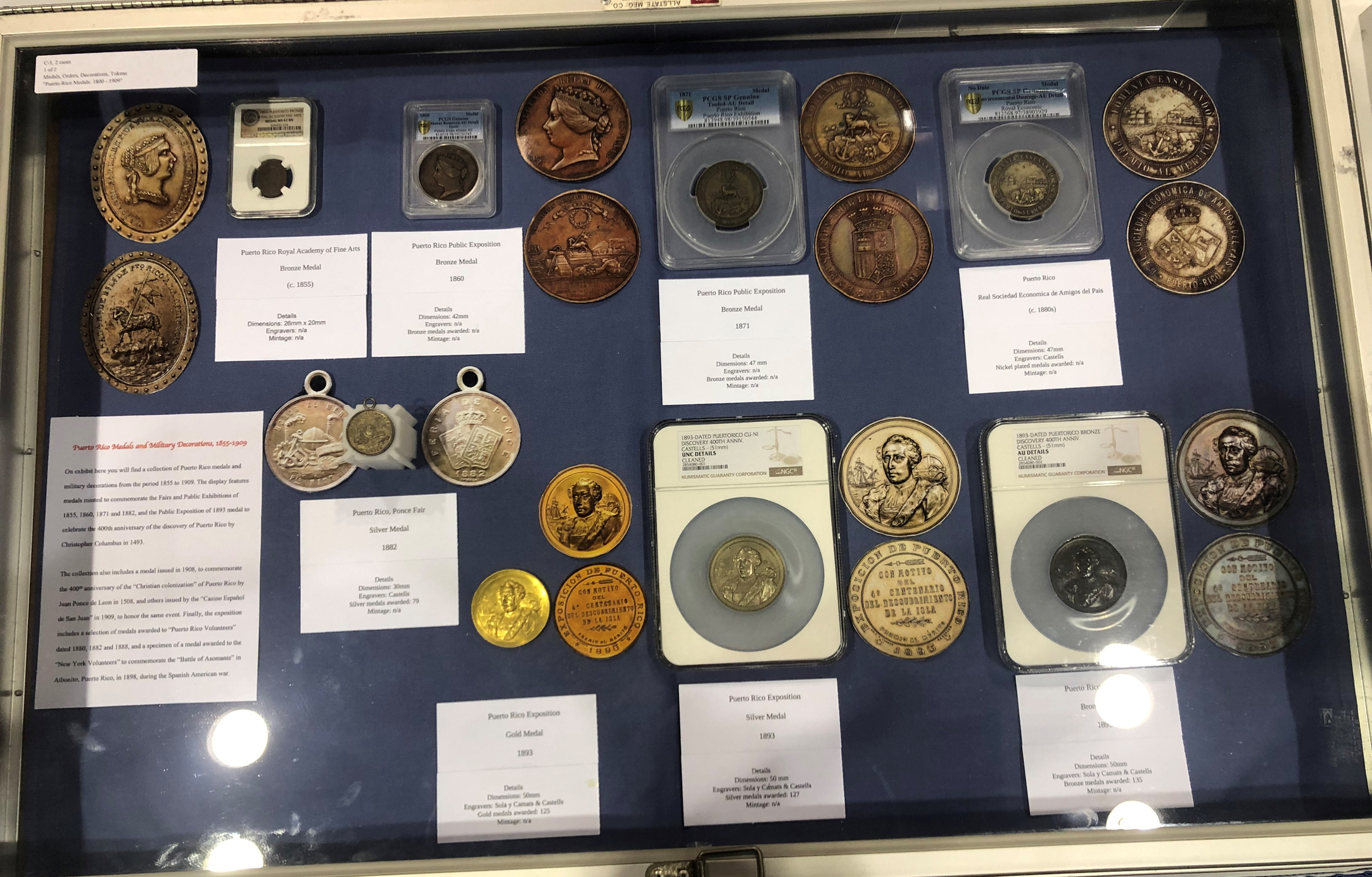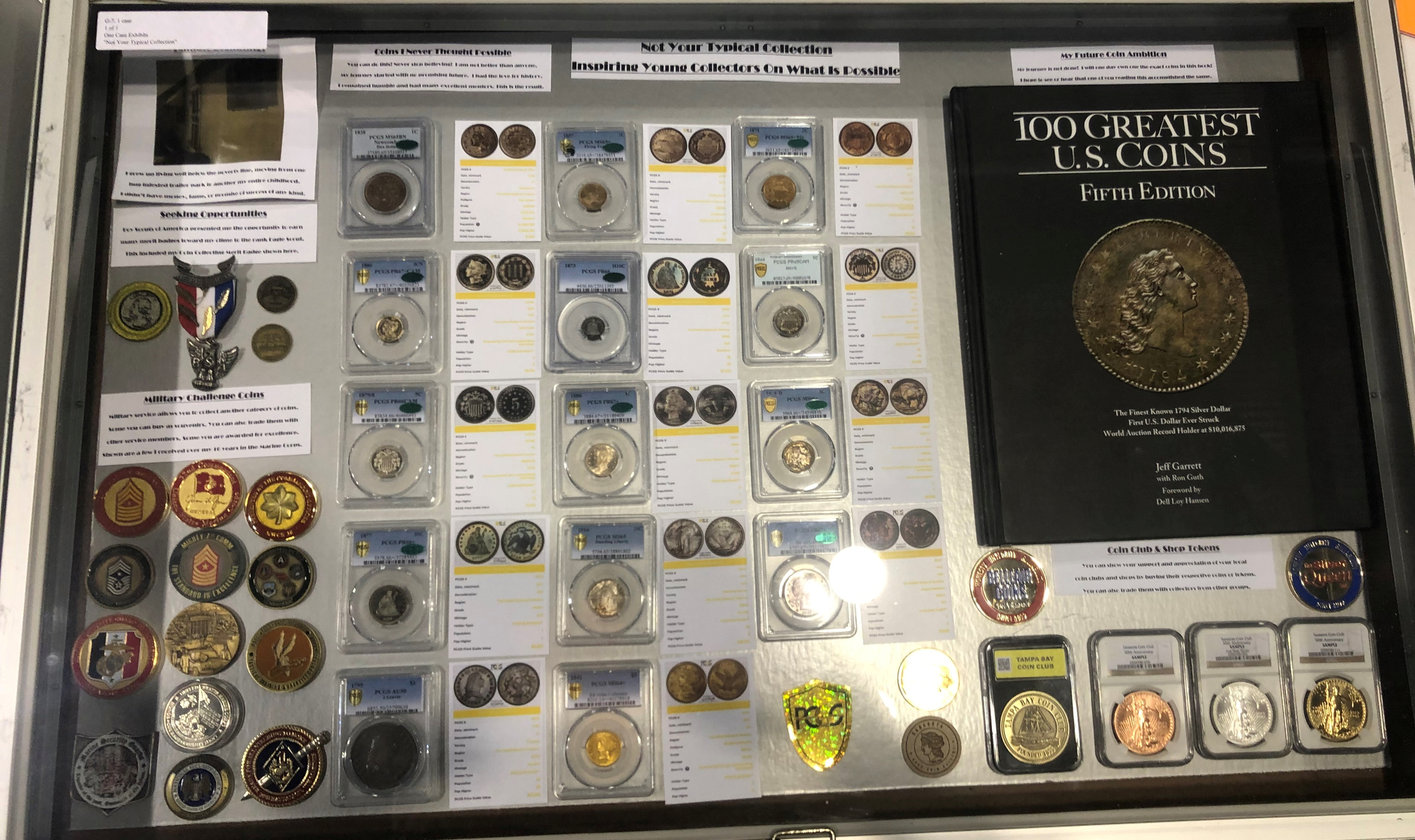 This is a plaque showing the past People's Choice winners (you'll note lil' ol' me is on the list under 2014!)

David Lawrence Rare Coins had an amazing display of coins from the D.L. Hansen collection


When 10am rolled around, there was once again quite a crowd of folks who streamed in!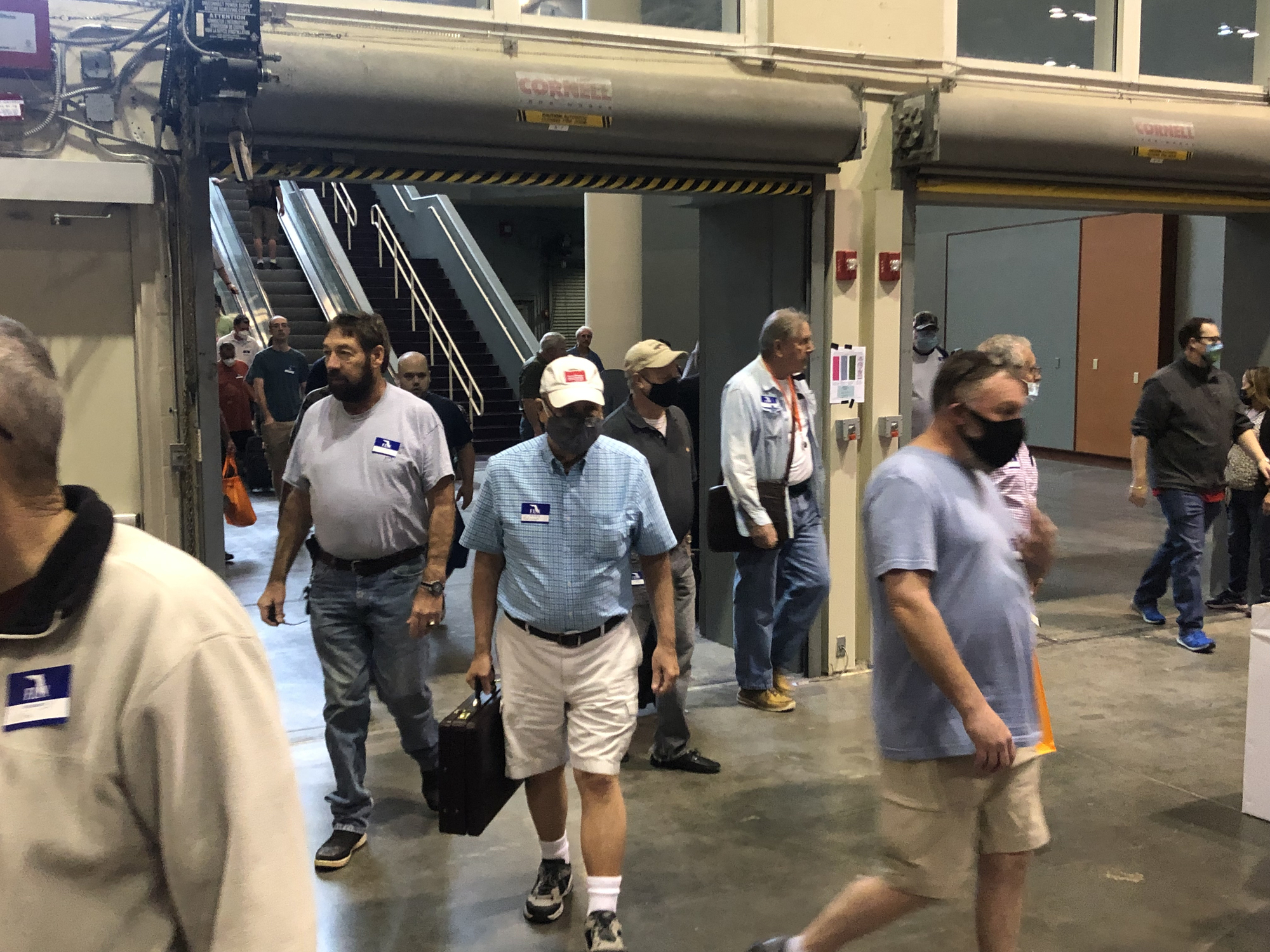 Once again, the bourse floor became very active very quickly!

Steve Feiertag/Winesteven stopped by to say hi

Me and my copper weenie bff Greg Hannigan/Coin Cube Trading

Greg and his beautiful wife Cecelia

Greg also brought over a great bottle of Chateau Ste. Michelle cab from the Washington area - Greg is such a generous sweetheart!

Speaking of sweethearts - here's one of the BIGGEST sweethearts in the world - Dino Koromvokis

And this is one of the hardest working women in numismatics - Mary Lynn Garrett

My foreign coin dealer friend Al Boulanger brought over a nice bottle of 2014 Syrah to share with me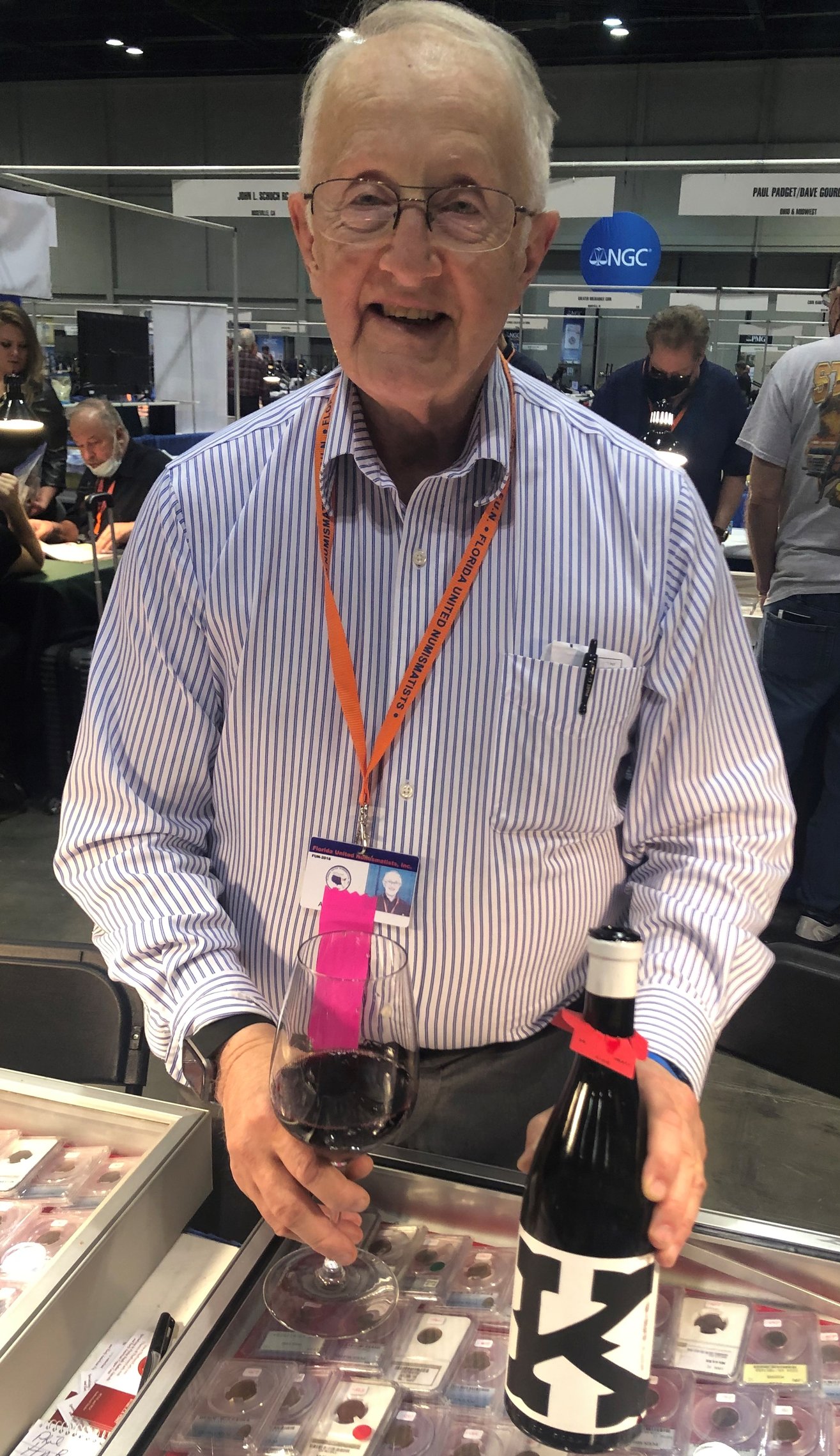 It happened to be my friend Karl Stephens' birthday so his boothmates got him a cake and champagne to celebrate!

That night a bunch of folks from Coin Cube Trading got together at Spencer's Steakhouse for dinner - left front going back and back RT to the front: Cecelia Hannigan RC, Greg Hannigan RC, Mark Borckardt, Pierre Fricke, David Huang's friend Eric Lindholm, David Huang, Joyce Fricke, Dino Koromvokis, me, Isaiah Hageman.

I splurged and had this very yummy steak and lobster tail, though I could only eat not even half of it.

And I shared this tasty dessert with Dino

Suddenly, it was Saturday, my last day! I had an 8am meeting so I had to pack up and get to the convention center early. After the meeting, I "manned" my table and worked on a few things before the public was let in. I was surprised by how many people were at the show, and there seemed to be more families than usual which was great! I ended up doing quite a bit of business, but soon it was time to pack up and head to the airport. I was entertained by a beautiful sunset as we headed out of Orlando!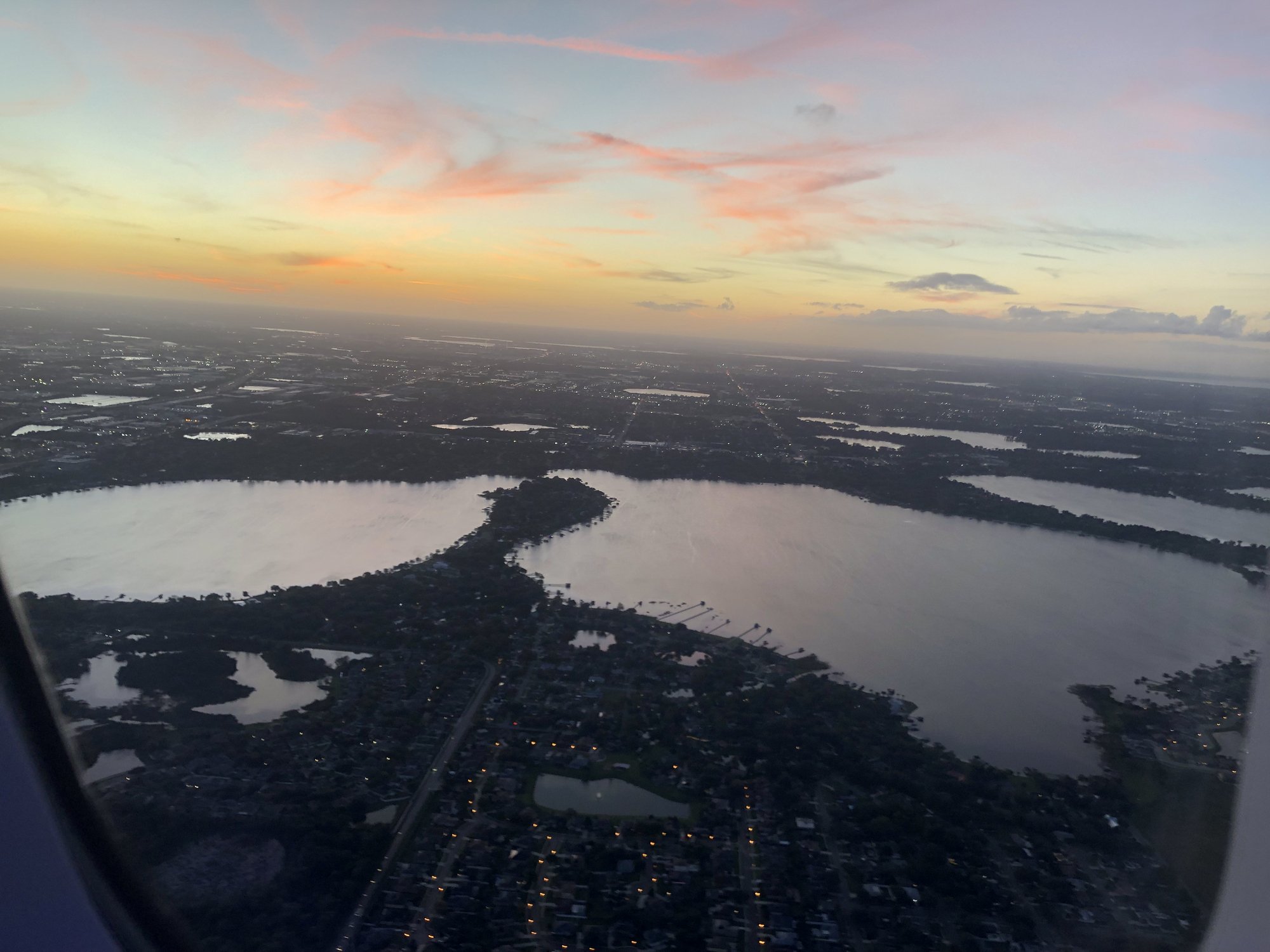 I was very tired but very happy to be headed home after a long busy week!
As always, I was very glad to be home with my hubby and my chubby Penny!

That's about it - next up - the San Jose Coin Show, the Long Beach Show, and the Vegas Show!
Charmy HarkerThe Penny Lady®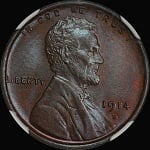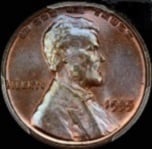 Leave a Comment