Home
›
U.S. Coin Forum
My Morgan Collection Part 13 (1891-S - 1892-S)
david3142
Posts: 3,313
✭✭✭✭✭
On to box 4!
The 1891-S, like the 1890-S, is a better date, but wow do they come flashy. They are pretty easy to locate with or without mirrors but I don't think I've ever seen a nicely toned one. The coin below has outstanding eye appeal, flashy bowl luster like an 82-S, and (I think) a pretty good shot at DMPL.
1891-S MS64PL

The 1892 is a tough date, especially with mirrors. Like the other Morgans between 1892 and 1895, nicely toned coins are virtually unknown. Mine is typical for the date as PL or DMPL coins don't exhibit much contrast but it is quite clean for the grade.
1892 MS64PL

The 1892-CC is an expensive coin, and most are low MS, especially the mirrored ones. Like some other dates there is very little premium on PL examples. They are more than 10 times rarer but I guess there are enough to meet the demand. Mine just misses the designation on the obverse but the reverse is there.
1892-CC MS63

The 1892-O gets my vote for the worst struck Morgan in the entire series. These are frequently encountered up to MS64 with good luster, but I really wanted to find one with a strong strike. I dislike the flat hair over the ear, and such weak strikes are often plagued by roller marks that didn't get struck out. It took quite a bit of searching but I am thrilled with this one. It looks clean enough to be a 65 and you almost never see breast feathers like this on a 92-O.
1892-O MS64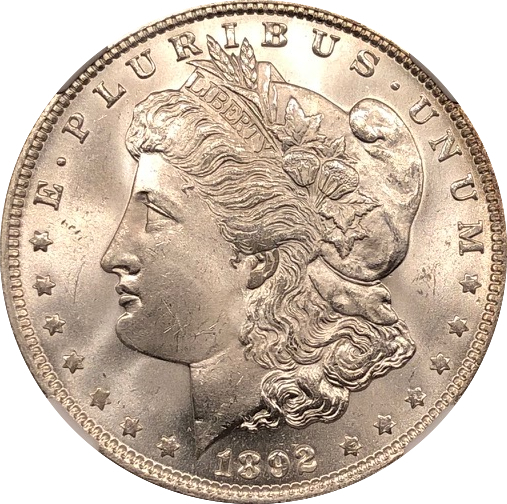 The 92-S is one of the keys to the series. It is readily available in circulated grades but prices begin to skyrocket in AU and MS examples are extremely rare (only 75 such certifications at PCGS), just twice the population of the famed 93-S. Most AU examples I have seen have been quite unattractive so I had no desire to pay 4x XF money for just a 50 (or significantly more for anything higher). Mine falls just below that level but it was a relative bargain and it has a great original look, with quite a bit of luster on the reverse.
1892-S VF35

Thanks again for reading and for the encouragement. Let's see some 1891-92 Morgans of your own!
Tagged:
Leave a Comment