Home
›
U.S. Coin Forum
A look at the Eutopia Dollar.
keets
Posts: 25,351
✭✭✭✭✭
Ever since I first started to collect So-Called Dollars I have been intrigued by the Eutopia Dollar, HK-1005. It's an interesting medal which dates to 1886 and a time just after the US had considered some type of "bi-metallism" or multi-denominational coinage. The earliest I am aware of was initiated by Dana Bickford in the early 1870's. He approached the US Mint about his idea and it interested them enough that they made a series of Patterns in 1874. Bickford himself issued several medals with an aluminum outer ring and brass/bronze inner plug, one side having monetary equivalents of European Nations compared with the US Dollar.
from PCGS CoinFacts, 1874 $10/J-1375.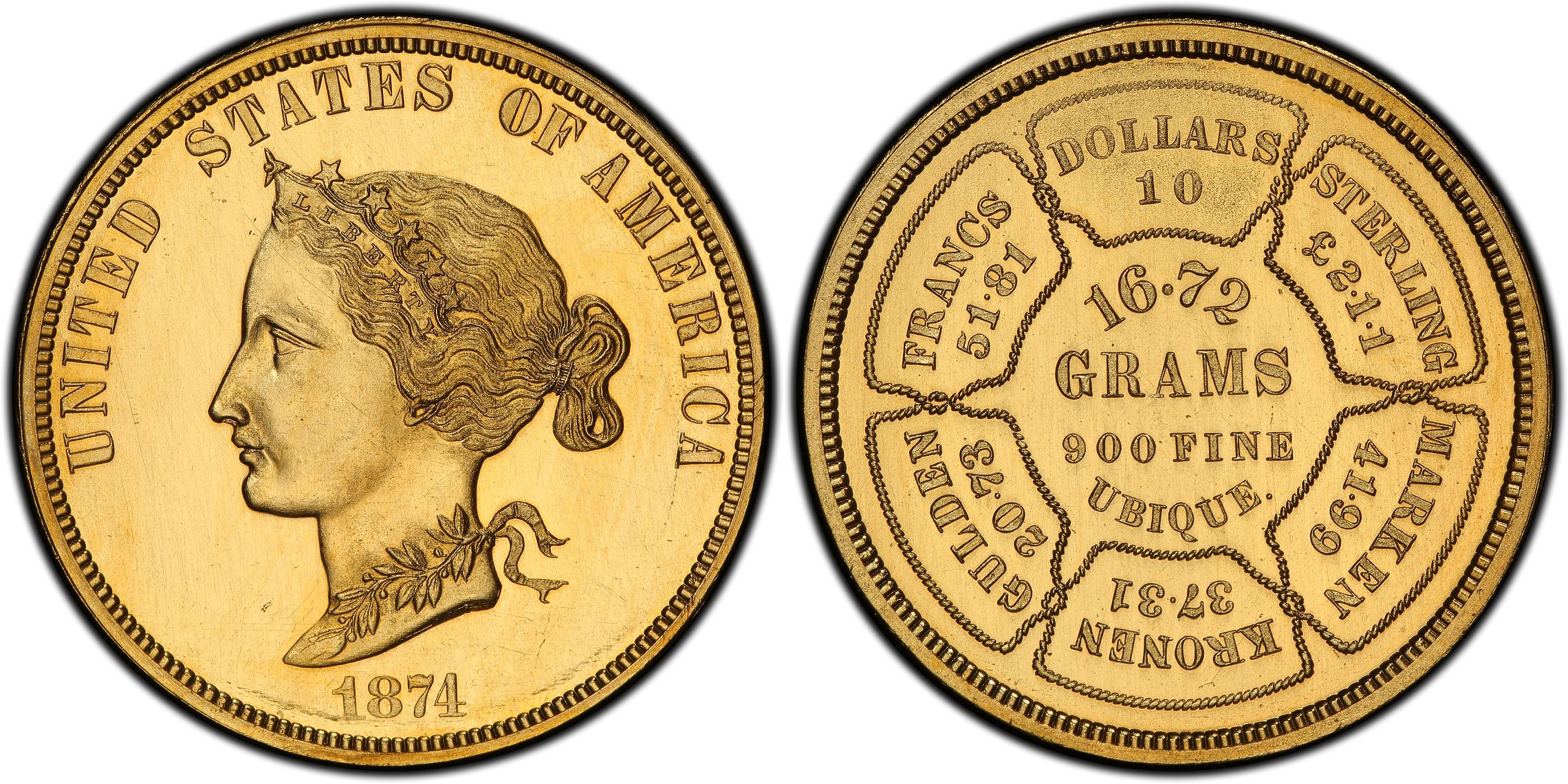 HK-836 Bickford Dollar/1897.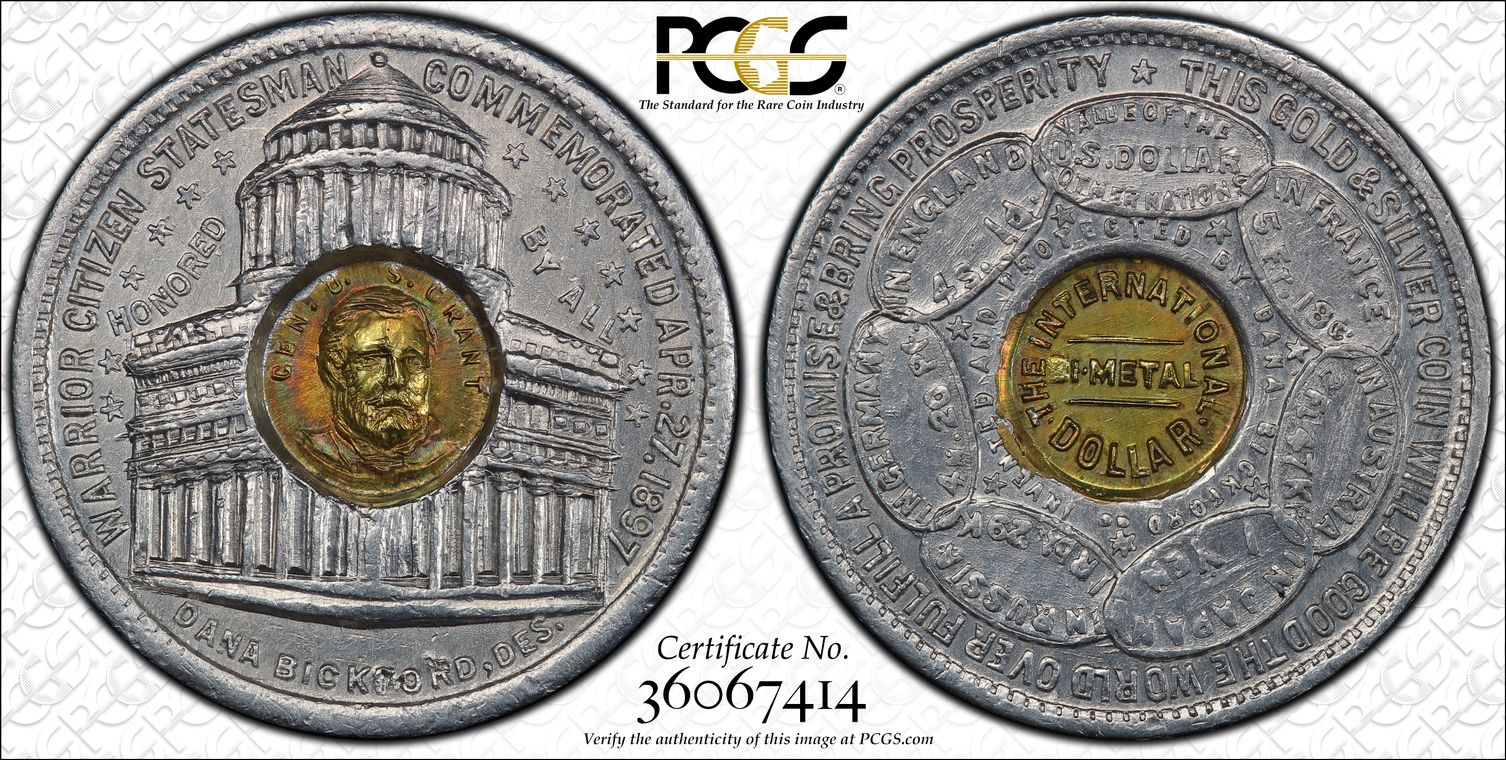 Between these two issue dates comes the Eutopia Dollar. From the second edition of So-Called Dollars:
--- Designed and struck by Nicholas Veeder, Pittsburgh, PA, as model for co-metallic coins and medals in effort to show practicality of using both gold and silver in one piece. Veeder had published booklet in 1885 titled "Co-metallism: A Plan for Combining Gold and Silver in Coinage, for Uniting and Blending their Values in Paper Money and for Establishing a Composite Single Standard Dollar of Account."
Reactions at time, both to idea and pattern, were generally unfavorable; some labeled plan "a version of the Goloid dream." Dies, engraved by Herren Bros. & Co., are said to have broken on third impression.
--- HK-1005 Silver, 32mm, and Gold, 11mm. 33mm.
Trying to locate one of these medals has always been difficult. On a few different occasions I became puzzled by the fact that when I did searches I seemed to find around 7-8 examples of what had always been reported as only three probable survivors. Evidently the editors of the second edition of So-Called Dollars had realized that the findings of Hibler/Kappen were wrong because they listed the HK-1005 as an R8/5-10 known. Still, the "dies broken on third impression" seems to persist.
I shared some PM's with Zoins the other day about a Eutopia Dollar that had sold in a recent Stack's auction and it got me to thinking about them again, so I searched for whatever I could find. It helped that it's been raining for a few days!!
I started with the pop reports at PCGS and NGC. None so far with our host but NGC lists 15. The number in parenthesis is images I've found, nine of the 15 NGC lists.
1 --- VF35. (1)
1 --- XF45. (1)
1 --- AU53.
1 --- MS61.
6 --- MS62. (3)
2 --- MS63. (2)
3 --- MS64. (2)
I also found images of four other raw medals that I haven't been able to match with other images.
this one's interesting, the Gold plug was popped out.

this looks like an old image or maybe a drawing of some type, but the Gold plug is reversed.

Assuming all the NGC medals graded exist, no re-submissions to skew the numbers, my count here is about 15-16 medals. If you can add anything via images of an HK-1005 that you own please add it. Absent that, if you have one of the NGC medals can you give me the grade/insert number?? Thanks in advance and enjoy.
Al H.
Leave a Comment