Home
›
U.S. Coin Forum
Crafting cast medal while social distancing
WildIdea
Posts: 1,635
✭✭✭✭✭
Hello forum members.
Covid-19. I know many of you, like me, are at home social distancing at this critical time. Although our state hasn't officially ordered a shelter in place directive, many of us have headed warnings and taken the cue on our own. Six feet distance is just not an option in my field so I temporarily pulled the plug on the business until we know more in the coming days.
With that said, I'm trying to establish a new routine and model good healthy behavior to my children while they're home from school. It's an interesting situation and while we are doing what we can from home with our responsibilities there are still hours that need filling besides sitting on a tablet and obsessively reading news updates. I'm always wishing I had more time in my home studio and I can't let this opportunity go to waste.
I have basically put my commercial coin collecting on hold, not initiating any buys as it just not essential and thinking it unwise until this story unfolds a bit more. This doesn't mean my collecting is over. There is a lot I can do with my current collection. I can organize and attribute some medals and re-photograph my sets or just bust out a loupe on some old friends. I can share here on the boards. Maybe my family will get bored enough to check them out with me, I can only hope. That'd be nice but I also have a self crafted and cast medal section of my collection that is pretty cool and now is a great chance to build up an addition while filling the new gaps in time I find myself with today. I'd like to share it here.
Here is a link to a thread where this journey for me began in 2019. Since then I have been adding knowledge and tools to be able to do this all at my home.
https://forums.collectors.com/discussion/1021641/i-recently-completed-making-my-first-cast-medal#latest
With a medal, I feel there is nothing on it that doesn't belong and every thing depicted needs to add to the overall story, maybe a little interpretation, but I picture a message that can be told hundreds of years from now without much decoding. That both sides need to play off each other and the hardest part, visual images that are fresh and haven't been seen before. I've had this idea to do visual representations of Grateful Dead songs that have moved me over the years and have had this one design rolling around in my head for months and now maybe is the right time to get it out and realize it as a medal.
The first step to cast medal making, for me, is model making. I don't have any reduction lathes so I have to create an exact size model for my casting mold. I've been working in carving wax lately and have moved to a type that has a harder density than my last piece. New for me, but I feel it will be an advantage to higher detail and hold up to repeated sand casts. The last medal I made was cast with investment plaster and this piece I'm looking at learning and perfecting sand casting, which means no undercuts in the model.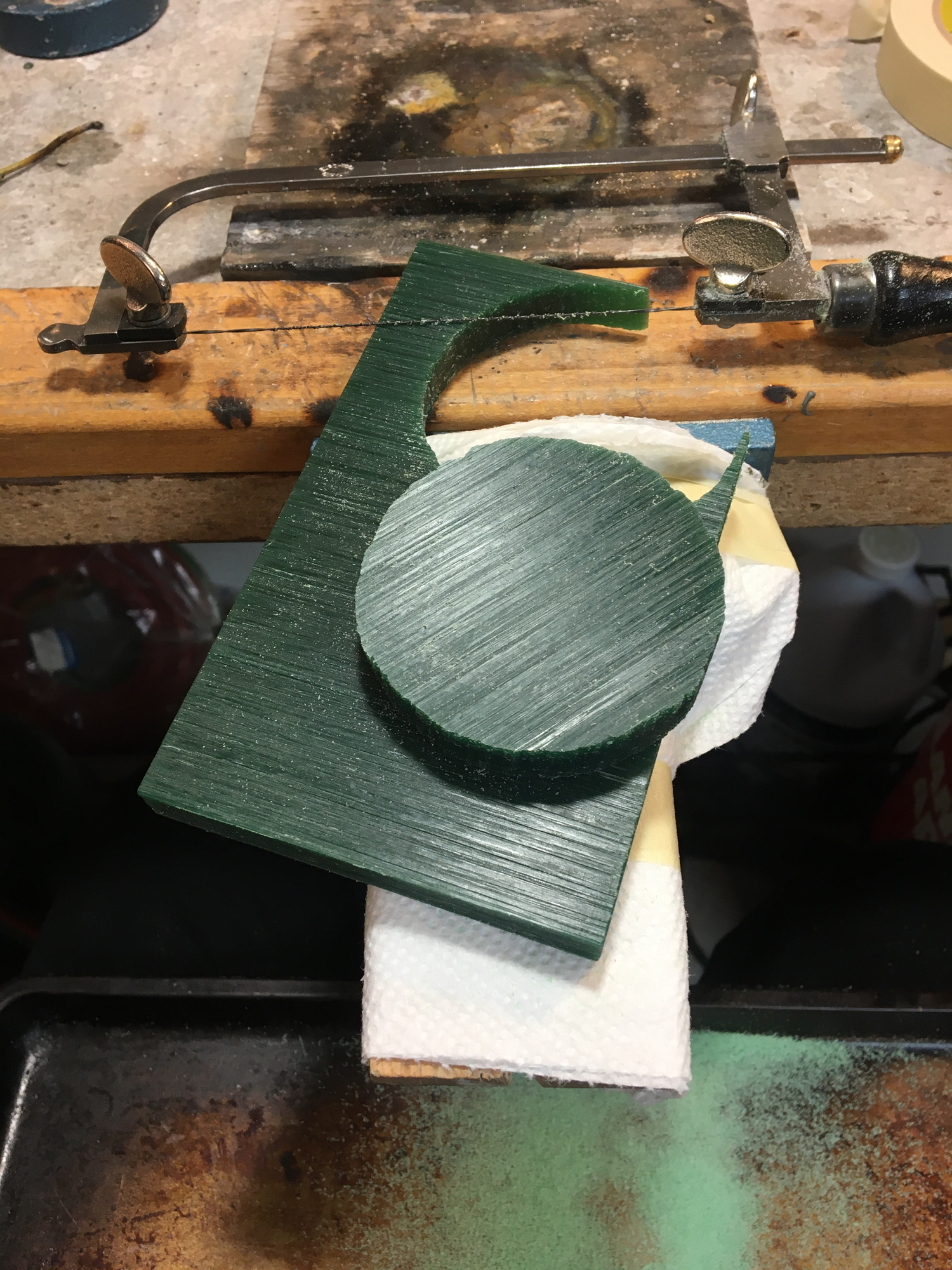 Sawing out the puck isn't a big deal it's filing the thickness down with a rasp by hand that takes a bit. I have a lot of tools on hand but nothing that really makes quick work if this. I would like the blank to be about 7mm at the rim and be somewhat domed in the center. The wax slab is ½ inch thick so I have a ways to go. I feel this will help pop the relief and have economy of metal when produced.
That's pretty much it for this post. I've been digging in with my sculpting tools and magnification. I'll post updates as time permits and get more into what's behind this particular piece. Hope you are all well. Thanks for looking.