Home
›
U.S. Coin Forum
S. D. Childs & Co. Chicago Die Sinker. *** UPDATE*** Added a Grant Monument and the bottom thread
coinsarefun
Posts: 21,656
✭✭✭✭✭
Taken from David E Schenkman
.
Acknowledgments
Thanks to former ANA Library Manager Amanda Harvey for her research assistance, as well as to Dave Bowers, Donald Erlenkotter, Rich Hall and Bob Leonard
.
Schubal Davis Childs......The business was started in 1837 by Schubal Davis Childs and continued by his son S.D. Childs, Jr. ... The firm remained in business well into the twentieth century.
.
The Presidential campaign of 1860 certainly brought them to the fore. Of the 76 varieties of Abraham Lincoln political medalets listed by J. Doyle Dewitt in his Century of Campaign Buttons, 1789- 1889, seven were struck by Childs. The company produced only one campaign medalet for Stephen Douglas and none for the other two candidates, John Bell and John Breckinridge. This might seem odd, except for the fact that the 1860 Republican National Convention, where Lincoln was nominated for President, was held in Chicago.
.
When William Jennings Bryan ran for President in 1896 and 1900, numerous anti-Bryan satirical medals—referred to collectively as Bryan Money— were circulated. Typically, these large pieces were crudely made of lead or type metal (an alloy of tin, lead and antimony). One of them, listed by Fred Schornstein as number 323 in Bryan Money, is Childs' creation. The interesting wording around the reverse rim of the 45mm-diameter, 5mm-thick medal is MADE BY S.D. CHILDS & CO. CHICAGO WHO MAKE ANYTHING IN METAL.
.
.
In 1898 Childs was awarded a contract to produce the official medal for the 1898 Trans- Mississippi & International Exposition in Omaha, Nebraska. This beautiful 63.5mm medal was evidently struck in large numbers, as it is fairly easy to obtain today. Childs cut a copy of the obverse design and offered to strike 37mm medals for companies that won awards at the event, using that die for one side and one advertising the customer's business for the other. S.D. Childs & Company struck a medal with this die to advertise its own services, proudly proclaiming on the other side, MAKERS OF THE OFFICIAL MEDAL OF AWARD.
.
Nearly all known schedule tokens from the teens and early 1920s were struck by Childs. The schedule sides bear a very distinctive design that resembles the stitching on a baseball, and they are signed CHILDS CHICAGO in small letters. All of the known schedules Childs struck for other merchants were on 38mm, brass planchets. Oddly enough, one of the two tokens advertising Childs' own business was aluminum.
.
Childs Firm Sold at Auction
The S.D. Childs Company after 101 years in business was sold at auction recently. Alden Boyar was the only collector present and he obtained several items. The bulk of the medal collection, however, was to a party who placed an unlimited bid with the auctioneers. Mr. Boyar tells of buying an old desk (made around 1860) for a dollar and finding four silver dollars in it. Mr. Boyar obtained many name plates for old makes of bicycles and automobiles, as well as several hundred metallic items. The four coining presses were unsold. The Childs firm, during their long business life, struck thousands of medals, etc. They manufactured most of the Civil War Cents and Cards issued in the vicinity of Chicago.
.


.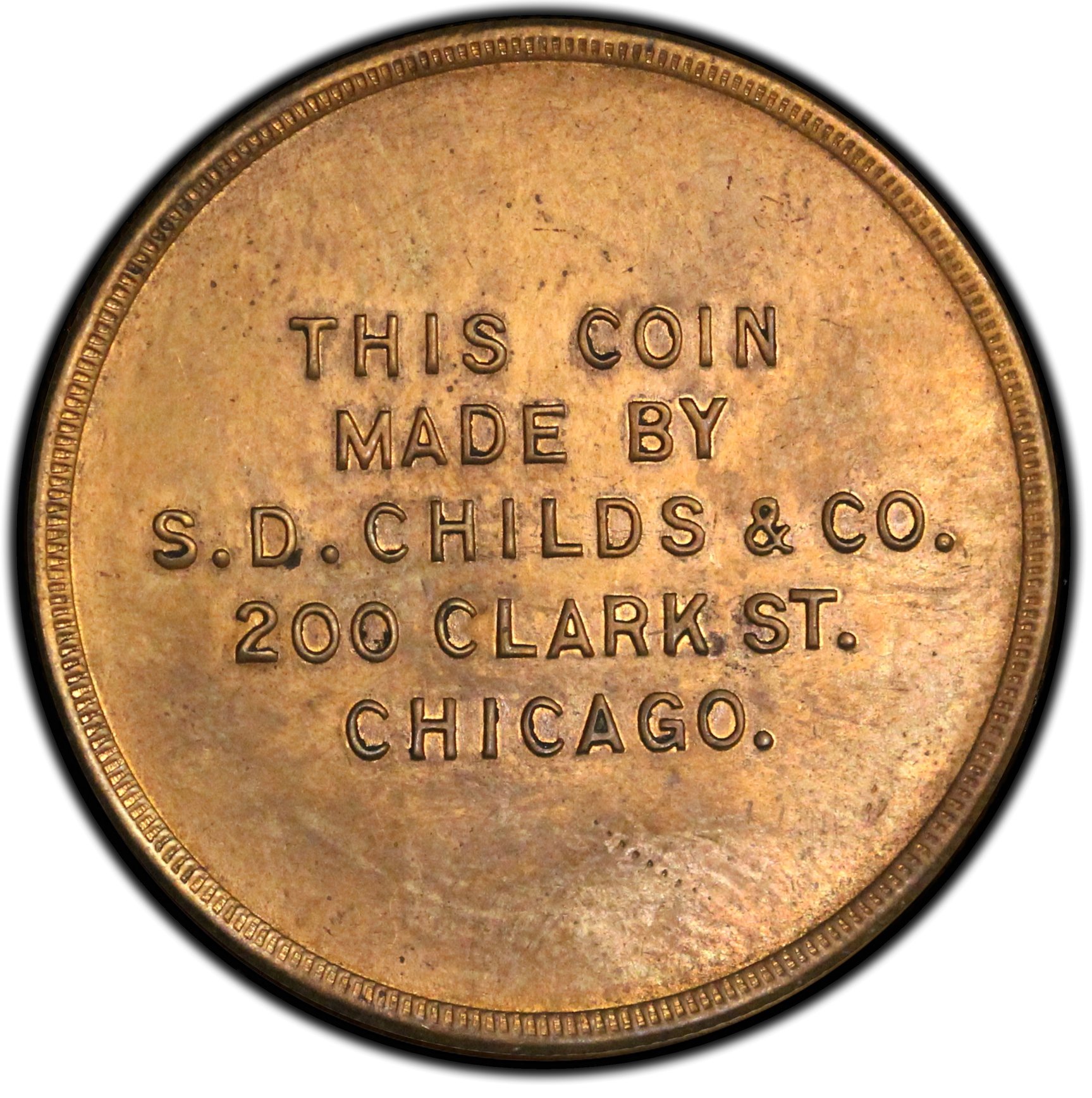 .
.
Just one of many medals and tokens that was struck by Childs
.

Taken From Ralau's book
Leave a Comment