Home
›
U.S. Coin Forum
Charmy's 2020 ORLANDO FUN Show Report w/tons of Pics!

ThePennyLady
Posts: 4,387
✭✭✭✭✭
Wow! I'm still recovering from such a busy week in Orlando and trying to dig out! It was a fantastic show, went by so fast, got to see lots of great friends, bought lots of newps, sold lots of Pretty Pennies, and even bought a few penny exonumia pieces for my own collection as well!
So after 6 weeks of no shows, I was very excited to be going to the FUN show!
I left sunny warm west coast Orange County and headed for sunny warm east coast Orange County!
We flew over the Colorado River
I had a 3-hour layover in Dallas
So I had time for some lunch and a nice glass of wine.
I arrived late Tuesday night and Rick and his son Kenny were kind enough to pick me up at the airport since they had a rental car for the week.
The next morning (Tuesday) I headed over to the convention center to take advantage of the dealer to dealer presales. I really appreciate being able to visit the dealers ahead of time so I don't have to take the time to go through their boxes during set up day, and it allows me to visit other tables. The dealer sales were held in a room at the Rosen Centre. This is the walkway between the convention center and the hotel
This is the dealer sales room
The convention center the day before the show starts
And the bourse floor naked and empty - for now!
But I did run into a couple of my good dealer buddies Mark Alvarez and James Sego
Heritage had some fun signage in the lobby, advertising the different types of collectibles at their auctions
Auction lot viewing was well attended
That evening was my friend Karl Stephens' birthday so he and some of his foreign coin dealer friends went to Vito's Chop House for dinner.
One of Karl's friends brought some great wine and graciously shared it with all of us
Then the waiter brought out all the different cuts of meat (wrapped in cellophane) we could order
I had the fillet (and since I prefer it medium, they butterflied it for me). It was absolutely delicious with enough left over for lunch the next day!
The next day set up was at 2pm so I got to sleep in a little and take my time but I still arrived at the convention center a little early. I watched as the lobby area slowly began to fill up with dealers anxiously waiting to get in, set up, and start wheeling and dealing. Soon it was packed.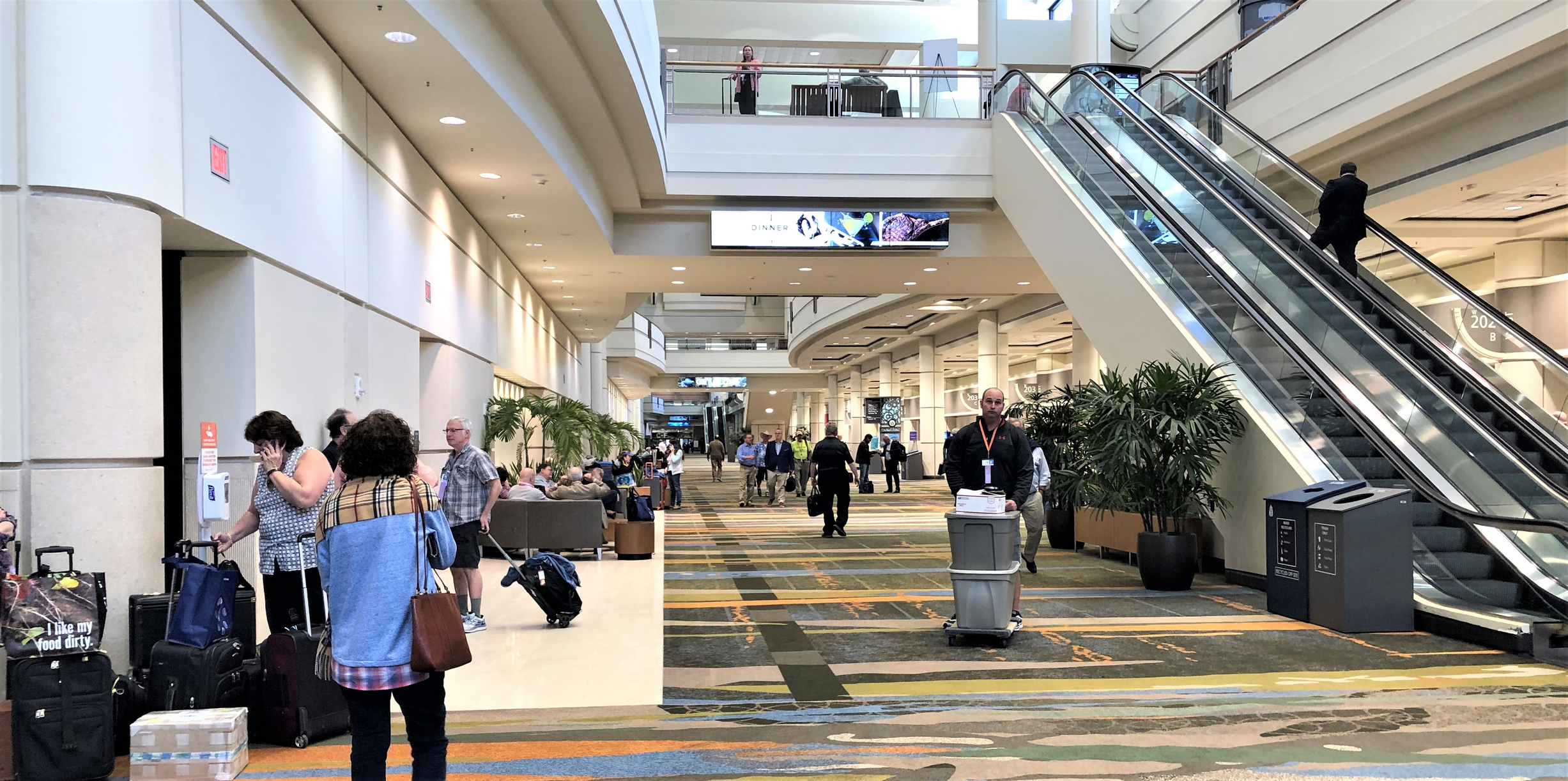 With my booth all set and my sign hanging up, I was opened for business!
Then I was able to visit with many folks that I hadn't seen since the Baltimore show, as well as check out other dealers' inventory and buy some more Pretty Pennies. Here is a photo of my new purchases (less some great coins that I sold during the show)!
I also bought these neat Ford tokens for my exonumia collection - one is copper, one is sterling silver, and one is gold plated. I already had the copper one but had not seen the other two before so I was very pleased to add them to my collection. For those of you interested, here is the story of the Henry Ford "Cent":
"Help the other fellow" was Henry Ford's personal motto. In 1917, he decided to spread the word through a special coin designed to resemble a Lincoln penny. An initial order of one million coins was placed with the Weyhing Brothers Manufacturing Company of Detroit by Ford sales manager Norval Hawkins. The company designed a die based on a photograph of Henry at age 30 and produced a few bronze prototypes but Henry's wife, Clara, didn't like the image. Henry was 54 by that time and she thought the coin should show a more current image of her husband. Before a new die was created however, the United States entered World War I and the project was cancelled. The original die was put away by Weyhing Brothers and sat quietly in storage for more than forty years. In 1963, Ford Motor Company celebrated the centennial of Henry Ford's birth with a large number of community events. Weyhing Brothers dusted off the old 1917 dies and produced both bronze and gold-plated versions of the coin."
John Kraljevich also had set aside some sticker pennies for me from 1966 and 1967 to add to my personal collection. They may look pretty simplistic and "no big deal" but actually they are pretty scarce since the government bans any advertising on coins and required anyone who put sticker advertisements on coins to remove them or face penalties. At one point, he Secret Service was actually dispatched to help combat the practice of merchants placing stickers on coins and contacting the merchants to retrieve them or be fined.
Later that afternoon it was wine time!
After the show, we went to Bonefish Grill for dinner.
I had the haddock which was very yummy, along with one of their specialty martinis!
Thursday was opening day for the public at the show, and was excited to see such a huge crowd waiting to get in!
I took photos as the public began streaming into the show and it seemed to never end - it was great seeing so many collectors hunting for coins!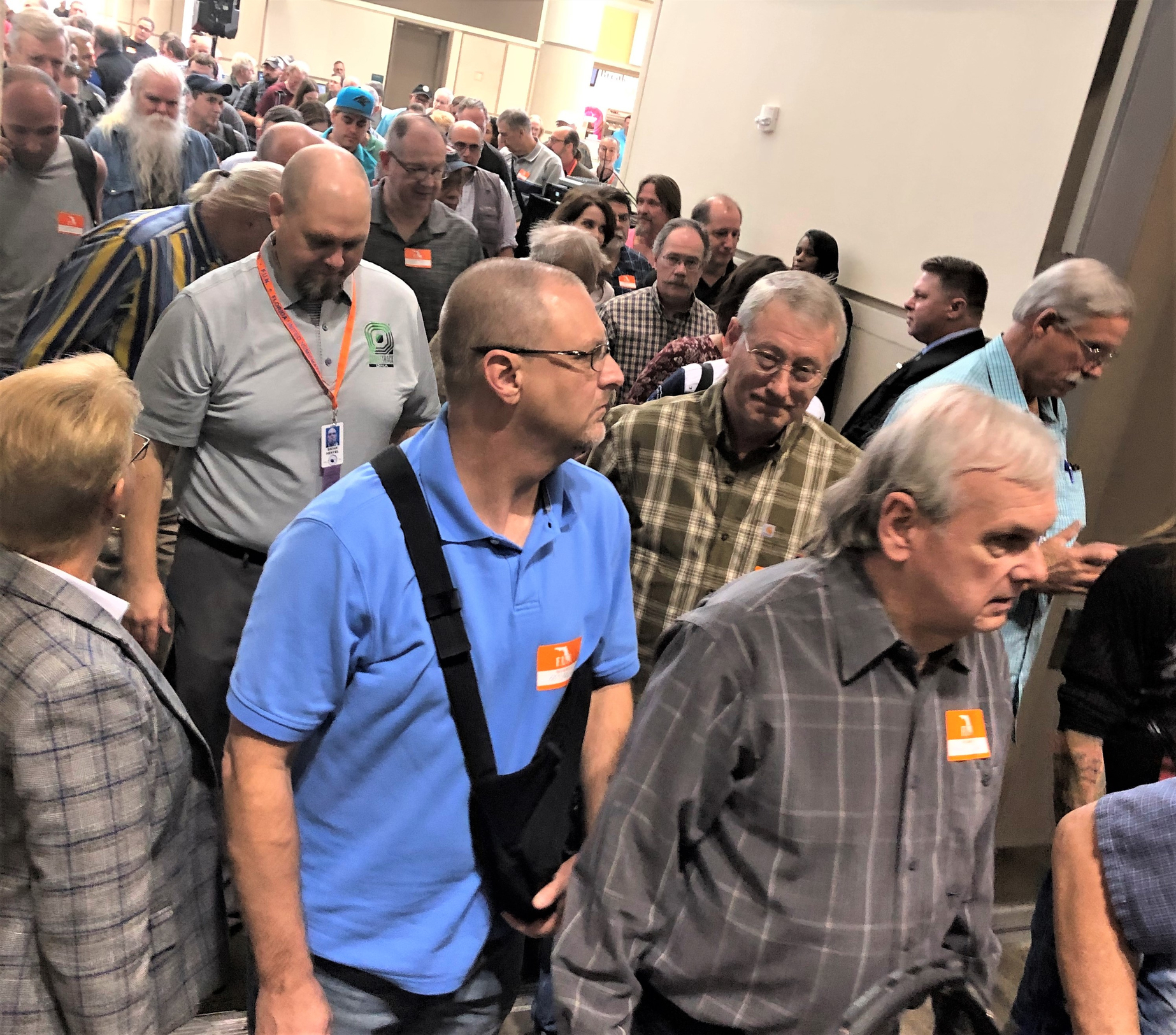 Thursday was the busiest day I've had at a coin show since the last FUN show - the day just flew by!
Later in the day I was finally able to view the amazing collections of Stuart Blay, Douglas Wright and Mark Hagan over at the PCGS table. Wow, I don't think I've ever seen such rare, high grade, and gorgeous Flying Eagle and Indian cents!
After the show on Thursday, a group of us went to Rocco's Taco's and Tequila Bar.
They had a huge selection of varieties of tequila all on one wall! We really enjoyed their Cadillac margaritas.
But their specialty was handmade guacamole right at your table!
The food was delicious. After all the quacamole and chips and margaritas, I ended up just having one taco! But everyone else's dishes looked just as delicious!
The great group of folks at ANACS were enjoying Rocco's as well!
Our table was right next to the lake. There was even a sign that said "Please don't feed the wildlife." Apparently, crocodiles have been known to wander up to the patrons for a snack!
My friends treated me to the margaritas and guacamole, so when my bill came, it only had one taco. I don't think I've ever had a lower bill at one of our show dinners!
One of the most "interesting" things I've seen during my travels to various restaurants around the country was when I went to the ladies' room at Rocco's, there was actually a tv mounted on the wall behind the toilet (playing Star Wars). And then when you sit down, there was a mirror on the inside of the stall door so you could actually watch the tv! What a hoot!! But the only thing is, if there was a busy night, you might have to wait a bit to use the facilities if someone got too interested in whatever they were watching on the tv!
Friday, I arrived early at the show and took an opportunity to view the exhibits and take some photos around the bourse.
David Talk and PCGS folks
David Lange and NGC and PMG folks
Greysheet Ladies!
Busy bourse floor!
Me and my booth!
Some forum members who stopped by and let me take their photos!
Steven/Winesteven
Greg/Walkerguy21D
Steven/Sabotage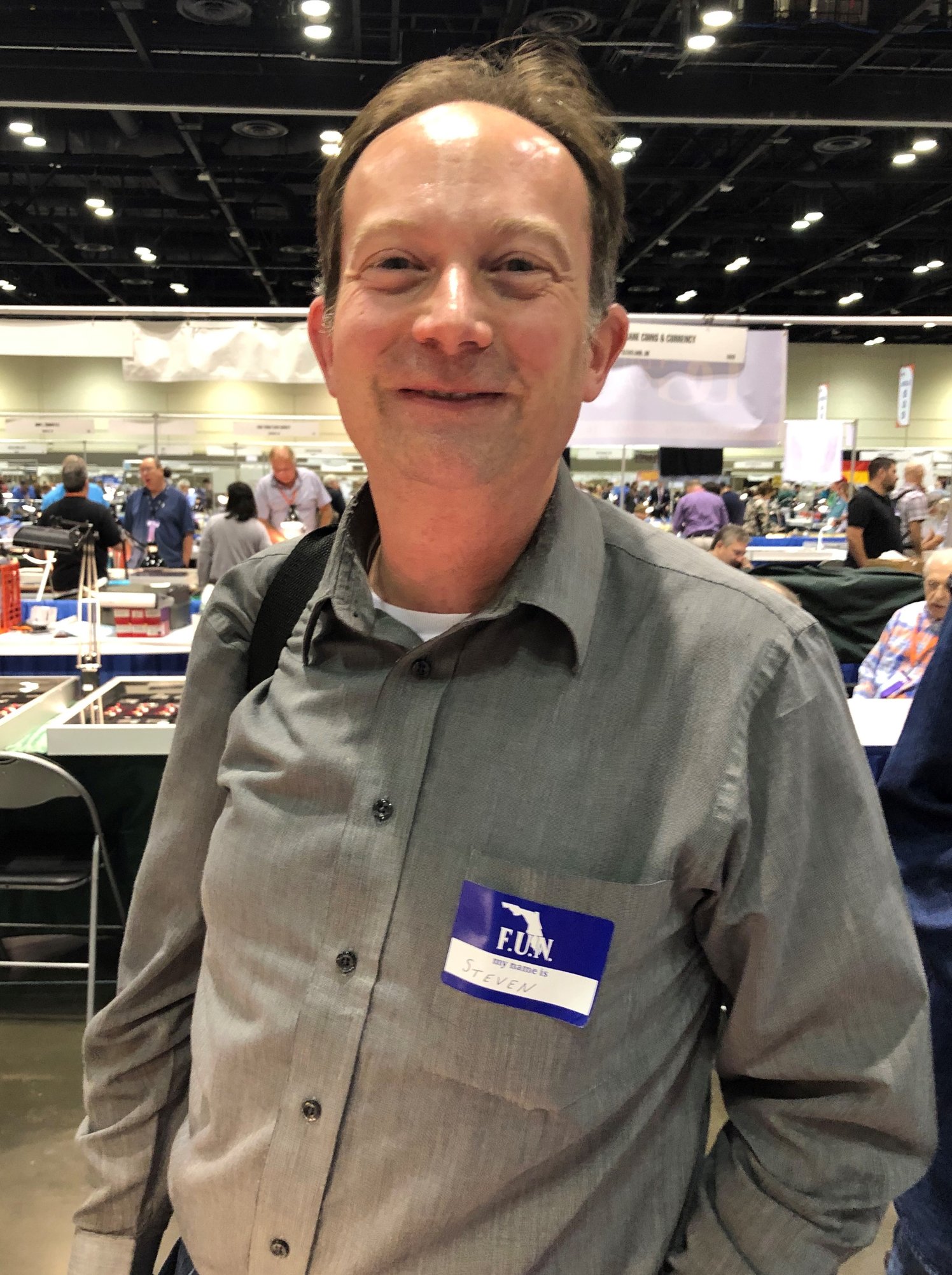 On Friday, I attended the Fly-In Club meeting. This is Chris Pilliod, the President of the Fly-In Club, giving a report about the club.
Afterwards, I gave a presentation at meeting on the major errors and varieties in my collection. Here are some of the errors and varieties discussed in my presentation
After the show, I went to a dinner party at Greg Hannigan's condo. Greg is an amazing cook and has been preparing several Indian and Mediterranean dishes all week! It also happened to be Greg's sister's and wife's birthdays! It was a really fun evening and Greg's dishes were all mouth watering!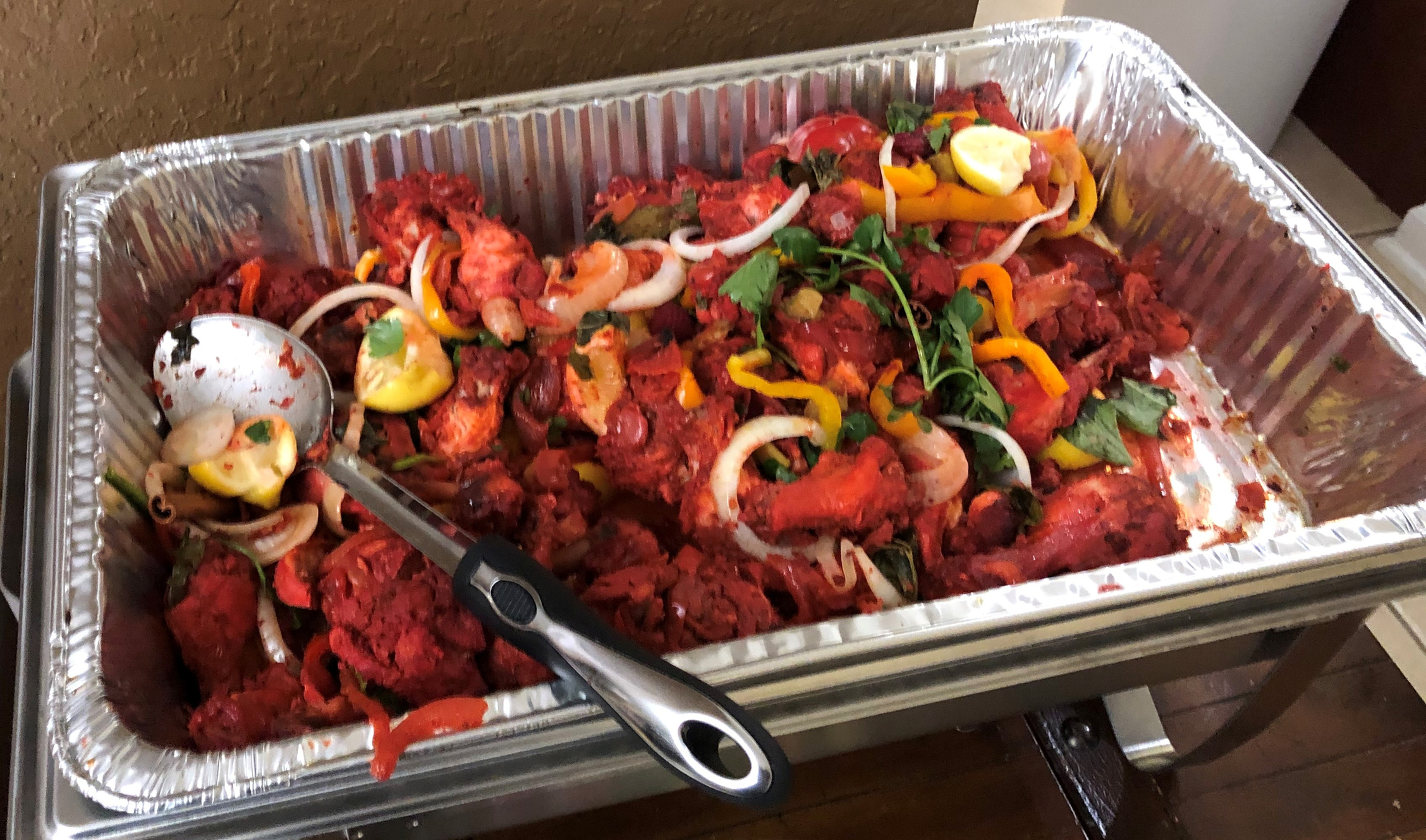 Saturday morning I had an early Women in Numismatics board meeting, followed by our general meeting. John Kraljevich was our speaker and gave a very interesting and fascinating presentation on "The Women's Work of White Supremacy: the United Daughters of the Confederacy, the Ku Klux Klan, and the Stone Mountain Half."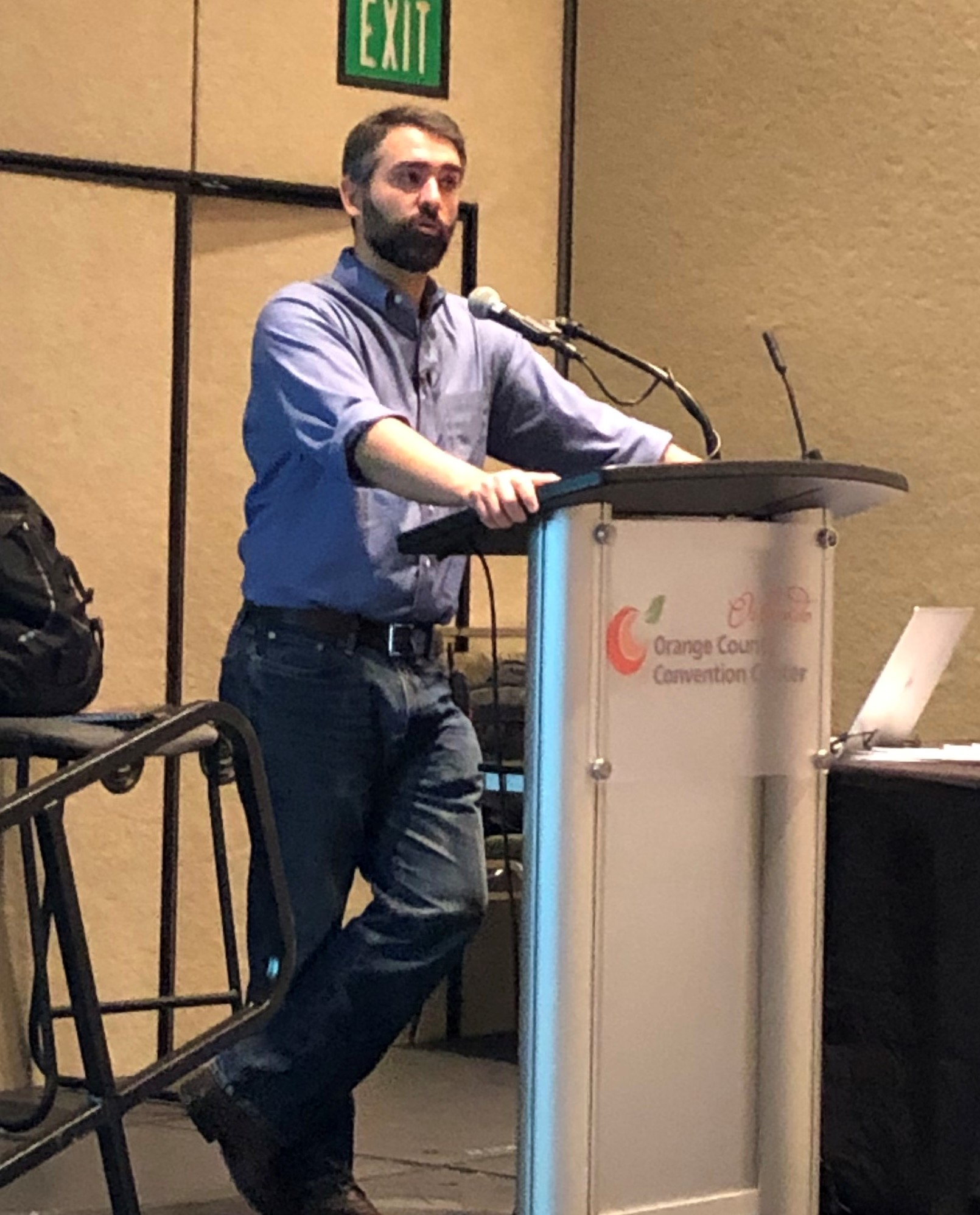 In case there is anyone in the numismatic community who hasn't heard of John, here is just a small part of his distinguished bio:
John Kraljevich is the owner and proprietor of John Kraljevich Americana, specializing in the coins, medals, and artifacts of early America. A graduate of the University of Virginia (B.A., History, 1999), John's expertise on authenticity, appraisal, and historical context of numismatic items is widely sought by individuals and institutions alike. Since 2000, John has been a popular annual instructor at the ANA Summer Seminar. John's numismatic honors include election as a Fellow of the American Numismatic Society and the American Numismatic Association's Honorary Doctorate of Numismatics and Glenn Smedley Award. John has written hundreds of major auction catalogues, including the five-part catalogue of the D. Brent Pogue Collection, which shattered the record of most valuable coin collection ever sold at auction. A former tour guide at Monticello specializing in the life of those enslaved by Thomas Jefferson, John's counsel has been sought by institutions such as the Smithsonian Institution, Colonial Williamsburg, the Massachusetts Historical Society, Monticello, and the Yorktown Victory Center. He has been quoted on numismatic topics by mainstream media around the world, including CNN, the Associated Press, National Public Radio, and the BBC. John lives in Fort Mill, where he sits on the board of the Fort Mill History Museum, with his wife Megan, sons Andrew (18) and Riley (13), three dogs, two cats, and a frightening number of books.
Soon it was, once again, time to pack up and head home. Due to the storms over Texas and the midwest, many flights had been cancelled on Friday and Saturday morning. I was flying through Dallas and it had cancelled several flights that morning so I was very concerned mine would be next. When I got to the airport, I discovered they delayed my flight but that meant I wouldn't make my connection (which was the last flight to OC) so I had to change my flight to Dallas and was lucky to get the last seat on that flight, and was able to make my connection and get home on time!
Bye-bye Orlando til next year!
After almost a week away, it was great to be home to see my hubby, and of course my real Pretty Penny!
Next up: The PCGS Las Vegas show, and then Long Beach - hope to see you again soon!
P.S. over the last few months, I've been having a new website built and it should be rolled out in the next week or so. Can't wait to see and start using all its new features!
Charmy Harker - The Penny Lady® President of Women in Numismaticshttps://thepennylady.com/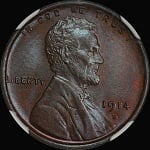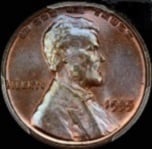 Leave a Comment