Home
›
U.S. Coin Forum
Charmy's 2018 CENTRAL STATES COIN SHOW w/lots of Pics!

ThePennyLady
Posts: 4,321
✭✭✭✭✭
Well, it's been quite a while since I've done a show report but I'm back in the saddle again! Since I missed the Baltimore show, I was especially looking forward to buying and selling coins and seeing my friends at the Central States Show. It turned out to be a pretty good show, better for buying than selling, but overall I did a lot of both.
I got to the airport Tuesday morning, sailed through TSA and decided to just hang out at my gate and listen to my audio book.
We took off to the west as usual, flew out over Newport Beach and the ocean, then turned south then east.
Just over three hours later we were landing in Chicago.
O'Hare is a pretty large airport and it seemed like it took forever for me to get to baggage claim.
Luckily Rick and his son Kenny were arriving not long after me and were renting a car, so I just waited for them, and soon we were checking into the hotel. When I arrived in my room, I was so pleasantly surprised to see this very nice bottle of wine with glasses and an opener waiting for me!
After settling in, I joined Rick and Kenny for dinner down in the hotel bar. I enjoyed a wonderful glass (or two) of Beringer Knights Valley Cab.
We ordered from the steakhouse restaurant menu and had a wonderful steak dinner. I asked for a little crab topping, and this is what I got!
After dinner, we were joined by a very good friend of mine, Mitch Ernest, who is the new president of Central States Numismatic Society.
Kevin Foley, the Central States bourse chair, stopped by briefly to say hi.
At the bar I ran into another good friend, Nina (who is with Kagin's Auctions), as well as Jim Halperin (Co-Chair of Heritage), and Ian Russell (owner of GreatCollections).
Wednesday morning was set up so dealers were lined up and anxious to get in.
Kevin Foley, Sam Ernst (Mitch's son who is also on the board of CSNS) and Mitch Ernst all "manned" the Message Center at the front of the bourse.
After I was all set up, I began shopping and buying lots of Pretty Pennies! I think I bought more at this show than I have at a show in a very long time! I had a few want lists to fill, and I was able to fill lots of holes in some of those lists! These are the coins I bought throughout the show.
I also am thrilled to have found a coin for my own personal collection. It's a beautifully toned 1870 PCGS MS65 BN with the pick axe variety. It also happens to be the CoinFacts photo for 1870 BN.
David McCarthy stopped by and we had a nice chat. He always has some great stories to tell and I thoroughly enjoy listening to them. Also, I just found out he is being awarded the ANA's Numismatist of the Year Award, which is a great honor and extremely well deserved!
When things died down, it was time for some wine and cheese, in addition to some good ol' rock and roll! So this is how The Penny Lady likes to do coin shows!
After the show, we headed over to Victoria Station in Elgin. I wasn't doing that great until towards the end when I finally hit a nice little jackpot of my favorite slot machine, the Buffalo penny slot machine. The good news is that I won $1,223 but the bad news is that this amount is just over the $1,200 minimum that requires the recipient to pay federal taxes! Of course I am still very thrilled to have won another jackpot!
Thursday morning I had a WIN board meeting at 8am.
Last year, WIN received a very sizable donation from the Newman Education Society and we've been discussing ways to put that money to good use. Although I see more and more women showing an interest in numismatics, I think women are largely an "untapped" numismatic population and I know we can do better to get them more involved. We are tossing around the idea of having several events next year that would celebrate women IN numismatics as well as women ON numismatics. If any of you have some specific thoughts or ideas on showing how fun collecting coins, paper money, medals, exonumia, etc. can be and how we can get more women involved, I would love to hear from you. And of course I will let all of you know more as things are firmed up.
At our general meeting, Joe Boling gave a very interesting presentation on banknotes and printing technologies.
When the bourse opened to the public, there was a steady stream of people coming through the door and the show stayed busy throughout the first part of the day. Although I had some decent sales, I also had a lot of people stopping by to ask questions about coins they found or bought, or general questions about their collections, etc. It was great to be able to talk to so many people who have a passion for pennies!
Later in the afternoon when things died down, I opened the bottle of wine that I had brought with me. It's one of the Southern California vineyards I belong to and I really enjoy this "not too expensive" wine.
I was invited to go to the Cubs game Thursday night, but me being born and raised in Southern California and a huge cold wimp, I declined to go because I know I would have been miserable sitting in below 50 degree weather. So I asked Rick and the guys to take photos of the game for me.
And to top it off, the Cubs won!
So I went to dinner with my good girlie buddies, Nina and Emily Silver (Americana Rare Coins), and Rob Wheelhouse.
We ate at the hotel steakhouse and had a great time together! The food was amazing, and we enjoyed listening to a musician playing guitar and singing right next to us.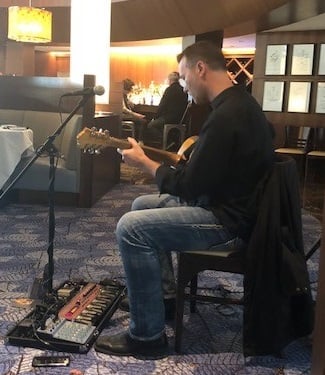 After dinner, instead of joining the large crown of dealers in the bar next door, we all just called it a night and went to our rooms! I enjoyed getting into my jammies, putting my hair up, crawling into my very comfy bed, and watching tv until I fell asleep!
Friday morning I didn't have to be at the show until sometime before the public came in, so I got to sleep in a little. Friday started out a little slower but soon ramped up and I became pretty busy. Several folks stopped by to say hi but I neglected to get their photo for my show report. But I finally got my wits about me and remembered to ask Tom Wagner and Sam Ernst to pose for photos!
I blame my recent hiatus in preparing show reports for my lapse in taking some of my typical photos, including shots of more forum members and the general bourse floor, for which I sincerely apologize!
After the show on Friday, a large group of us went out to Yu's Mandarin for some good old fashioned Chinese food! What a great time we had with all these crazy, fun loving young folks! Starting with Nina, from left to right, there was Jordan, Matthew, Ryan, "Kid hahaha," Shae, Greg, Bjorn, Jeanene, Louis, Billie (words at CDN), me, Rick.
The chefs demonstrated how they make noodles in the kitchen.
While Nina demonstrated how to eat a chicken wing!
Meanwhile, Rick's son Kenny, was having his first "shot" which he downed like a trooper!
After dinner, we headed back to the hotel and ended up in the bar, along with many other dealers, for our last night in Schaumberg! I thoroughly enjoy being able to socialize with the people who help make the wonderful world of numismatics go around! And here are just a few of its luminaries: John Dannreuther, Rick Snow, Mark (Mid-American Rare Coins), and Tom Caldwell (Northeast Numismatics).
Another good friend and all around wonderful guy, James Seko (JMS Coins/QA Coins)
Saturday morning I took some time to view the exhibits. Central States gives out some big prizes (gold and other coins) for exhibit winners and thus the competition is usually pretty fierce. These are just a few of the exhibits I found interesting.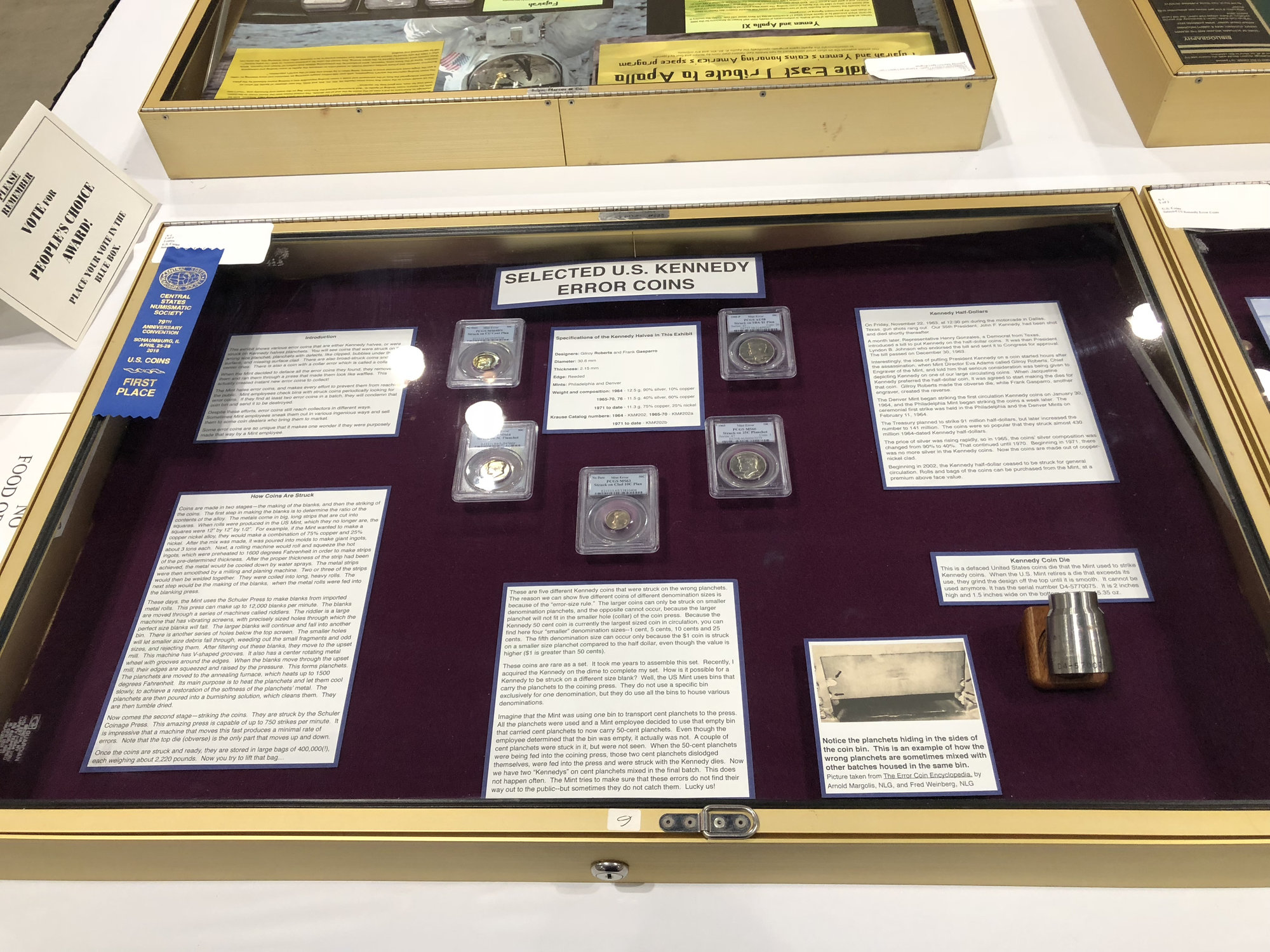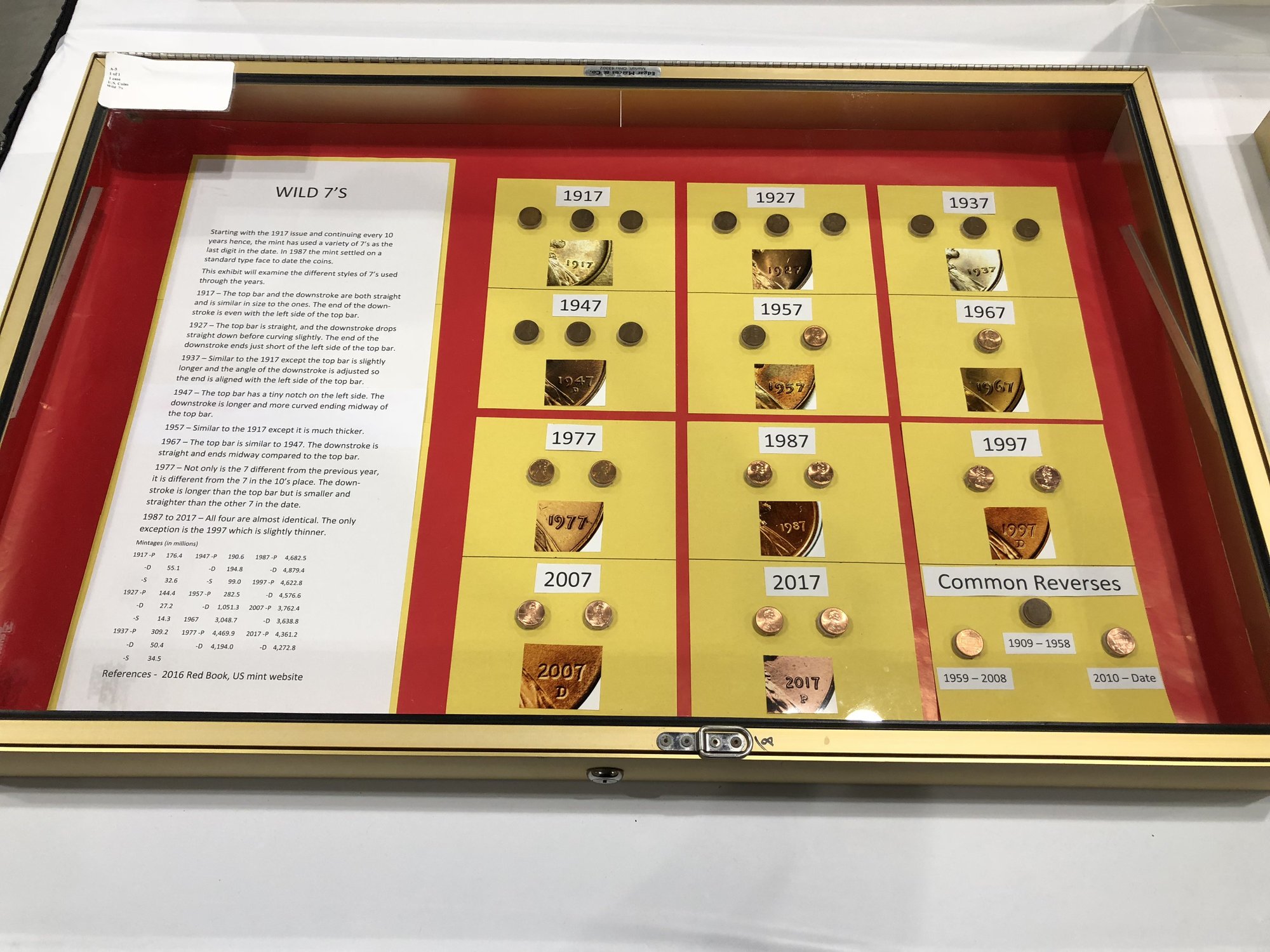 I ran into Fran Lockwood who used to be in charge of the CSNS exhibiting. Her husband, Ray Lockwood, recently passed away. He was a former Central States President and long time Board of Governors Member as well as CSNS Education Director. Fran talked to me about Ray's last days and showed me the pictorial memorial she and her friend put together for Ray.
I then stopped by the PCGS and ANACS tables for a quick photo.
Then hobo nickel carver, Joe Paonessa, came by and chatted with me for a while. I usually get to spend a little time with him at the ANA Summer Seminar, but unfortunately I won't be there this year. He showed me the new ANA medal he just finished carving for this year's seminar (a sample of the medal is in his badge). This is Rick, Joe and Kevin.
Rick showed me this very cool coin he just picked up from the auction. It's a pattern two cent which shows the very first U.S. coin to depict a president.
Soon it was time to pack up and head over to the airport for my flight home. I hitched a ride again with Rick and Kenny which always makes it nicer to travel in groups rather than alone. A special thanks to Kenny who is great at helping to load and unload all those heavy bags!
Even though TSA was pretty crowded, they were still very careful about checking all the dealer coin bags, including mine and Ricks' bags. They went through every inch and started to pull out every coin, but soon got tired of doing that and decided to just spot checked the double row boxes and trays of raw coins. This is me keeping a smile on my face through it all!
Then I headed to my gate, waiting for my flight, settled into my seat, and enjoyed a comfortable, problem-free flight back home. Bye-bye Chicago til next year.....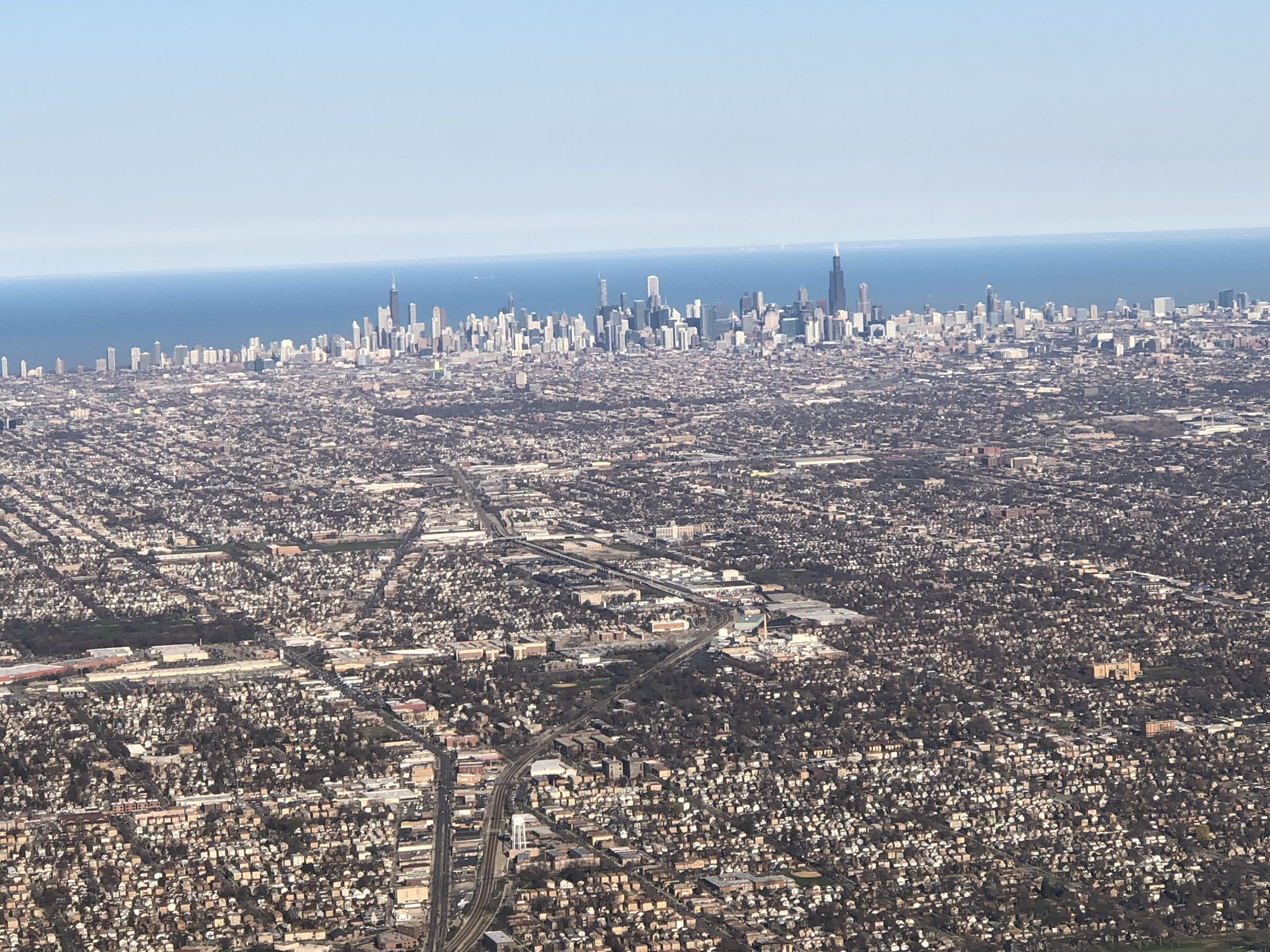 Hello home sweet home Orange County!
My hubby wasn't home to pick me up since he is still at the NORRA 1000 in Mexico pitting and chasing for one of his buddies. No, Lou is no longer racing due to the fusion in his neck from his crash two years ago, but he definitely still loves being part of offroad racing and the racing team gets the benefit of his years of experience and exceptional mechanical skills.
But my sweet purring kitty, Penny, was home to greet me! This is her just before I left when I was getting my coins ready. She decided to grab one of my coins for herself!
Next up: The Las Vegas/Westgate Show in May, then Long Beach in June. Hope to see some of you there!
Charmy Harker - The Penny Lady® President of Women in Numismaticshttps://thepennylady.com/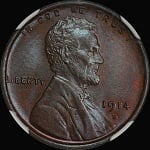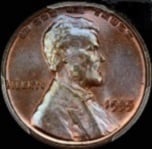 Leave a Comment