Home
›
World & Ancient Coins Forum
On the Twelfth Day of Christmas, My True Love Gave to Me ...
giorgio11
Posts: 2,963
✭✭✭✭✭
An 1882-Ga (Guadalajara) FS 8 Reales, AU55, with great surfaces, Pop 1/2 at PCGS. Although there is an 1882/1 overdate known, this is the normal date. Authors Mike Dunigan and J.B. Parker comment in Resplandores: The Cap and Rays 8 Reales of The Republic of Mexico 1823–1897 (Superior Stamp & Coin, 1997) that "this date is available in all grades and is exceptionally beautiful in Uncirculated condition." The FS is for assayer Ferando Sayago, who served from 1880–1882. The two finer at PCGS are one AU58 and one MS64.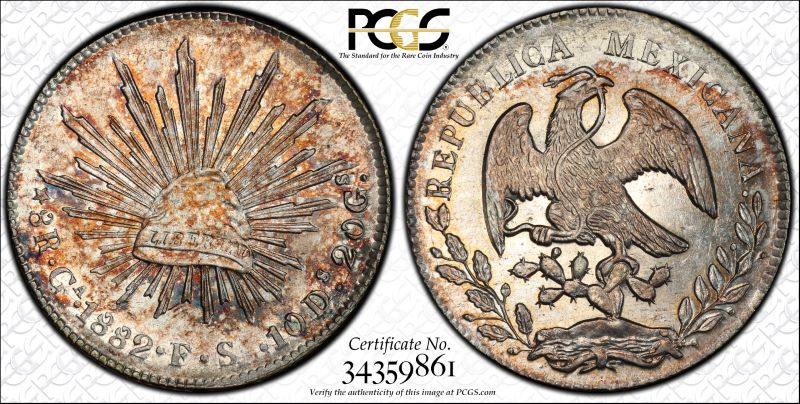 And an 1877-Go FR (Guanajuato) 8 Reales, MS63 PCGS, with incredible color! Population 5/6 ... and this one is the largest of the three CoinFacts plate coins. The "FR" is for assayer Faustino Ramirez, who served from 1870–1878.
Kind regards,
George
Tagged: