Home
›
U.S. Coin Forum
Charmy's September 2016 REPORT ON THE NCNA NUMISMATIC SEMINAR w/lots of Pics!

ThePennyLady
Posts: 4,084
✭✭✭✭✭
Earlier this year I was honored to be invited to be one of the presenters at the Northern California Numismatic Association's (NCNA) annual educational seminar in Vallejo, California, on the topic of "The Future of Our Hobby." I was also advised that all of my expenses would be taken care of, including travel and lodging. I later found out that, if we wanted to arrive a day earlier, they were even going to take us on a wine tasting tour in Napa Valley. So of course, how could I refuse!
Besides me, the speakers included the following people (Xan Chamberlain is shown presenting each of us with certificates following our talks):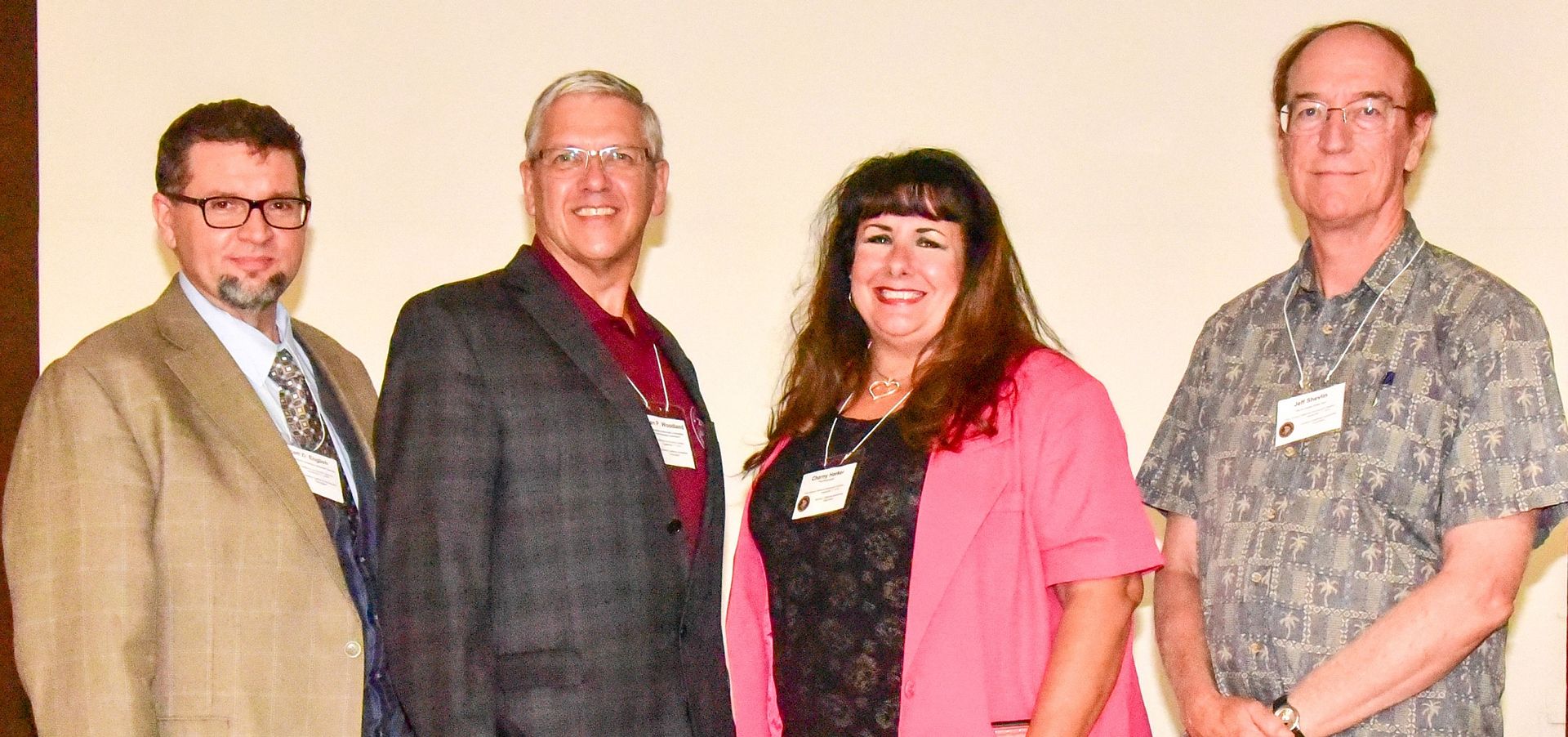 Scott English, Executive Director of the American Philatelic Society (the stamp community has a lot of the same challenges as the numismatic community)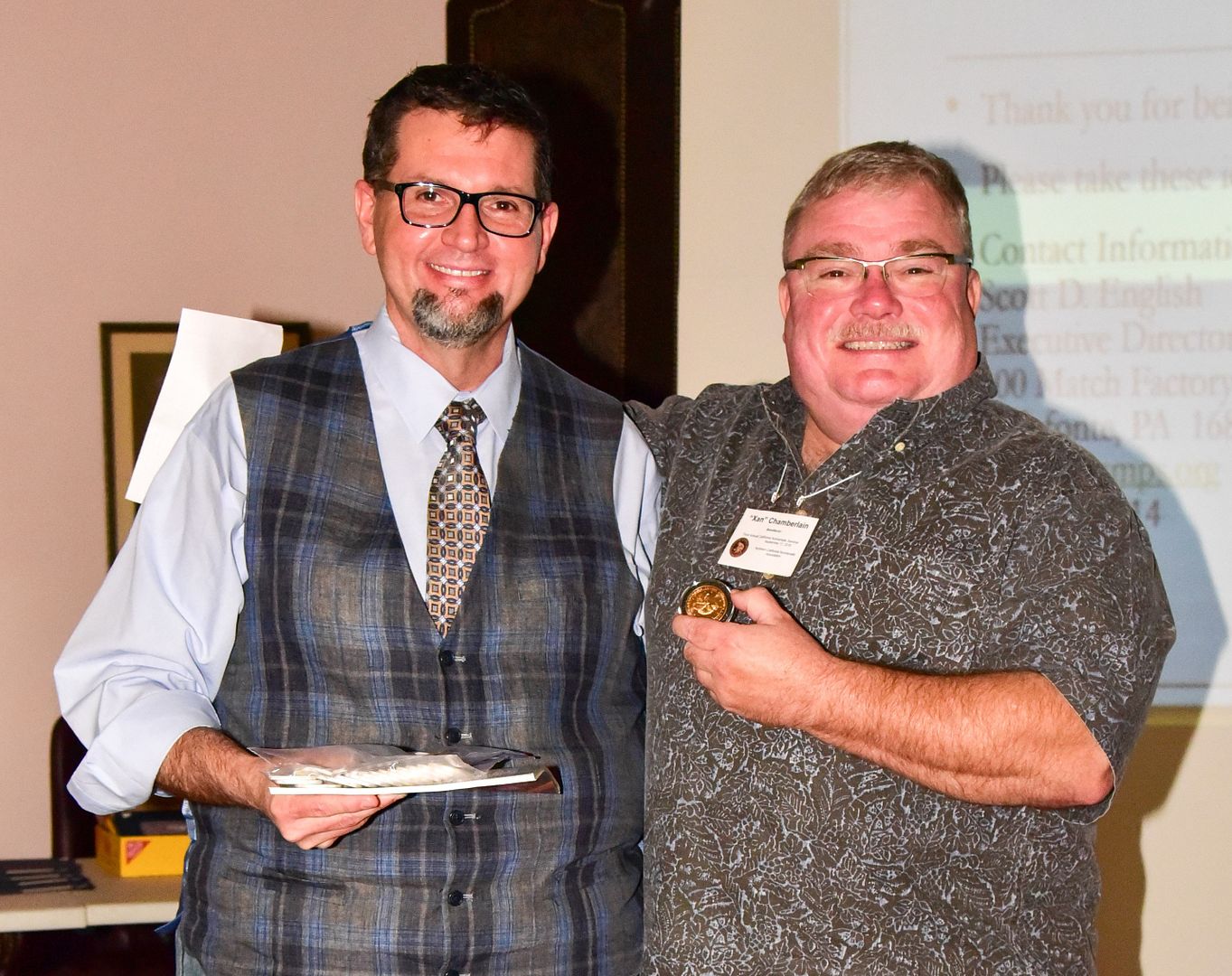 Stephen Woodland, noted Canadian numismatist (again, Canada has similar issues as the US)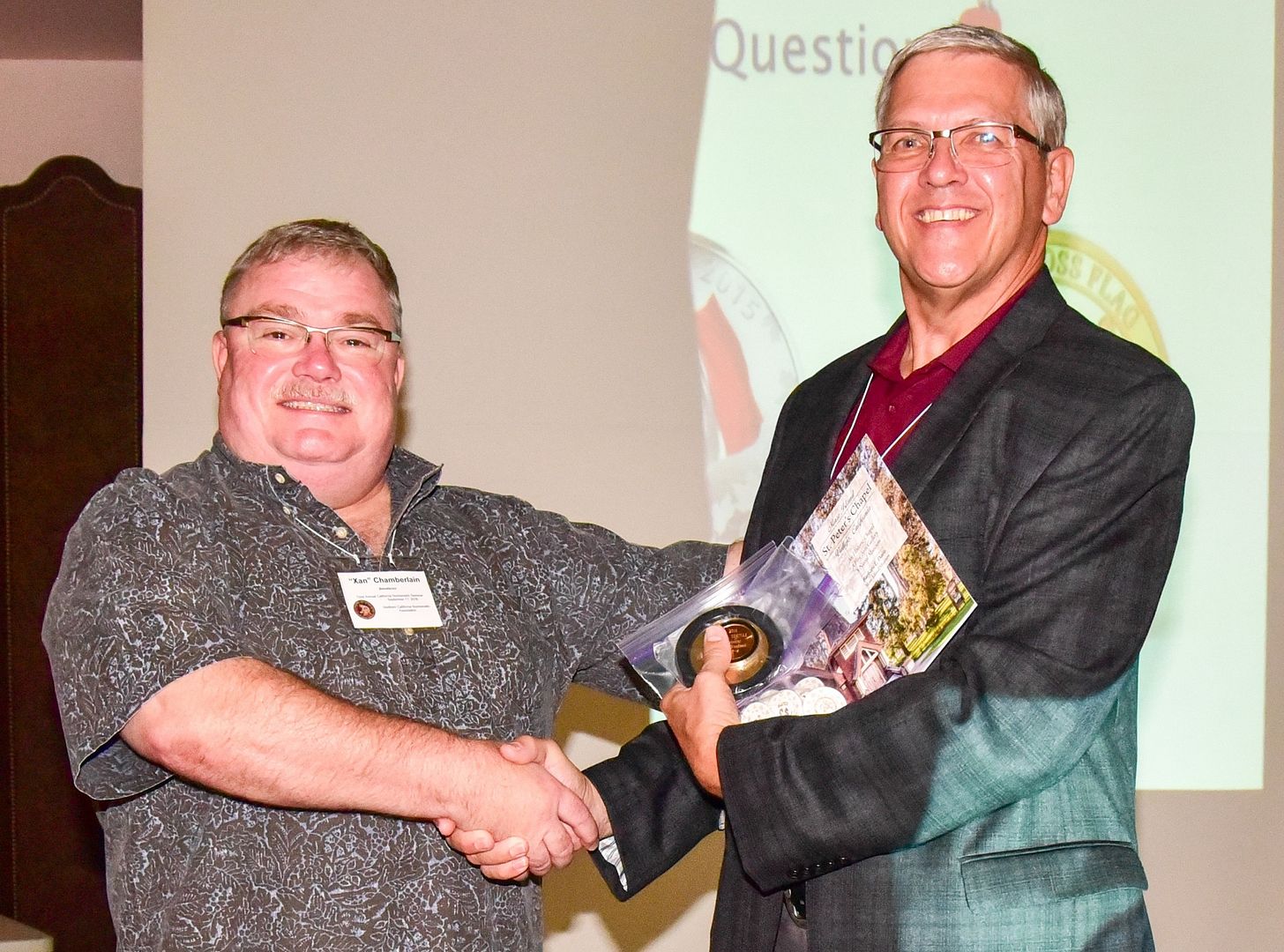 Jeff Shevlin, specialist in So-Called Dollars
These are the benefactors who helped make this symposium and extra-curricular events possible!
Xan Chamberlain, James Laird, Fred van den Haak, and Michael Turrini
So I flew up to Oakland, and Lloyd Chan graciously picked me up from the airport and drove me to the hotel where they had a room ready and paid for. After I freshened up, we met up with the other presenters and the benefactors who helped fun the entire symposium, and went out to dinner where we had some lively discussions on everyone's thoughts about the hobby.
The next morning (Friday), we were picked up at the hotel in a limo bus for our wine tasting trip to Napa. The benefactors, patrons and NCNA officers also came along. They even had bottles of champagne and orange juice waiting for us so we could have mimosas along the way!!!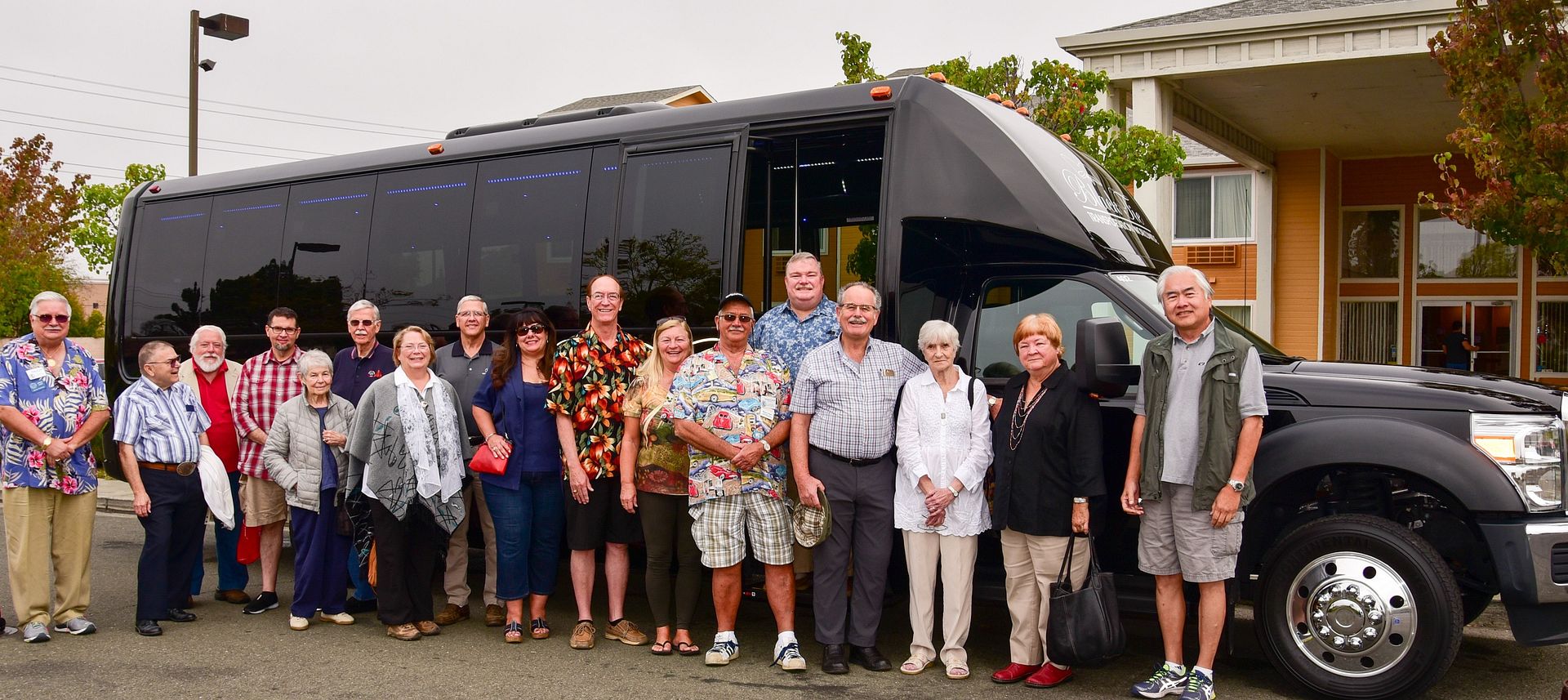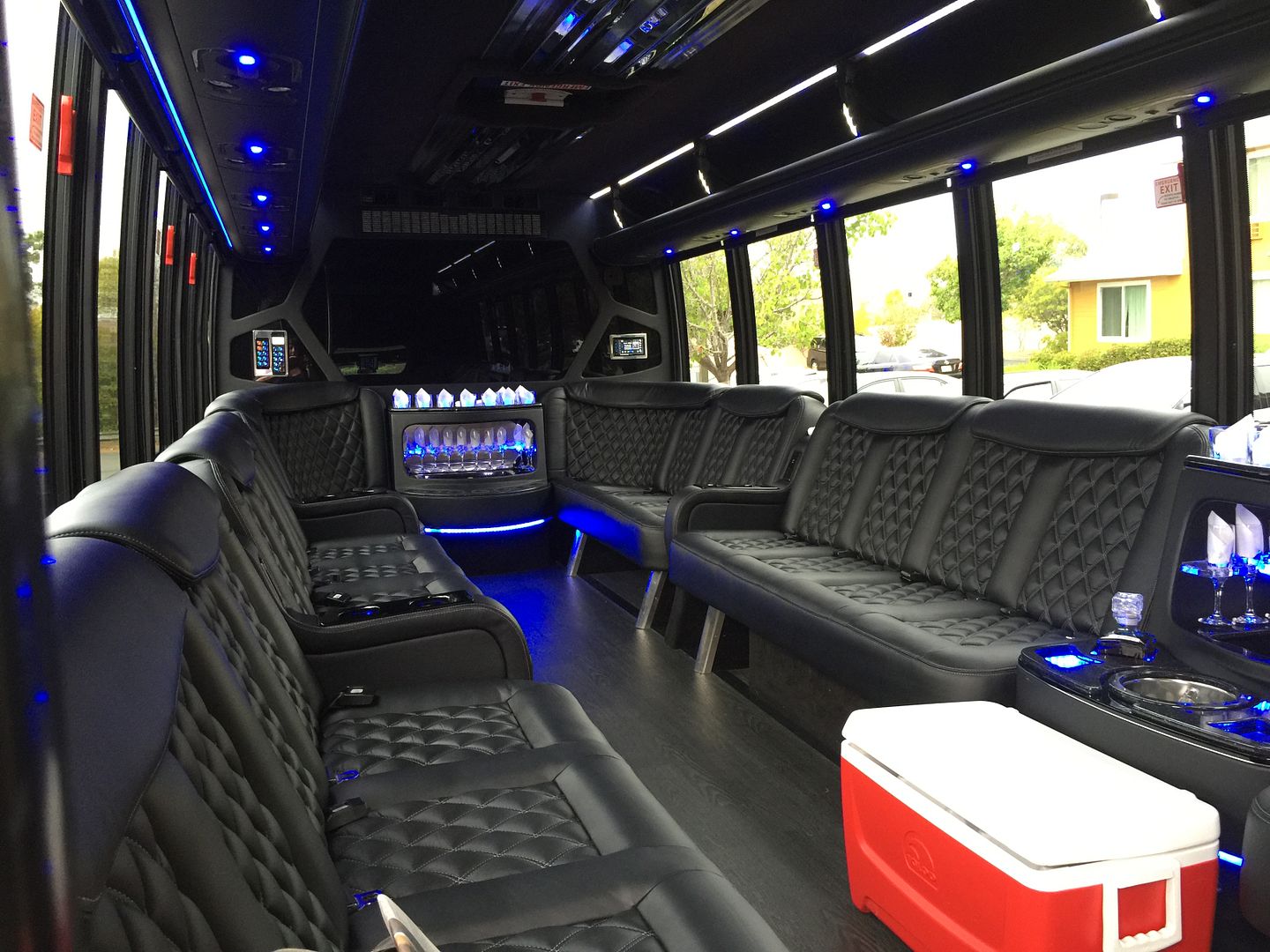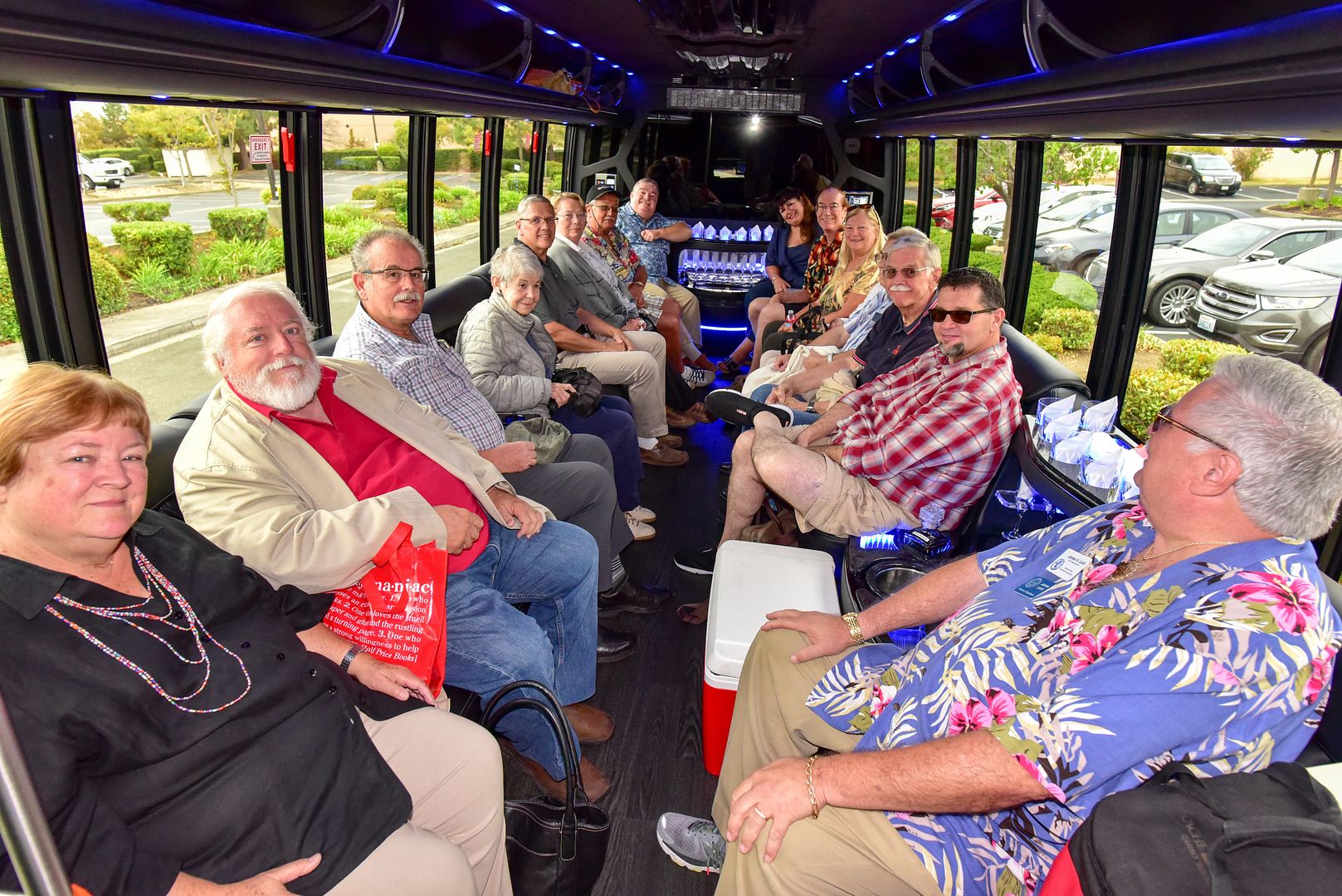 They had made reservations for a tour and tasting at the beautiful Castello di Amorosa which was built as an authentic Tuscan medieval style castle with hand-made stones and bricks employing the same methods and materials that would have been used 700-800 years ago.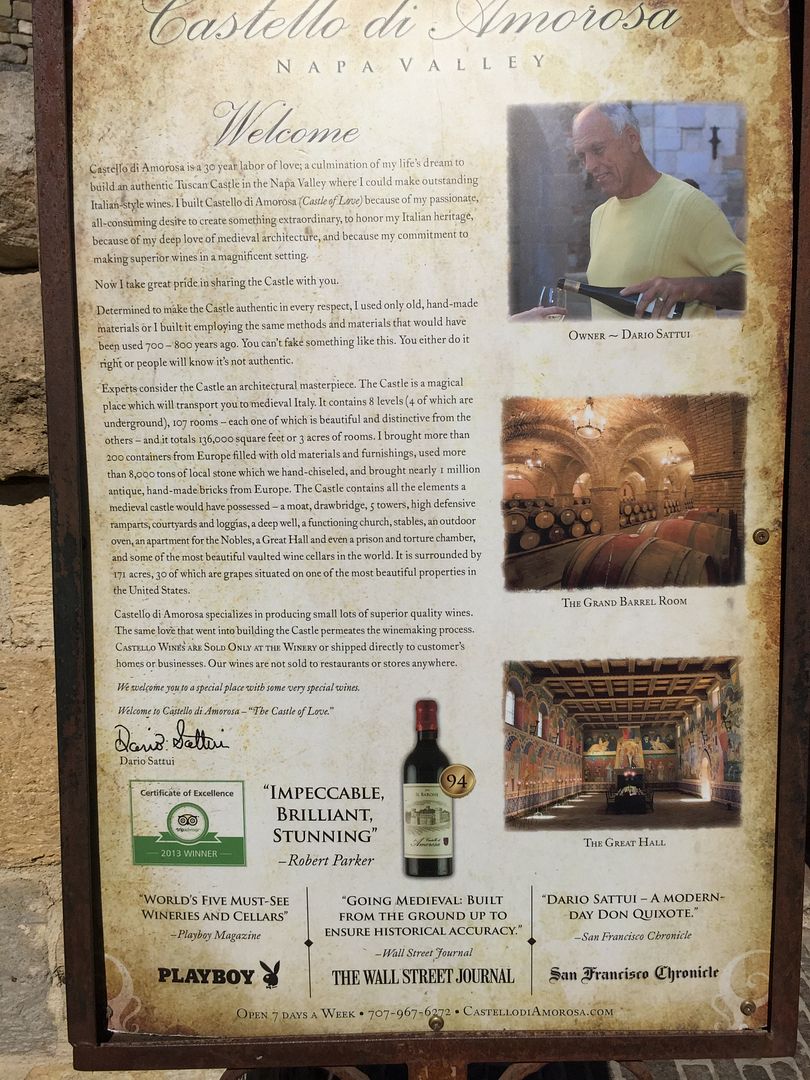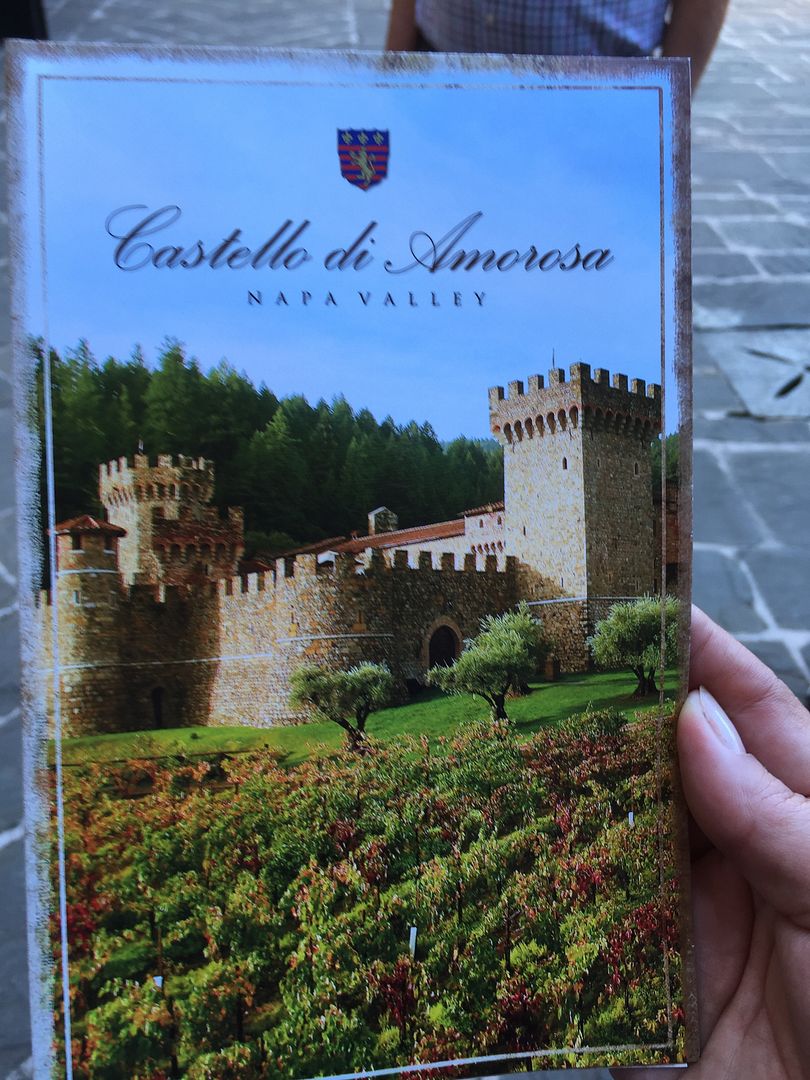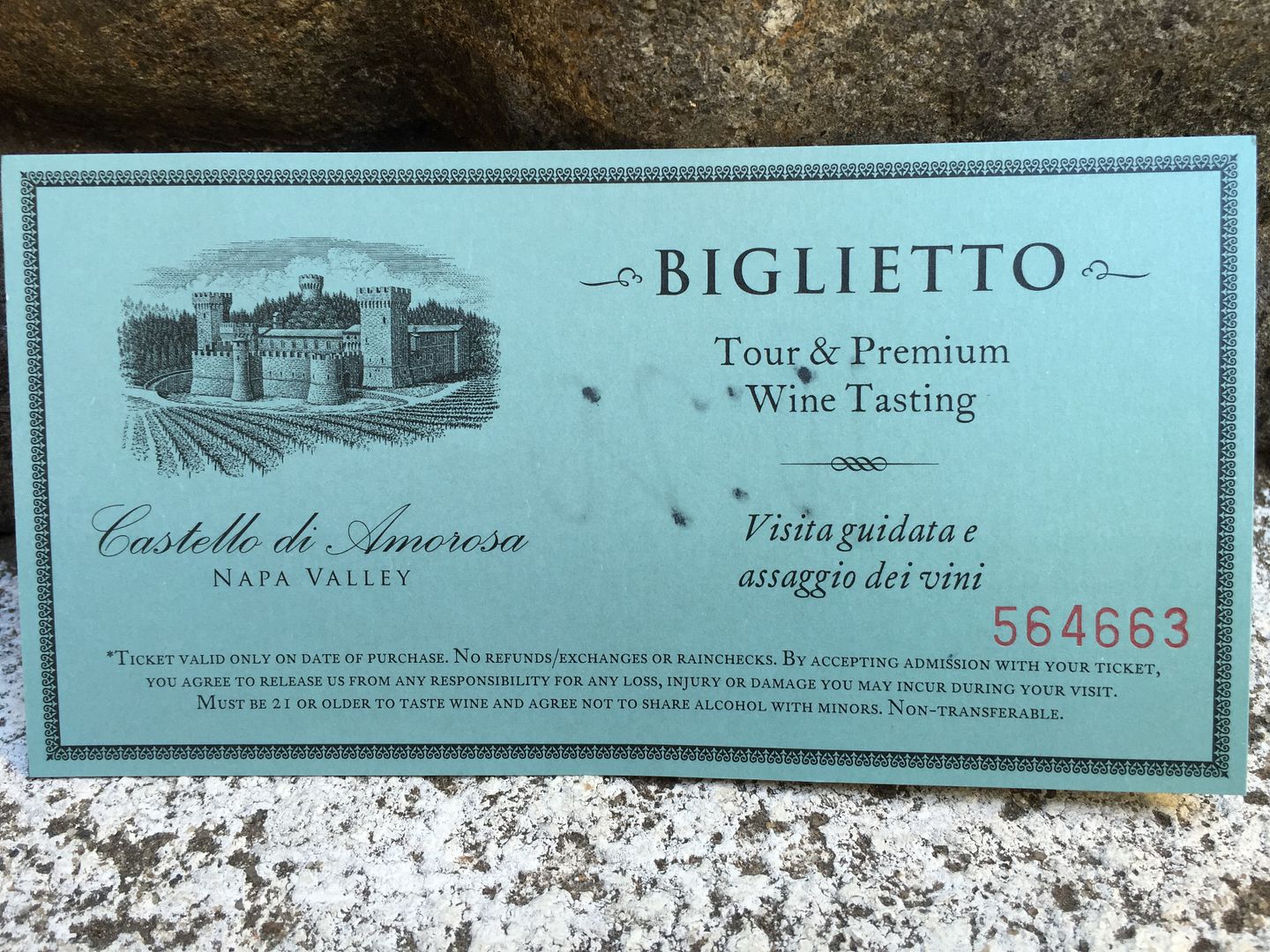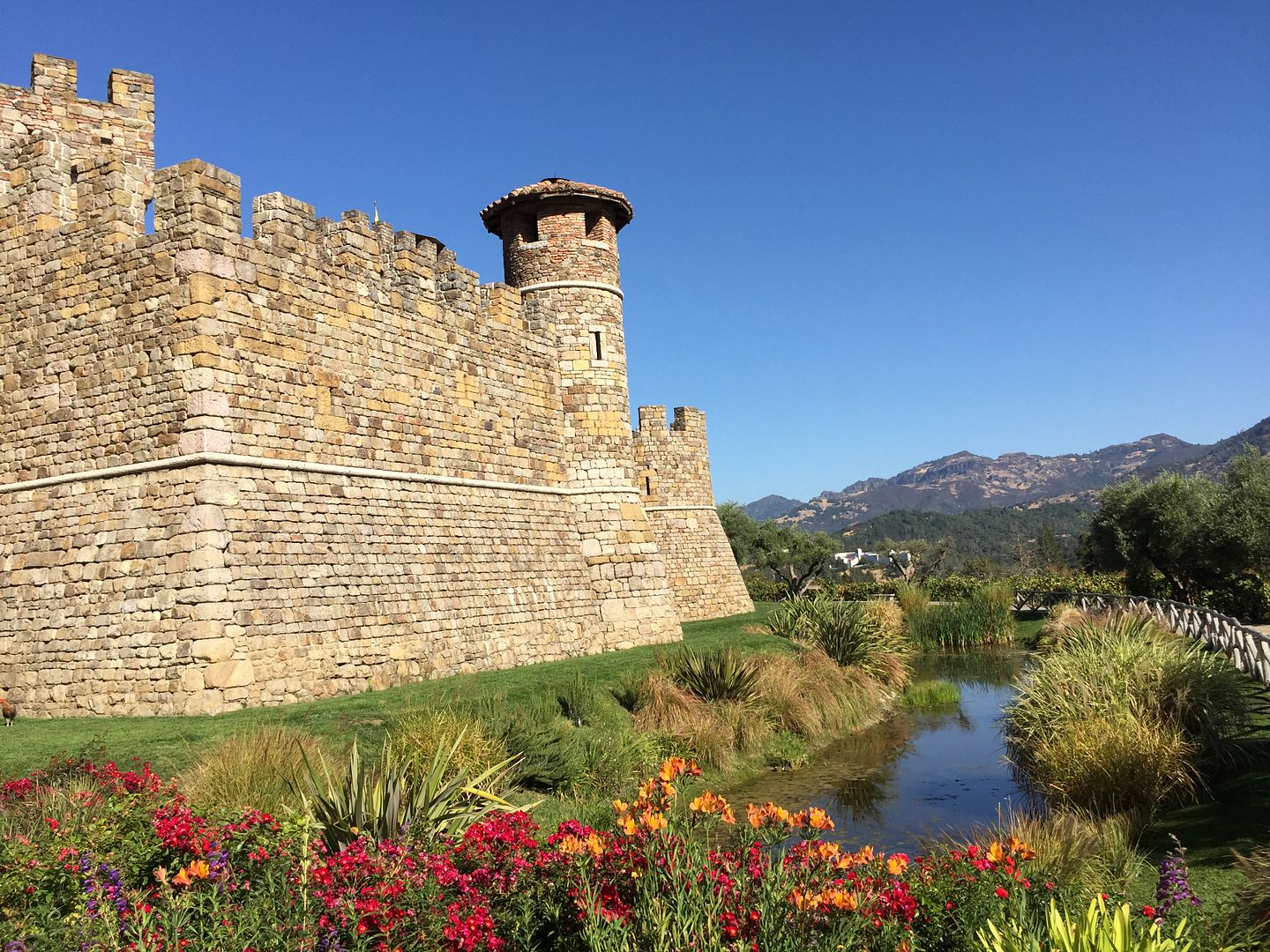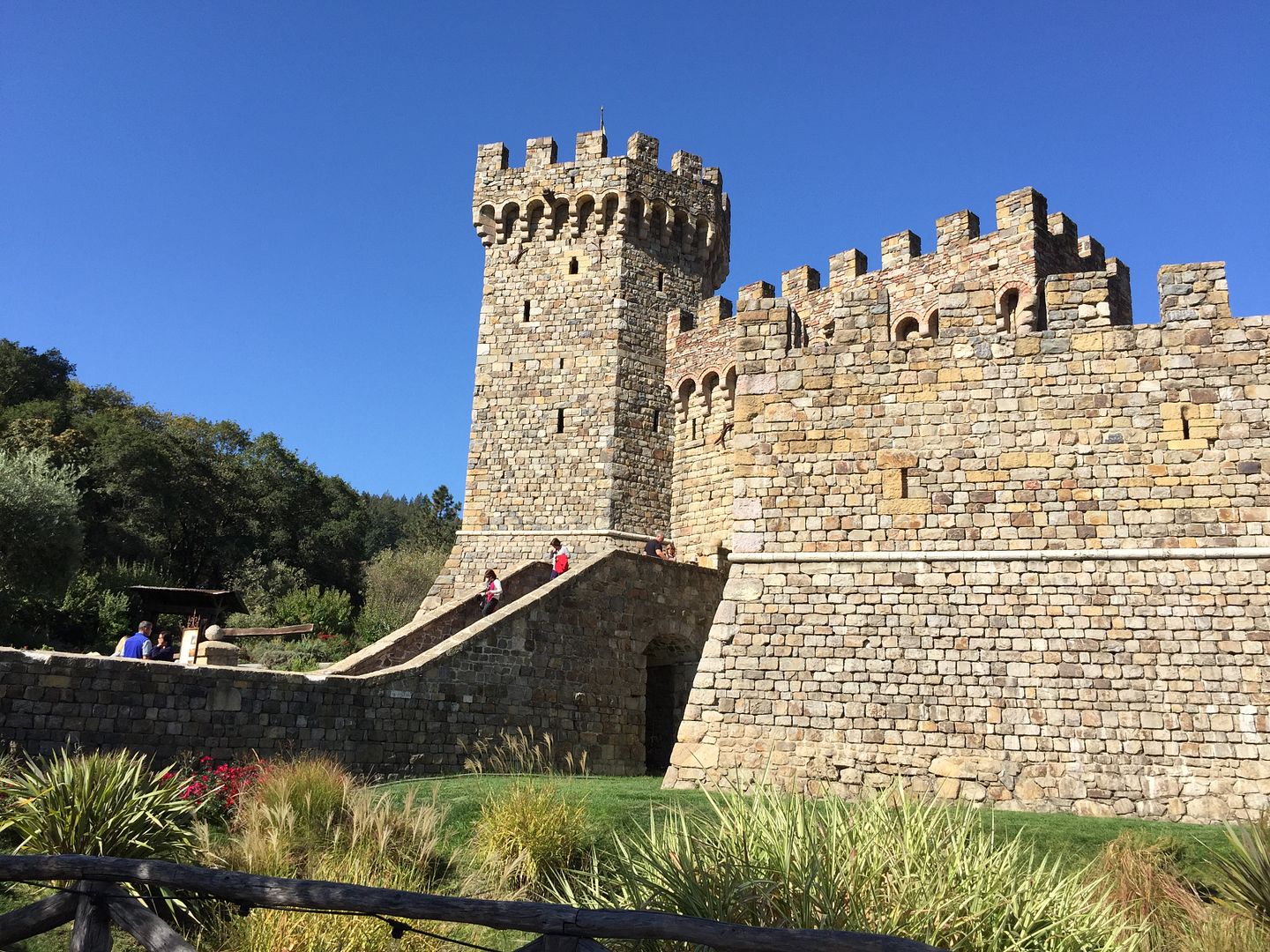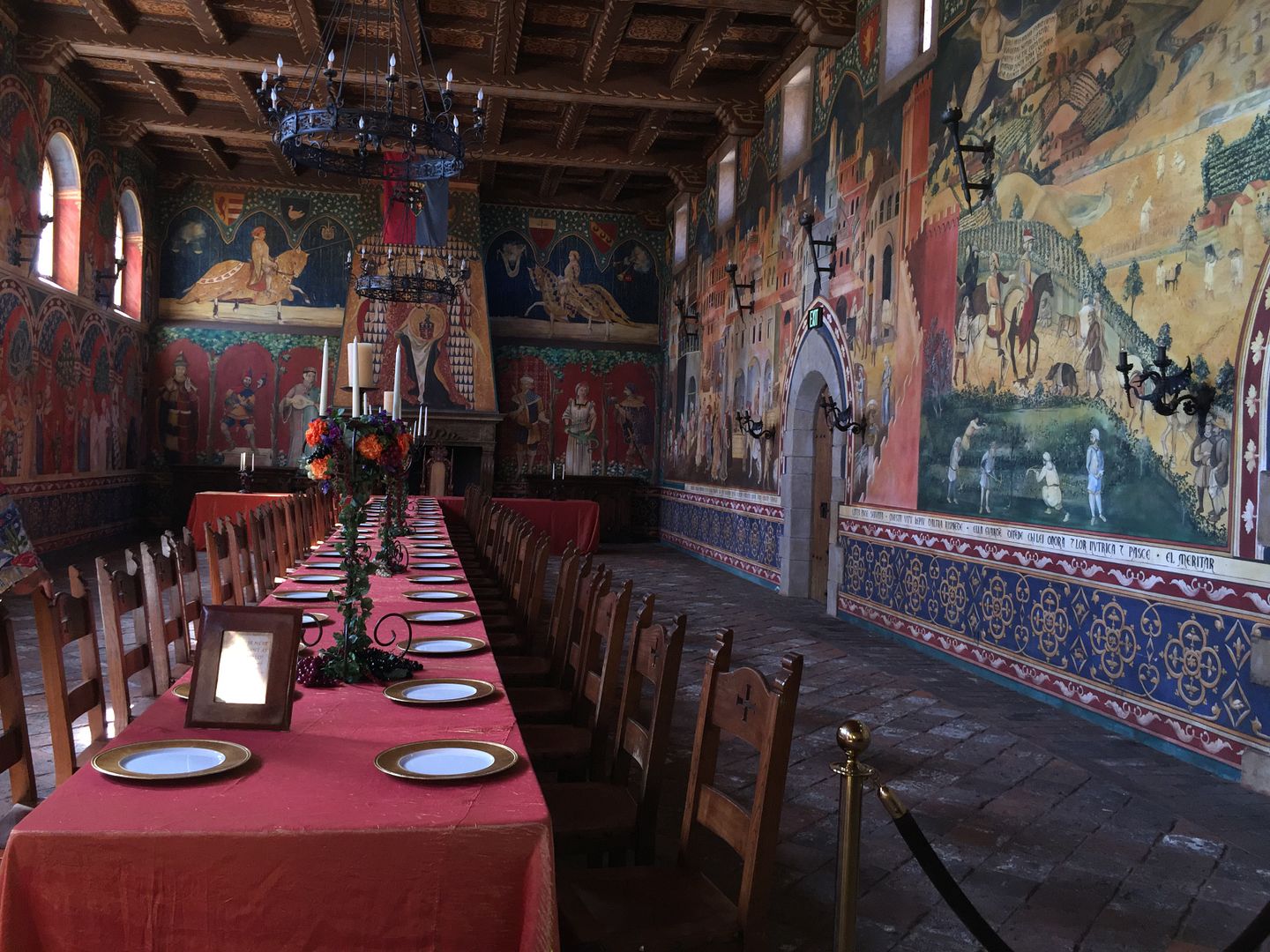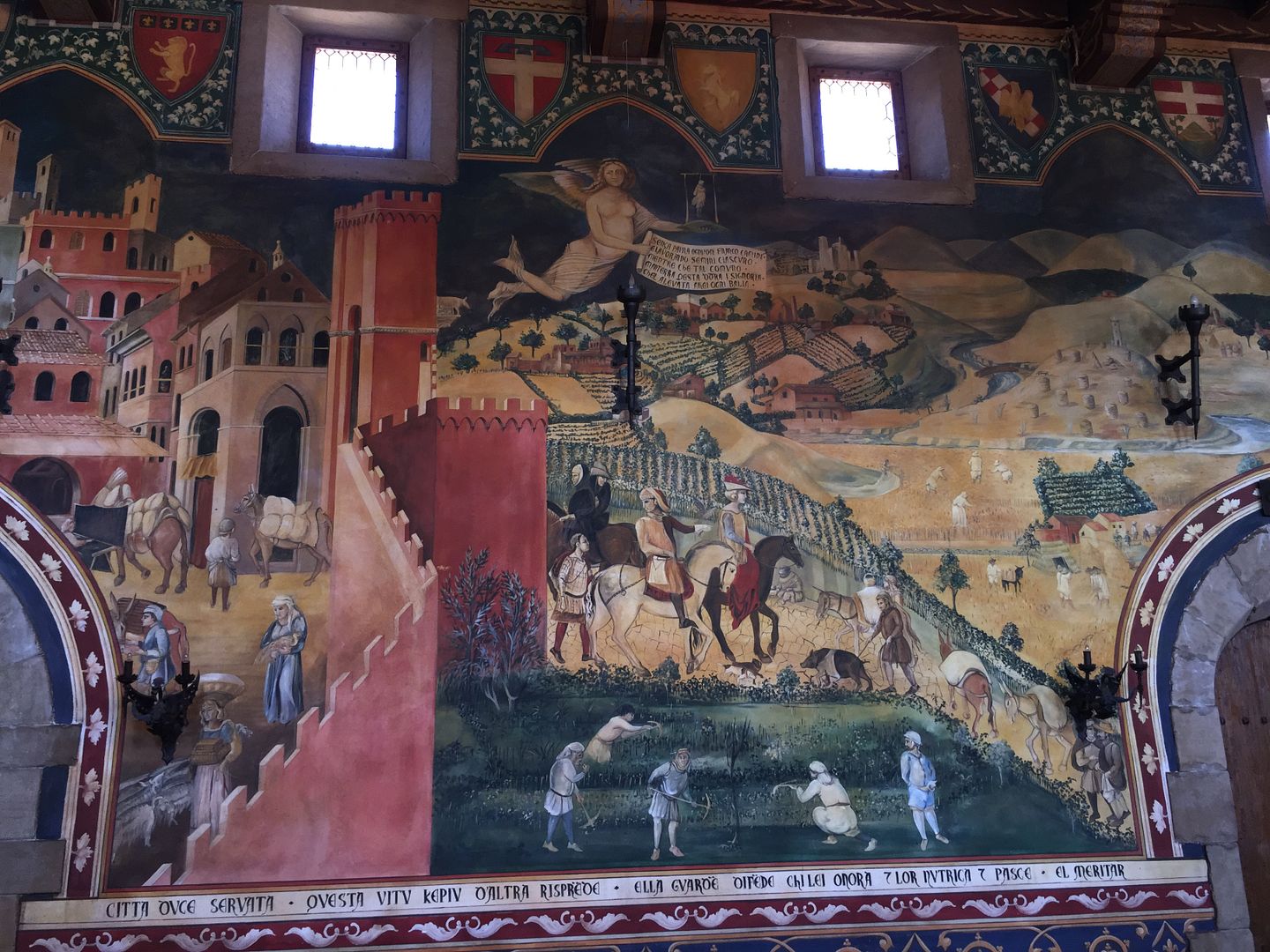 View from the castle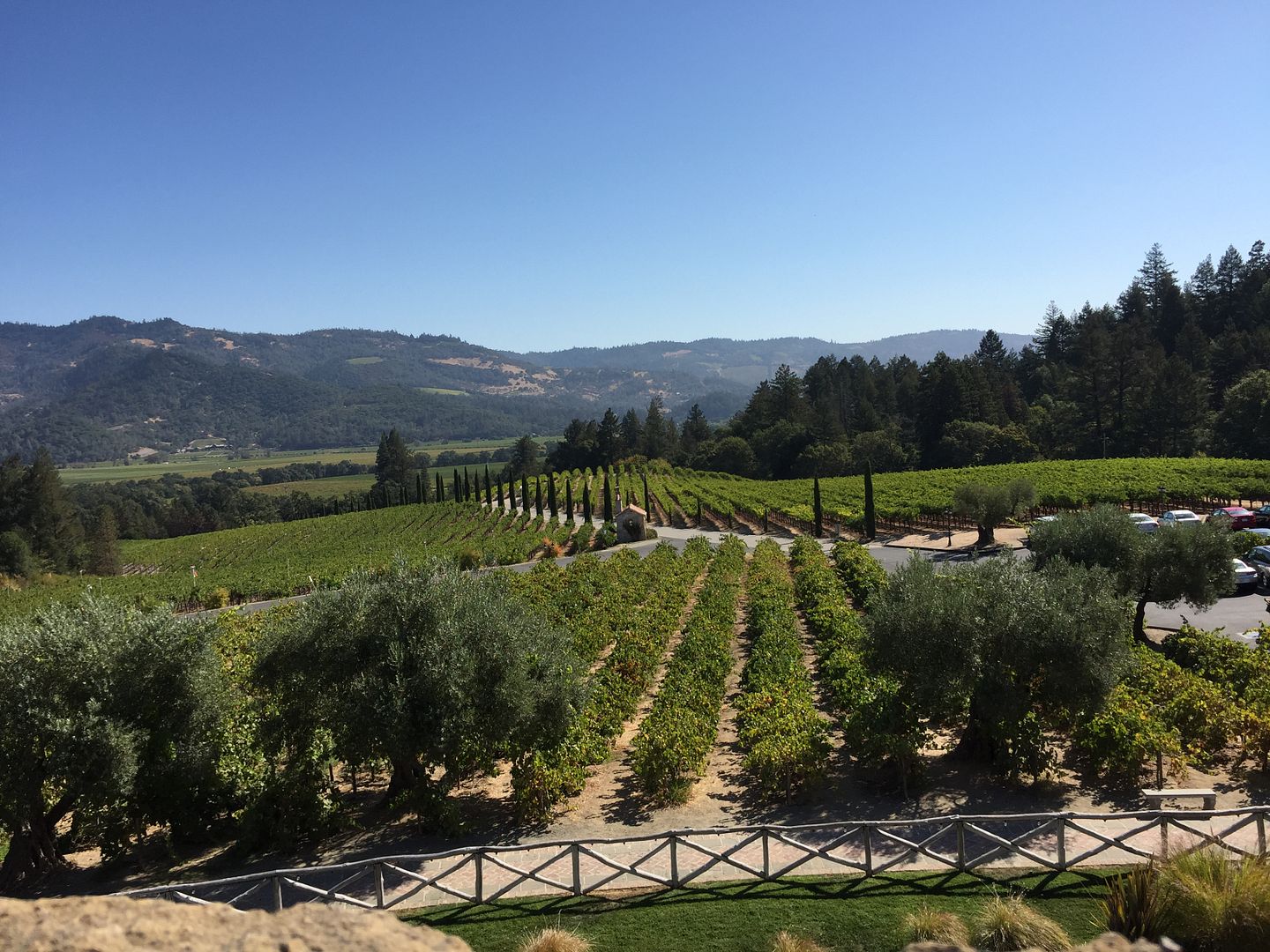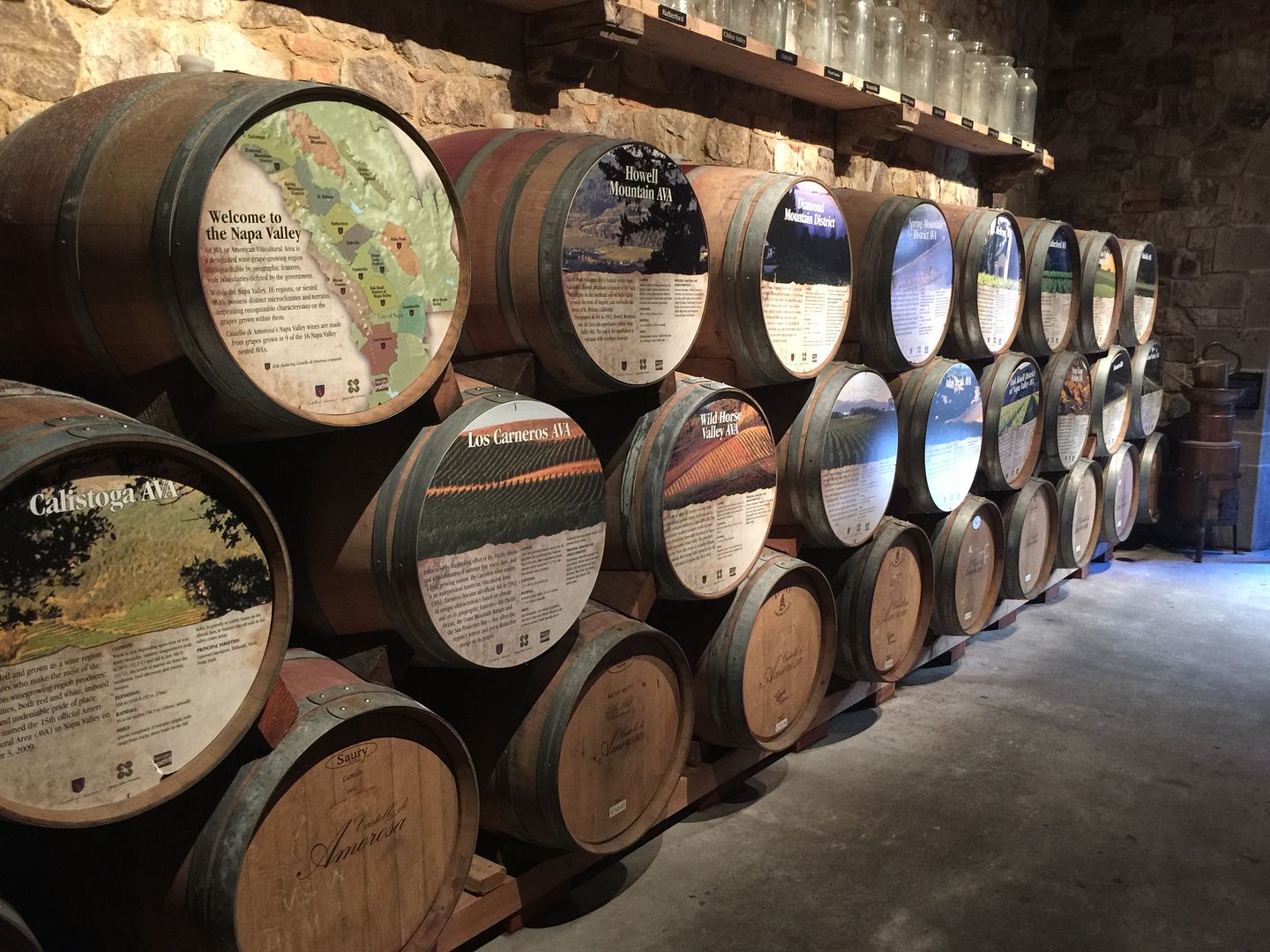 Then it was time for the wine tasting!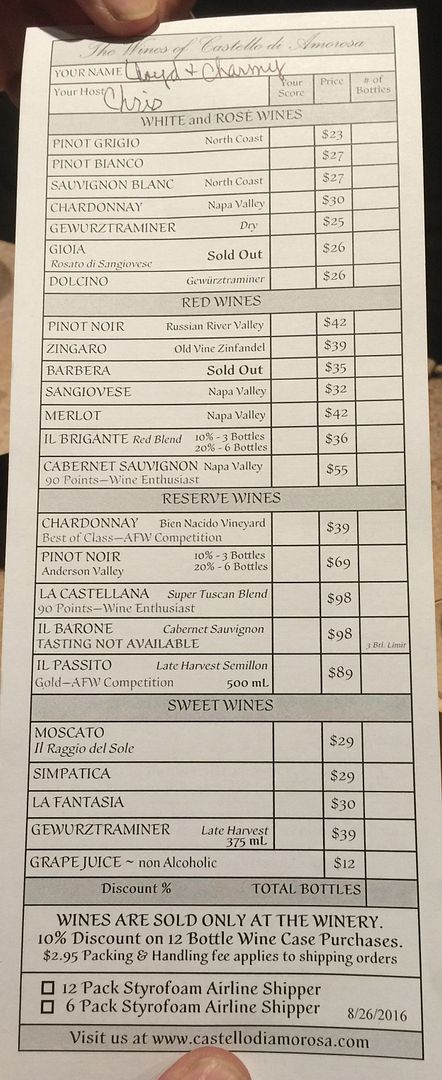 One of my favorites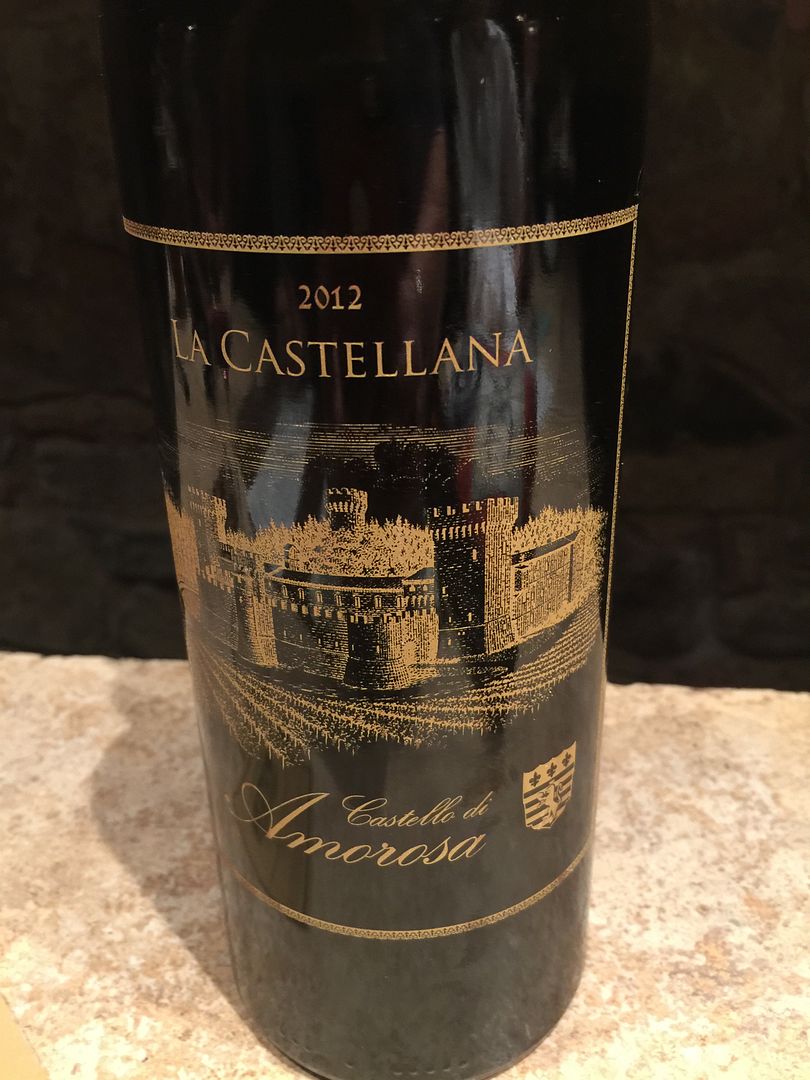 I ended up ordering several bottles of their delicious wine and having it shipped home. What a great experience!
Our next stop was a tour of the Jelly Belly Factory! Along the way, we passed the famous Napa Valley Wine Train.
When we arrived at the Jelly Belly Factory, they had two adorable Jelly Belly cars out front!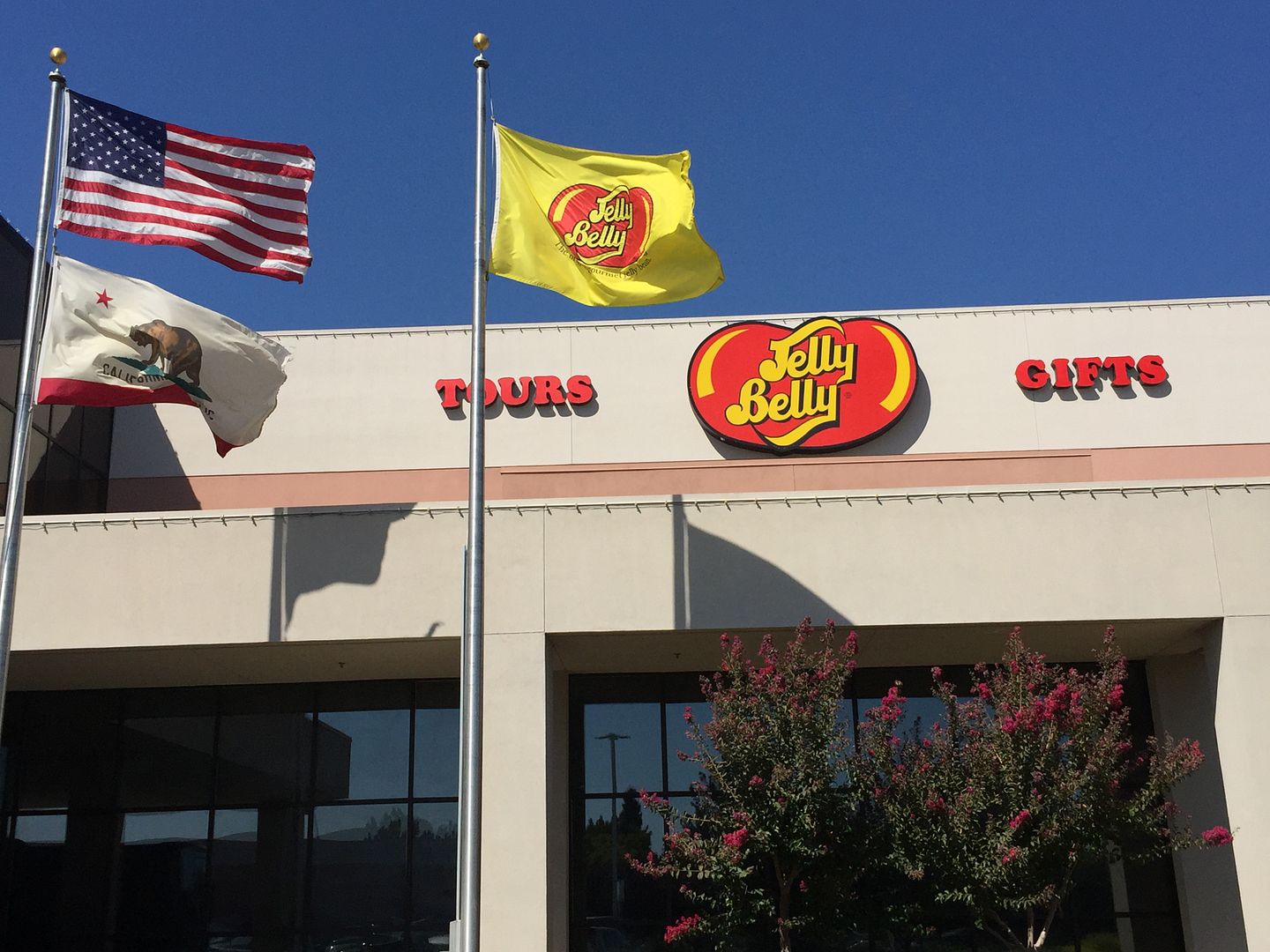 I didn't know they also made candy corn, and a lot of other types of candy as well!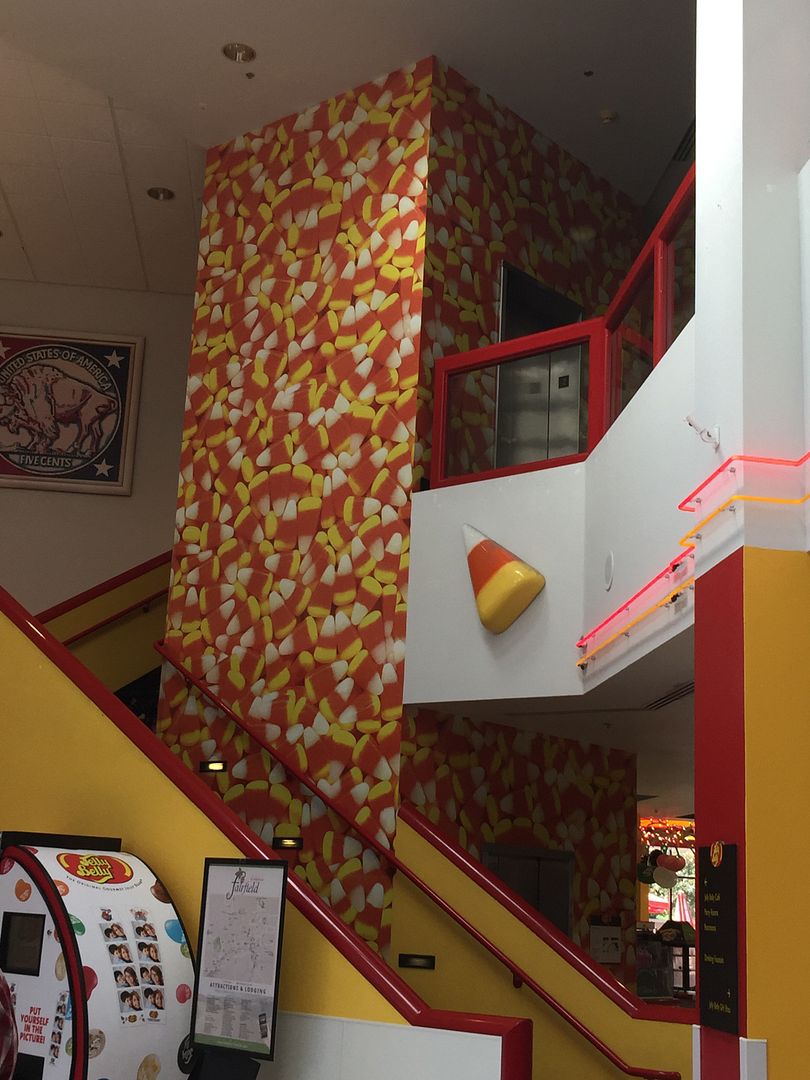 Everyone on the tour had to wear these hats!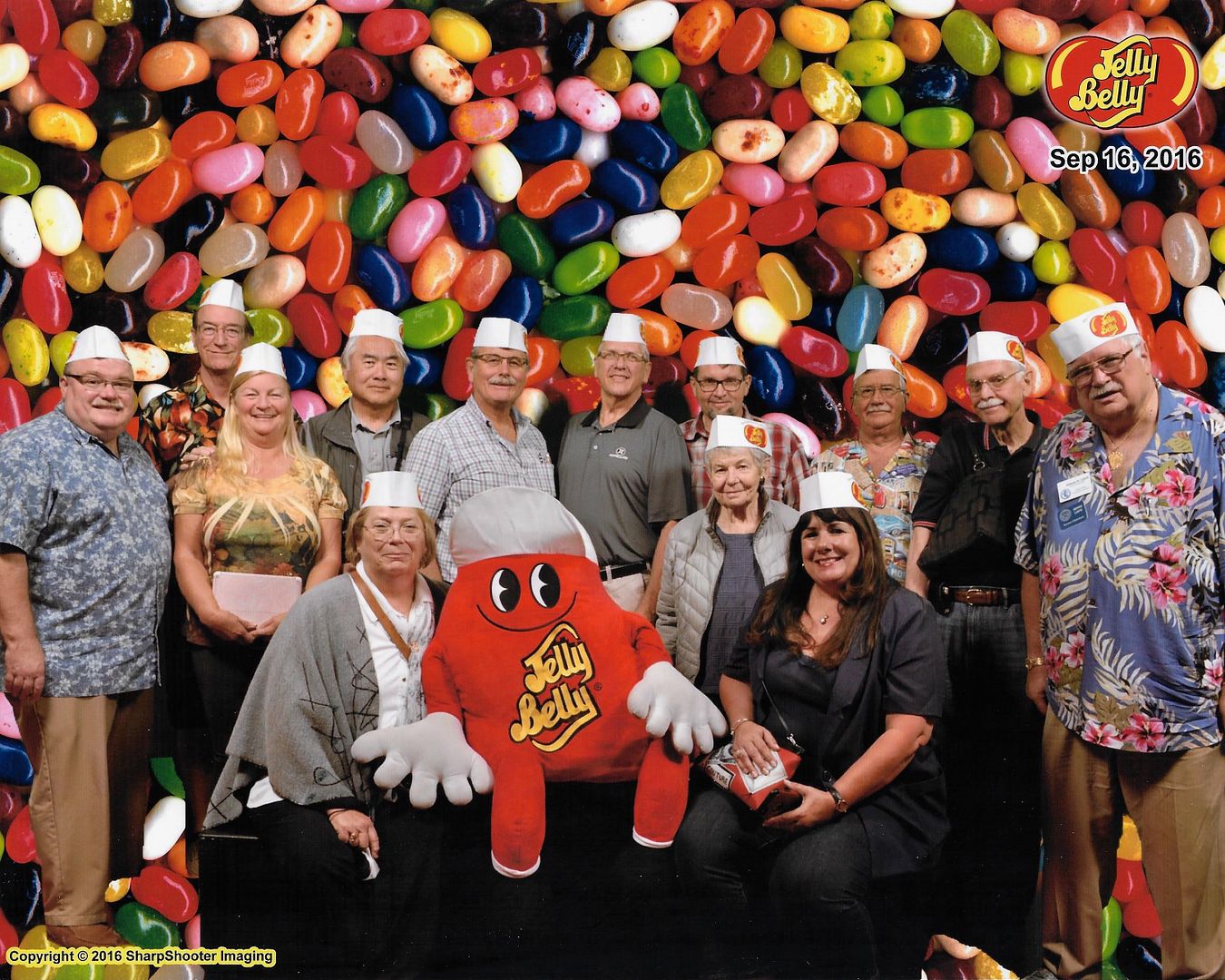 They had several portraits of famous people made out of Jelly Bellies.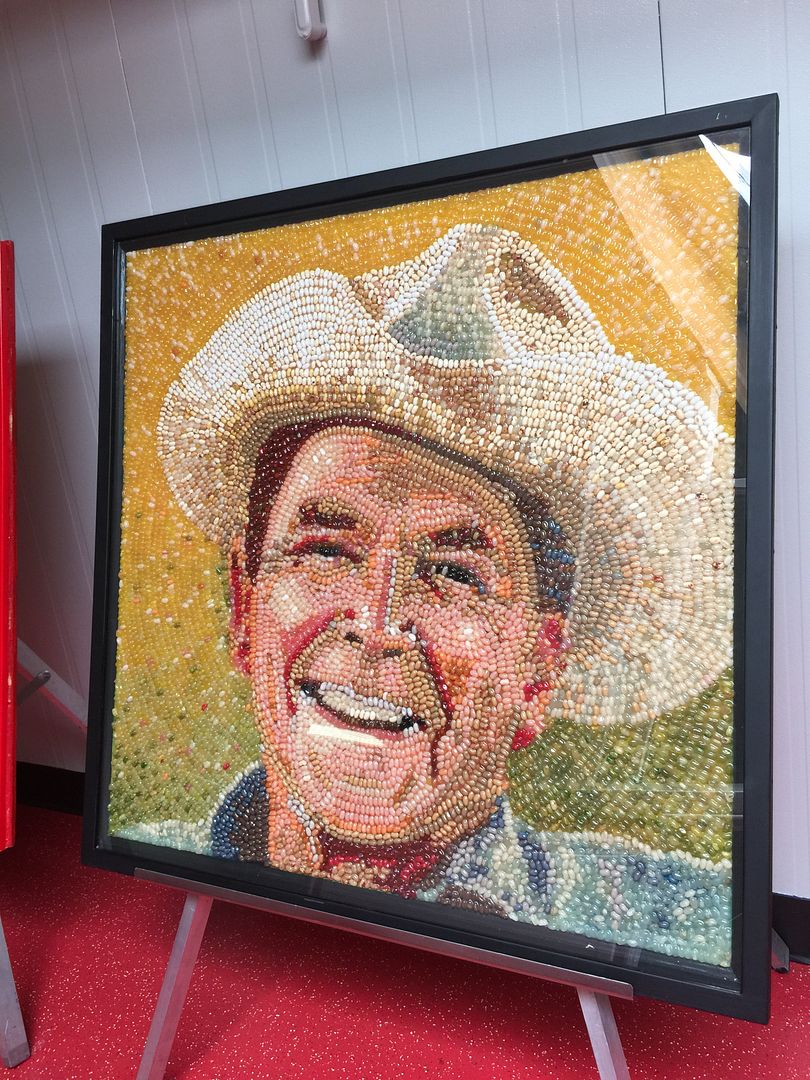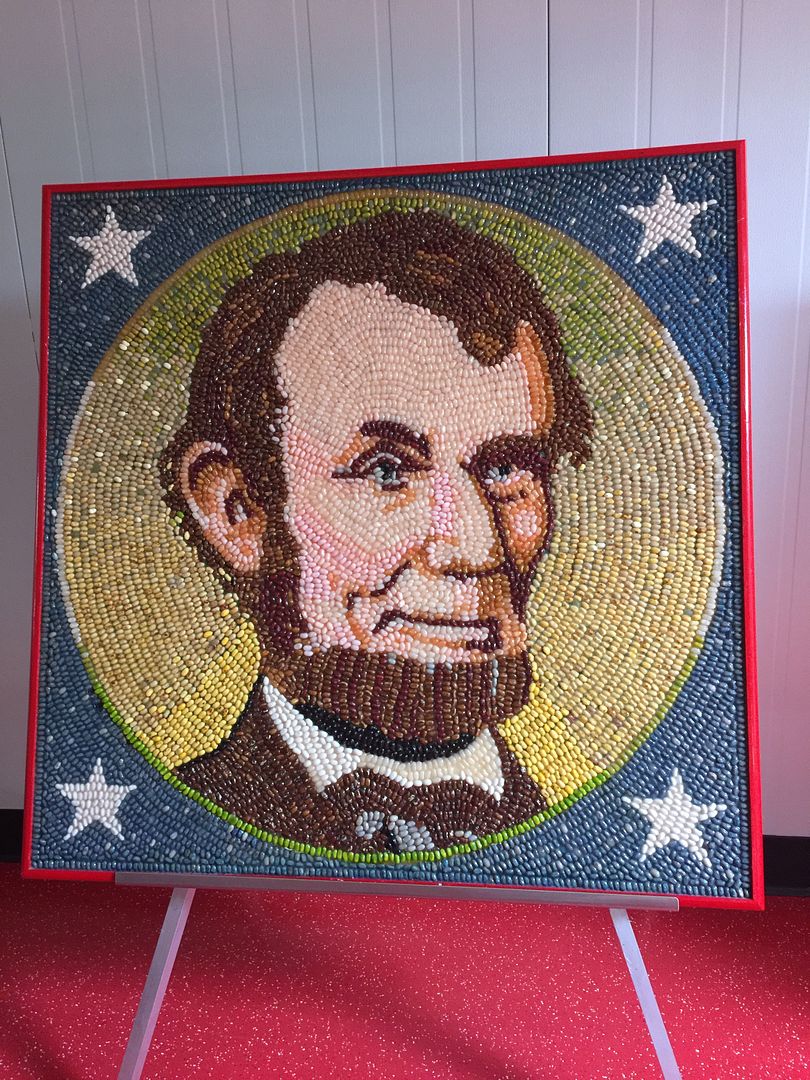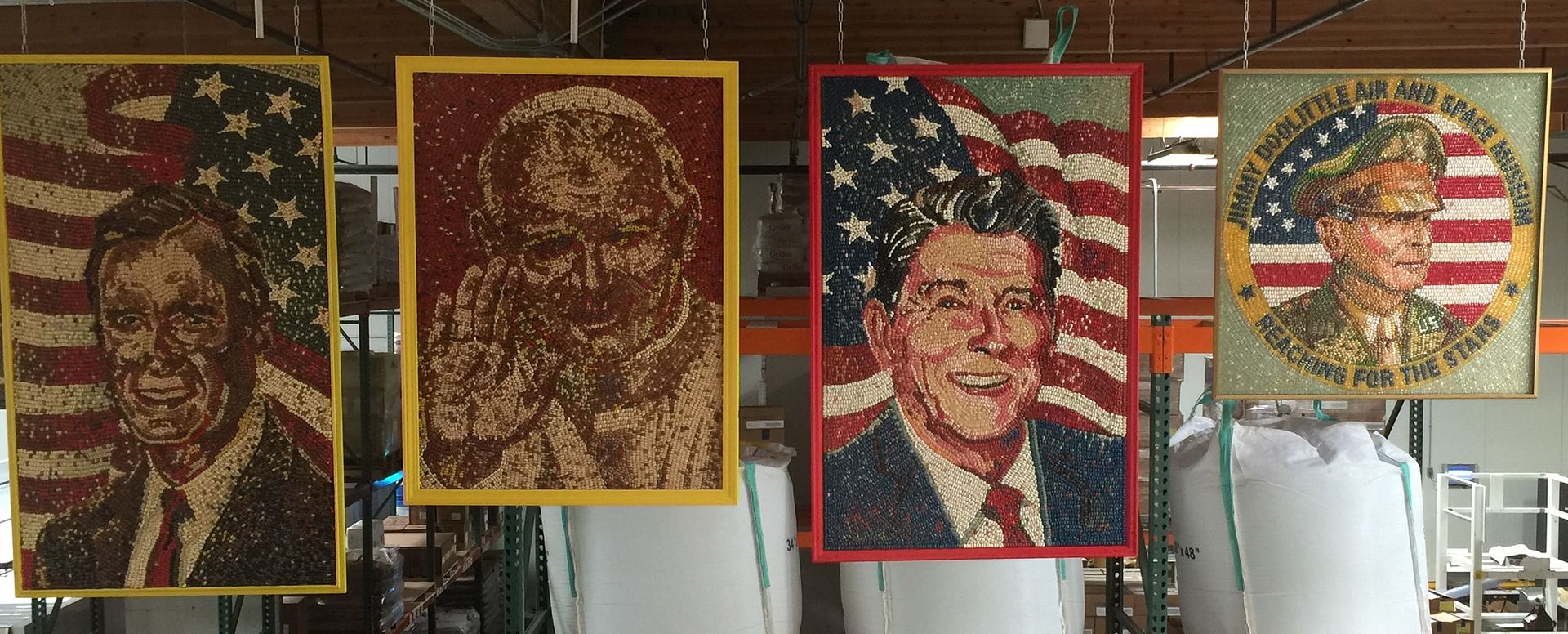 A sea of millions and millions of Jelly Bellies!!!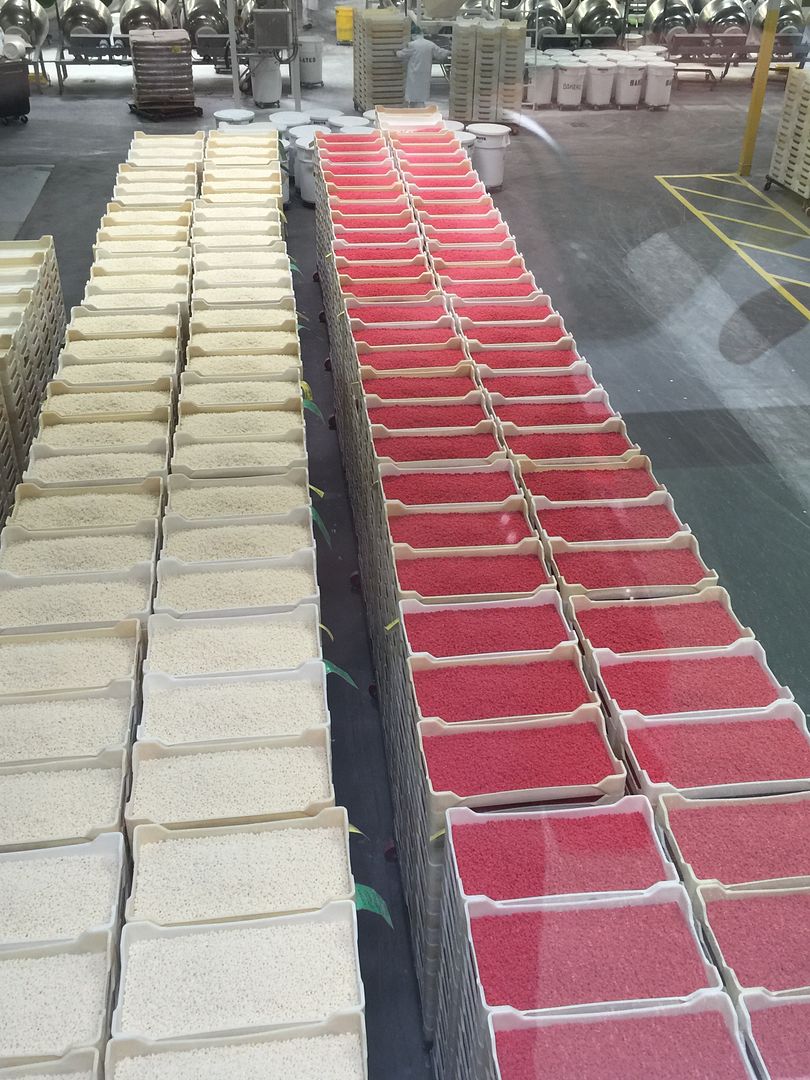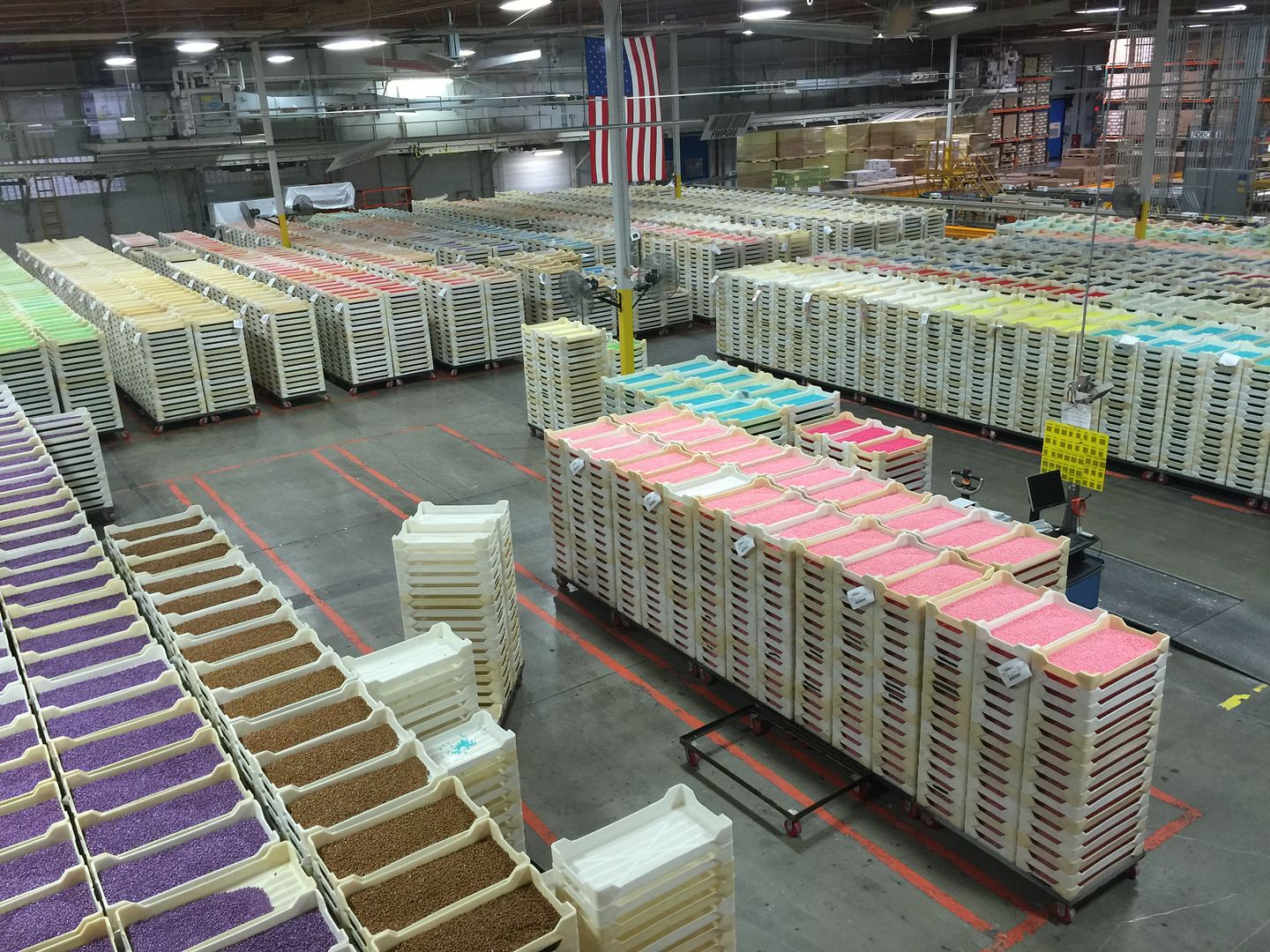 After the Jelly Belly Factory tour, the limo bus took us back to our hotel where we had a chance to rest and freshen up before dinner. We then were taken to a favorite local bbq place called Gracies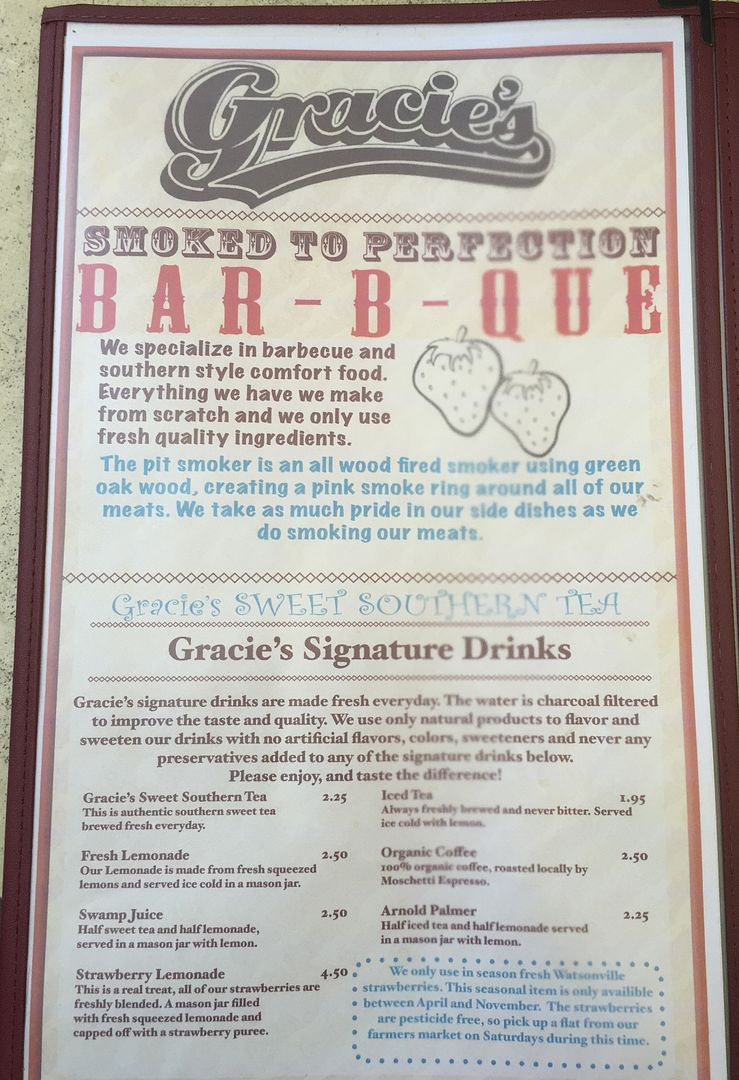 The next day, we all met at the Vallejo Naval and Historical Museum in Vallejo for our presentations.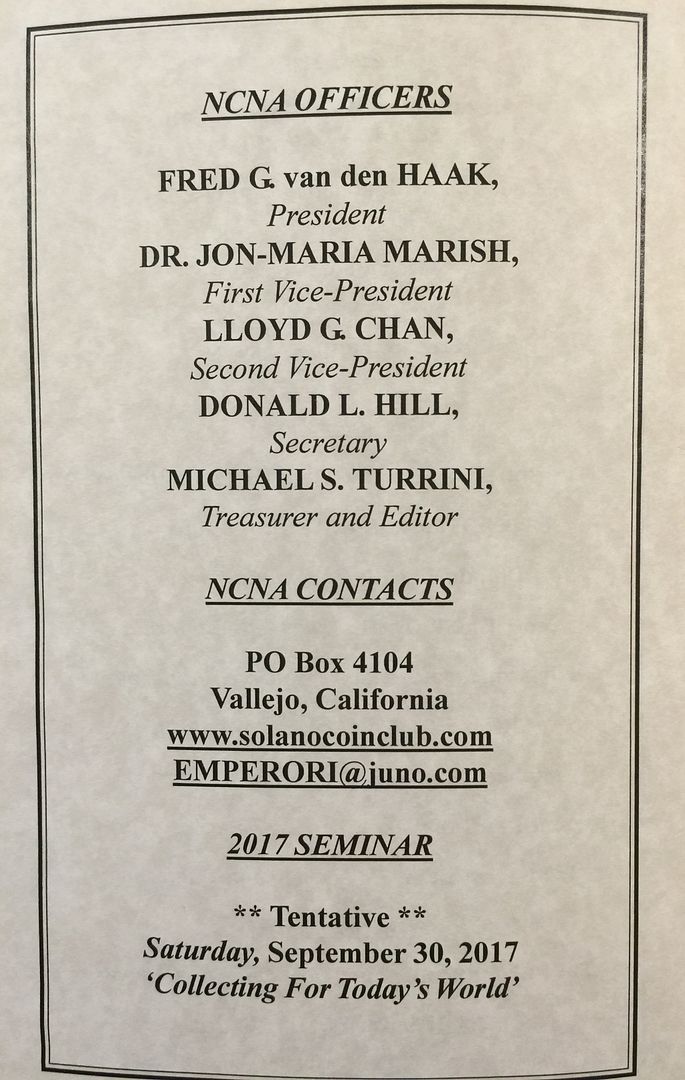 These are more of the NCNA patrons
During the preparation of my talk, I was concerned that my remarks would overlap with the other presenters' talks, so I decided to gear my presentation towards why more women aren't involved in the hobby and how we can introduce and encourage young girls and women to be a part of numismatics.
The gist of the talks included of course, how to engage our youth to participate in numismatics. There are no single answers but everyone agreed that technology plays a heavy part in numismatics and will only play a stronger part in the future, that dealer and club websites need to be up to date to include modern technology and information with quality photographs. We talked about that, unless the aging club members learn to engage youth and meet them at least halfway by somehow including technology in their club meetings, it will be very difficult for these clubs to keep functioning. And even with that, our youth are more interested in using online forums as a way to discuss numismatics rather than meet in person in a club setting.
Scott, the stamp guy, talked about how the stamp market is struggling with aging membership but that they are trying to embrace more technology by even having an online club where young members can use Facetime or Skype to meet and discuss their collections, etc.
Steve, the Canadian numismatist, had similar issues as U.S. clubs and with less attendance at shows and auctions due to people using computers to buy from dealers online and online auctions.
Jeff Shevlin challenged each of the audience members to declare one thing that they will do to help numismatics, then to report back to him once they have done it so he can include it in an article he will write.
We also discussed how there may be too many small coin shows and clubs (particularly throughout Northern California) and that perhaps they should try and combine shows and clubs so as not to dilute the regional market with too many small shows. However, we discovered that too many club members are entrenched in their "own" turf and don't really want to "share" their shows or hold them in another club's venue. Unfortunately, it's this way of thinking that will eventually end some of these smaller clubs.
I specifically discussed different ways I thought we could market numismatics more to women (which also applies to our youth) by welcoming them at shows and clubs, helping to mentor them, engaging them, making them feel less intimated, introducing them to other forms of numismatics that they may find more appealing such as love tokens, encasements, penny teapots and charms, pop outs, elongates, etc. The main theme of my talk involved being a mentor as I feel that after getting new collectors in the door, in order to keep them engaged and interested, we need to make sure they have someone they can turn to, ask questions of, and not feel intimidated by who will help guide them as they grow their passion and collection.
After the four speakers were finished, we had a panel discussion where we all took questions from the audience. There were almost 50 people in the audience, many of whom had various questions about how we can make the hobby better.
After the seminar ended, we went back to the hotel to freshen up before the banquet. Then we all met at a wonderful Italian restaurant along the harbor for dinner which was entirely and generously sponsored by James Laird.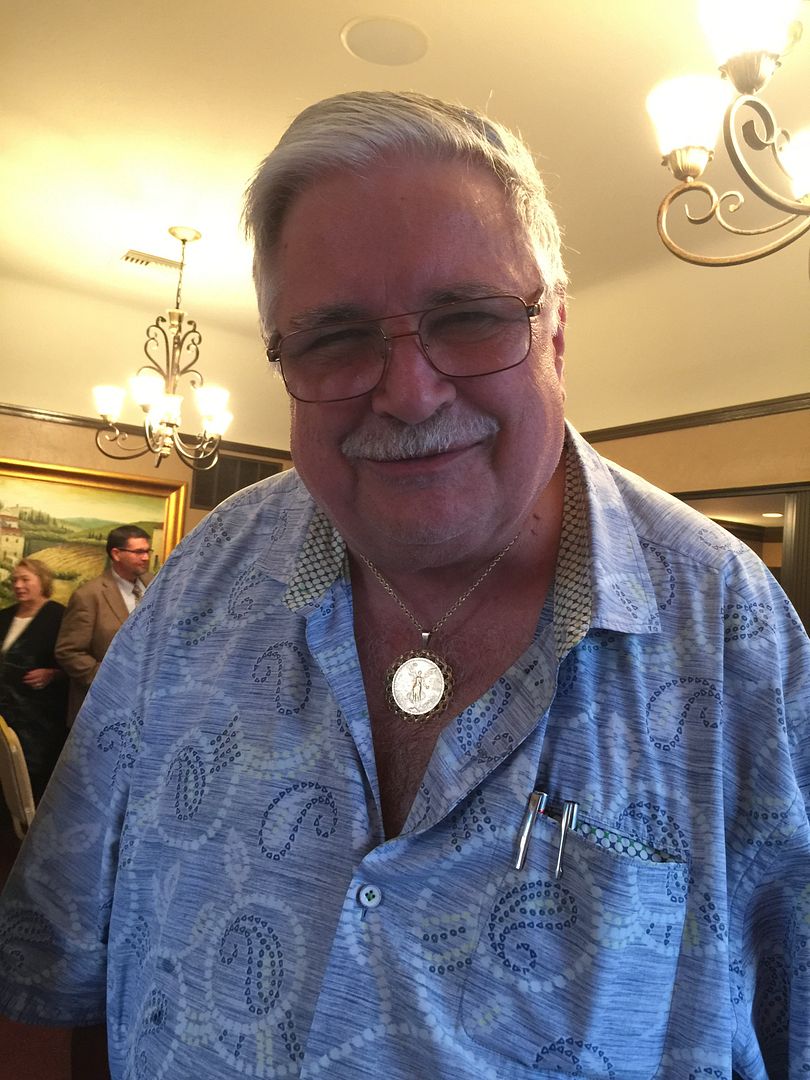 Coincidentally, during my talk, I showed photos of some of my exonumia, including a 1900 celluloid encased Indian cent political charm with a photograph of Roosevelt and McKinley on the other side of the charm.
After my presentation, James walked up to me and showed me a very similar charm he had in an airtight container attached to an original red ribbon bow hanger. This had belonged to James' grandfather and had been handed down to him. I had never seen this charm with the original hanger before and was so very pleased to see one.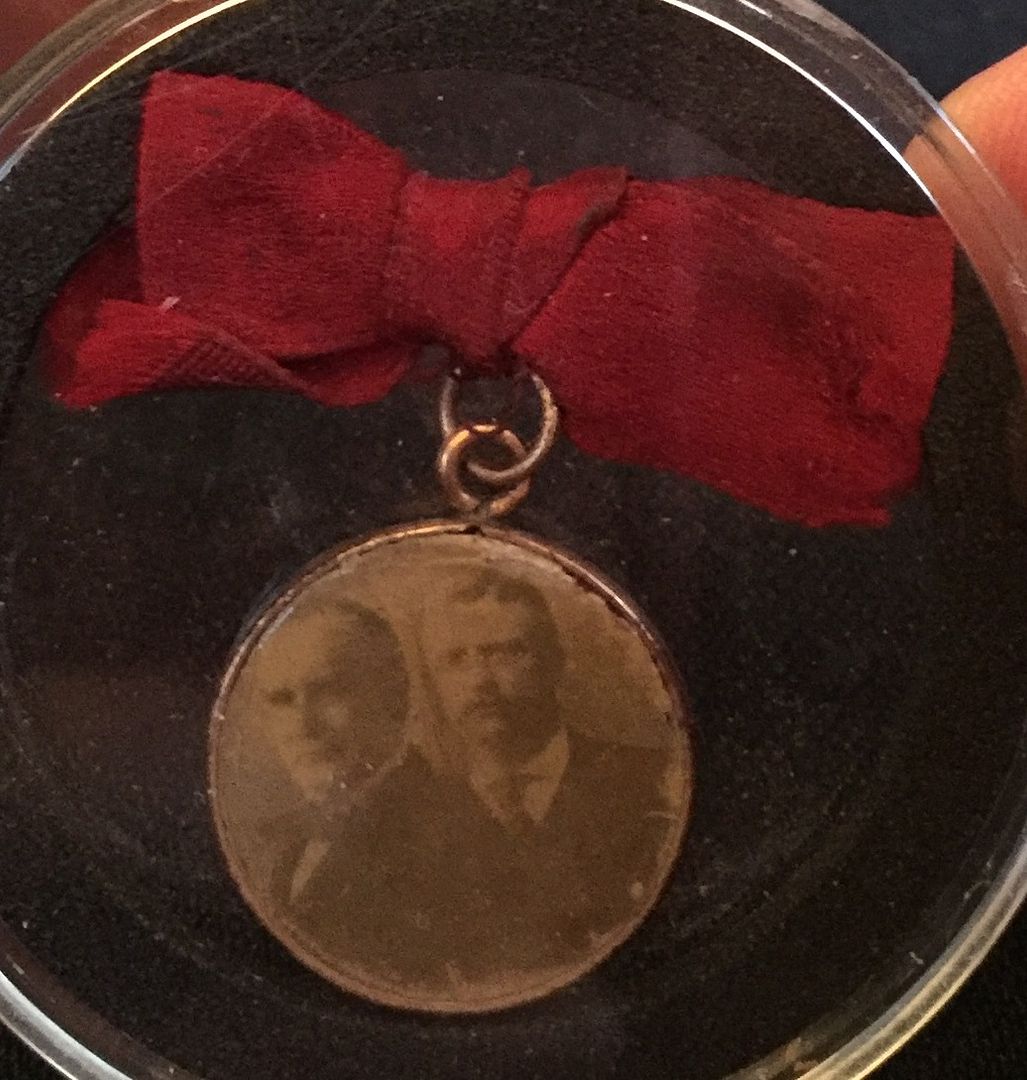 I must say that I have never enjoyed a symposium as much as I enjoyed this one. Everyone was so completely kind, generous, engaging, welcoming, and gracious to each of us presenters. Not even counting the Napa/Jelly Belly tour, if every numismatic speaker was welcomed even half as much as we were, I don't think any club would ever have any problems finding speakers!
Thank you so much Michael, James, Lloyd, Xan, Fred, and all the other patrons and benefactors for one of the most fun and memorable numismatic experiences I've had! I am grateful to you for all of your hospitality and am honored to have been able to spend time and get to know each of you. Thank you!!
Charmy Harker - The Penny Lady®
President of Women in Numismatics
ThePennyLady.com