Home
›
More stuff!
Zot
Posts: 825
✭✭✭
Keen to get some gold (it's been a while!), I headed out to my usual beach last night:
-The positive: I had plenty of time - all night if I wanted to
-The negative: It was raining every single second I was out, and I mean absolutely pouring
I didn't bring any extra electronic gadgets (phone/camera) due to the lousy weather. I suppose a picture could have been interesting. It would certainly have confirmed how crazy I am.
You'll have to imagine rain pouring down and one soaking wet squirrel digging holes.
I lasted about 4 hours digging, 10 PM – 2 AM. Didn't see another soul. I doubt even dogs were too keen for a walk that night.
...But did I find anything?...
Yup.
I'll start with the
bad stuff:
Lots of big crusty stuff, screws, other bits and pieces...
Also note the annoying ring-like targets at the front.

After about 2 hours my machine suddenly died. Out of battery. The White's PI can surprise you this way; everything is working perfectly, and suddenly there's nothing. Not even the faintest beep. It literally stopped right in the middle of recovering a target.
I always carry extra batteries (in a watertight bag), but how would I do a battery swap in this weather?
I took off my jacket, covered the control box with it, and managed to swap the batteries by fumbling blind with my hands under the jacket. Fiddly stuff. I really must be crazy.
The crucial part was keeping track of which way each battery was supposed to go in, and which ones I'd already swapped (old and new batteries were identical). Got it done without getting the inside of the machine too wet (I think).
The machine roared back to life. Sweet!
Some better stuff:
Hmmm… OK, there are some coins here, but nothing great. Is this really all I would get?
But wait, there's more!...........
The 2nd target right after swapping my batteries was this one:
18k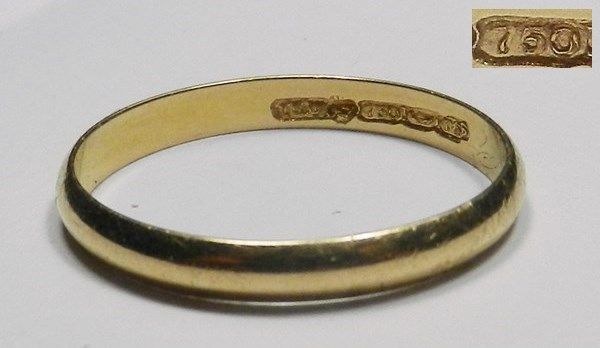 It's a skinny one though. Quite big in diameter, but weighs only 2.83 grams. When comparing it to other rings, it's obvious how thin and narrow it is. It's like the ring-equivalent of pcgs69's pike in the corn field the other day (which looked quite skinny to me)
Here's a side-by-side with another 18k ring of similar size, but that's much thicker and heavier (7.6g)
The markings show exceptionally poor workmanship. They've been stamped twice, which makes everything a bit mushy. They didn't get them straight the first time, and the second attempt conceals it, sort of.. as long as you don't look too closely..
The "doubling" clearly shows at the end:
The date stamp is T6, which is 1948. The year fits the low weight: postwar 1940s were lean years indeed. I also wouldn't be surprised if a discount was given due to the messed up markings. Still, no self-respecting goldsmith should have let this leave his shop!
Now that I got some gold…….. I need more!

-Z
Minelab: GPX 5000, Excalibur II, Explorer SE. White's: MXT, PI Pro