Home
›
U.S. Coin Forum
Charmy's June 2016 LONG BEACH SHOW REPORT w/lots of Pics!

ThePennyLady
Posts: 4,029
✭✭✭✭
I apologize for this report being posted much later than usual. I also apologize for this report not being as "coin intensive" as usual. We had a little setback with my hubby the past couple of days. As many of you know, Lou was in a terrible accident and broke his neck during an off-road race in Mexico while I was at the Central States Show. He is now in a halo device and has adjusted to its limitations very well.
This past weekend we noticed that the holes where the halo is attached to his head became infected, so we spent Monday in the ER getting the infection under control, then Tuesday at the neuro doc deciding how to proceed. We had a few options, but Lou chose the route that would give him the best opportunity to avoid surgery and allow his neck to heal, which was to remain in the halo. However, the screws in the infected area had to be removed and new screws had to be screwed in his head next to the old holes. It was an extremely painful process, even with numbing medication injected into the areas around the holes, but Lou is really tough and made it through. He is doing fine now, taking it easy, and is on antibiotics. We go back for a new CT scan in a couple weeks and will see where things stand at that time. Again, thank you everyone for all your thoughts and prayers, we sincerely appreciate them!
Since Lou's accident, I cancelled all my travels and shows so I could stay home to help him. So I have been working on a new exhibit for the Anaheim ANA this August. It will be called "Penny Pots and Pins made by Offenders and Defenders" and will focus on the tiny penny teapots and charms made by prisoners in the 1930's-1940's and also the penny Victory pins made by soldiers during WWII, some of which also had teapots and charms attached to the Victory penny. Although this exhibit will have some of the same material as my last "Penny Potpourri" exhibit, it has a several new and different pieces, as well as a lot more detail on the history and background of the teapots and pins. So if you plan to attend the Anaheim ANA, I hope you will take a few minutes to view the exhibits!
Although I am still working on it and still have some items and photos to add, and I will inevitably change it around a little, here is a "rough draft" preview of my new exhibit so far: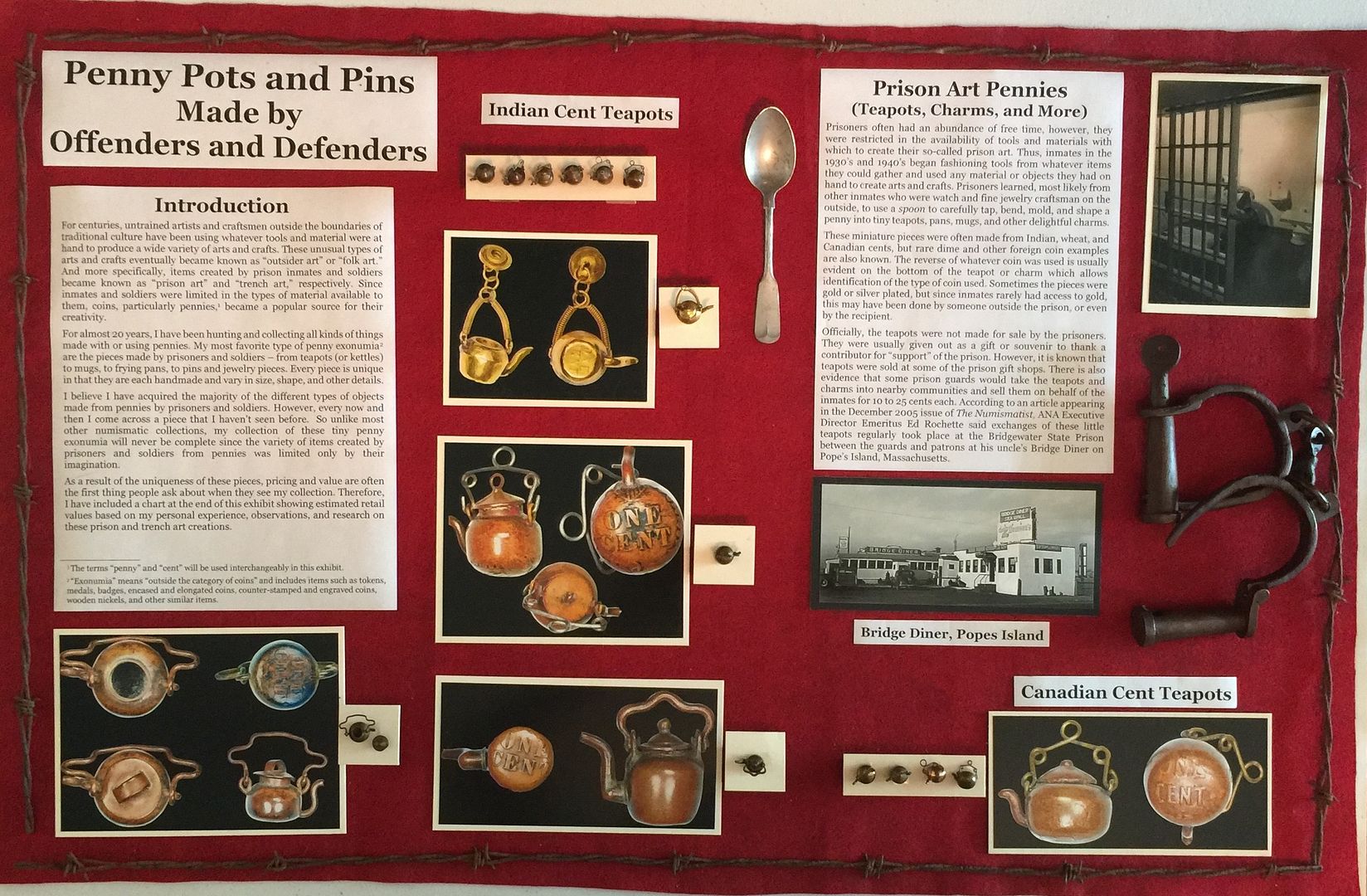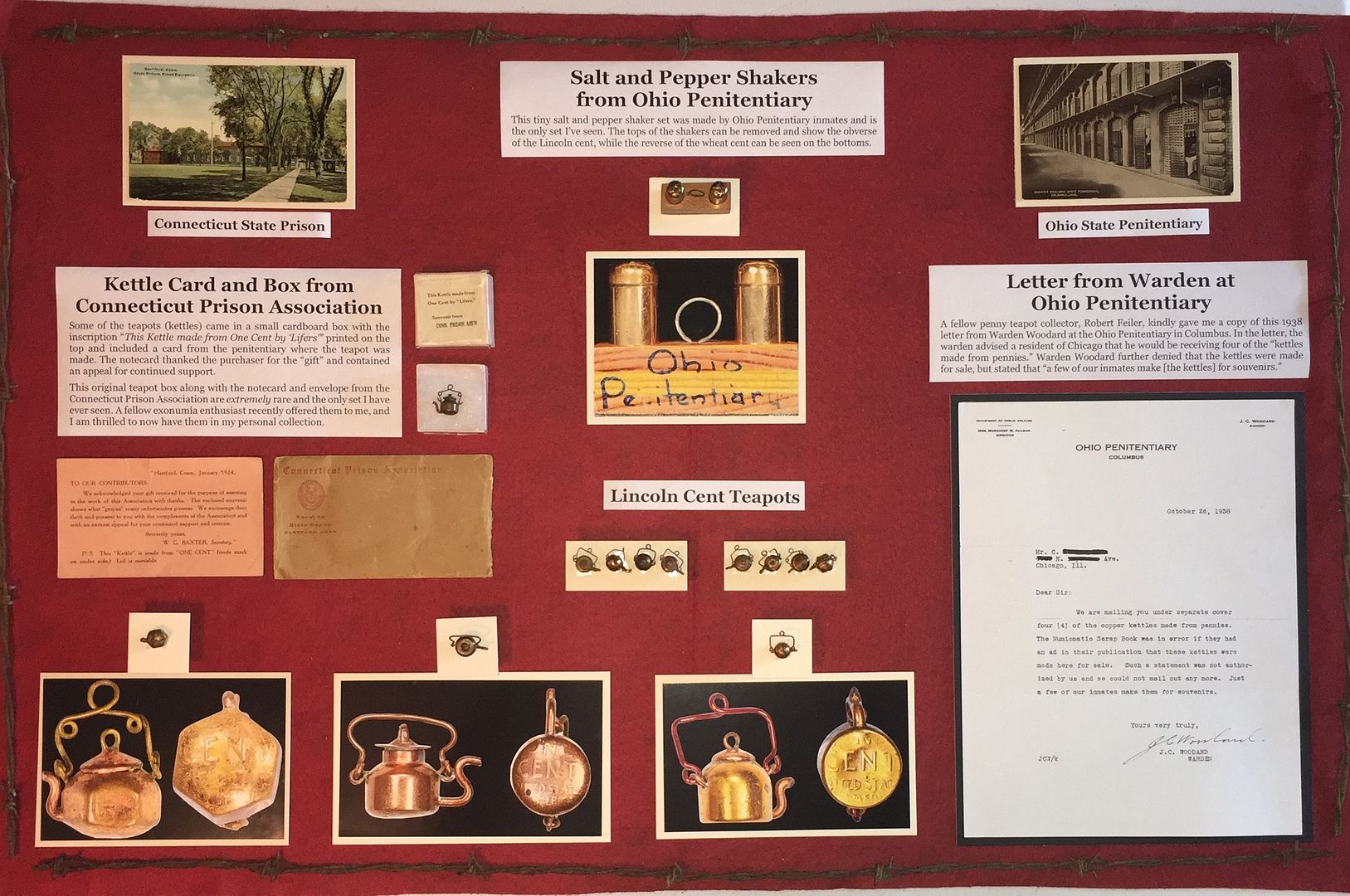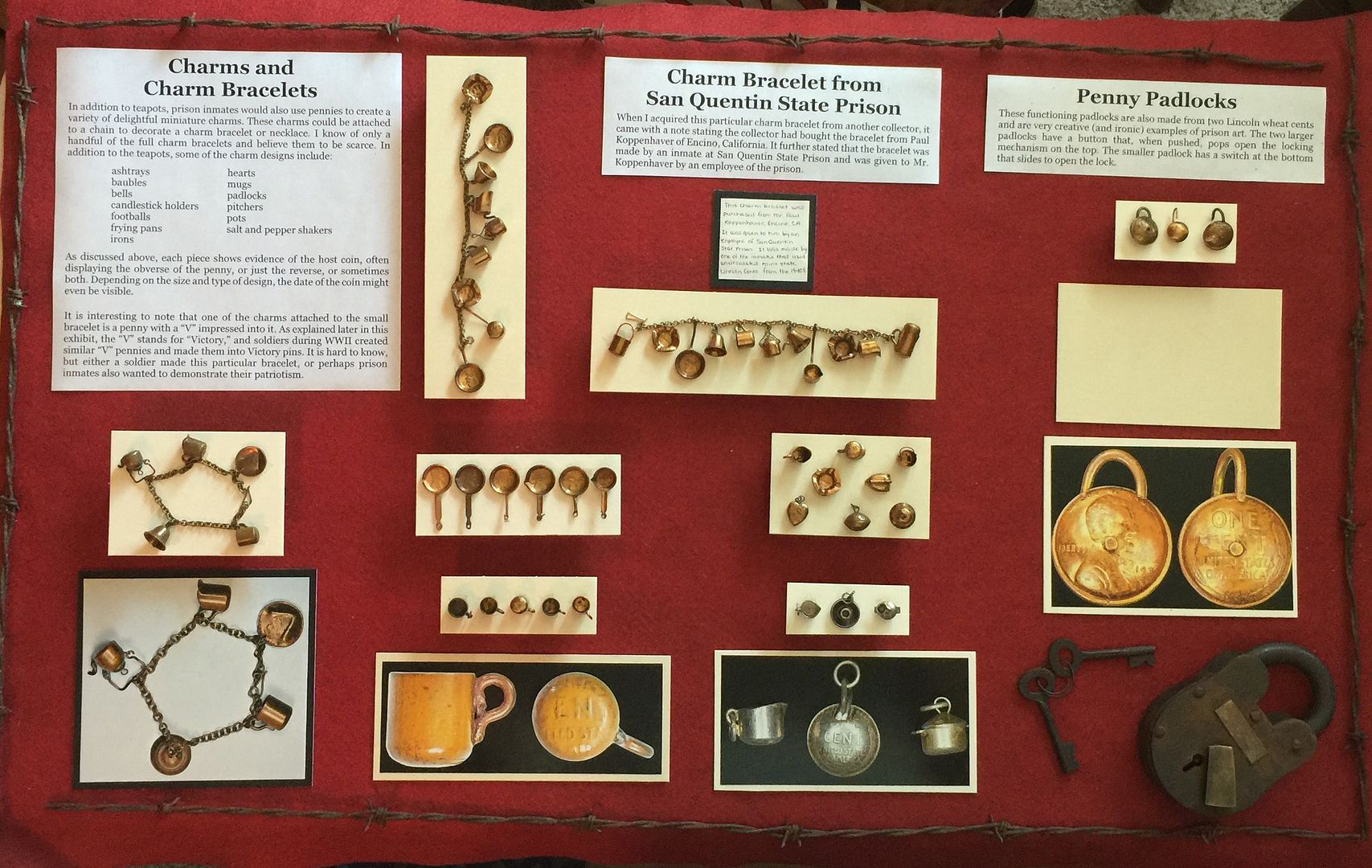 I welcome any comments and suggestions you may have.
Just prior to the Long Beach show, Rick Snow and his son Kenny arrived in SoCal early to conduct some pre-show business. Our family usually gets together each Sunday evening for dinner, wine, and to watch Game of Thrones together. So knowing that Rick is also a GoT fan, I asked them to join us on and we thoroughly enjoyed the exciting GoT episode!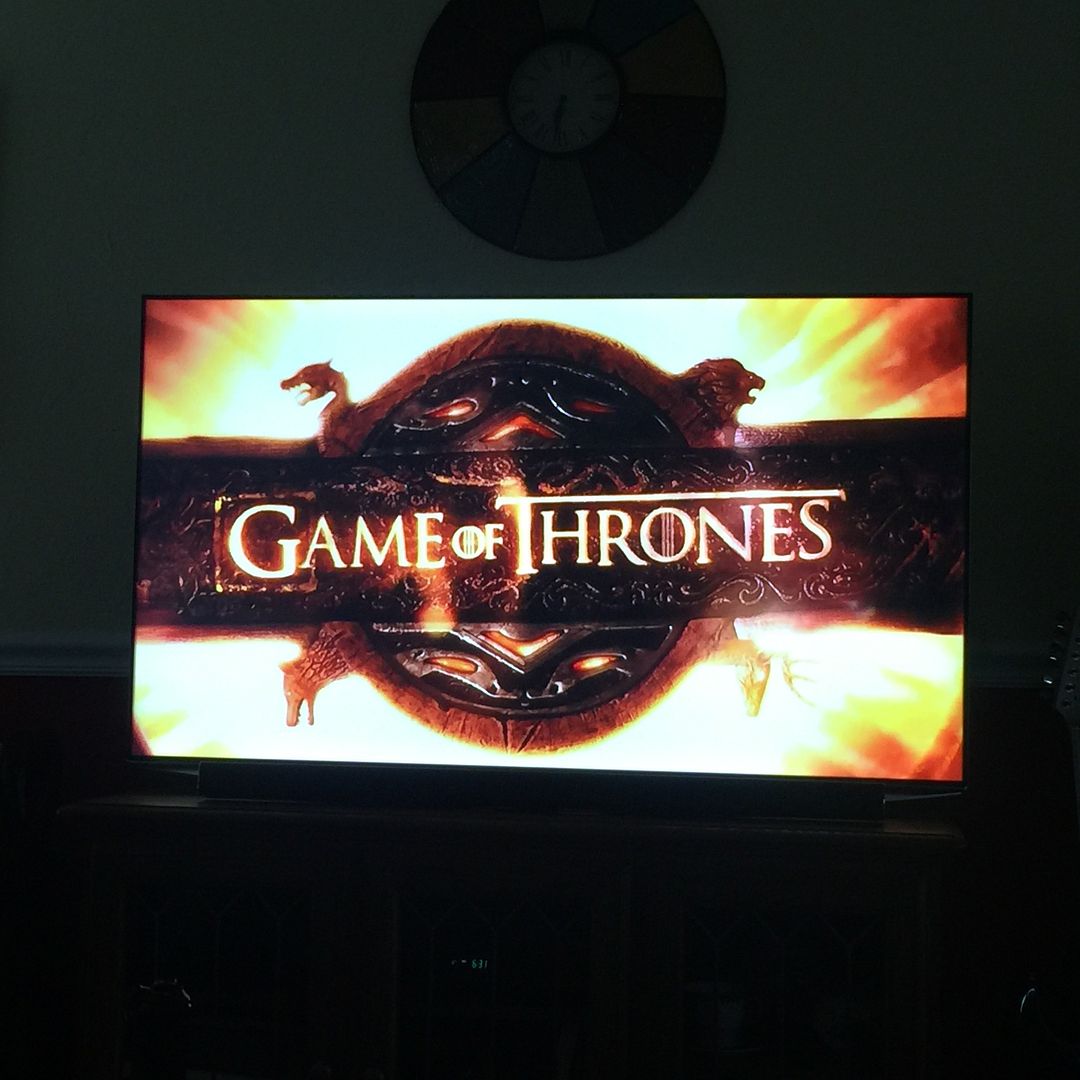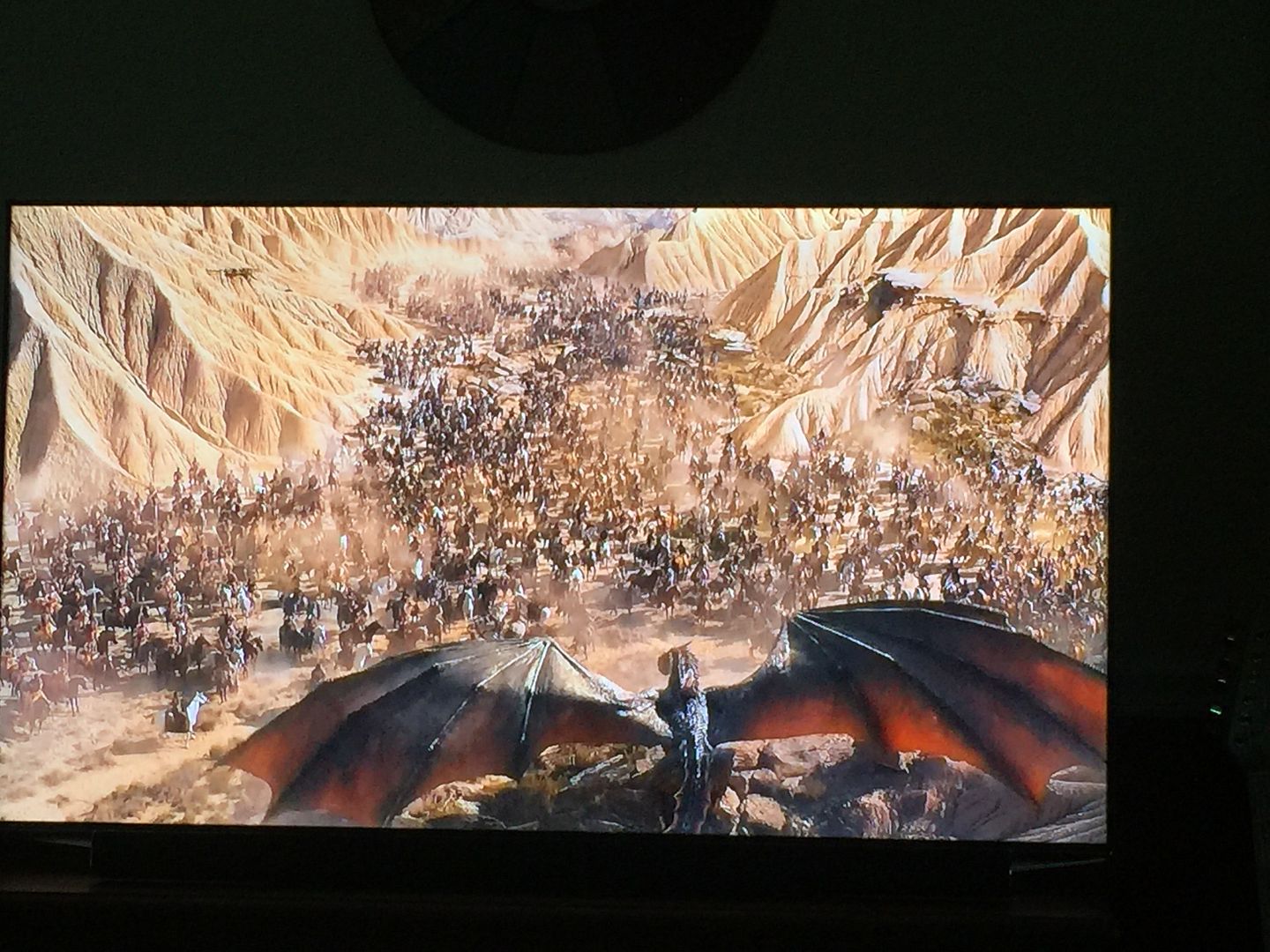 Rick and Kenny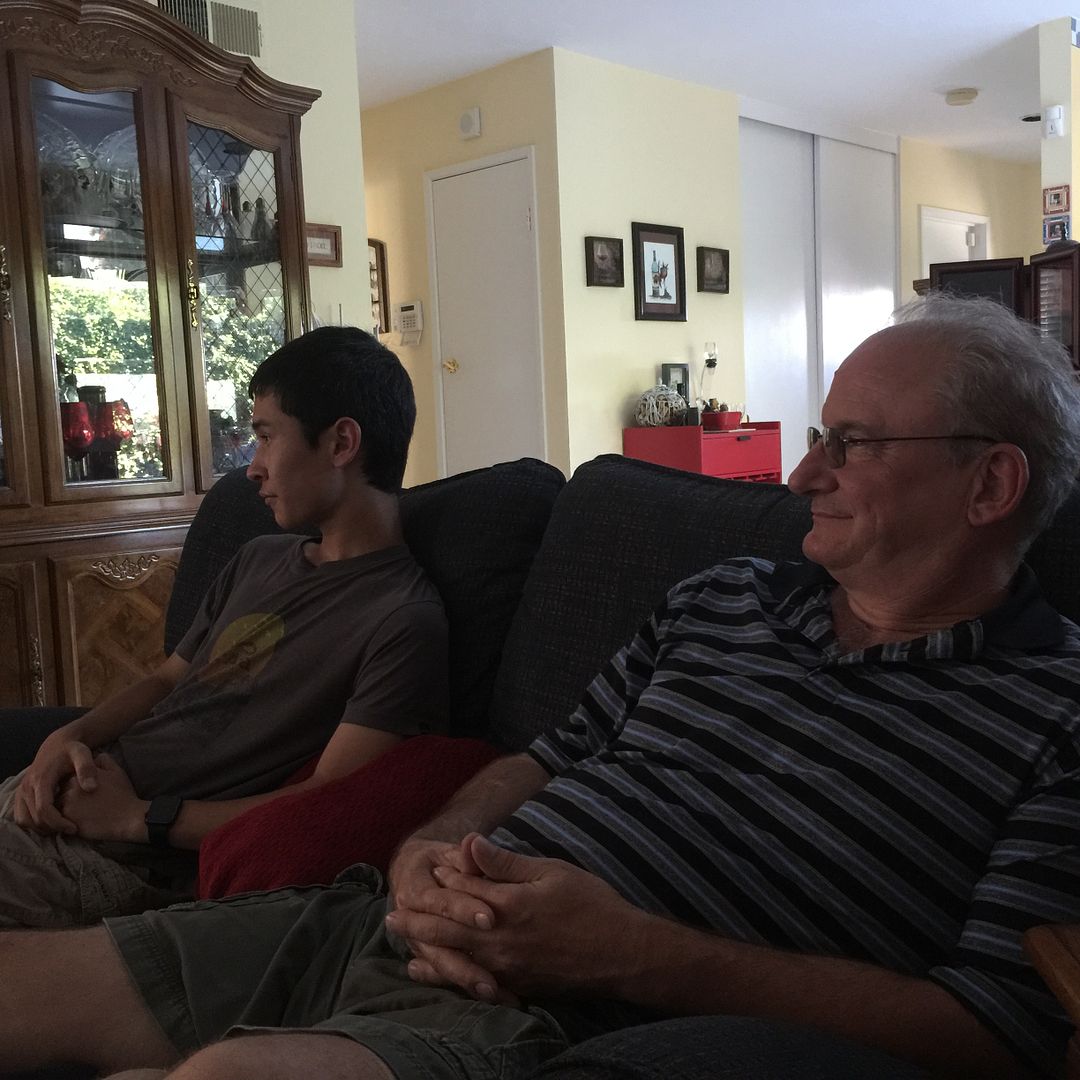 Penny made herself comfortable next to Rick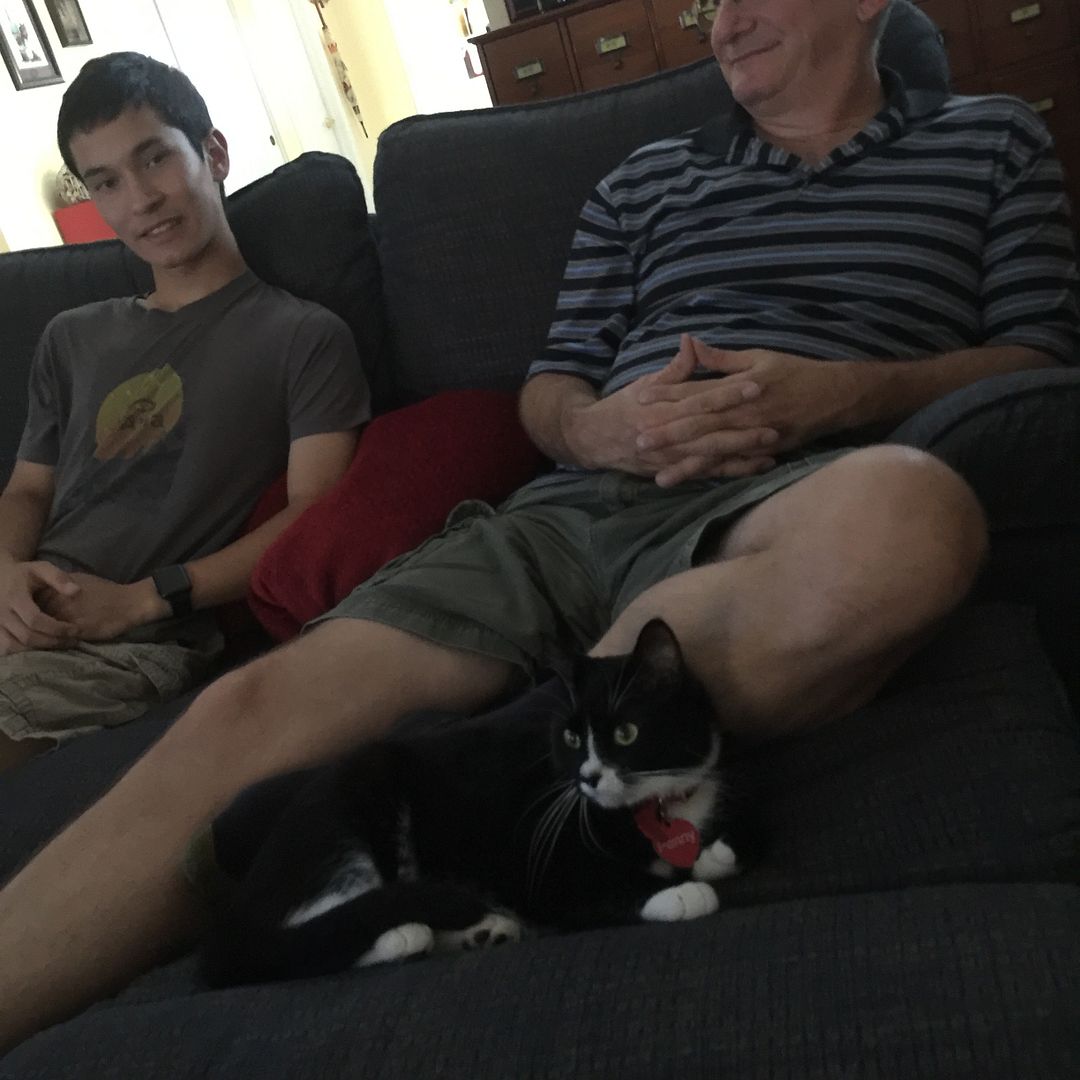 My son Erik and his wife Darlene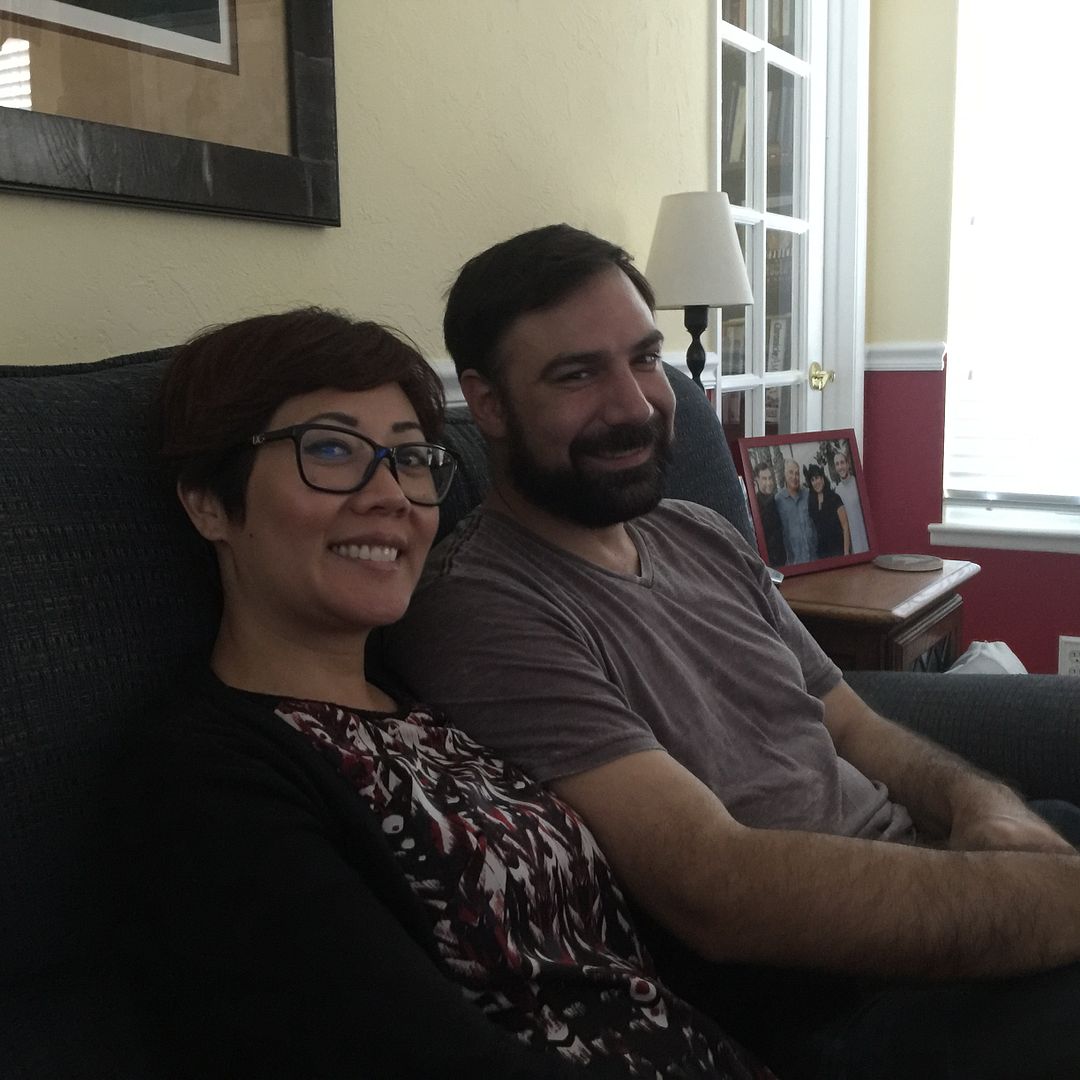 Lou
We also enjoyed this nice bottle of wine during the show
Now for the show report. I decided to keep the Long Beach show on my schedule since it is close enough that I could return home each night. Since I haven't done much with coins over the past several weeks, I was especially looking forward to being back in the coin environment!
June mornings always start out gloomy in SoCal, but it burns off by noon.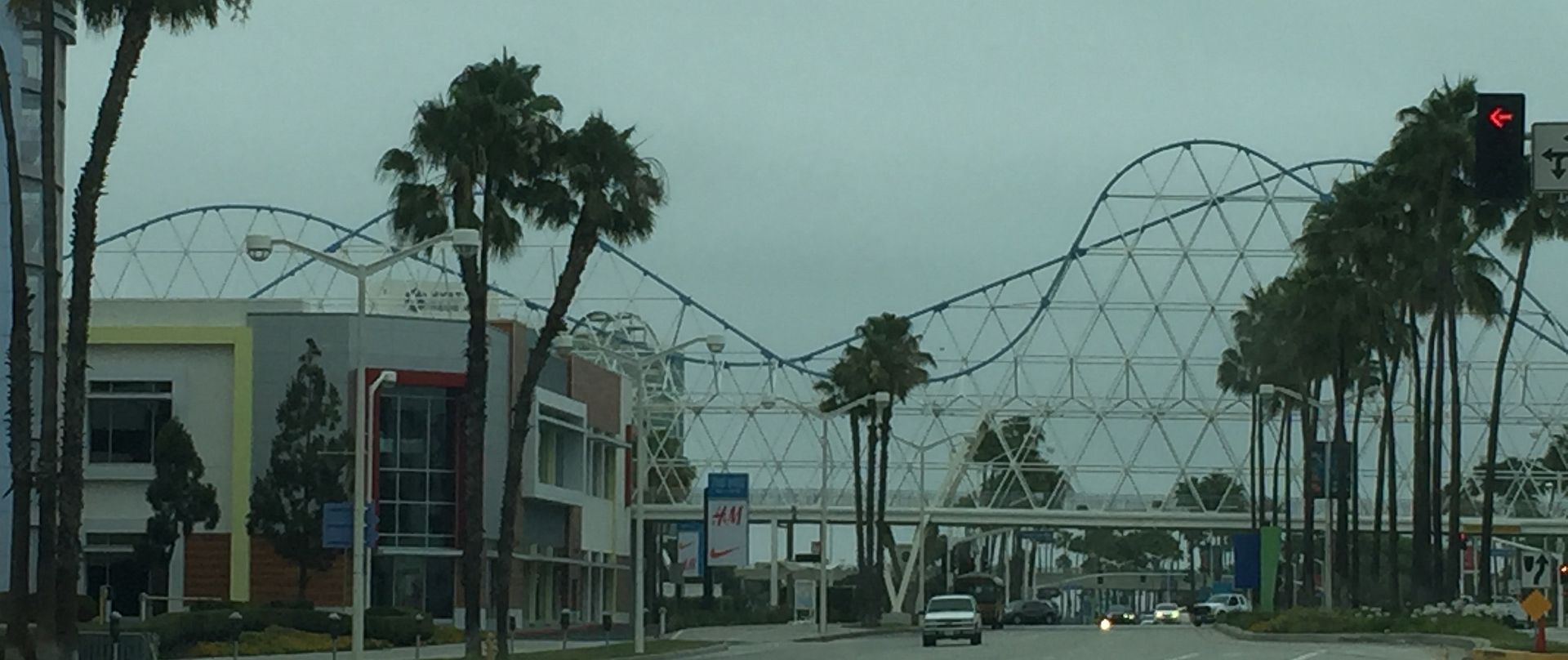 This photo is courtesy of Rick's son, Kenny!
I arrived at the convention center as usual Wednesday for set up at the back loading dock area. Unfortunately, there was a lot of construction along the street behind the convention center and the parking garage was closed at one end which meant everyone had to park at the far end of the parking structure and walk a little ways to get to the convention center. Also, for some dumb unknown reason, half of the loading dock was blocked off which meant that only half the number of vehicles could be let up the ramp at one time to unload. Therefore, it took all the dealers who drove to the show several hours to unload and set up. Luckily, I had arrived early and was able to get up the ramp in a reasonable amount of time. I unloaded quickly, moved my car, and began setting up my booth.
As usual, I did the bulk of my buying on Wednesday, including a lot of new raw material. Here are the certified coins I bought throughout the show.
PCGS sponsored their popular taquitos and beer during set up day, and it was thoroughly enjoyed by many!
After the show, I headed over to the parking structure by way of the building in between the convention center and the parking structure. I found this plaque next to a small park on the roof next to the convention center.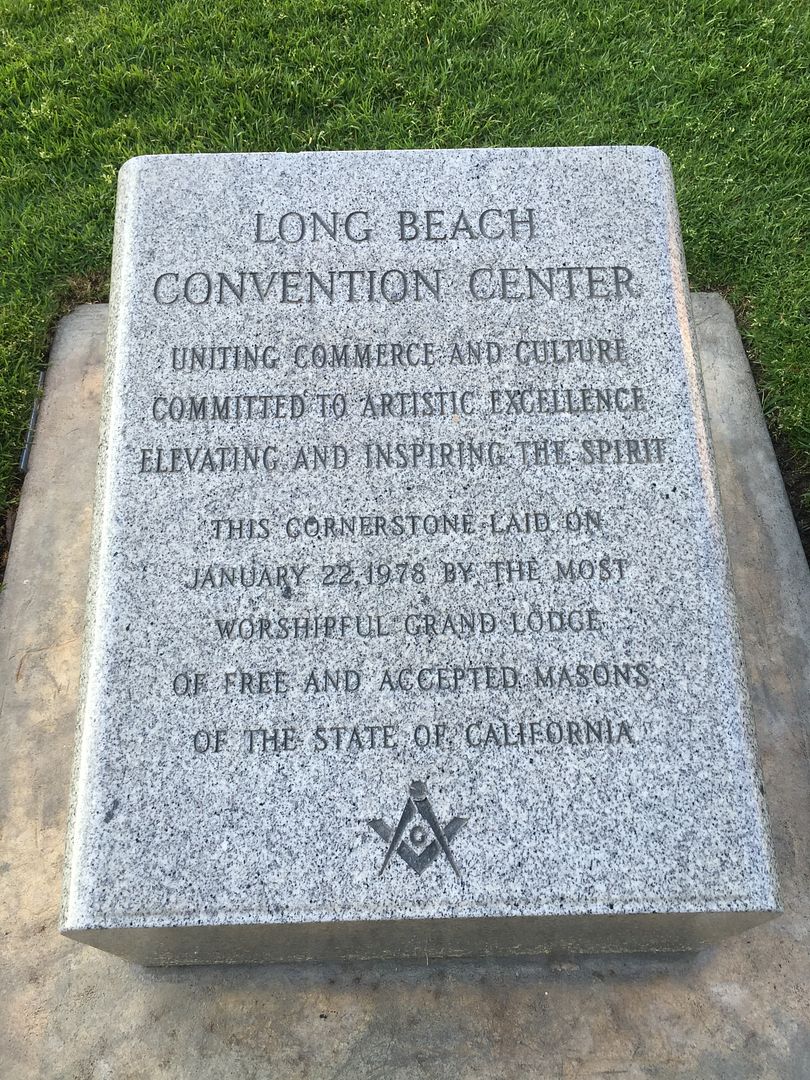 This is a view from the roof looking towards Ocean Boulevard and down town Long Beach.
Looking towards Pine Street
That's the convention center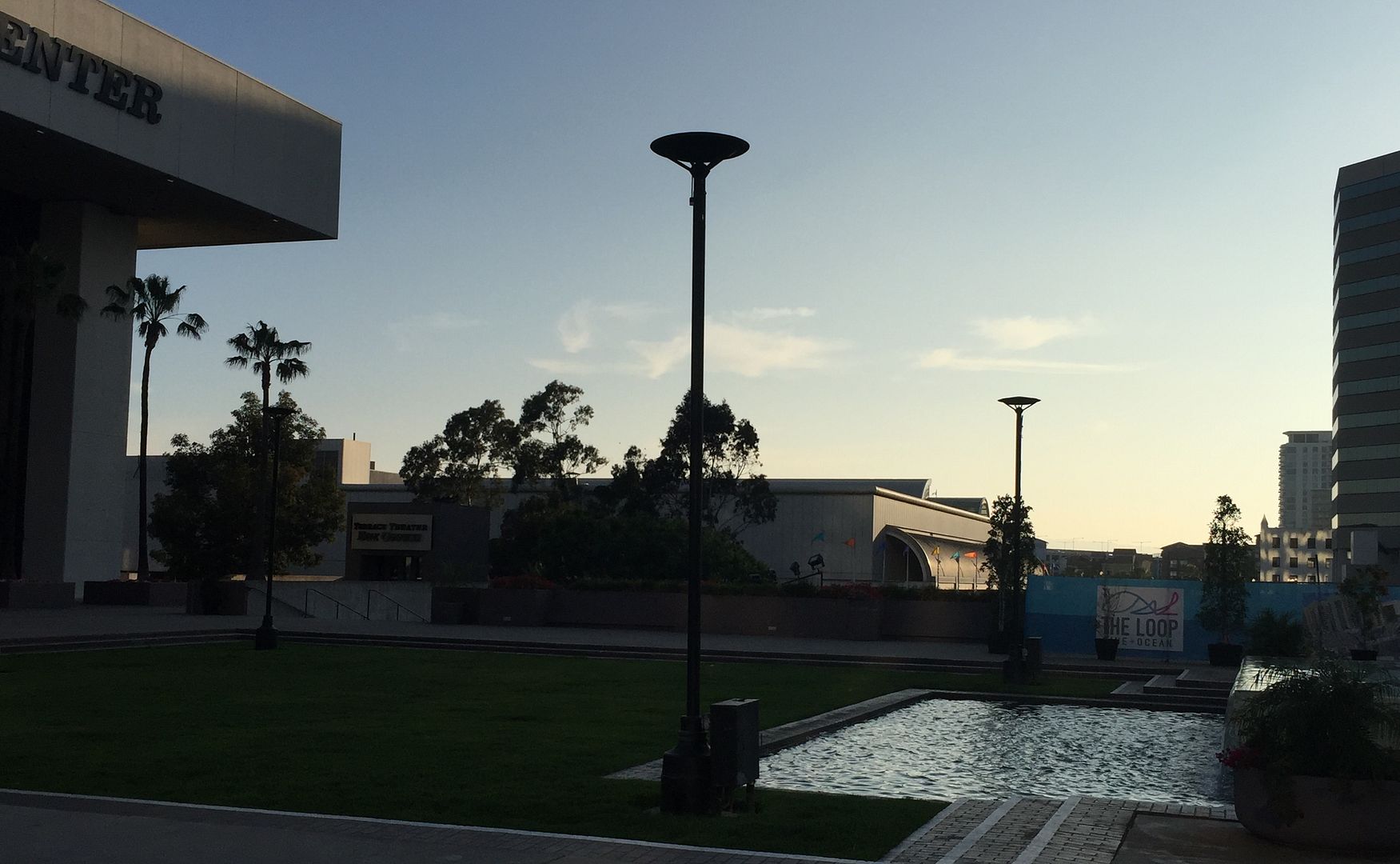 The back side of the Aquarium of the Pacific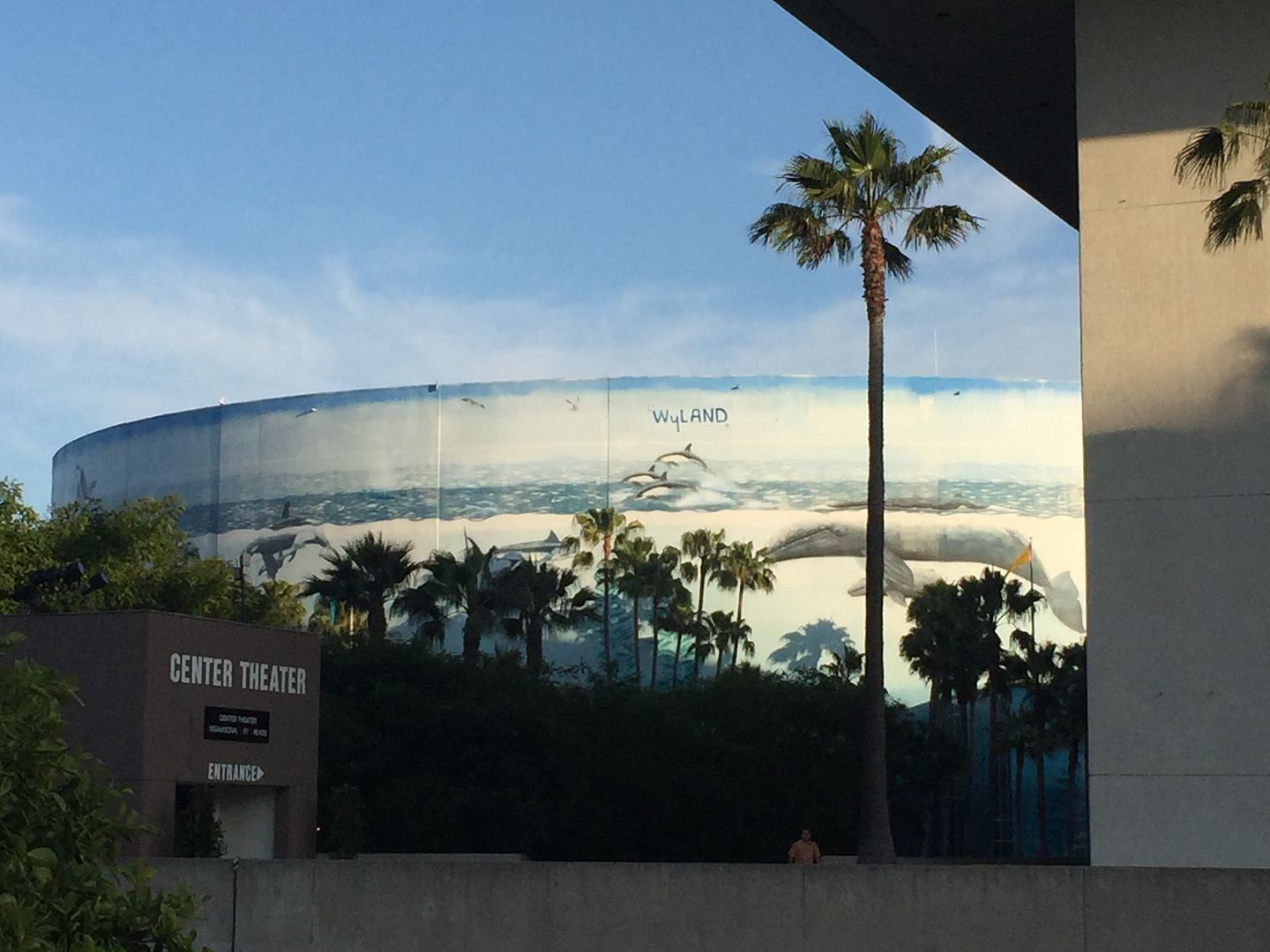 Then I headed over to our usual Wednesday night restaurant, Café Piccolo.
Ron Guth and Jeff Garrett joined us this time and we greatly enjoyed their company.
This is my booth helper friend Rich and my friend Karl Stephens who is a foreign coin dealer. FYI, I'll elaborate more later, but Karl is the one who was instrumental in identifying the coin thieves that were literally taken down by the show security on Friday.
Karl's wife, Joanne, and me!
Each of us brings a bottle of wine to share with everyone, and of course, we had a great variety!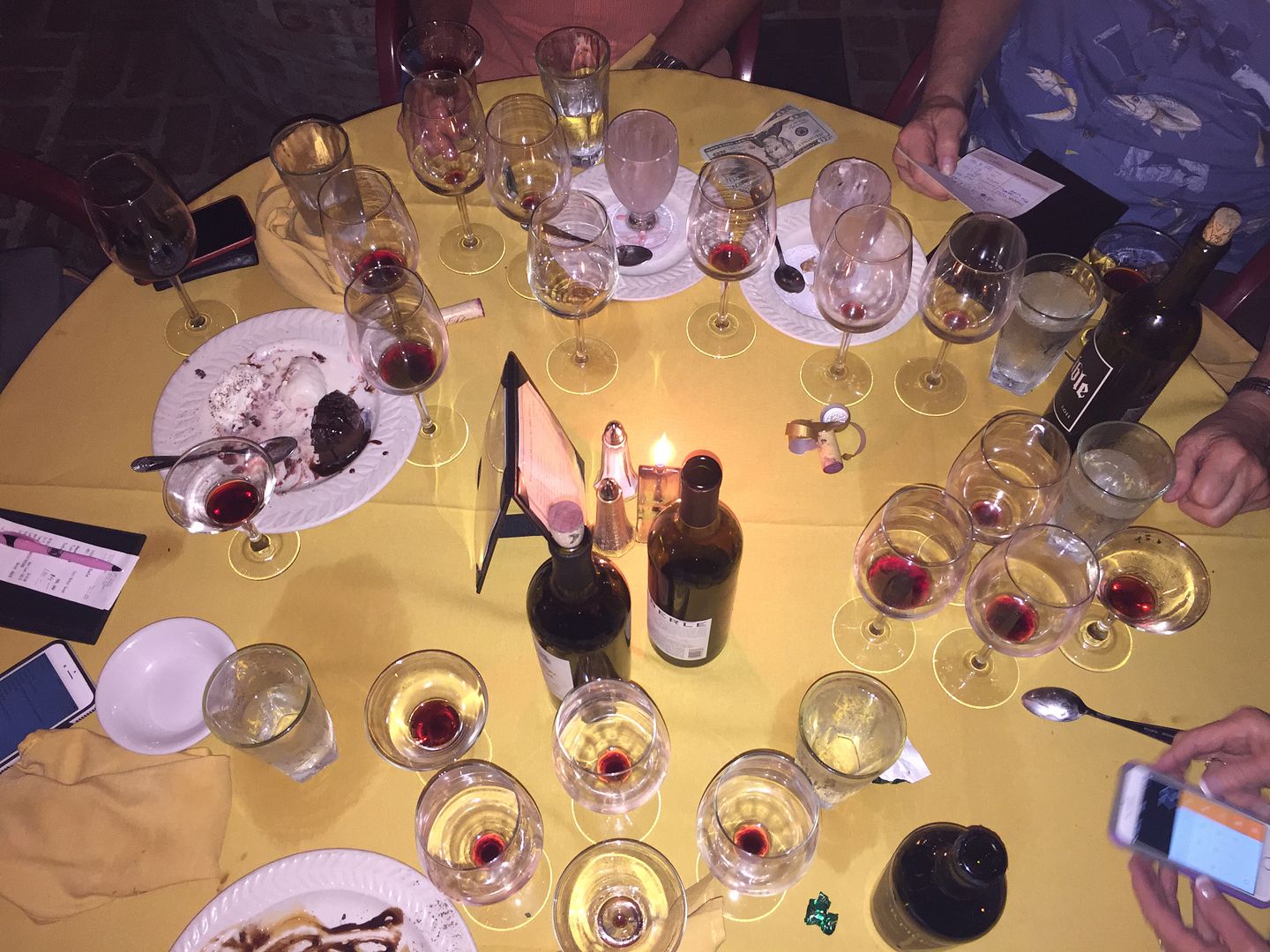 Joanne and I had our usual delicious goat cheese chicken dish. If you ever get to piccolos, I definitely recommend it!
Thursday morning began with a bang, it was busy right from the start. I was pleased to see regulars and new customers who stopped by to add to their new pennies to their collections. I was pretty busy for the better part of the day so I didn't get around to take many photos at the show.
One of my regular customers, Buck, stopped by and brought me this very wonderful bottle of Washington wine, which I saved for later!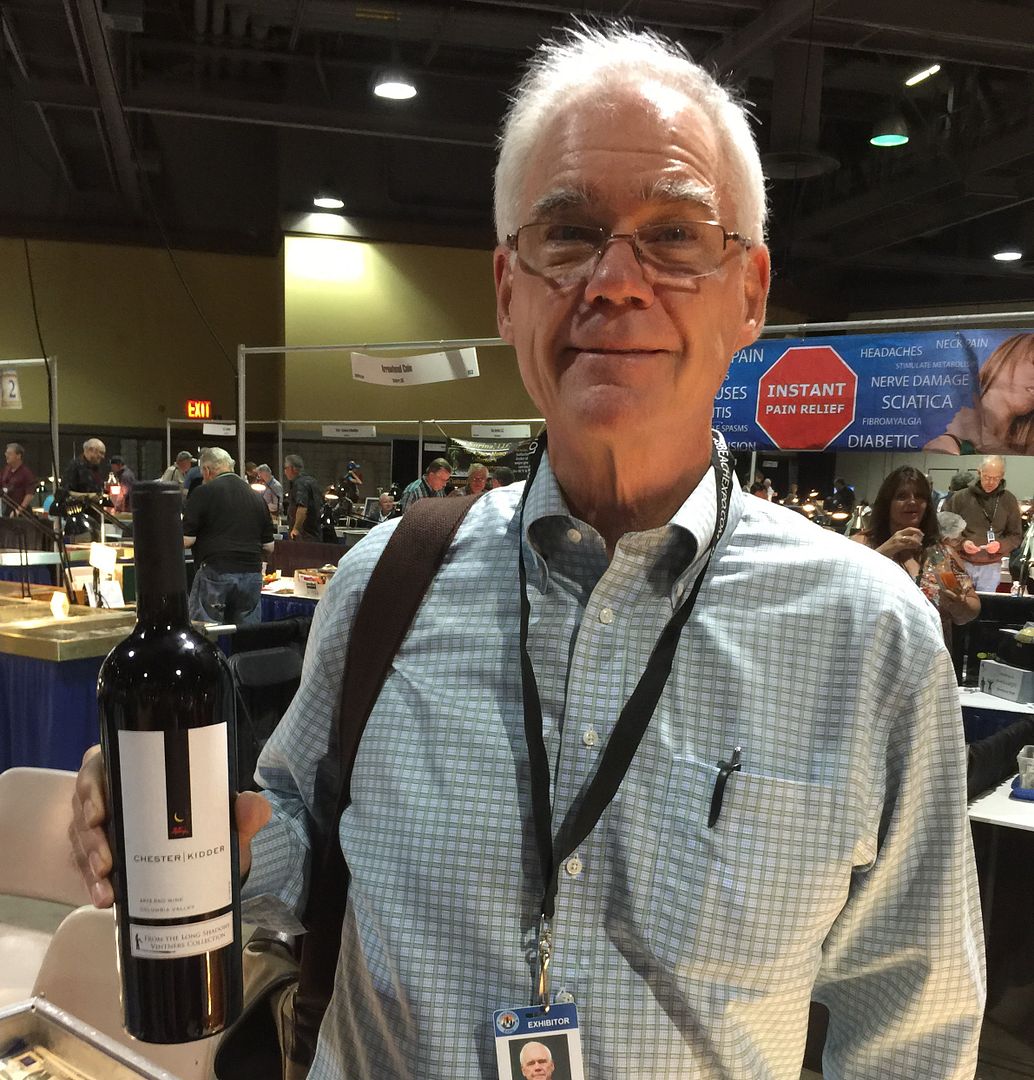 PCGS was giving out these beautiful commemorative medals for submissions of 20 or more coins.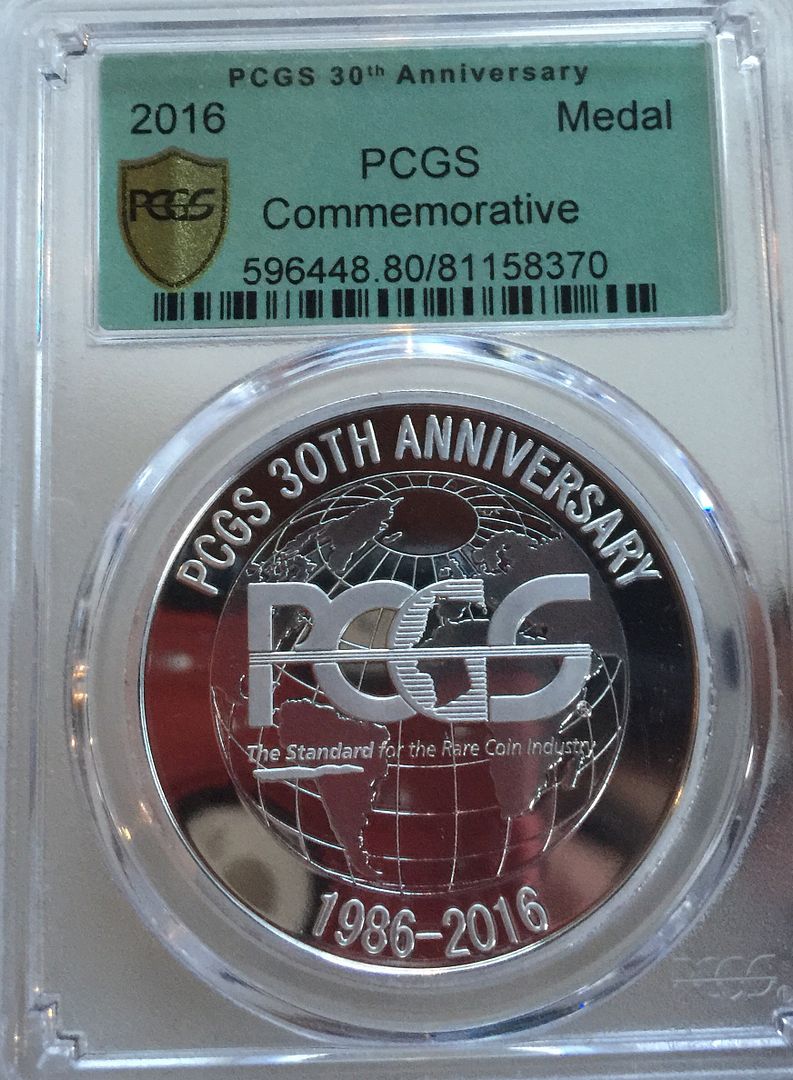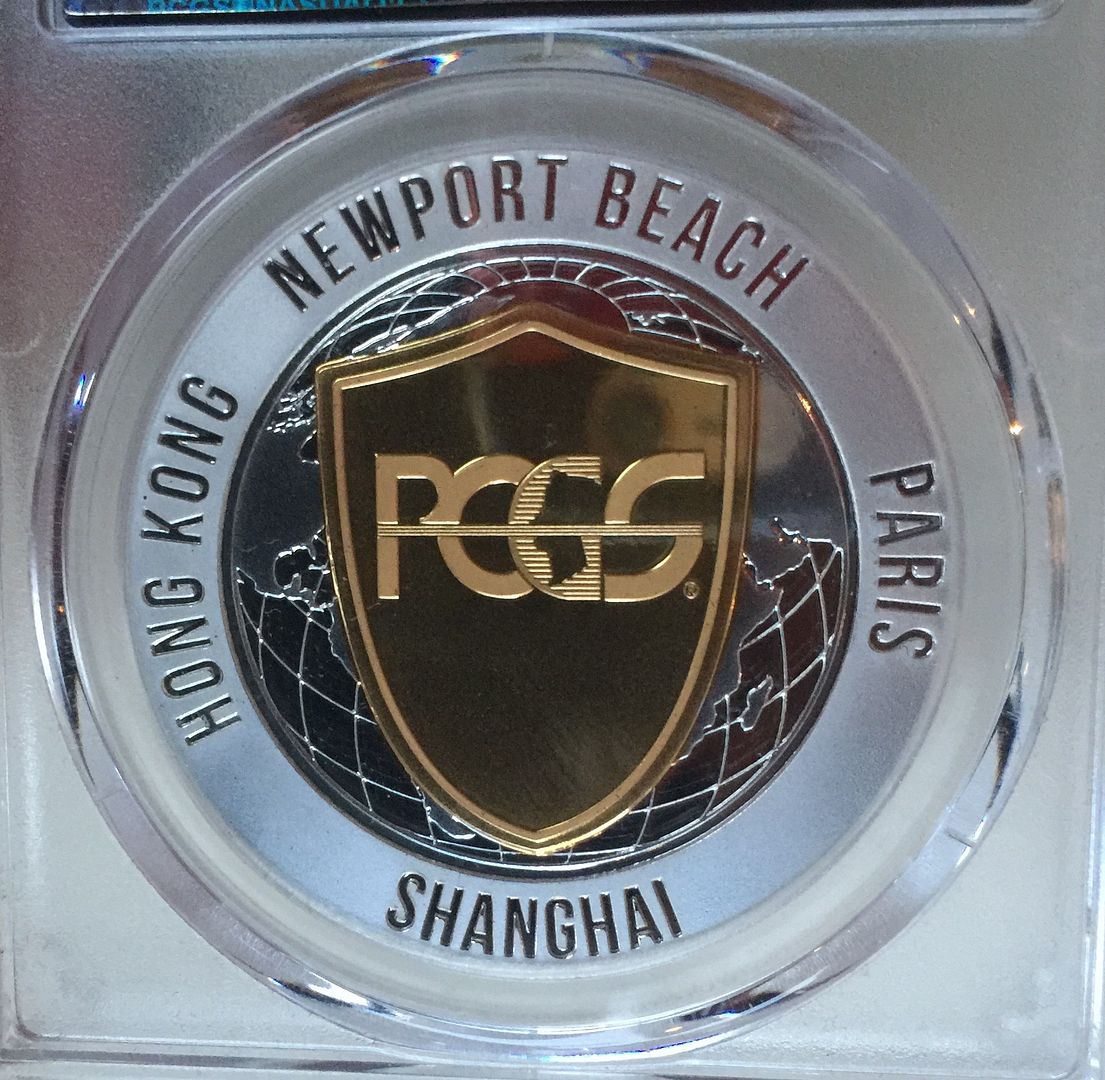 They also had a table of "swag" where you could purchase shirts, hats, blankets, and other PCGS accessories. I picked up one of their caps!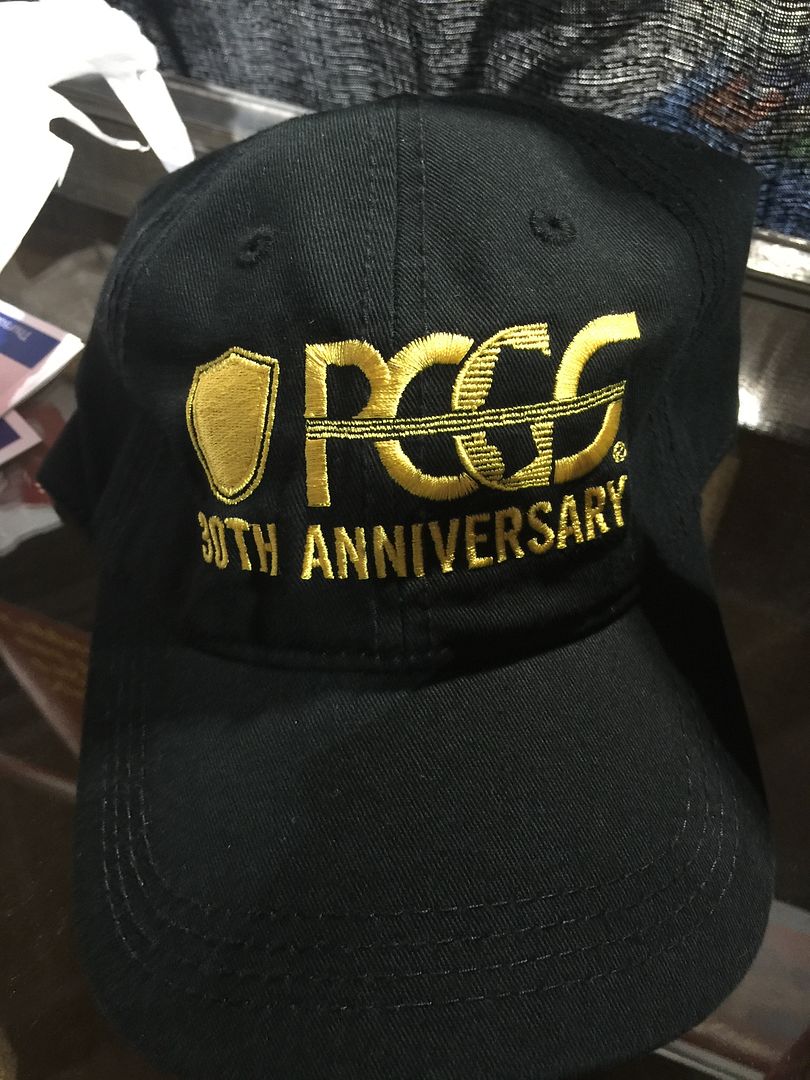 After the show on Thursday, I attended a memorial dinner for my mentor, Alan Kreuzer, who passed away a couple months ago. If it wasn't for Alan, I would not be The Penny Lady! Alan's daughter, Chaundra, and Alan's good friend, Don Ketterling, put this event together to celebrate our friend Alan. Alan was also one of my wine mentors and had an extensive "cellar" of wine that I understand he kept in an old Helm's Bakery truck that had a cooler. So they served several of the wines directly from Alan's wine collection.
I have had several great wines over the years, but I have to say that this Caymus is at least one of the best, if not THE best wine I have ever had!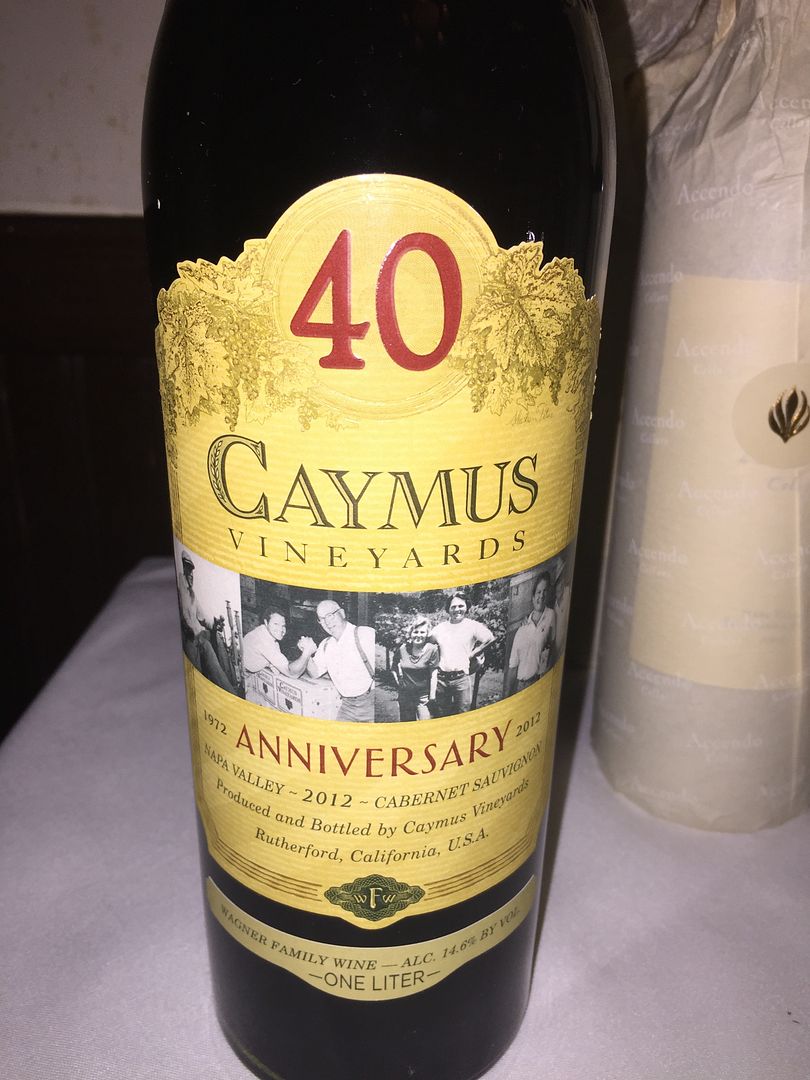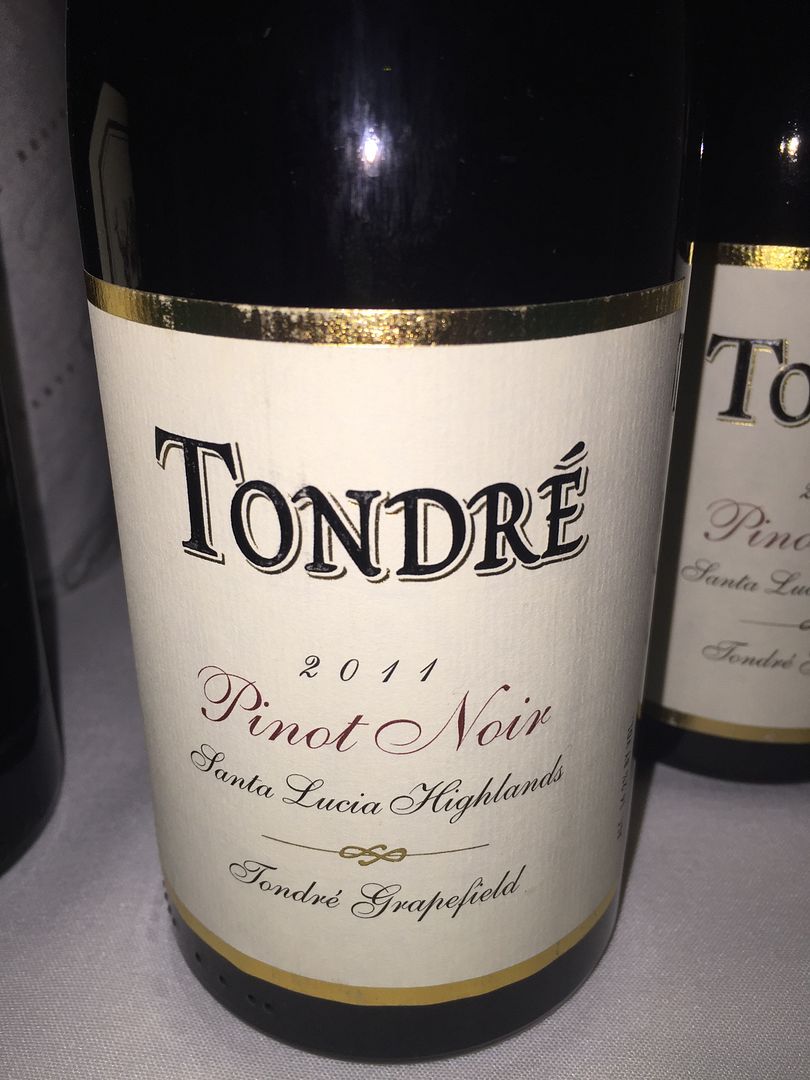 Last month I wrote an article for the Fly-In Club's Longacre's Ledger to honor Alan and, if you don't mind, I thought I'd share it here:
**********************************************************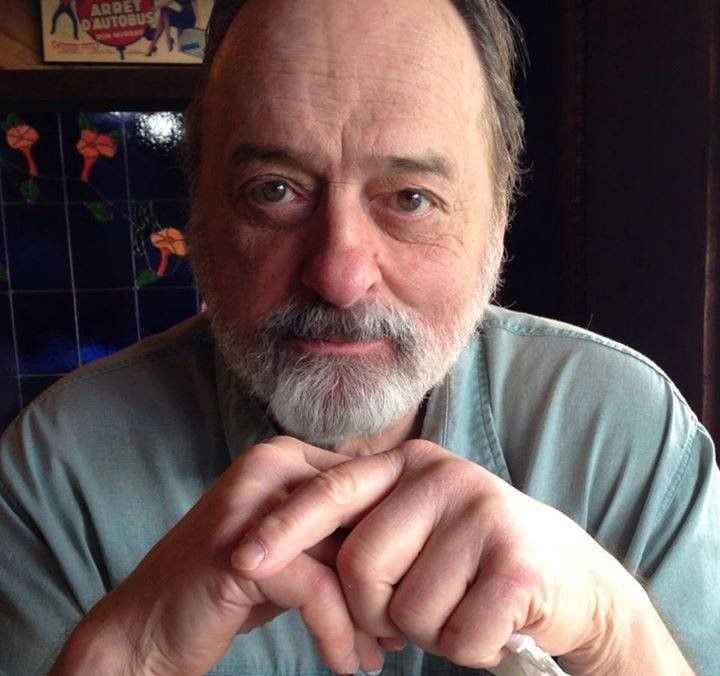 My Mentor
Several years ago, I published the story of how I got my start in numismatics in the Longacre's Ledger. For those of you who may have read it, you may recall that I didn't become involved in numismatics until I was an adult when I inherited coins from an aunt. Not knowing anything about coins and not wanting to get "duped," I decided I needed to learn all I could before selling them. Having a full time job and a family, I didn't have a lot of extra time to learn about all the different types of coins I'd inherited, so I decided to start with one series, the Indian cent, and learn it really well. That meant, studying, reading books, viewing grading videos, attending shows, examining lots of coins, and most of all, speaking with knowledgeable people.
Being from Southern California, I decided to go to the Long Beach show where I approached and spoke with several kind and friendly dealers, but out of all the ones I met, Alan Kreuzer of Castro Valley, California, was the one who took the time to talk with me, answer all my questions, and teach me about Indian cents.
Sadly, my friend and mentor, Alan Kreuzer, passed away a few weeks ago, and I will miss him greatly.
I have had many mentors throughout my numismatic road but Alan had the largest impact on me. Alan taught me the basics of grading and how to look for good quality Indian cents. I also bought various grades of mint state common date Indian cents from him so I could learn to define the grade levels for myself. In the coming months, Alan continued to teach me about detecting hairlines, submitting coins to a grading service, particular supplies I would need, the important key dates, and what I feel was the hardest thing to learn, differentiating between artificial and original toned coins.
In addition to teaching me all the nuances about Indian cents and copper coins in general, Alan also taught me how to be a coin dealer by letting me work at his table, learn how to deal with customers, and watch how he conducted business. But to me, one of the more significant things I learned from Alan was the importance of socializing and spending time with my fellow coin dealer friends.
At the end of a long day on the bourse floor, Alan would bring me to his wine-tasting dinners and introduce me to all his friends, many of whom have become my good friends as well. It was at these dinners where I would listen and learn not just about coins, but also about the "inner workings" of the coin industry, who was who, big deals that were in the making, and funny stories about other dealers, you know, all the inside "gossip." This was invaluable information, and I soaked it all in. Now when travelling to coin shows, in addition to buying and selling coins, thanks to Alan's example, I especially look forward to spending time with my numismatic friends and nurturing those relationships.
Thanks to Alan, I have learned that, as a dealer or a collector, the bonds we create with other like-minded folks is what helps keep our numismatic passions invigorated, helps us stay in tune with the market, helps us learn about new varieties of coins, helps us find that one coin we've been hunting for, and then gives us an audience with whom to share these new finds. And being part of coin clubs, whether local or regional, isn't just about promoting knowledge, it's about promoting comradery.
So I strongly urge each of you, if you aren't already, get involved in coin clubs, attend meetings, share your knowledge and interests, write articles about your collections or new finds, take the time to answer the questions of a curious new collector, and be like Alan, BE A MENTOR. You never know, you too could have a life-long impact on a new budding numismatist!
**********************************************************
Friday was also busy in the morning. Throughout the day, a few forum members stopped by. This is Winston/Stone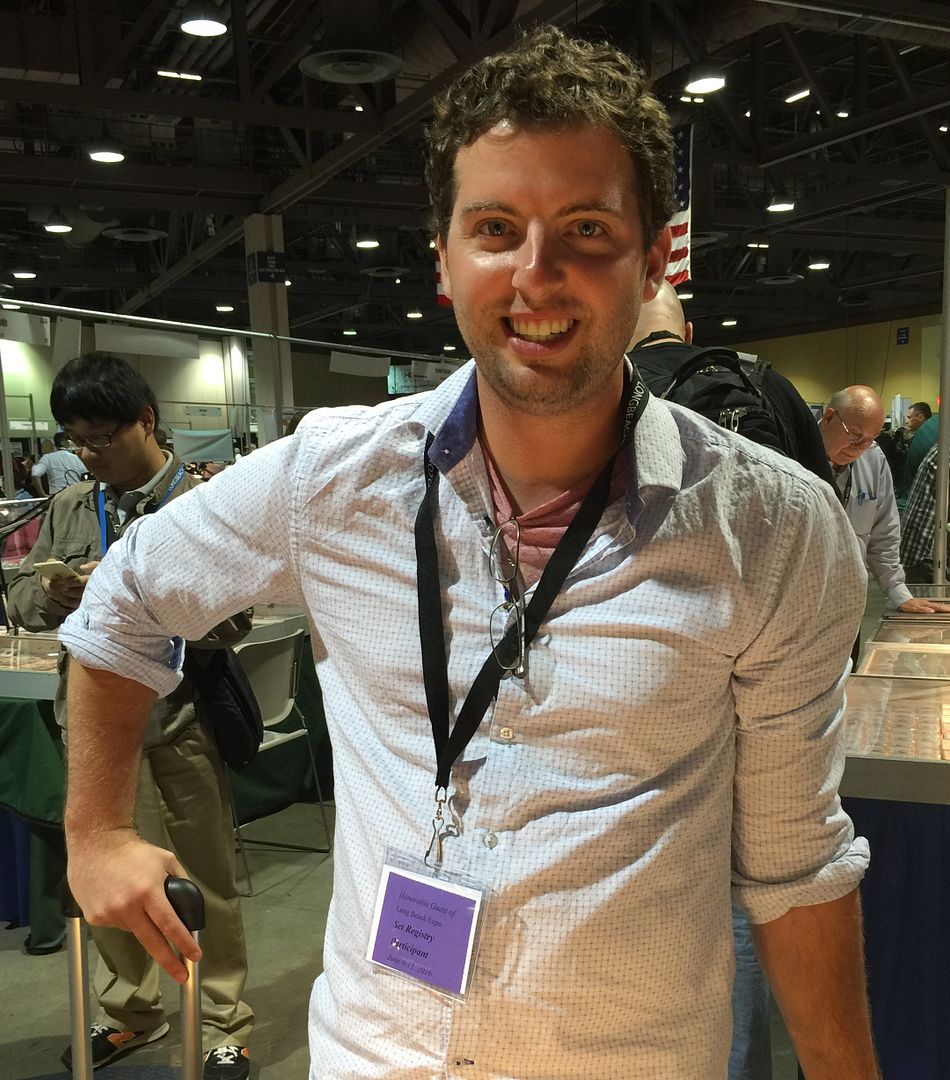 Bob/Watersports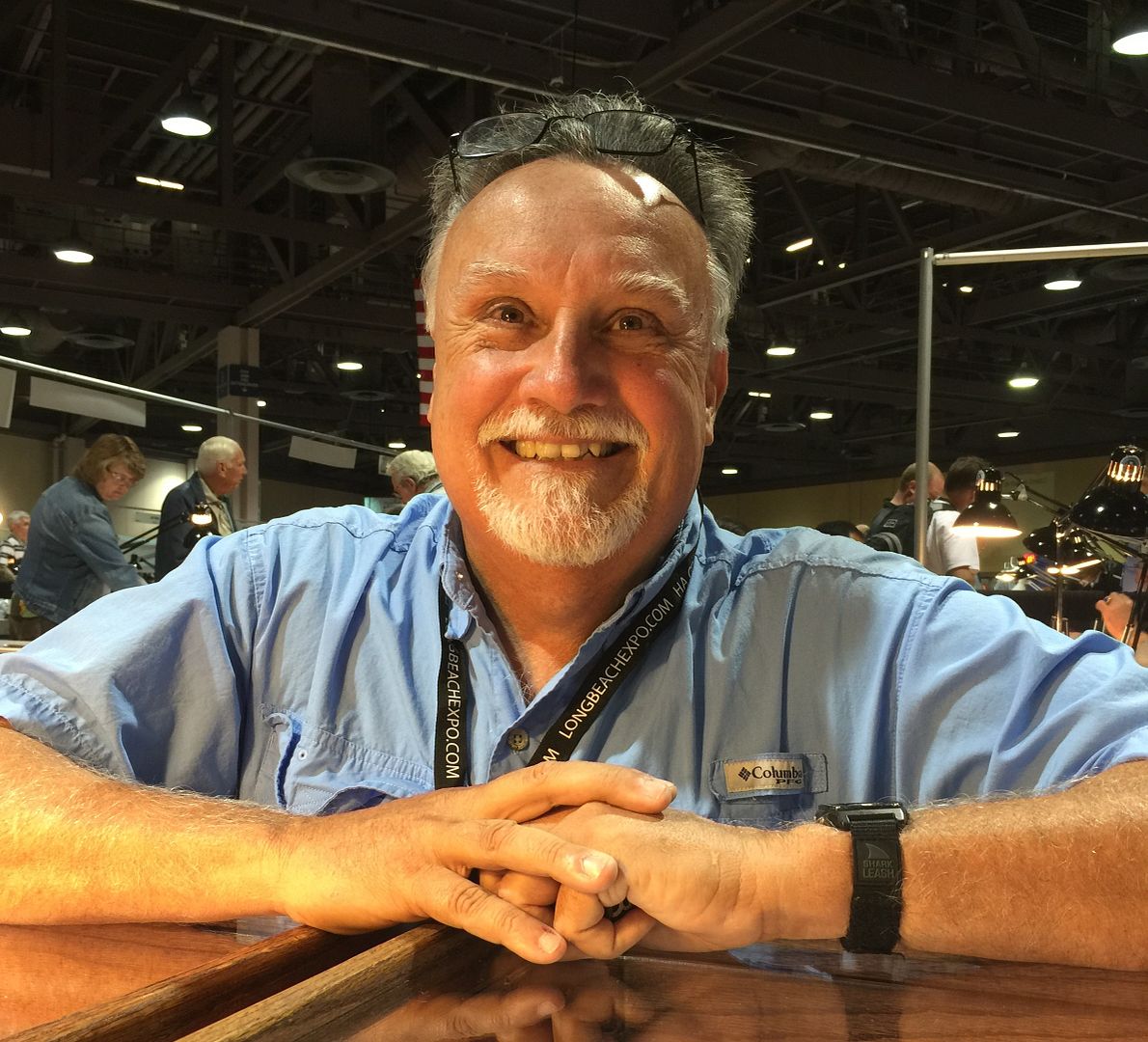 That afternoon, I opened a bottle of Callaway and shared it with several of my dealer friends, it didn't last long!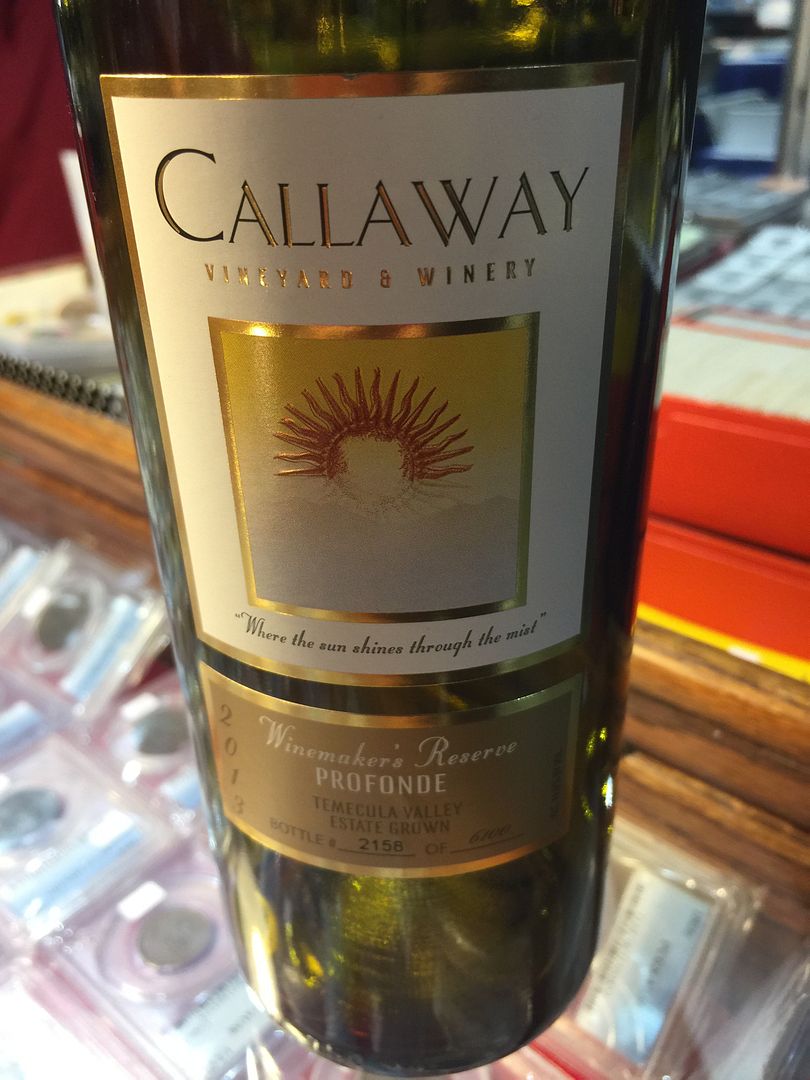 As I posted in a separate thread, there was some commotion on Friday at the show. My friend, Karl Stephens, discovered that a fellow dealer's coins that were stolen a couple weeks ago in San Bernardino were being offered to the dealer next to his table. He asked his neighbor dealer to stall the thieves, but the thieves caught on and simply walked away, leaving the stolen coins on the dealer's table and headed for the door. Karl took after them and yelled to the security guards to detain the thieves, which they did. However, one of the thieves decided to try and bolt for the door and, as you will see in this video, he was quickly tacked to the ground by one of the security guards. The takedown was caught on video by someone at the Stacks Bowers table. The guy in the flowered shirt is my friend Karl.
http://i441.photobucket.com/al...0Theft_zpsvsbqim0l.mp4
On Friday, we just went across the street to PF Changs for dinner. My dealer friend Joe brought a bottle of wine to share.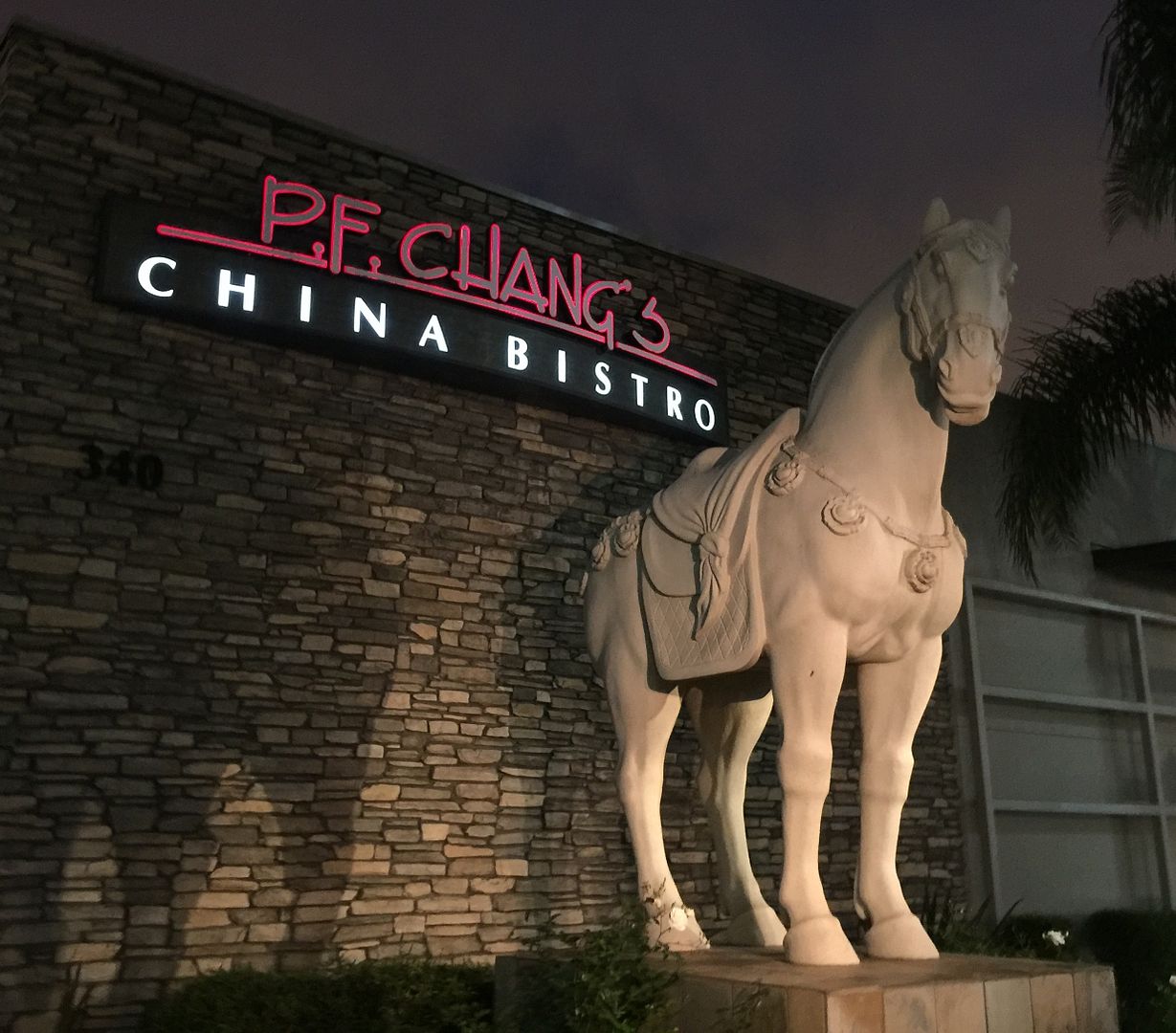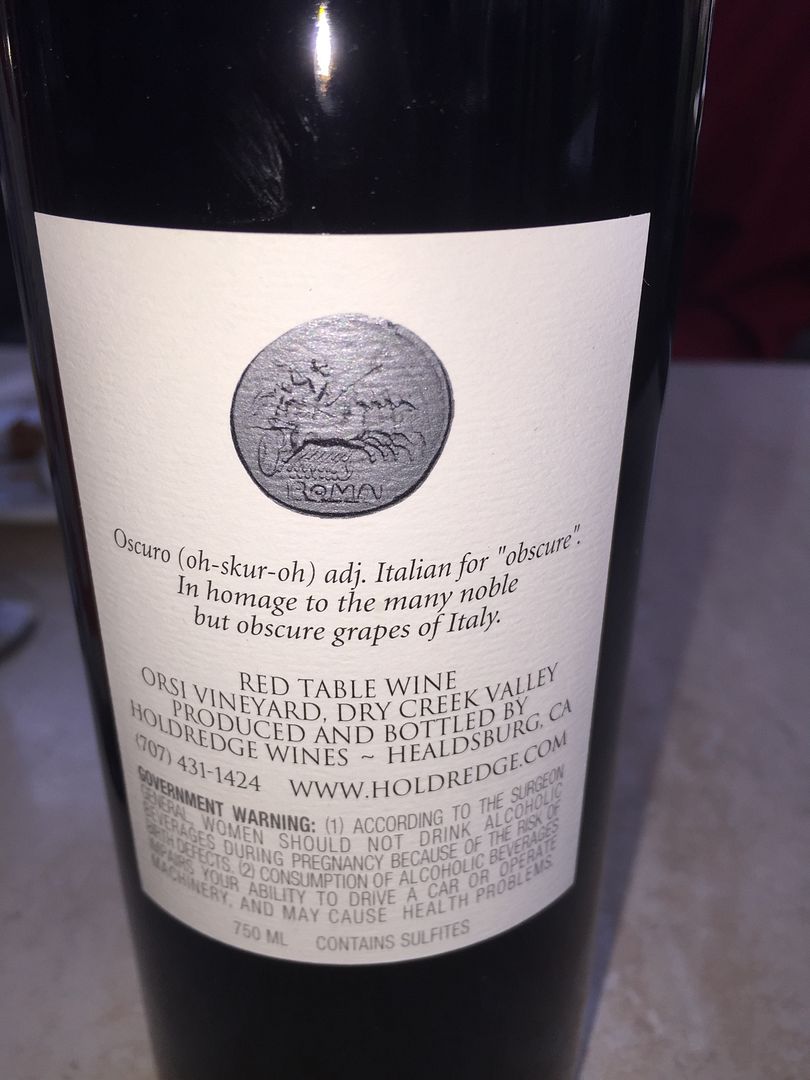 I can't go to PF Changs without having their wonderful pot stickers!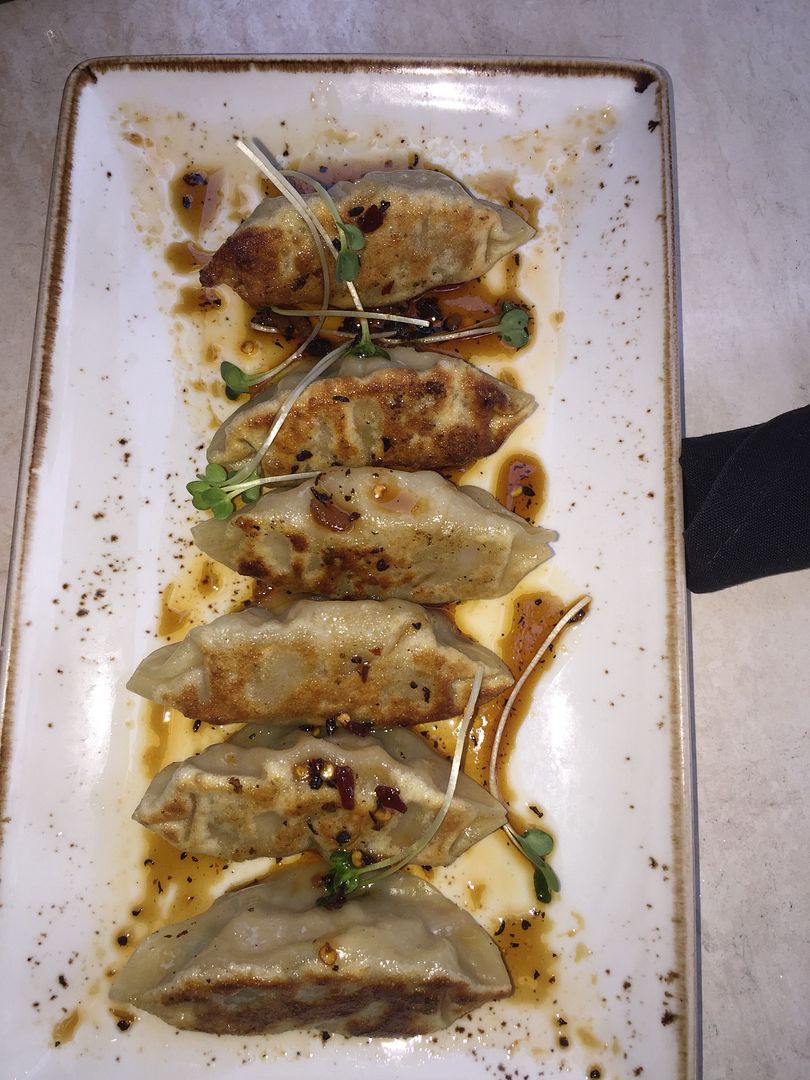 There are lots of restaurants around the convention center and the harbor so there is lots of activity on Friday night, and it's very much a fun party atmosphere.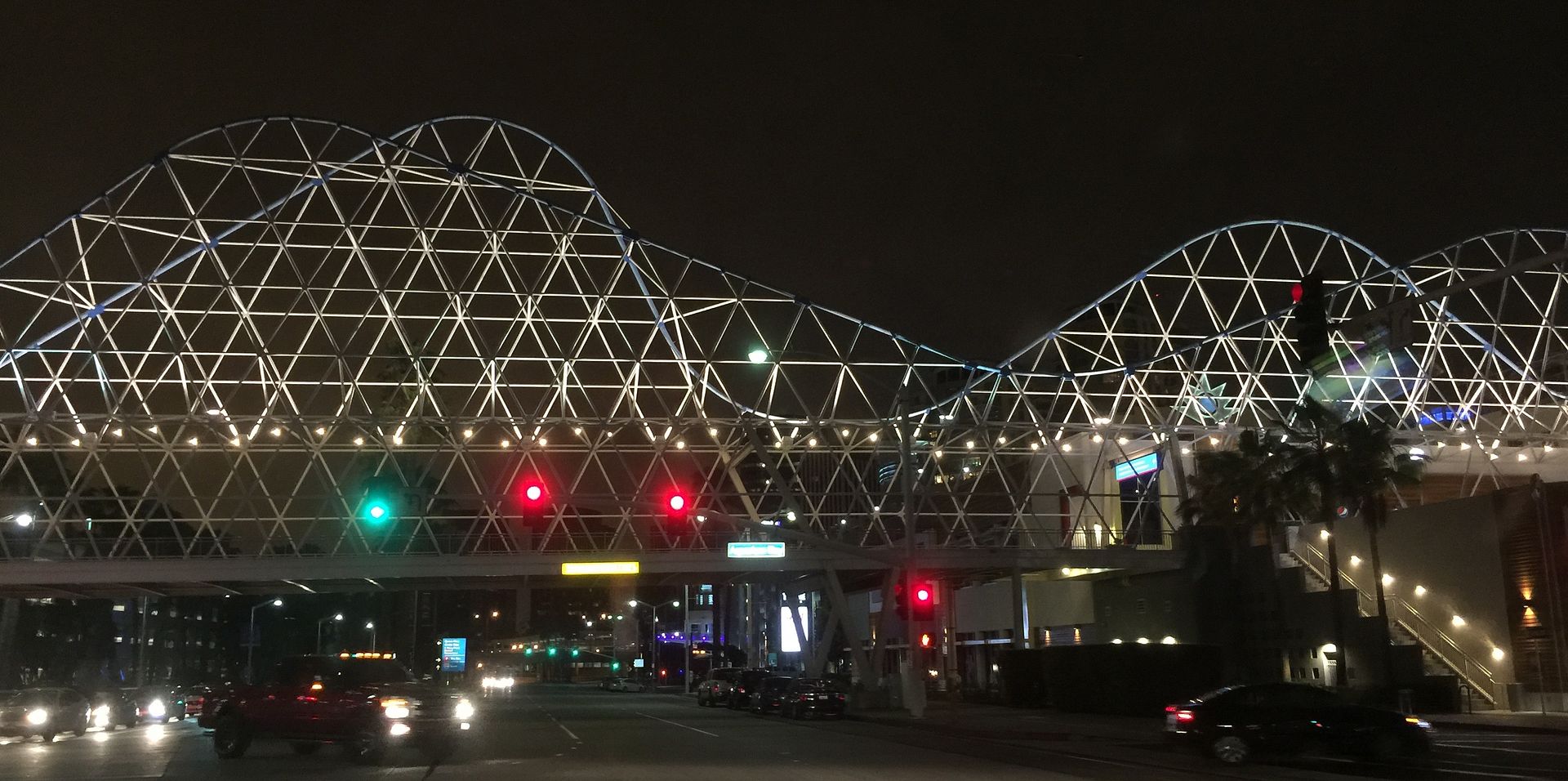 Saturday morning when I arrived at the parking structure, there were several police vehicles and a tow truck blocking the main entrance. I found out later that the police had been looking for the thieves' vehicle and discovered it in the parking lot. They already had the key to the vehicle and when they opened the trunk, they found the rest of the stolen coins!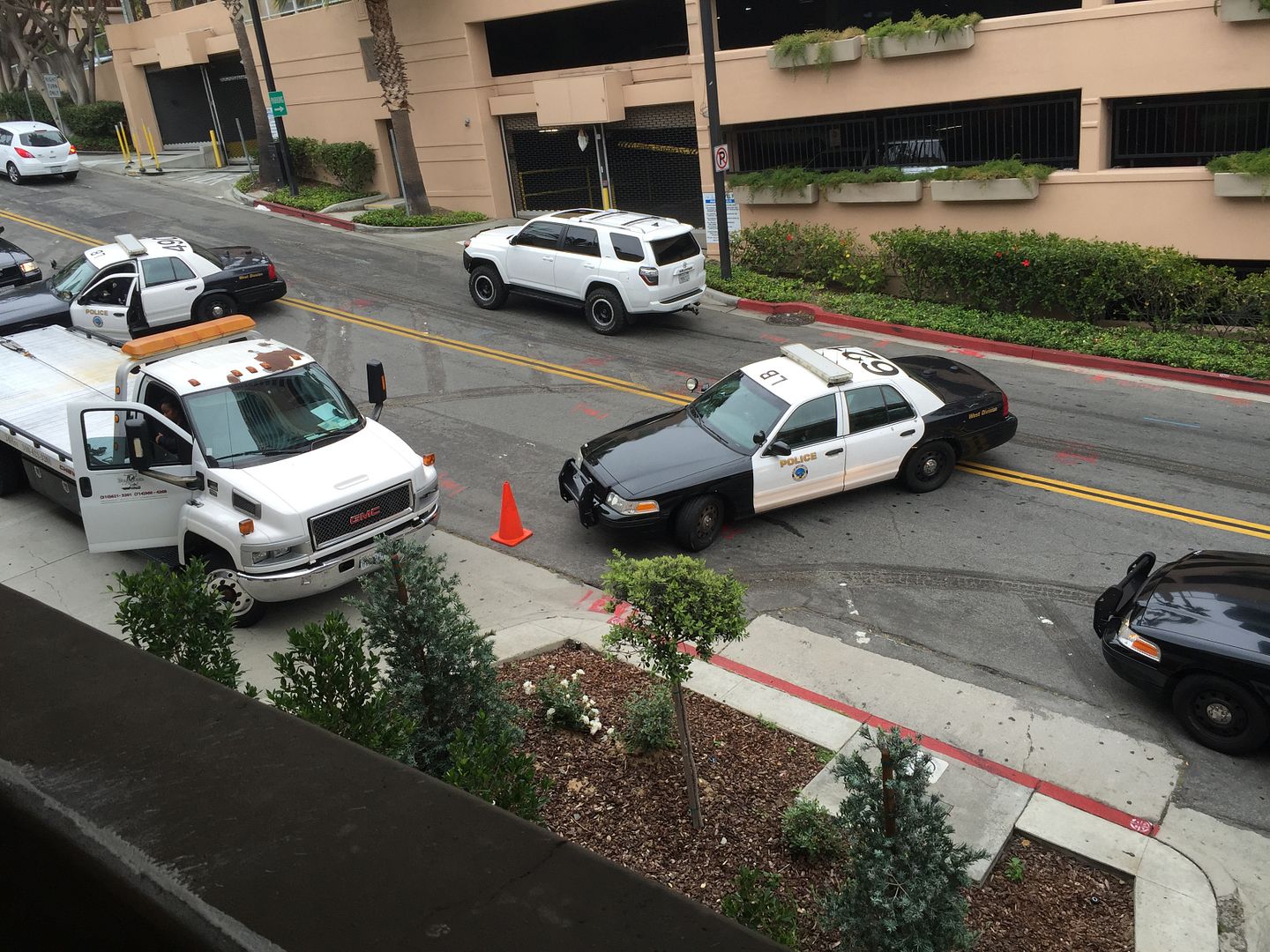 When I got to my table on Saturday morning, I quickly went to work getting my submissions ready for PCGS and taking care of some other business. When I went to submit my coins, the PCGS table was swamped!
Collectors.com is another great resource to find coins you may be looking for. Many dealers' websites, including mine, automatically "push" the inventory on their website to collectors.com so people can search one website for a massive variety of coins.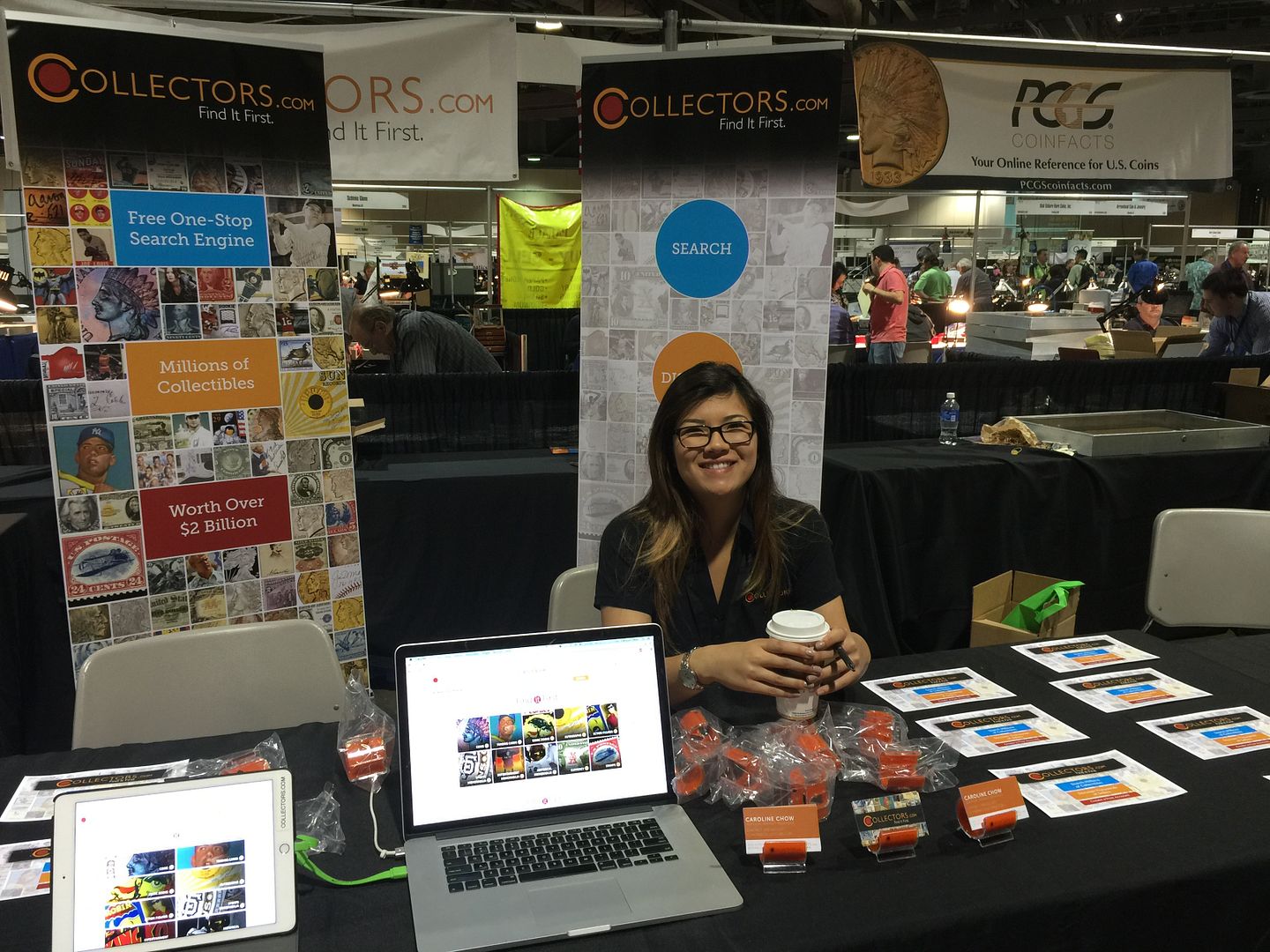 I noticed this guy with a beautiful parrot and just had to check him out!
Soon, once again, it was time to pack up and head home. I thoroughly enjoyed my time at the show and seeing all my friends again. And again, thank you everyone who stopped by my table to inquire about my hubby and to wish him well. Everyone has been so kind, we really appreciate it, even Penny!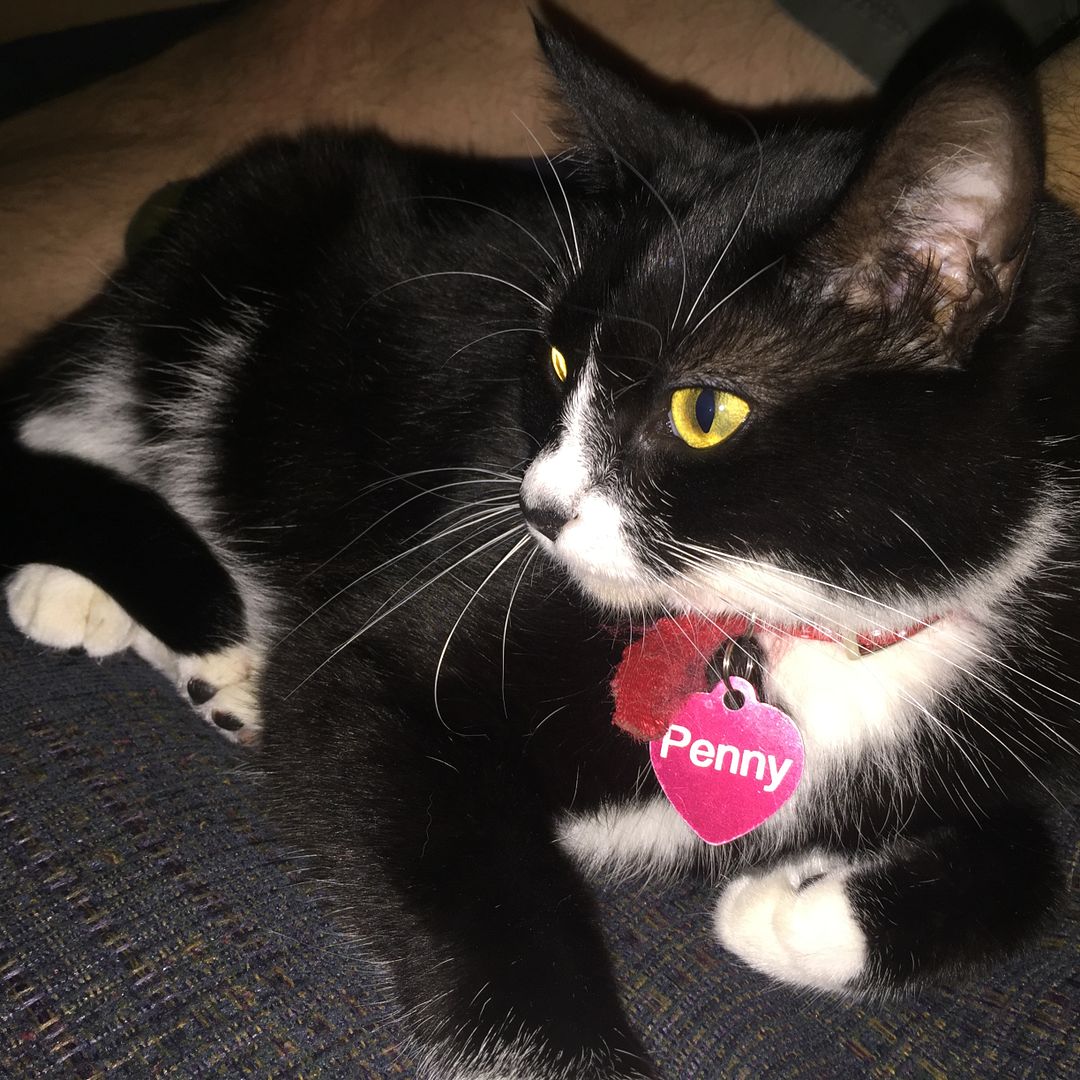 I hope you'll indulge me with one last OT: On Sunday after the show, my family celebrated by dad's 95th birthday in Oxnard where I grew up. These are me and my siblings and my dad, who was in the Navy and is also a Pearl Harbor Survivor.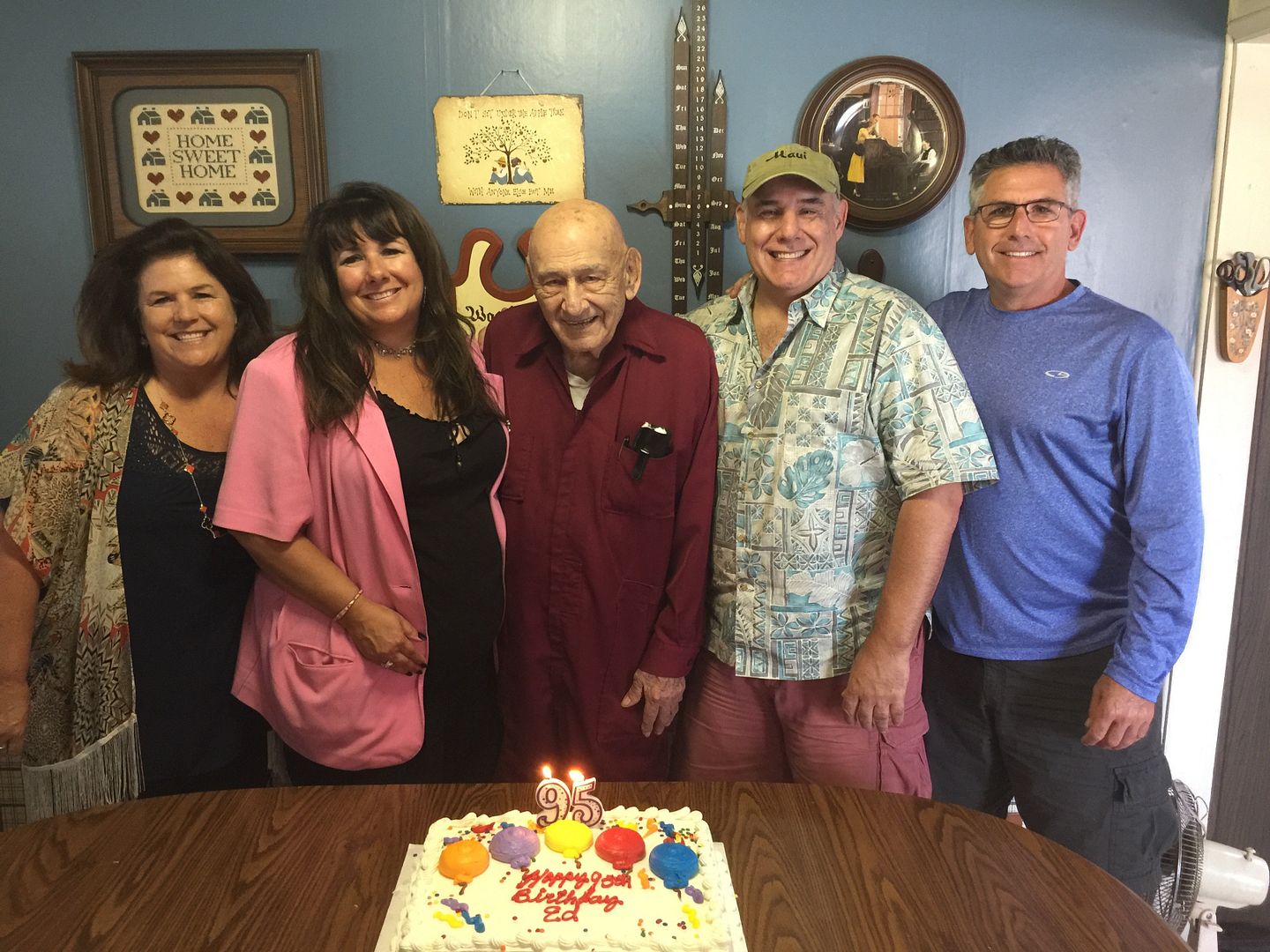 We also found this old photo of me and my brothers and sister standing in front of my parents' garage with my dad's old jeep, which he still has. It was taken 50 years ago. So we decided to try and recreate the photo and took a new one in the exact same location with the same jeep in the background, what a hoot!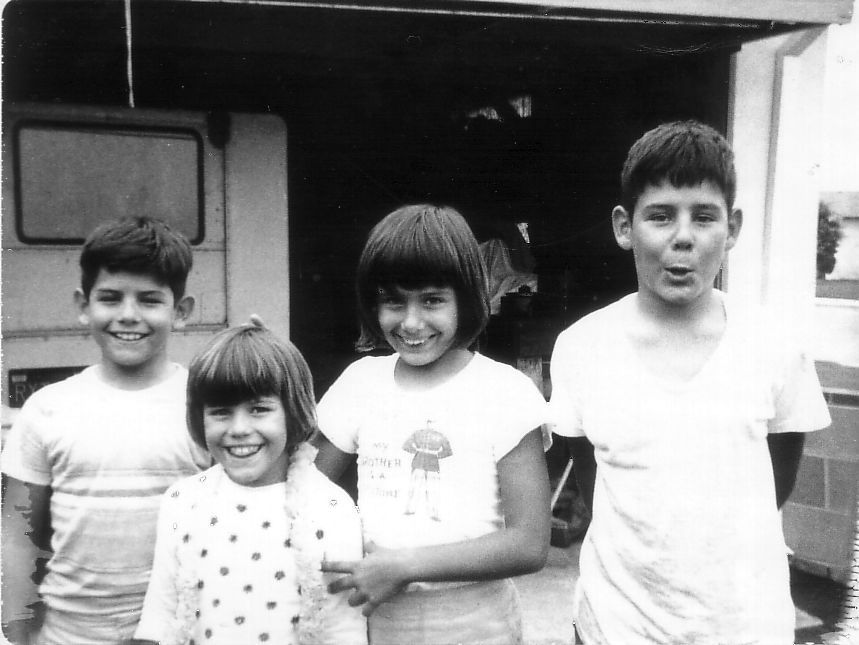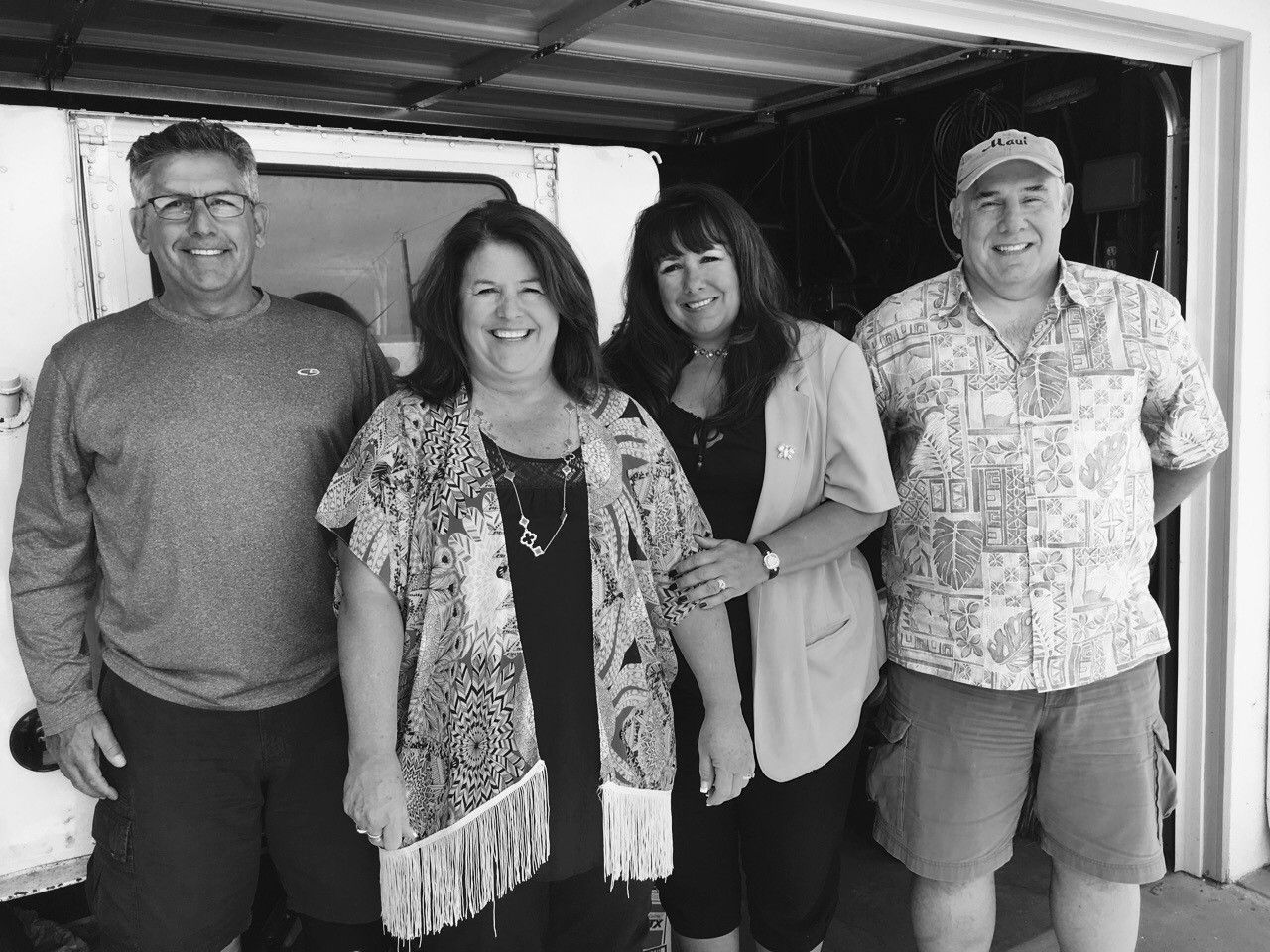 So that's it for this show report. Next up (hopefully):
San Diego Coinarama (July 9-10)
ANA World's Fair of Money in Anaheim (August 9-13).
Charmy Harker - The Penny Lady®
President of Women in Numismatics
ThePennyLady.com