Home
›
Beach/water finds
Zot
Posts: 825
✭✭✭

Been an awfully long time since I've posted any finds. I haven't gotten out much, but have at least managed some beach and water detecting – so here goes..
Most of these are from a spot I've been to countless times, so the majority of finds are recent coins dropped in the past year or so.
However, it has potential for older underwater finds, and that's the reason that keeps it pulling me in. It seems like every time I decide I'm done with the place for good, I find something a bit more interesting that keeps me coming back a couple more times.
Here's what I have:
-EUR 20.91 in Euro coins (around $23)
-A bunch of older Finnish coins, including one that's 35% silver
-A couple of foreign coins, e.g. UK, Thailand, China
-Small sterling silver bracelet. I got countless pieces of costume jewelry… I really think I deserve a gold ring by now! Hmph.
Pic of finds:
The most interesting finds are two Chinese cash coins. Here they are:
By the way, it's dark outside almost all day this time of year, and it was almost pitch black when I was detecting - with just a bit of moonlight helping me keep my bearings. I thought these were washers when I first found them, and didn't positively identify them as a coins until I got home... This once again validates a rule I have not to throw
anything
away until I've absolutely confirmed it as trash. I've had some coins emerge from really bizarre looking lumps of crusty metal over the years
With kind help from the world coin forum, they've been identified as:
-Yong Zheng emperor, 1723 to 1736
-Dao Guang emperor, 1821 to 1851
One of them is in pretty rough shape. The other one is a bit better. Fortunately, the older one is the one that's in better shape. Here it is: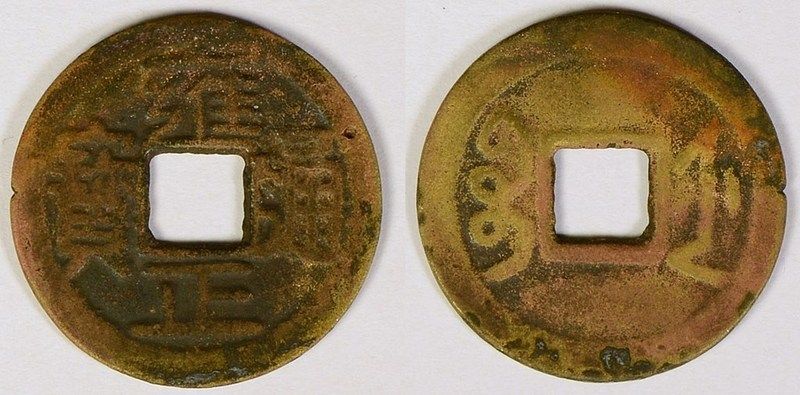 It looks like this place did it again: I found the cash coins just a few feet apart, so now I'll have to go back again to see if there's anything more in that spot…..
Minelab: GPX 5000, Excalibur II, Explorer SE. White's: MXT, PI Pro