Home
›
U.S. Coin Forum
Charmy's June 2015 LONG BEACH SHOW REPORT w/lots of Pics!

ThePennyLady
Posts: 4,029
✭✭✭✭
You all know I attend coin shows around the country, and I feel so fortunate to be able to do what I love for a living. So several years ago I began sharing my adventures through my show reports which contain lots of photos of the things I see and do during and after each show. I realize my kind of coin show reports are not for everyone, especially since they are about the social aspects of traveling to coin shows, as well as the coin show itself. I try to capture what life on the road at coin shows is all about – but of course, it's from my own personal perspective. I like to have fun and enjoy whatever I'm doing, and if you ask most coin dealers, one of the things we all look forward to each day of a show is a nice dinner at a quality restaurant with good friends, usually other coin dealers.
Since I specialize in pennies, my reports often have photos of cool pennies I come across, and the new purchases I make, both for inventory and my personal collection. It will also include the different things I find at coin shows, like the exhibits and rare coin displays, sometimes even quirky items I see at other dealers' tables, any meetings I attend, etc. I also like to photograph the people I hang out with, often the same group, other dealers, but also any of the forum members and young numismatists who stop by my table.
Perhaps some folks would prefer more specific information about market trends, news on major auction sales, what types of coins were selling better, photos of coins other than pennies, etc. Well, again, since I specialize in pennies, I don't feel I'm the best person to comment on other areas of the coin world - I'll leave that to Laura and other dealers who have a better pulse on the coin market in general, as well as other forum members whose show reports reflect that type of information.
So the way I look at it, there are various types of reports on many of the major shows that can appease most numismatic palates, and I for one, appreciate the time and effort it takes each of these people to put them together just to help keep the rest of us informed and/or entertained. All that being said, my reports are what they are, and I very much appreciate those of you who enjoy viewing them, so I will keep them coming as long as I am able!
I've said it before, the Long Beach show is one of my favorites, partly because the Expo staff work tirelessly to make sure the show is the best it can be, including stopping by every dealer table several times during the show to make sure we have what we need to make our show a success. But one of the main reasons I like the Long Beach show is because it's close to home and even though I still get to wine and dine with my friends, I can also go home at the end of the day to my hubby – and of course, little Penny.
Here in Southern California, we usually have what we call "June Gloom" this time of year especially near the coast, and each morning of the show was no different.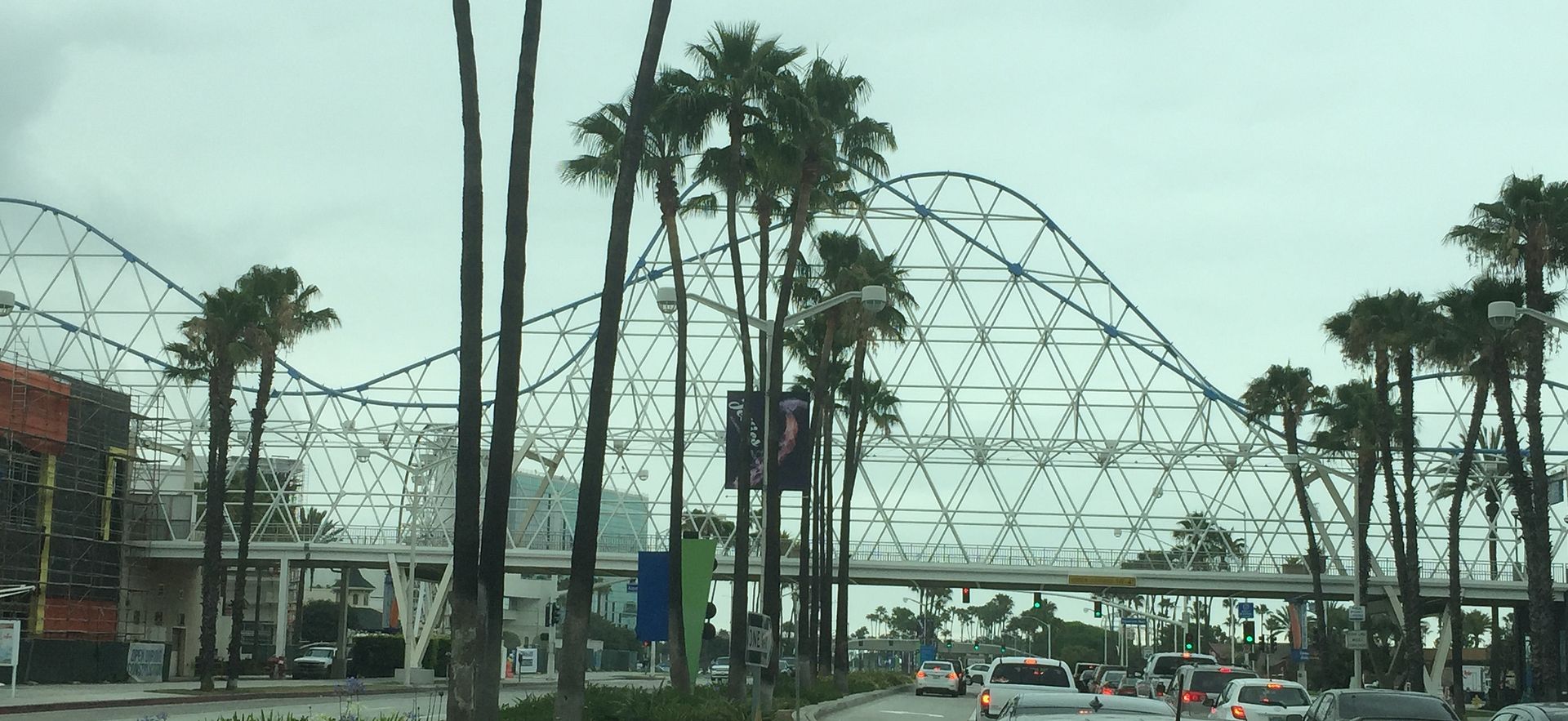 Luckily, it burns off usually by noon and then the sun pops out and we have the wonderful bright sunshine Southern California is known for!
These next few gorgeous photographs of the Queen Mary and the harbor area around the Long Beach Convention Center were taken by Rick Snow's talented son, Kenny, using his iPhone 6.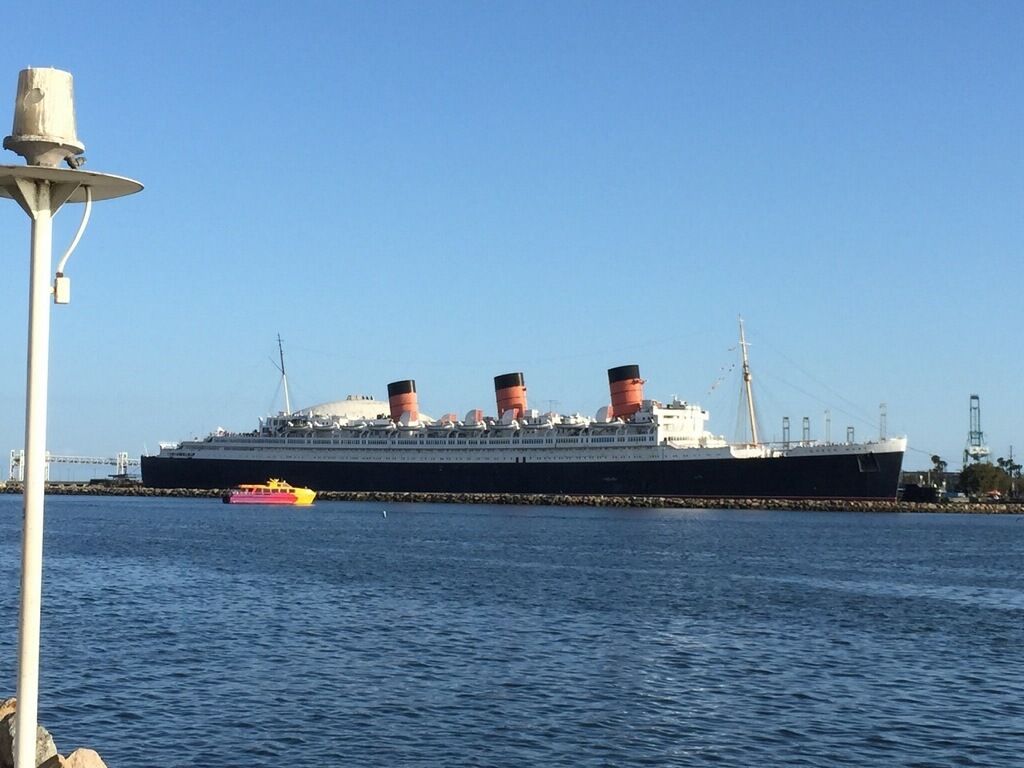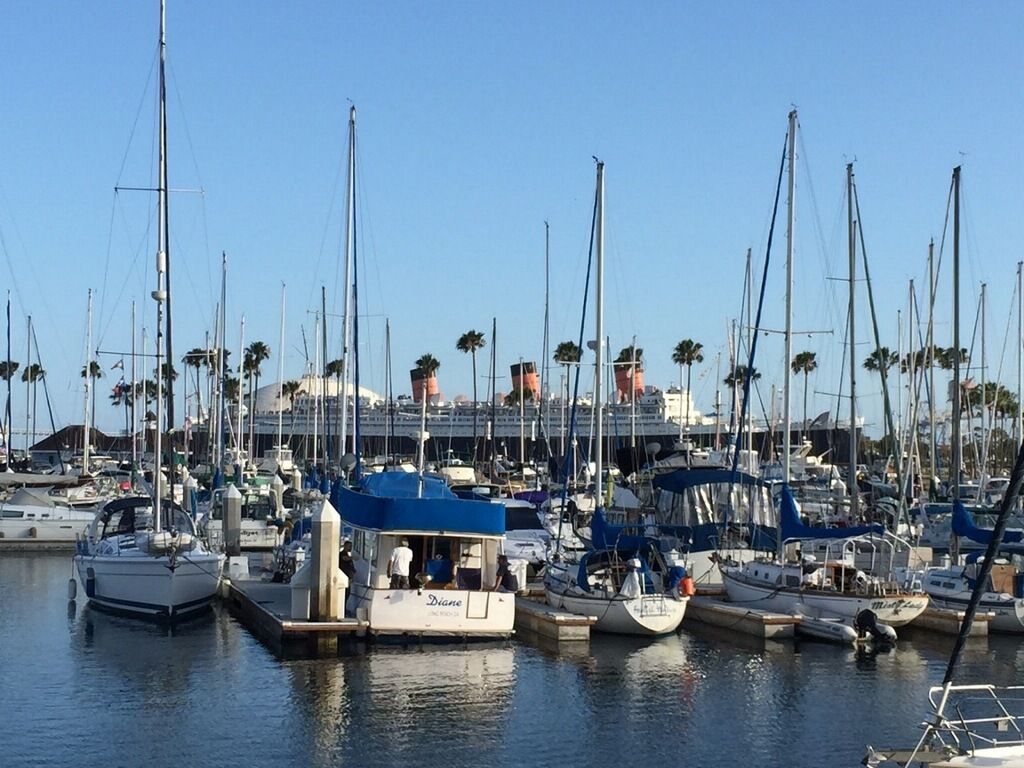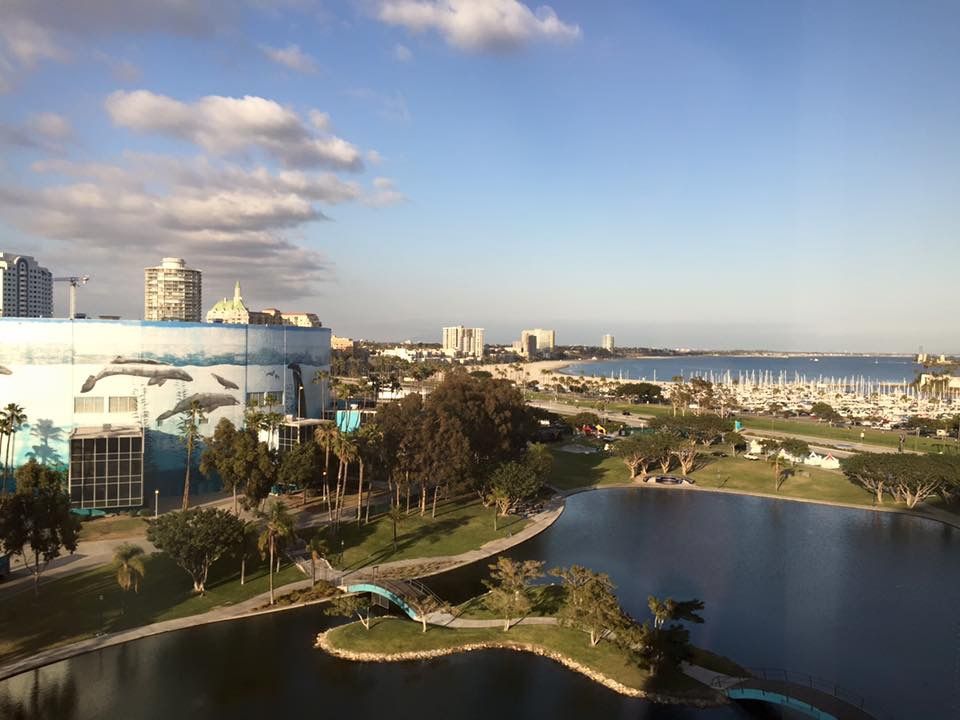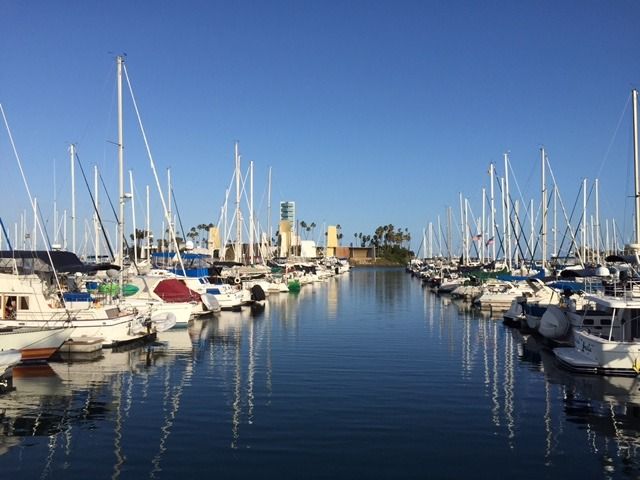 Set up began at noon and there was a long line of cars waiting to unload at the loading dock. When I finally got in, I set up my booth rather quickly with the help of my two helpers, Roger and Rich.
As usual, I do a lot of my buying the first day or two of a show, and this show was no different. It seems a lot of dealers were in a selling mood, so I ended up buying more than the usual amount of nice new pennies, both for my personal collection, and for my general inventory – including a really nice hard to find 1914-D in PCGS MS63 RB and several beautifully toned proof Indian cents.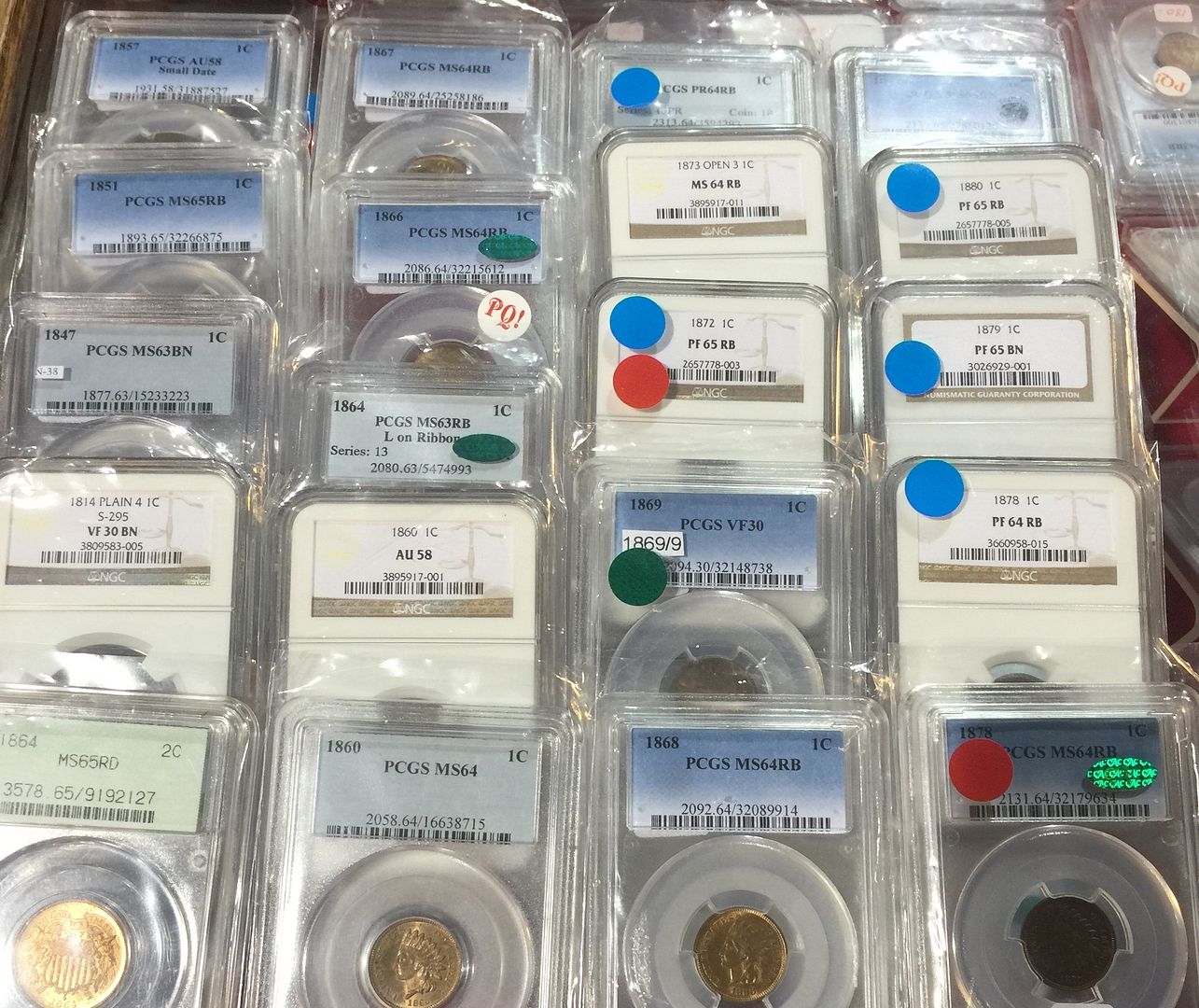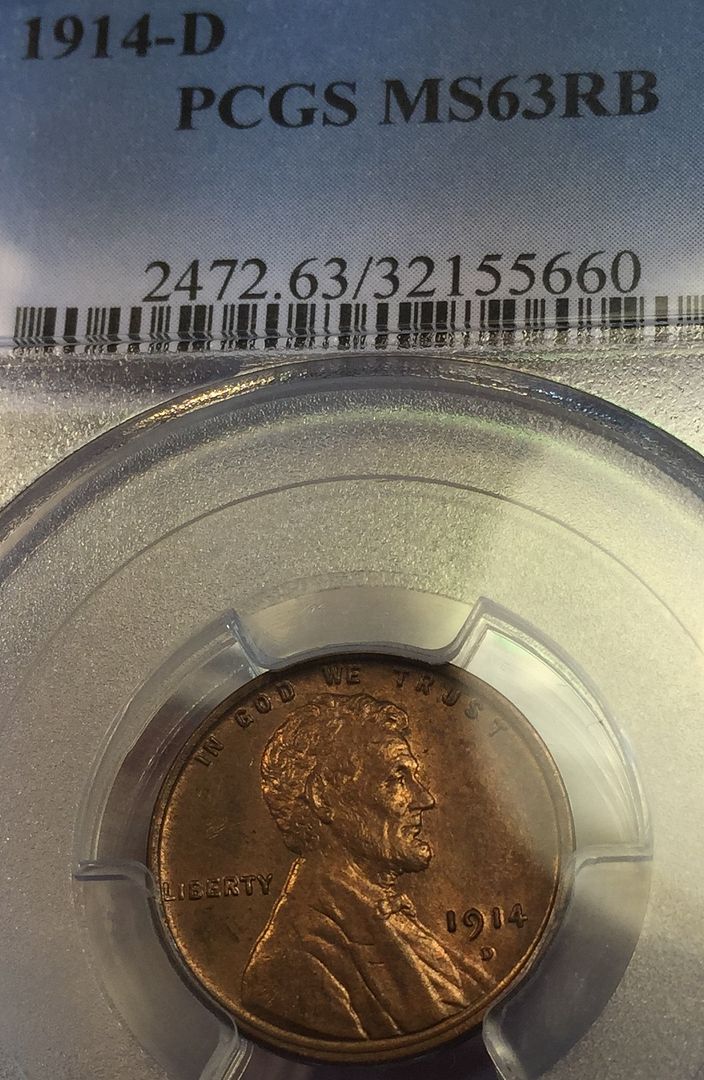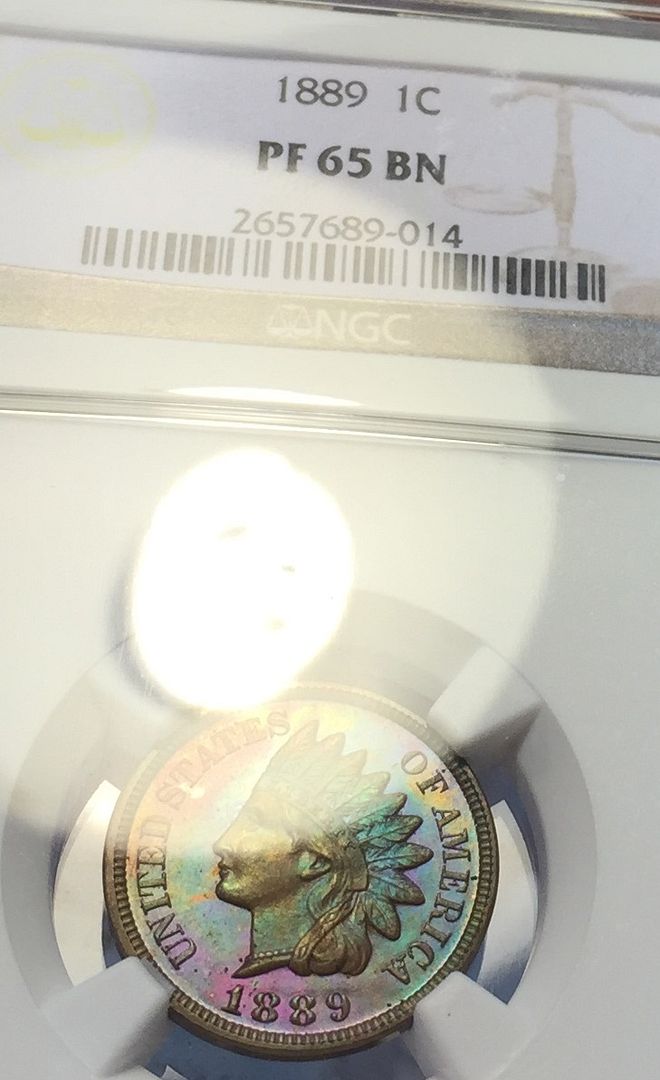 I also found these common date but gorgeous rainbow toned Lincoln cents for my personal collection.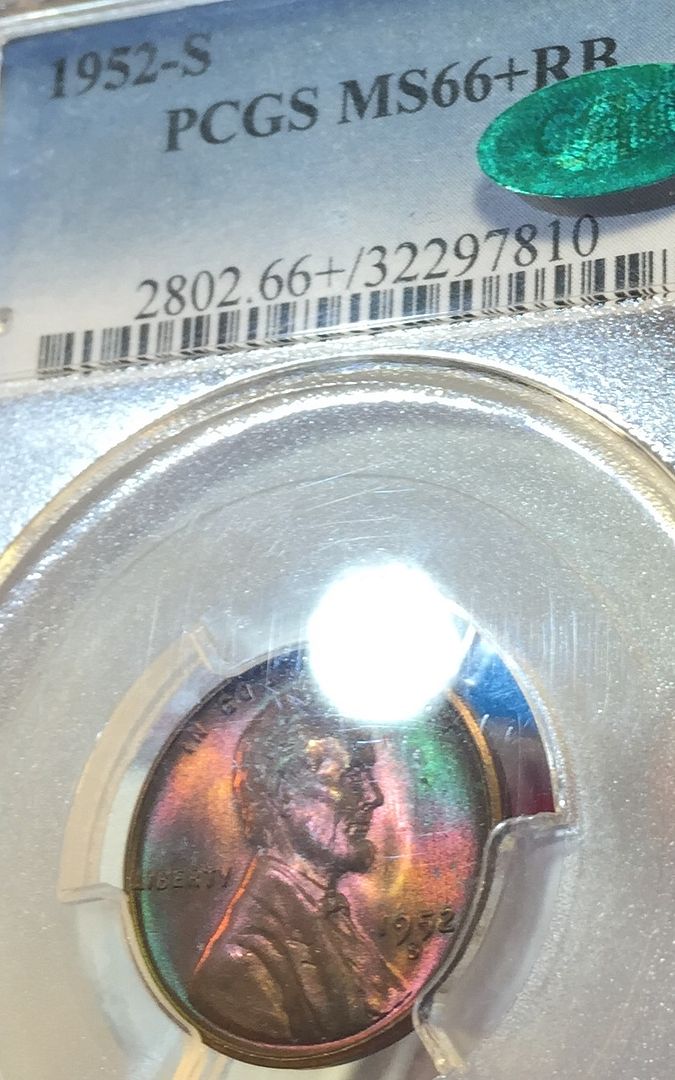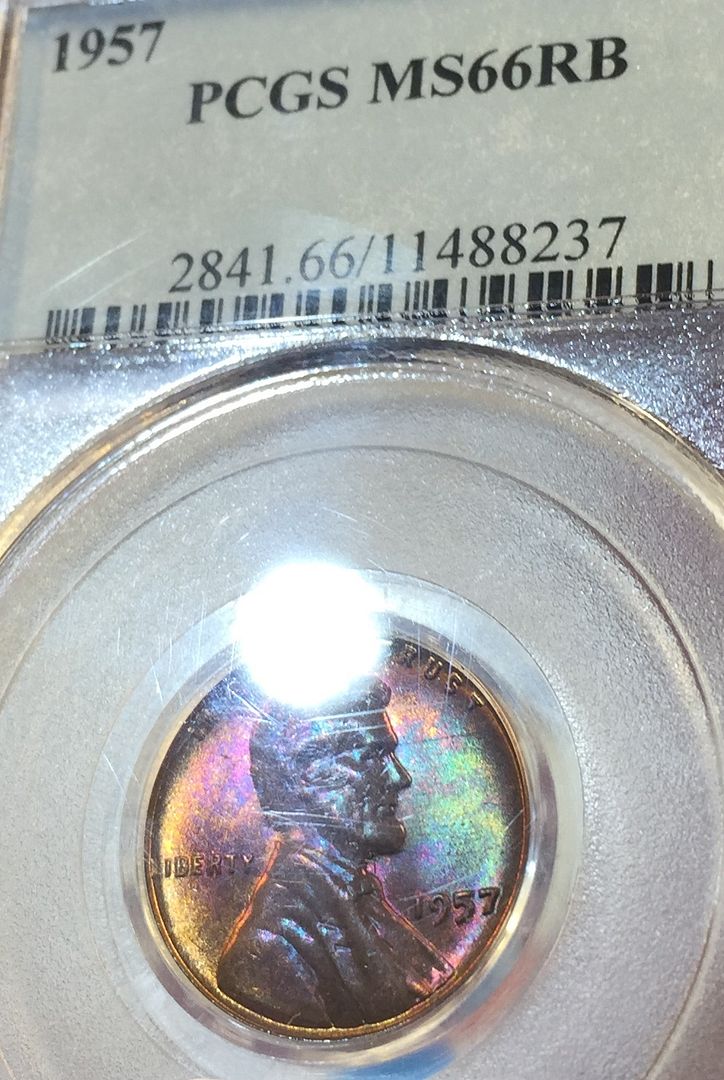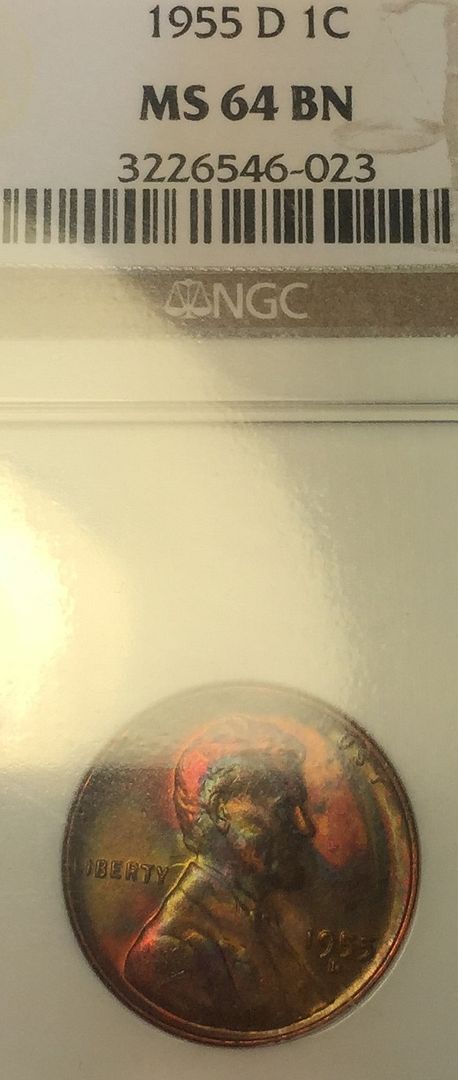 At 5pm, PCGS hosted their usual taquitos and beer, so that's when I knew it was time to open up a bottle of wine. This is Yosemite red table wine that my pal Cindi gave me a few months ago in remembrance of the road trip we took last fall to Yosemite. And to top it off, knowing that I love polka dot things, Cindi also brought me these great red polka dot plastic wine cups which are perfect for traveling!!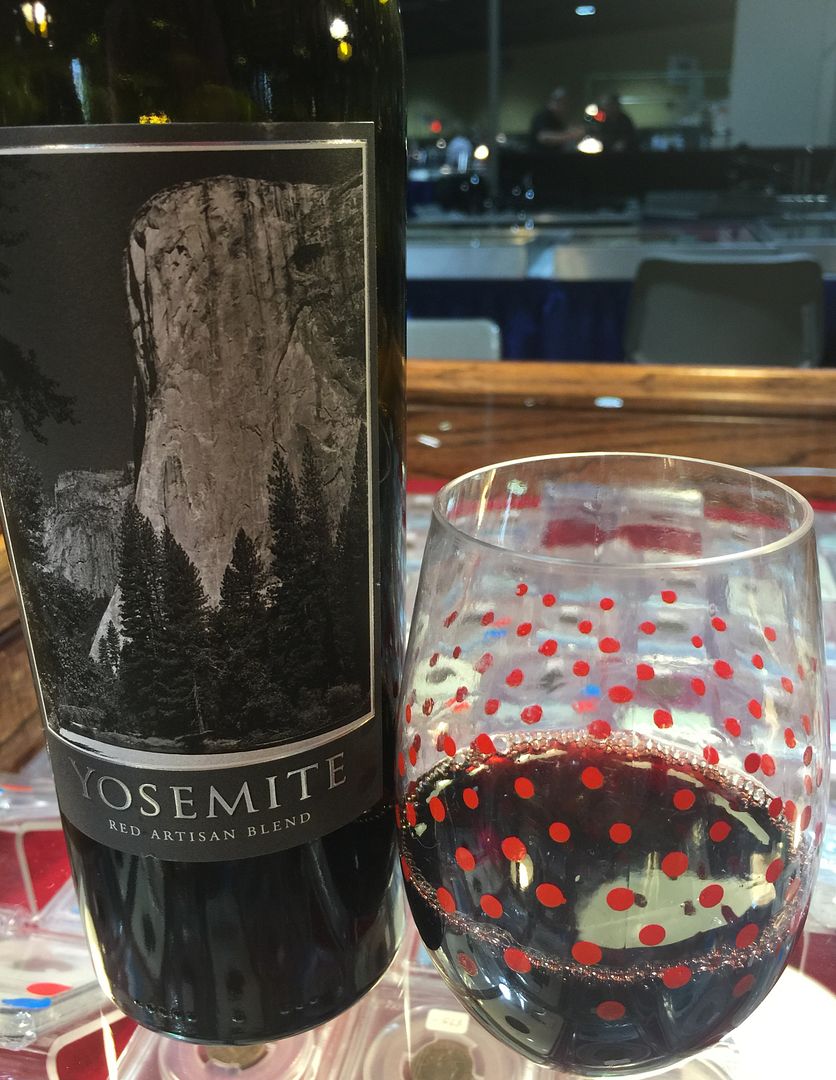 After set up day ended, I headed over to our usual Wednesday night Long Beach show restaurant, Café Piccolo, with the usual group. This is one of our lower-key wine tasting dinners where we all bring a bottle of wine to share and everyone gets to taste a nice variety of some great wines, including unusual boutique wines.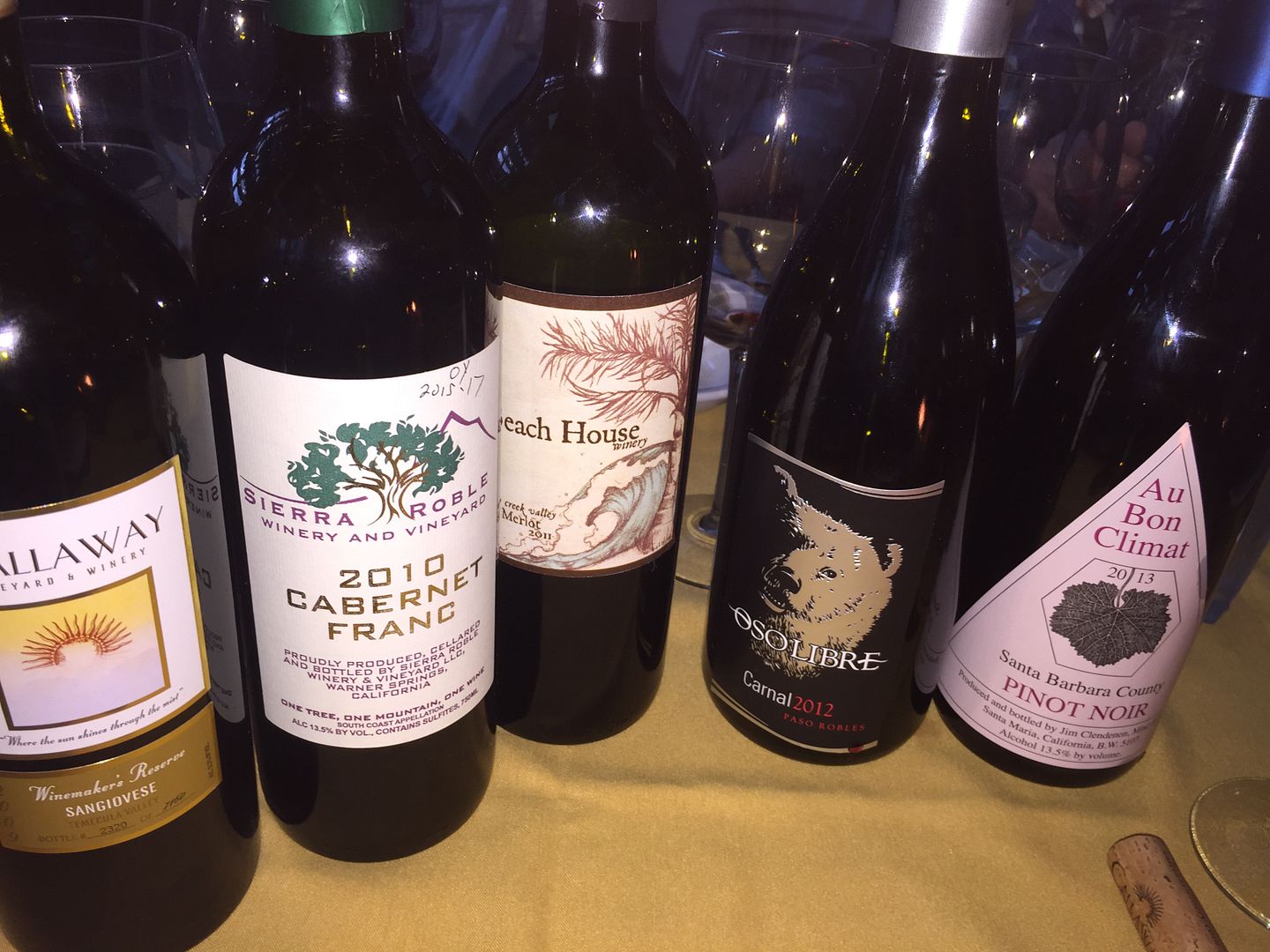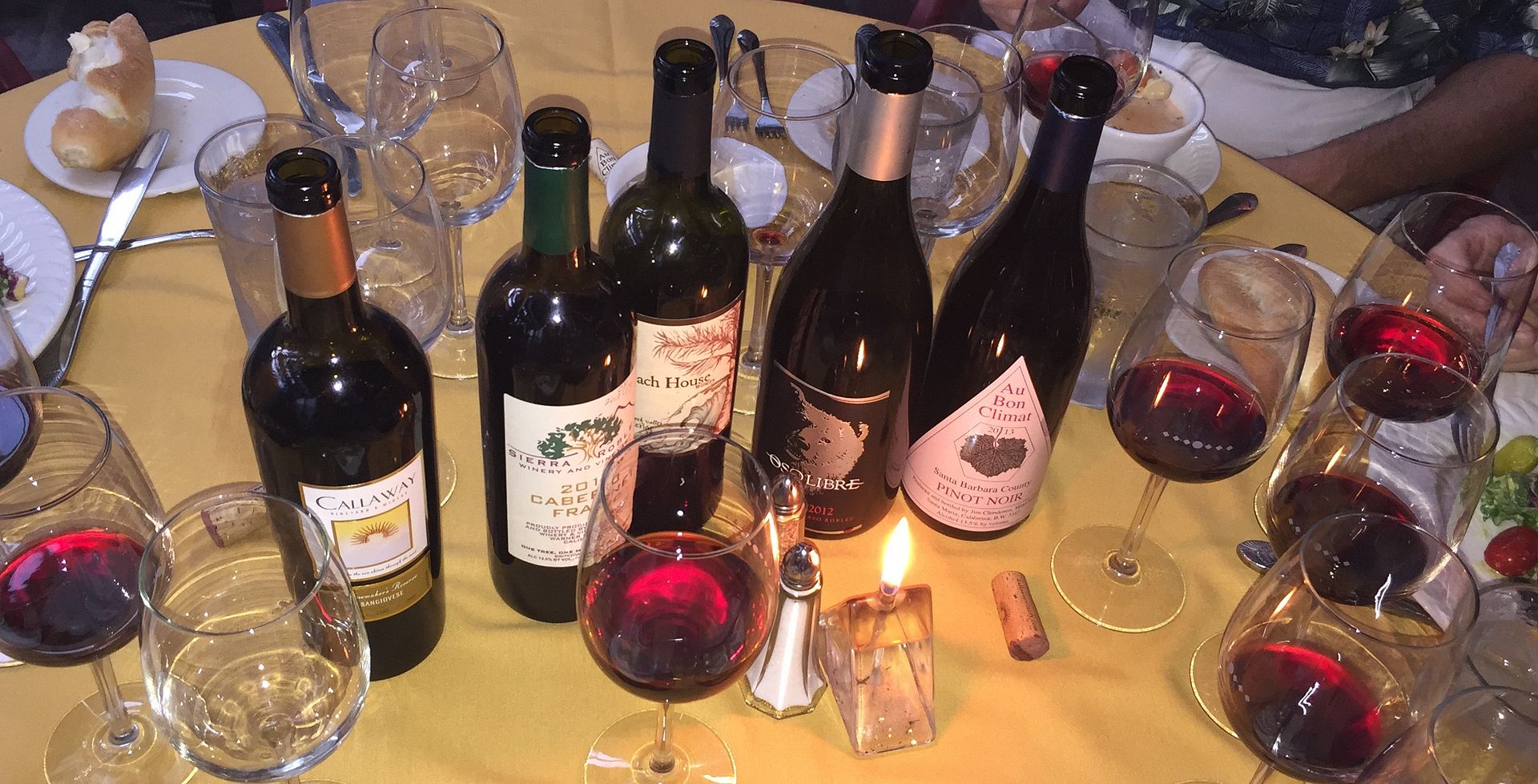 Me and Joanne (married to Karl Stephens, a foreign coin dealer) – she is one of the first female friends I made in the coin business many years ago.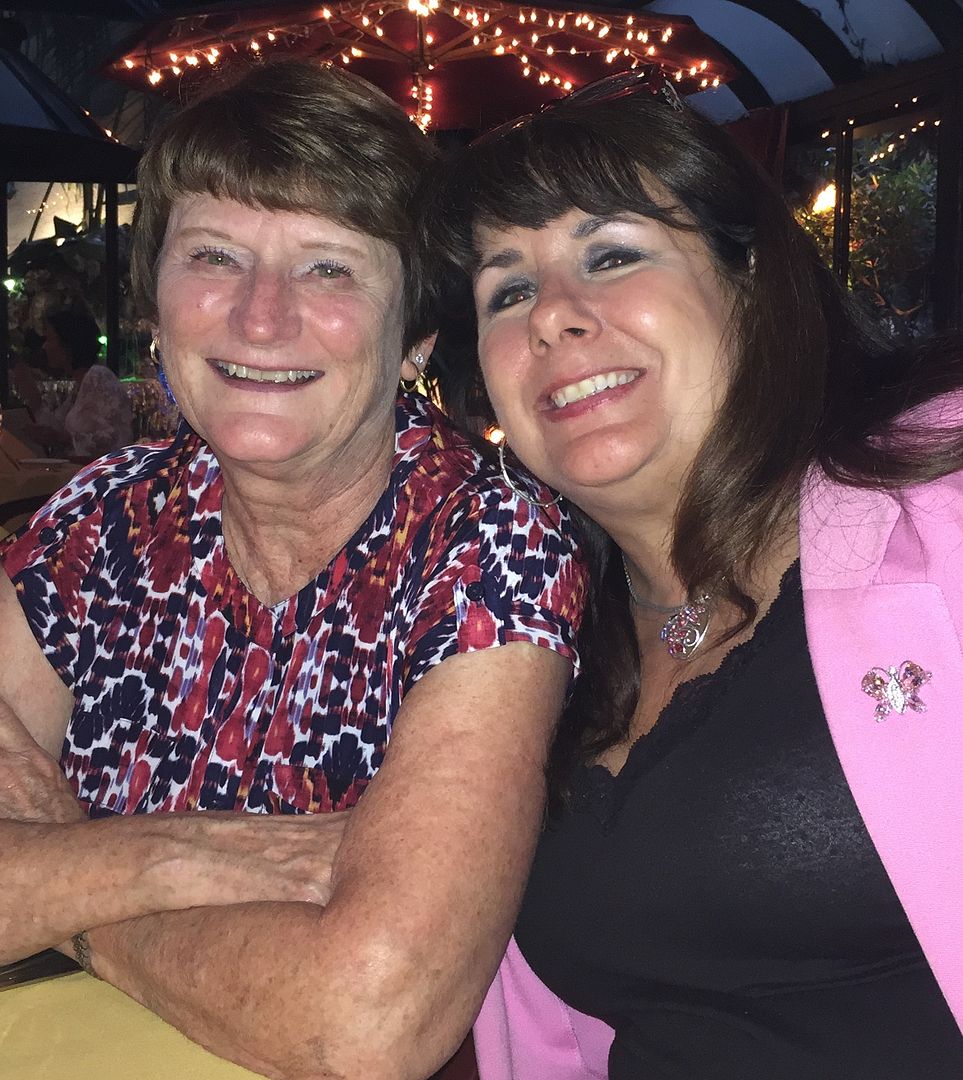 Karl Stephens and his friend and helper, George Schumacher
Two of my mentors – Rick Snow and Alan Kreuzer – Alan is my longest coin friend and was the one who taught me the most about pennies and being a coin dealer. I met Rick a few years later – he is a walking encyclopedia and I am a sponge trying to soak up as much of his meticulous knowledge about Indian cents as I can.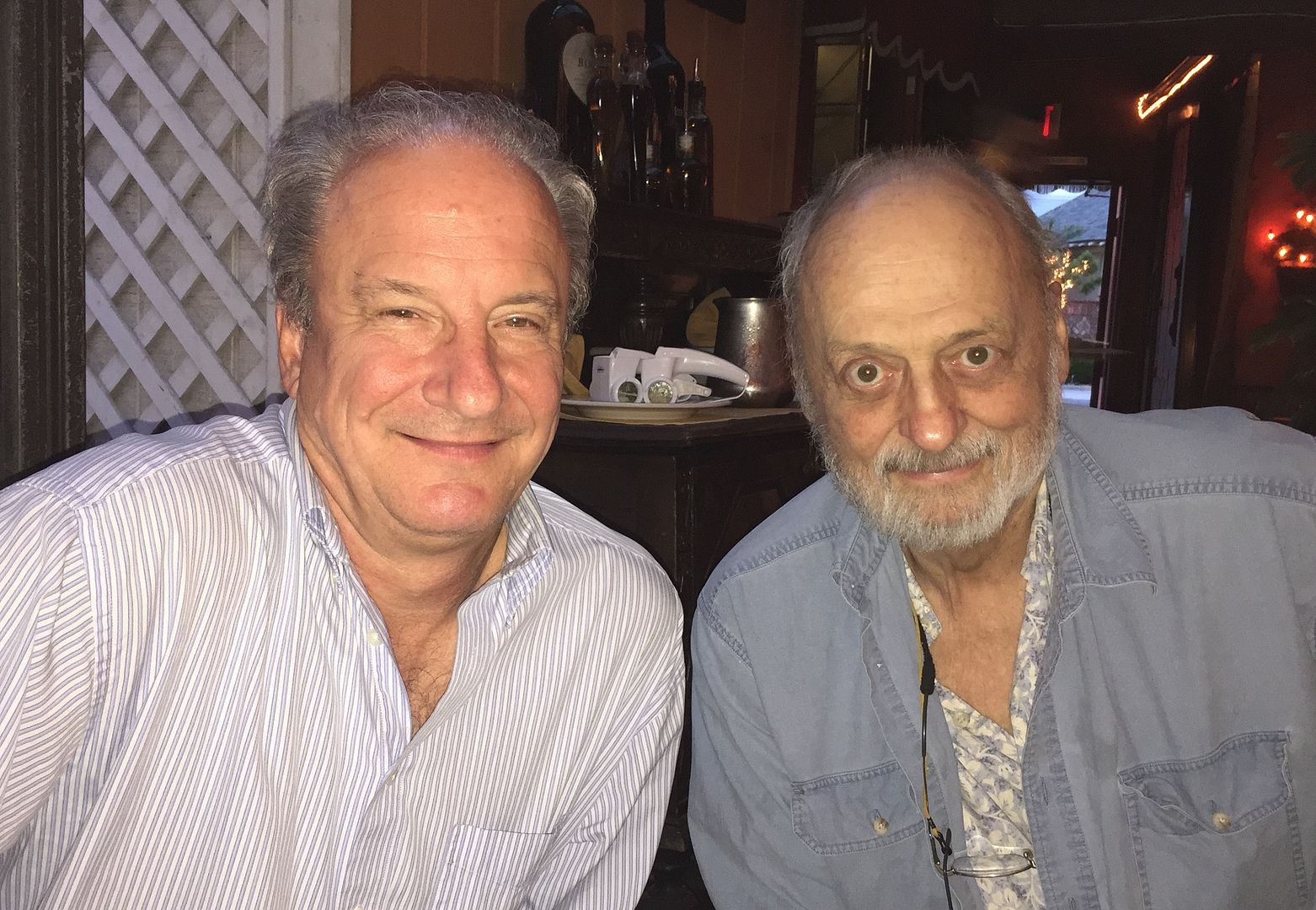 Me and one of my dearest friends, long-time Indian cent customer, and awesome booth helper, Rich Wogoman!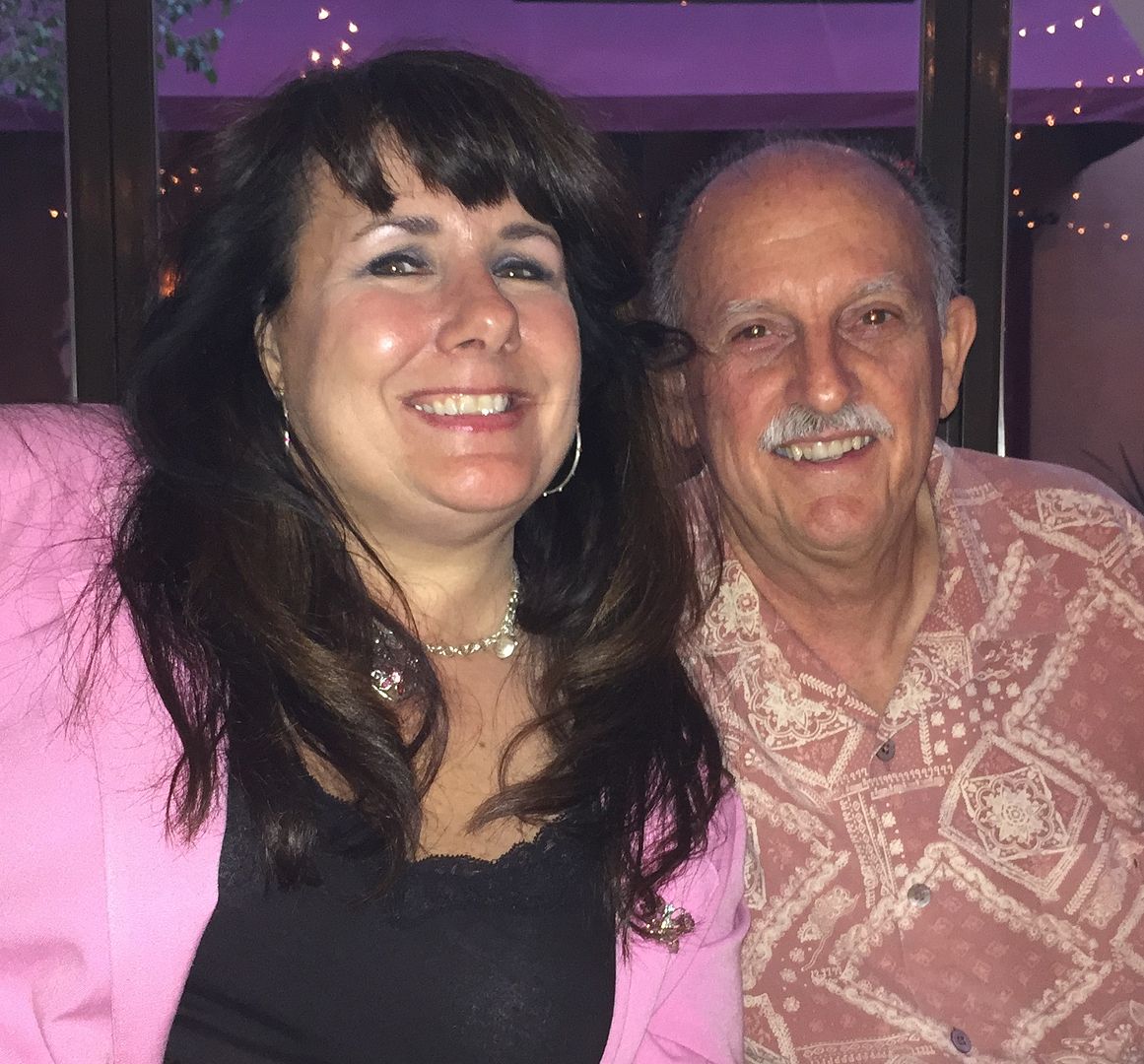 Rich had the escargot – he offered me one, but even though I've had them and know they are tasty, I declined!
I had my usual Cafe Piccolo dish – a Caesar salad and Goat Cheese chicken – it's spicy with tons of flavor!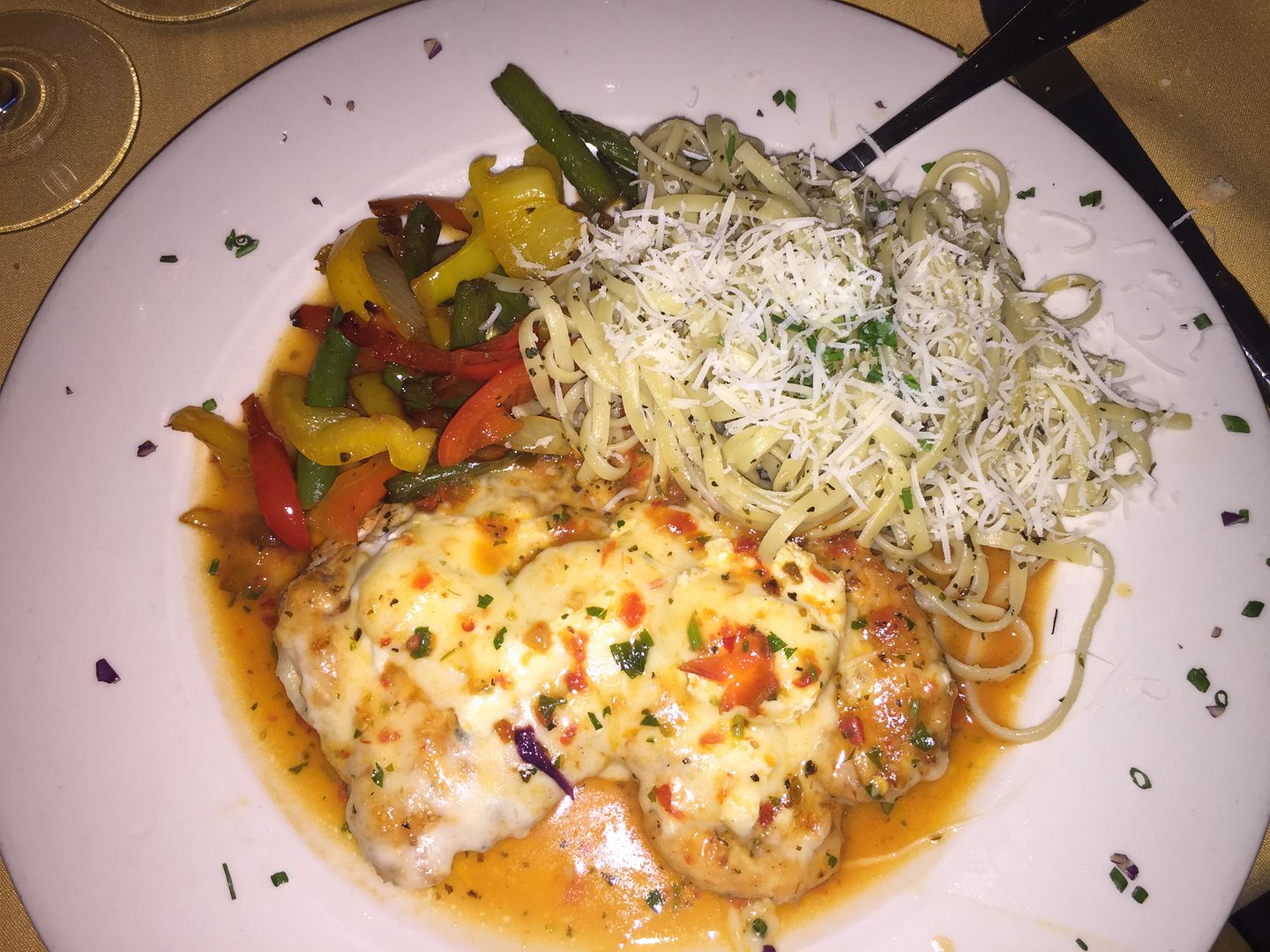 Thursday started off busy and was nonstop all day. Everyone I talked to said they had really good sales on Thursday. It was so busy that I didn't even get around the bourse to take photos. However, I did have one visitor who stopped by to say hi! Even though Nina is no longer working at GreatCollections, she still has a lot of connections in the coin industry and came to the show on Thursday to help one of her dealer friends. So of course, I would be remiss if I didn't take a photo of my little gal pal, especially since I know she is always a popular attraction in my show reports!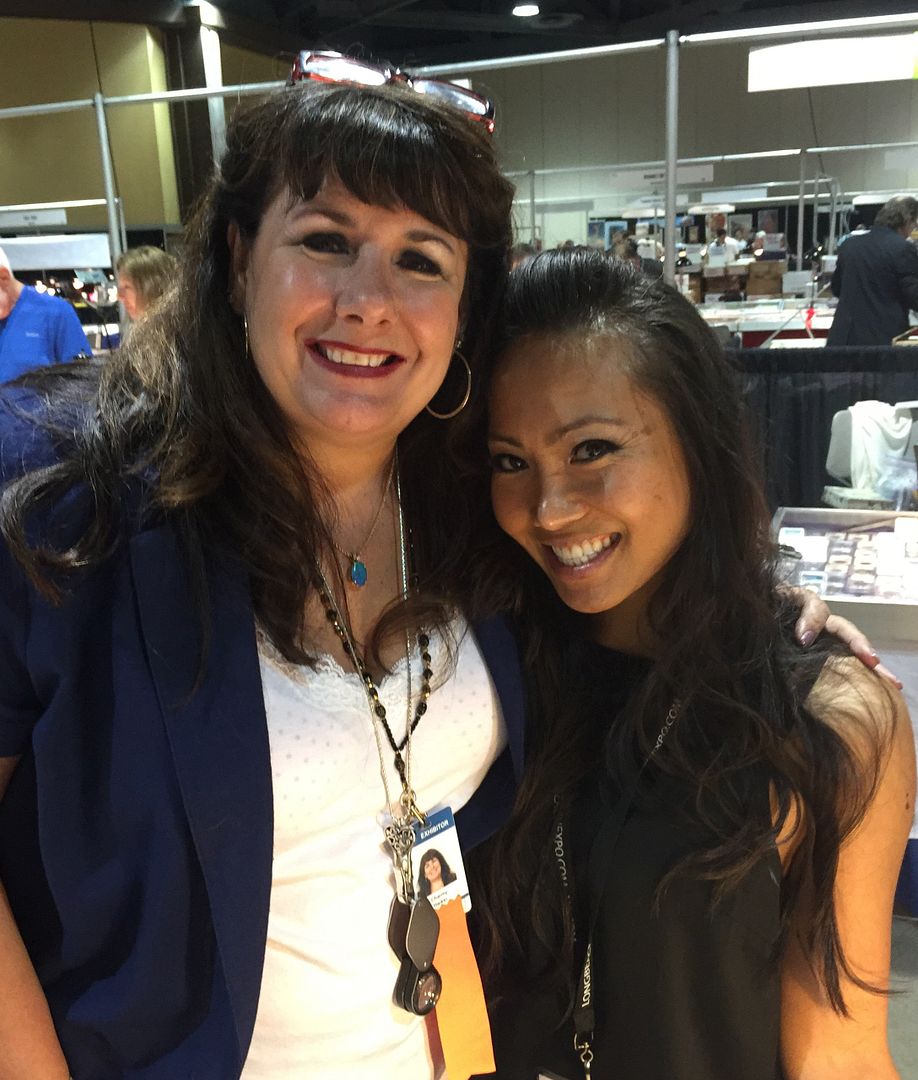 Speaking of gal pals, Amanda was so busy at this show that she barely had time for a photo, but I was able to take a quick pic before she was off and running!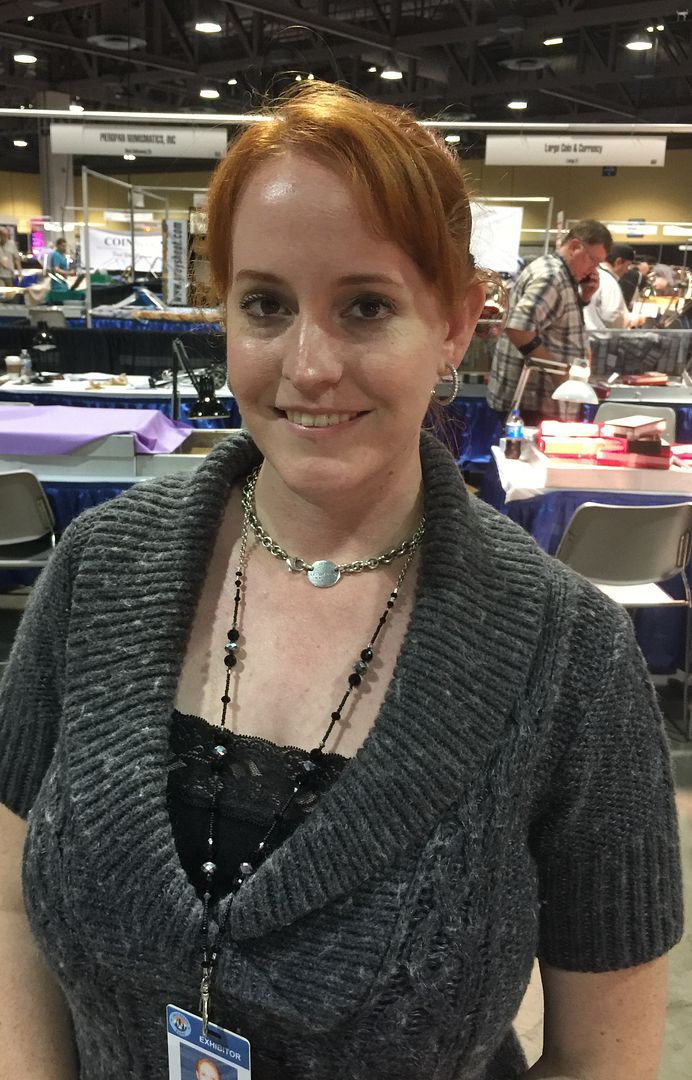 After a very busy day that flew by, I headed out to Naples Ribs, which has been a regular Thursday night dinner dealer destination of the Long Beach show for several years – thanks to Ernie who organizes it and reserves the back room just for the dealers. Here are photos of some of the usual Naples Ribs gang!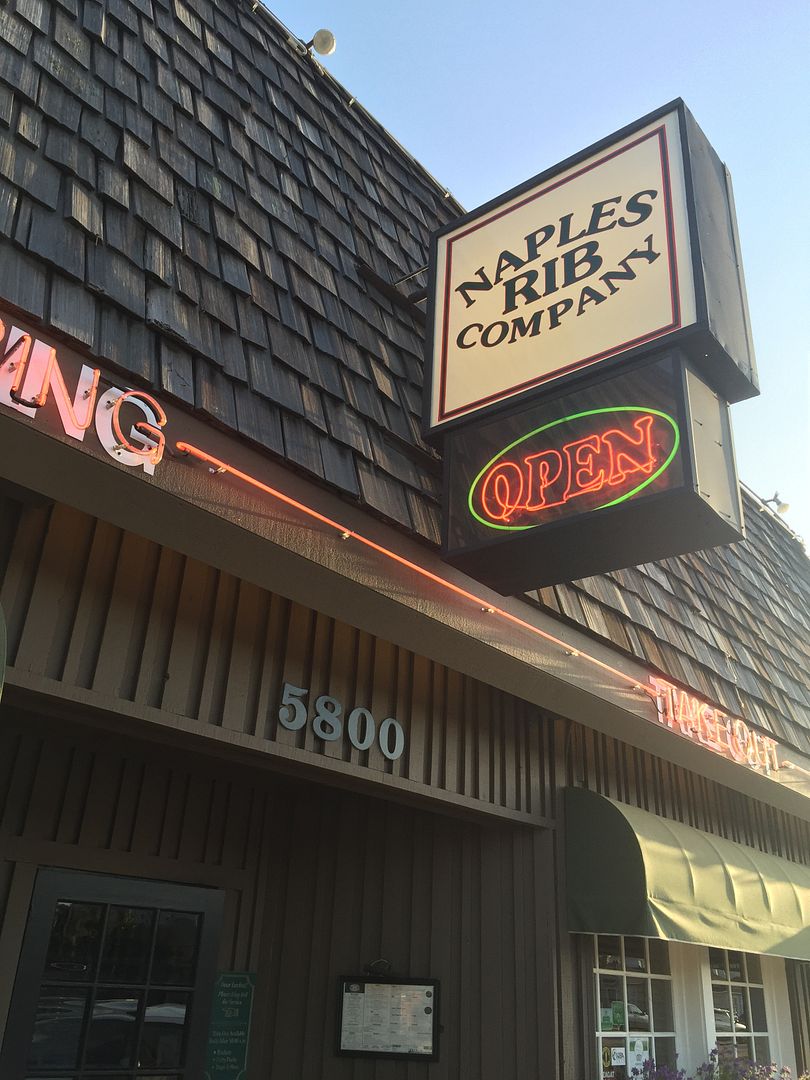 Ernie and his friends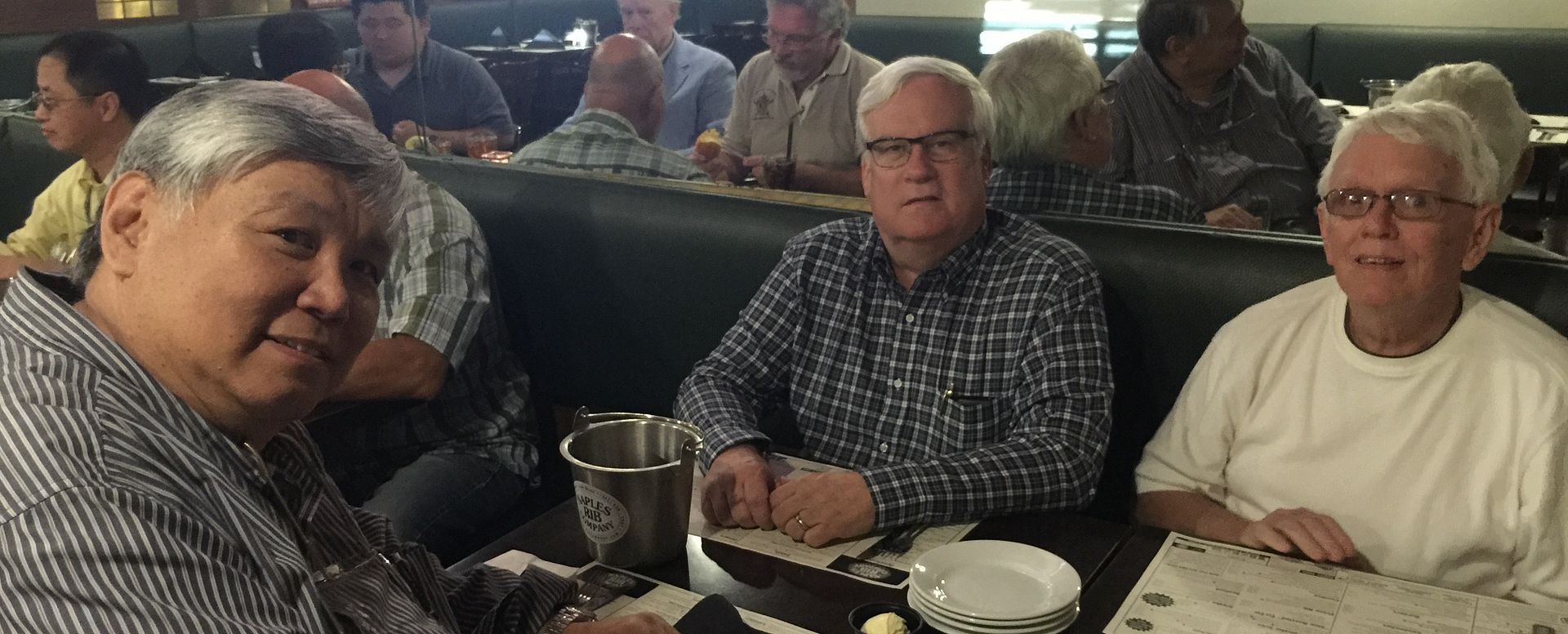 Rick and Kenny Snow, along with Todd Pollock/BluCC Photos
Me and Cindi/ANACS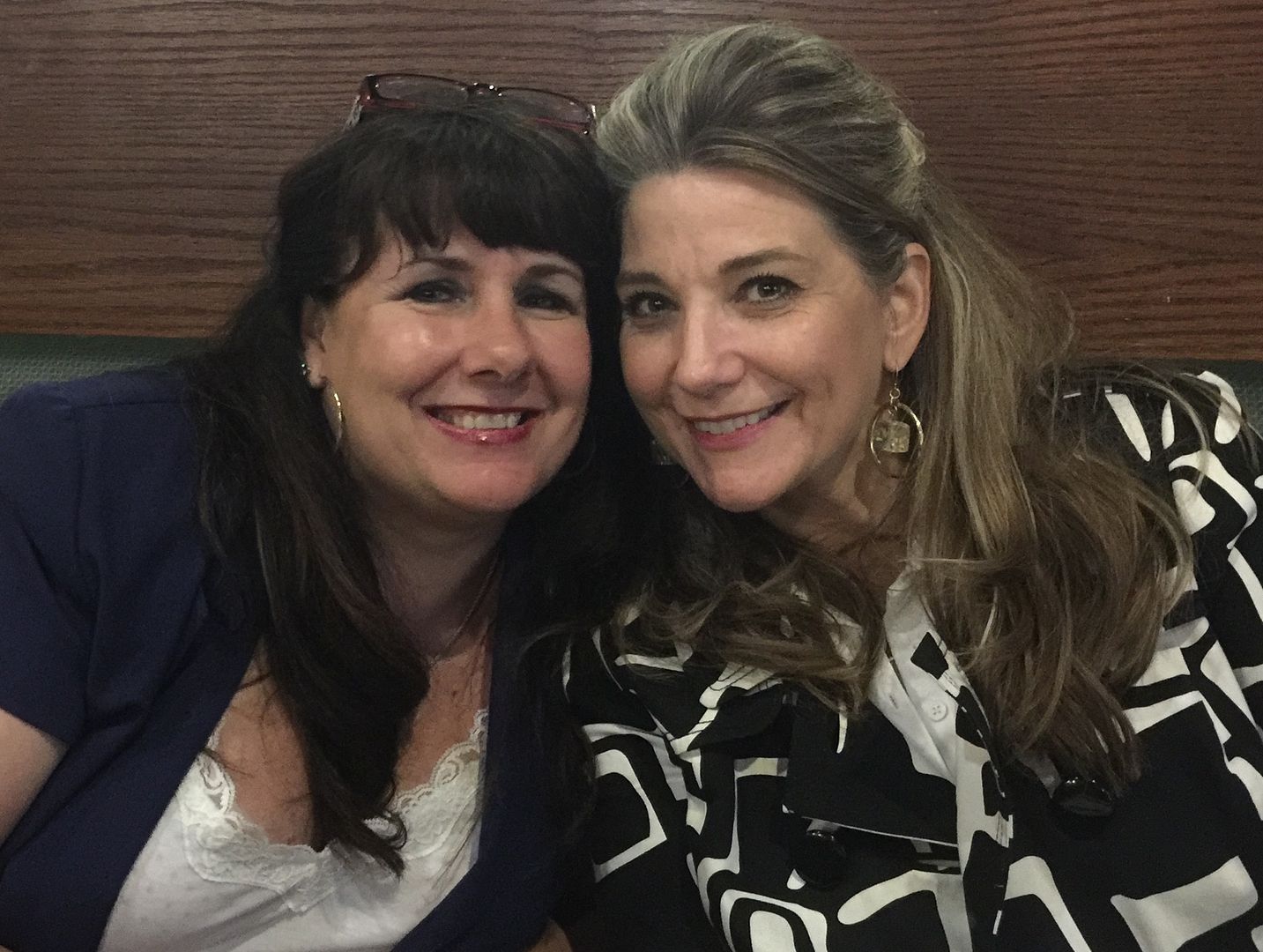 Logan McKechnie/VAMS & More (also Cindi's dad) and me
There were many more dealers there but I was sort of stuck in a booth between some people so I didn't get a chance to move around to take photos before people left.
I usually order the brisket and ribs because I know I will only eat part of it so that my hubby can look forward to having the leftovers!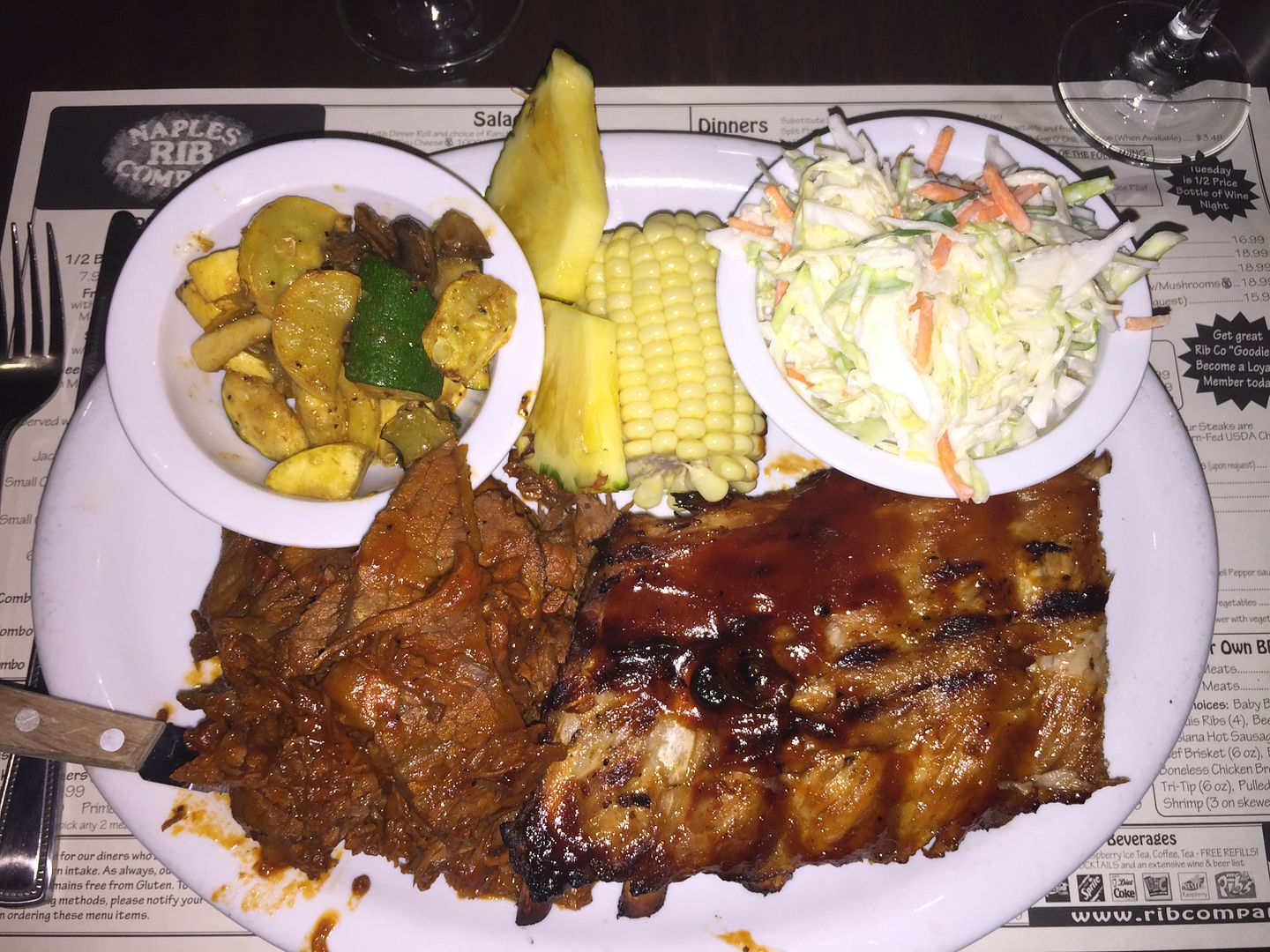 Someone else had this delicious sausage
Friday started off slower and picked up throughout the day but wasn't nearly as good as Thursday, at least for me, so I had a chance to walk around the bourse and take some photos.
Here is one of the nicest PCGS helpers – Ophelia!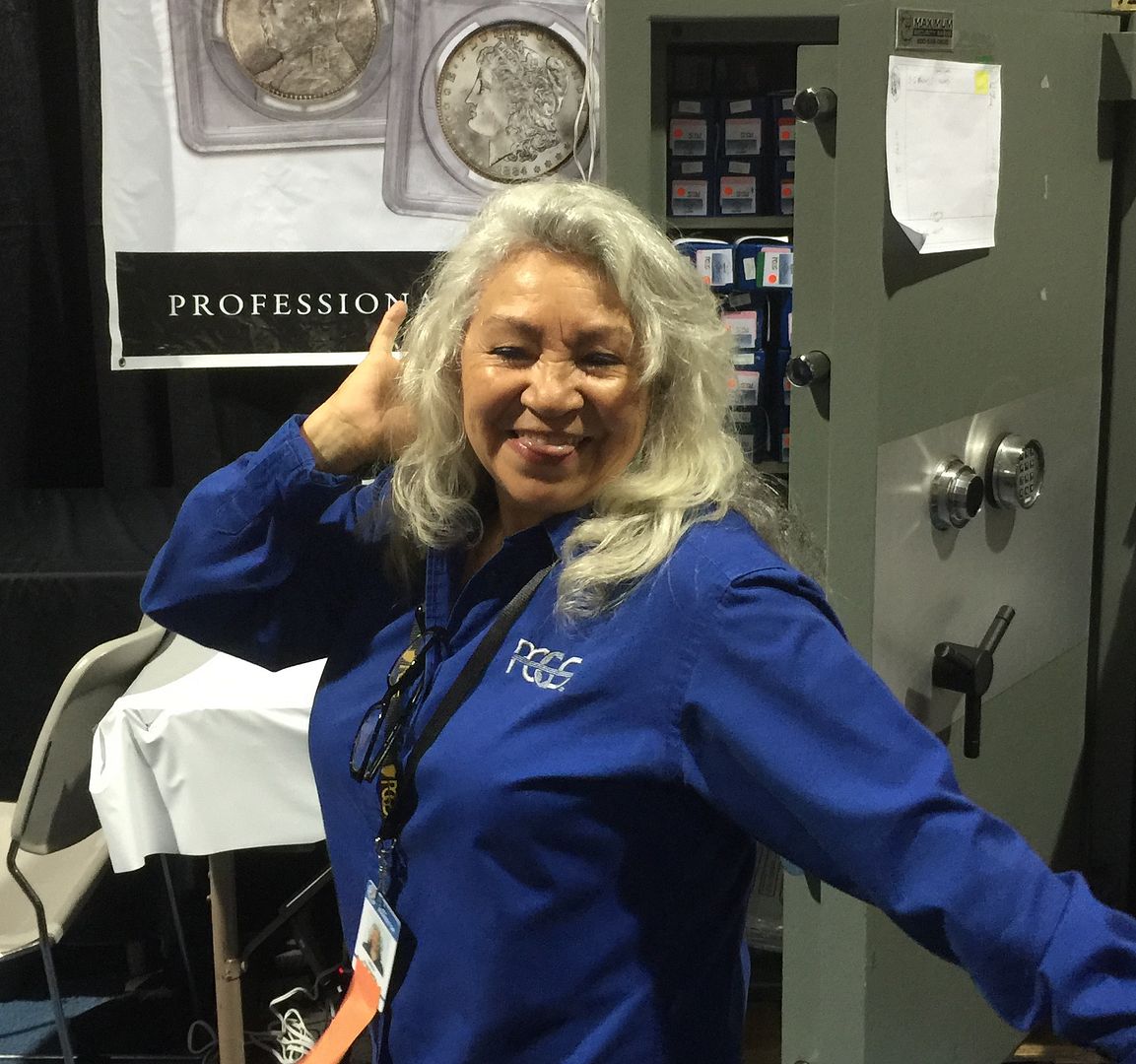 My booth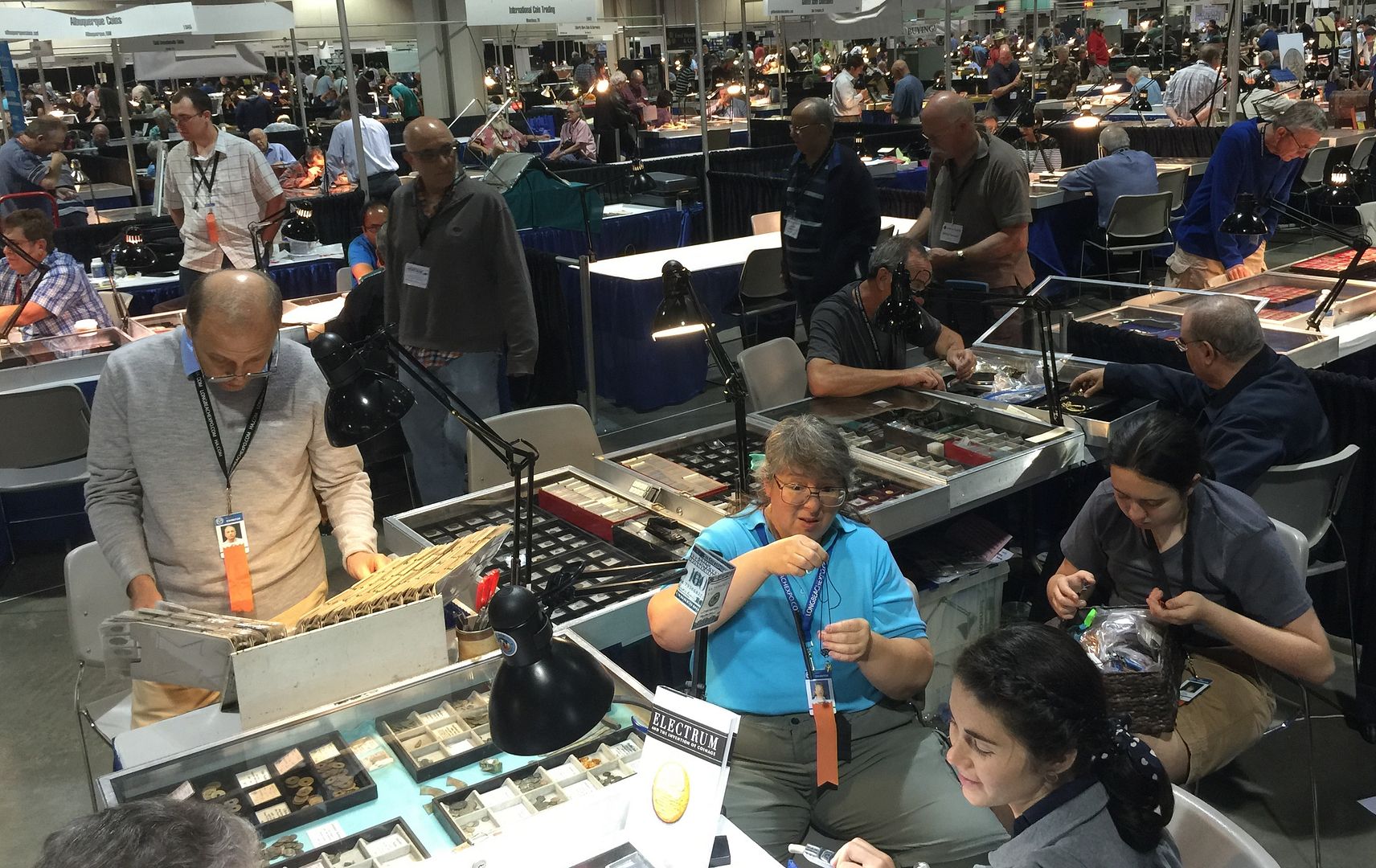 Logan is not only a good coin friend, he's a great friend and I always look forward to seeing him at the shows!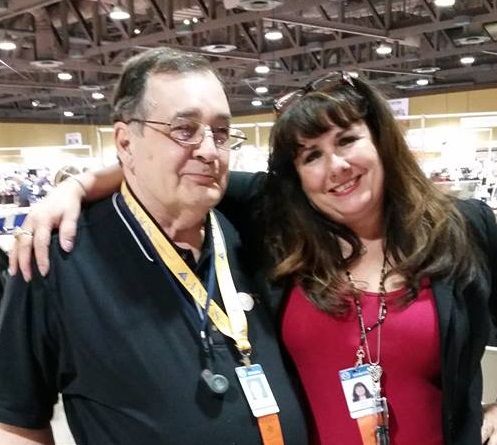 That afternoon, we opened a couple bottles of wine that we shared with several customers and dealer friends.
After the show, we went up the street to a wonderful steakhouse for dinner, 555, and had a nice table on their patio.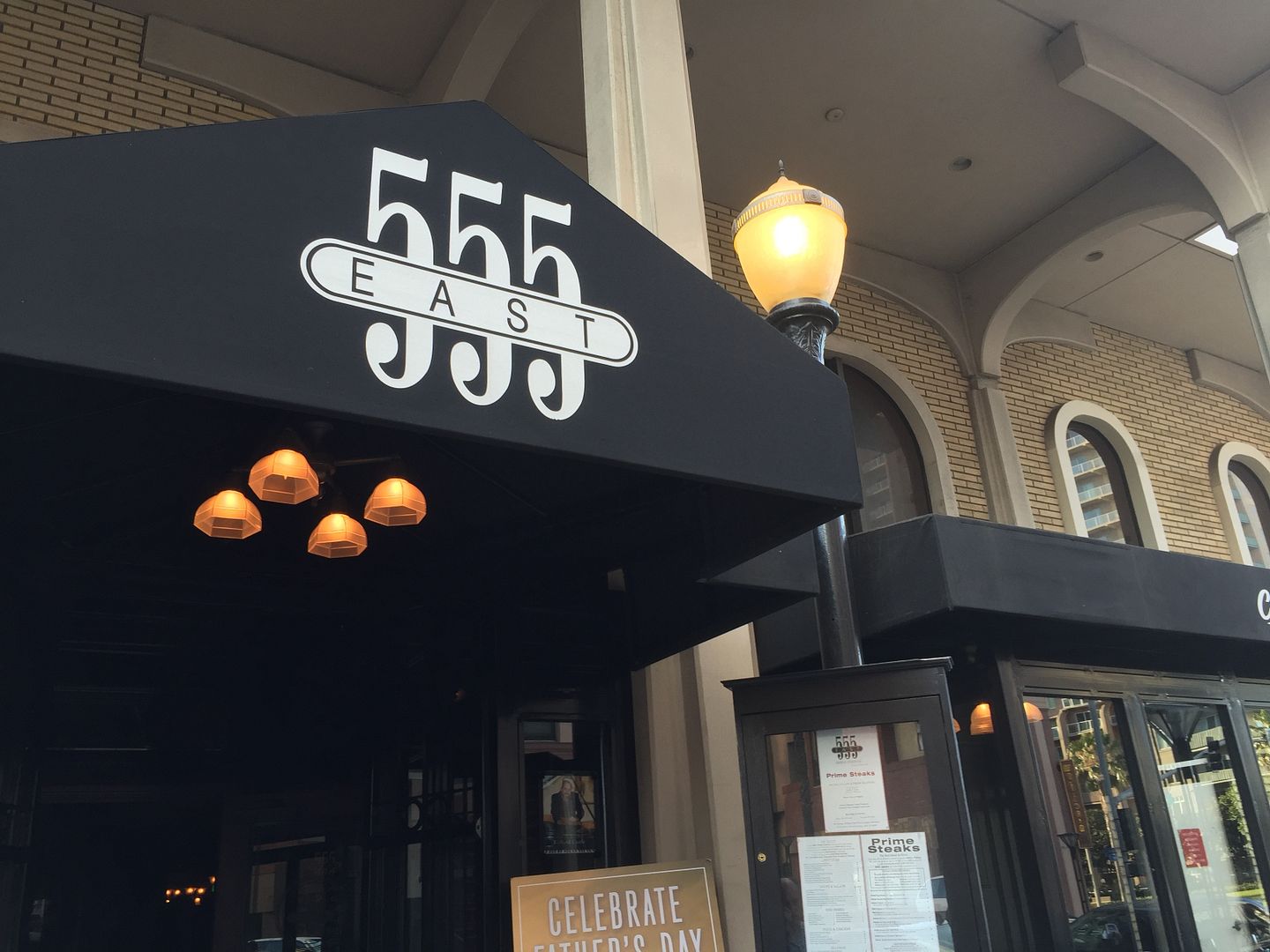 This was another wine tasting event, but with slightly higher end wines. Rich and I were a little early so we ordered some wine at the bar. I love Silver Oak cab and brought a bottle to share with the group, so we ordered a glass of the same wine at the bar just to compare. We were a little shocked, however, when we received the bar tab – the two glasses of wine, even though they were an extra large pour, were $25 each! Yikes! Note to self: ask the cost BEFORE ordering good wine!
The bar Silver Oak was a 2010 and mine was a 2007 – Rich and I both agreed the 2007 was better.
Here are the other wines our group brought.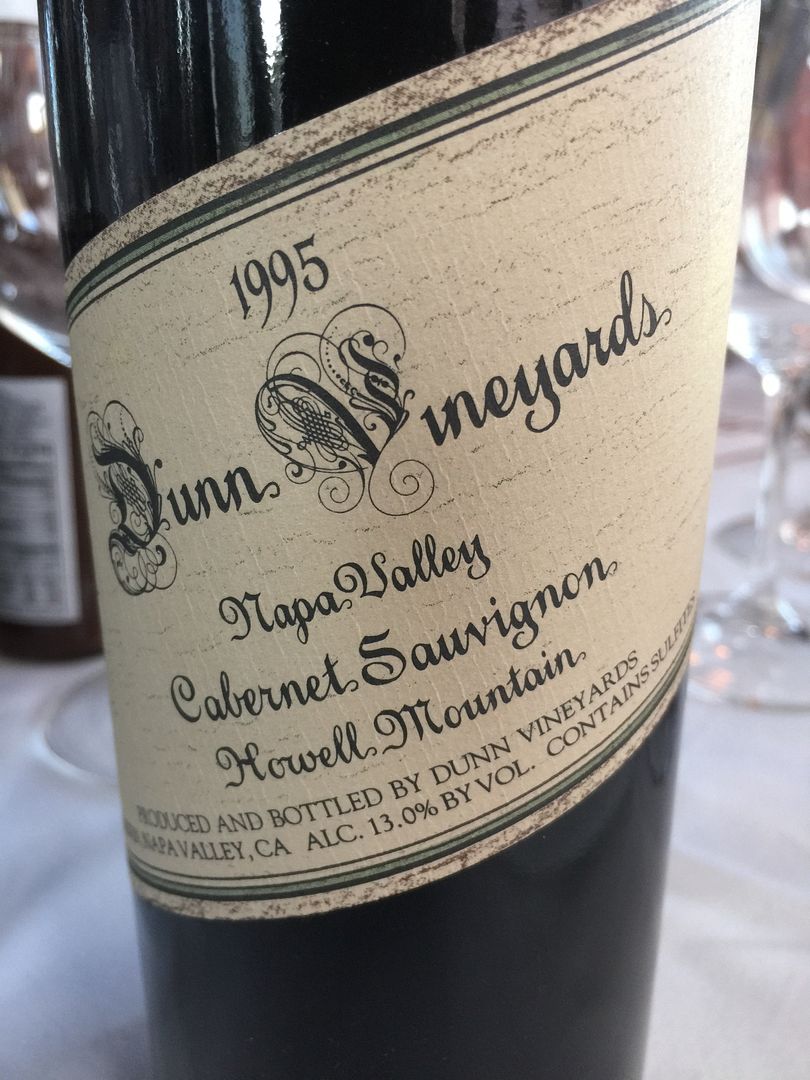 Alan Kreuzer, who has an extensive personal wine collection, brought this very special Madeira wine. This wine was bottled around 1900 and contains a little wine that was first bottled in the mid 1800's, sort of like how a little bit of sour dough is passed down from batch to batch for years to come.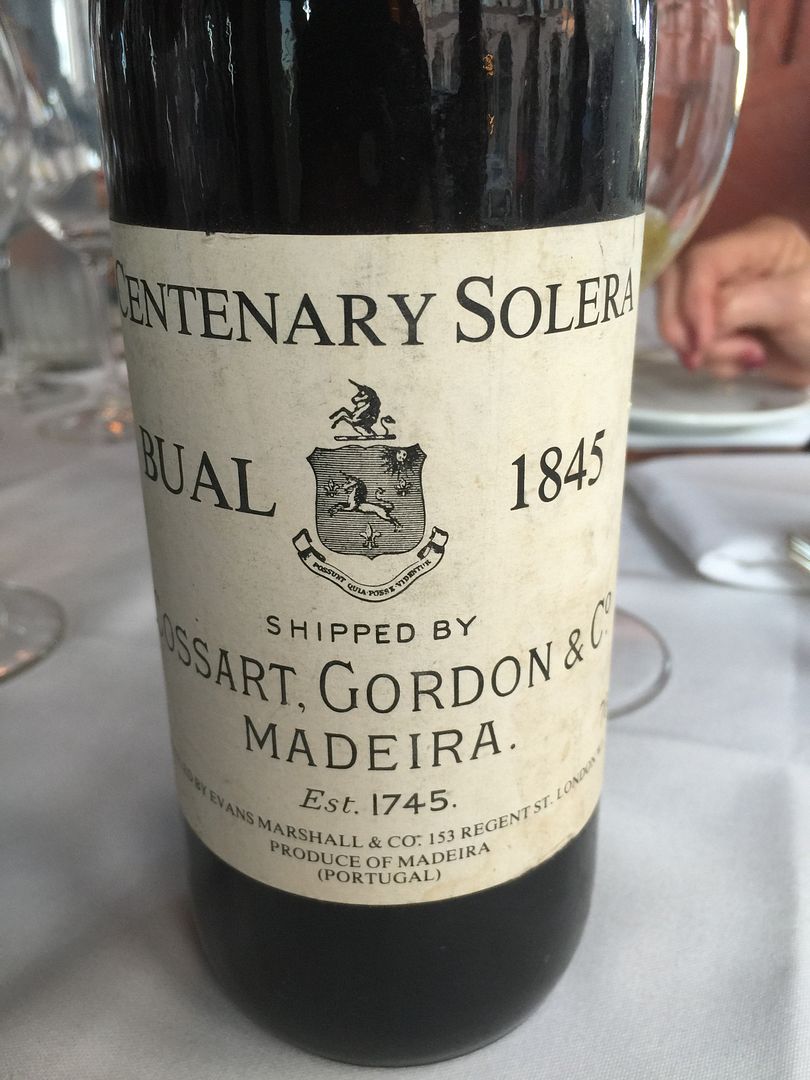 My dinner started off with crab bisque, which had a delicious rich spicy flavor.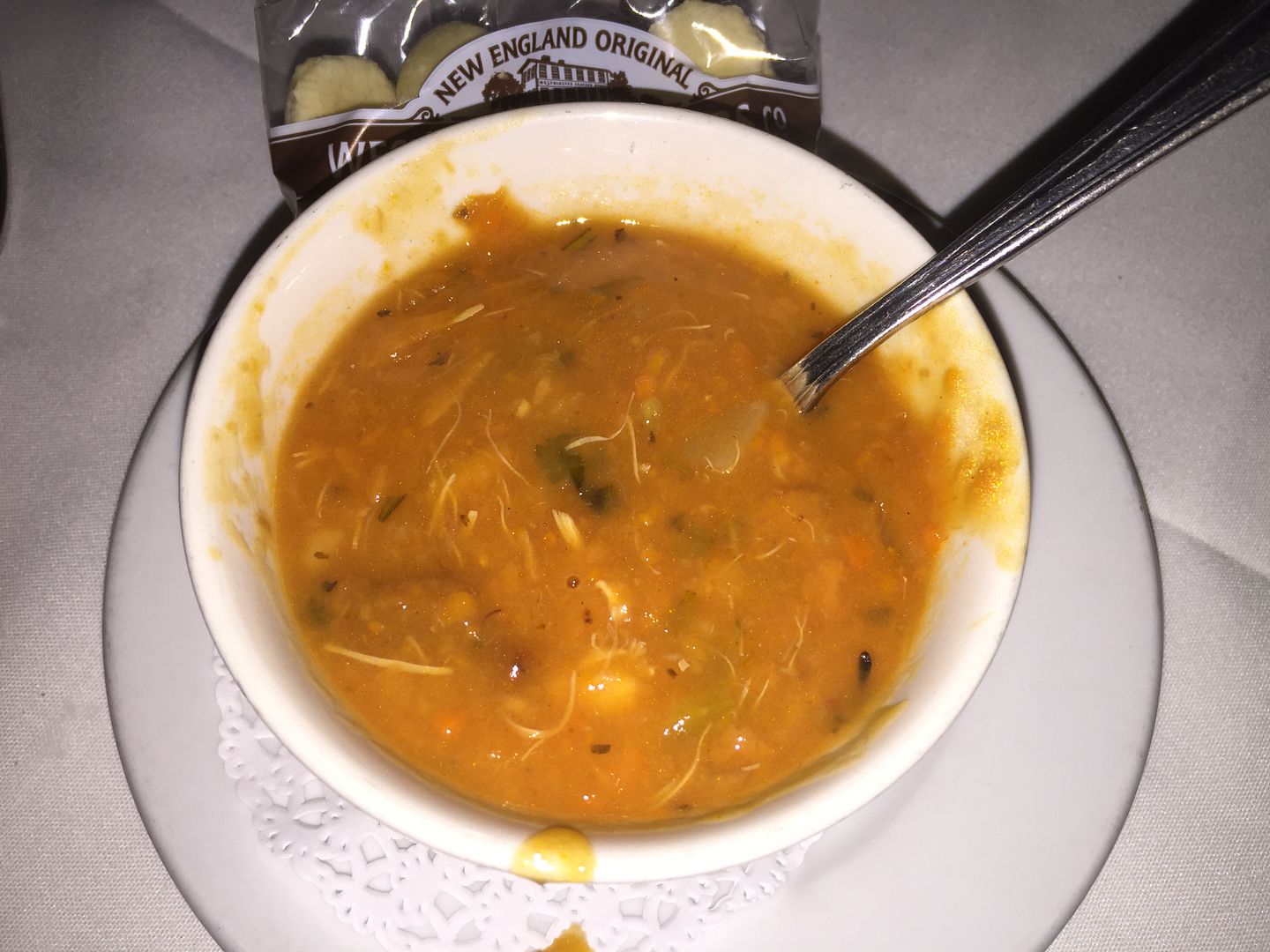 Rich and I split a large porterhouse/filet steak with Oscar style topping (I forget to take a photo before we dived into the plate!).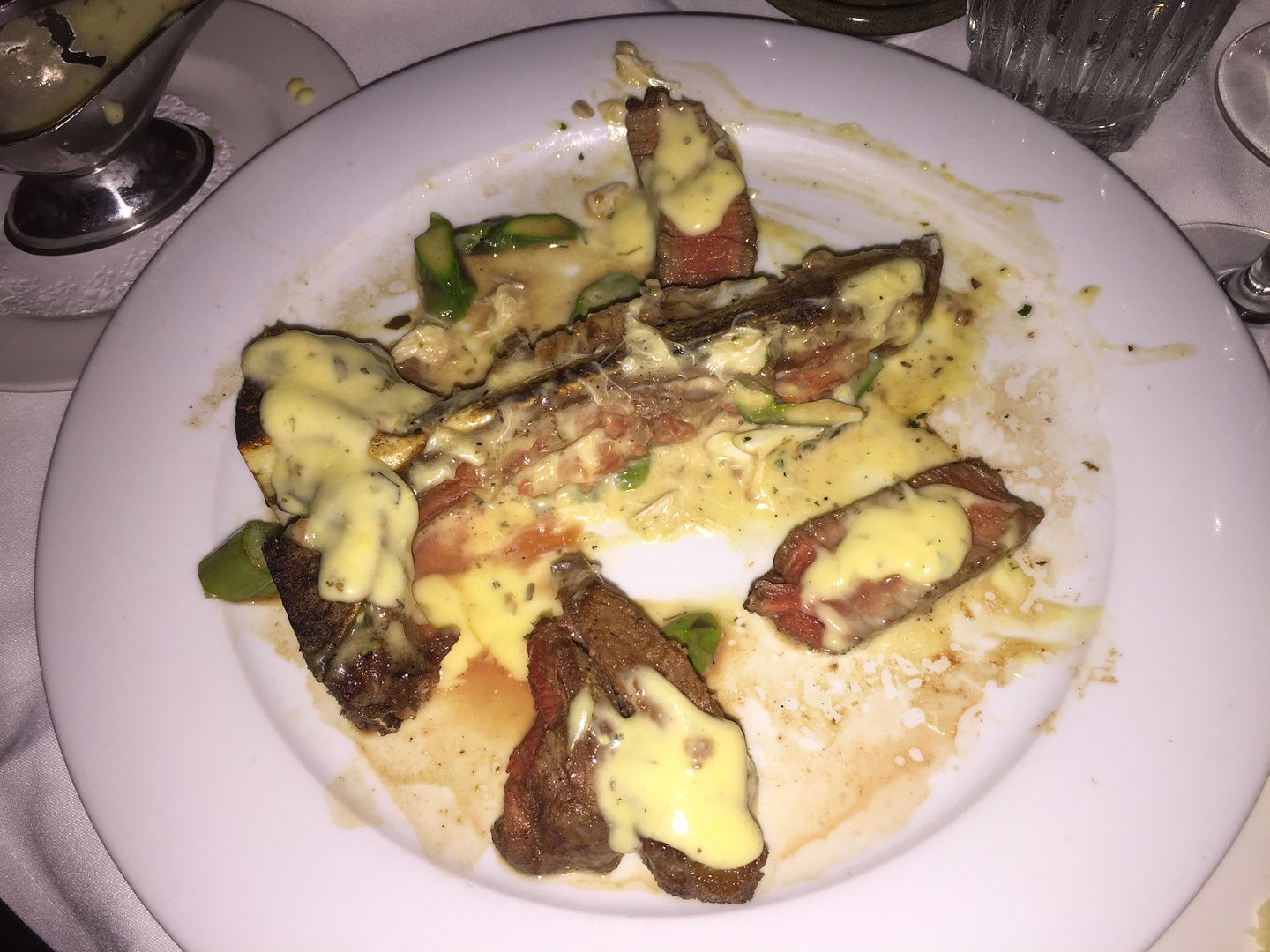 We were delighted to find out that 555 has no corkage charge - that saved us a bundle since corkage fees range from $15-$30 per bottle. This is what our table looked like after the wines were opened and passed around!
Saturday was typically slow sales-wise, though there were lots of public and especially families in attendance, including this adorable little numismatist, Audrey.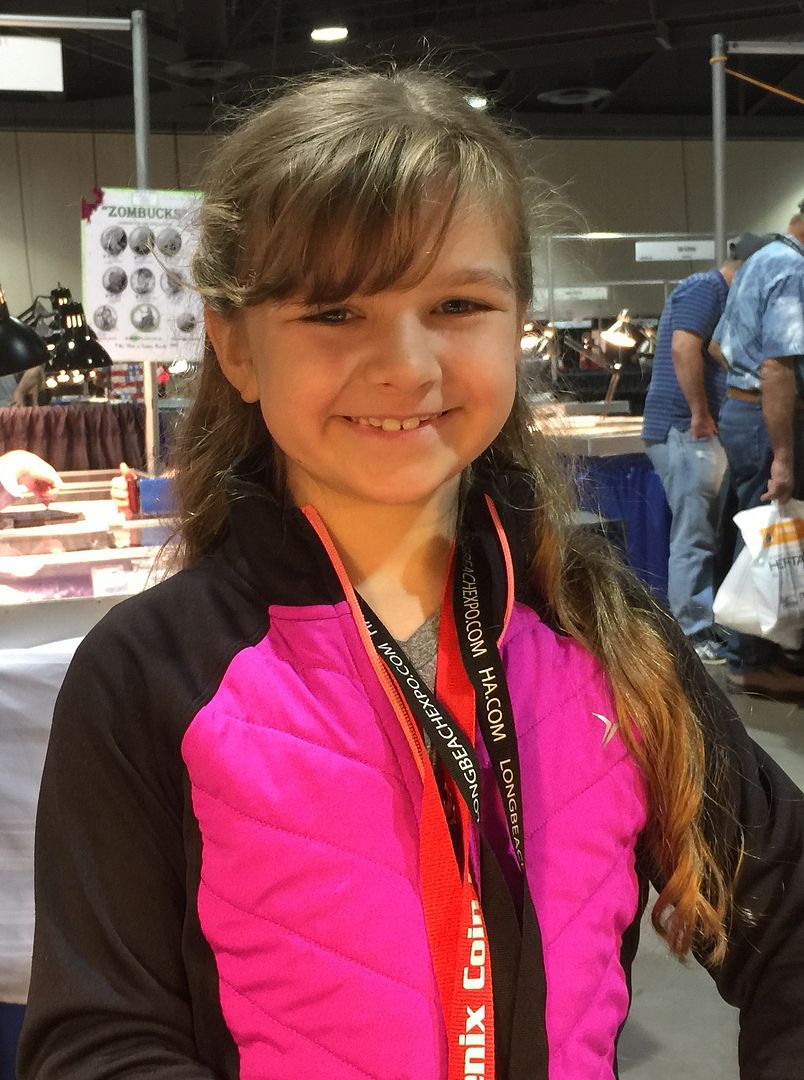 A dealer friend of mine also showed me this fantastic 1864-L Indian cent error that he came across recently. It has a huge unretained cud, probably one of the largest cuds I've seen on an Indian cent. Before he showed it to me, he knew how much I would covet such a neat error so advised me several times that it was not for sale – darn it!
This is Rich examining the cud.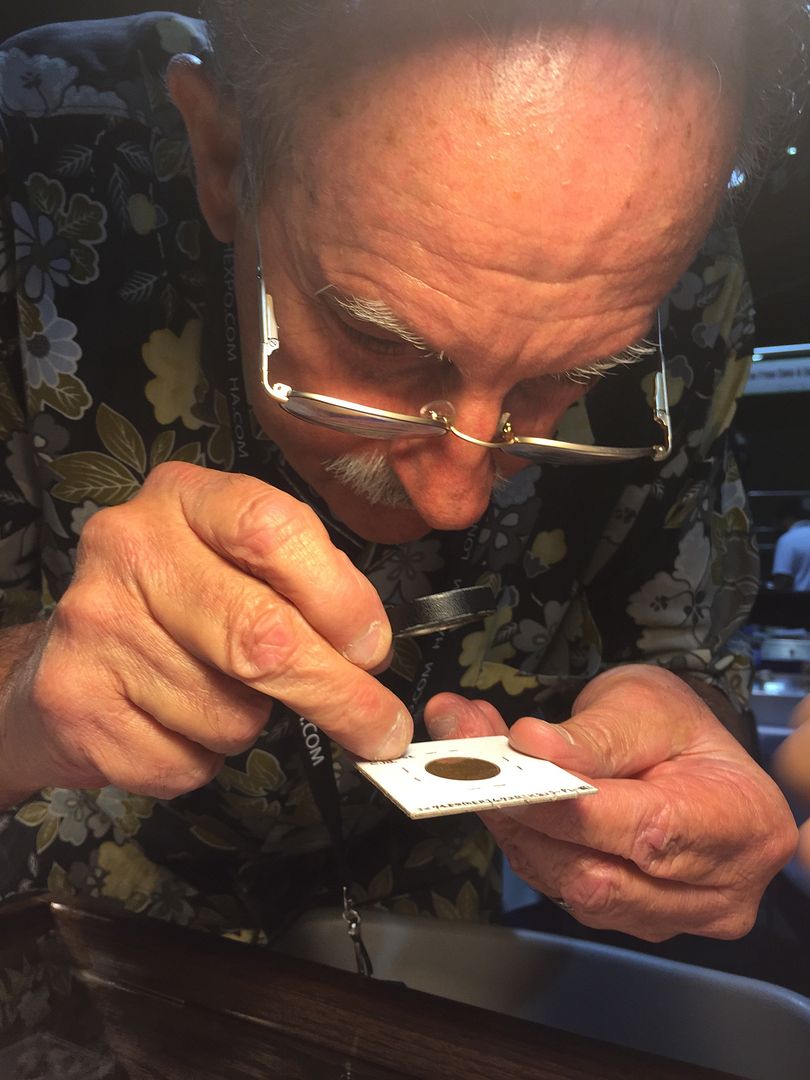 Soon it was time to tear down and pack up, for me it's the worst part of a show. It seems like every Long Beach show just flies by and is over too soon. Rich was out making some last minute deals so I packed up everything, and then Rich packed up the slabs. Here's me taking a short break while watch Rich gather up the coins.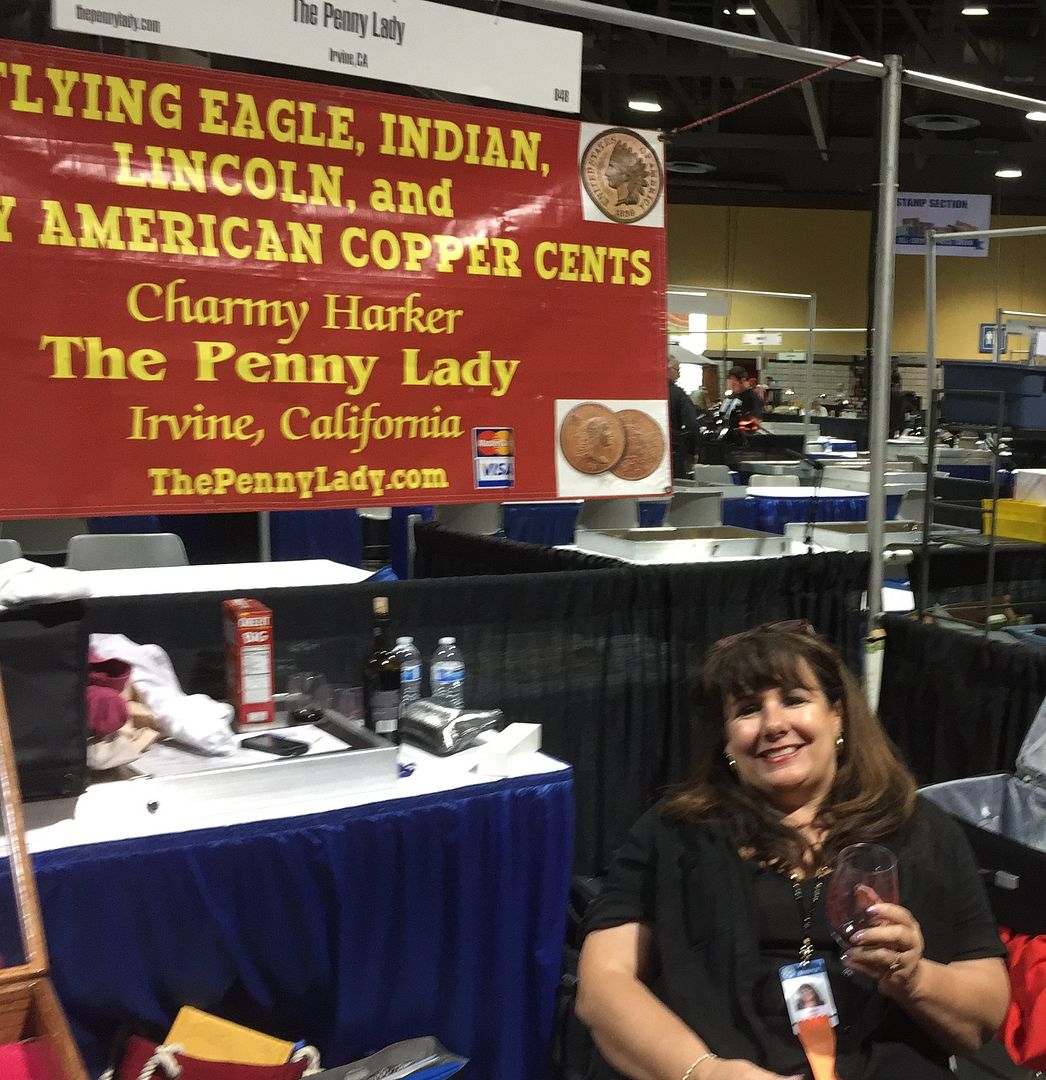 But luckily, there's always another show just around the corner! Next up: The ANA Summer Seminar and then the summer Baltimore Show in July!
Charmy Harker - The Penny Lady®
President of Women in Numismatics
ThePennyLady.com