Home
›
U.S. Coin Forum
Charmy's BIG 2015 FUN SHOW REPORT w/Tons of Pics!!

ThePennyLady
Posts: 4,084
✭✭✭✭✭
For me, the FUN show is probably the most anticipated show I attend. The coin show season slows down the last few months of the year so many dealers eagerly await the FUN show in early January, as I do! Also, many feel the FUN show is somewhat of a gauge for the coin market for the year. And if this FUN show is any indication, 2015 should be a good coin year! For me, the FUN show was very busy, with lots of good buys and really good sales. Even more importantly, I also built relationships with several new collectors.
Going to shows on the east coast requires a full day of travel for me, so I headed to the airport on Tuesday morning. As a frequent traveler, I build up my air miles and look forward to using them to upgrade to first class when traveling to east coast shows. This only happens a couple times a year, with the FUN show being one of them. So even though it would be a very long day, I didn't mind since I would have a more relaxing flight to Florida.
Me so happy to be headed to the FUN show!
Bye-bye OC
I had a connection in Denver which was covered with snow!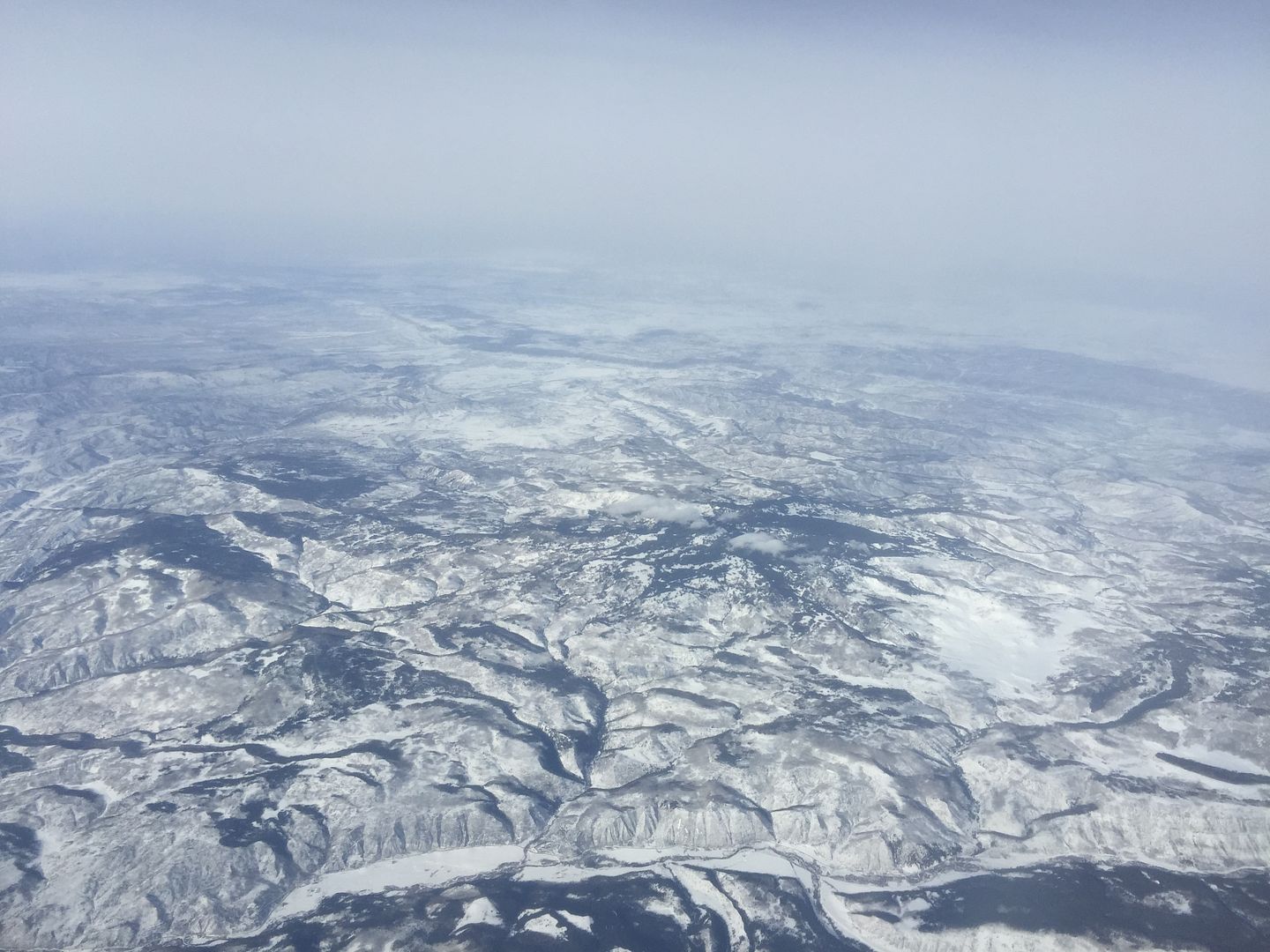 I arrived in Florida late Tuesday, settled in to my condo, and went straight to bed since I had a 9am meeting the next morning.
Wednesday – It was a beautiful morning, and I arrived at the Orlando convention center early for a meeting.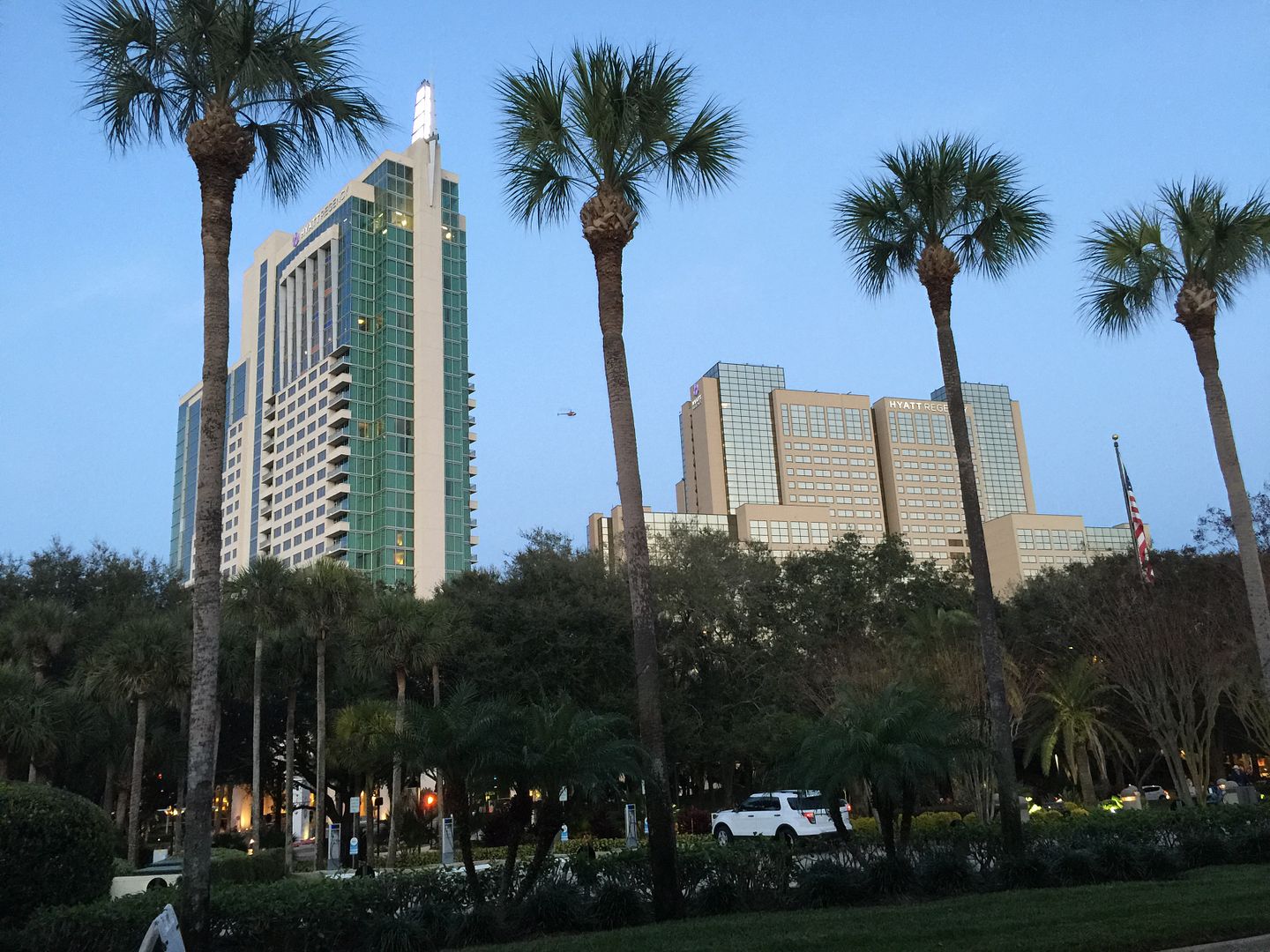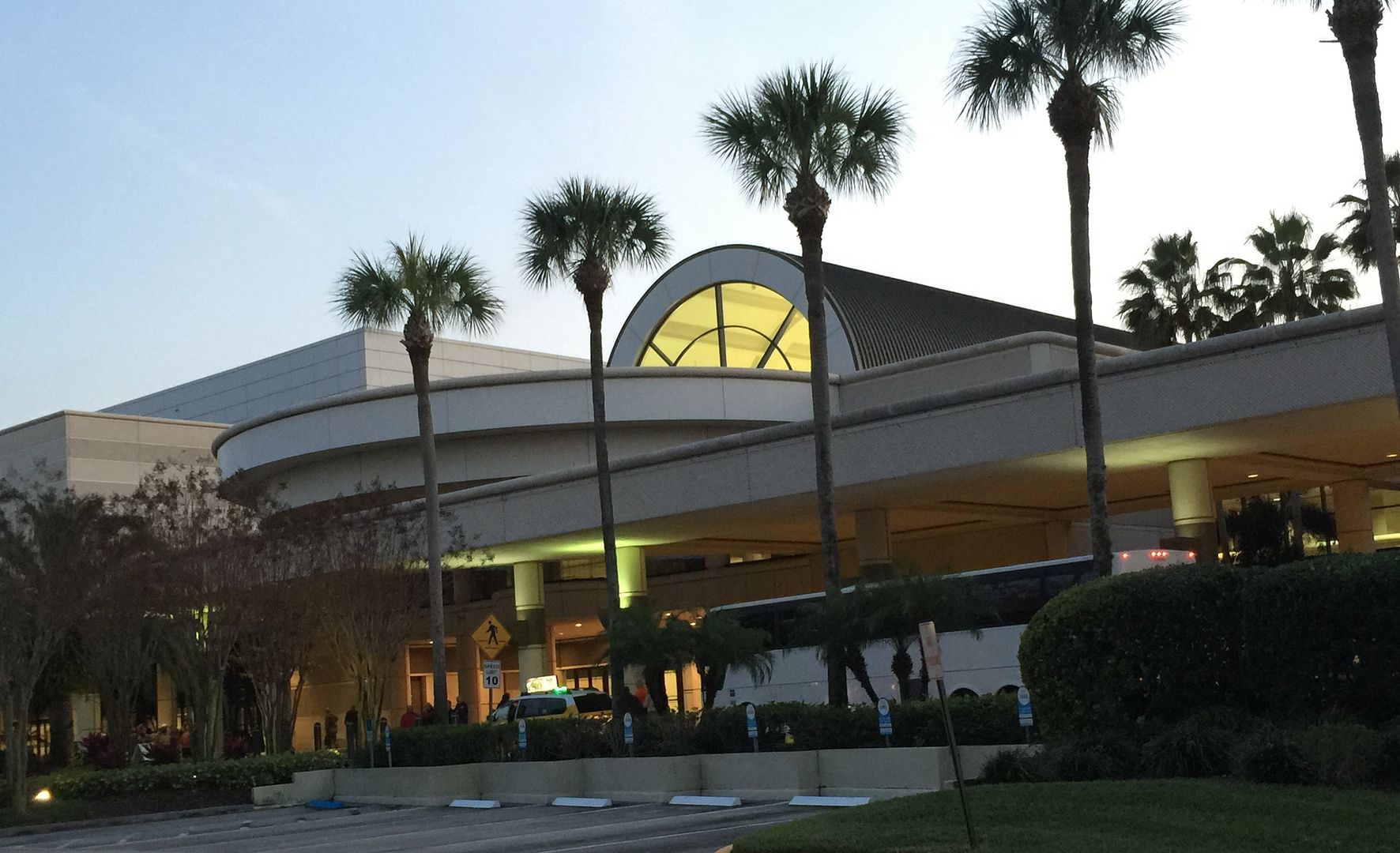 There was a Surf show in the convention building right next to ours and, apparently, their show began before ours did so most of the parking lots were pretty full by the time we arrived.
I am Chair of the ANA's Dealer Relations Committee and we had a meeting at 9am on Wednesday. During our meeting, we discussed issues relating to how the ANA can improve coin shows for dealers, including issues relating to locations for future shows, safety, etc.
After that meeting, I went over to the Heritage lot viewing room to check out some of the copper pieces up for auction and was able to view and examine some amazing and historical coins.
Some of these coins were brought to me by a Heritage representative with a security guard standing by his side.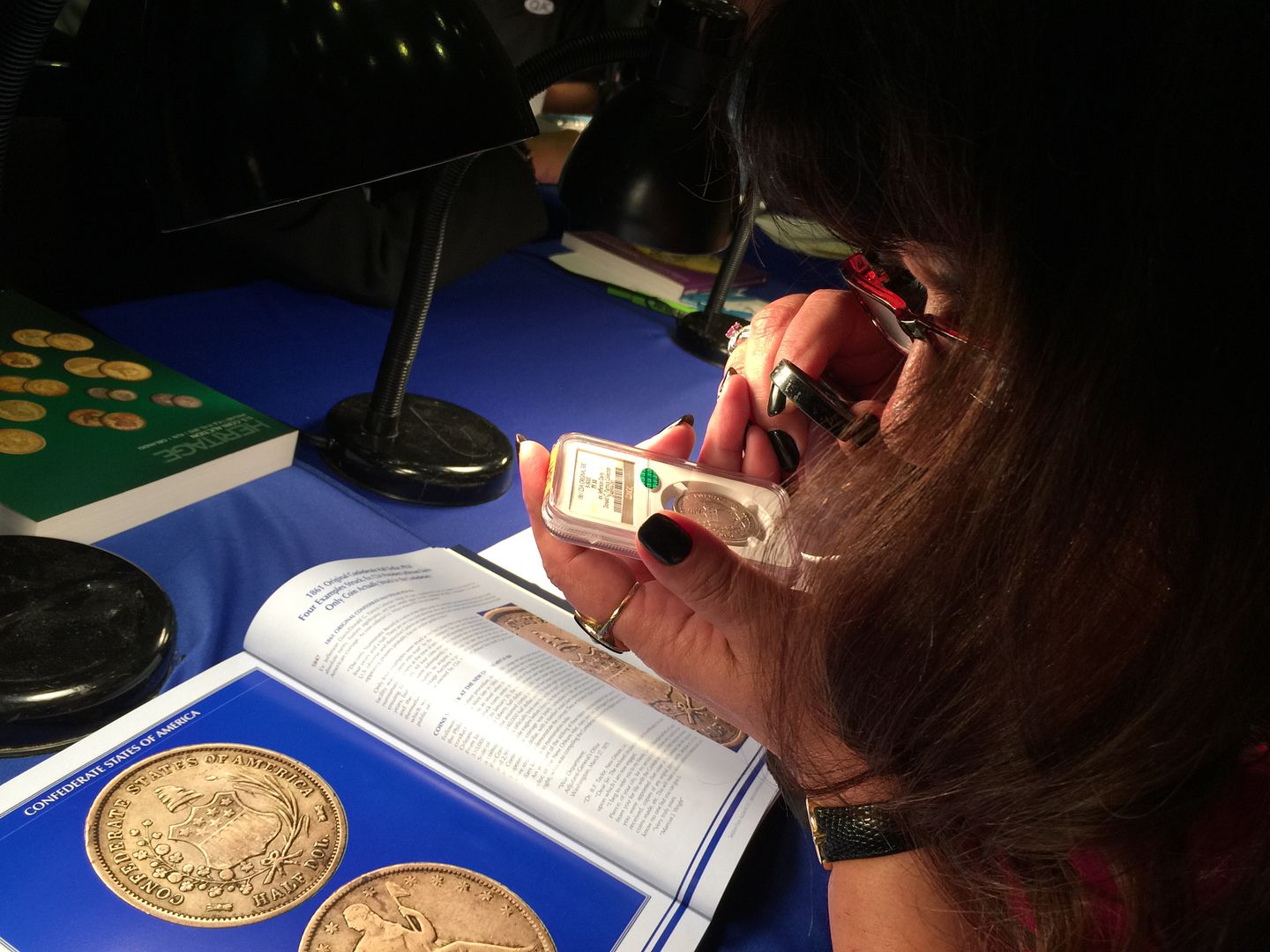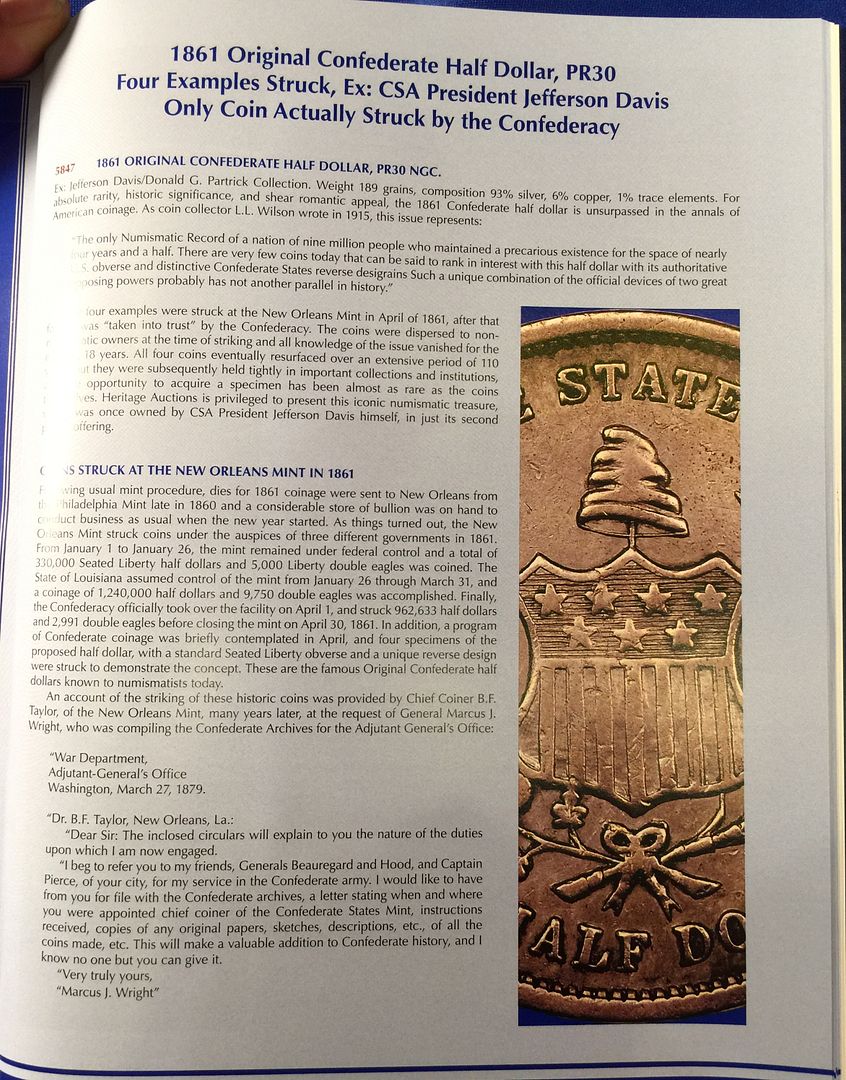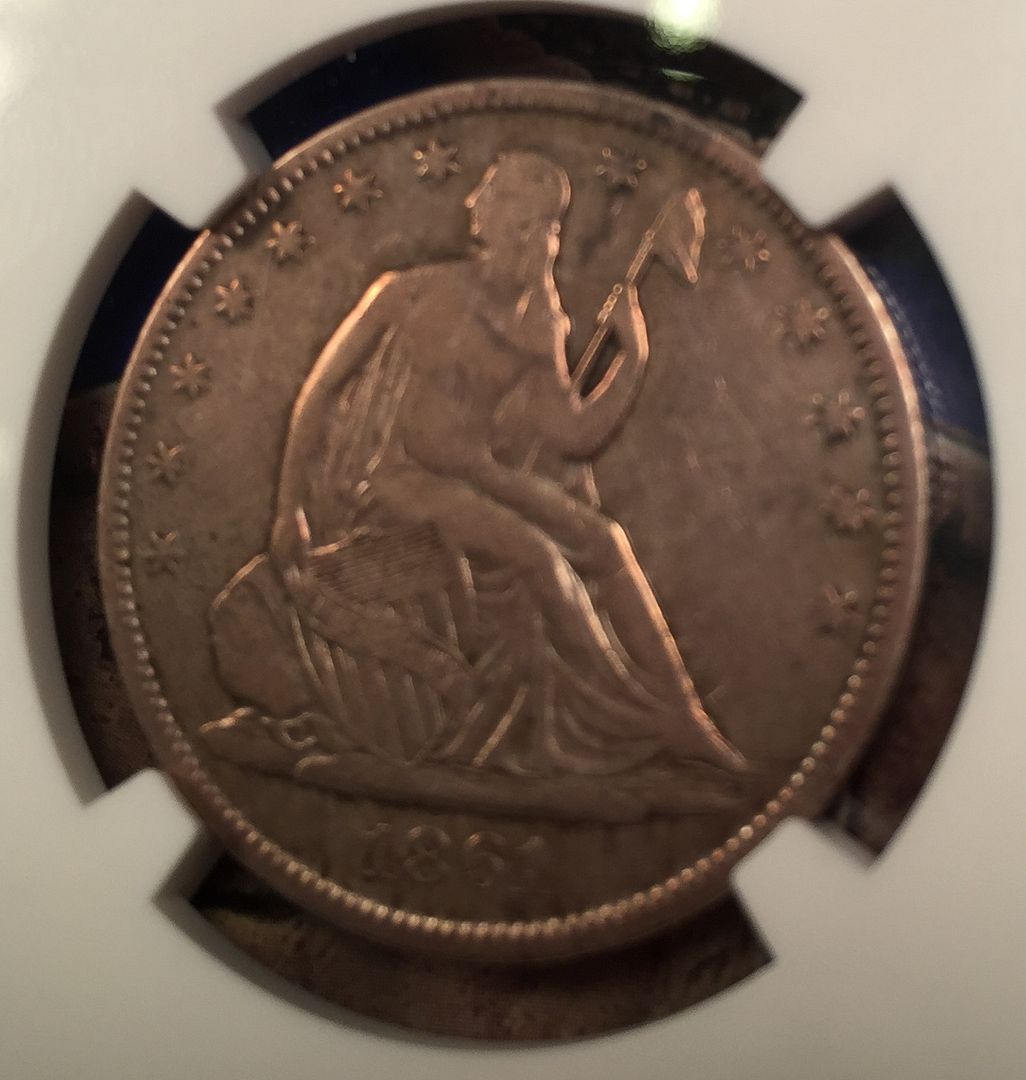 Alan Weinberg was sitting next to me examining some of these amazing pieces as well.
After lot viewing, I attended a PNG lunch meeting. One of the most interesting items discussed at the PNG meetings are updates on legislation affecting numismatics around the country. The most significant event discussed at this meeting was the passage of the recent law Collectible Coin Protection Act which broadens the existing Hobby Protection Act by making it unlawful to sell unmarked replica coins.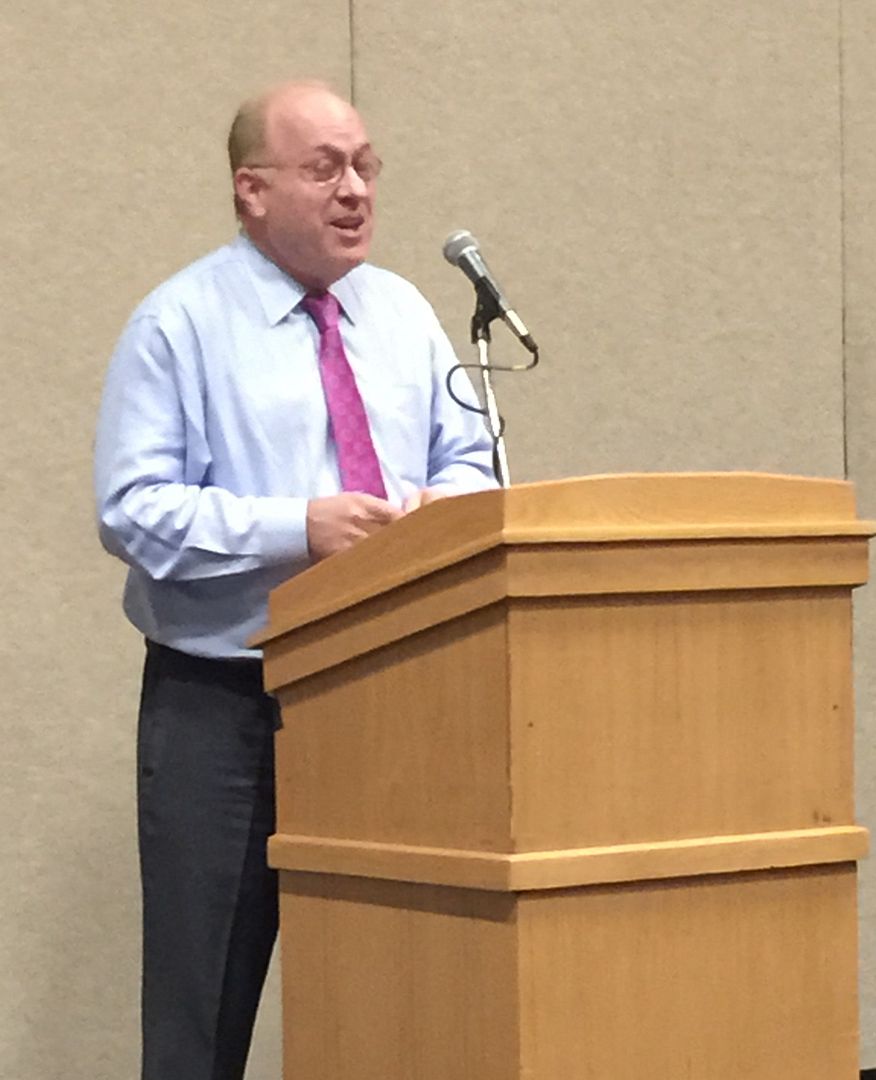 After the PNG meeting, I headed over to security to retrieve my bags, and waited along with all the other dealers for the doors to open so we could set up our booths.

Todd and his dad Roger waiting in line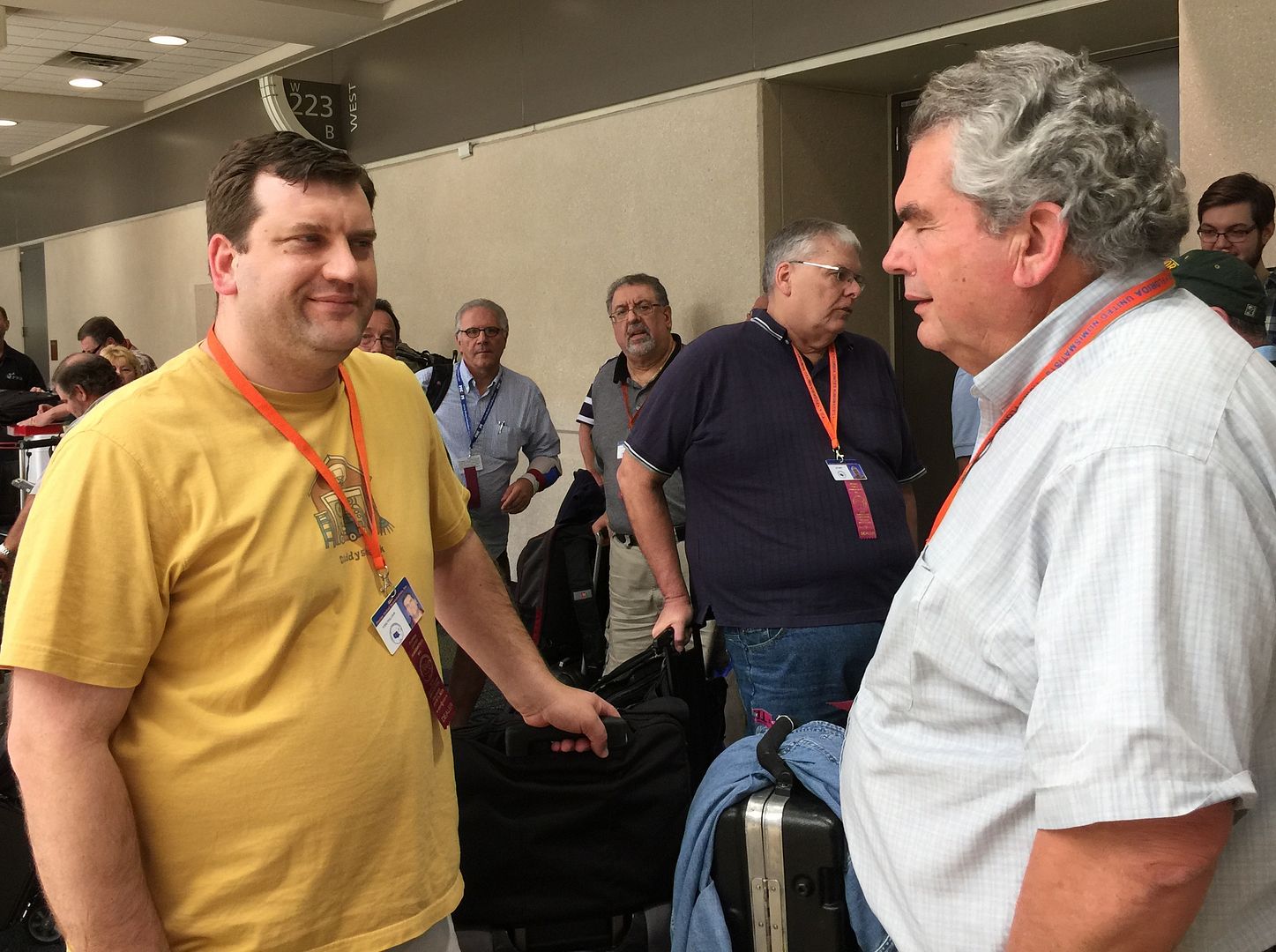 Also ran into my favorite error dealer Fred Weinberg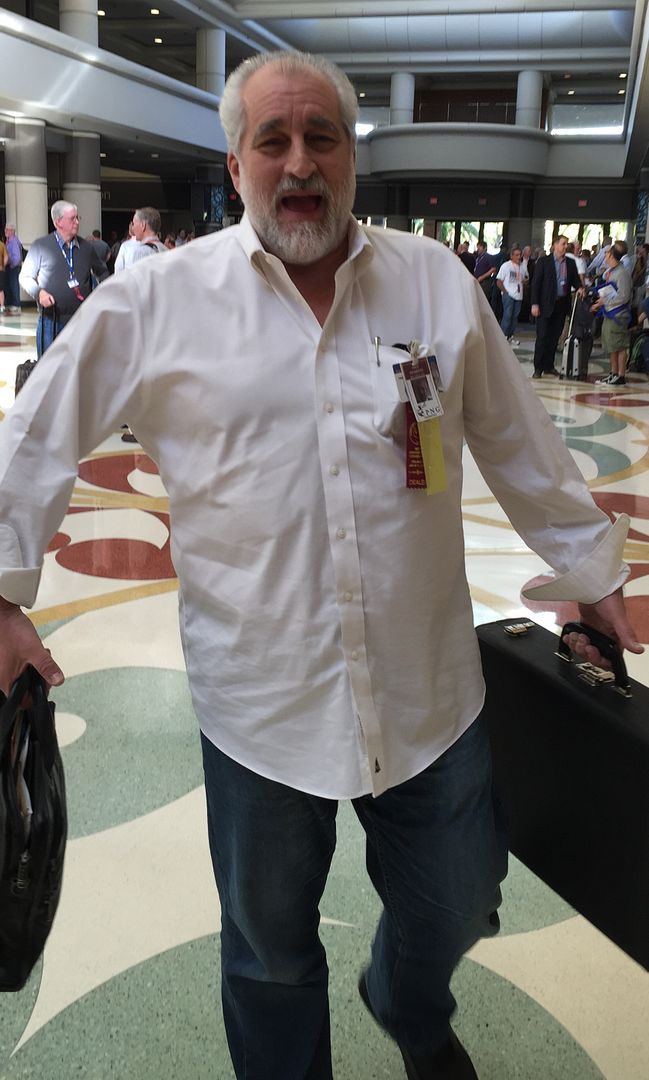 This beautiful 1864 Bronze Proof Indian cent was the first coin I bought at the show
I also found many other coins throughout the show that I was very pleased to add to my inventory!
And since my favorite Conder token dealer Gary Groll was set up right across from me, I was able to pick up a beautiful new piece to add to my collection. This Clerkenwell 146 is very rare – due to the broken die, only 4 were struck all of which have the massive die cracks.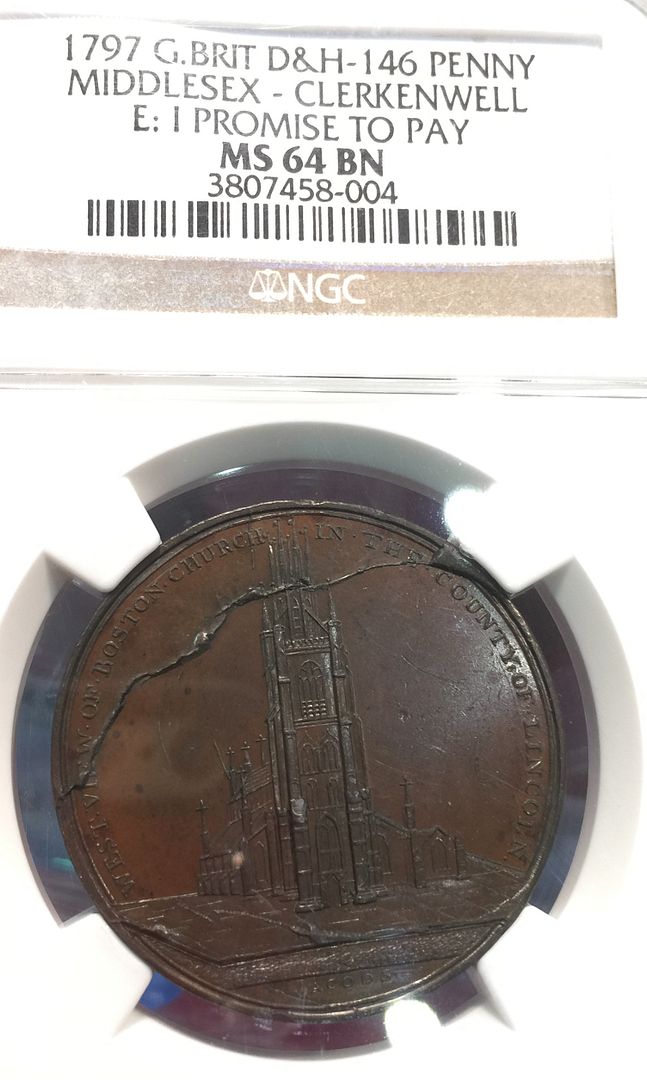 I also bought this beautifully toned Bath 8 from Ron Sirna who was set up with Gary
After the show ended, a group of us went out to dinner. My friend, Mark, likes to rent flashy cars, and this beauty was no exception!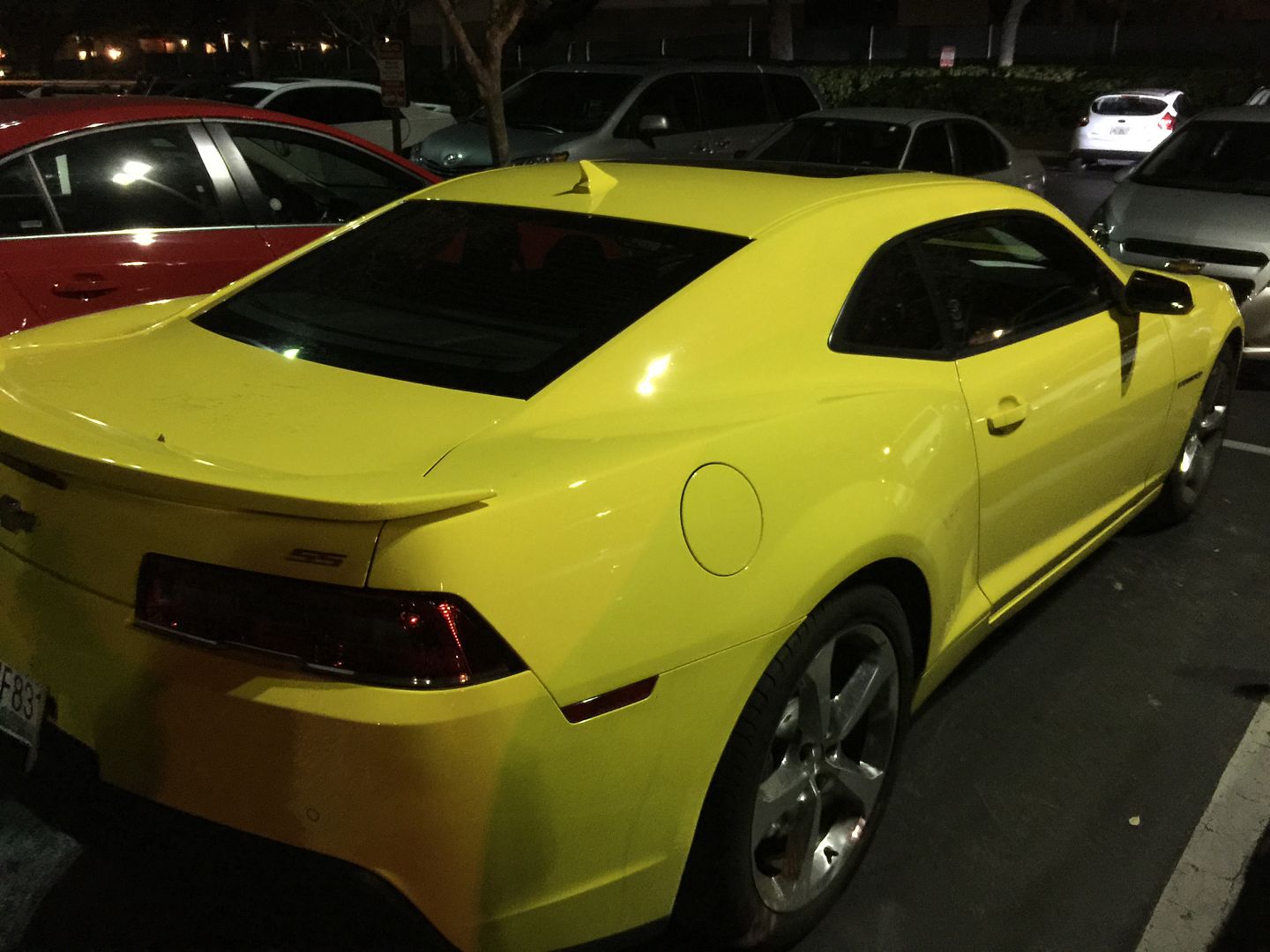 Along the way to the restaurant, we passed the upside down house.
And this unfinished Ferris wheel
We went to my favorite Chinese Restaurant, Ming Court.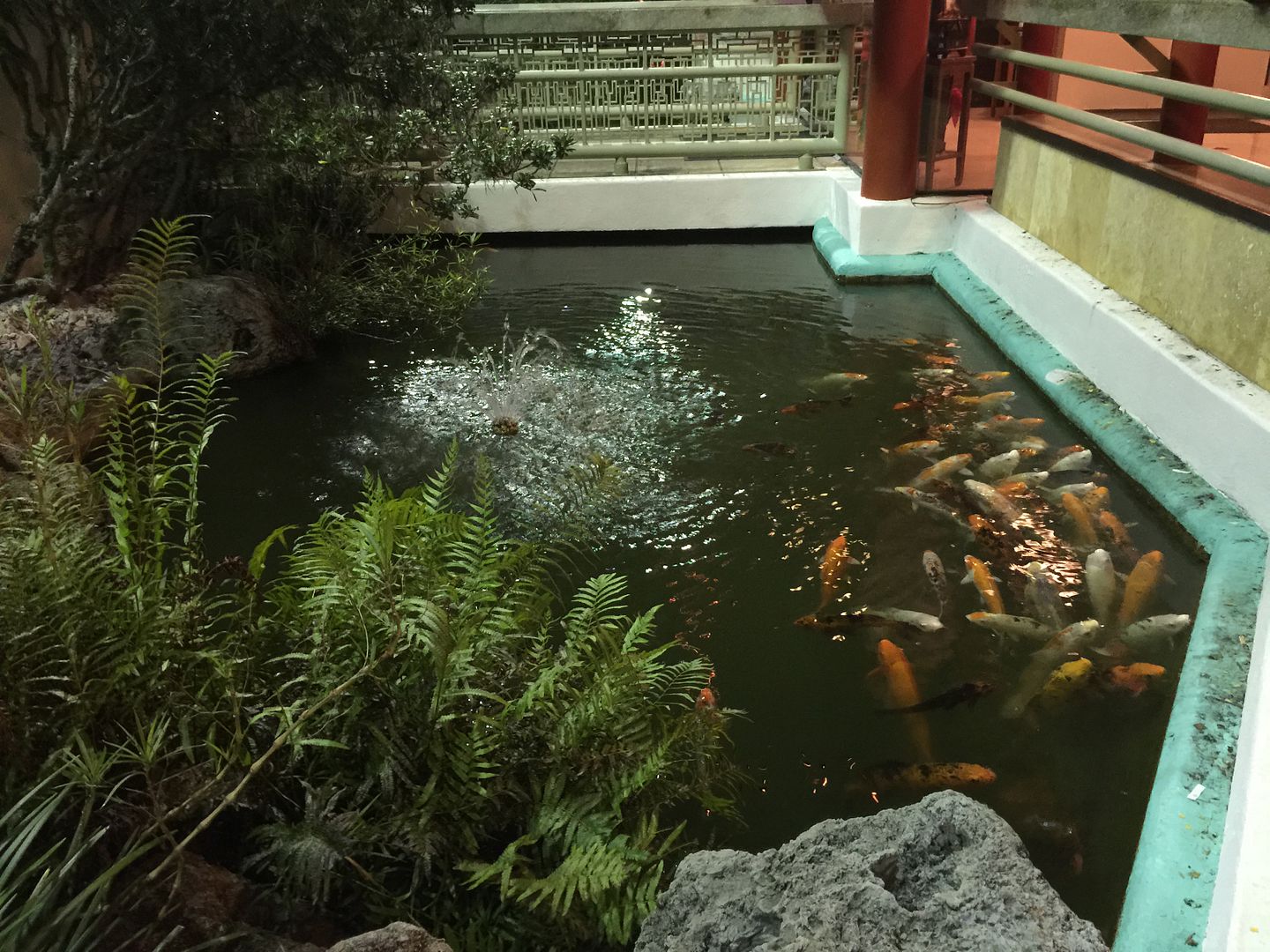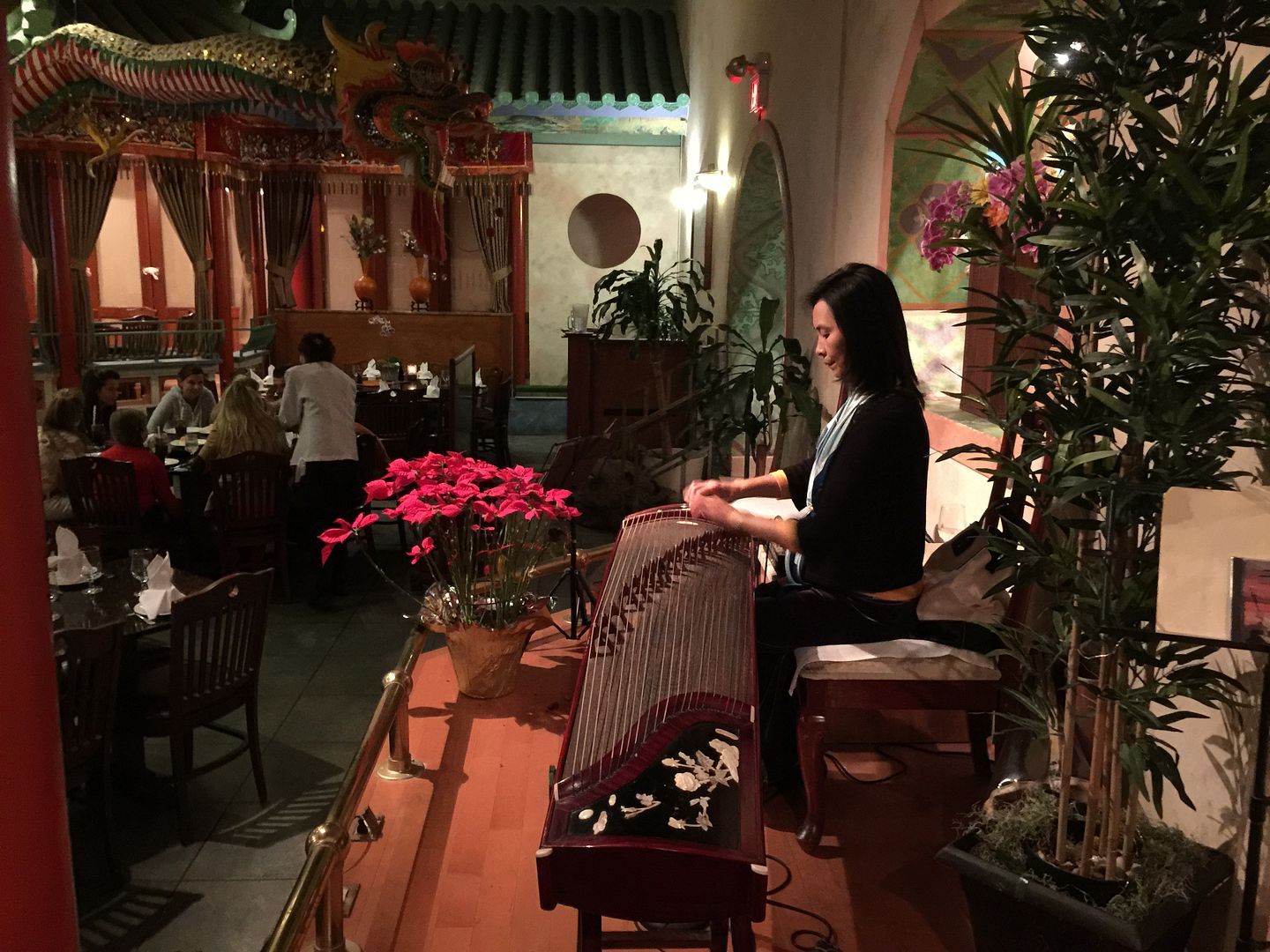 I enjoy having Mai Tai whenever I have Chinese food!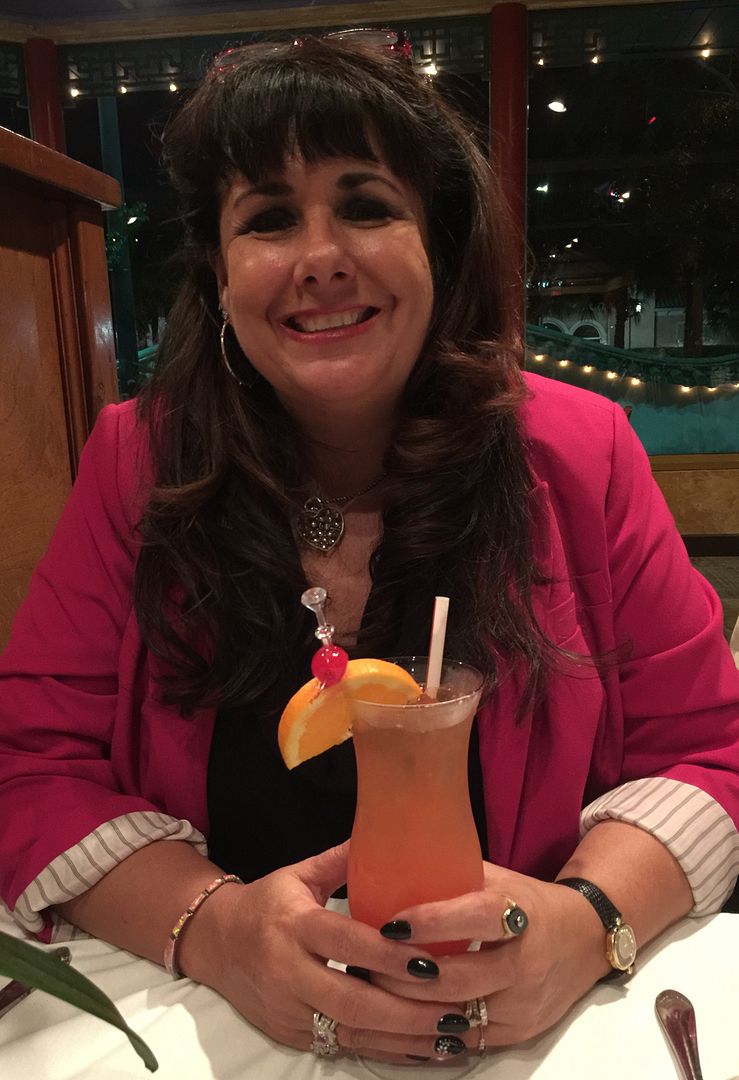 After dinner, I was pretty pooped from traveling and the busy day with meetings and set up, so I just headed back to my condo for a fully night's rest!
Thursday started off with a bang! The public streamed in and the bourse soon became quite crowded.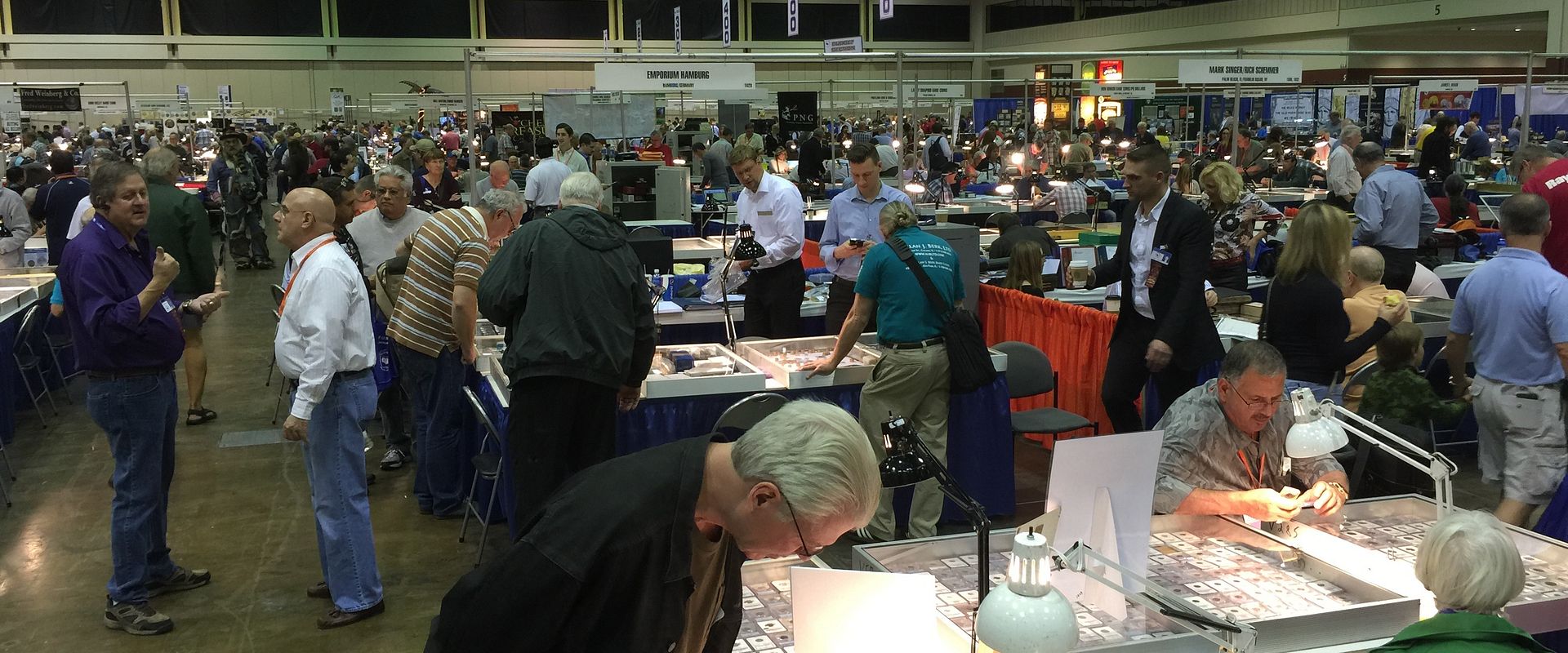 As many of you who attend coin shows knows, sometimes you run into "interesting" characters on the bourse floor. This guy was no exception!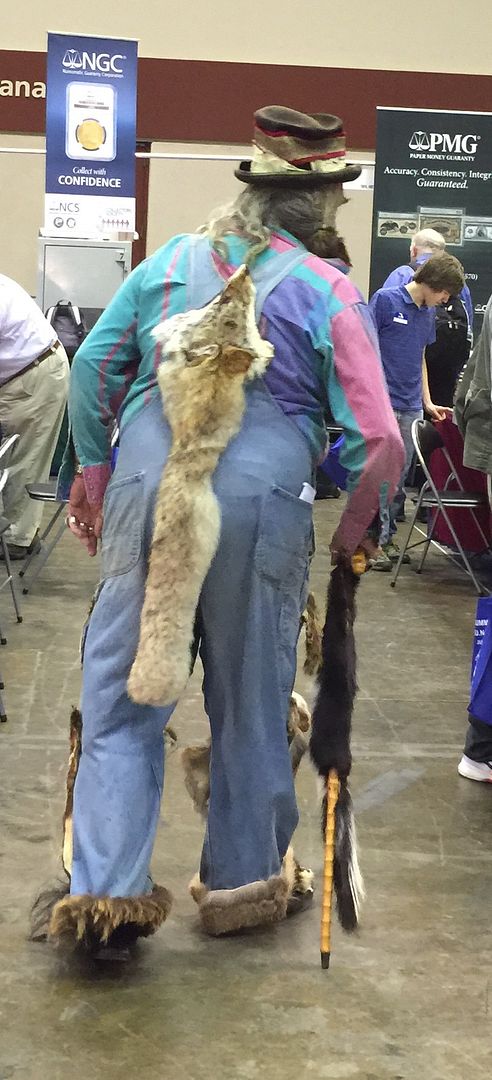 Speaking of interesting characters, look who was the first forum member to stop by my table for a photo op – Greg/WalkerGuy21!!
These two fun and enthusiastic forum members definitely fit into the "interesting character" category – Tom/1Tommy and Jon/Dimeman!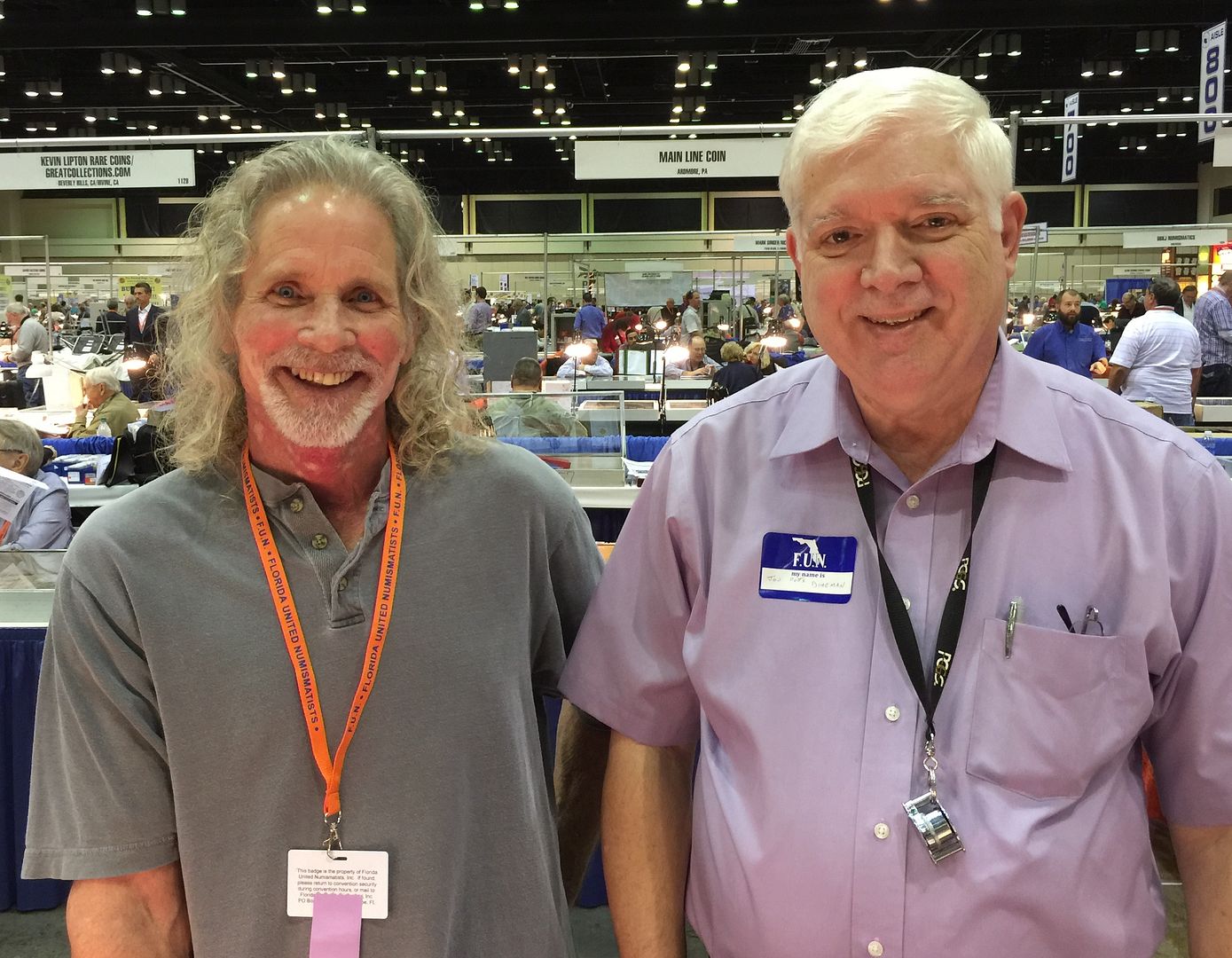 Another very interesting character, Rick Snow! Rick had his newly published awesome super popular Flying Eagle and Indian Cent Attribution Guide on sale at the show – and he quickly sold out of every set he brought!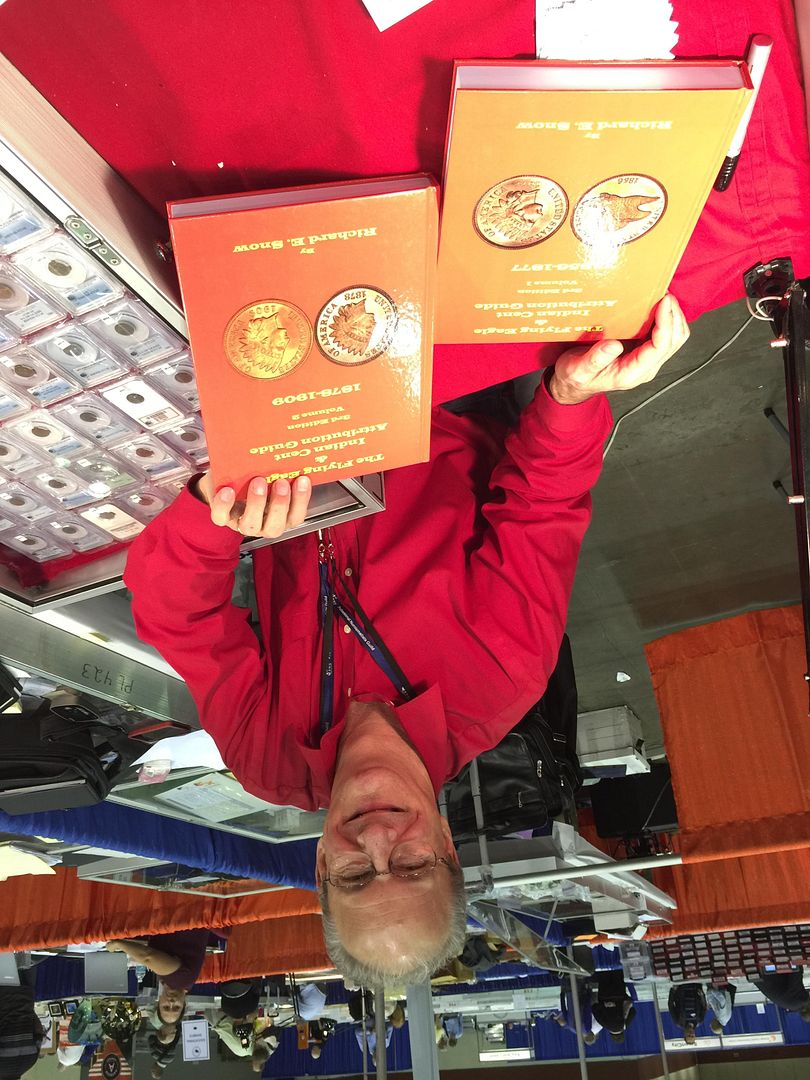 Greg Hannigan is one of the nicest, smartest, and sweetest early copper dealers!
After a very busy day of buying and selling, it was time to open one of the bottles of wine I had brought. This Tempranillo is from a vineyard just south of me in Temecula. Since I was coincidentally surrounded by several dealer friends from California in the booths around me, this bottle of wine did not last long!
After the show, we had our Women In Numismatics (WIN) mixer at the Hyatt which is just across the street from the convention center. My beautiful friend Nina is such a loyal supporter!
After the mixer, I joined Ron Sirna, Gary Groll, Rick Snow, and Greg Allen for a delicious "home-cooked" spaghetti dinner at Ron's condo which included of course, more wonderful wine. It was a fun evening of good food, good wine, and really good company!
Friday morning was cold but beautiful. Here is a photo taken in front of the convention center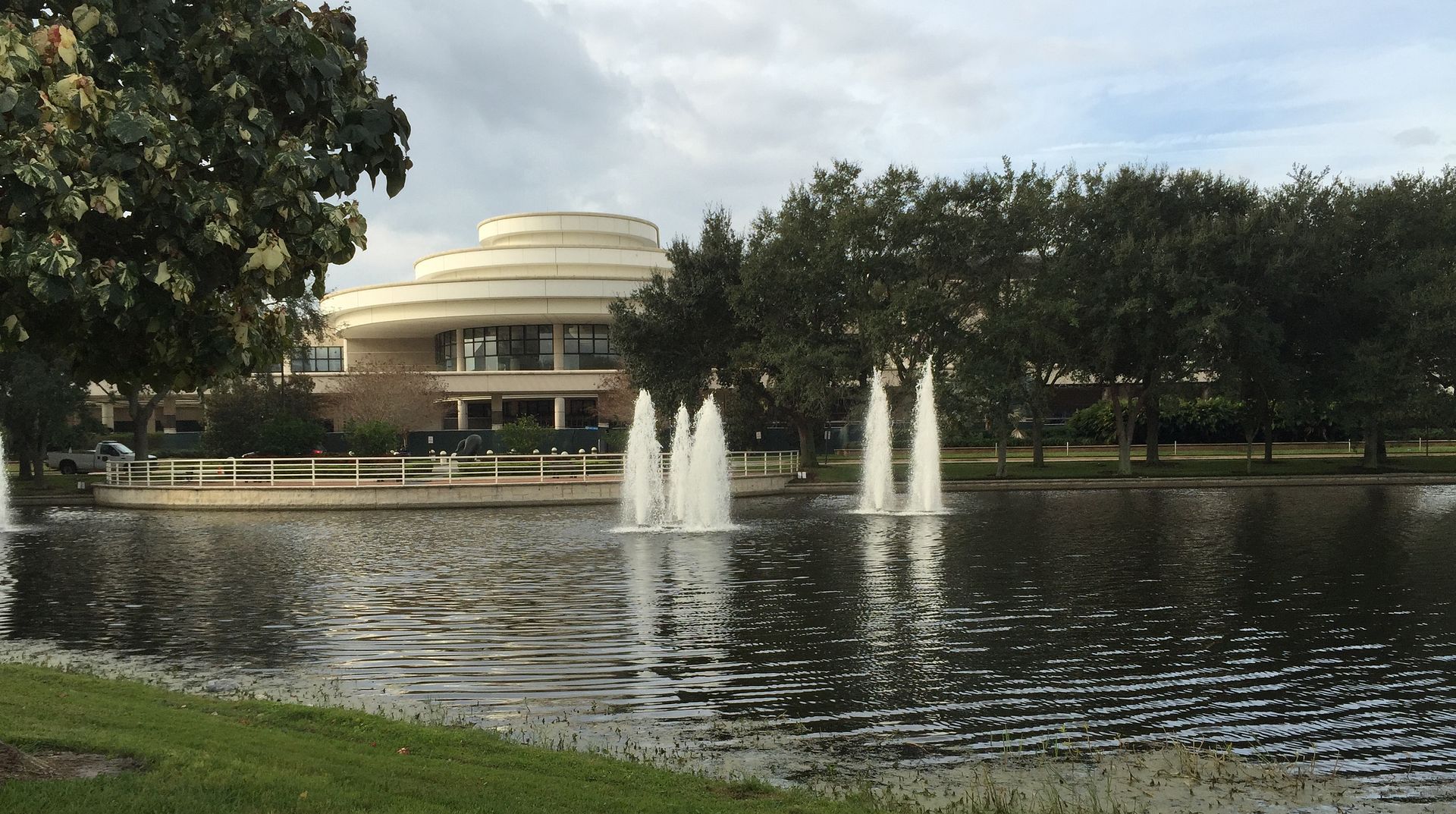 This is Glenn Holsonbake – his booth was located near the right rear of the bourse so I took this photo to try and demonstrate how large the bourse floor was. You can't even see the left side of the floor because it's so far away!
This is a picture of the bourse taken from my booth which was on the right side of the bourse. That's Nina/Great Collections right below their sign.
More photos taken around the bourse floor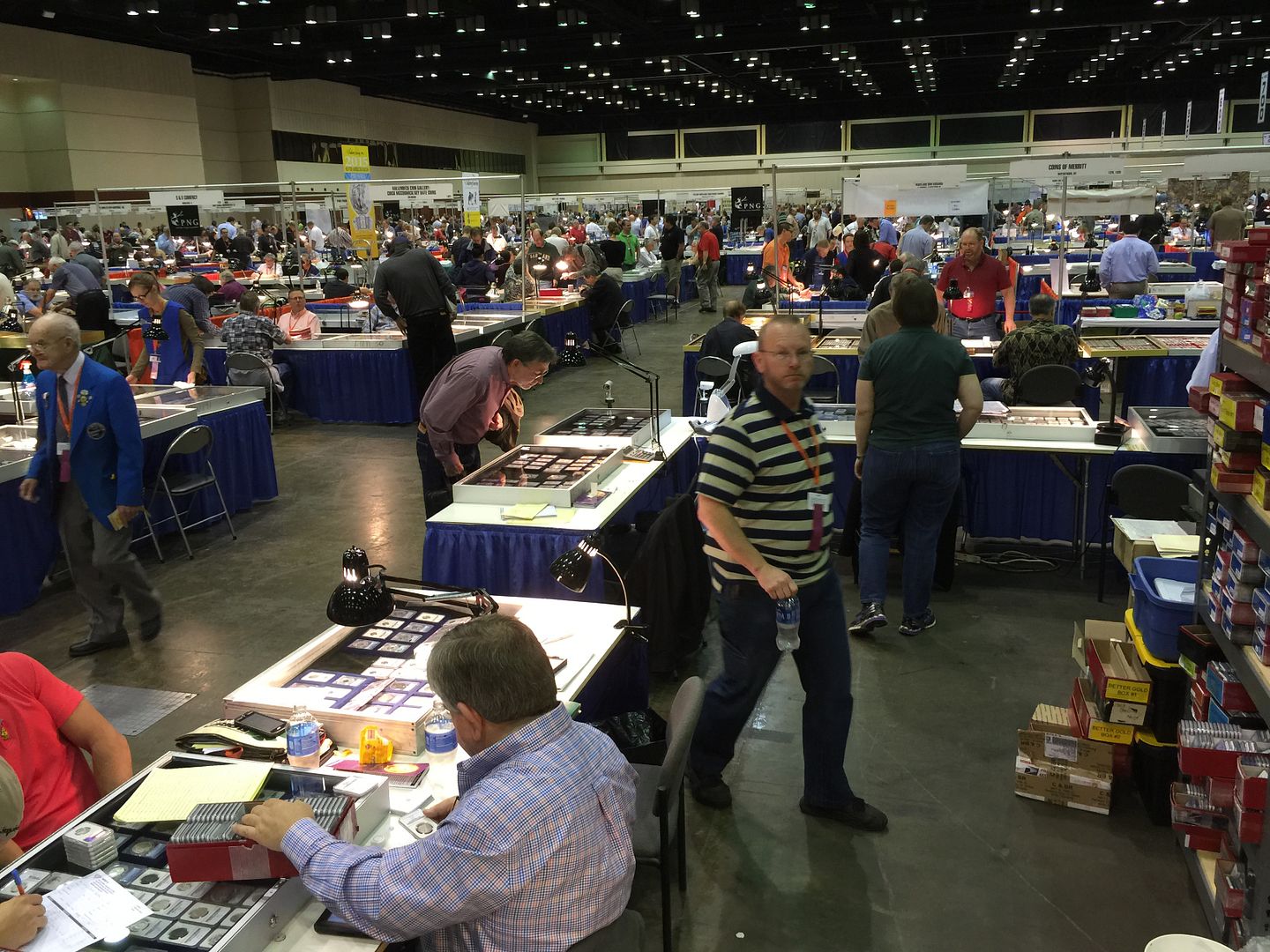 The kid's corner!
Panning for gold.
My dealer buddy Jim Bush/Shrub has his eye on the 1860 Pointed Busy Indian cent for his personal collection and finally pulled the trigger!
Phil/Habaraca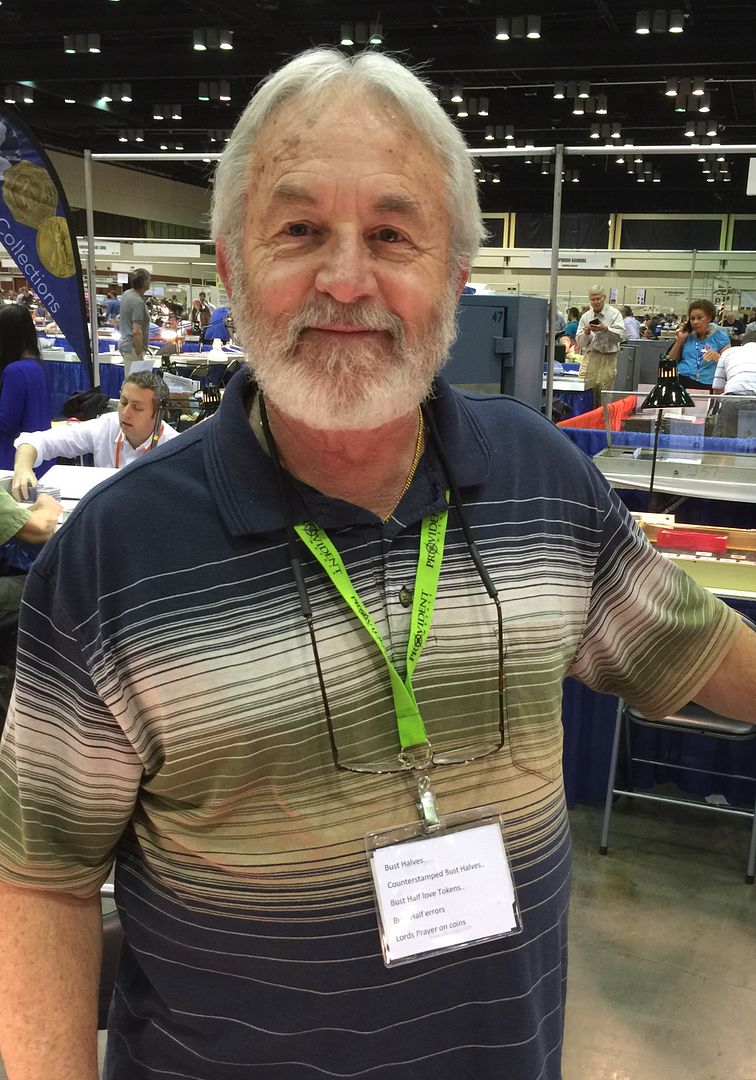 This lounge area outside the bourse floor was a popular meeting place for people to just relax or show each other their new purchases
I attended our Fly-In Club meeting where Chris Pilliod gave an interesting presentation on Indian cent errors, one of my favorite topics!
I had forgotten to stop by the NGC table when Rick Harrison from Pawn Stars was there, so David Lange 9NGC) and another friend sent me their photos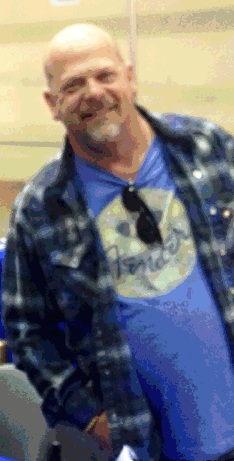 Friday was also a very busy day for me, so it was pretty late when I was had a chance to open another bottle of wine. This was a tasty bottle of Cabernet from one of the most popular vineyards in Napa. This time, a few forum members stopped by and I was happy to share my wine with them!
Friday night was my "splurge" night for dinner so after the show, we headed over to MoonFish which I understand is owned by the same folks as Vitto's Chophouse, a very yummy steak restaurant. Moonfish serves high end seafood and steak.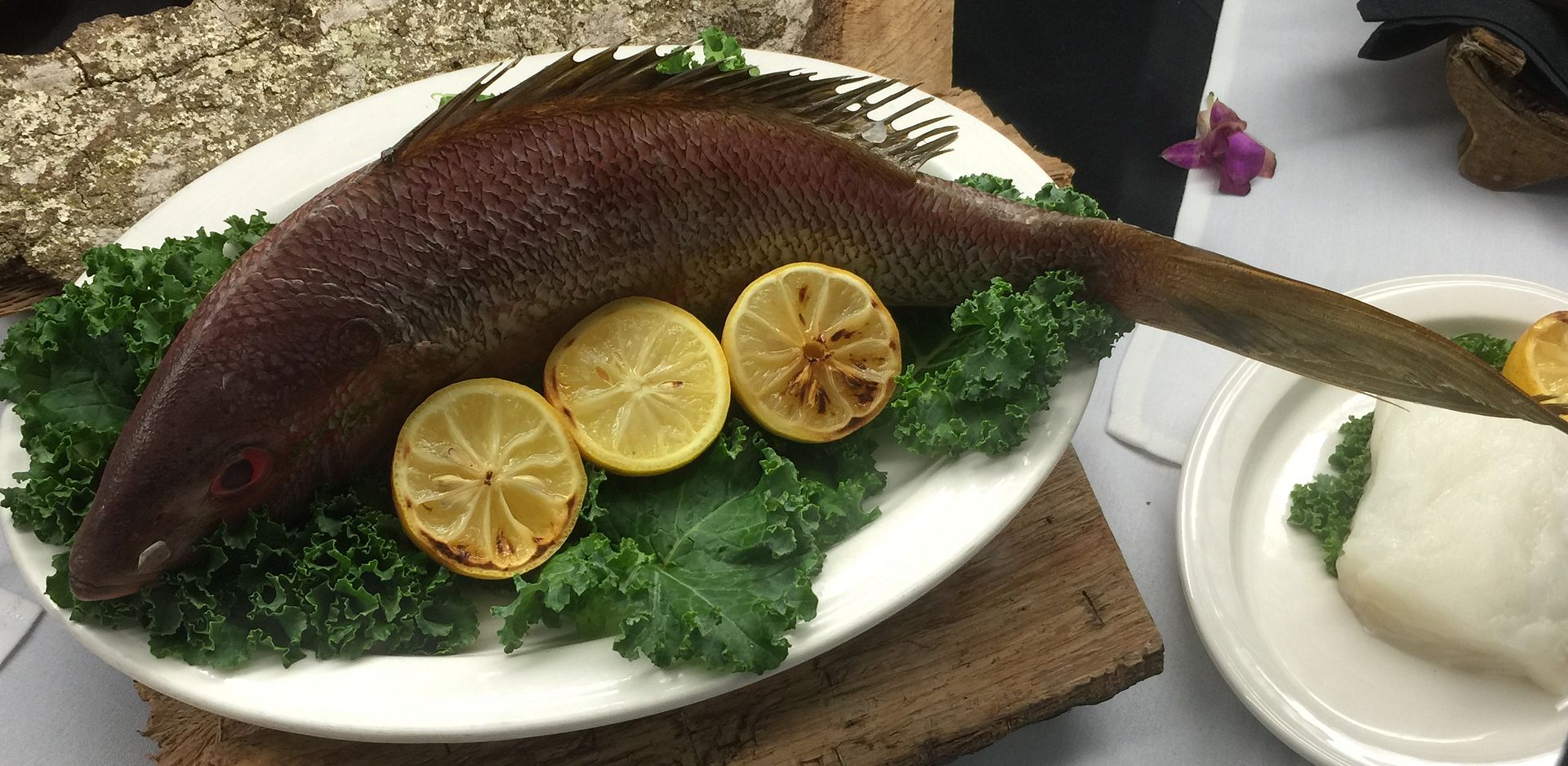 And they have an extensive wine list. We had this great bottle of Stag's Leap red wine.
My dealer friend, Mark Simon, and me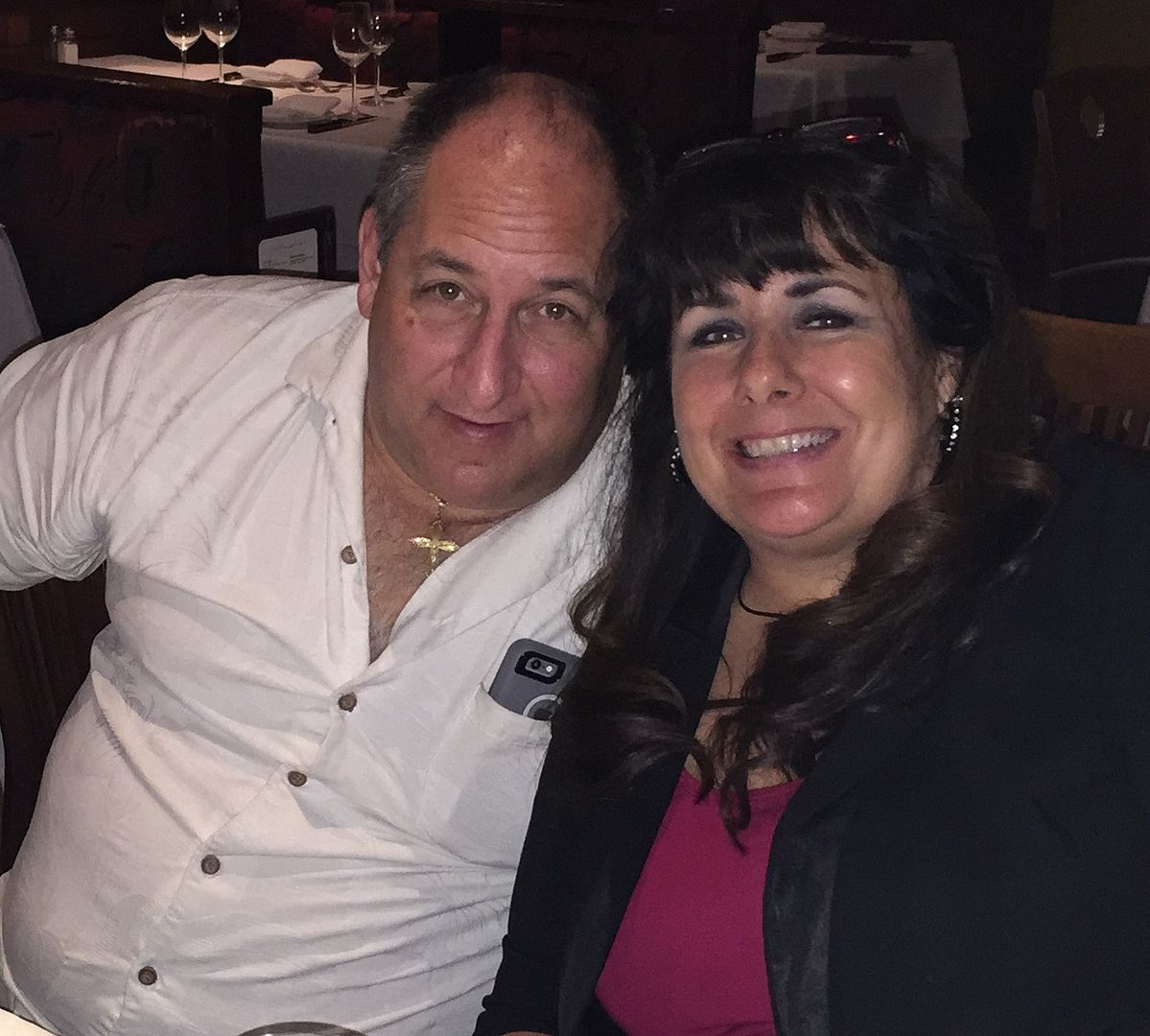 Another dealer friend, Ron Mirr.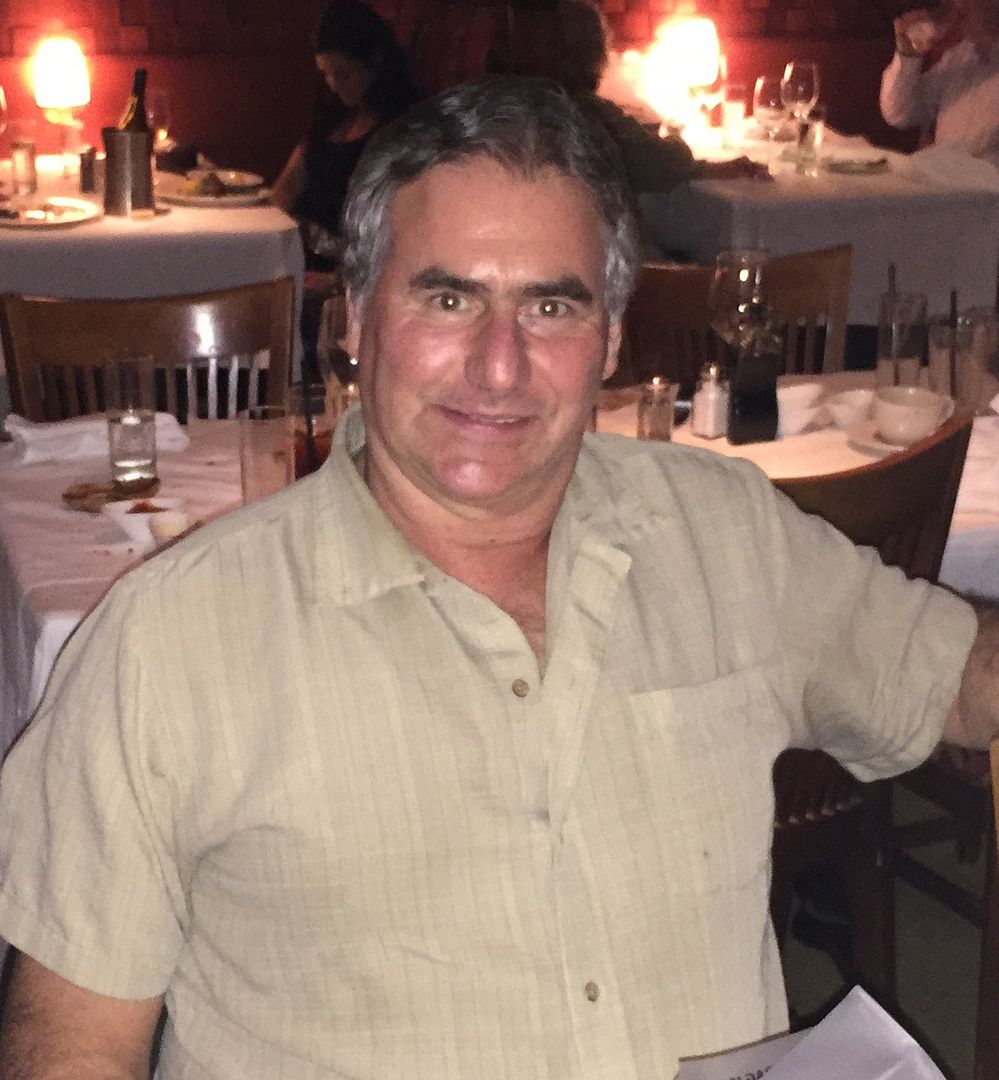 I had the surf and turf and could barely finish half. The leftovers made for a great lunch the next day!!
Mark had the steak and shrimp.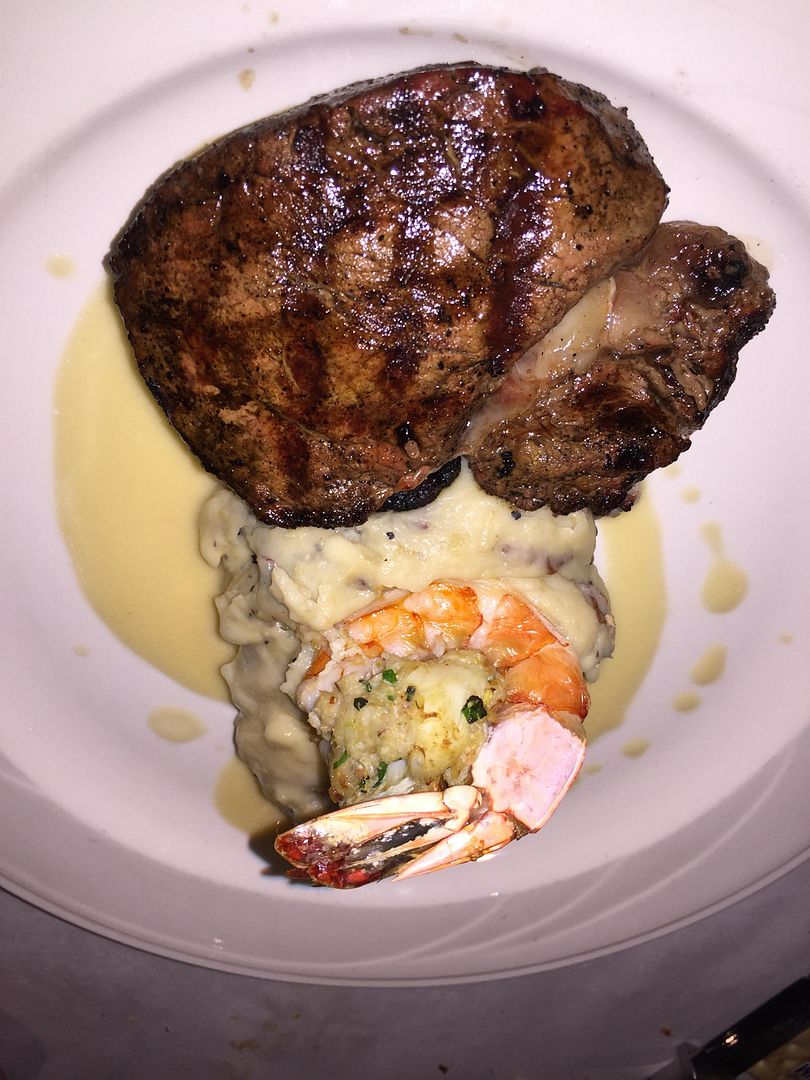 Can't remember what this dish was but Ron said he loved the dish and even enjoyed the leftovers for breakfast the next day!
Saturday morning came way too early since I had an 8am WIN board meeting. Before our meeting began, I had a chance to chat with fellow WIN member Cindy Wibker who sadly informed me of the passing of one of the FUN Board of Directors the evening before, Gary Overton.
following by our general meeting. Dave Frank was our guest speaker and gave a very interesting presentation on "Women on Numismatics."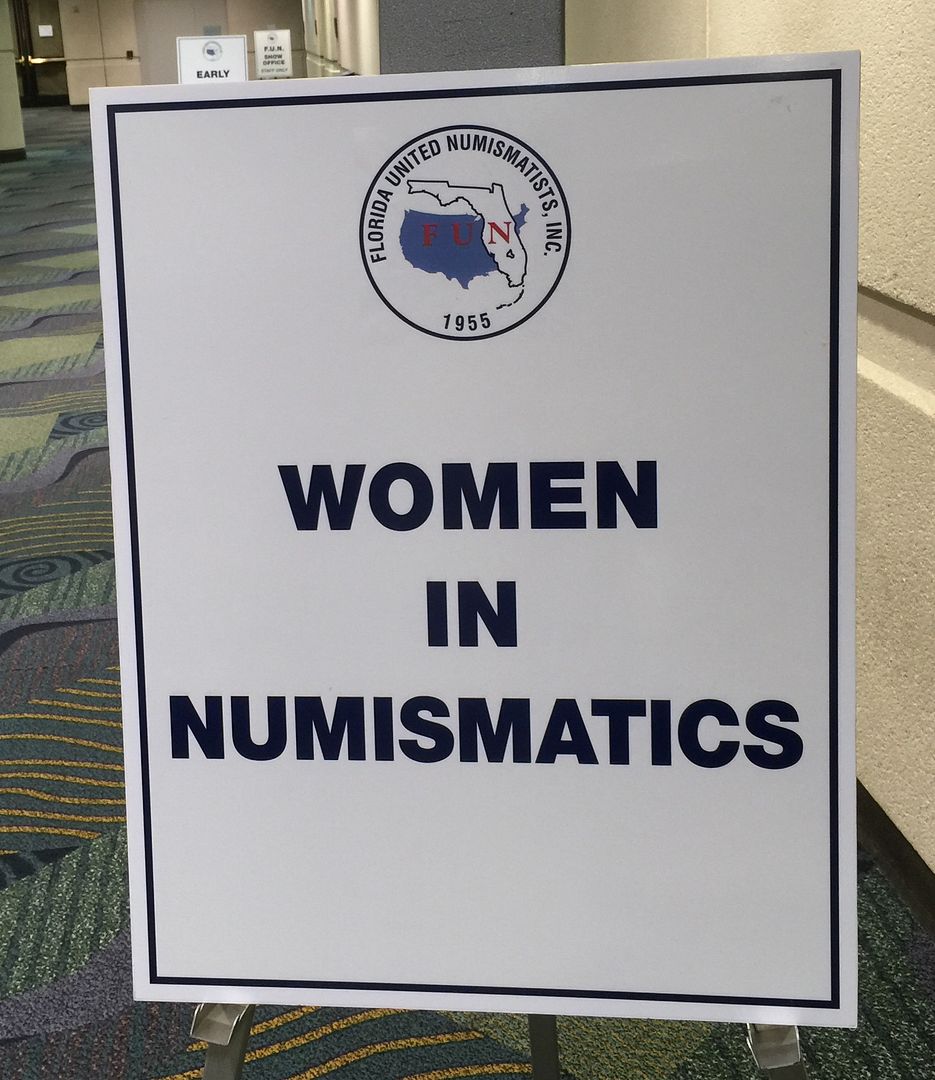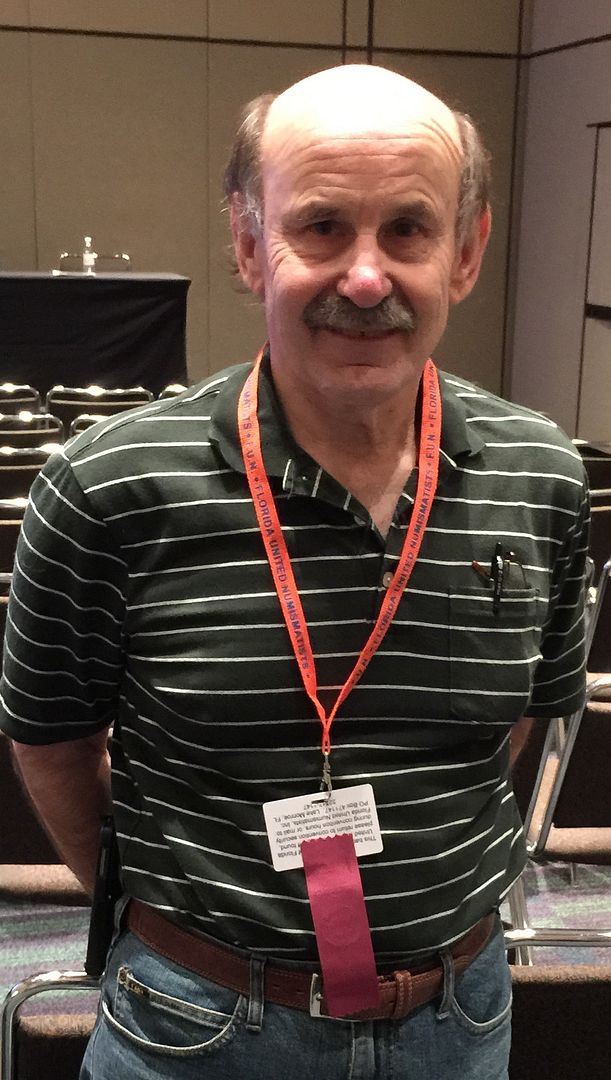 Dave even had some interesting ideas as to whose portraits might appear on future money!
After our WIN meeting, being a former exhibitor, I had to take a few minutes to check out the collector exhibits to try and see if I could pick this year's Best of Show winner.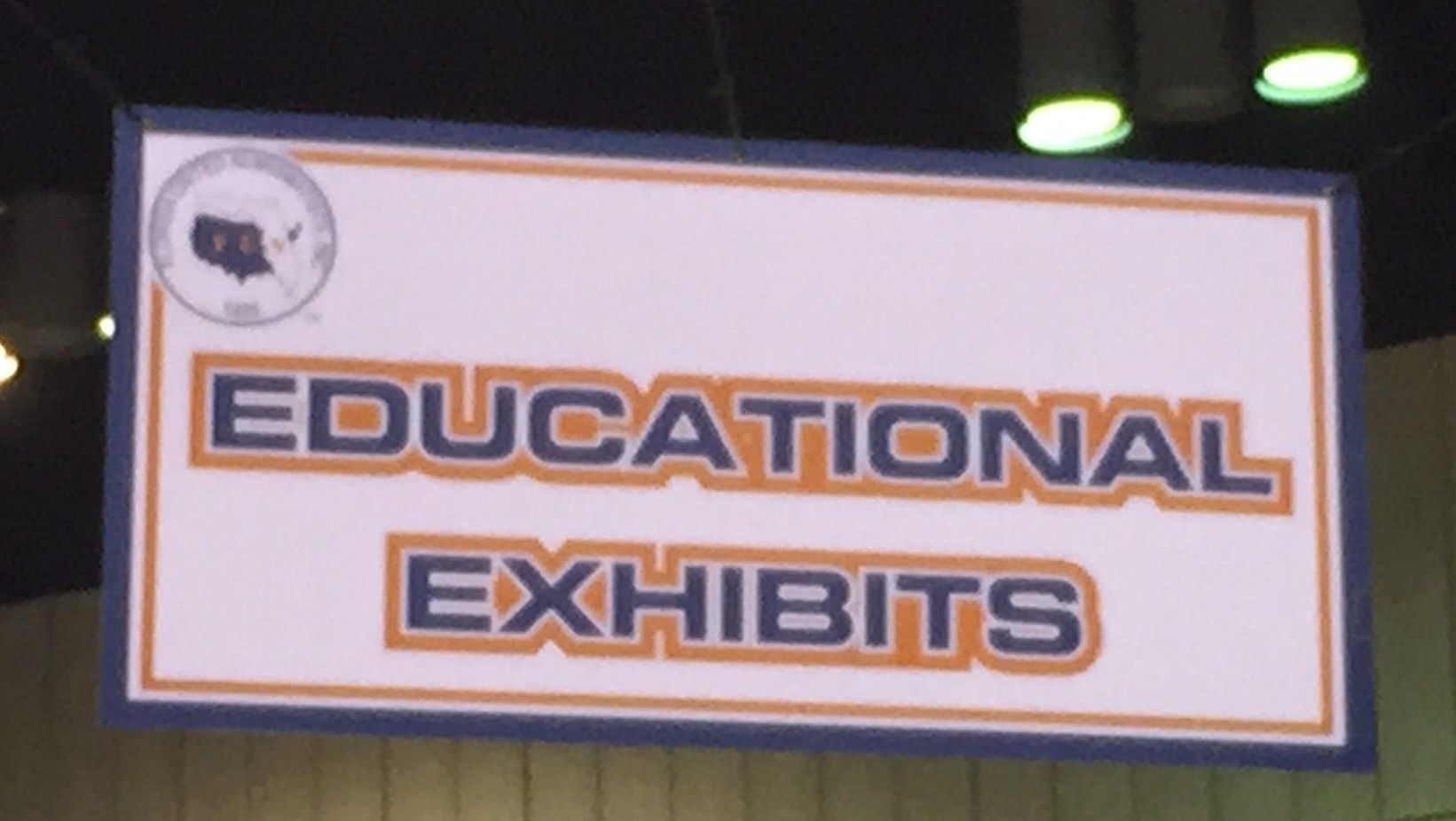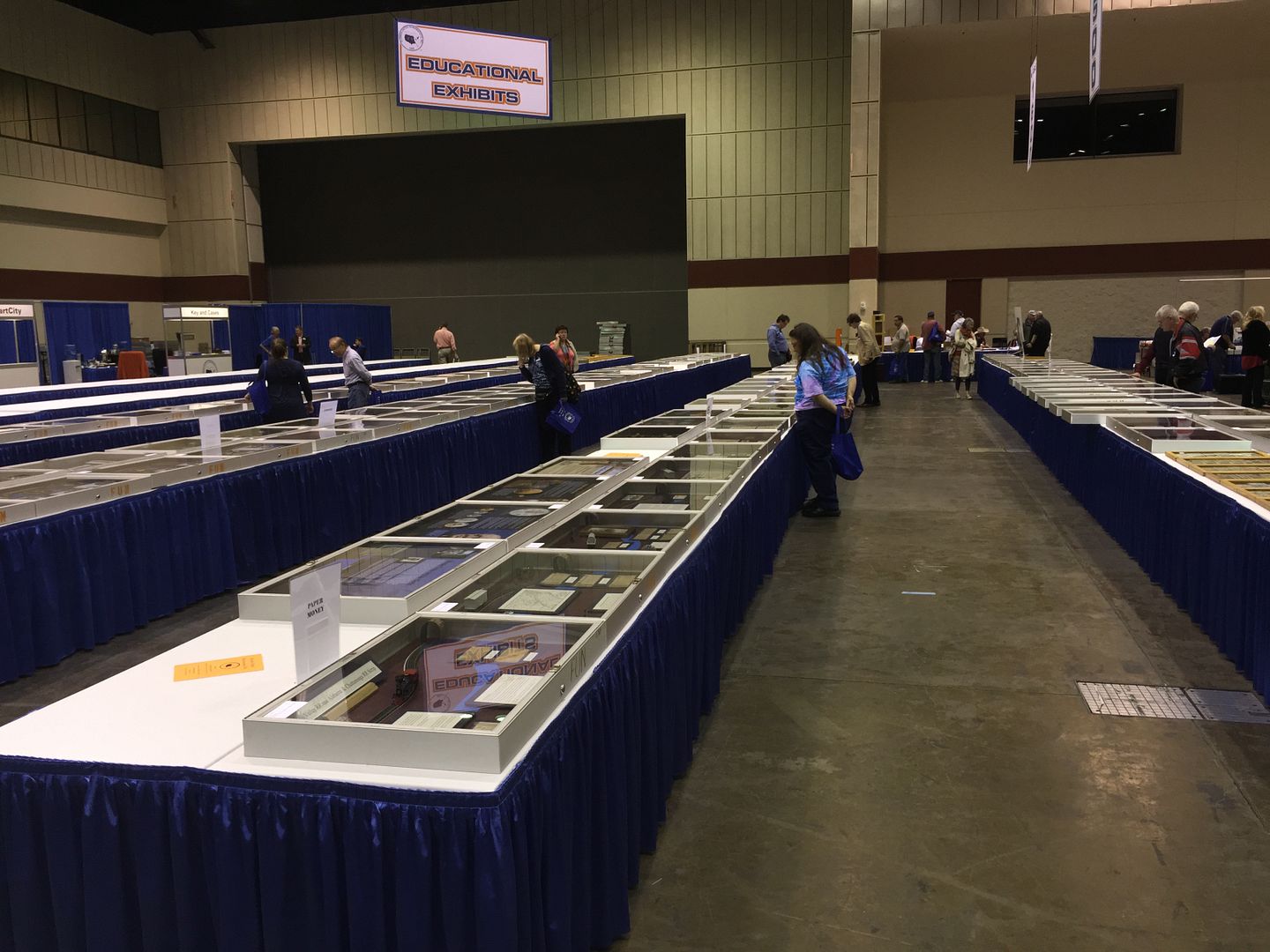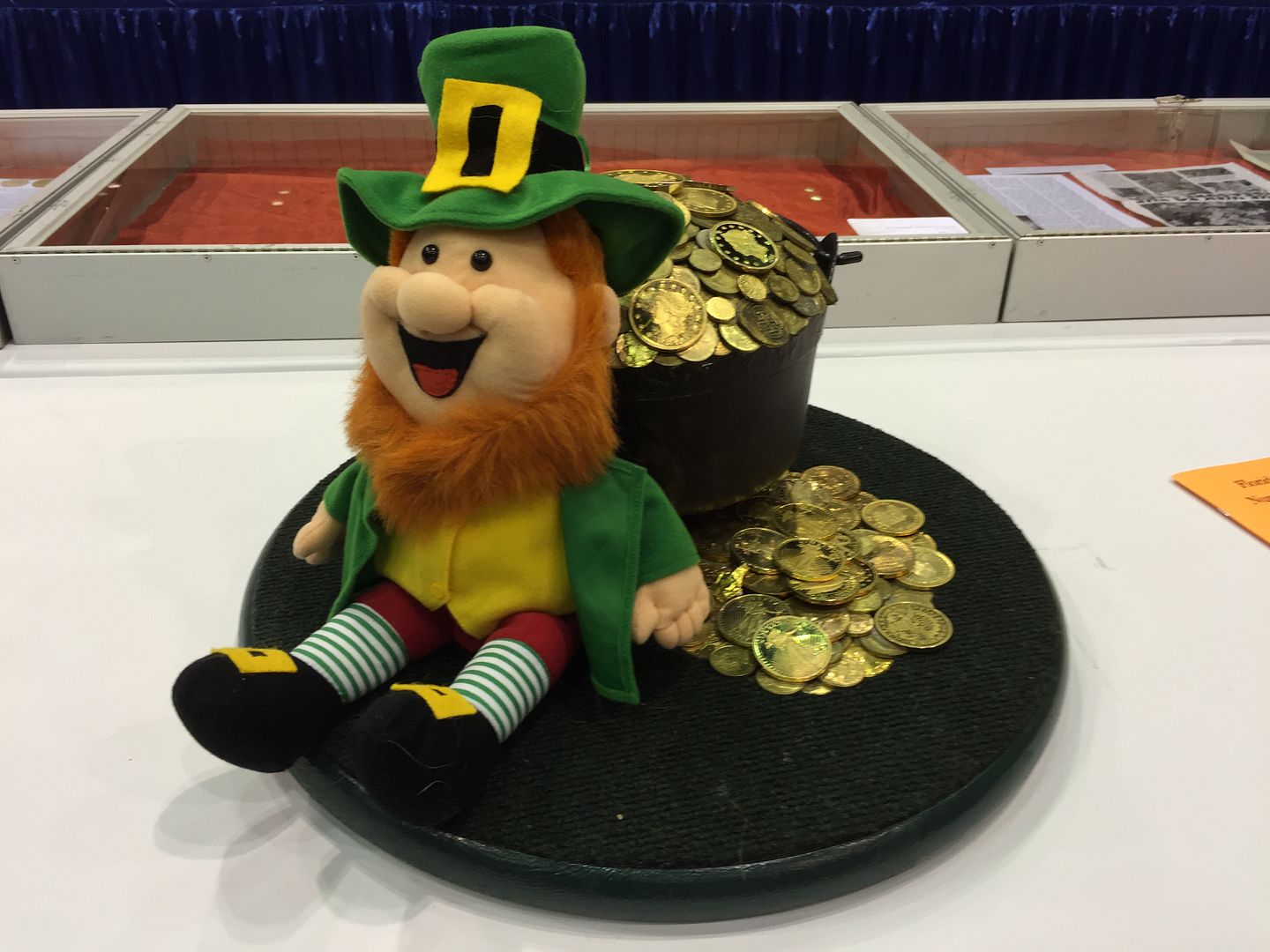 The People's Choice ballot box
There were lots of really great exhibits, several of which I thought had a shot at top honors. Here are some of the exhibits I found interesting…
Many of you know I collect penny exonumia and things made out of or using pennies. So you shouldn't be surprised that this locket exhibit was my favorite!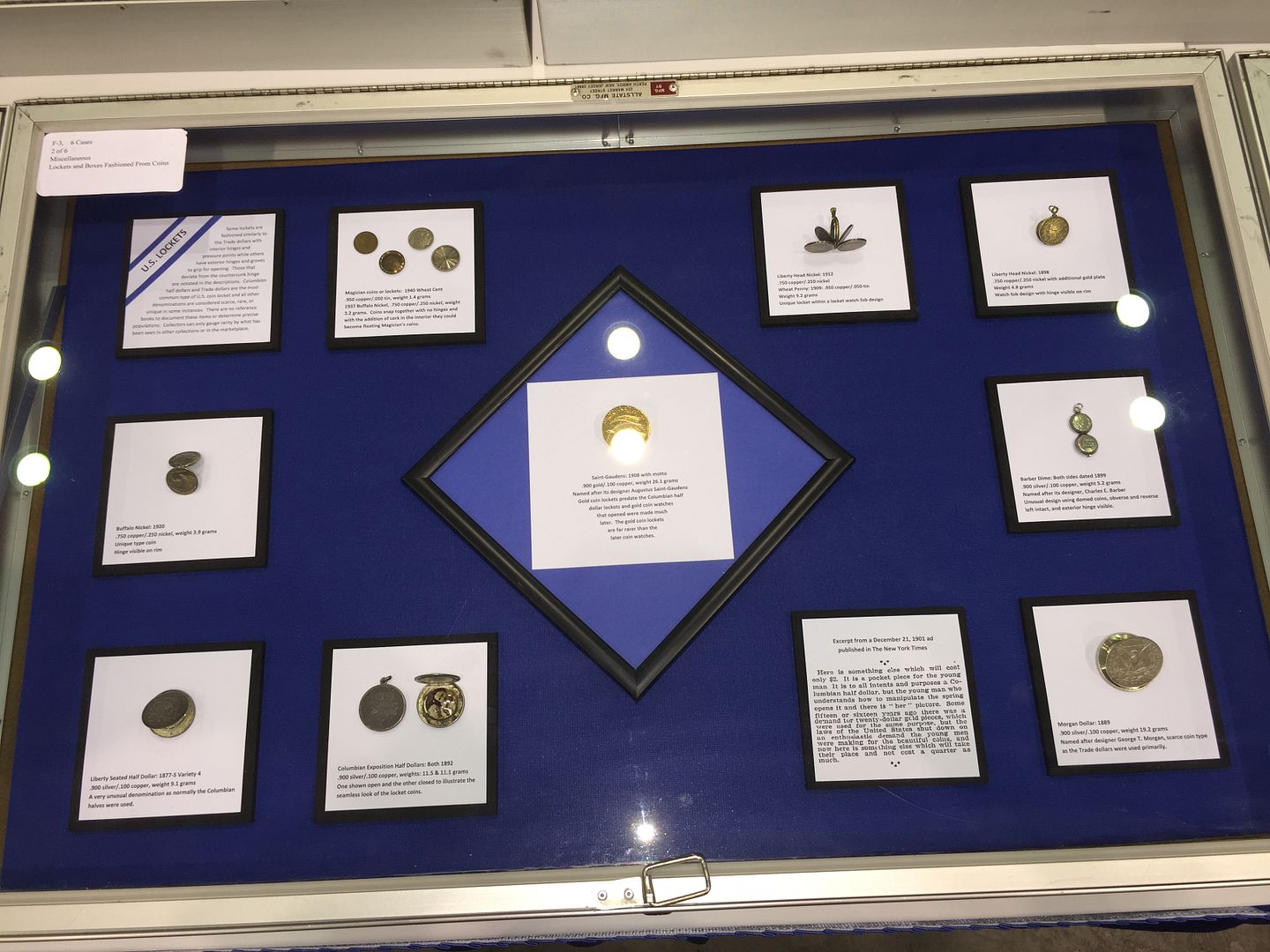 This Hobo exhibit was also outstanding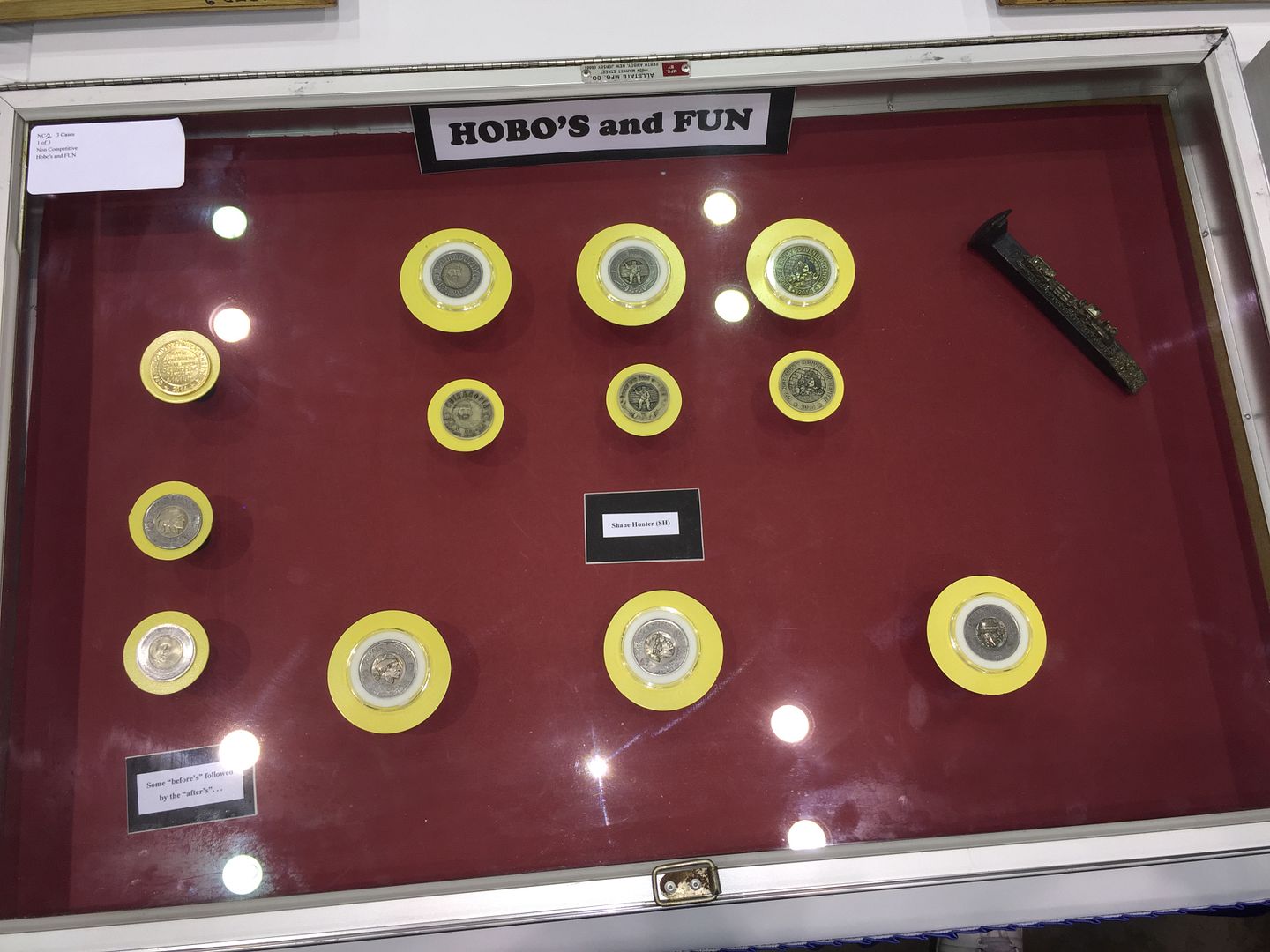 YN WIN member Myriam took top honors for the YN Junior Class with her exhibit "Headed West - The changing faces of Miss Liberty on the one cent piece."
I then toured the displays and exhibits set up by the Mint.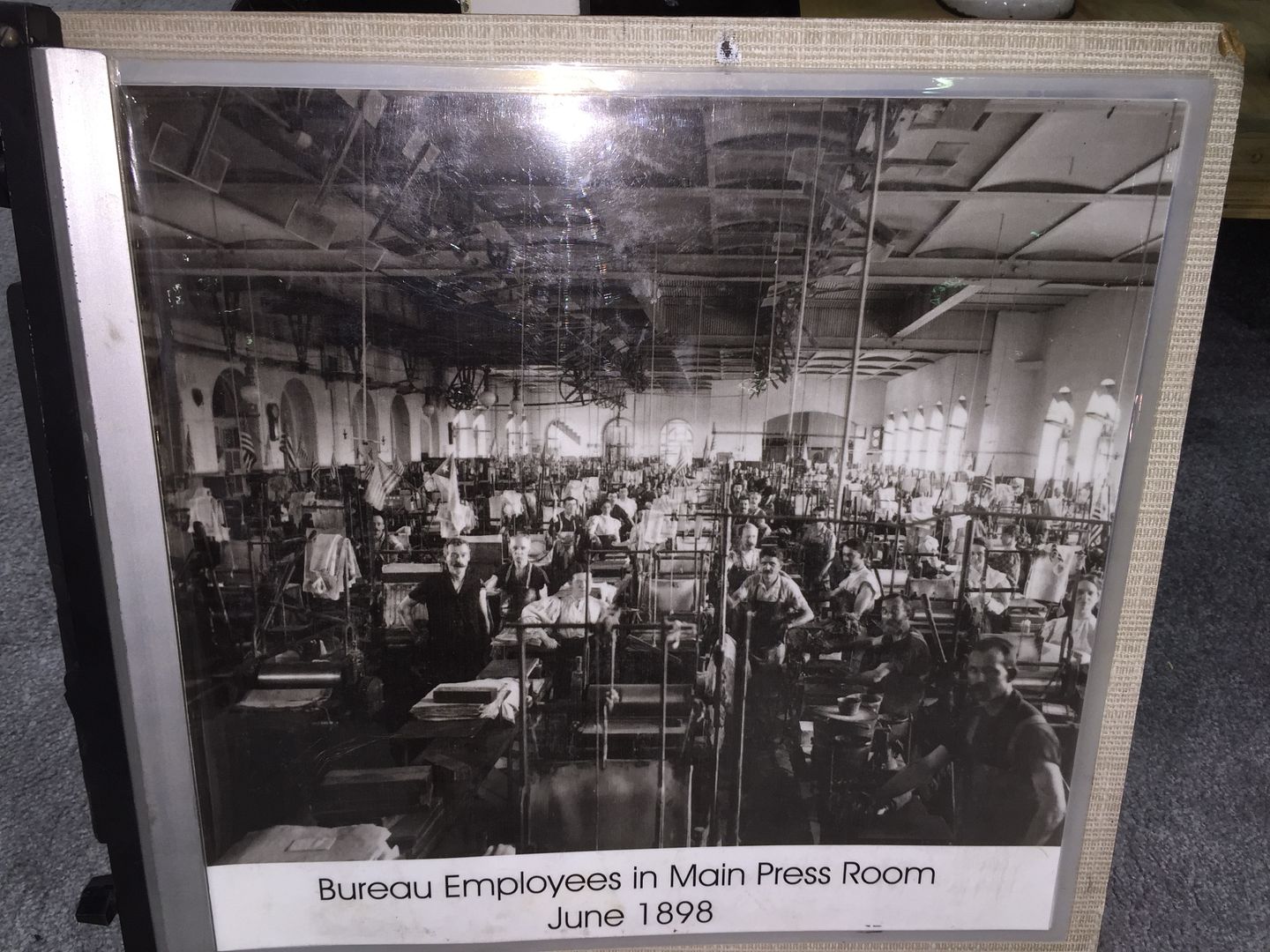 The 1816 Fleet Exhibit was fascinating!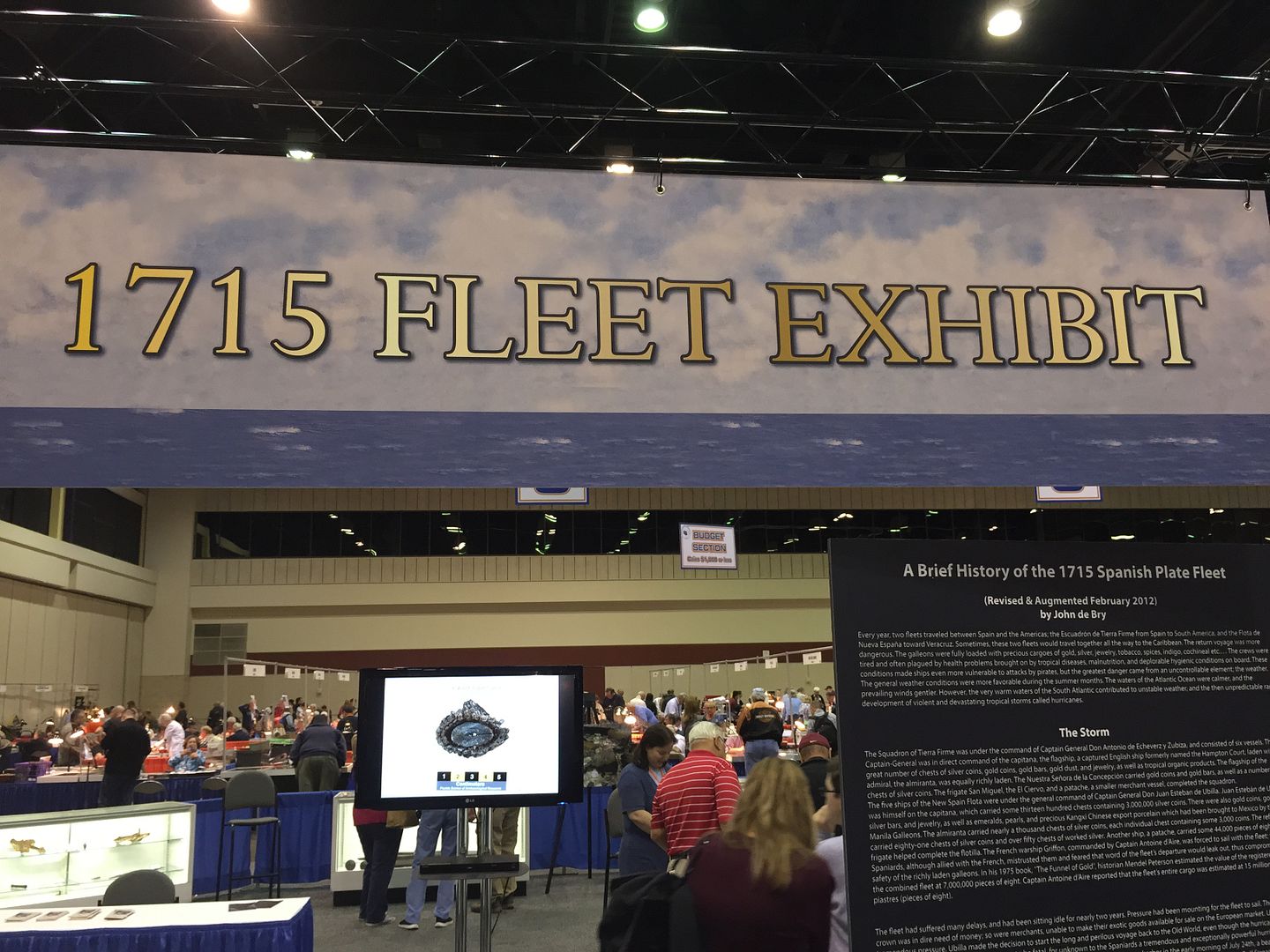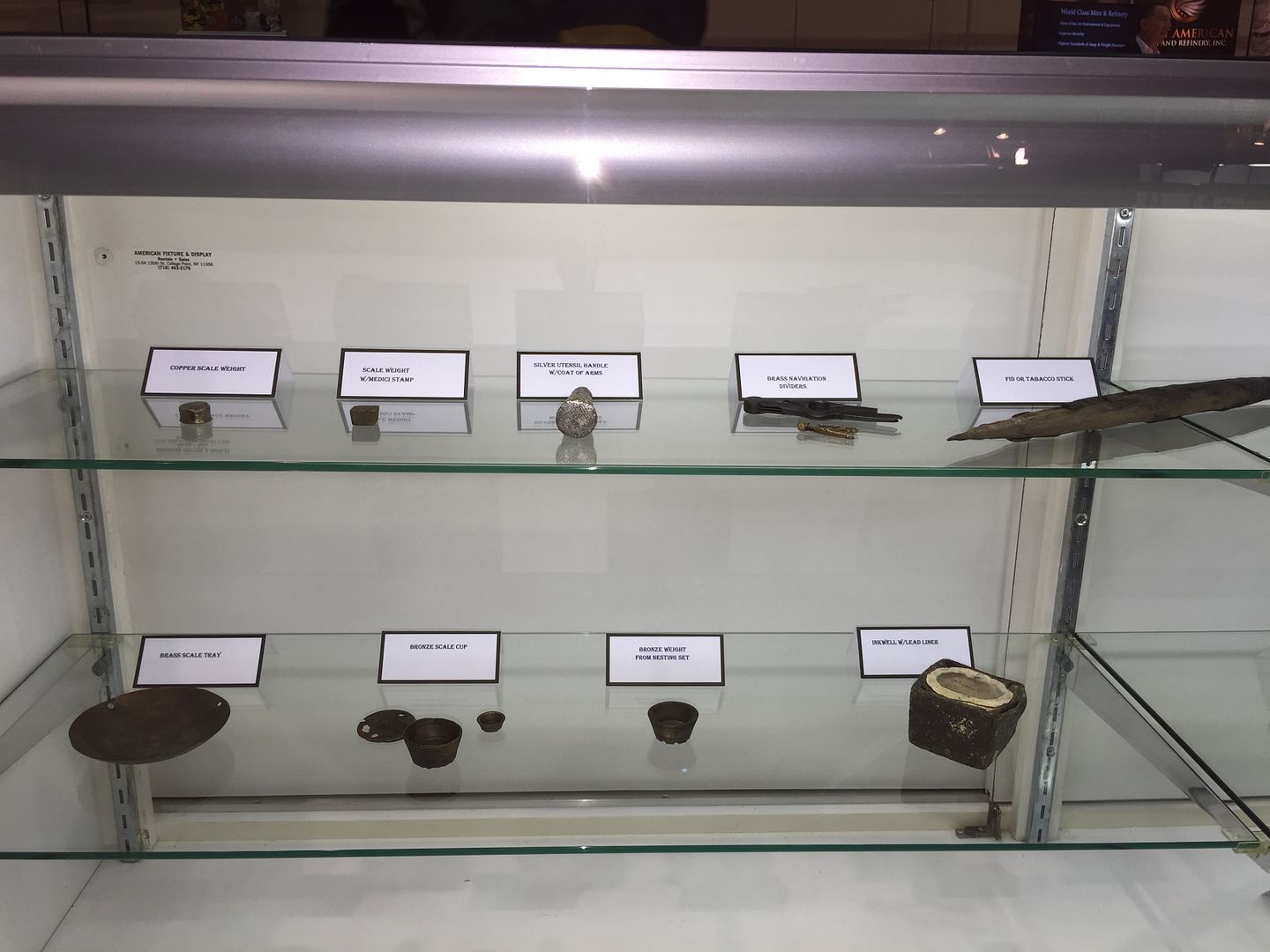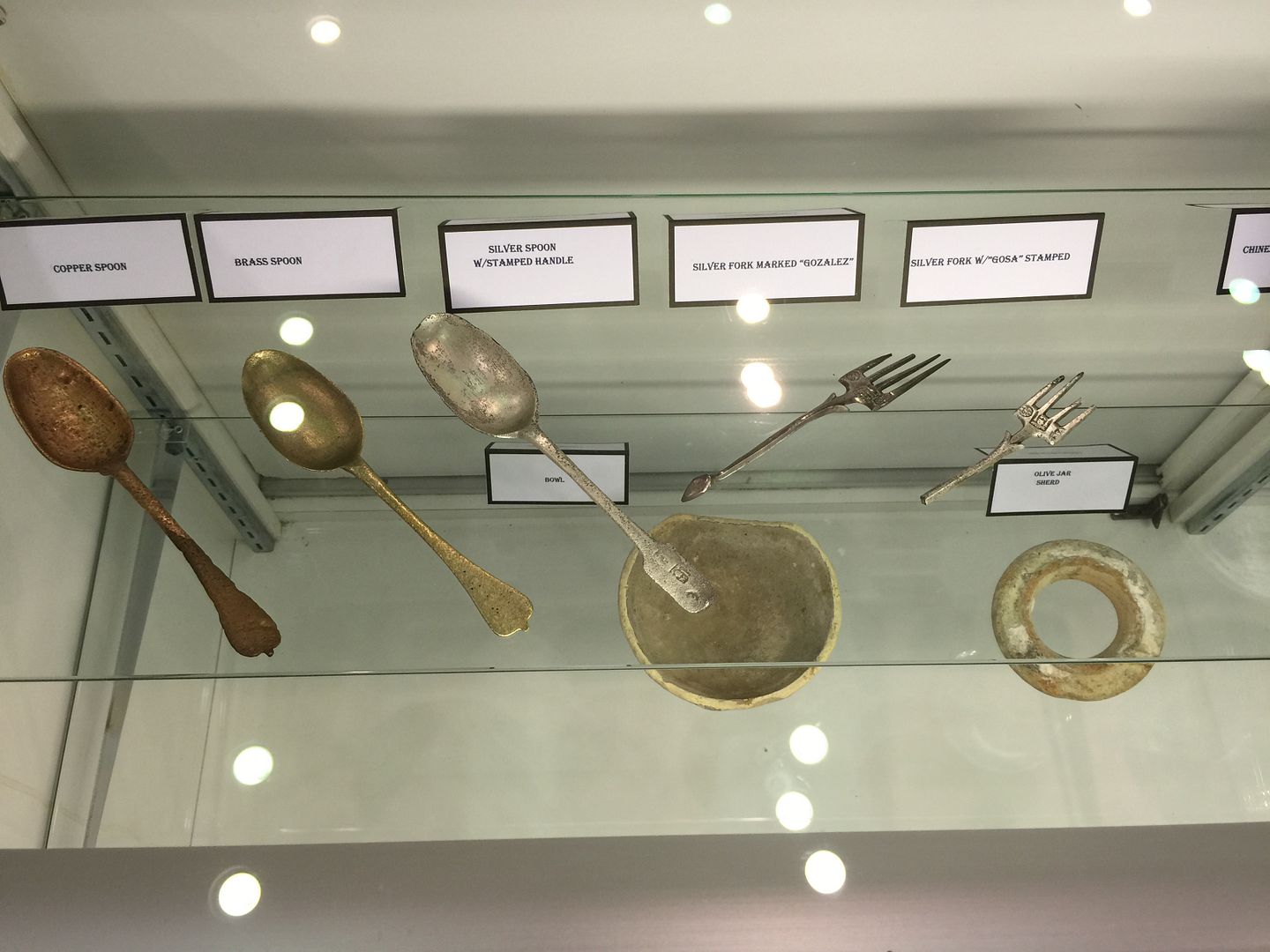 The PCGS folks hard at work!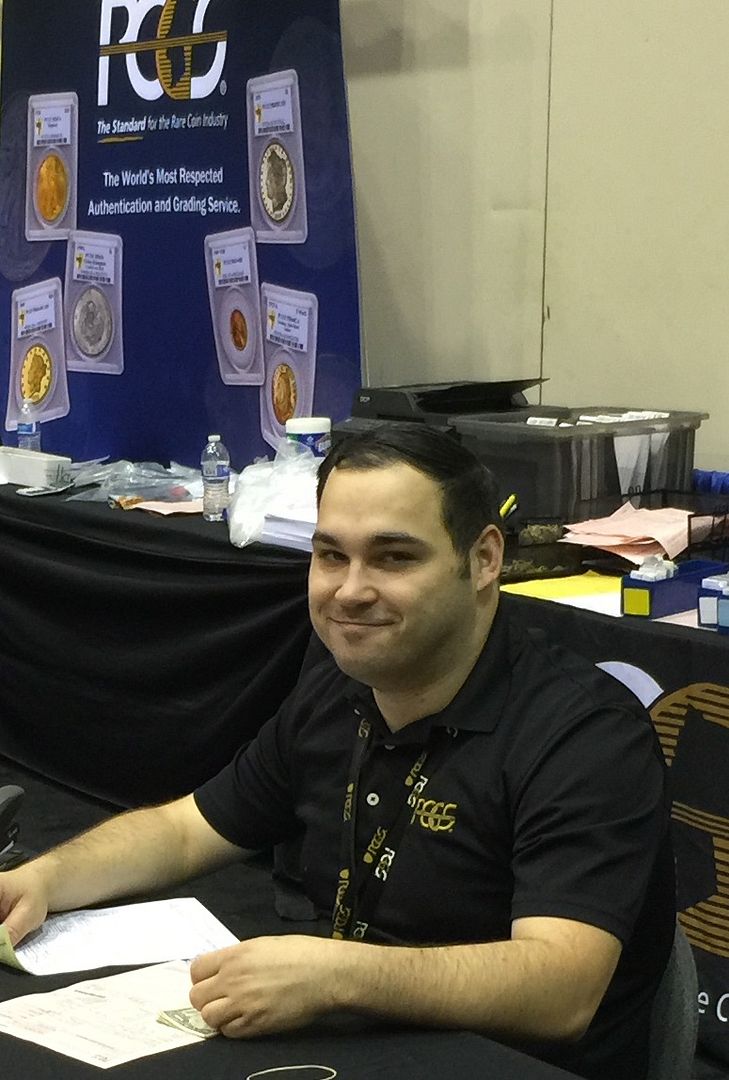 PCGS had on display the fantastic Bob Simpson Gobrecht Dollars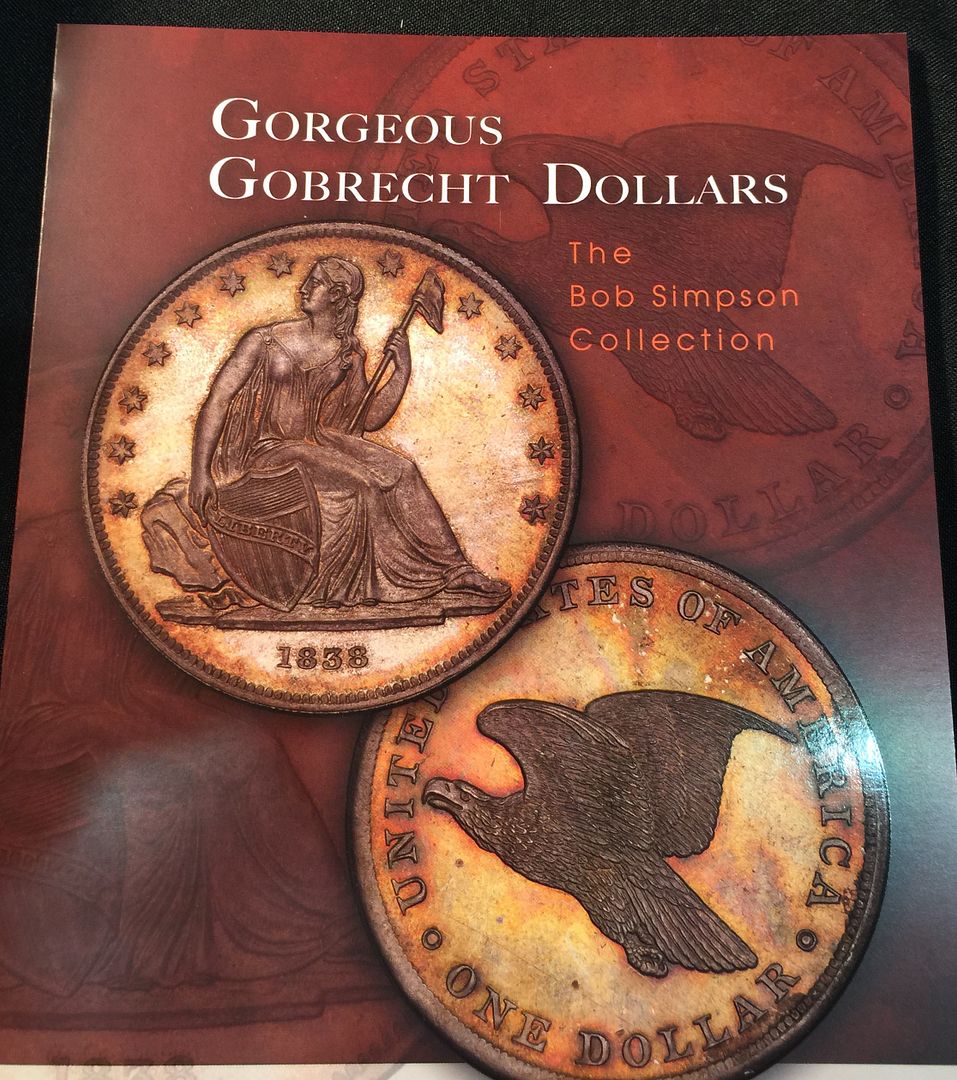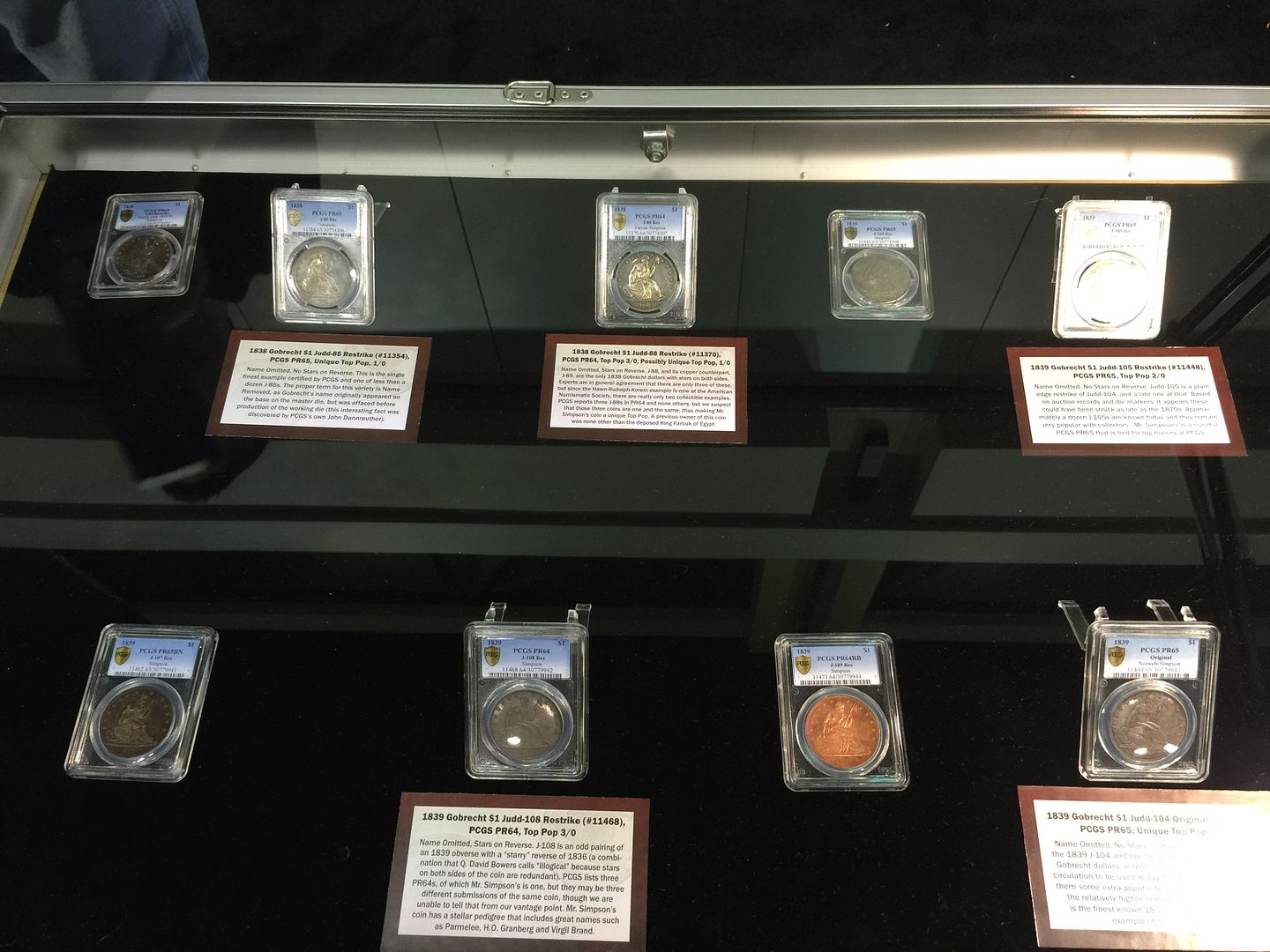 This adorable group of kids were also checking out the Gobrecht Dollar exhibit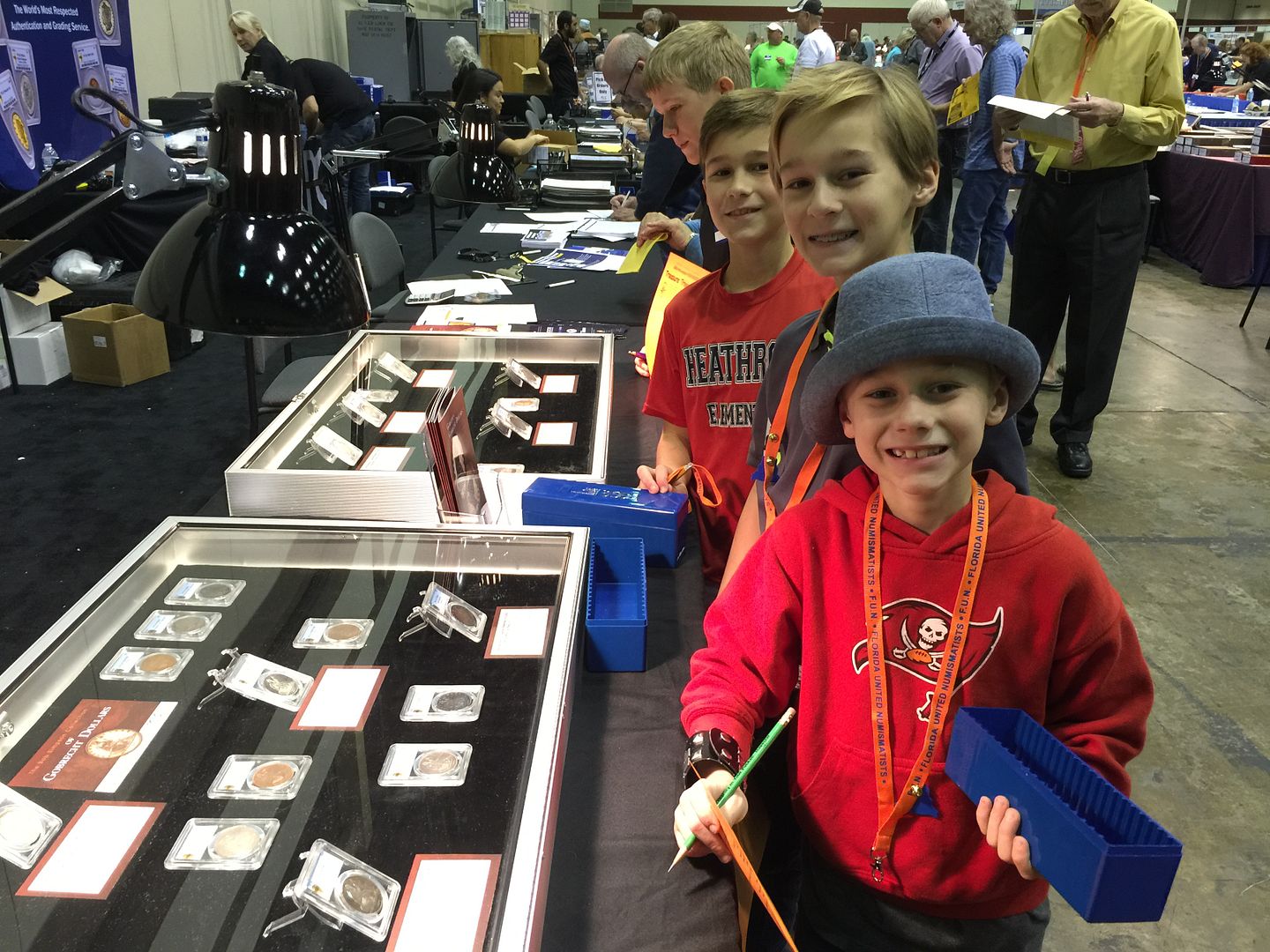 The NGC folks also hard at work!
ANACS was also busy throughout the whole show!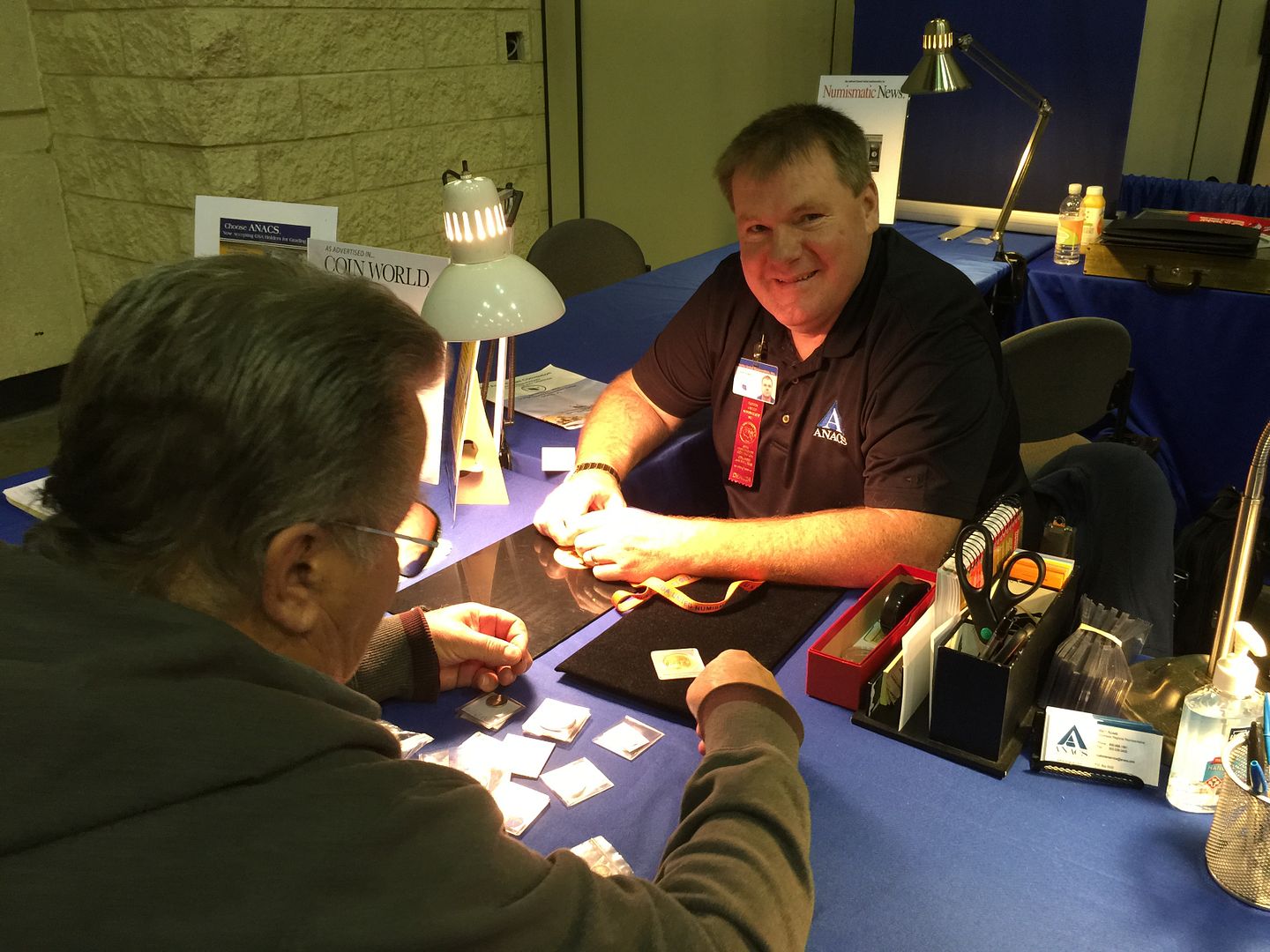 Greg Bingham standing on a stack of "gold bars"

Brian/HighRelief stopped by to show me a gorgeous cameo proof Indian cent he had just purchased
Jim Sego launched his new company, "Collectibles Quality Assurance Company, LLC" (QA), a grade verification service for modern US coins.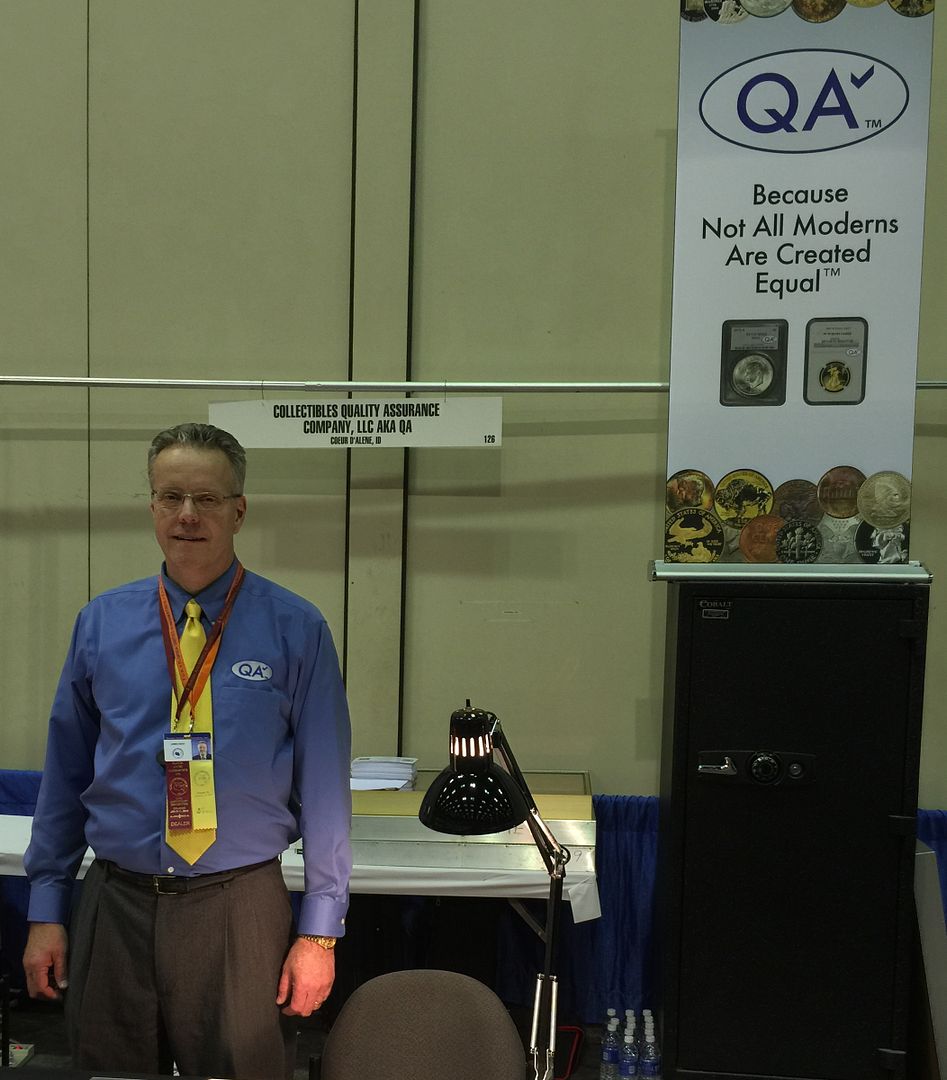 Since I had a Sunday morning flight back home, at the end of the show on Saturday I packed up my booth and checked my coins into the security room before we headed out to dinner. We ended up back at Ming Court, which I didn't mind whatsoever!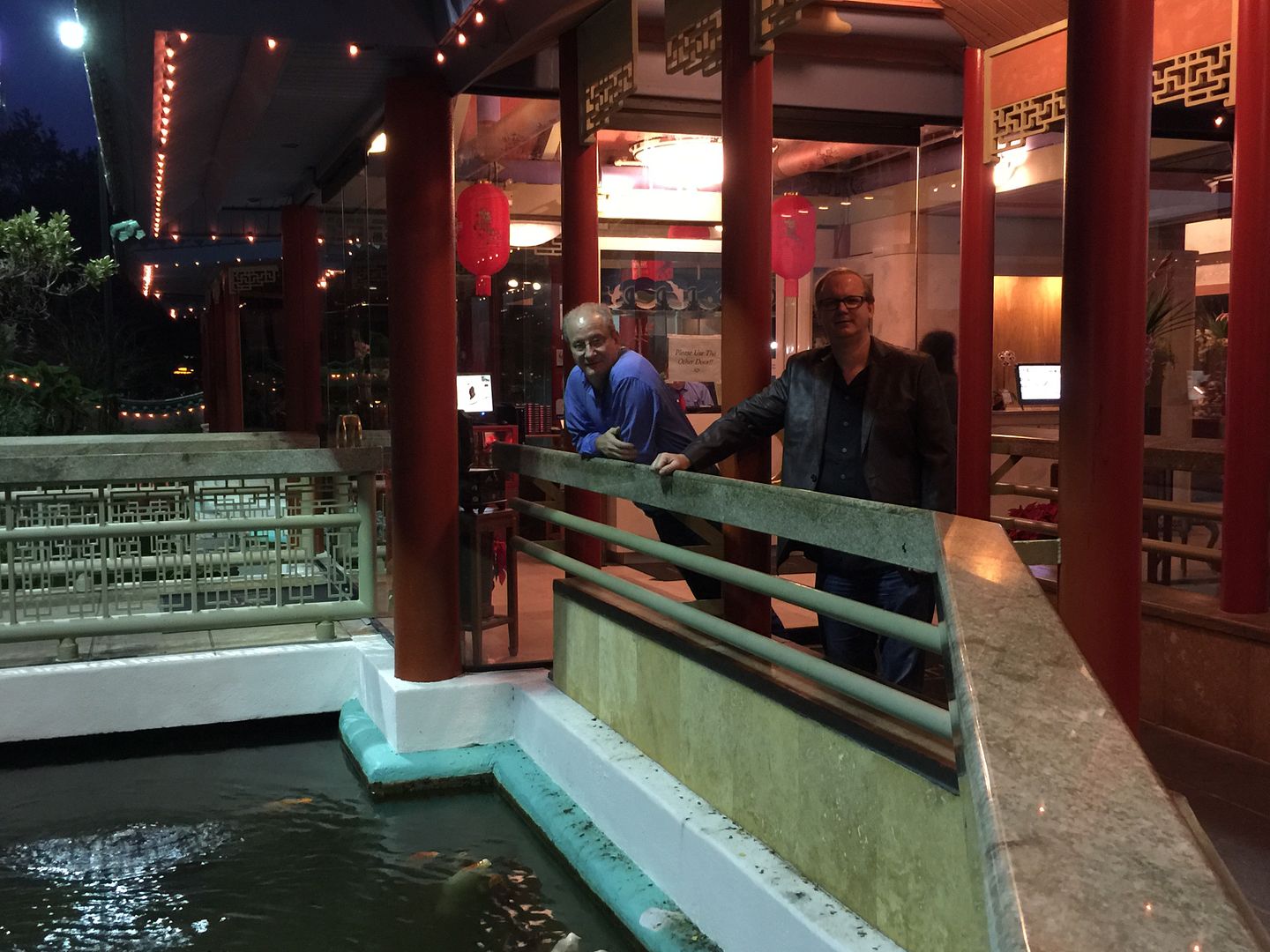 I had dinner with Greg Allen and Rick Snow. These were the fortunes we received in our cookies. Mine is first, then Rick's, then Greg's.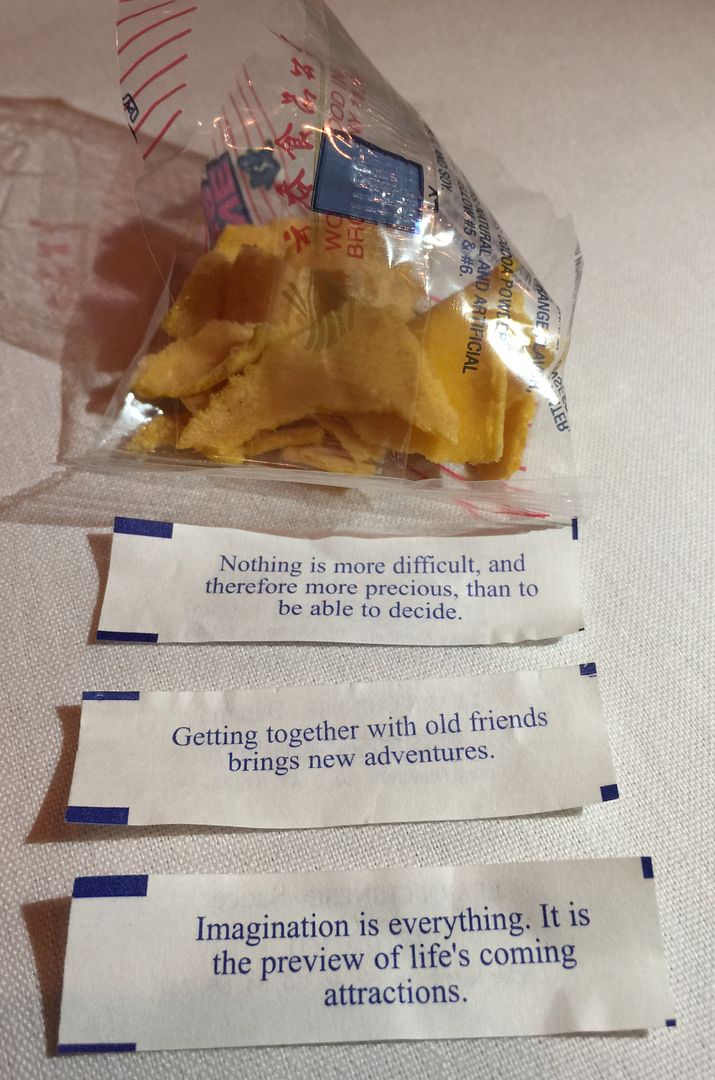 The next morning I picked up my bags at security and headed to the airport. Boy, was the security line packed! But I made it through security with TSA only examining one of my coin bags, then it was off to find my gate. It was a cold rainy morning so on the way, I stopped to have a cup of coffee laced with some sweet Bailys.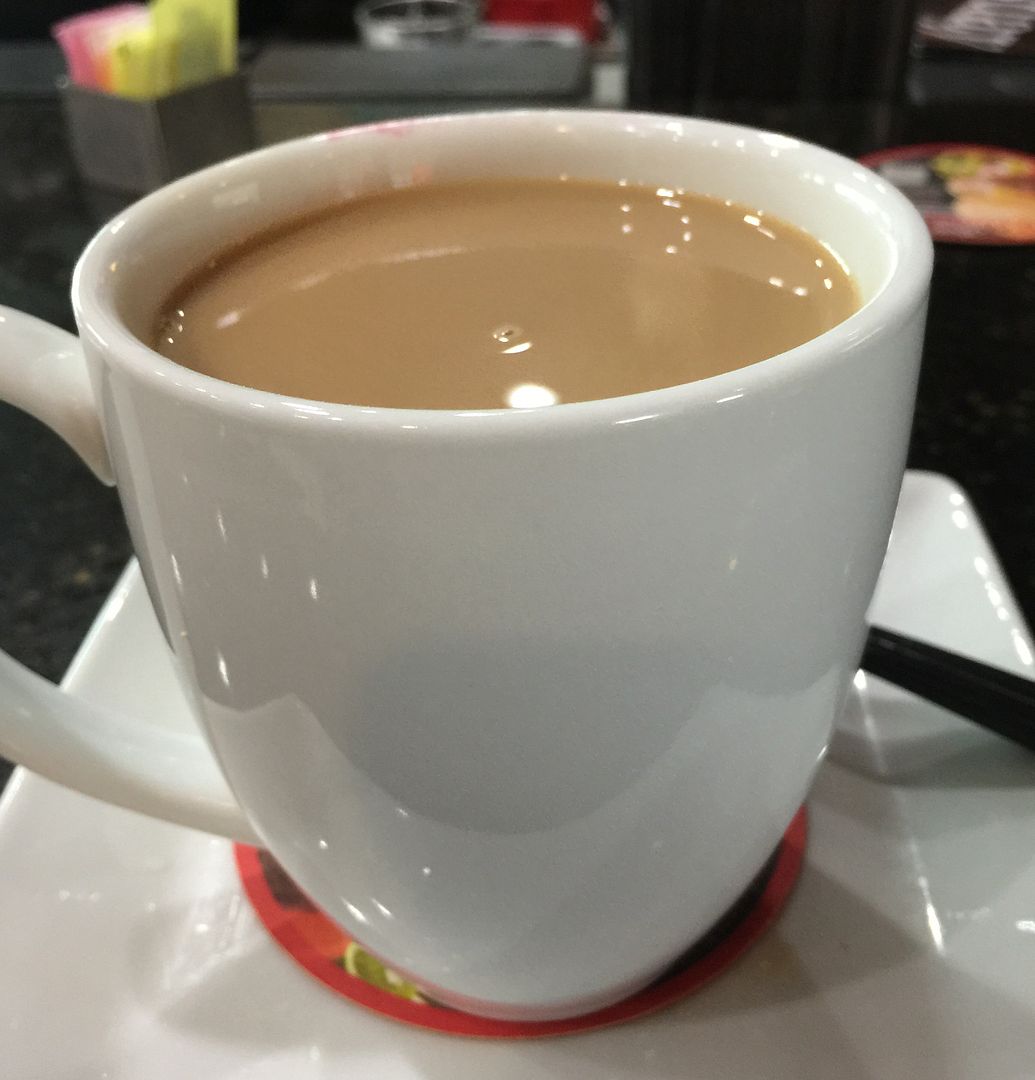 While waiting for my plane to take off, it began to rain.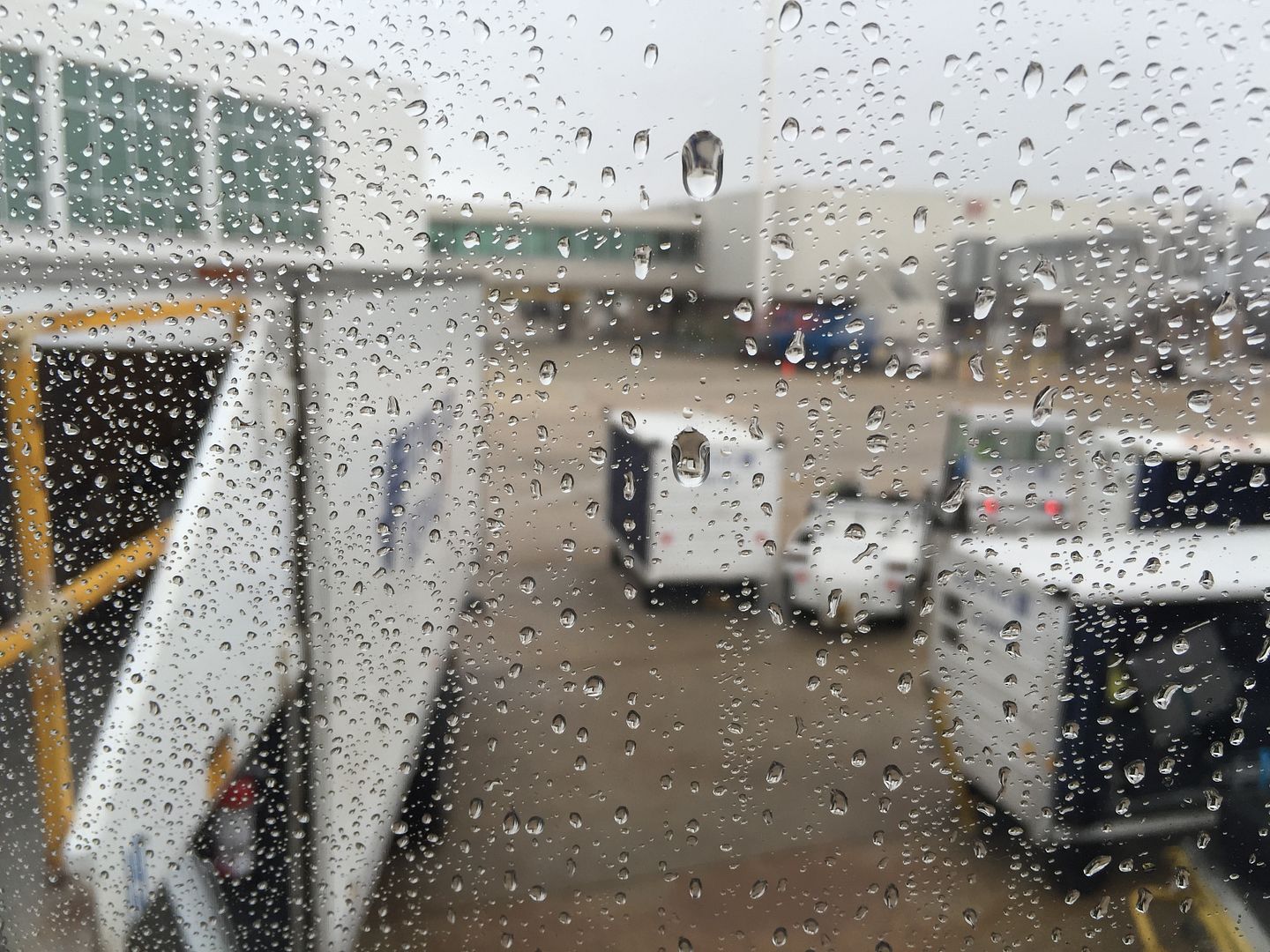 Me so happy to be headed home!
I had a connection in Chicago and saw that Chicago was covered with snow!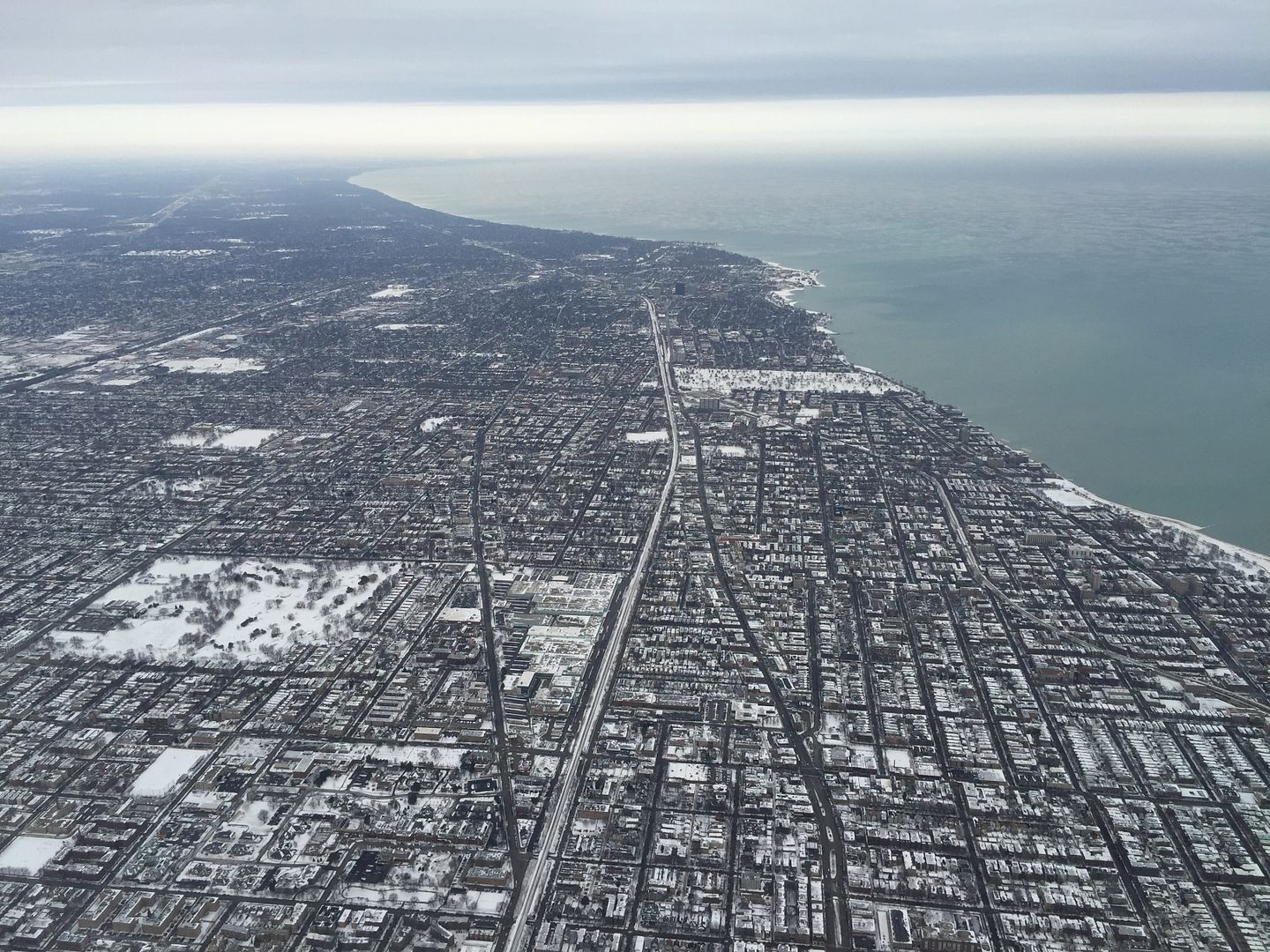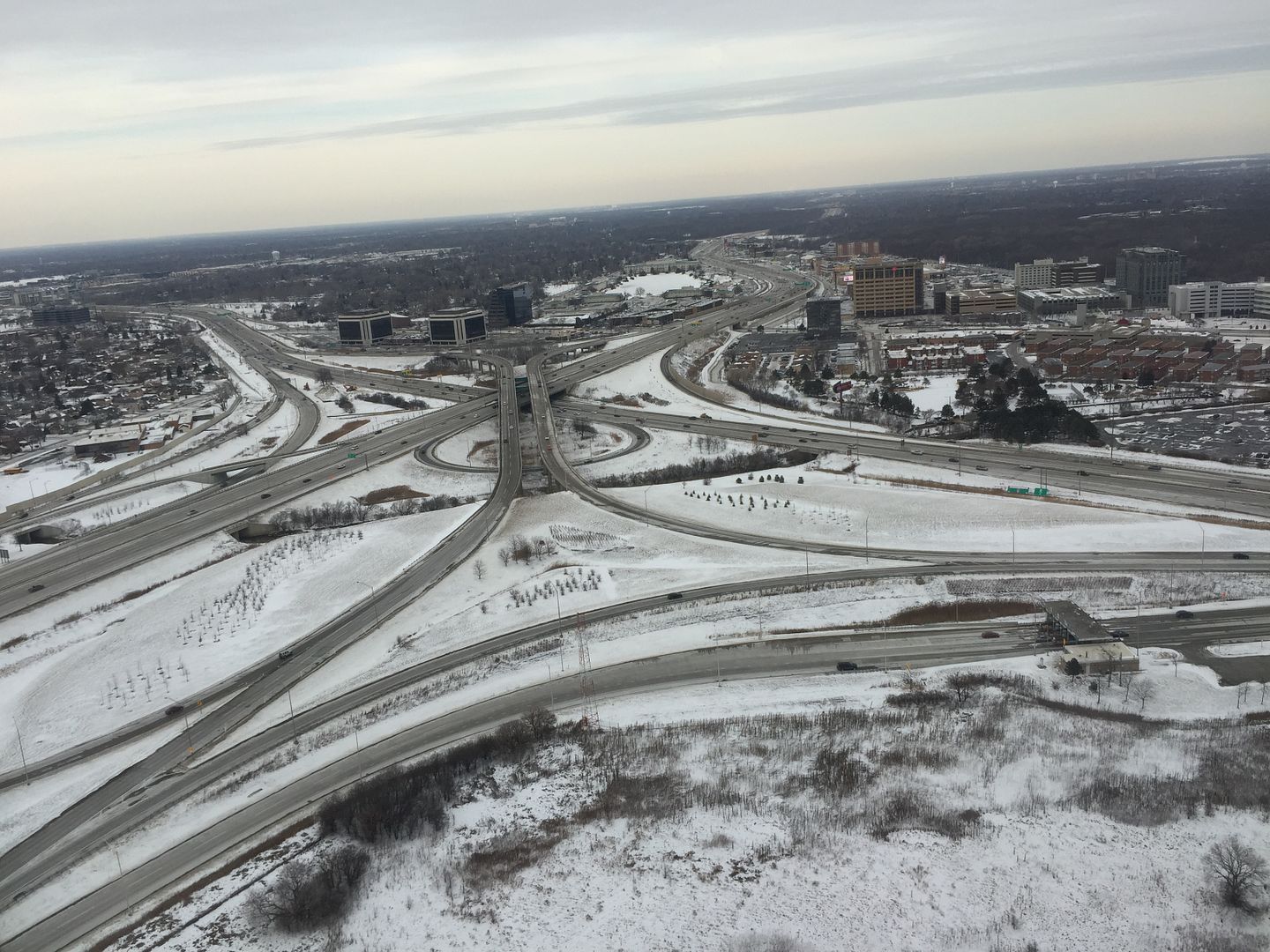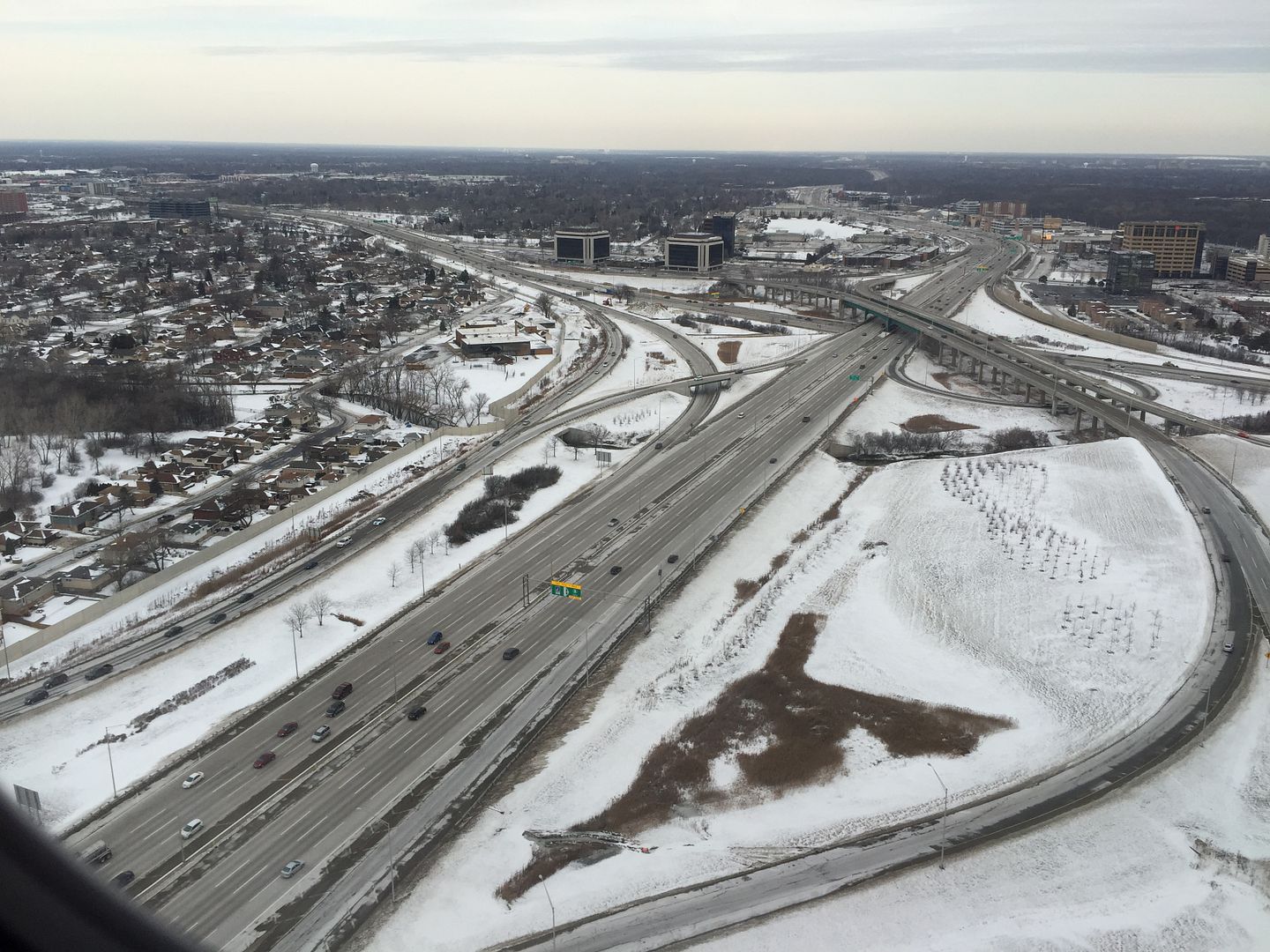 It was snowing while we were waiting to board our plane in Chicago. Once on board, it began snowing even harder.
The pilot then announced our take off would be slightly delayed since they had to de-ice the wings.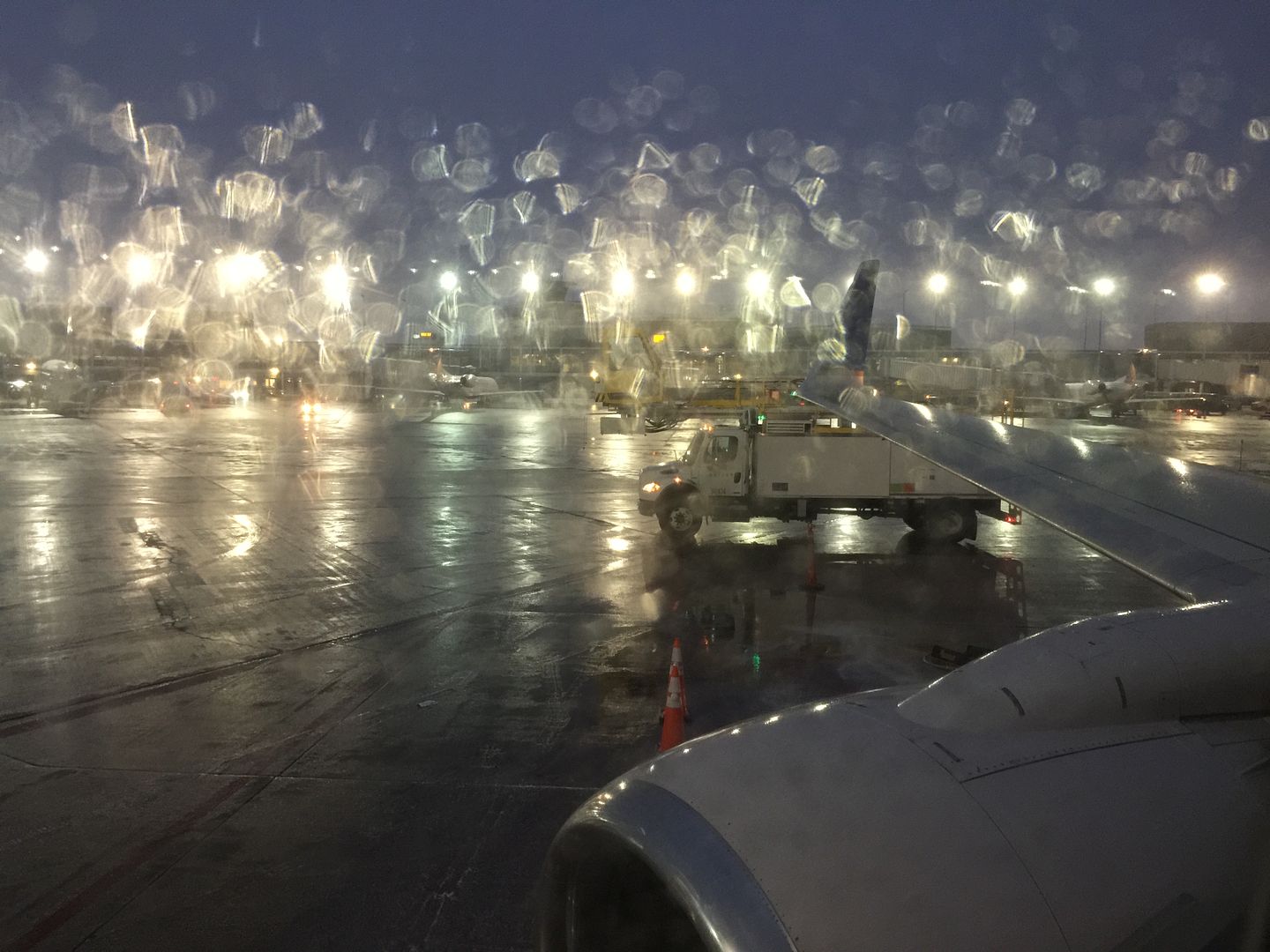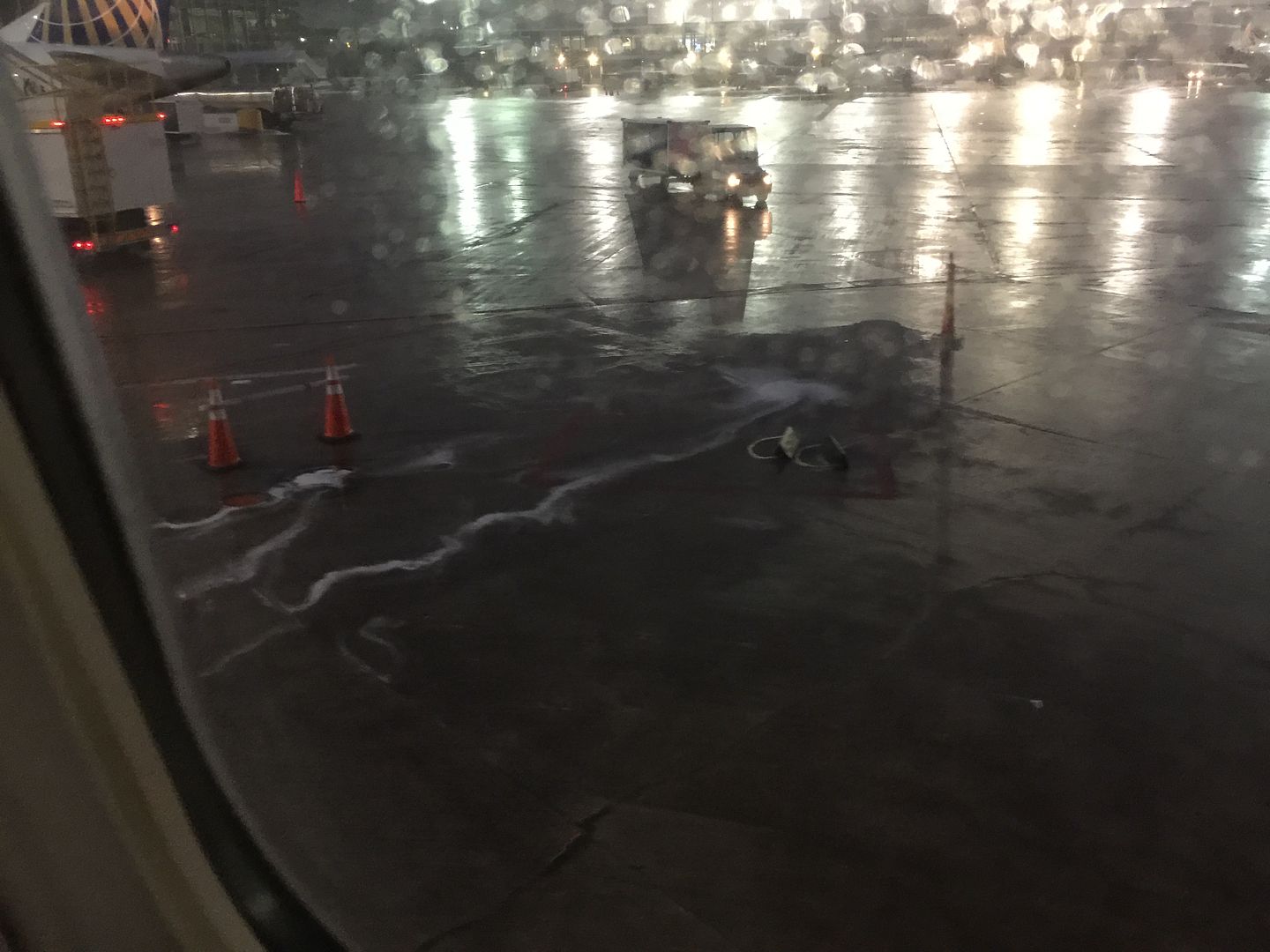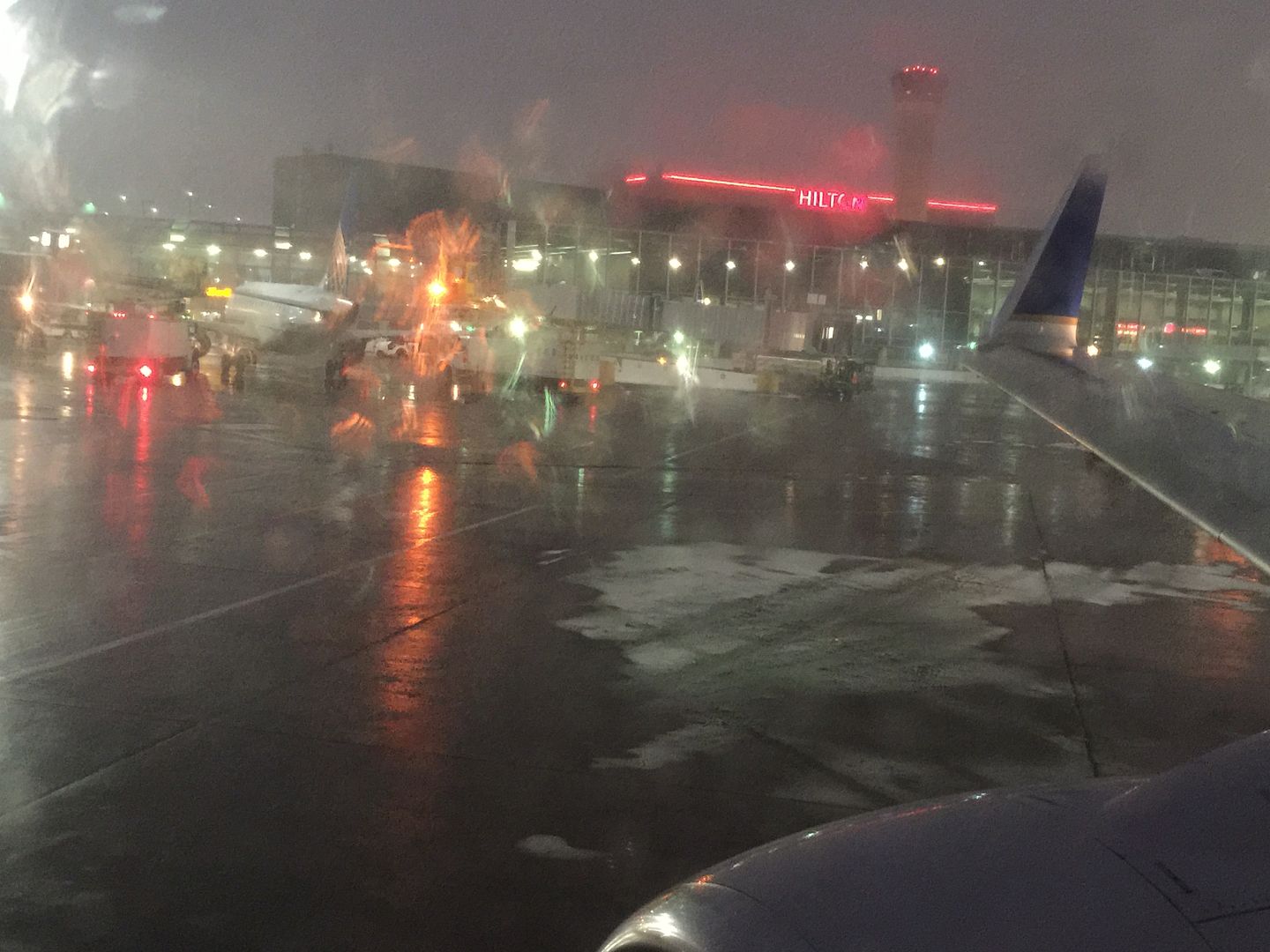 It was a long day of travel and I was very glad to be home, very glad to see my hubby, and especially glad to see my little kitty Penny!
Overall, as I mentioned, the show was very busy and very successful for me. I hope it's an indication that this will be a successful year for the coin market as well.
Next up, the San Jose show (Jan. 23-25) and the Long Beach show (Jan. 29-31)!
Charmy Harker - The Penny Lady®
President of Women in Numismatics
ThePennyLady.com