Home
›
U.S. Coin Forum
Charmy's November 2013 BALTIMORE SHOW REPORT w/lots of Pics!!!

ThePennyLady
Posts: 4,029
✭✭✭✭
As usual, I left for the show early Wednesday morning for the all-day travel to the opposite coast. I arrived at the John Wayne airport around 5:30am and discovered my boarding pass had "pre-check" printed on it which meant I could go through a much shorter security line, didn't have to remove any clothing or shoes, and didn't even have to remove my laptop from my bag as it went through the security scan. From the time my hubby dropped me off at the airport, I was through security and sitting at the Ruby's Diner 15 minutes later! Now that is the way security used to work!!
So I ordered a Kahlua and coffee but was told I would have to wait a little while. Oh yeah, I had forgotten that in California, no alcohol can be served between 2am and 6am, and it was still only 5:45am! So just coffee it was…
Soon it was time to board the plane and wait until 7am when the noise abatement ordinance ends and we could take off.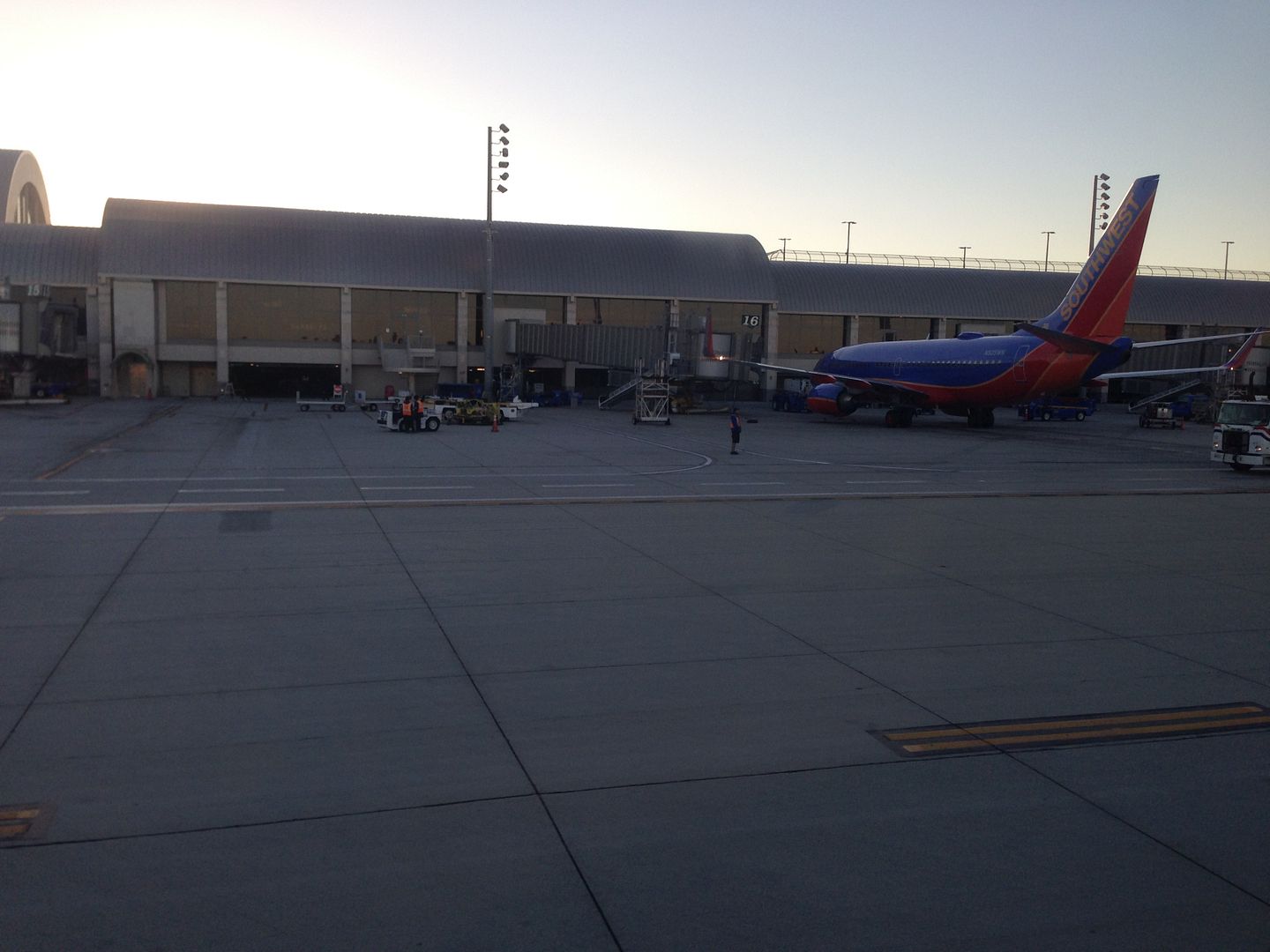 While I was waiting, I was watching as the ground crew was loading the bags and actually saw my bag (the one with the lime green tag) as it was placed on the conveyor belt on its way into the plane. "Yay," I thought, at least I knew my bag wouldn't miss my flight!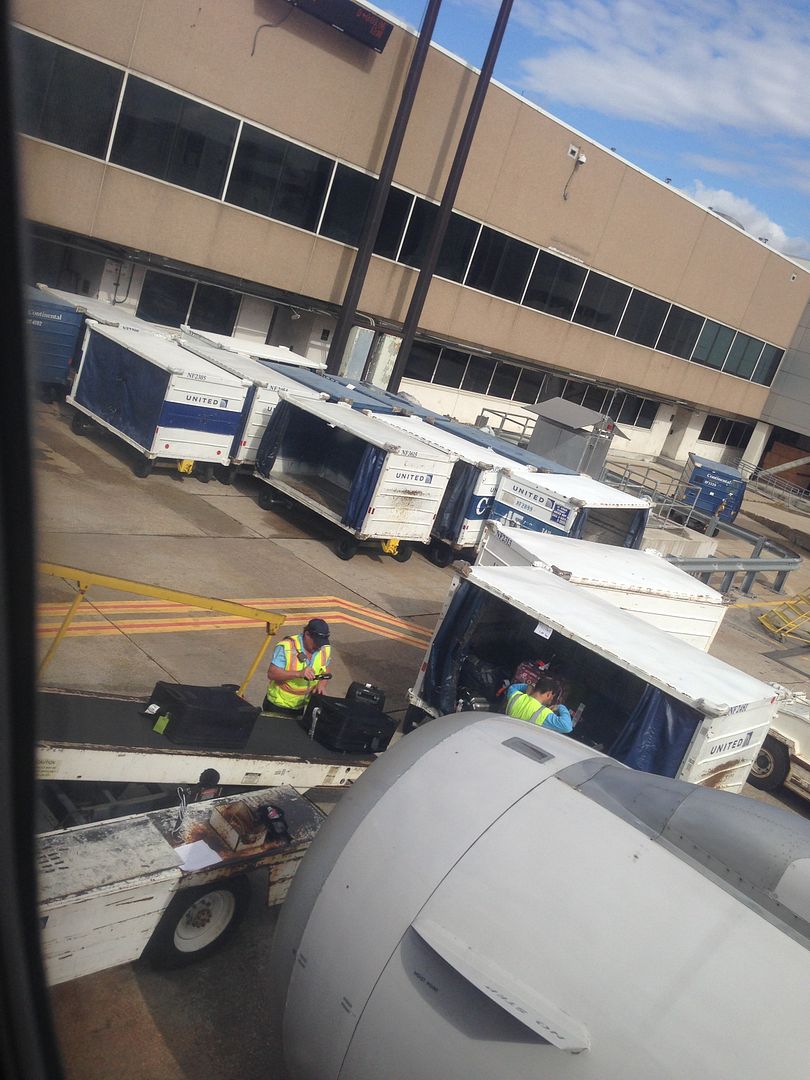 After approximately 3 hours, I arrived in Houston (when I make connections, I always keep in mind the time of year and choose a city that most likely won't have severe weather issues so as not to delay my connection). I also ran into several other dealers who were on the same flight out of Houston to Baltimore. Another few hours later, and Baltimore came into sight.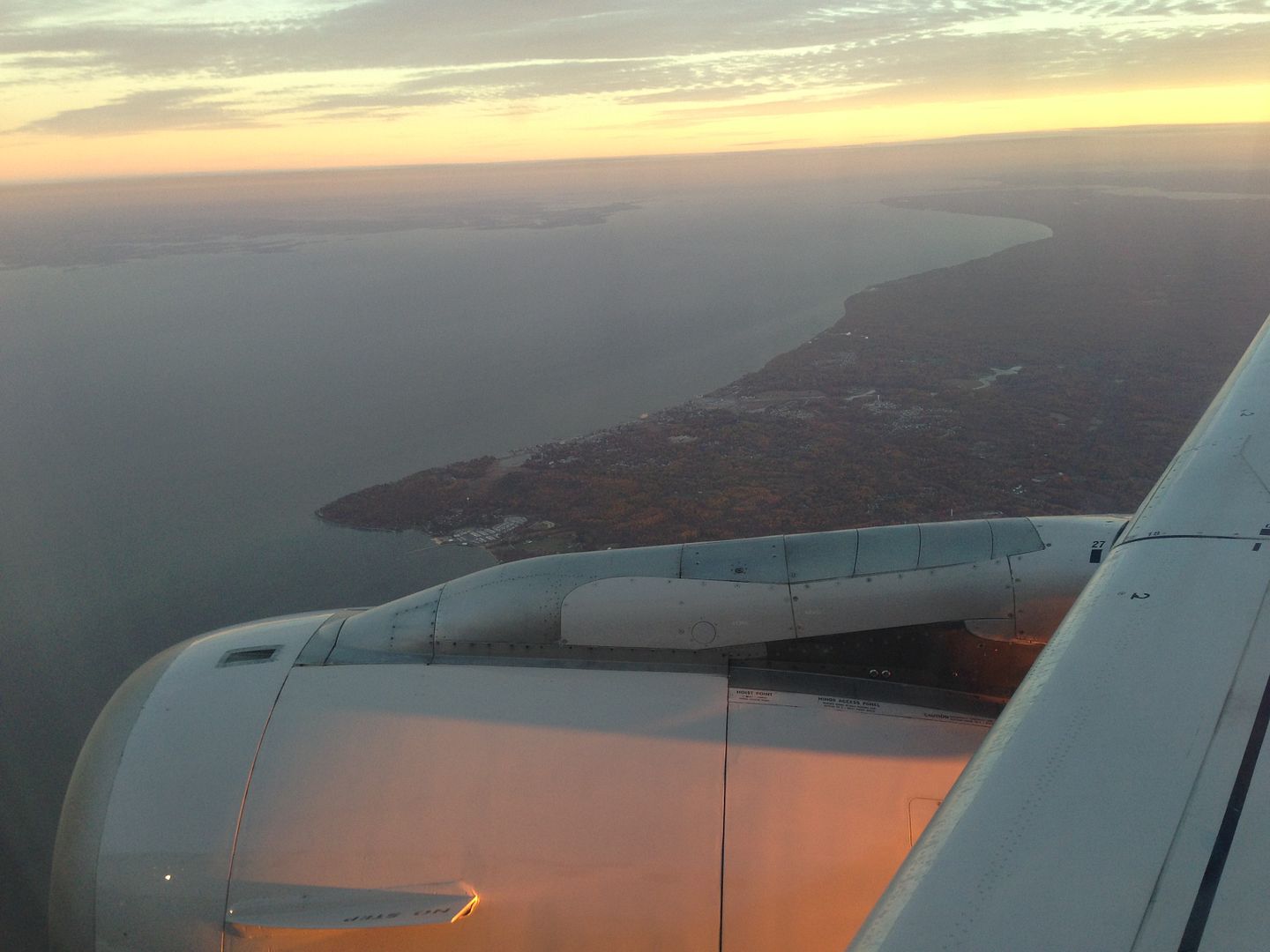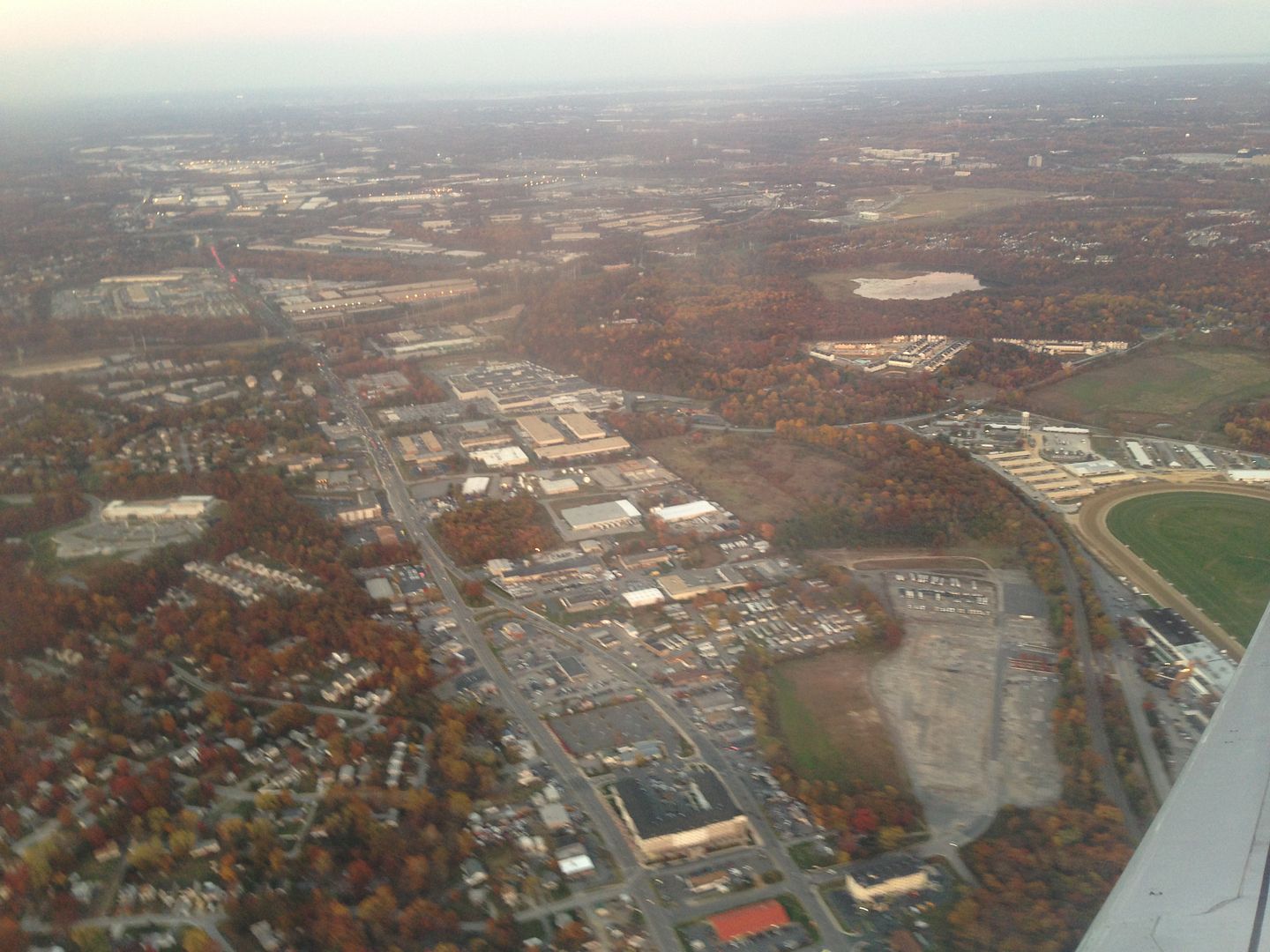 I checked into my room and found I had a very pretty view of the city towards the convention center.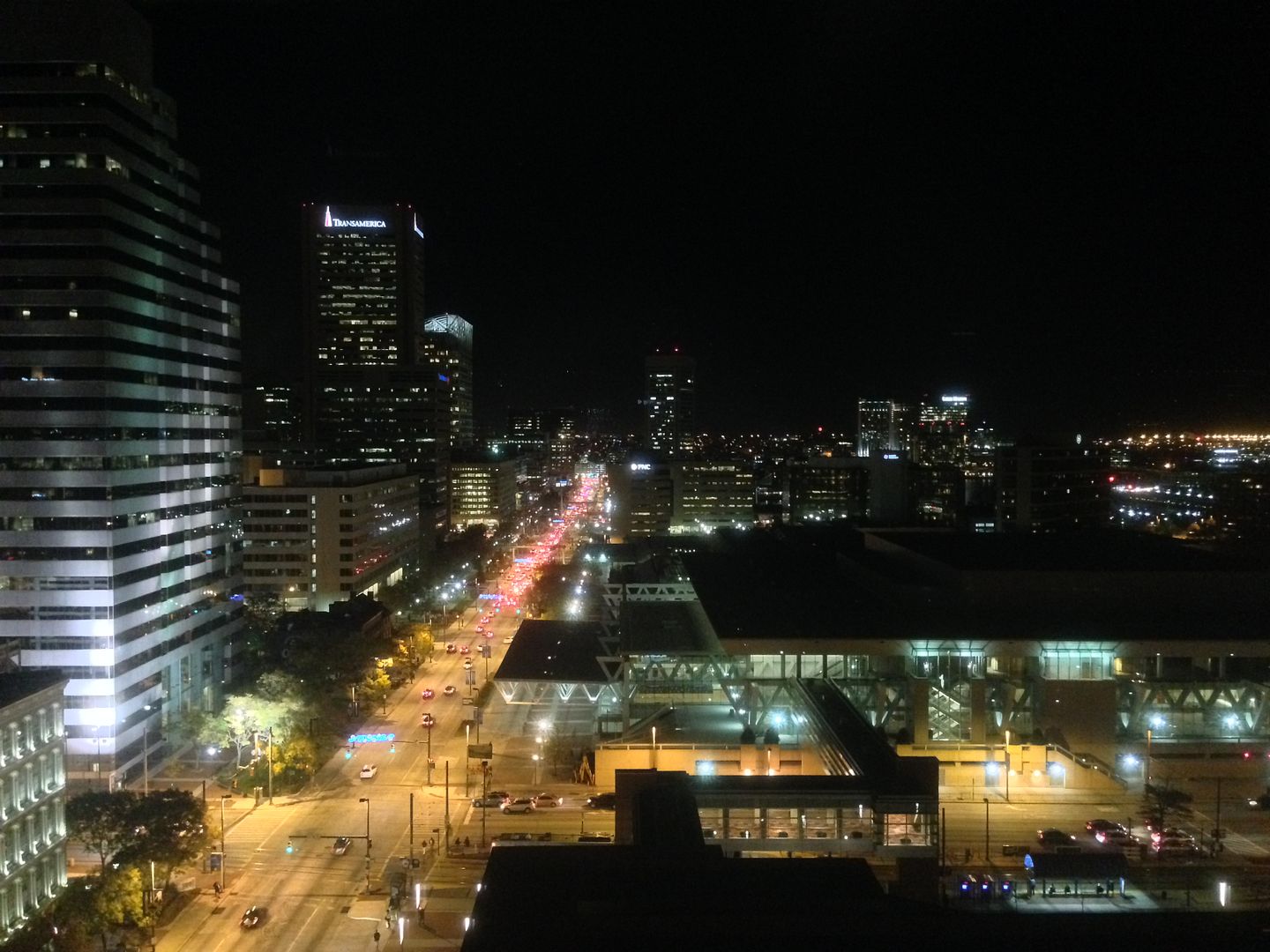 You can see the back side of the convention center
I met a couple other dealers for a quick dinner, then went back to my room and quickly passed out!
I woke up the next morning to a gorgeous Baltimore day and took photos of the same view of this beautiful city.
This is a view of the convention center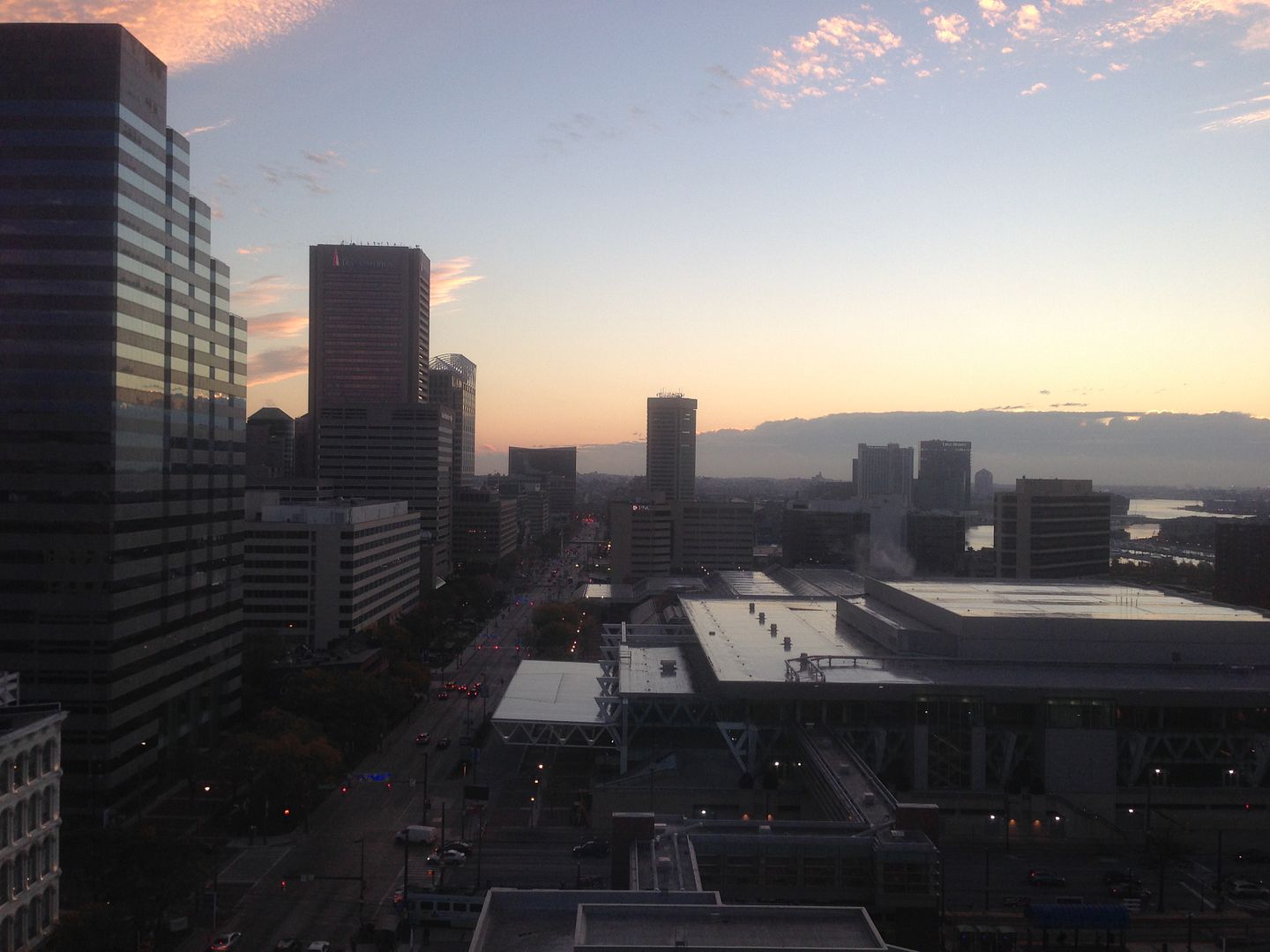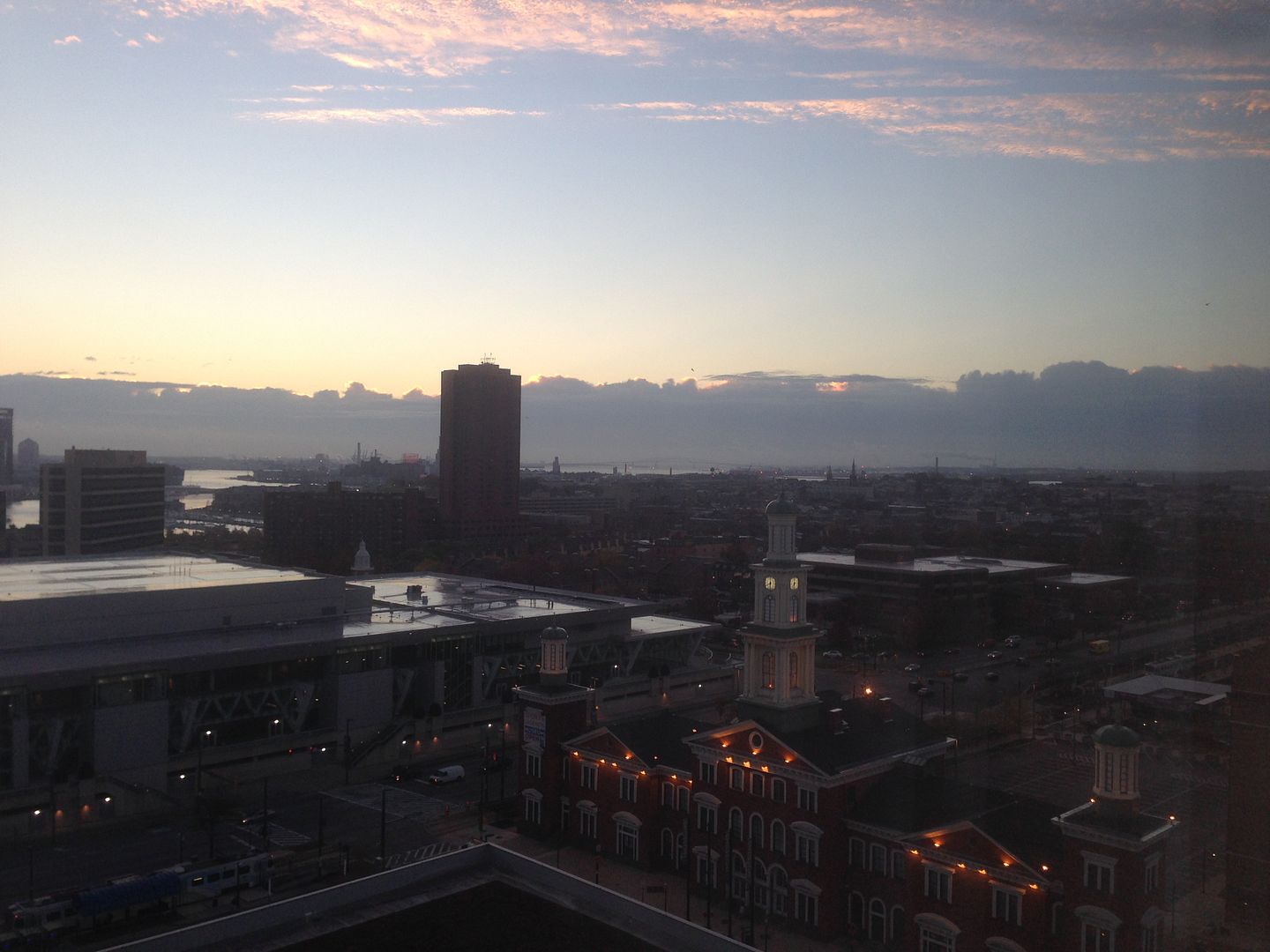 I then headed over to the bourse floor. When I made reservations at the Hilton, I was told it was "connected" to the convention center which usually means it's just a quick hop from the hotel to the convention center. Well, I guess, technically, the hotel is attached to the convention center, but I discovered that the Hilton was actually about 4 blocks away from where the bourse floor was located, so it was more like cross country jog from the hotel to the bourse floor! (I hadn't stayed at this Hilton before.)
I checked in, got my badge, headed to my table, and began the process of setting up my booth. Soon, some of my usual dealer friends who always have nice copper to show me began stopping by. One of my favorite dealers is Brian Wagner who has some of the most amazing pieces of copper, both for sale and for "show and tell." He showed me this proof Indian cent which has the deepest cameo portrait I have ever seen on an Indian cent. When Brian first produced it, I thought it was a gold Indian cent. My photo doesn't do his coin justice but, believe me, it has that complete jaw dropping "WOW" factor.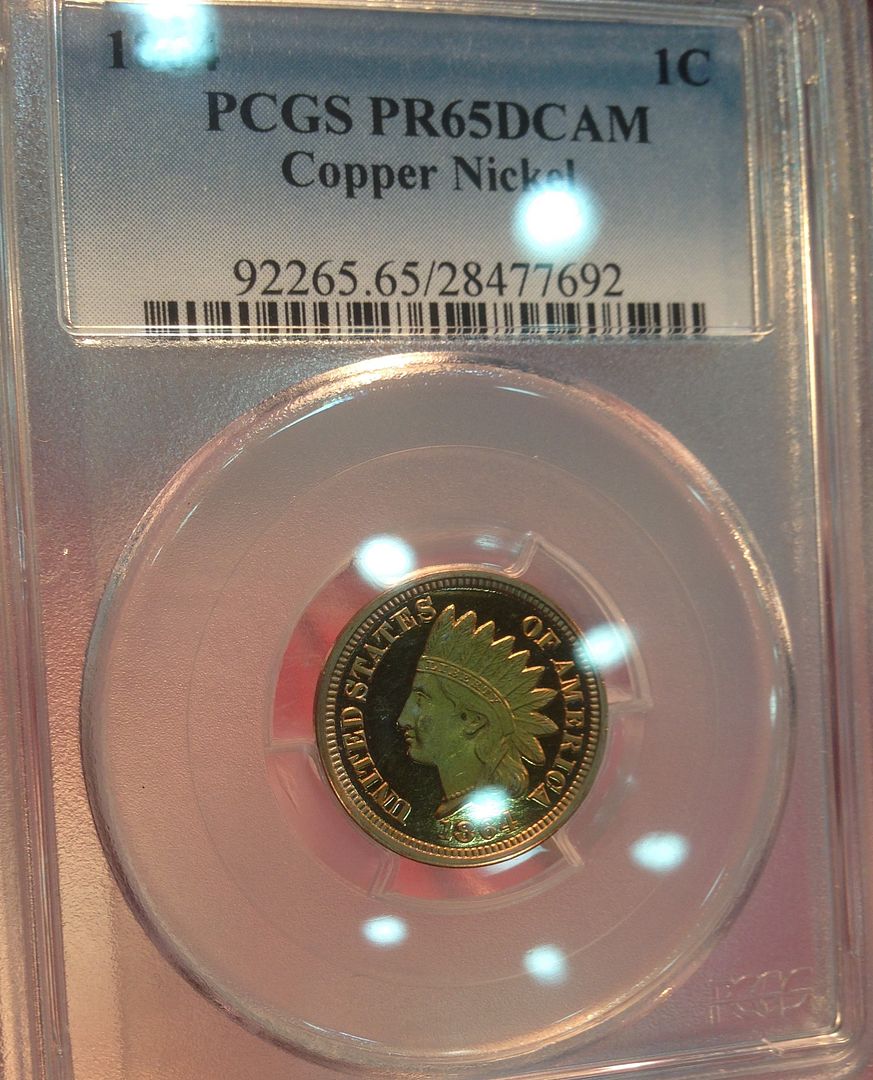 Later, I wandered around the bourse floor and stopped by Todd's table to say hi (he set up with his dad this time so he had his own table). He showed me this truly amazing piece of extremely rare copper in an also very rare regency holder - a 1792 Birch cent. It's my understanding that there are only about 12 known. The coin's owner said he bought it in the early 1990's when the coin market was at a low, and then submitted it to PCGS to be holdered in their special regency holders.
On my way back to my table, I stopped by Rick Snow's table. He shares his corner table with another dealer, Mark, who owns a couple coin and jewelry shops and always brings some very interesting coins and beautiful jewelry. He showed me these very cool original 1800's proof sets he had recently acquired. Thank you to Rick for painstakingly removing the coins from flips and placing them back in the original case, and photographing them for me!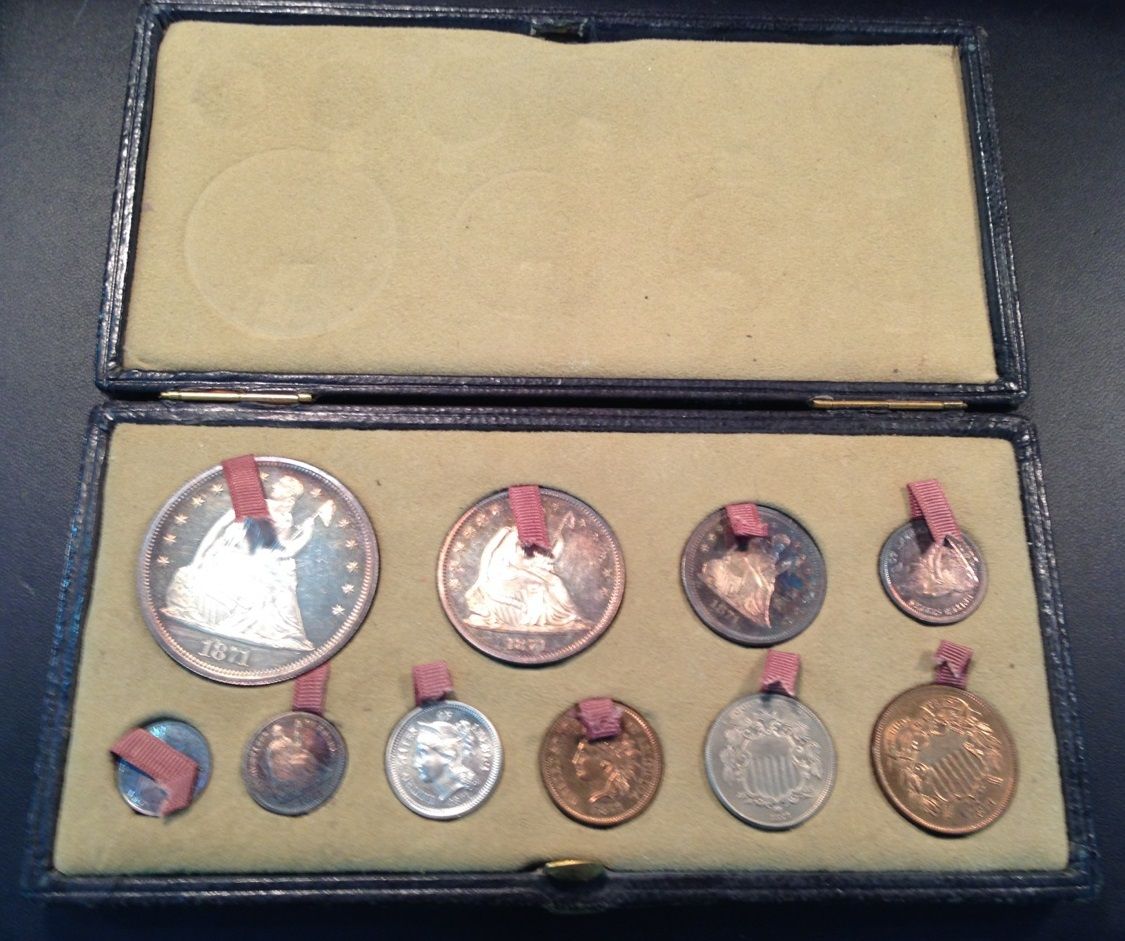 Mark also had the biggest and most beautiful diamond I have ever seen!!! It was 9 carats set in a platinum setting and was worth over $100,000!!! He let me wear it but I could only handle having it in my possession for about an hour before I got nervous that if something happened to it while in my possession, it could cost me my house!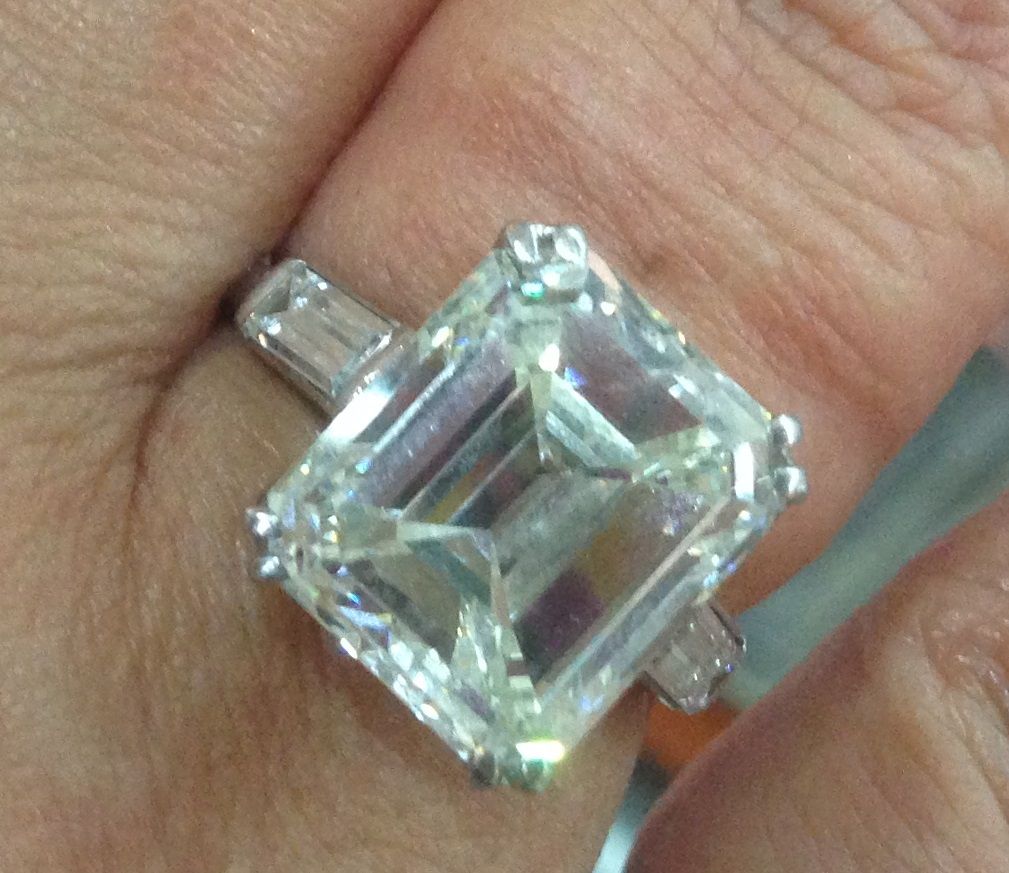 Later, another dealer friend – Jim Bush (Shrub68) – stopped by my table to see if I had any Indian cents that might fit in his personal collection, and ended up buying these two beauties.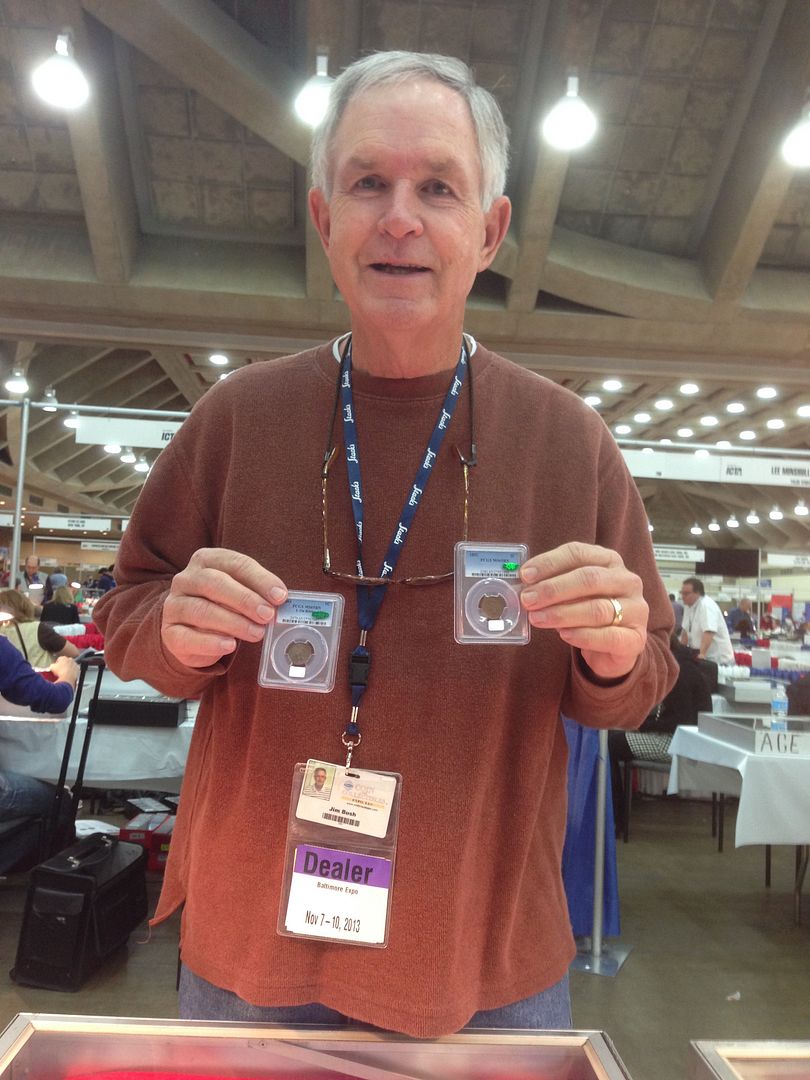 Broadstruck stopped by to say hi and showed me this beautiful silver-toned 1909 Lincoln cent he had on consignment from a customer. I was really surprised that he remembered I have a 1942 silver-toned Lincoln cent that was the last coin I kept from my aunt's collection. So he thought this 1909 Lincoln cent would fit nicely with that coin, and he was right! It's now in my personal collection. Here is the silvery 1909 next to a regular red 1909 for comparison.
This is photo-shy Jeff (Coppercolor) admiring my new silver-toned 1909.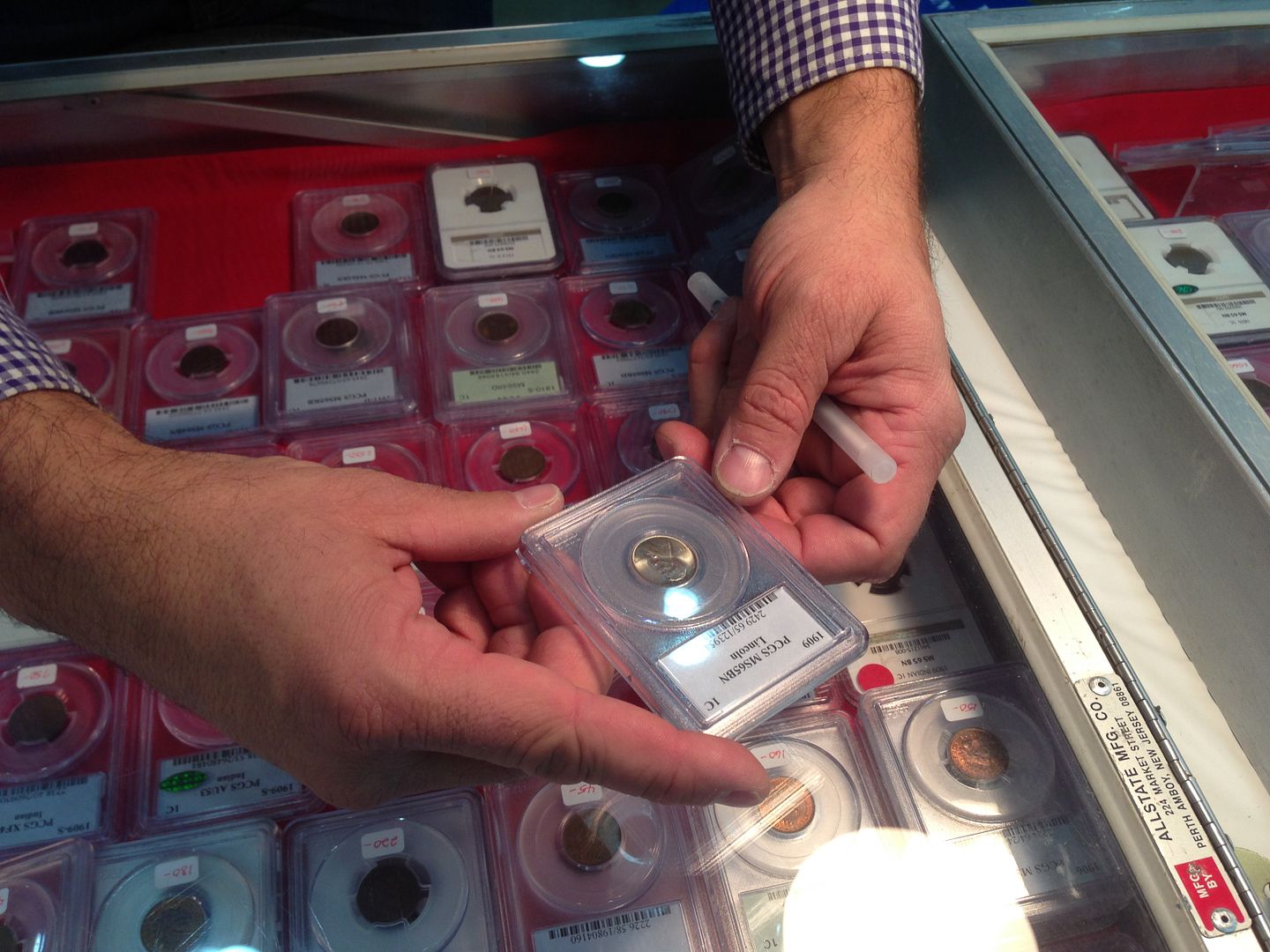 As I mentioned, the show was crowded and pretty busy on Thursday.
That's Jack Beymer in the foreground and my table with the red sign in the background
That night we went to one of our favorite Italian restaurants in Baltimore – La Tavola in Little Italy.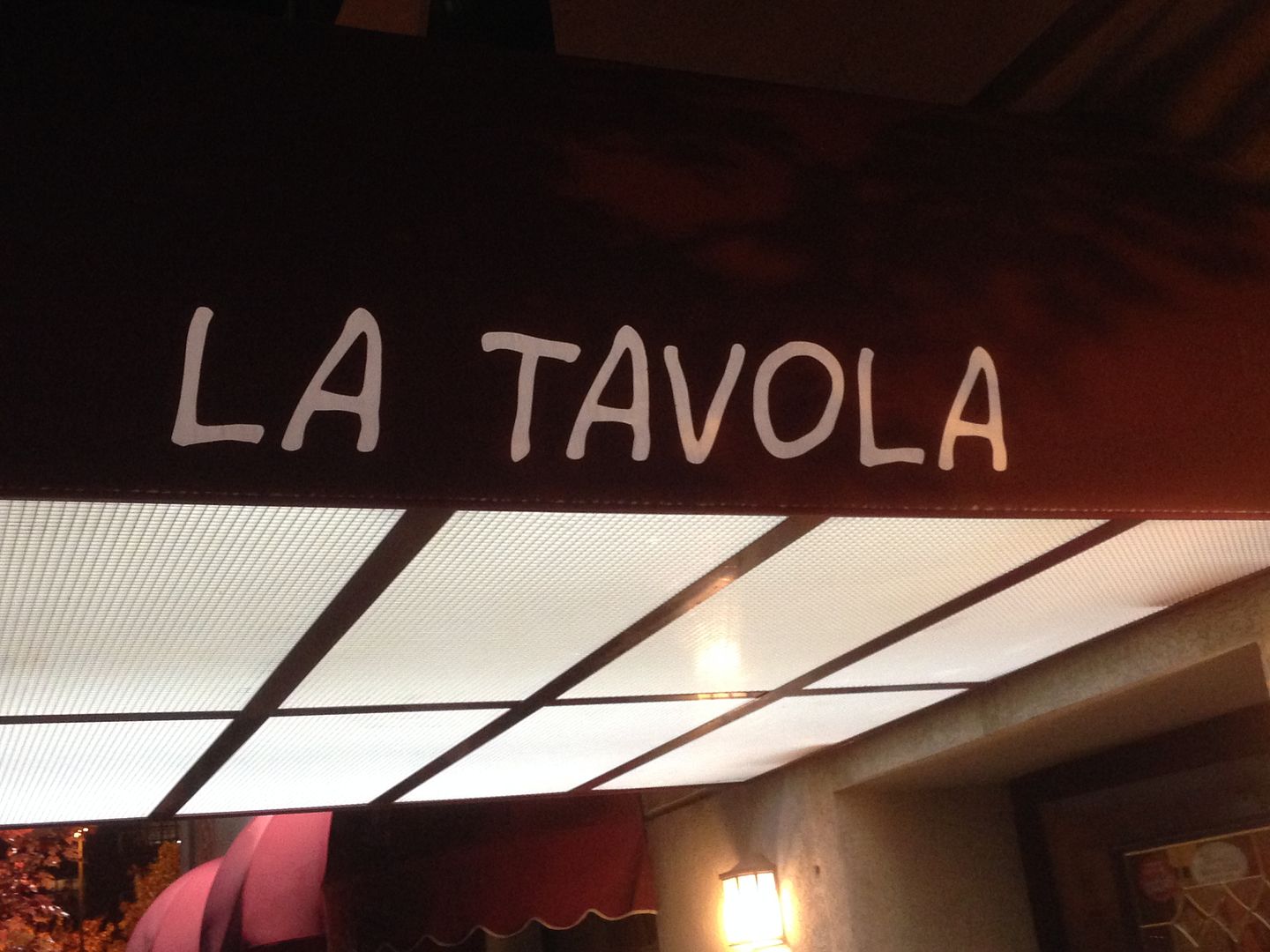 And this was one of the tastiest Zinfandels I've ever had! The wine glass happened to be in front of a candle which made for a really pretty photo op!
Here are some of the very yummy dishes we had….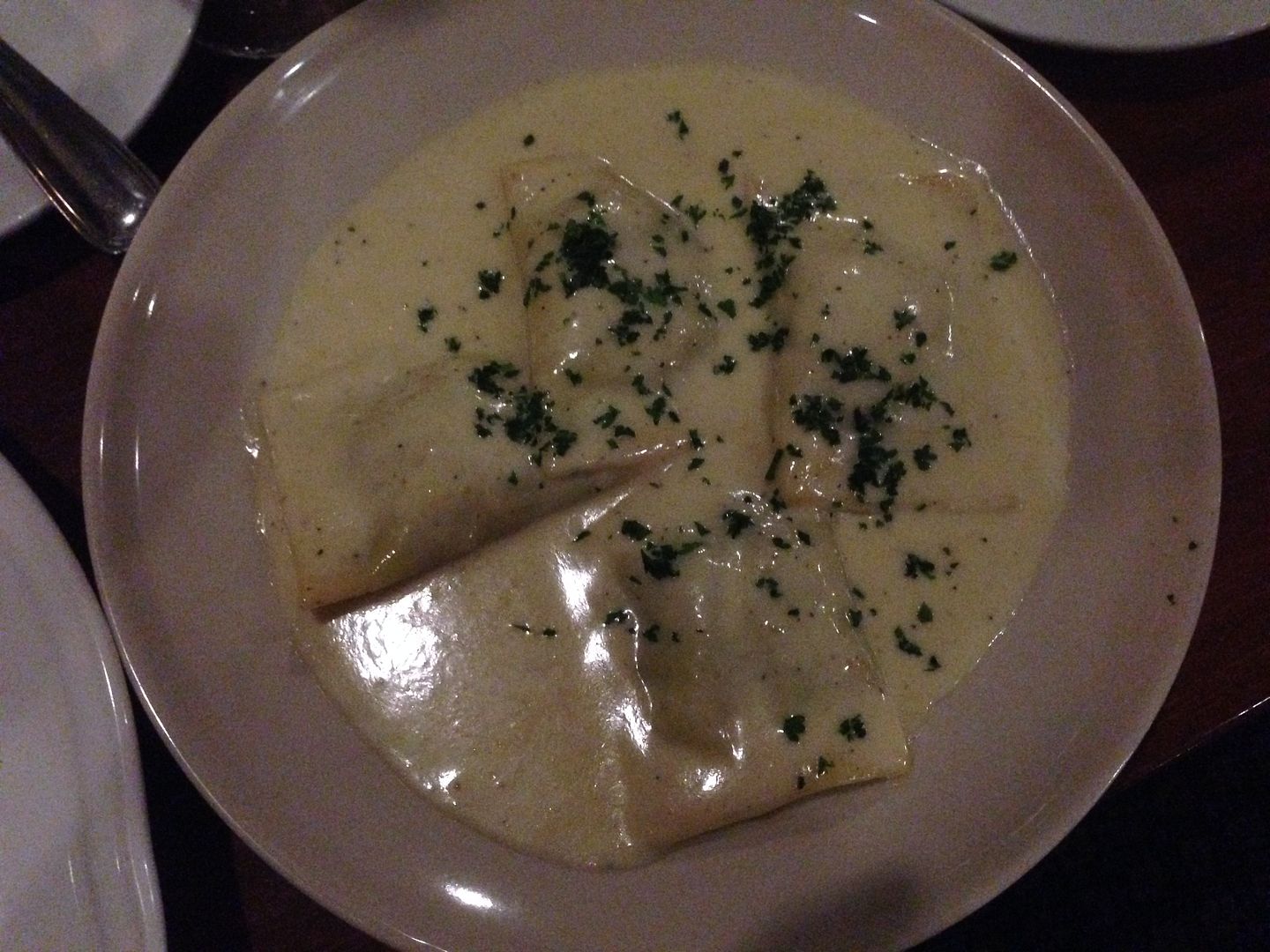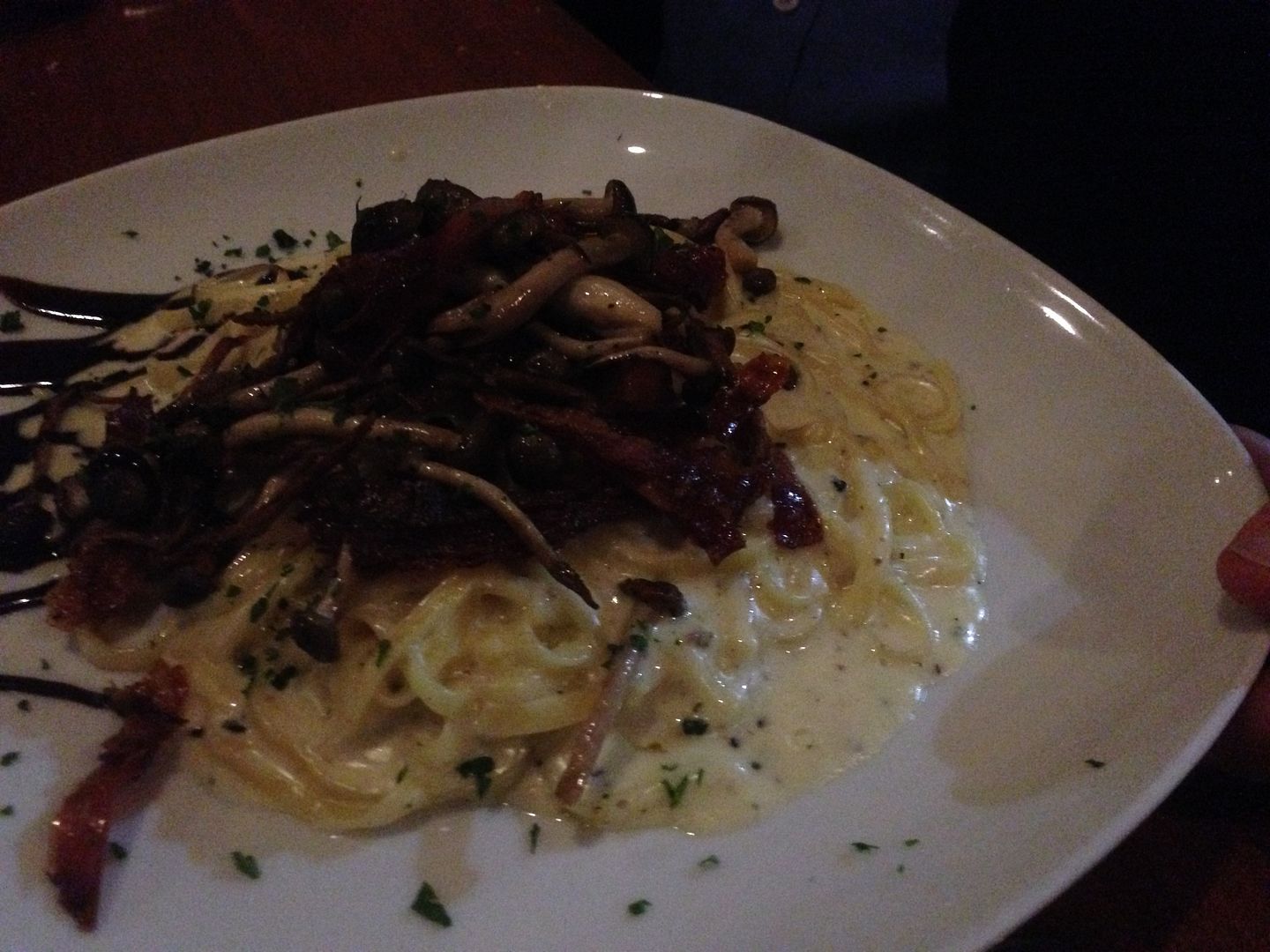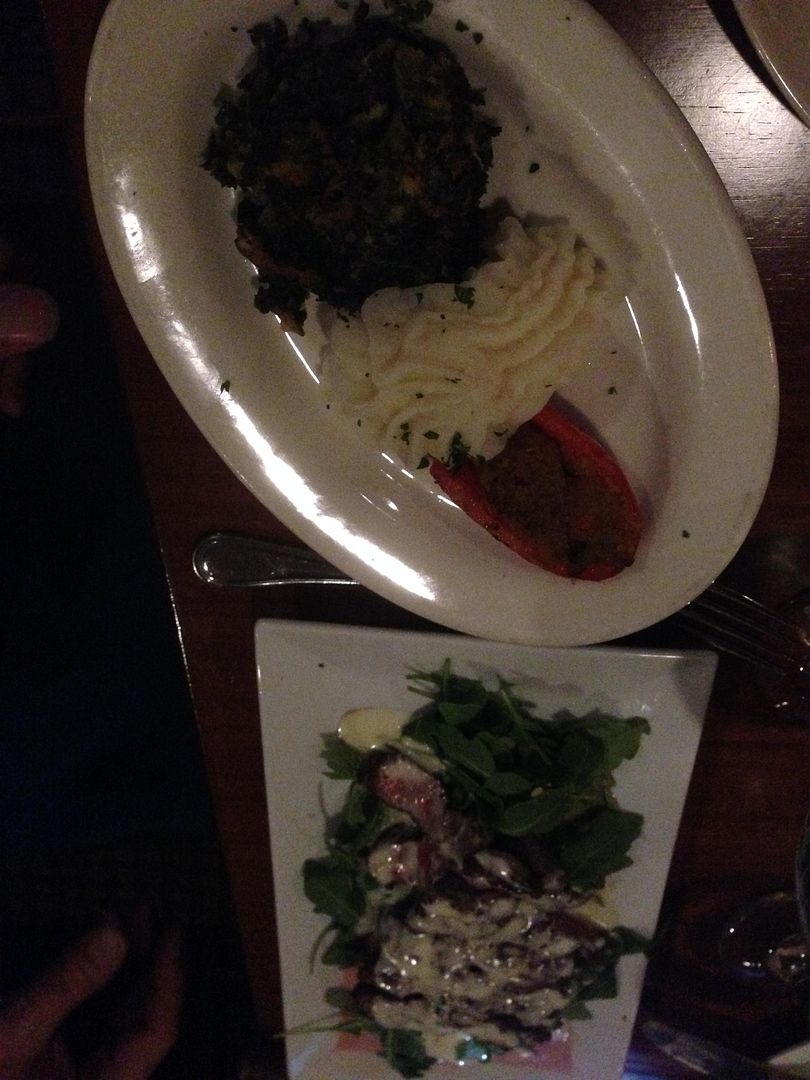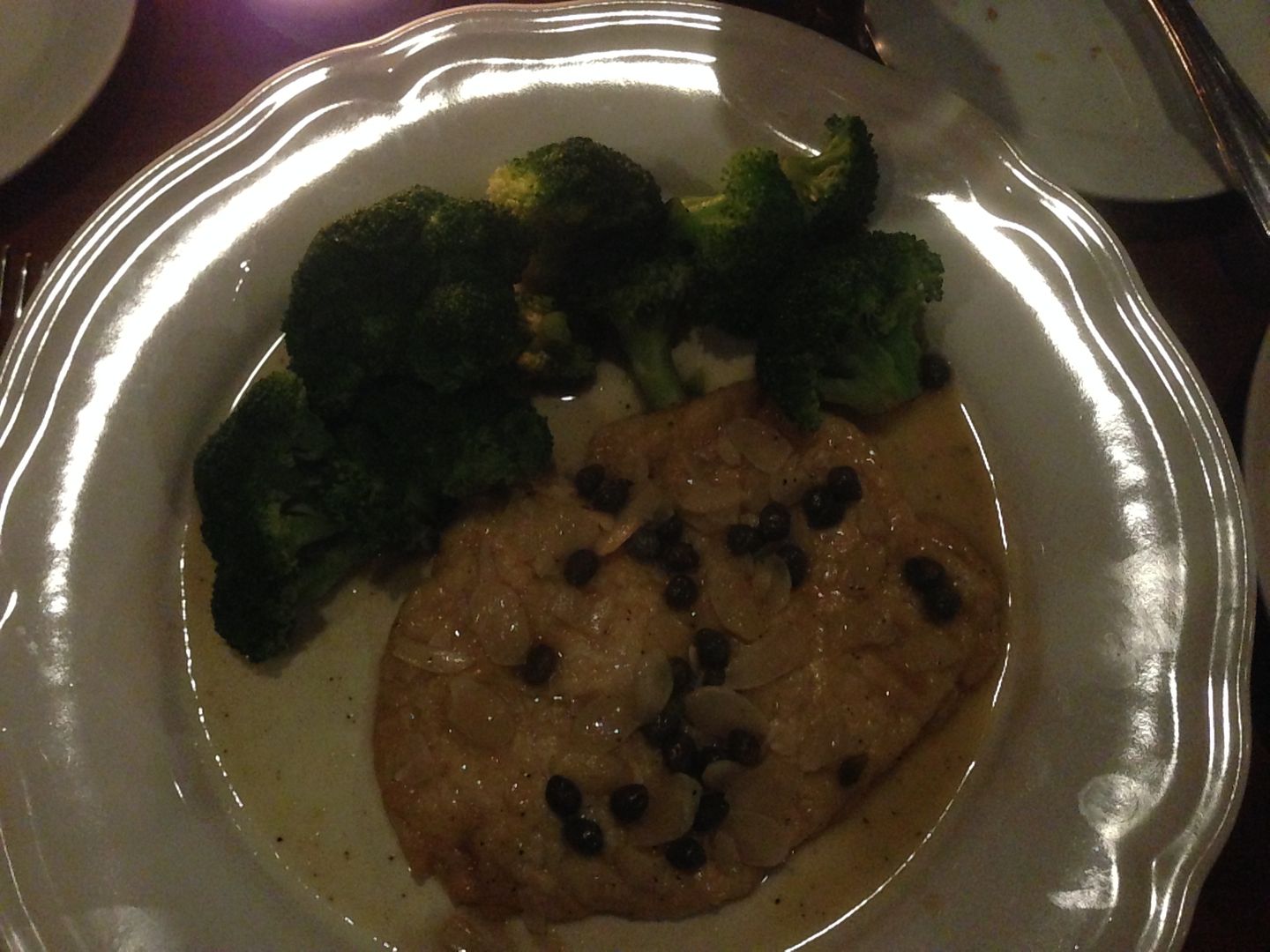 After dinner, a couple of us headed over to the new casino called "Maryland Live! Casino" which is located near the airport. It's just like a Las Vegas casino, with a nice large poker room. Their no-limit games were full with long waiting lists, so we played 4-8 limit. By the end of the night, I ended up $170 ahead – whahoo!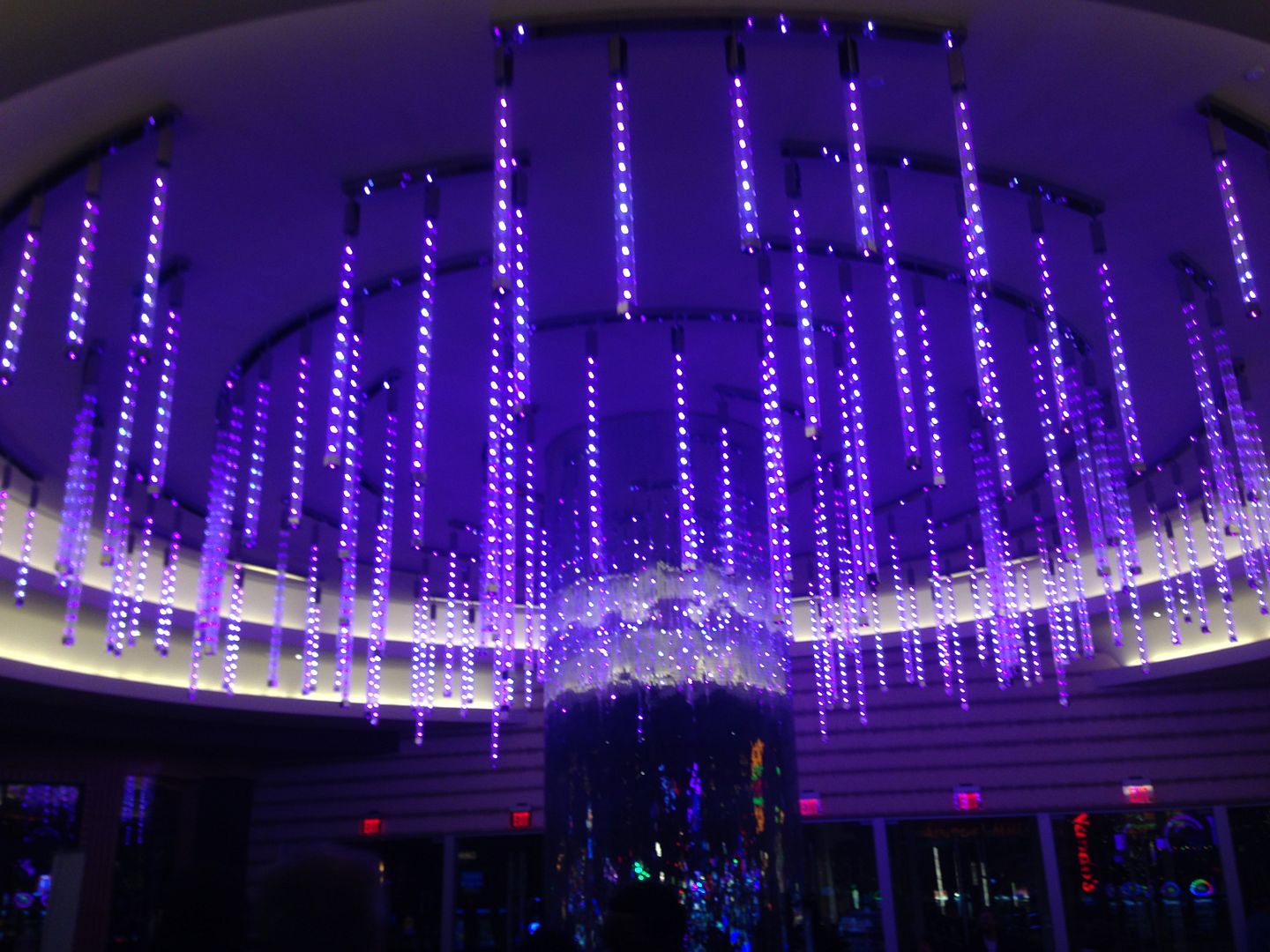 Friday morning I woke up to another beautiful day in Baltimore, though the weather forecast said it would be rainy. You couldn't tell by the bright sunshine from my hotel window!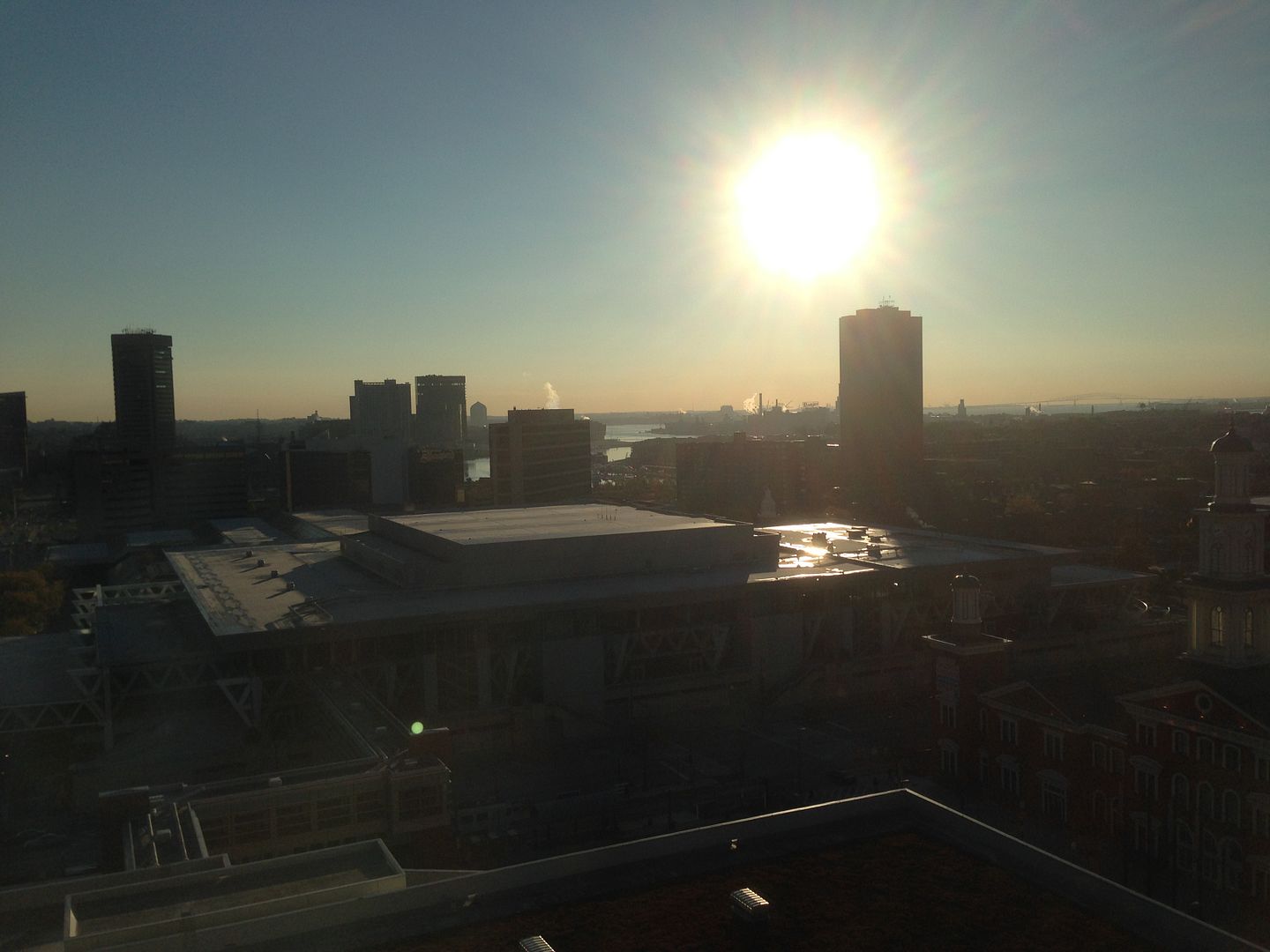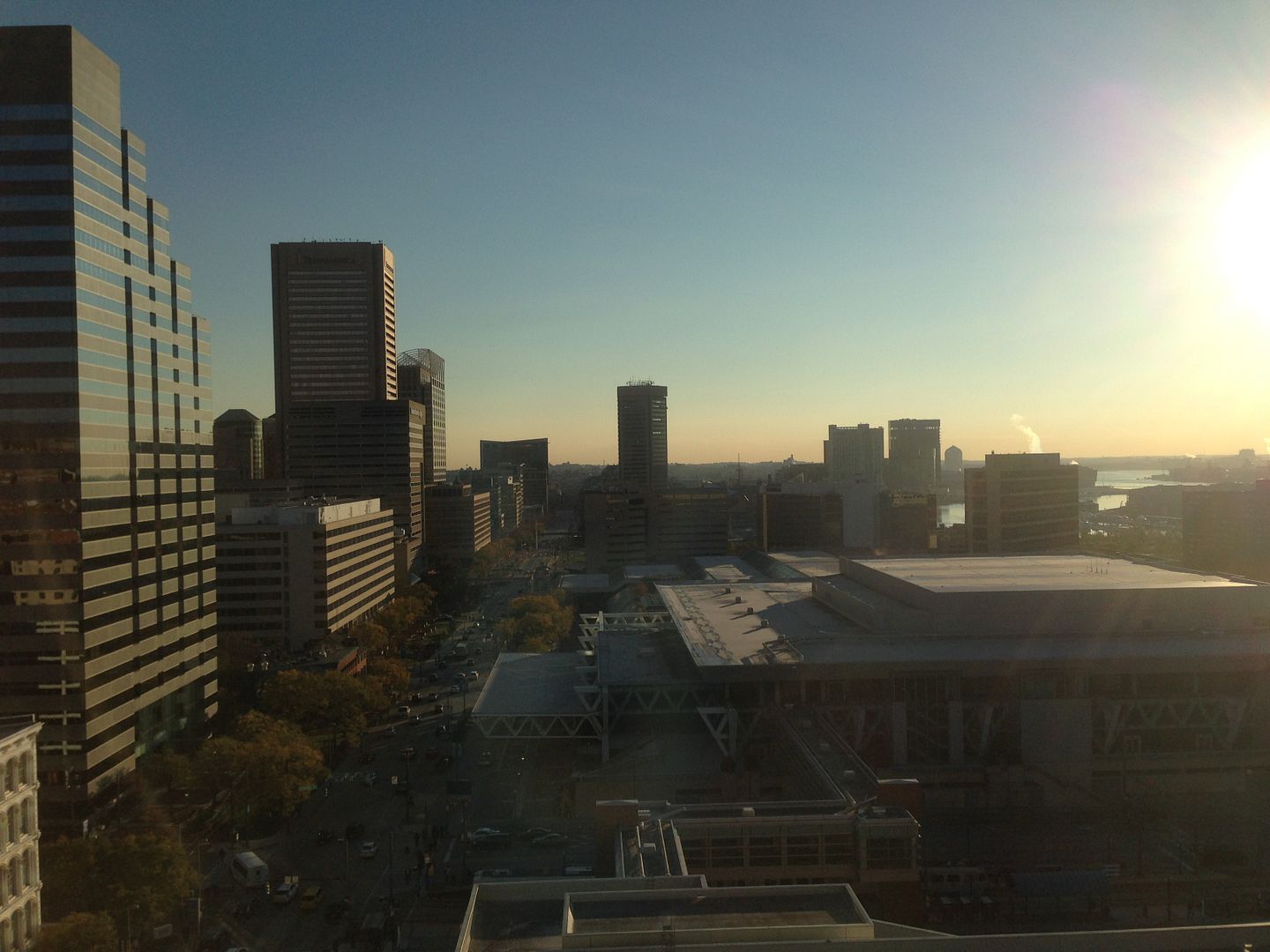 When I got to the show, I began organizing the newps I had purchased so far. I ended up finding quite a few nice certified pieces for my inventory.
When the show opened to the public on Friday, the bourse filled up rather quickly. It never got as busy and crowded as it was on Thursday, but there still was a nice buzz for a good part of the day.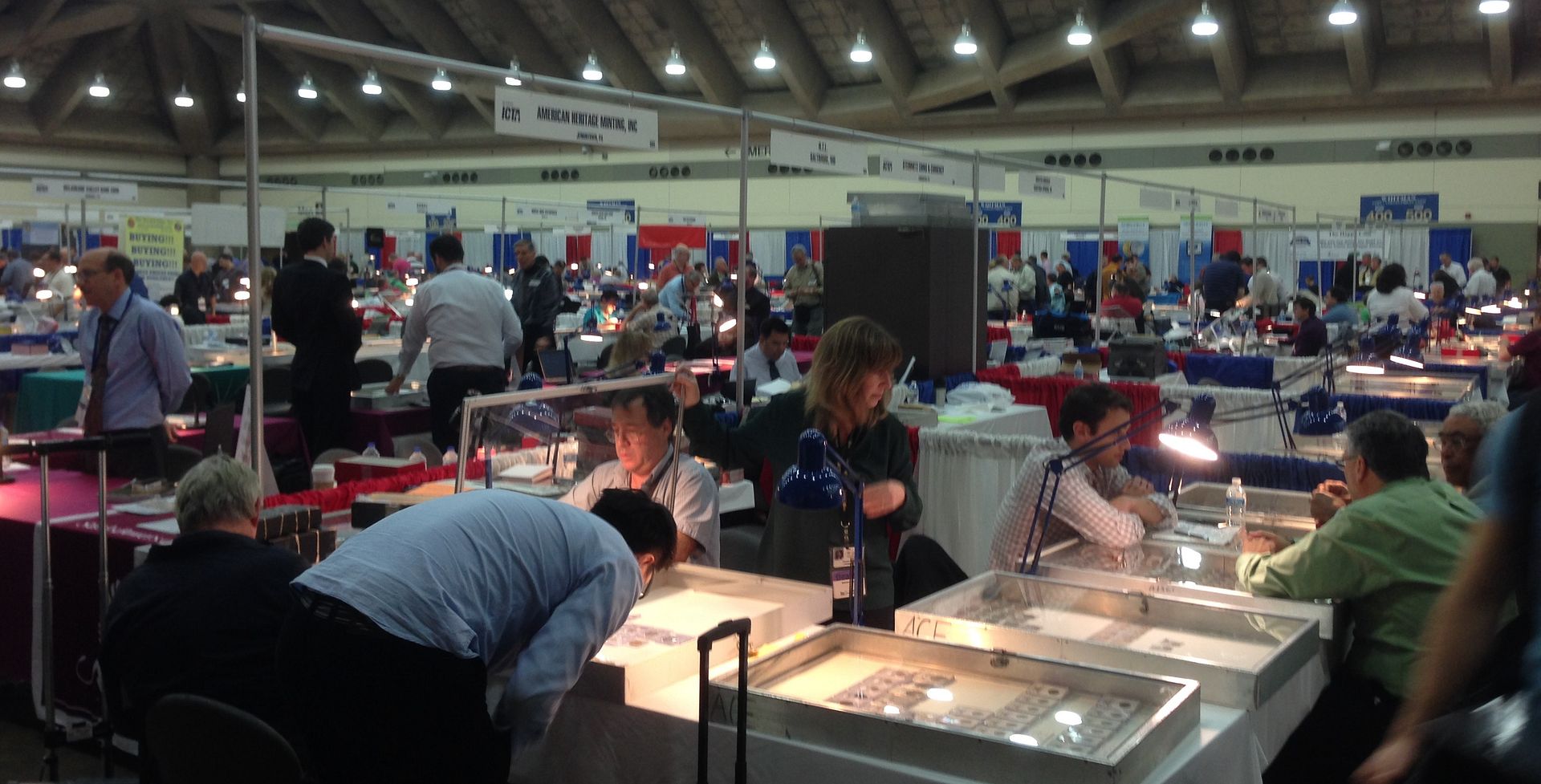 These two YNs – Weston and Michael – were helping Glenn Holsonbake (PonyExpress) and stopped by to say hi.
Later in the day during one of my brief hiatuses from my table, I stopped by to check in with the always busy hardworking folks at NGC and PCGS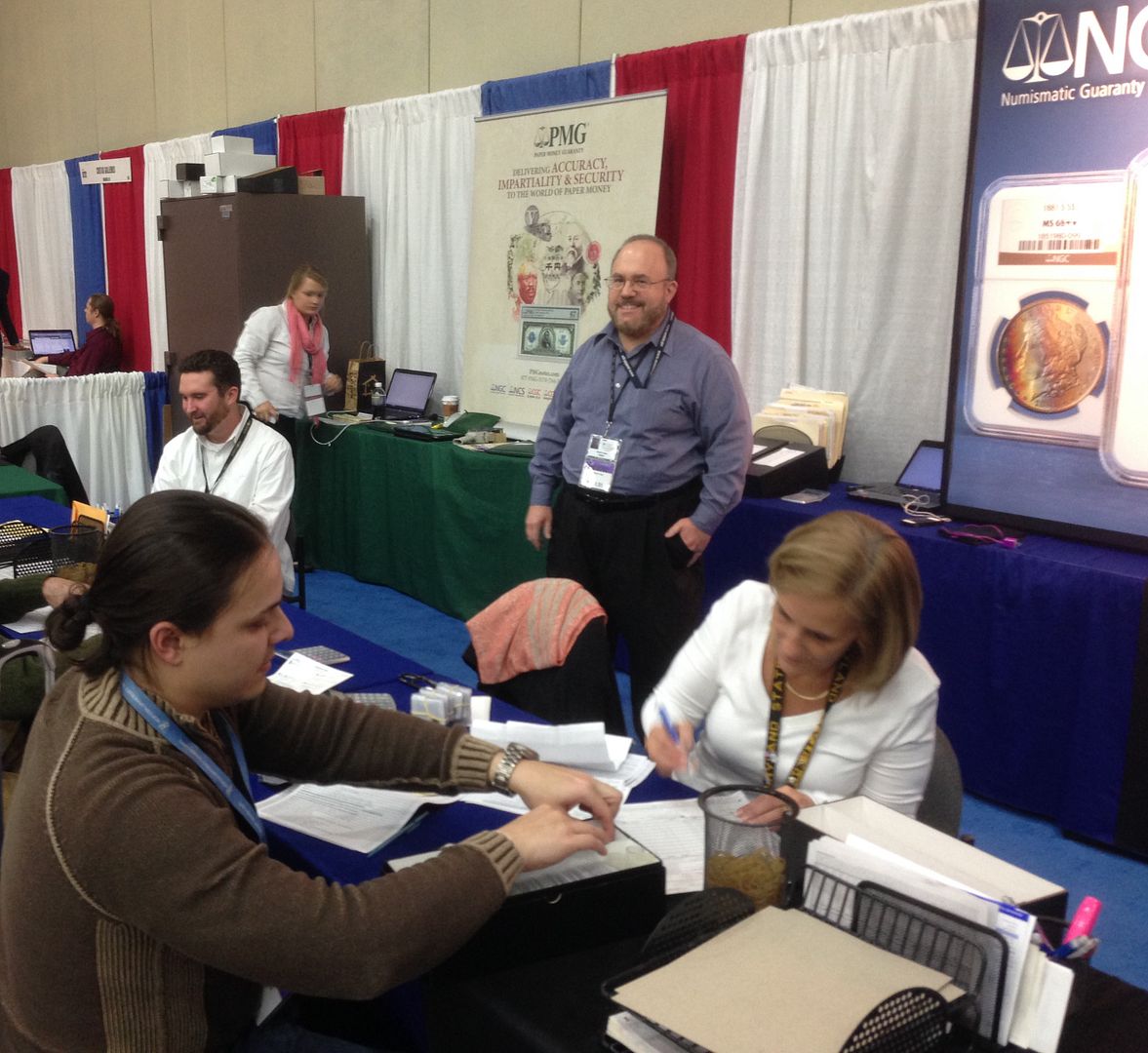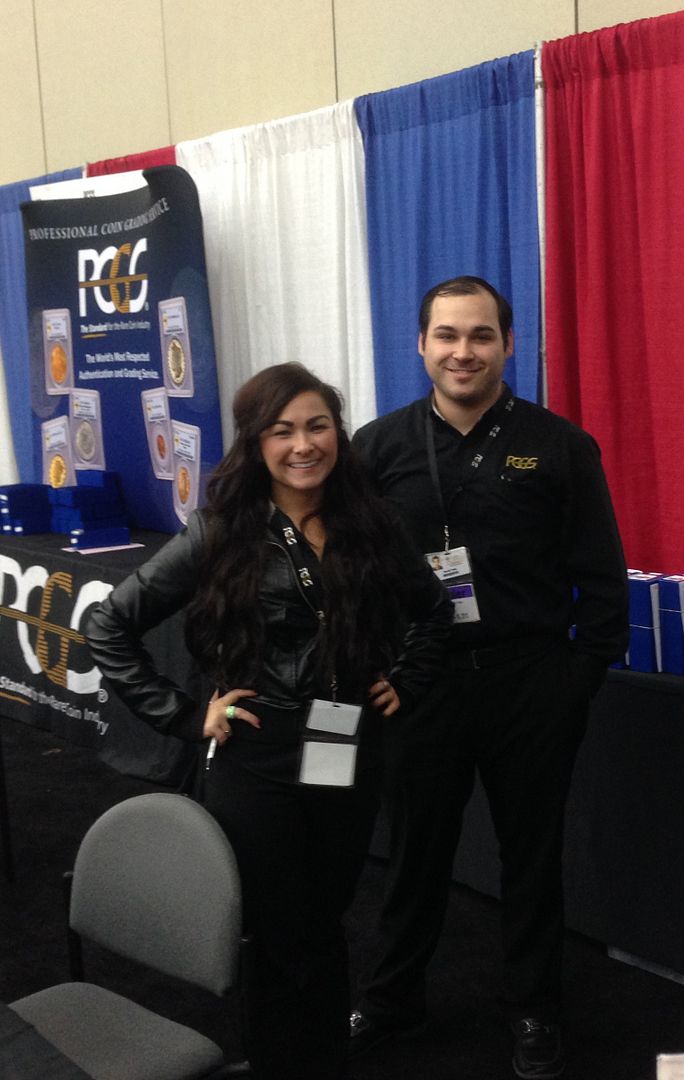 After the show on Friday, we decided to head over to an Irish pub we had been to once before that had live music not far from the convention center area. This is an interesting sculpture in downtown Baltimore that we passed on our way to the pub
The James Joyce pub is located not far from the Power Plant District.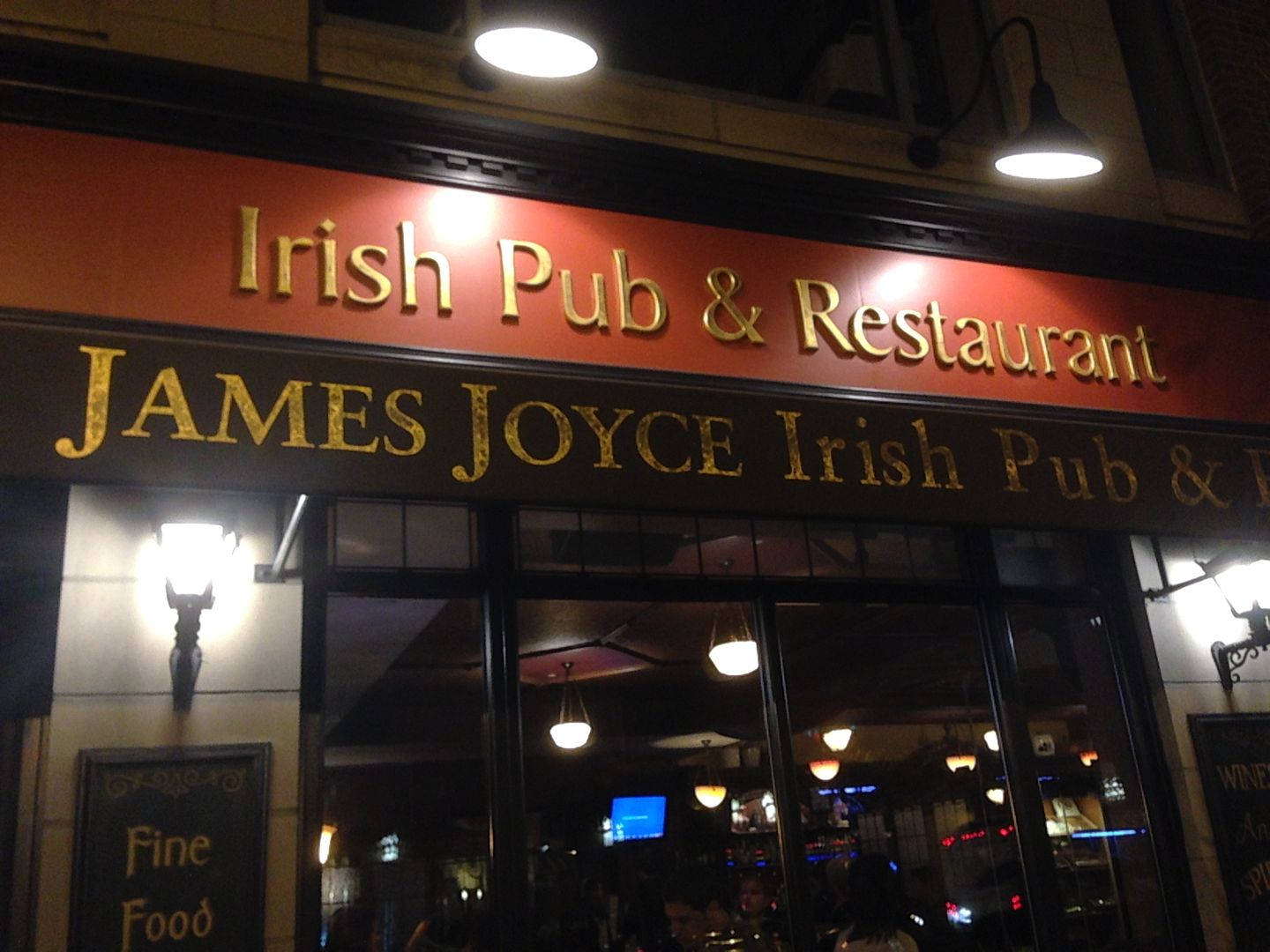 While we waited for our dinner, we started off with – what else – an Irish Car Bomb, followed by a Guinness by itself – this is my favorite beer!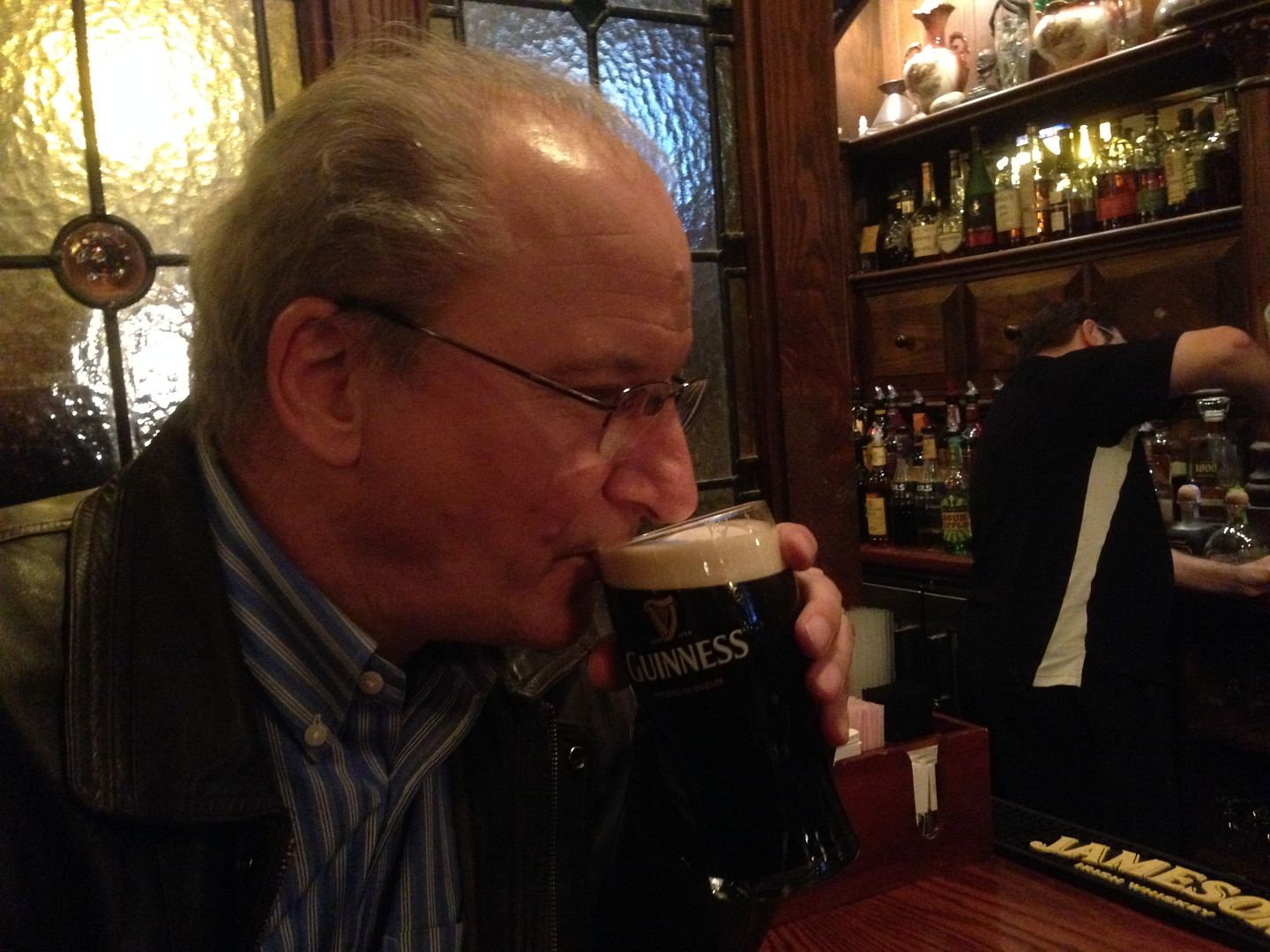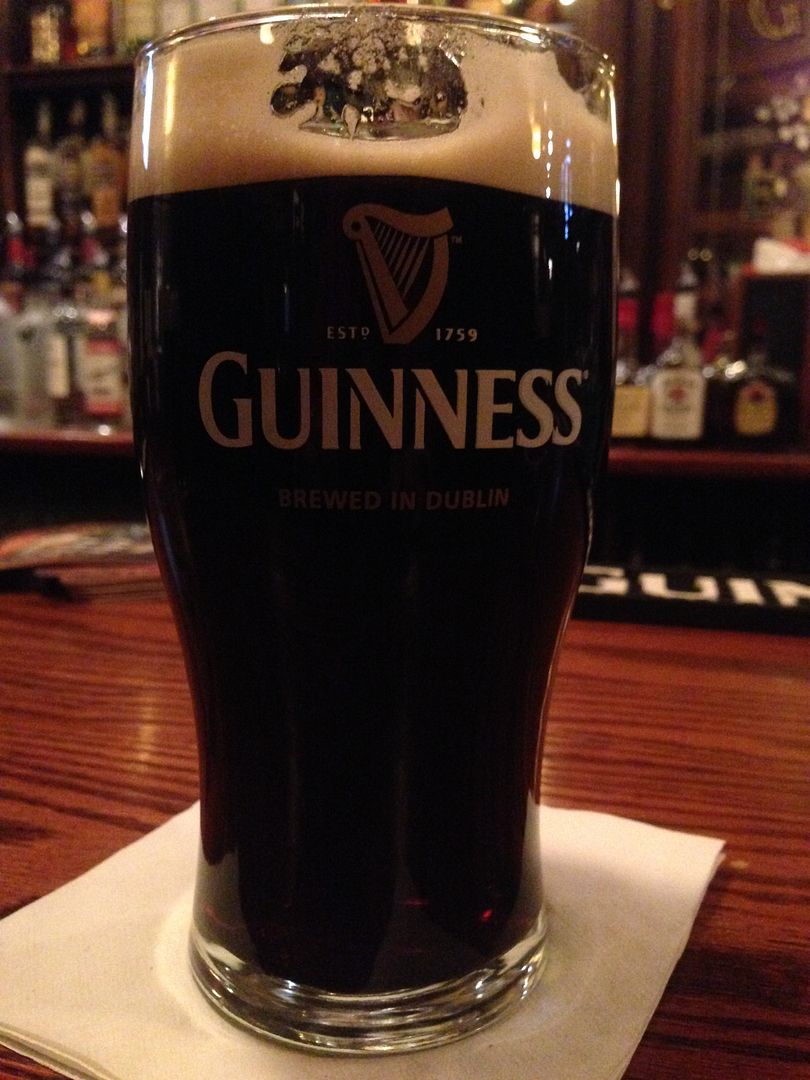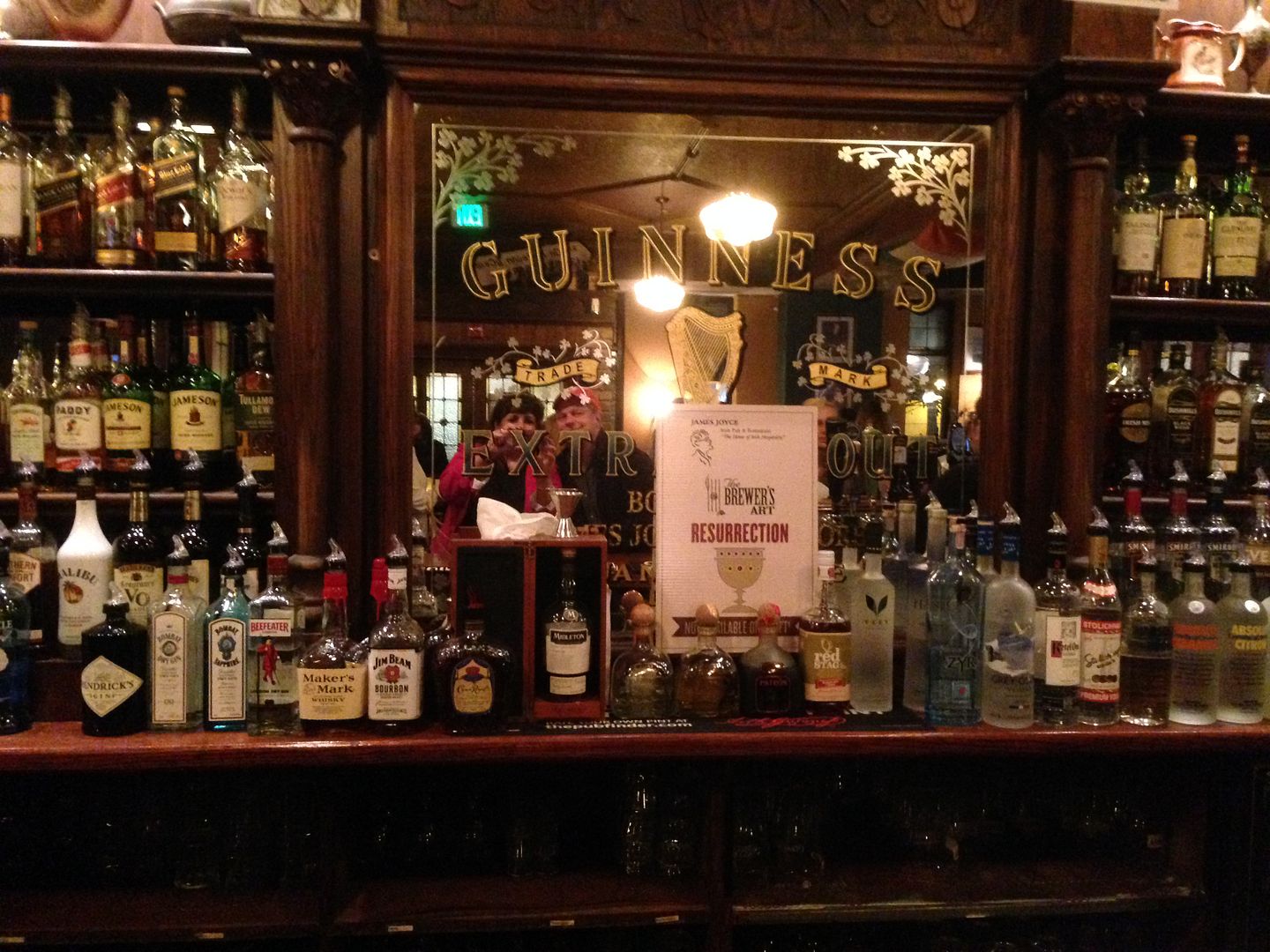 This pub is as Irish as you can get – they even drew a Shamrock in the beer foam!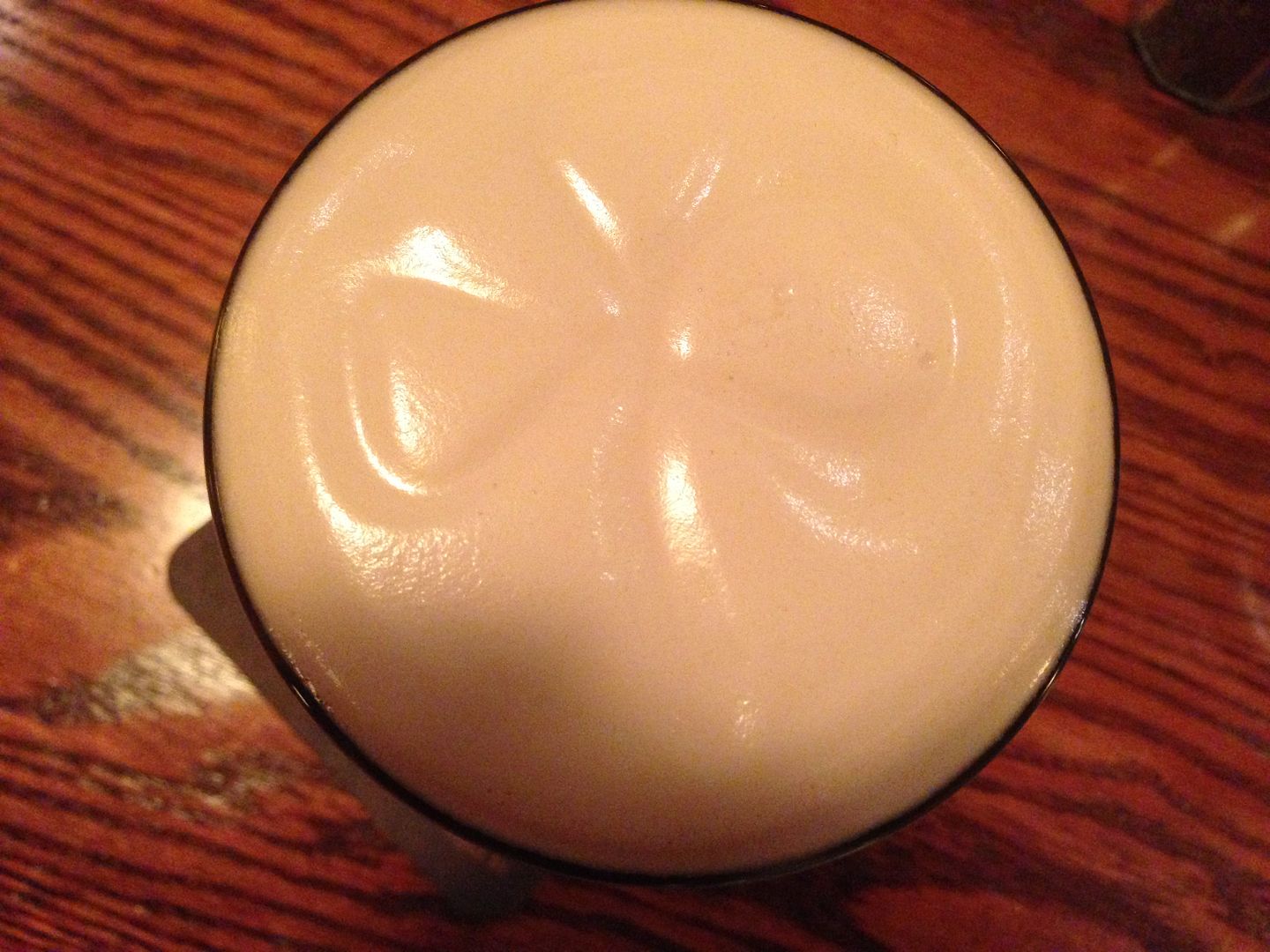 The pub manager photo-bombed our photo!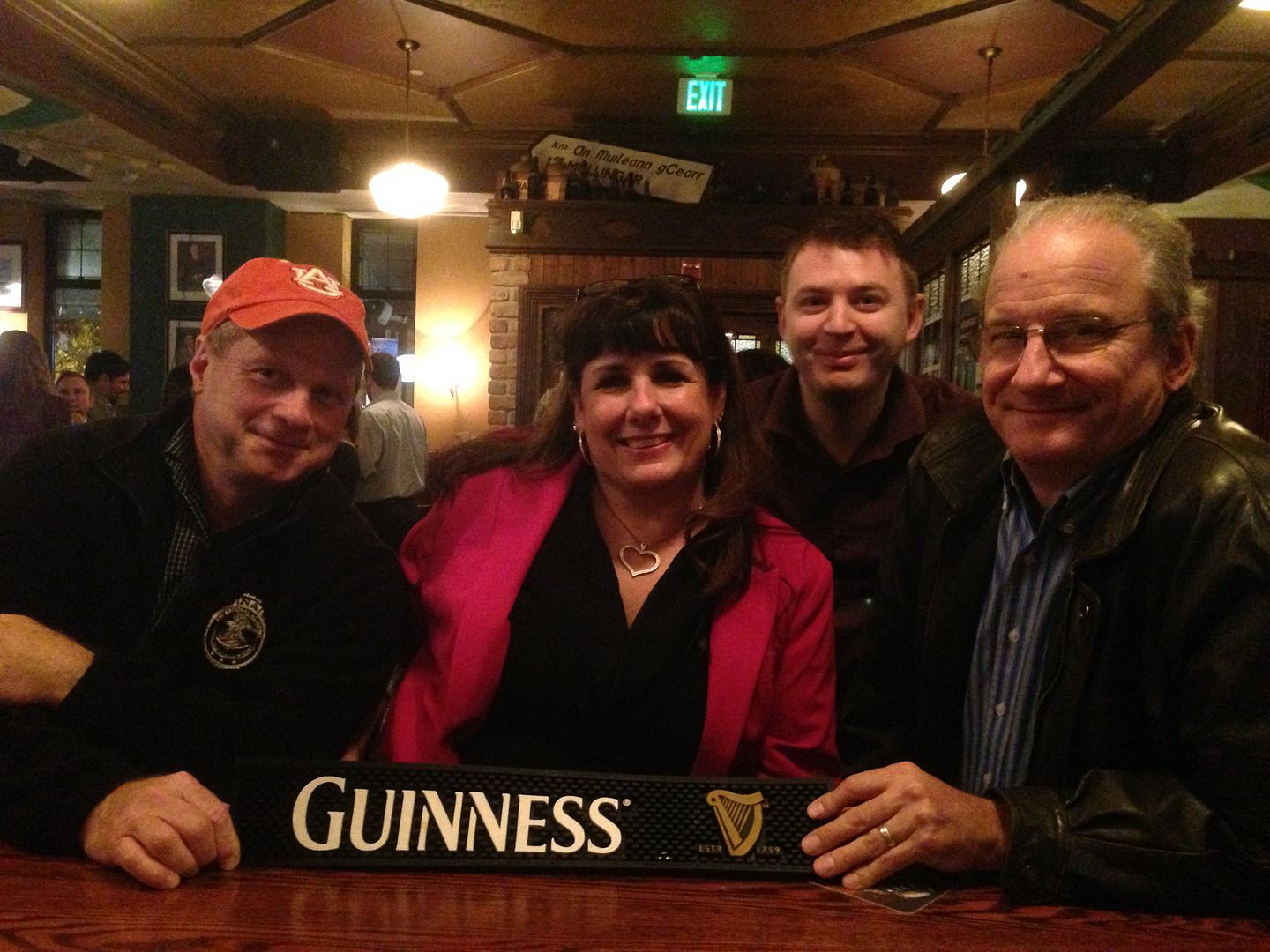 This is Neil (Rick's FBI friend) who left his glasses in the car so the bar let him borrow this extra pair of glasses they had lying around! LOL!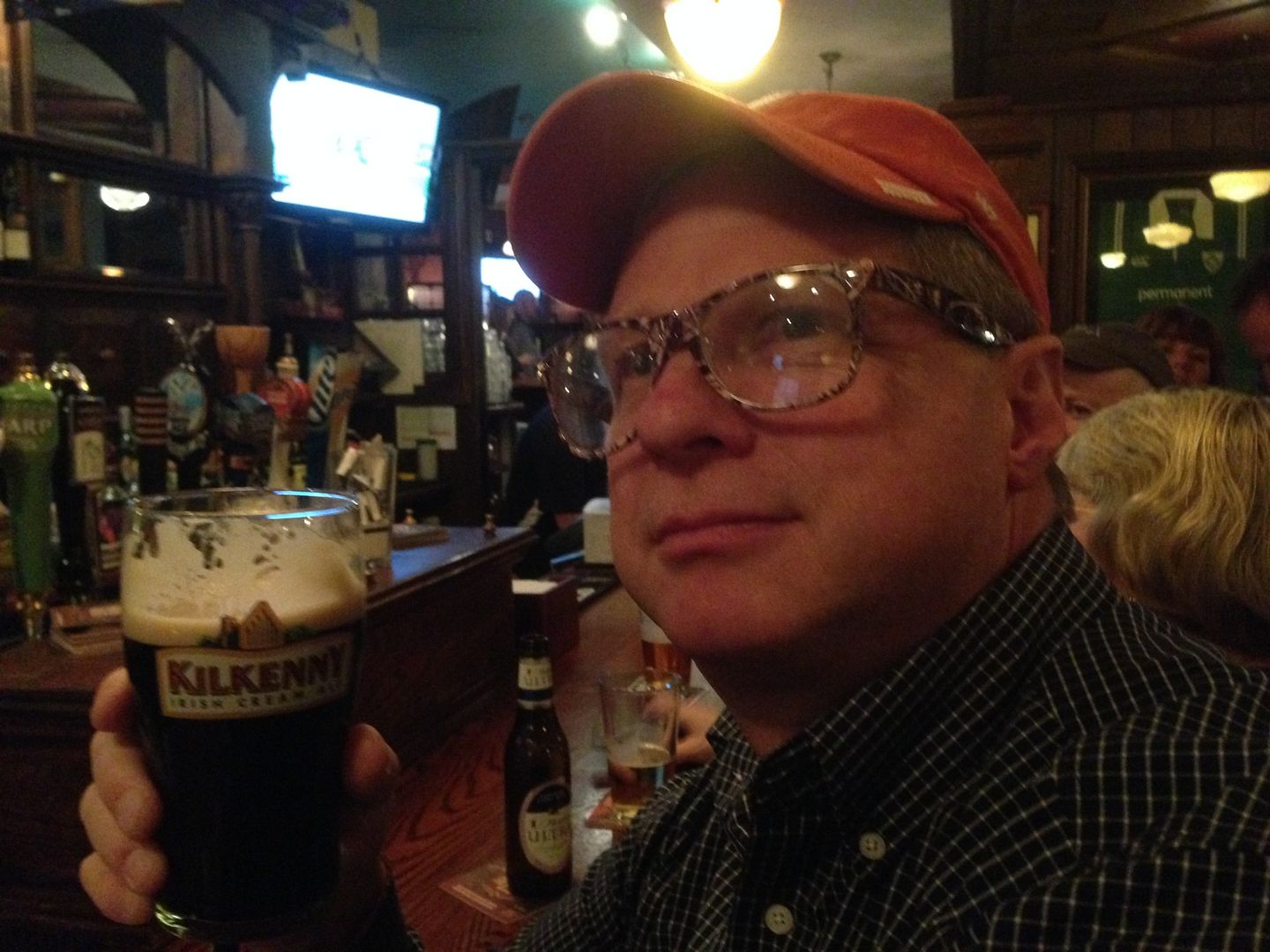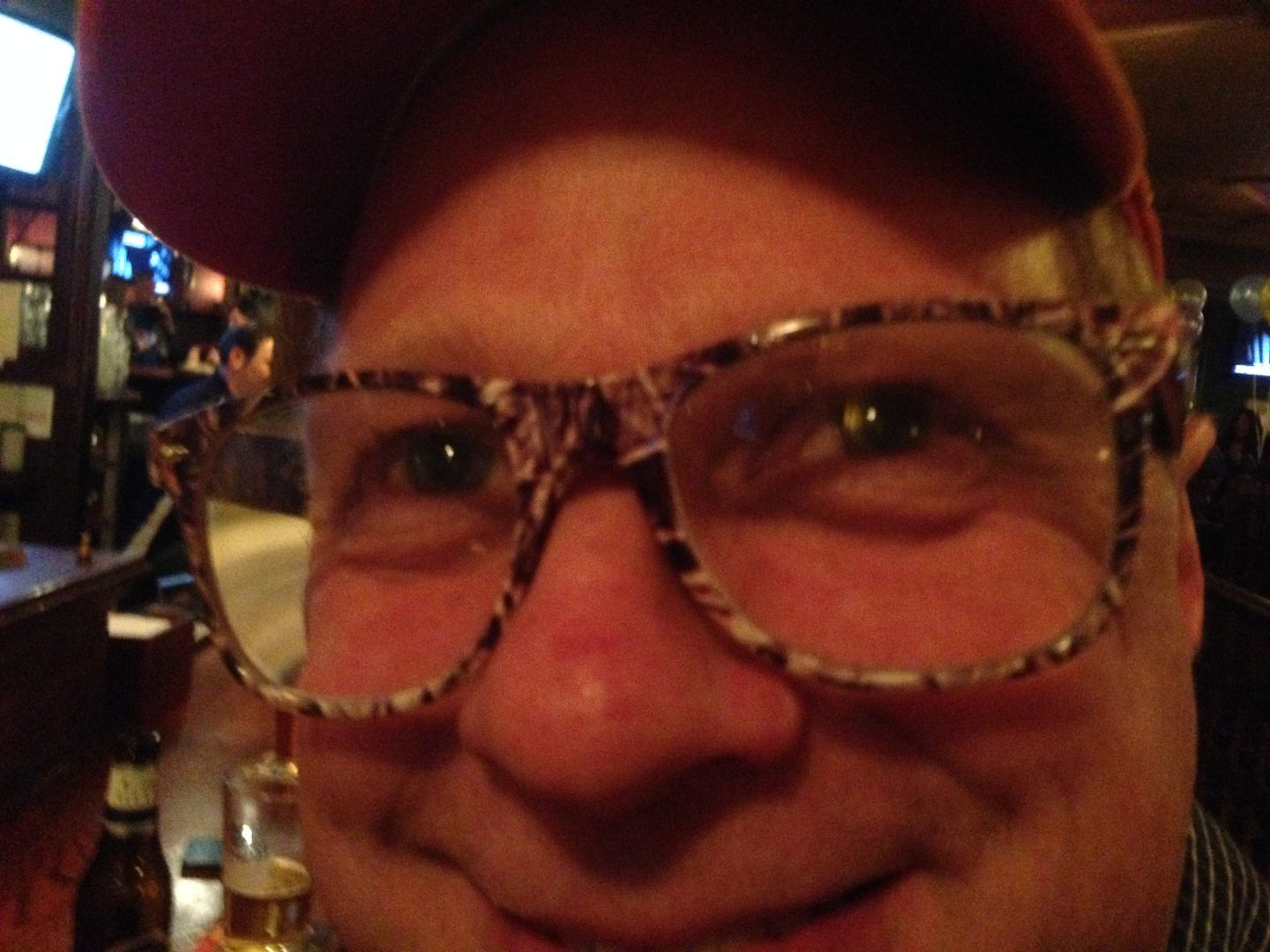 The pub soon got very crowded and Neil was enjoying being the "social butterfly" getting to know all the folks around us!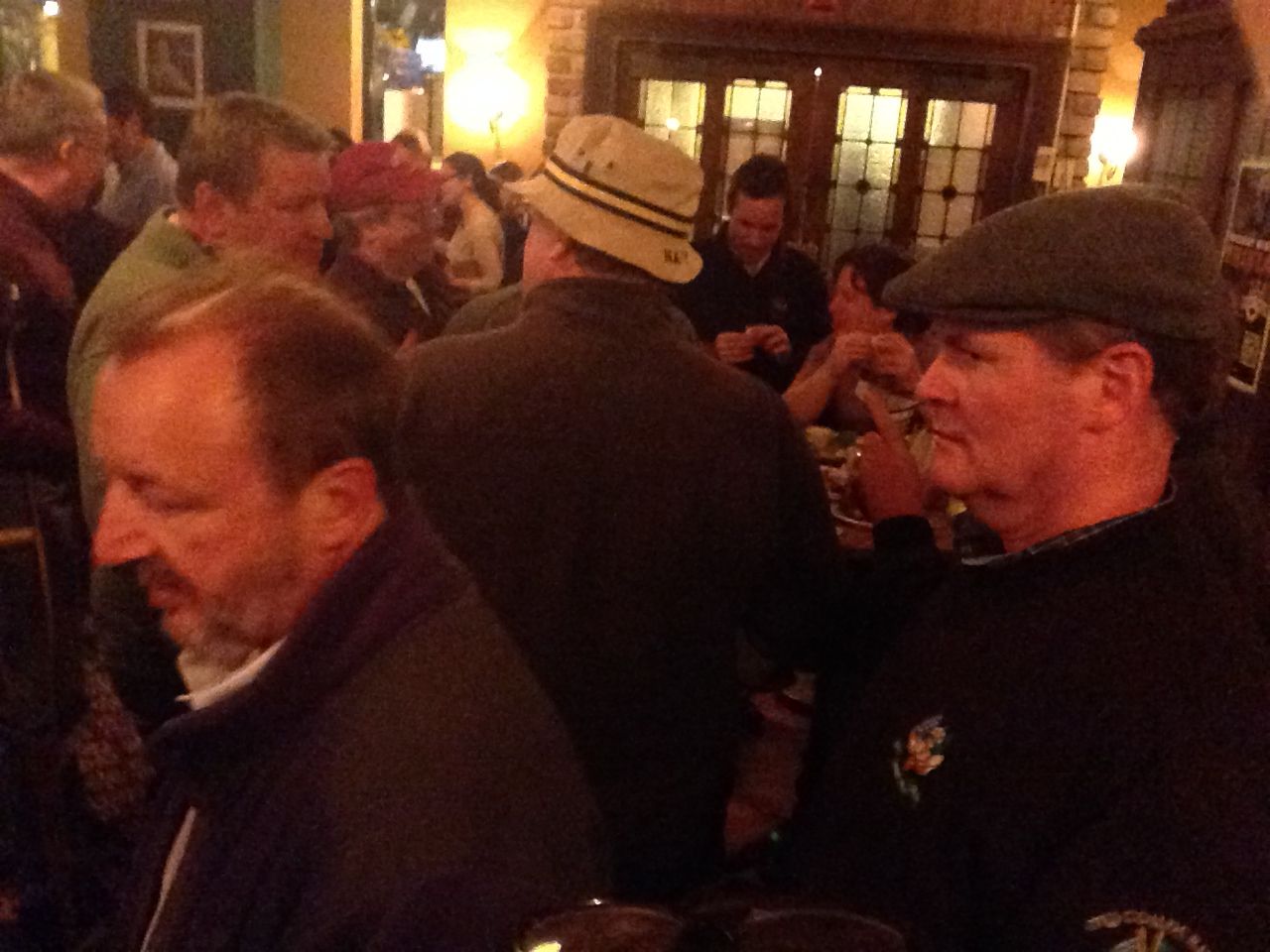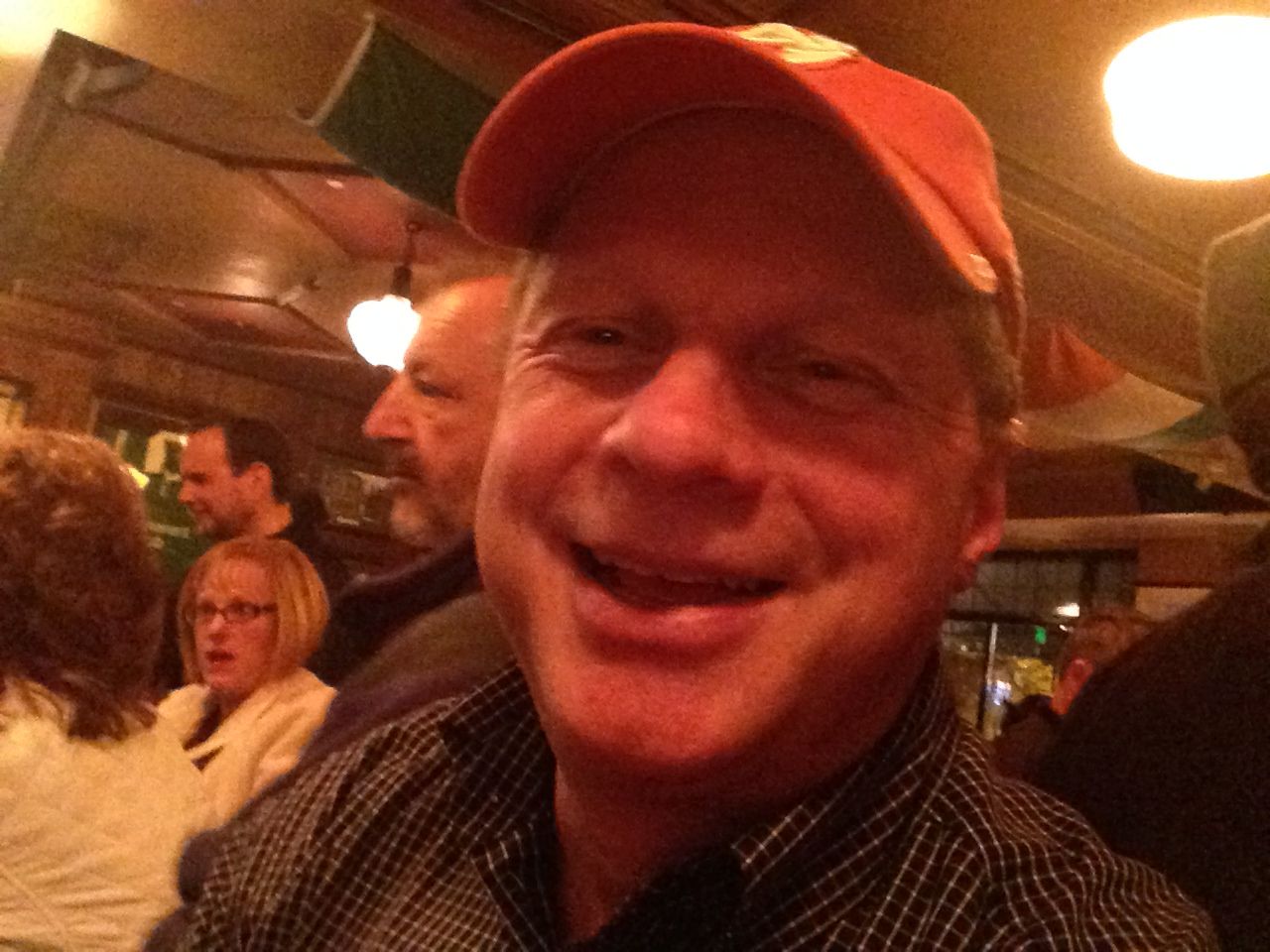 We all decided to stay in keeping with the Irish theme, and we each ordered different Irish dishes!
This is an excellent Ruben sandwich
Bangers and mash - mmmm
Their delicious signature Irish stew!
A great 2-man band played some of my favorite tunes – including an excellent version of U-2's "With or Without You"!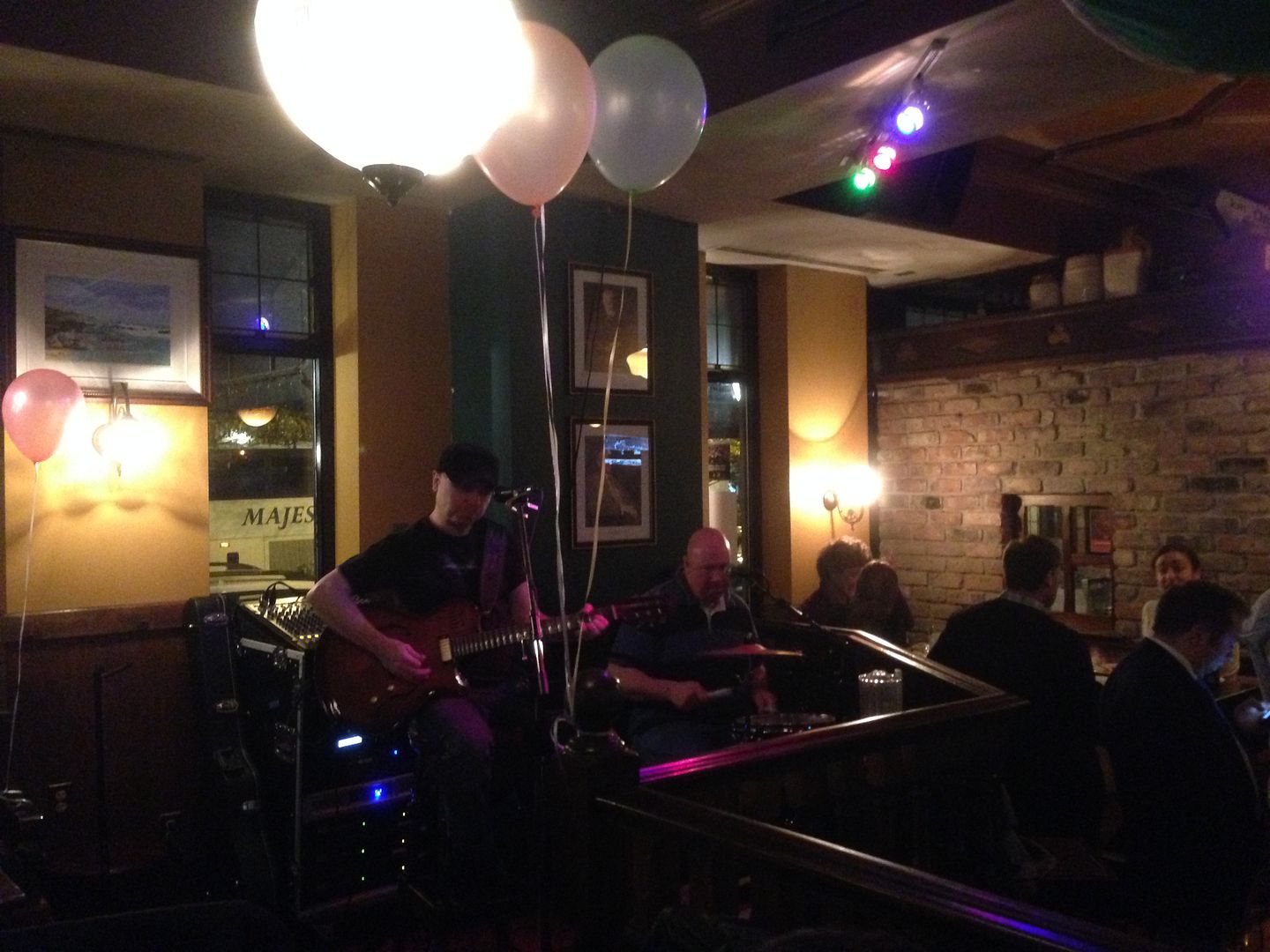 Saturday was typically slow, with low attendance and many dealers packing up early to head home. I had a couple decent sales but for the most part it was a very quiet day. I left the show late in the afternoon to begin my long trek home. Unfortunately, this time I didn't have the "pre-check" boarding pass so it took quite a bit longer to get through security, including a private bag screening where they took apart my bags so they could "swipe" everything for any illegal foreign residue.
Once through security, I stopped for a tasty relaxing pre-flight margarita at a restaurant near my gate.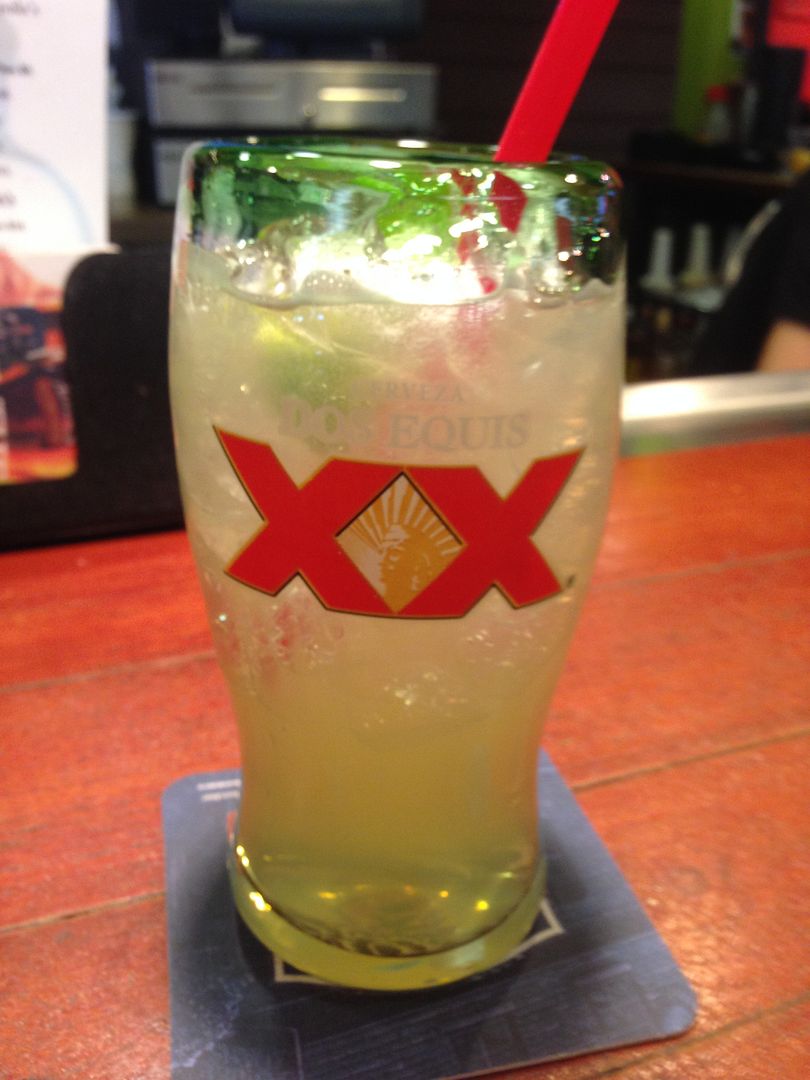 Once on the plane, I settled into my seat and closed my eyes to relax, when I suddenly heard this familiar voice say something about being seated next to The Penny Lady. I turned around and low and behold, there was Ian Russell of GreatCollections.com sitting next to me! He and his assistant Nina were both on my flight, as were several other dealers.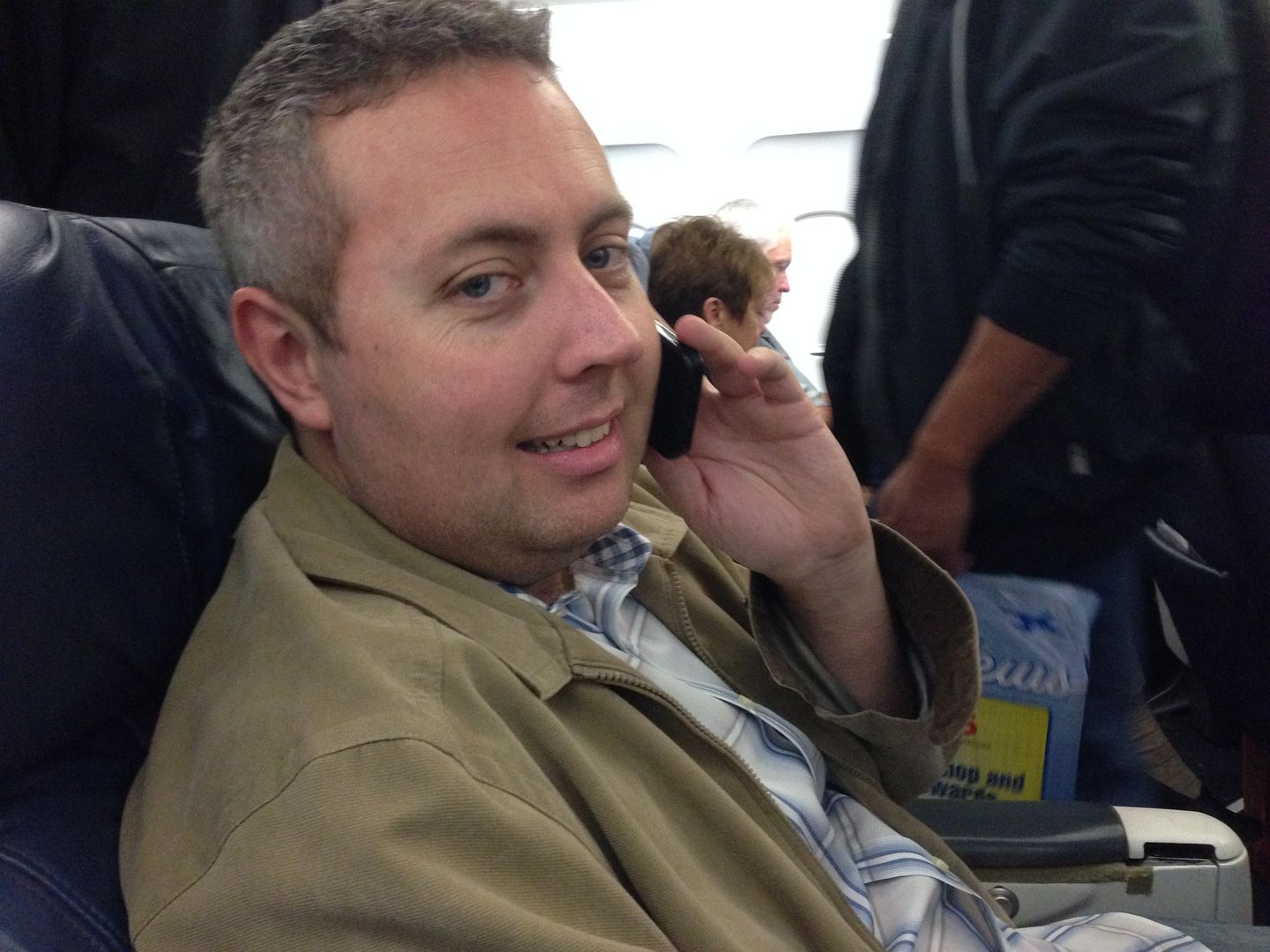 The sun began to set just before take off
Bye-bye Baltimore…. til next time….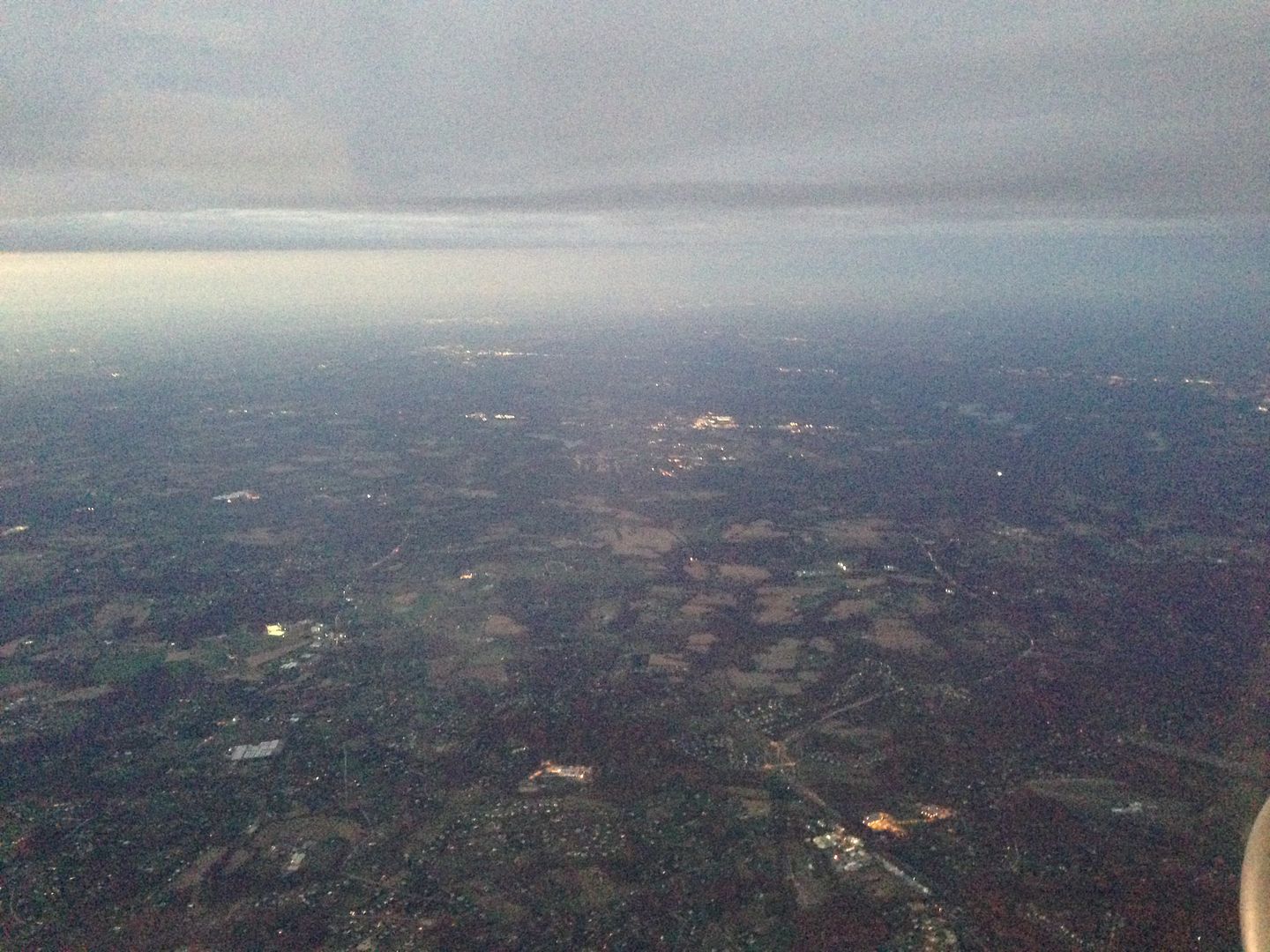 Love being above the clouds!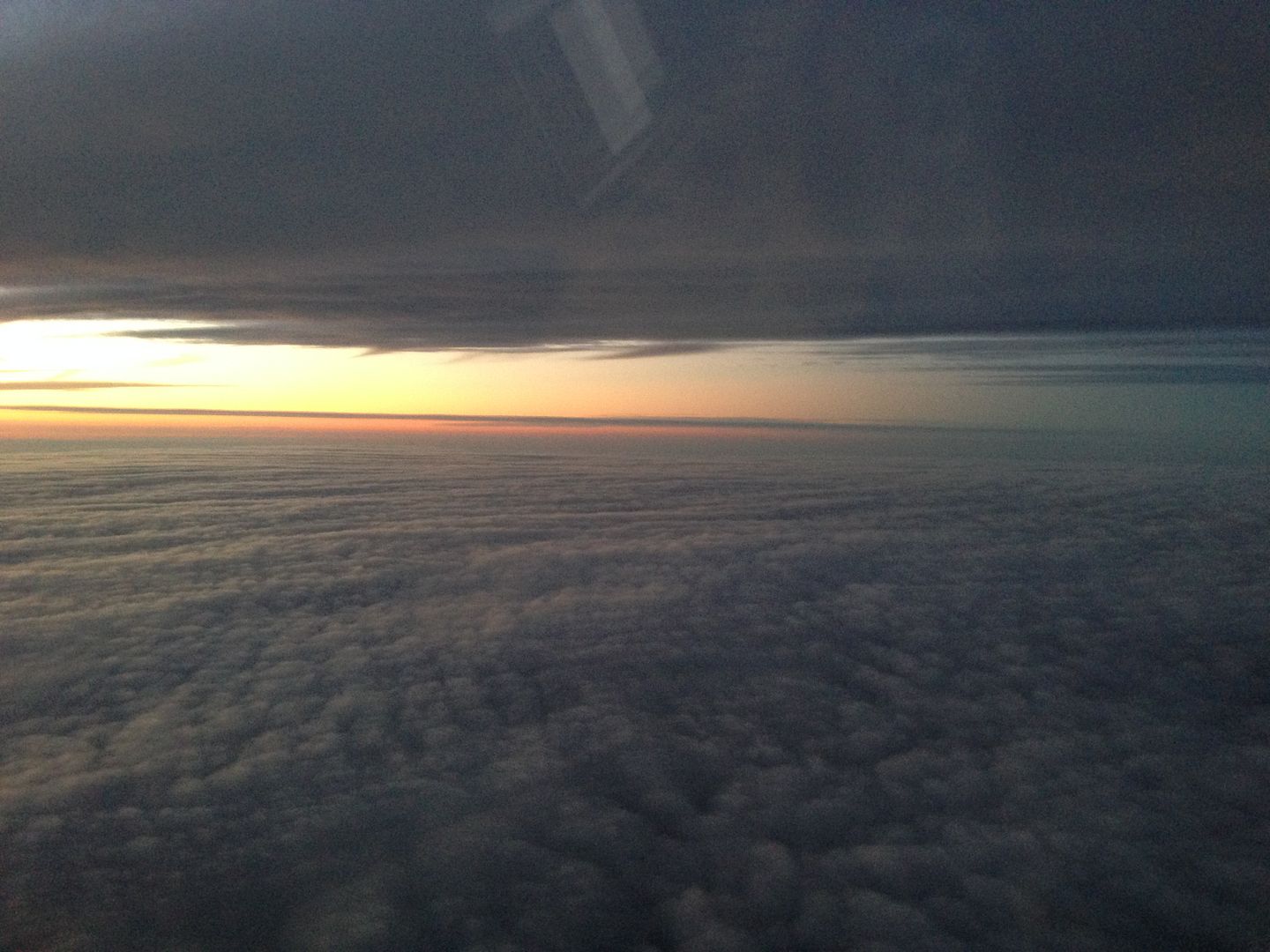 As has been mentioned in other reports, the show was most active on Thursday which is the day I did the most business. Friday was good, and Saturday was slow. Overall, I felt the show was a solid B and agree that it is one of the best shows out there. Whitman does an excellent job putting this show together and I never really hear any complaints. Even the food served in the lobby for lunch is really good, especially their pulled pork sandwich!
That's it for this show. Unfortunately, I won't be able to attend the March Baltimore as my son is getting married that weekend. I asked him if he could please change the date, but… just kidding! I only have two boys and this is my eldest so I am so thrilled and very excited that he is getting married and can't wait for this special day.
Next up is the Houston Money show in early December and then the Ontario show right after that, then a break for a few weeks before a very busy January/February!
Charmy Harker - The Penny Lady®
President of Women in Numismatics
ThePennyLady.com