Home
›
U.S. Coin Forum
Charmy's BIG HUMONGOUS 2013 Chicago ANA Report w/TONS of Pics!!!

ThePennyLady
Posts: 4,029
✭✭✭✭
For me, the 2013 Chicago ANA was one of the shows I have anticipated the most. Of course I look forward to this show because it's one of the biggest and best shows of the year and I usually do a large amount of buying and selling (not to mention getting together with all my friends)! And I was also especially looking forward to flying to Chicago because, for the first time, I had enough points to fly First Class!
But aside from all that, earlier this year, I decided to try my hand at exhibiting and signed up to present an exhibit at the Chicago show. Little did I know what I had gotten myself into. But more on that later….
So get ready for another report of my adventures on the road. You'd probably better get comfortable, maybe get a cool beverage, sit back and relax, as this week was quite eventful so this report will be HUGE with LOTS of photos!
************************************
I left for the show early Sunday morning and arrived at the John Wayne Airport in plenty of time to check out United's Club Lounge. It was a nice private room where people were working or relaxing before their flights. Everything in the lounge was complimentary, including beverages! So I decided to have a Bloody Mary which was very tasty.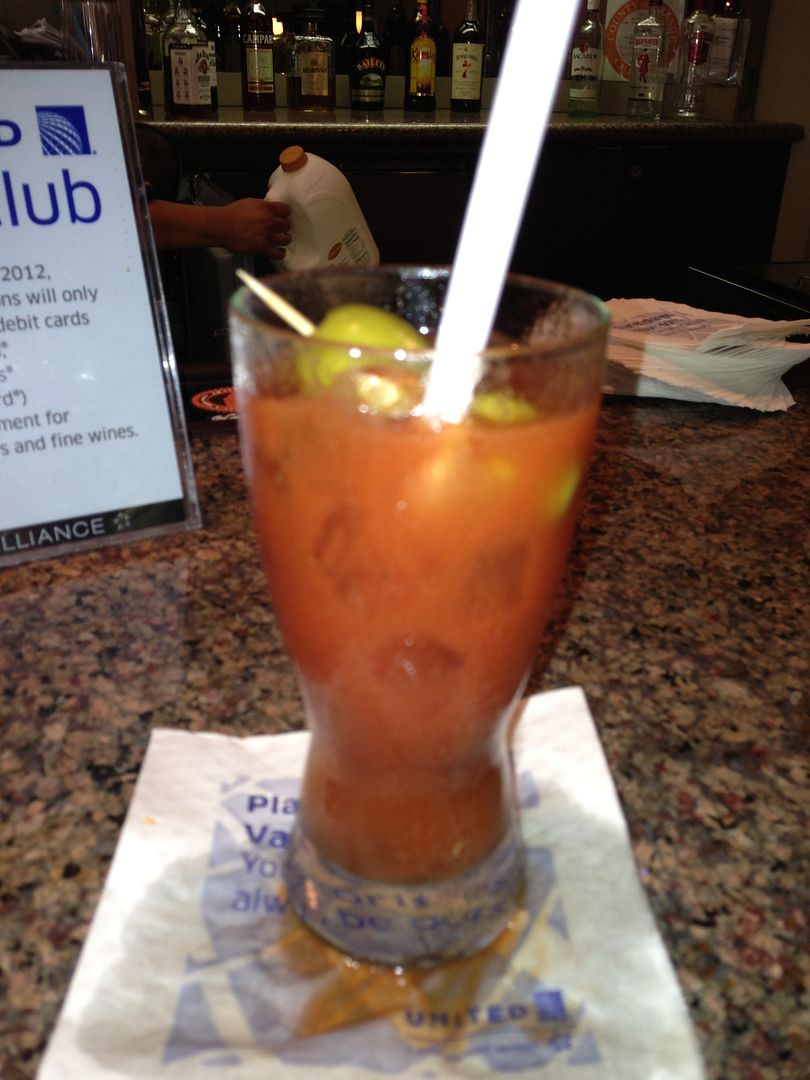 This is the lower level of the airport taken from the lounge
Then I moved down to my gate where I found out my flight was delayed for about half an hour, so I decided to wait at the Hobie restaurant right across from my gate.
Soon it was time to board my flight – yeah! I settled into my roomy cushy seat, ordered a Bailys and coffee, and waited for takeoff.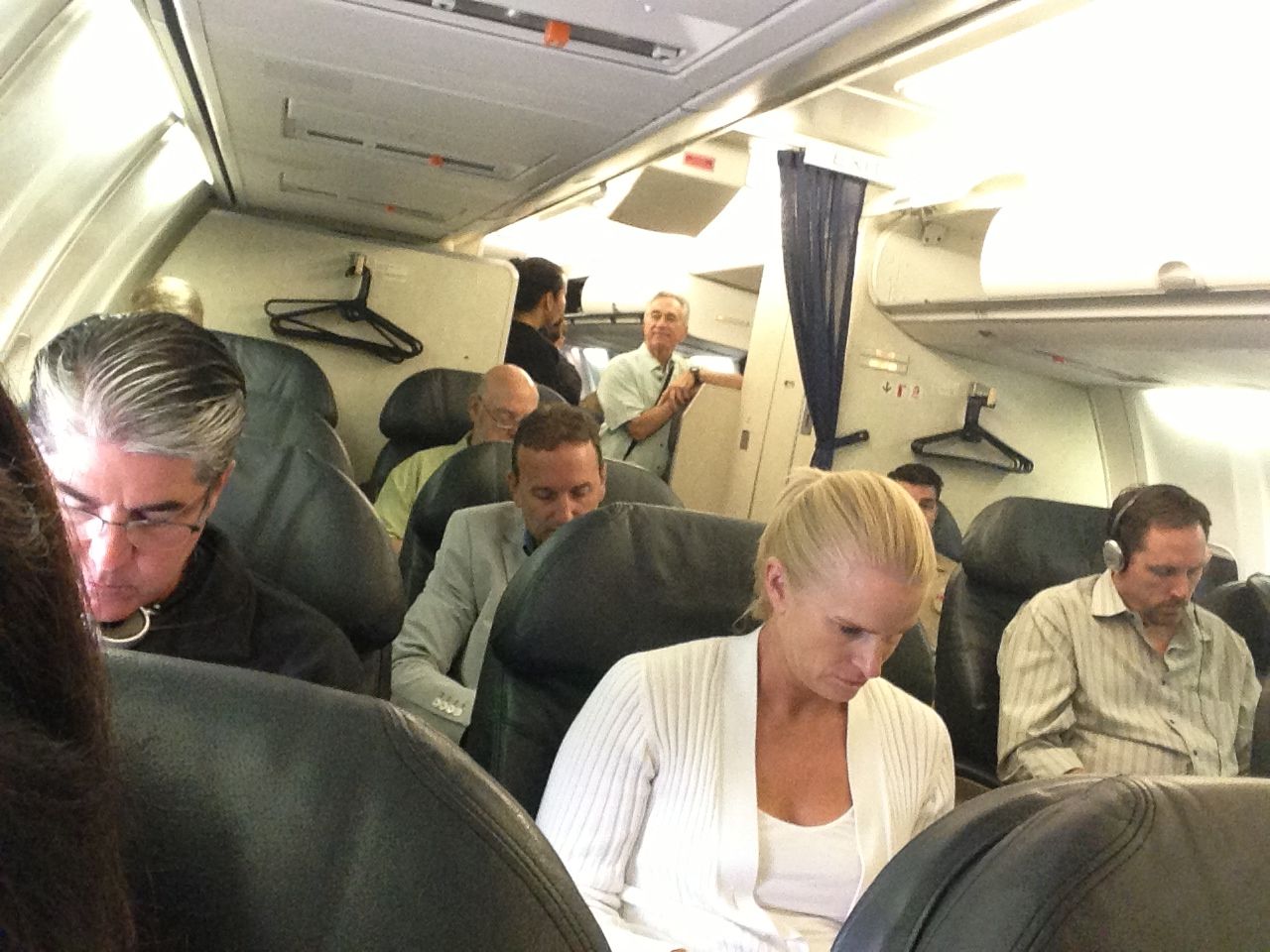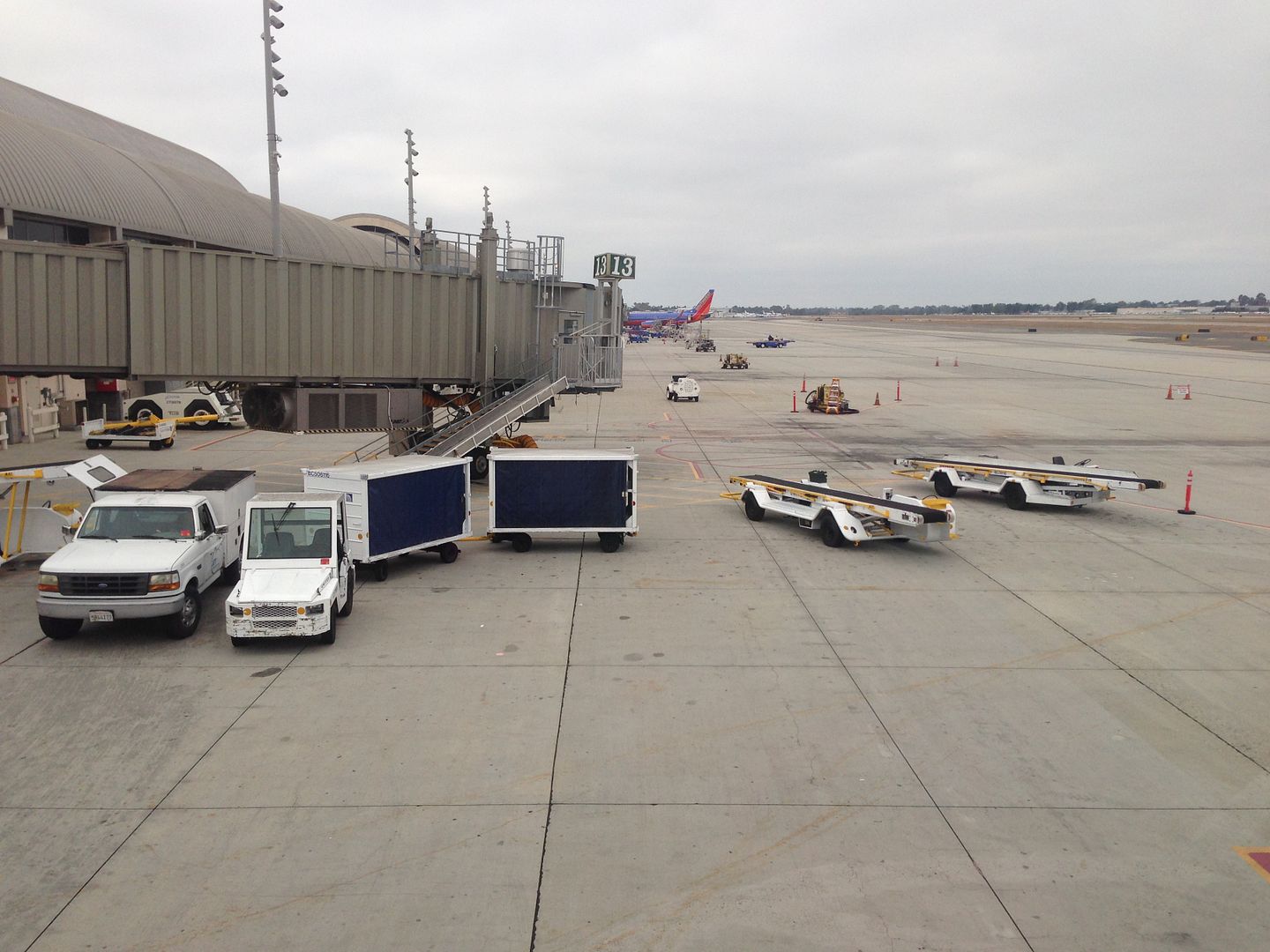 After we were flying at the appropriate altitude, the flight attendants brought us a very yummy breakfast.
A nap and a few hours later, we were getting ready to land in Chicago.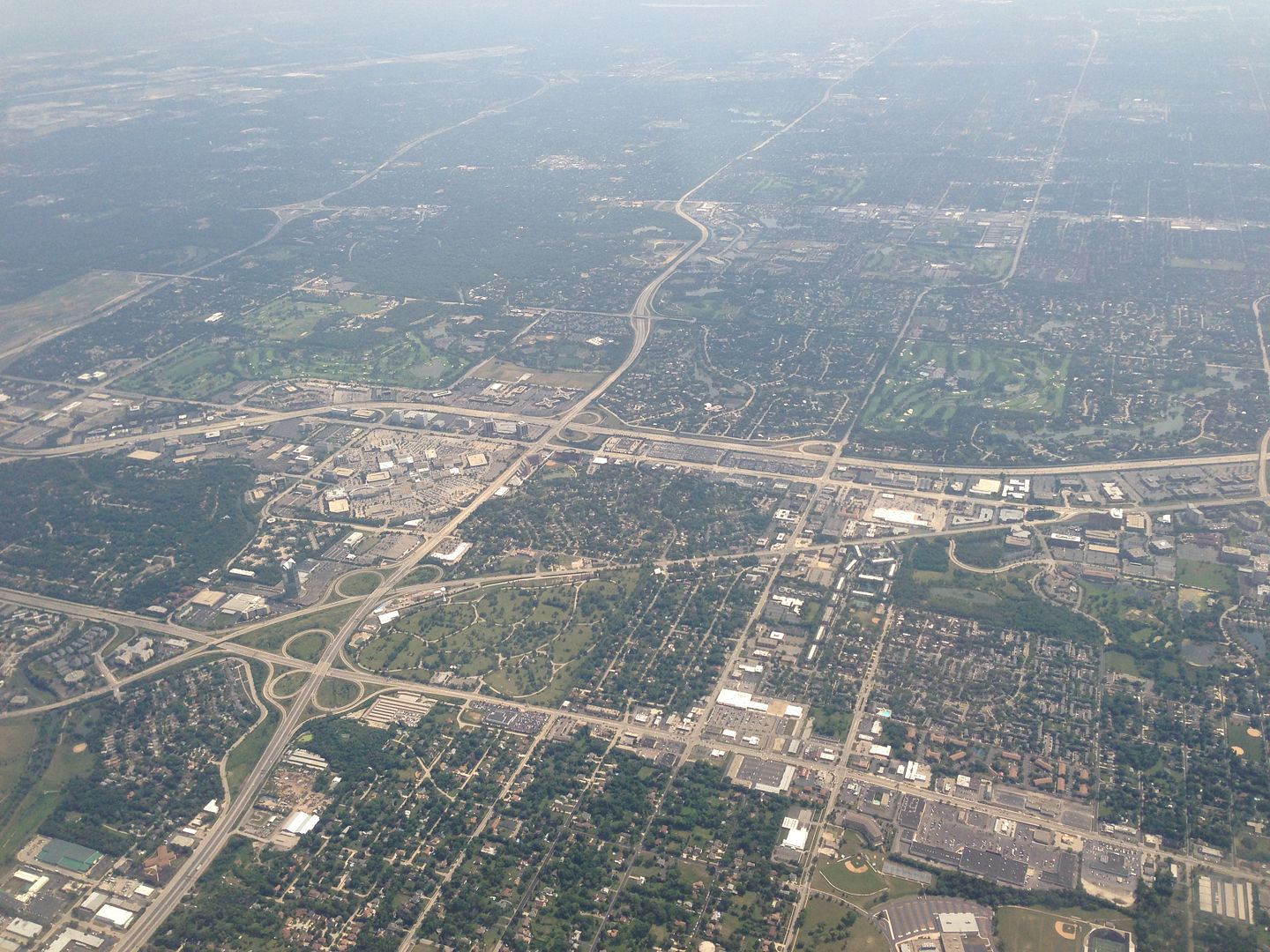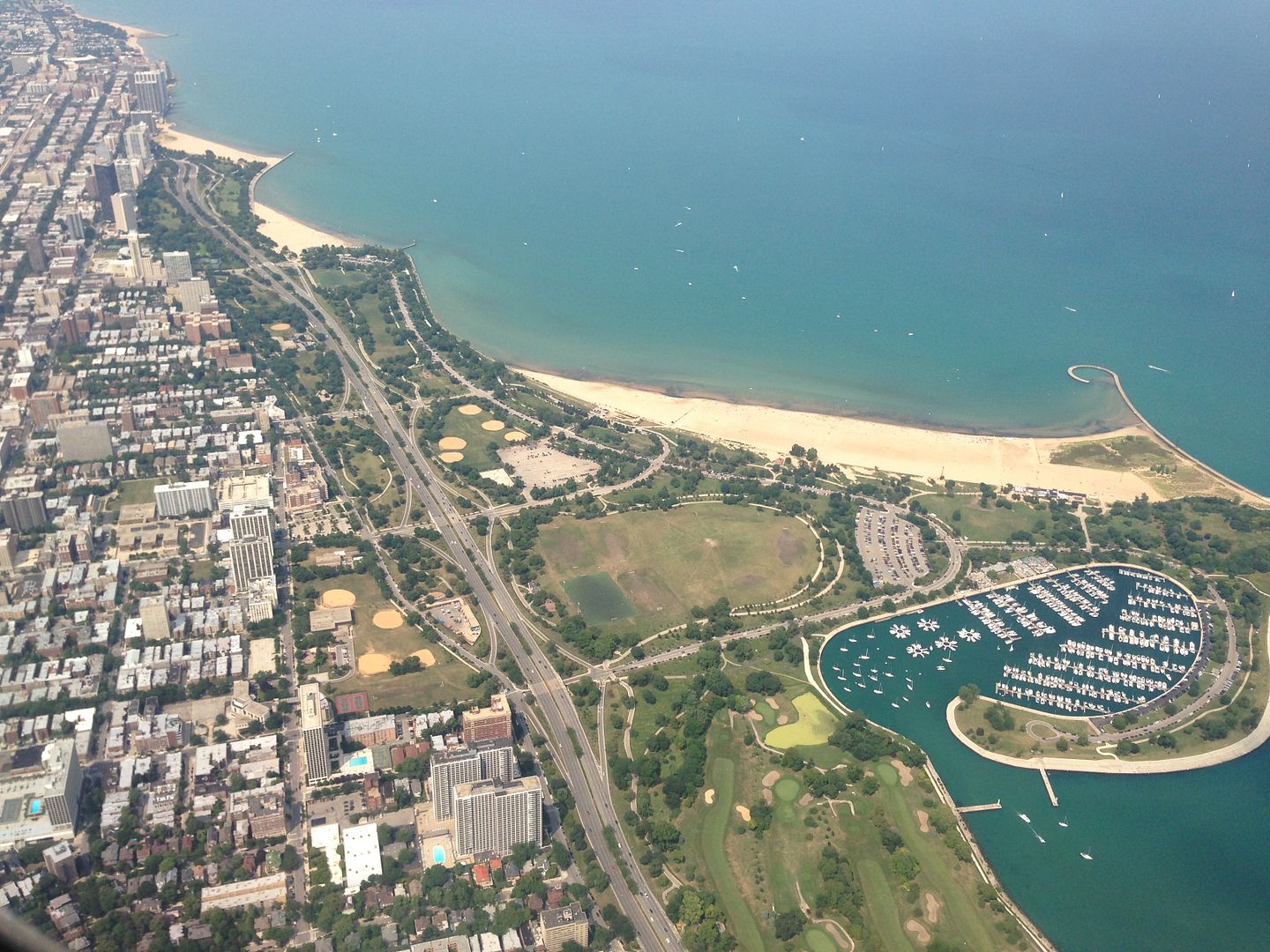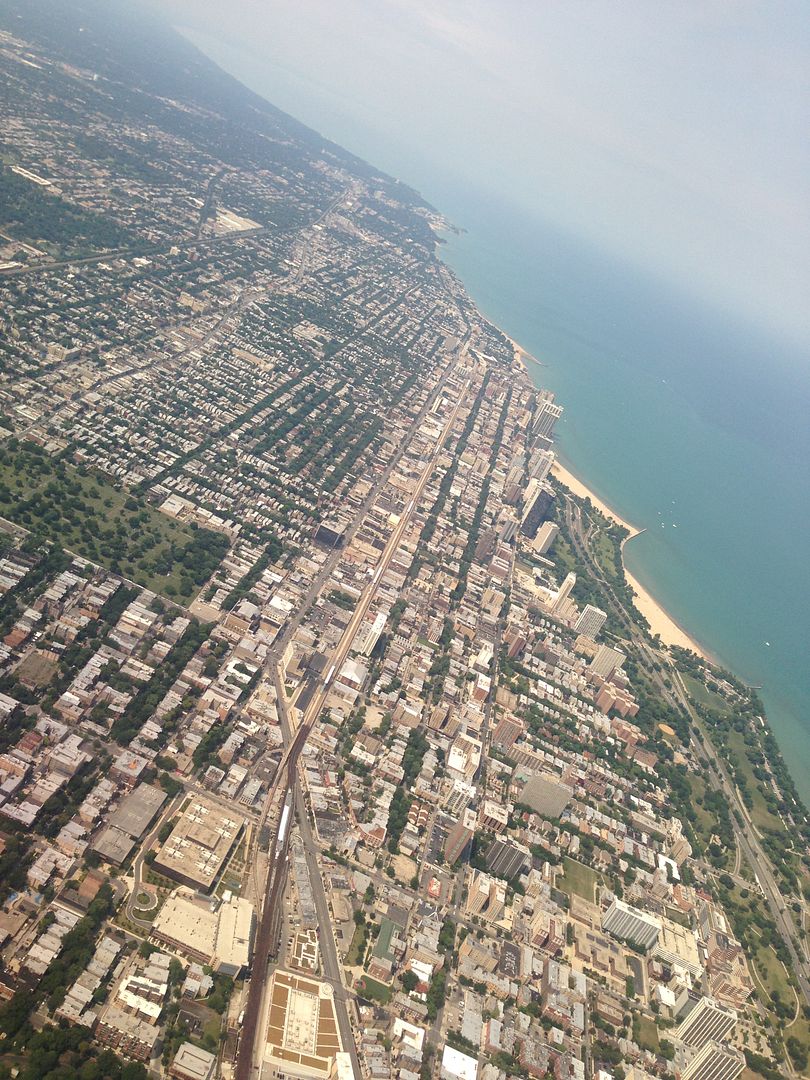 I headed to baggage claim through the moving walkways and encountered this beautiful mini light show!
I didn't realize it, but along with First Class, my bag also gets priority treatment which means it gets off the plane and onto the conveyer belt sooner than other bags! So it didn't take long for my bag to arrive and I was soon on my way to the pre-show at the convention center!
When I arrived at the convention center, the Wizard World event was still going on!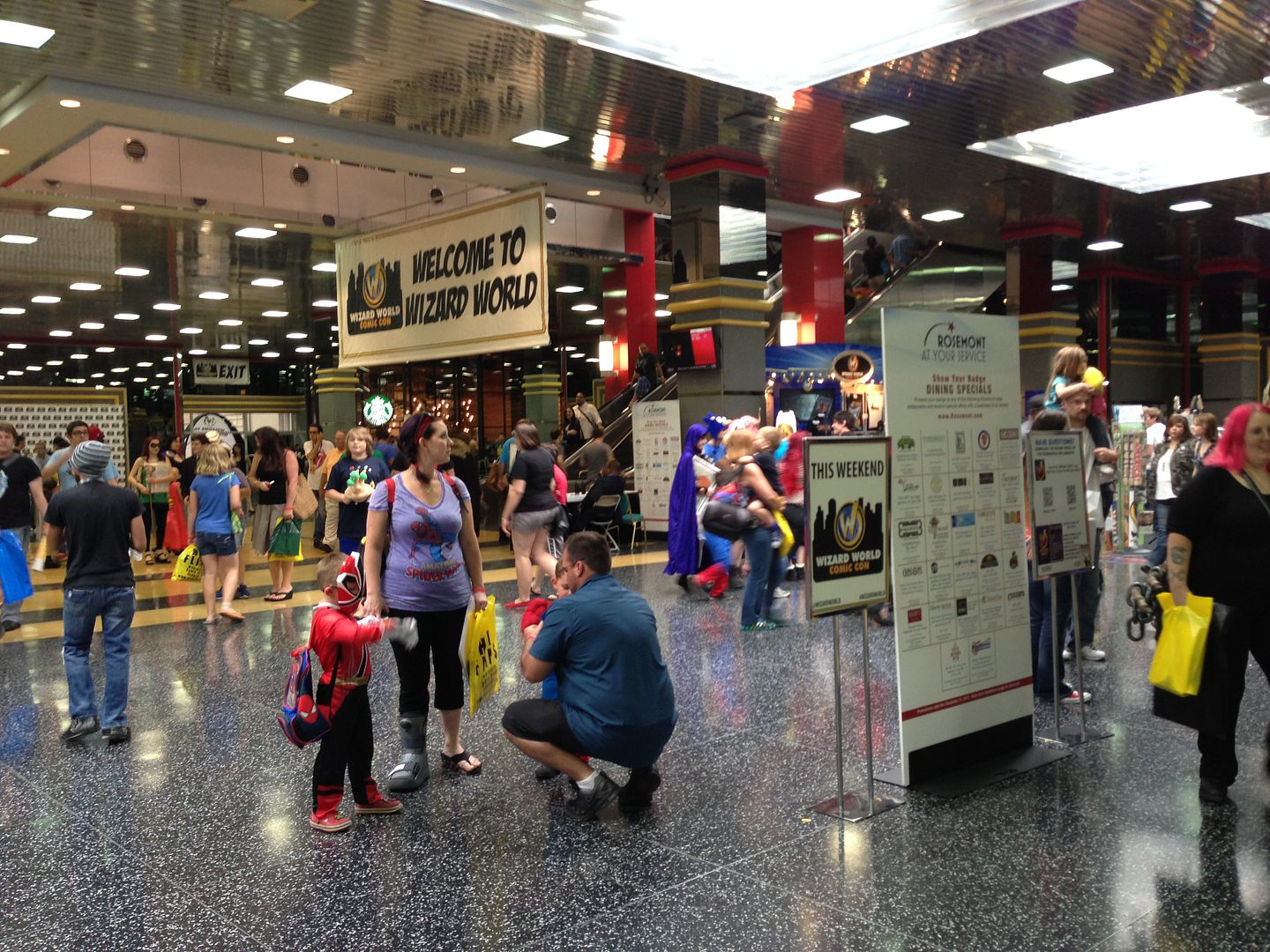 I was recently accepted into the PNG and just received my PNG badge, and since I'm exhibiting, I also got a special green badge holder, along with my dealer badge and Chicago tag – so since I didn't know which badge I was supposed to wear, I just wore them all!!
I set my bags at Rick Snow's table while I wondered around the bourse floor. It was great seeing many of my dealer friends! While at Northern Nevada's table, Tony showed me this amazing 1916-D!
I continued looking around to see if there was anything I needed and found several pieces for my inventory. This is a photo of most of the coins I accumulated throughout the show.
When I got back to Rick's table, he showed me this amazing 1836 original steam press proof medal. I had never seen one before, much less one in this condition. I don't have many medals but this one was impressive with its beautiful violet blue toning so I decided to add it to my collection. I showed it to some other token/medal people. Their eyes popped wide open when I handed it to them. They said they believe it is the finest one they've seen! I will post better photos of it once I get them from Todd.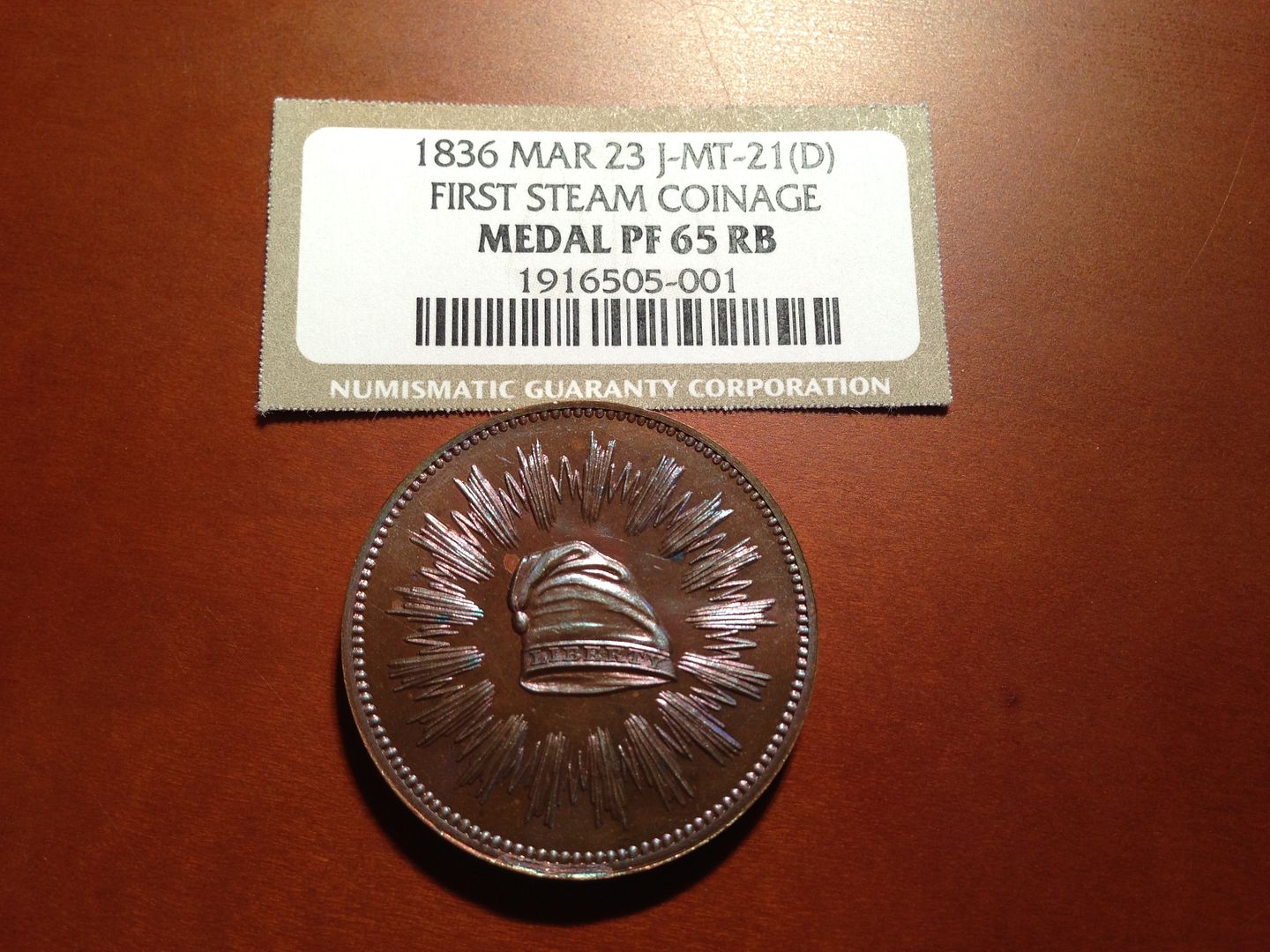 Then it was time to check into my hotel and head to dinner. Since Gibson's was just across the street and right next to our hotels, not to mention it has wonderful food, that's where we ended up for dinner.
So, as some of you have been anticipating (even though I broke my wine fast last week when we were in Shaver Lake with some amazing wines I might add!), here is the first of several bottles of wine I had during my week in Chicago!
The local casino in Rosemont didn't have any poker tables and their other table games were a minimum of $25 so after dinner, on the spur of the moment, we decided to we go to the riverboat casino in Elgin. Since it was a $75 taxi cab fare each way, I was very glad that I had won over $300 playing 1-2 no limit!
Back at my hotel, I ran into my dealer buddy Greg Hannigan – another fellow copper lover – so we had a quick nightcap (I had a very yummy glass of port).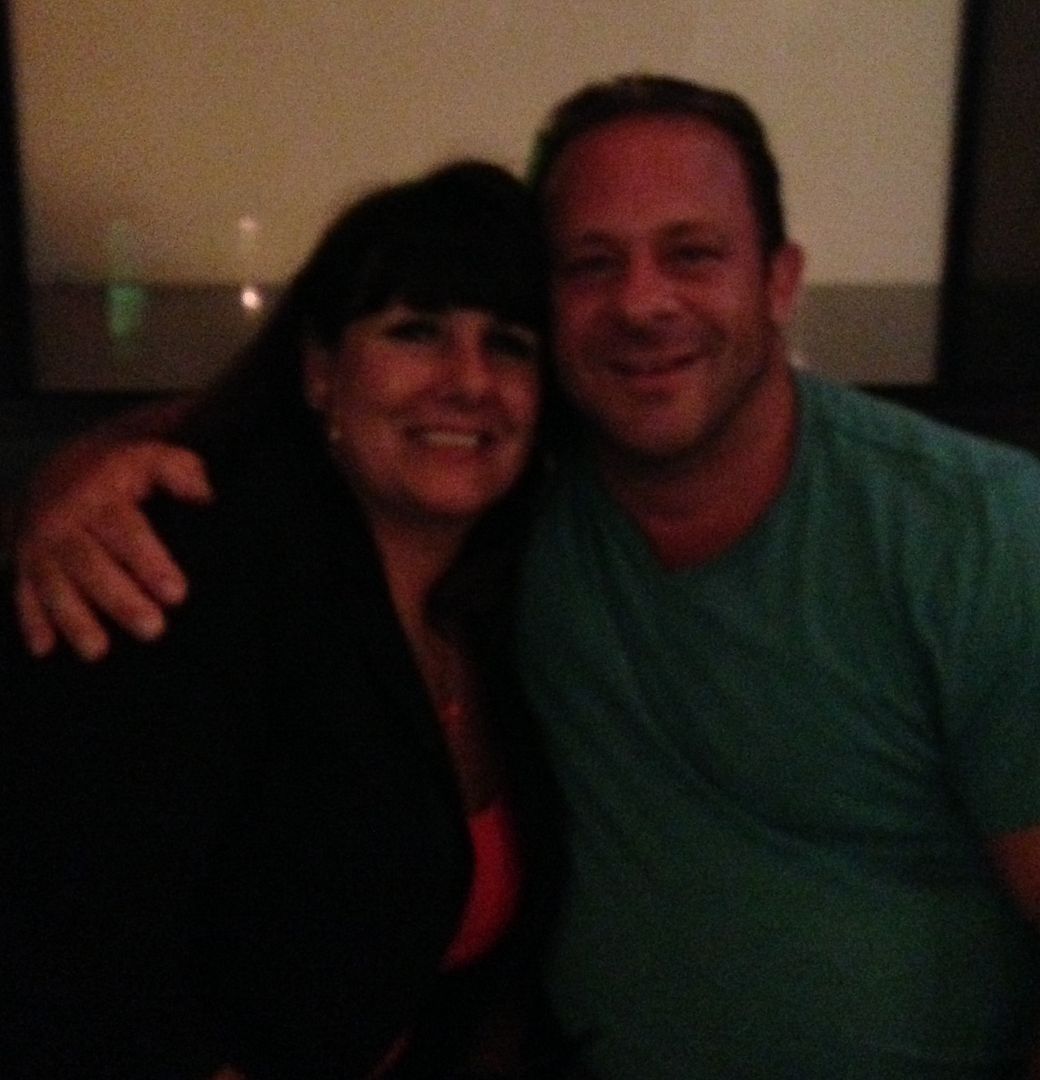 Then it definitely was time to get some rest! Here's the view from my hotel at night and the same view in the morning.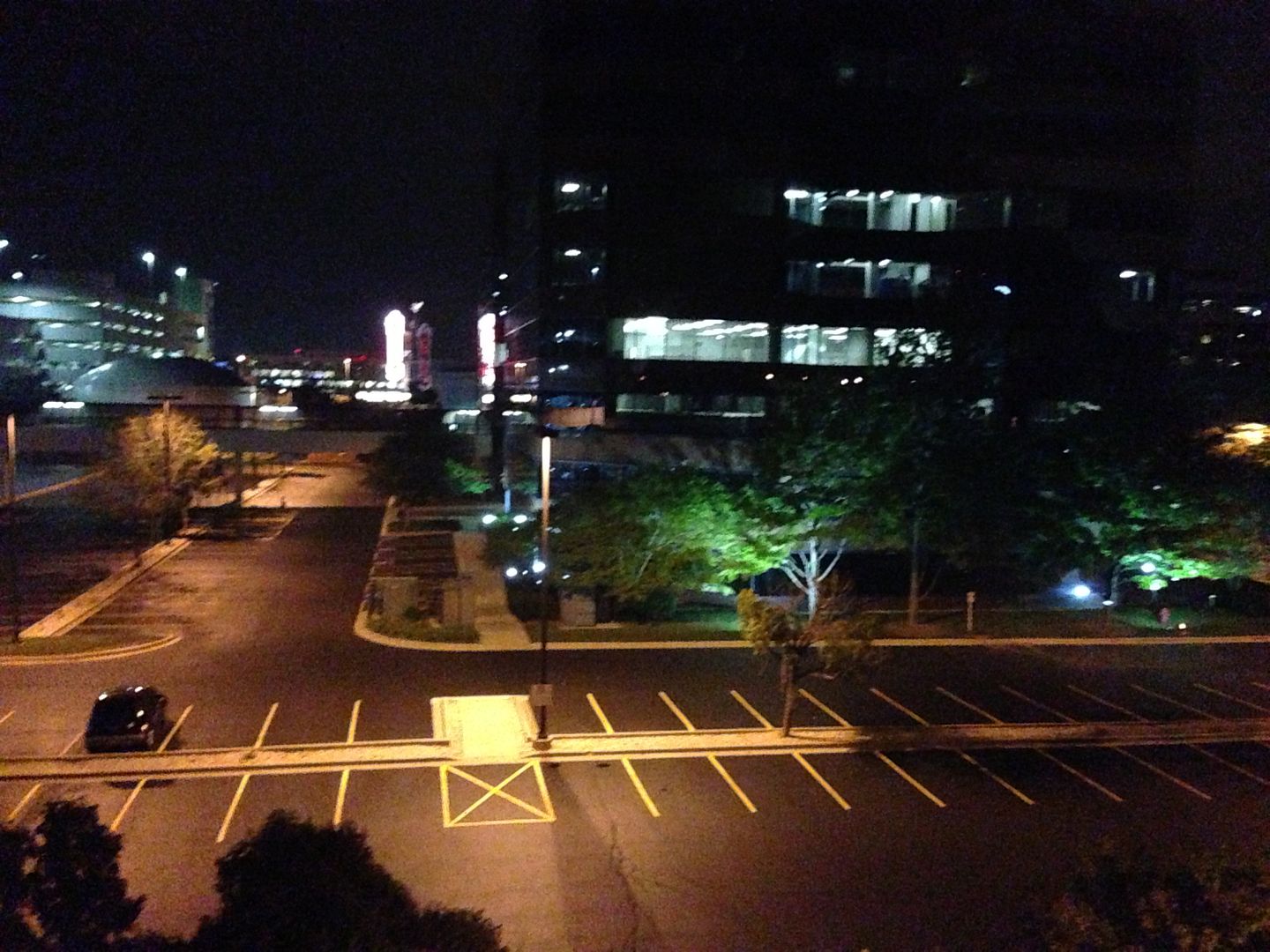 The front of the convention center right across the street from my hotel.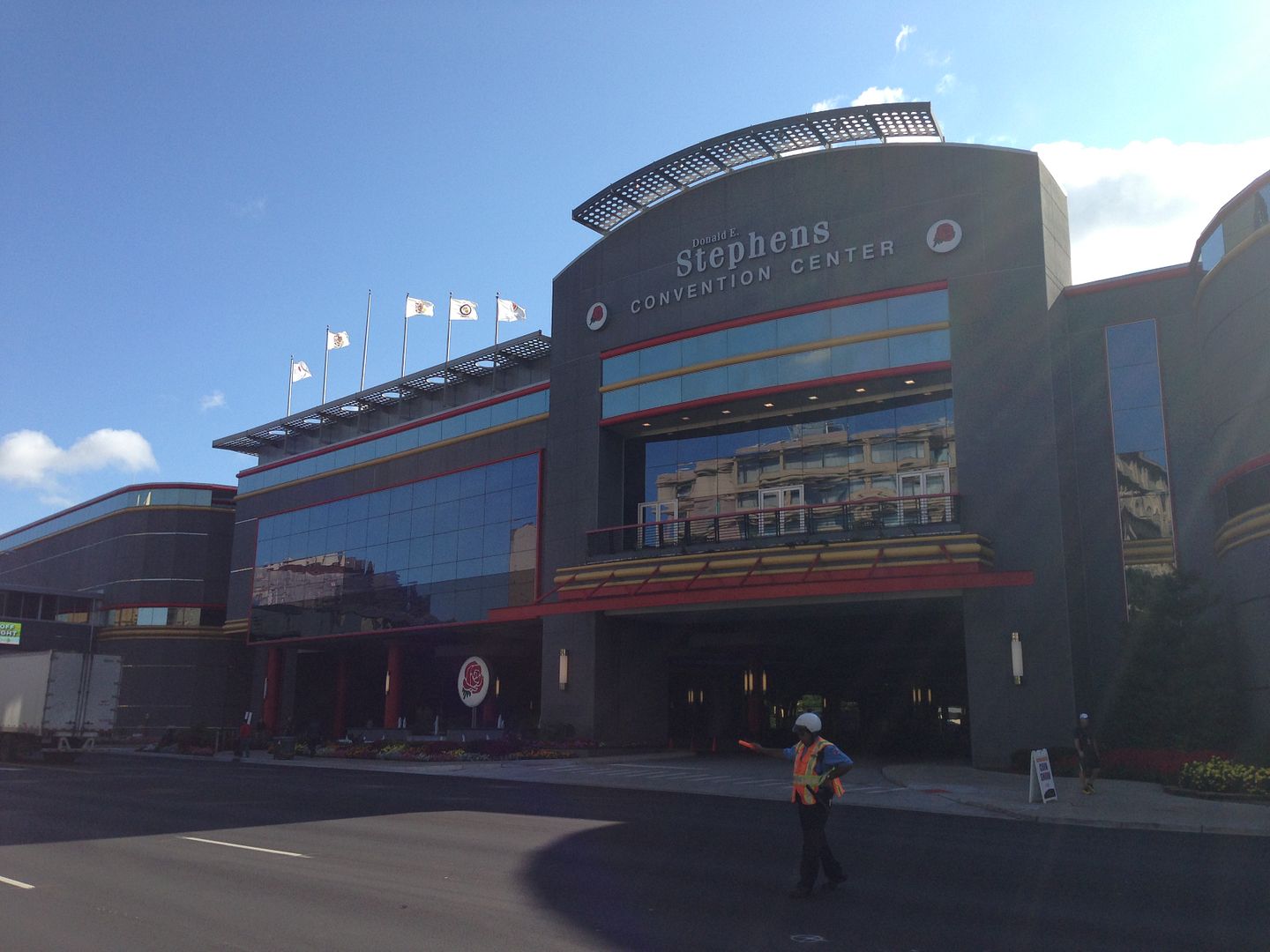 I arrived at the bourse bright and early on Monday, along with many other dealers! We all thought it was weird that the main entrance to the bourse had steps that required careful maneuvering of bags and carts. There was a side door that had a ramp for larger carts.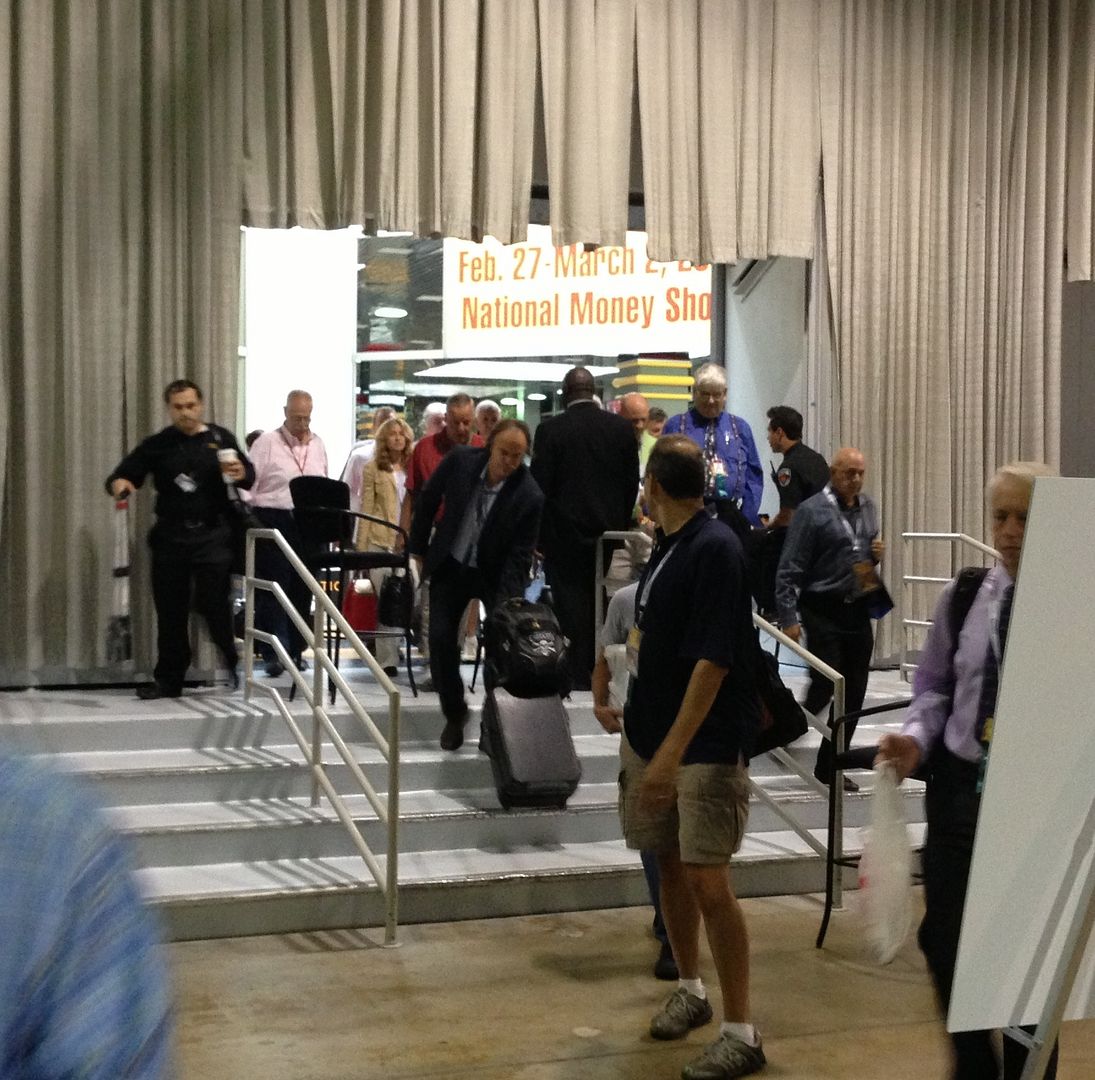 Since I had a dealer table to set up later that day, the exhibit managers kindly allowed me to set up my exhibit a little early which made things a lot less stressful for me!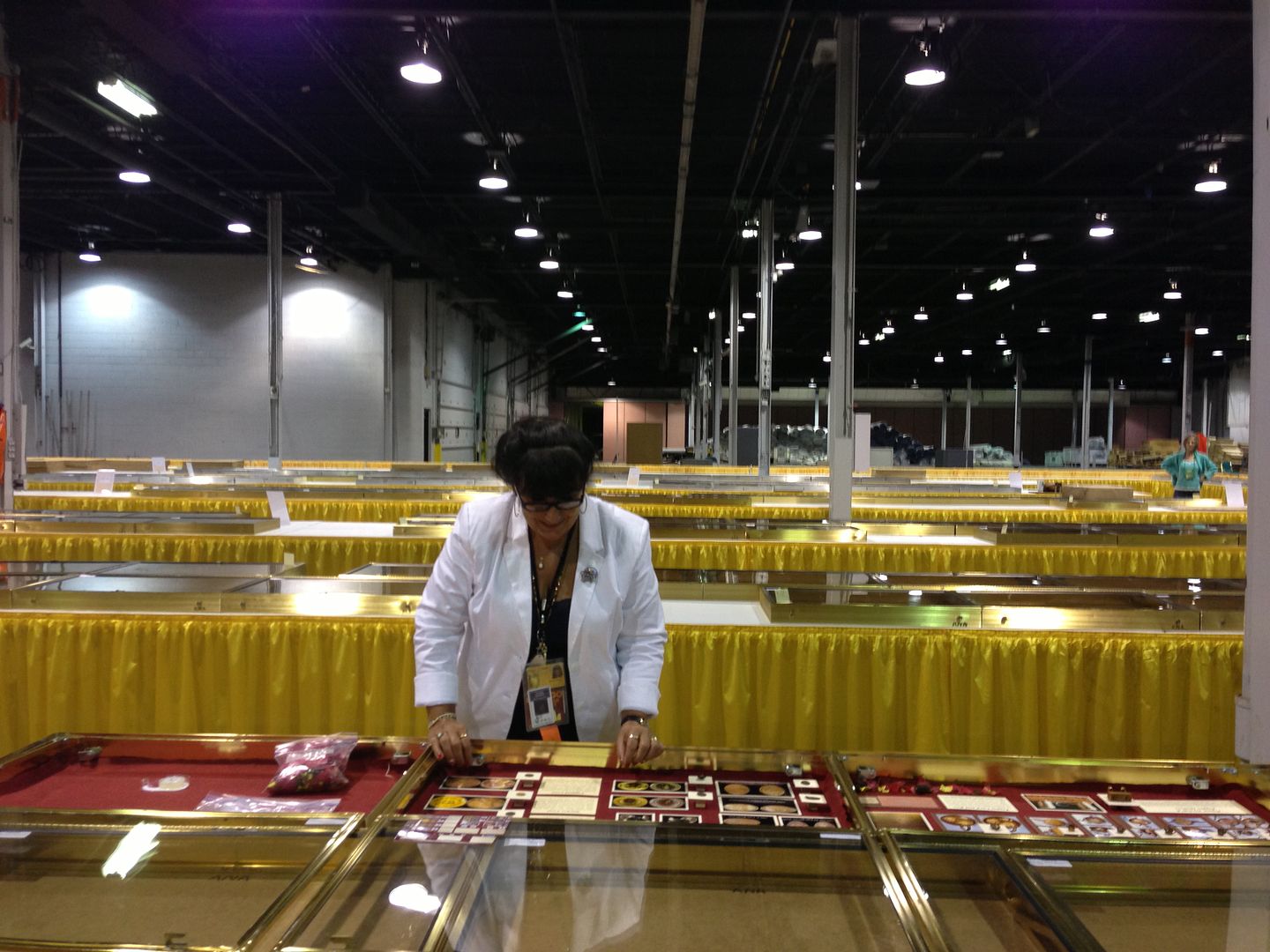 Here's my "Penny Potpourri – a Collection of Penny Creations" exhibit all ready to go!!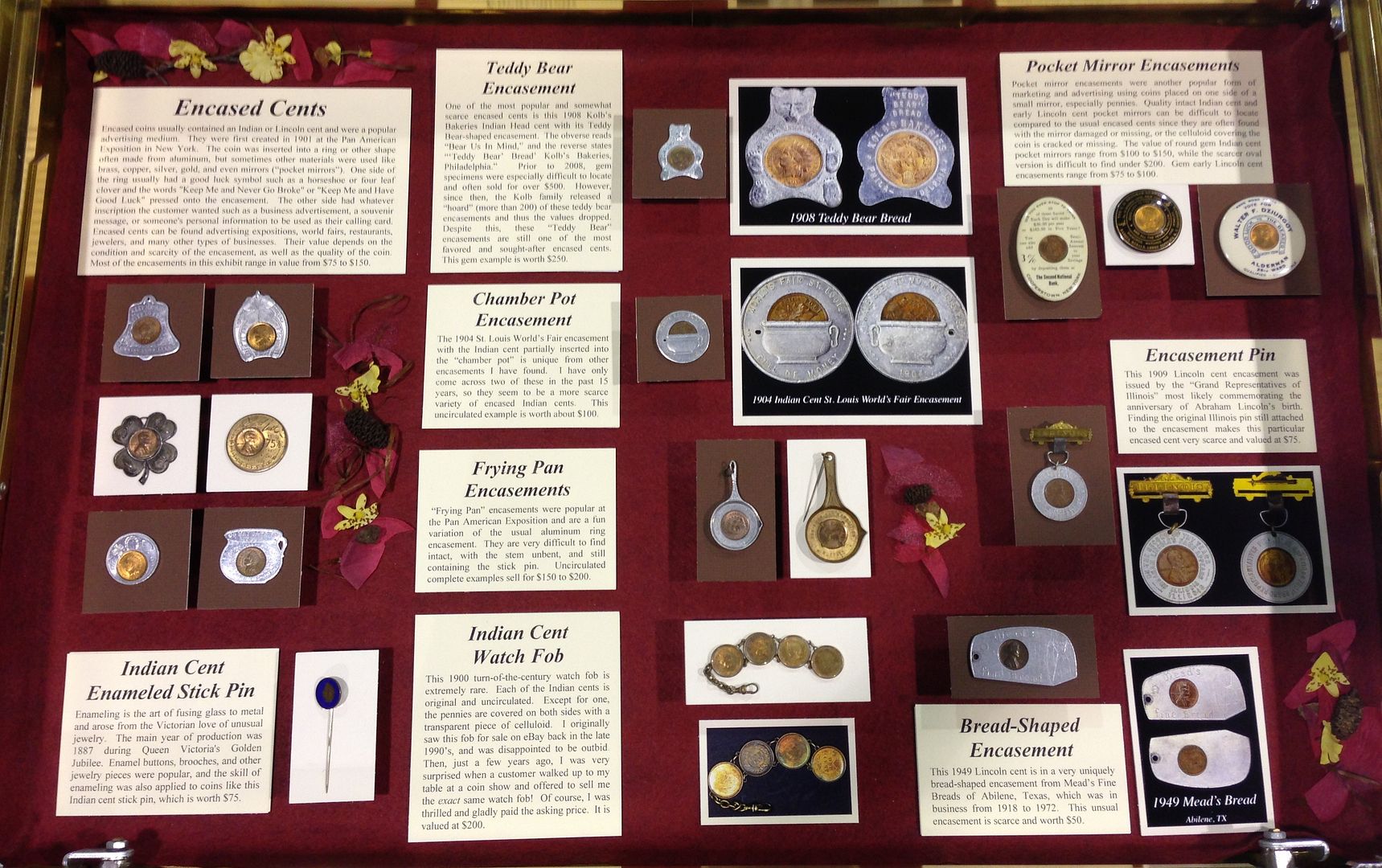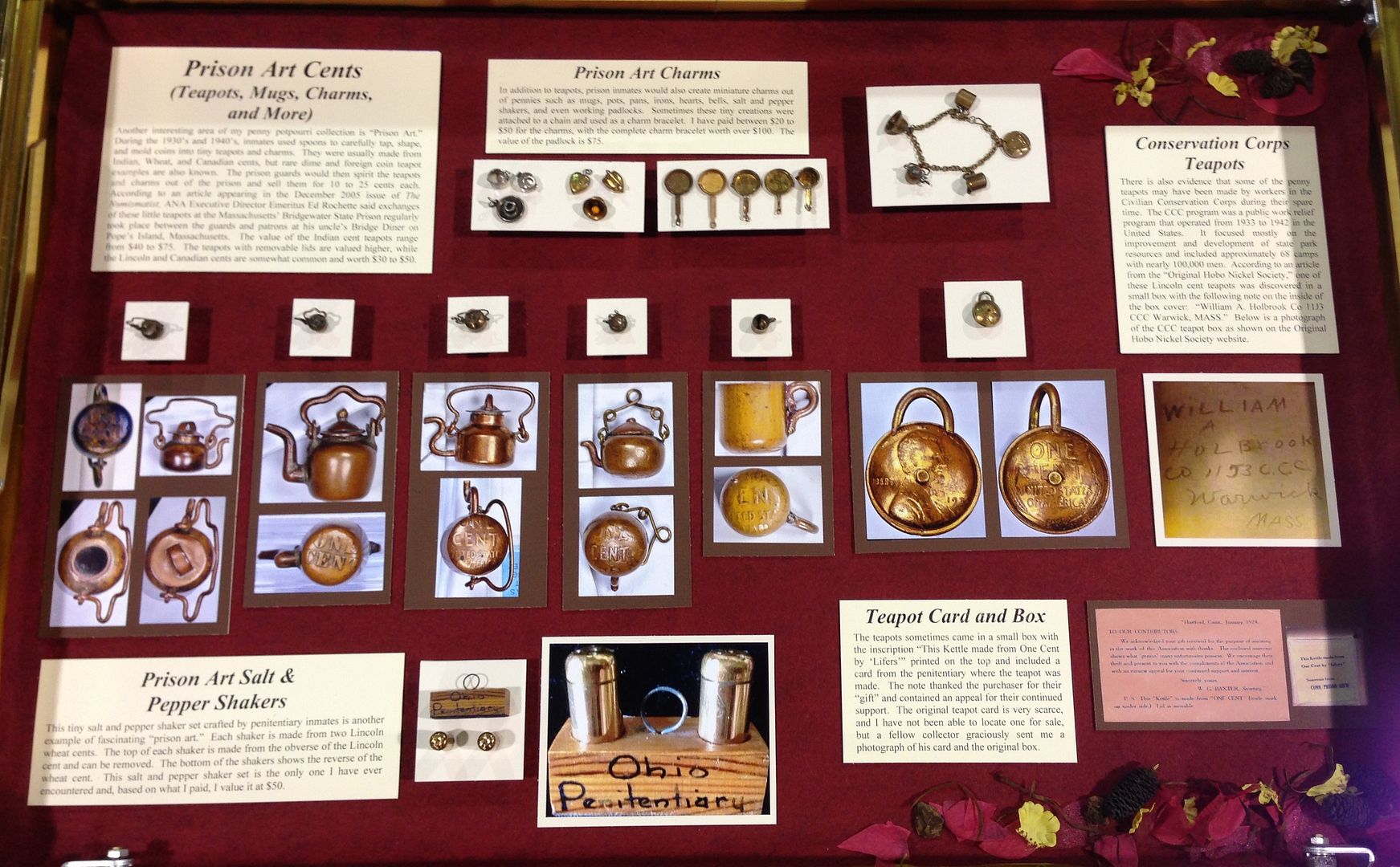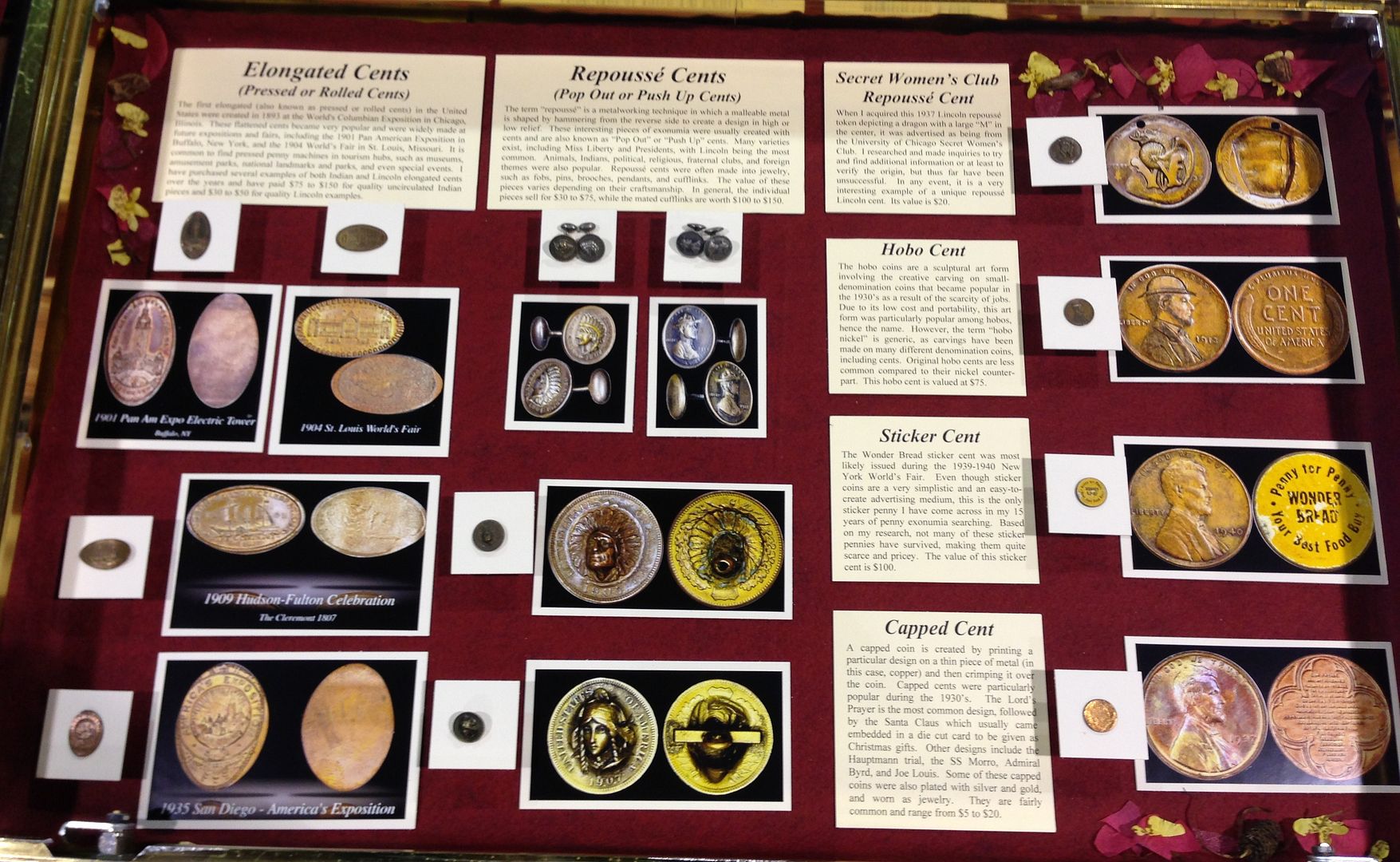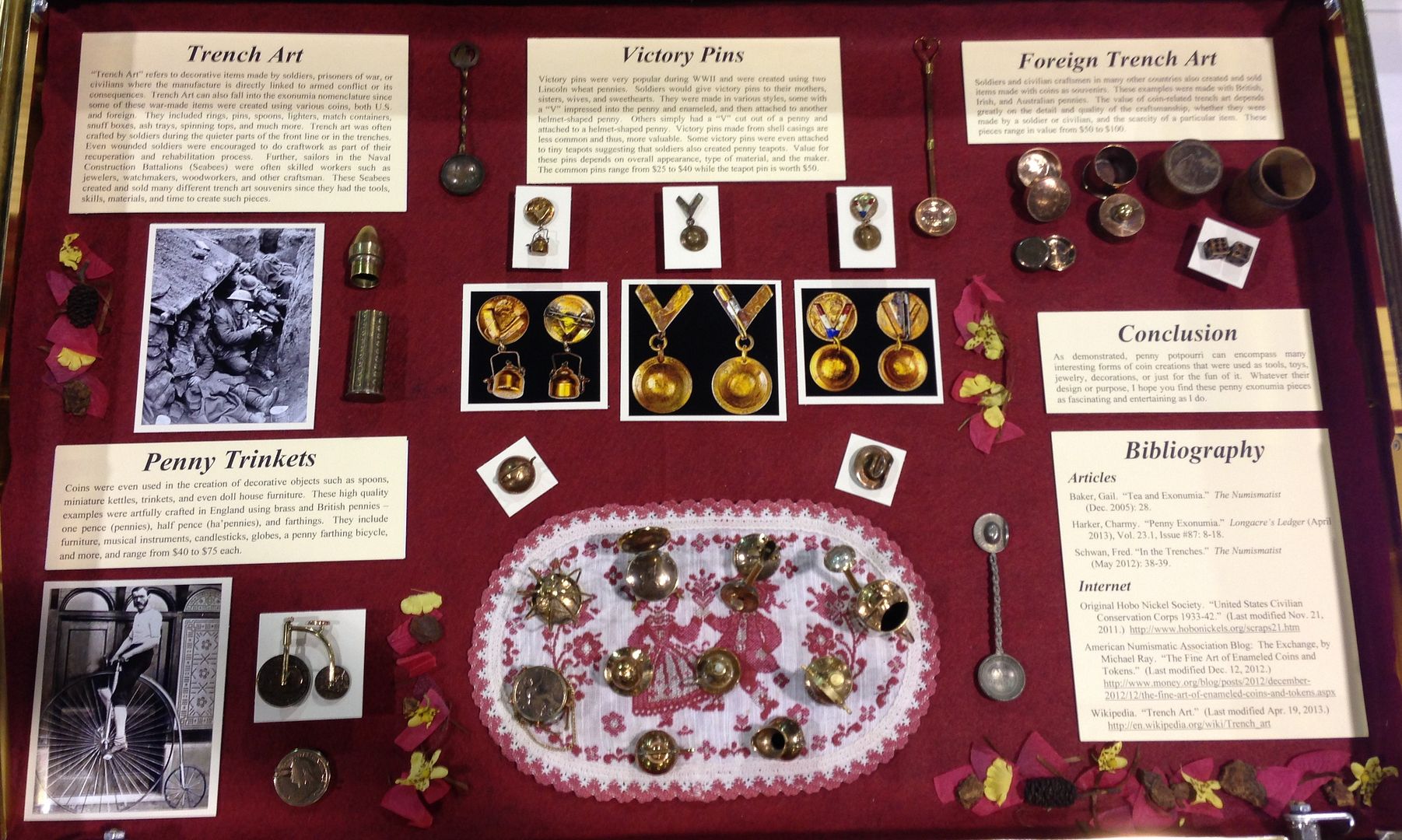 Once an exhibit is all set up, you have to fill out an inventory sheet describing and/or counting each piece in your exhibit. Then one of the exhibit managers verifies the number, and has you sign the inventory sheet, then they actually lock and seal each case shut so it cannot be opened until you are ready to take down the exhibit.
Once that was done, it was time to go to my first PNG lunch meeting as a new member!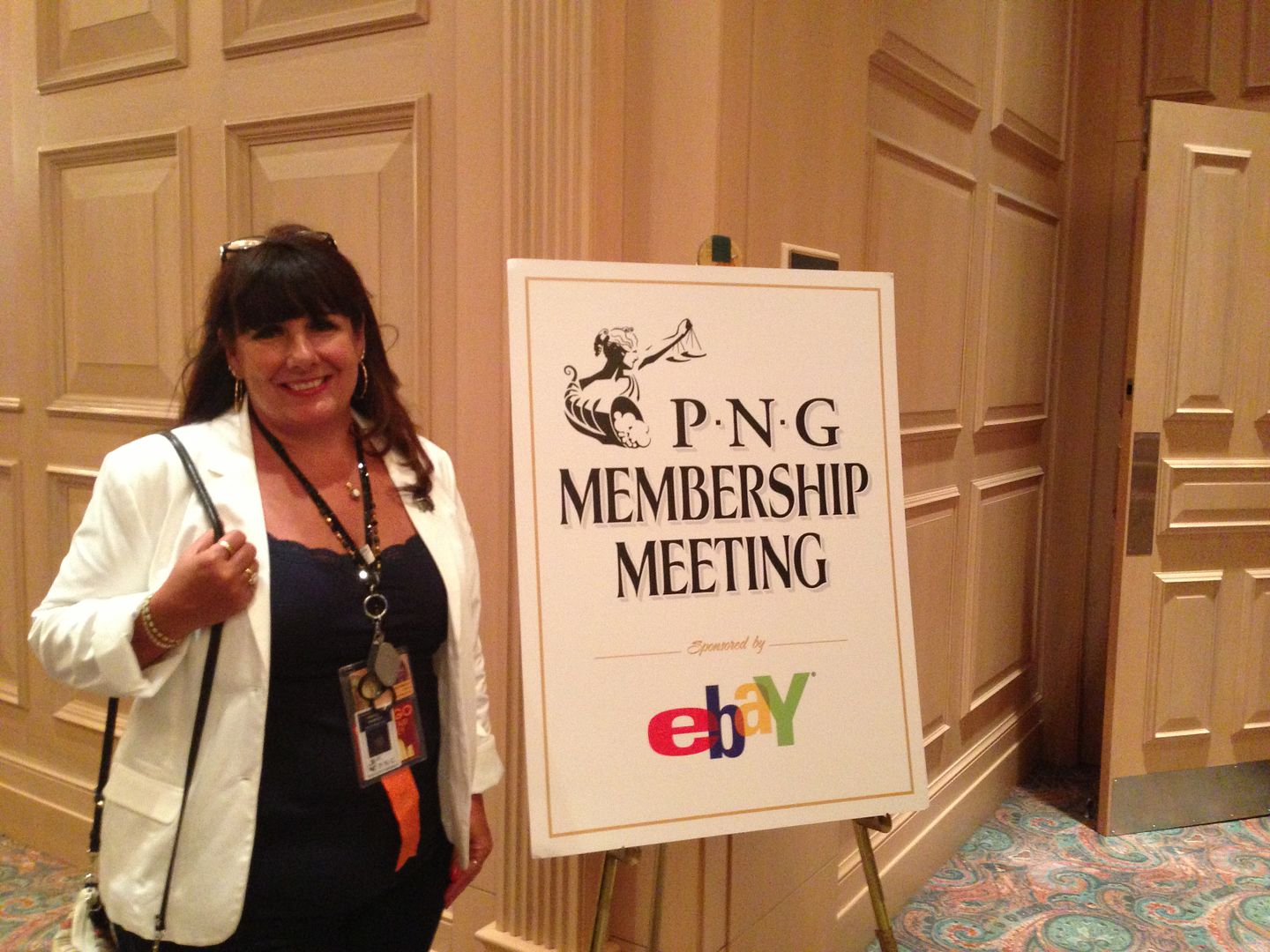 Then I went back to the bourse to set up my booth! After the show closed, we headed to a PNG reception and banquet. We all boarded a bus that took us to the Rosewood Restaurant where the banquet was being held.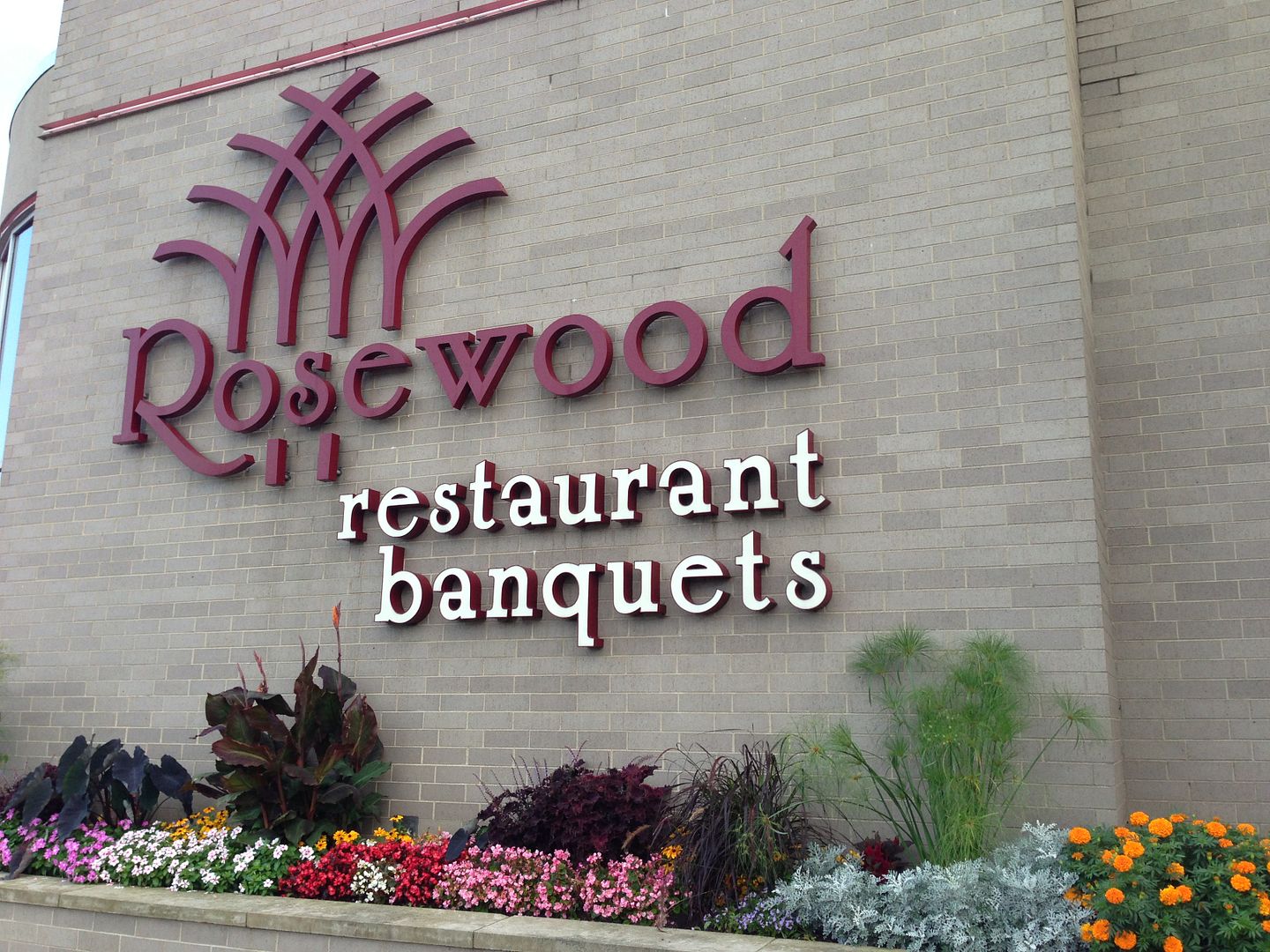 They served all kinds of tasty treats at the reception! I had this Starbucks liqueur and cream (so yummy!) and a small glass of lobster bisque.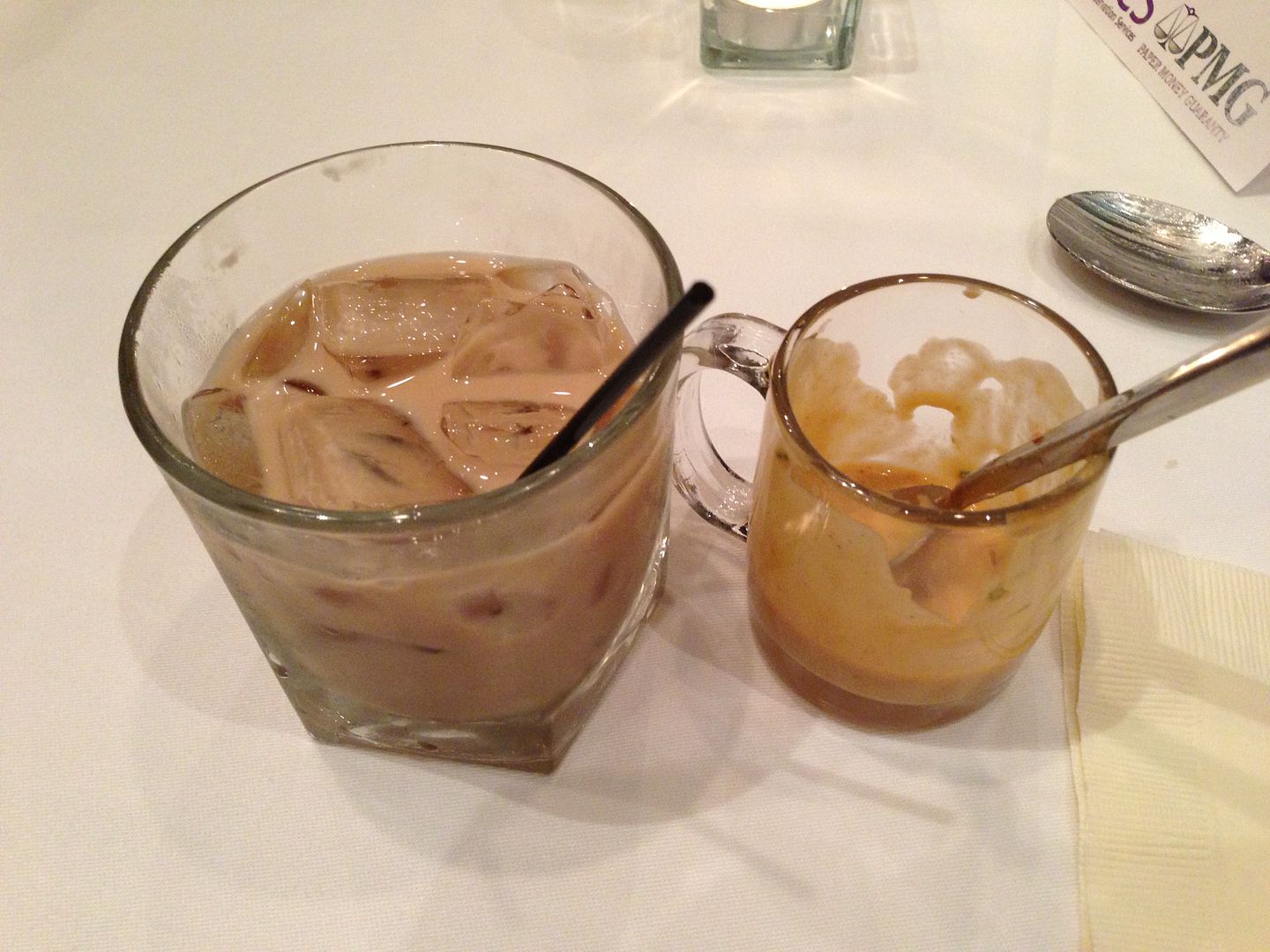 This was a sweet blue martini and a tiny fruit tart.
Then it was time for dinner – I chose the filet mignon – mmmmmm!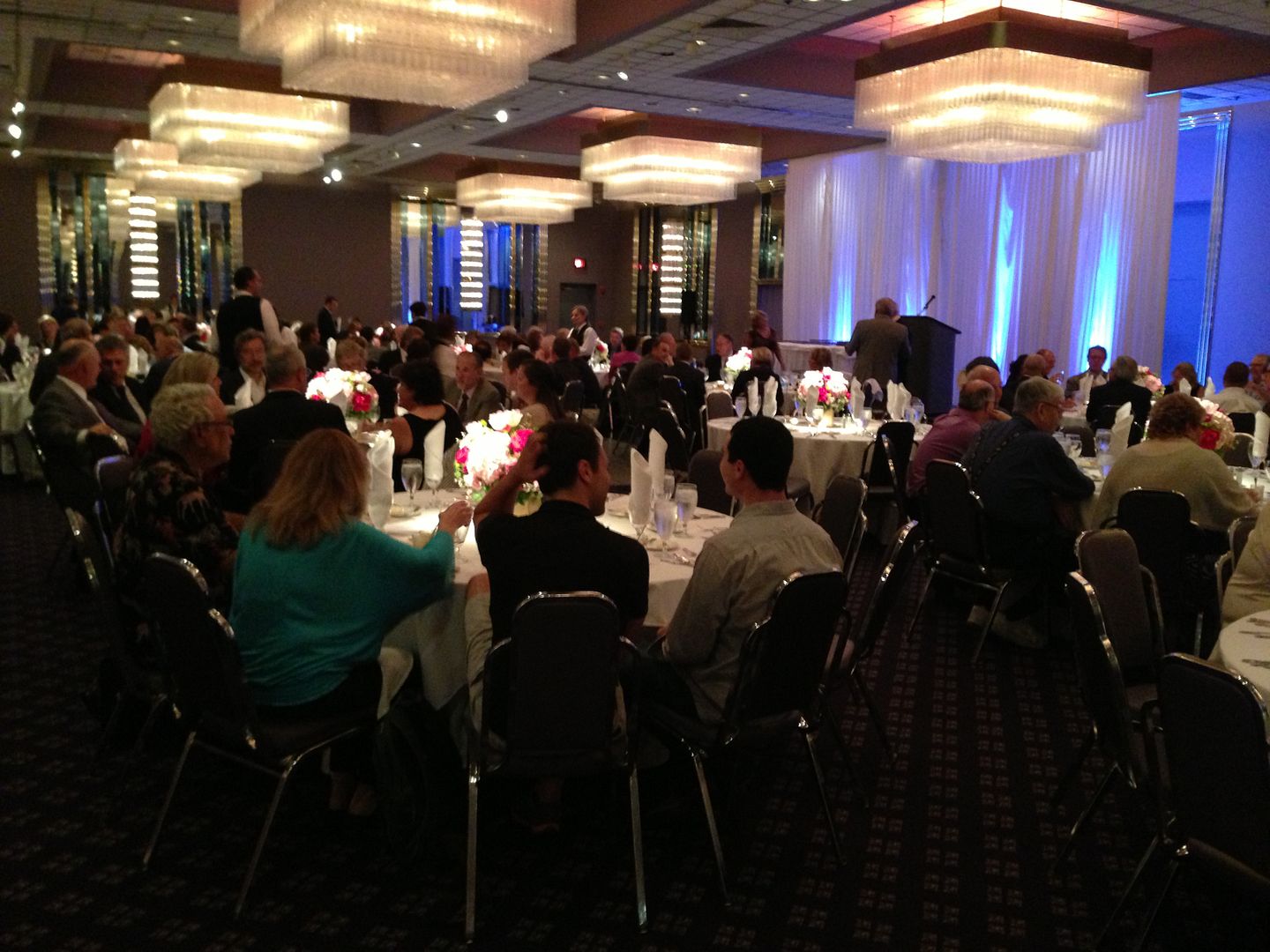 Greg Allen, Ron Sirna (former ANA lawyer), and Rick Snow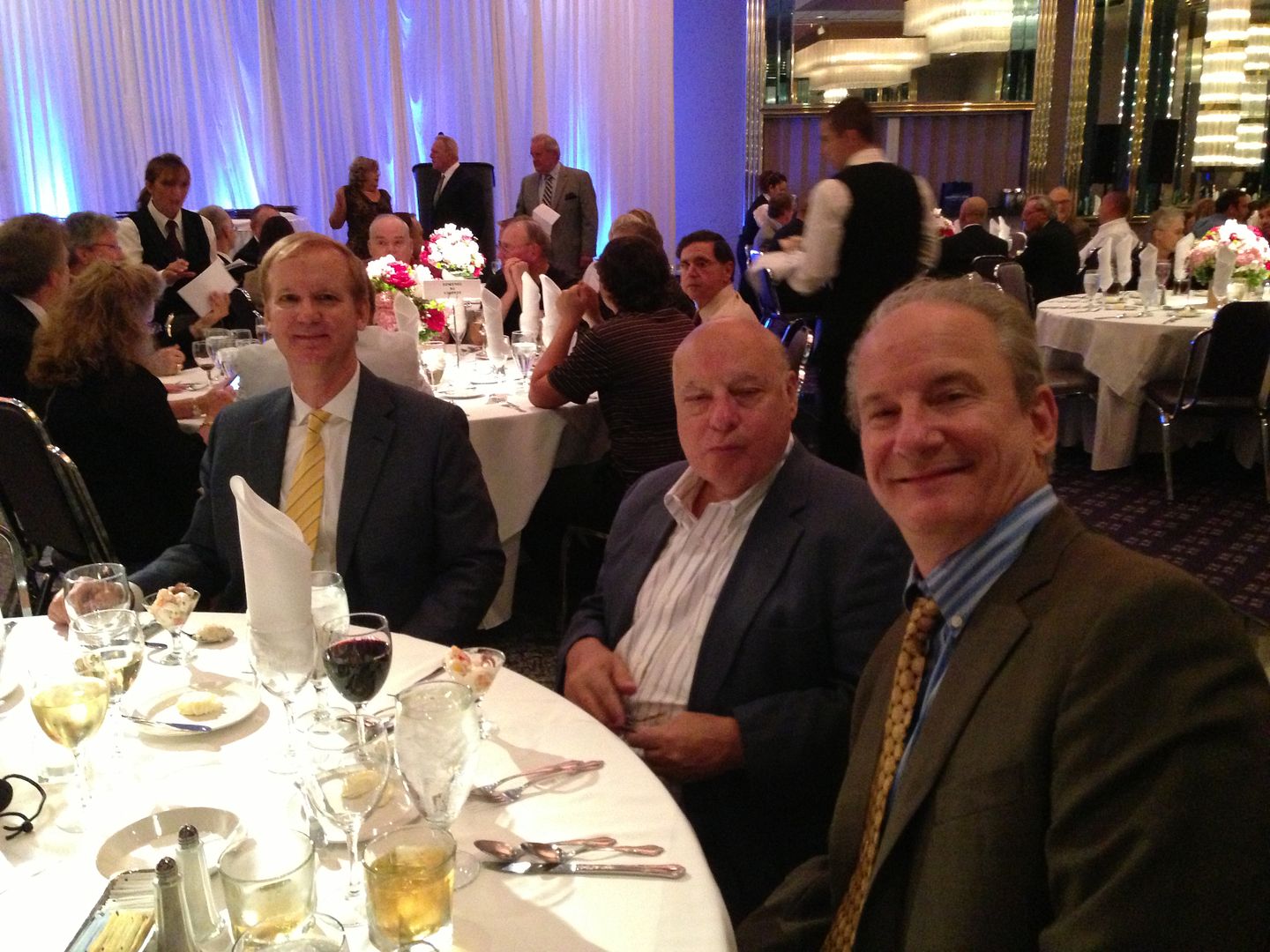 And dessert! (I only had one bite!)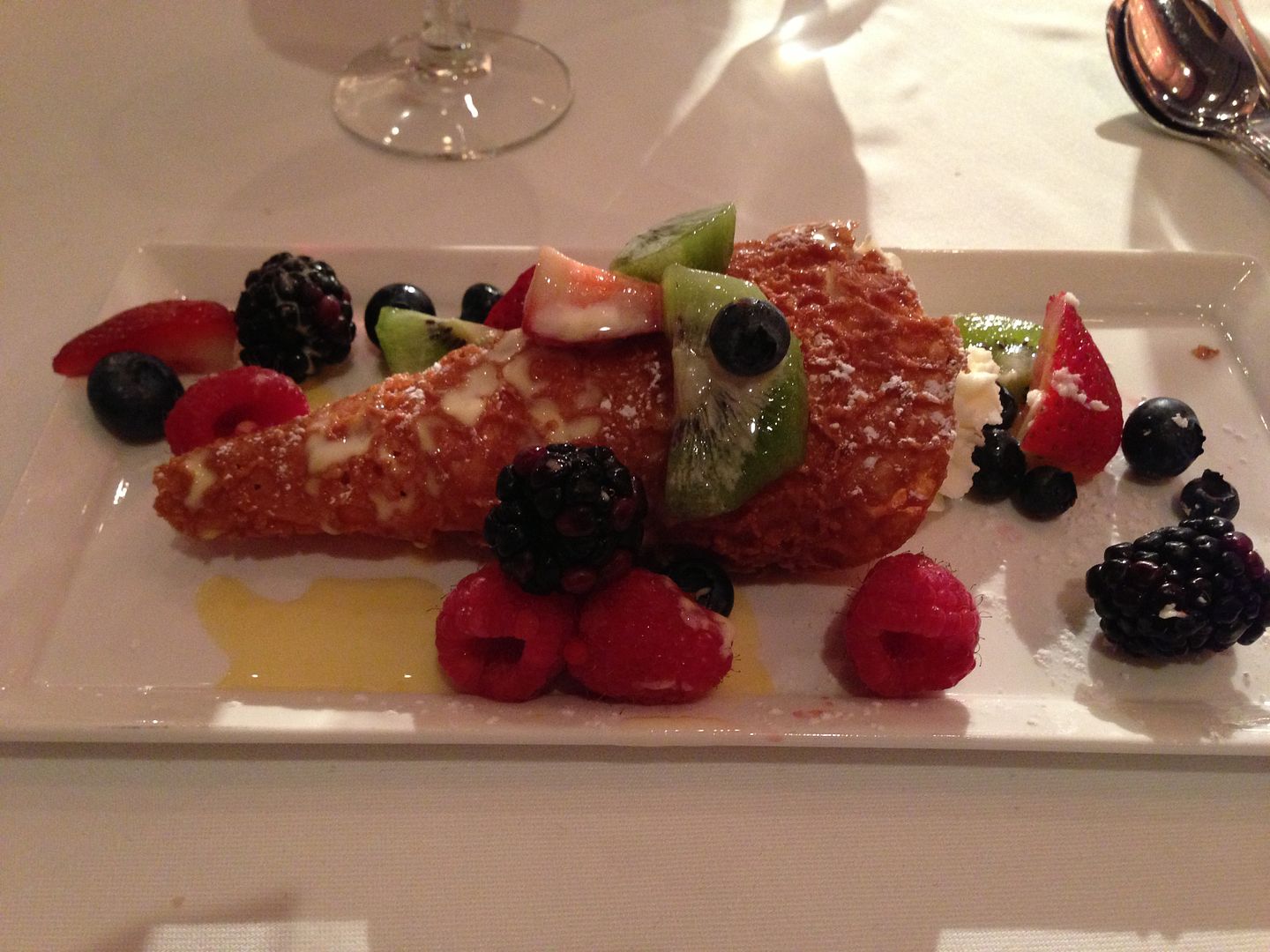 I arrived early Tuesday morning very excited for the start of the show! The registration area was already filling up.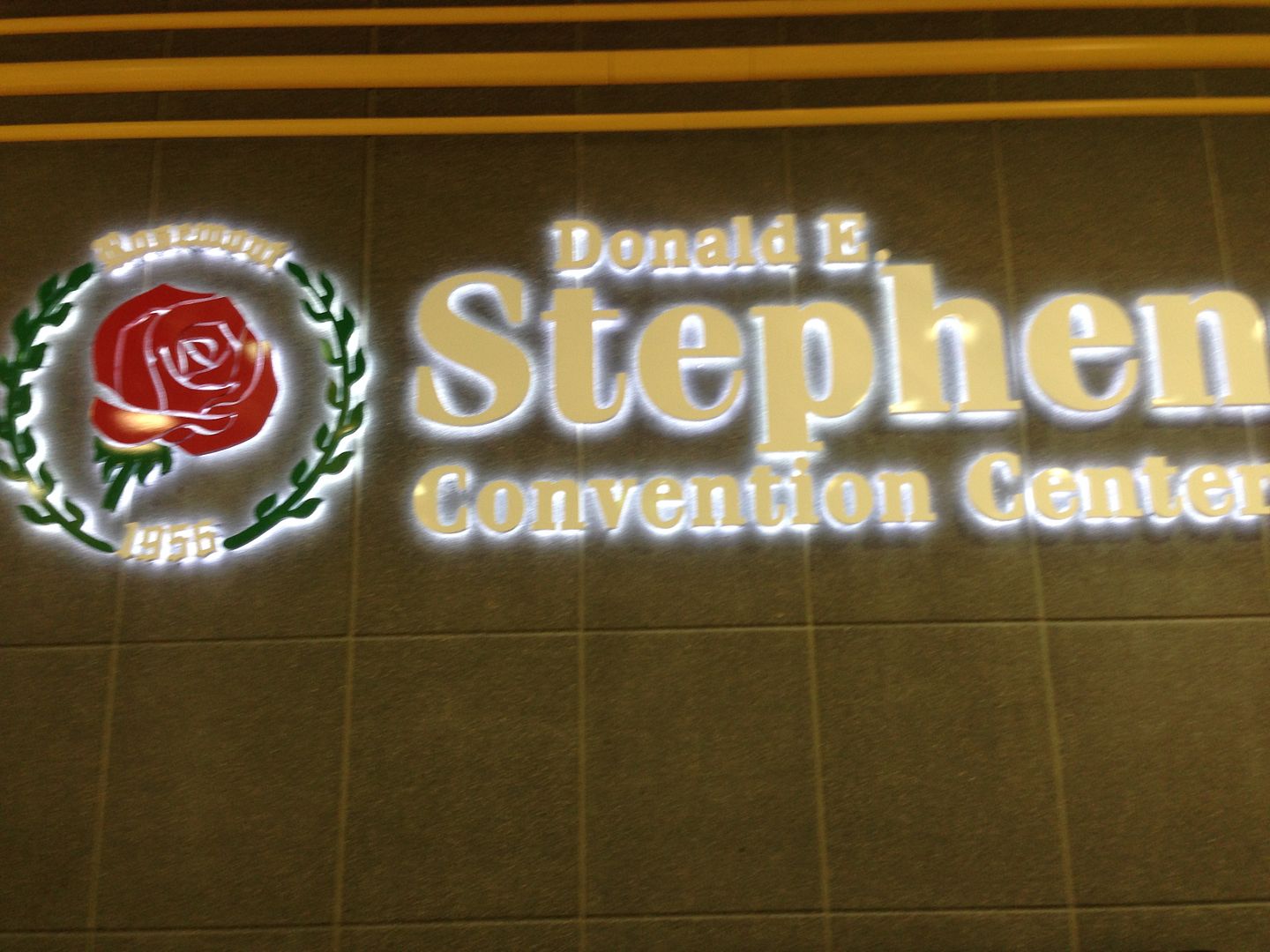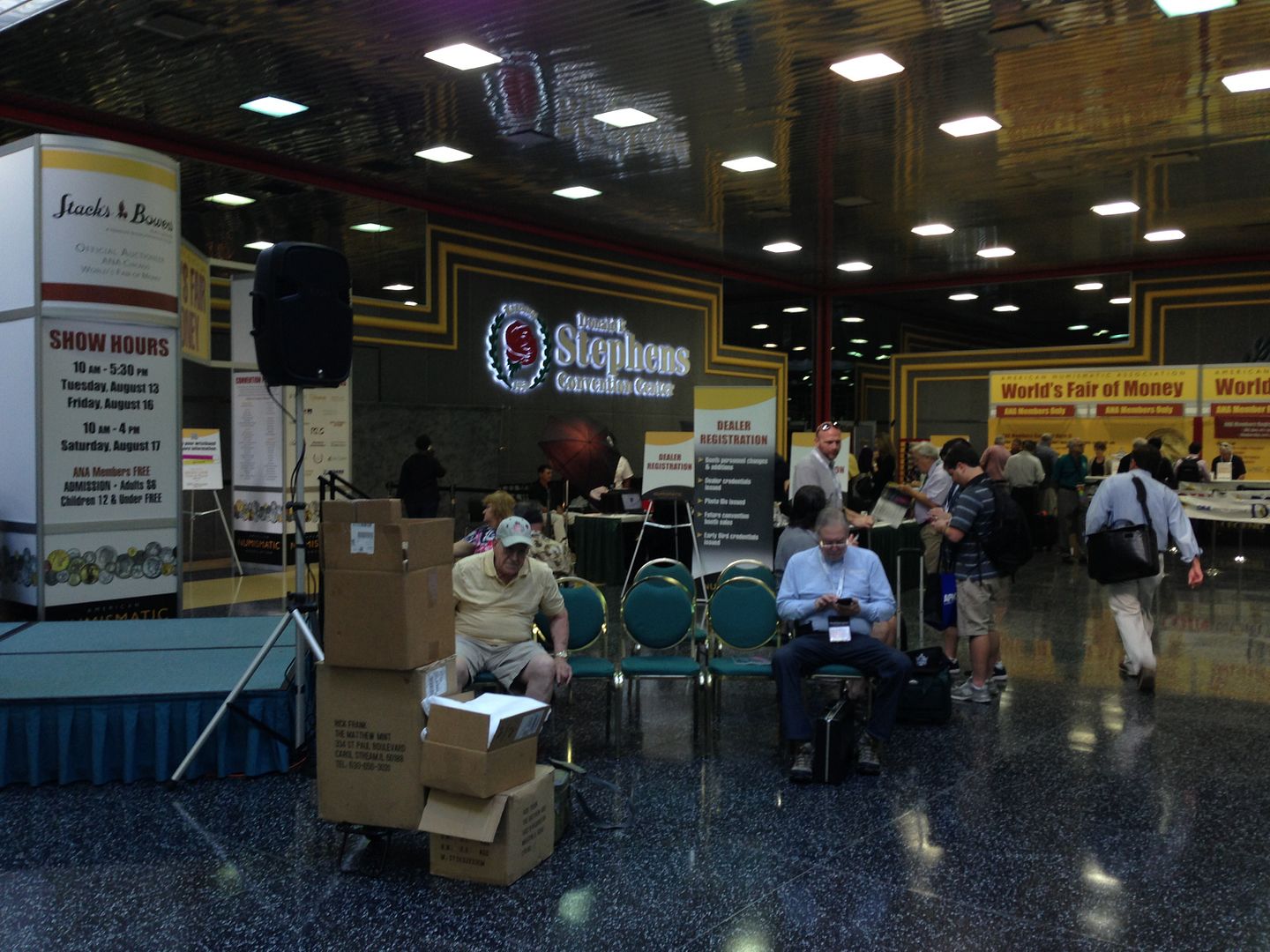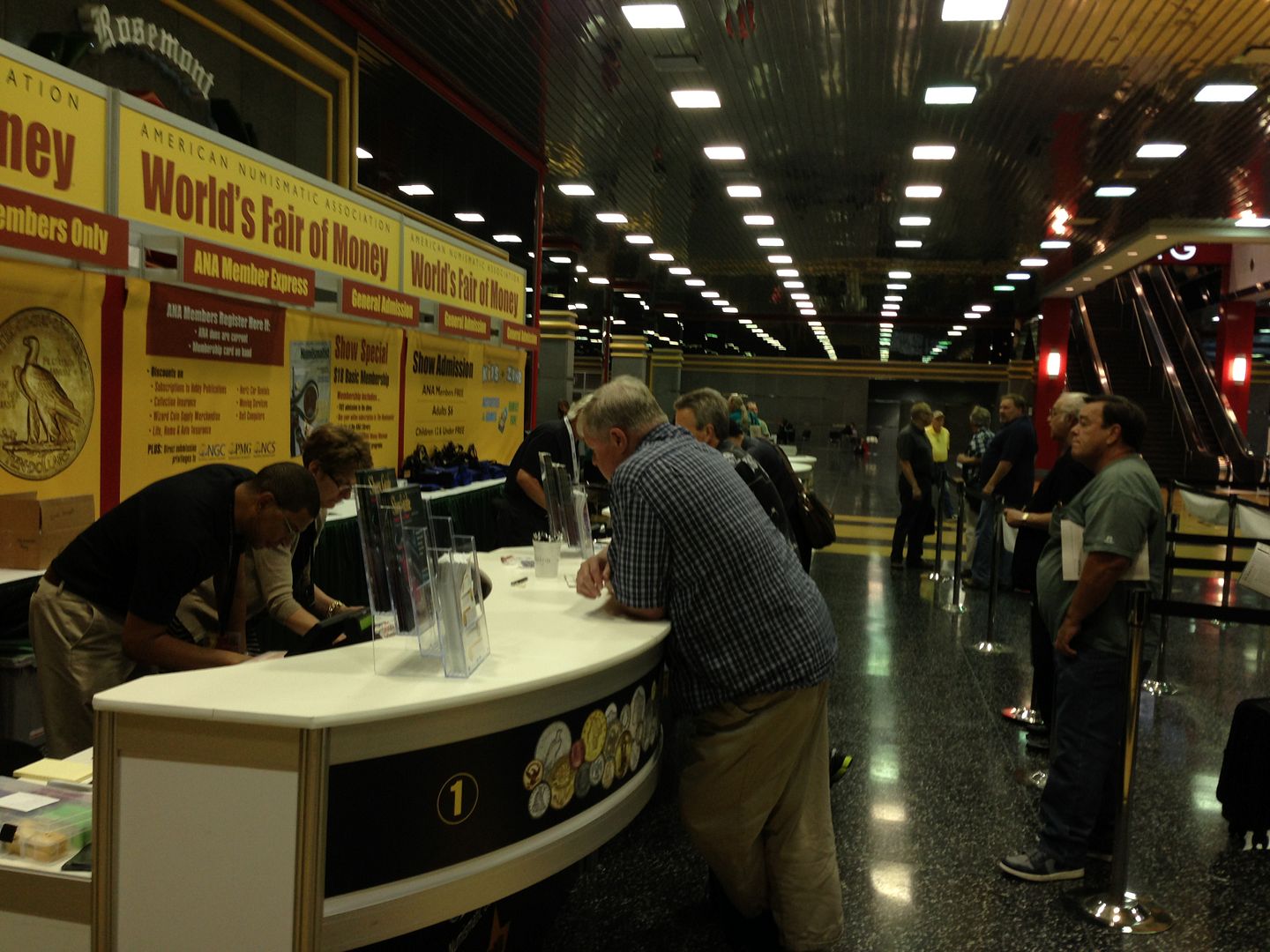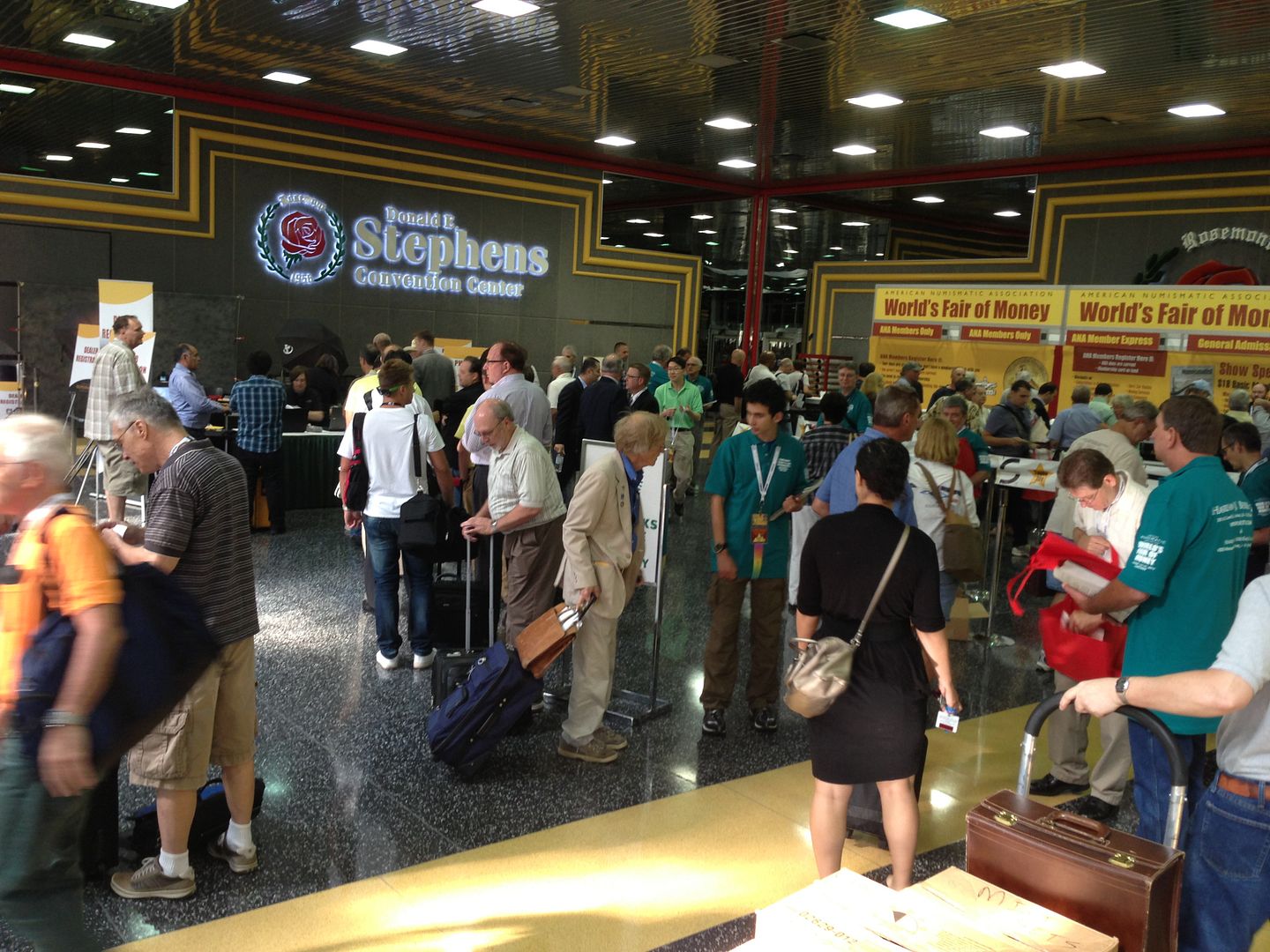 The NGC and PCGS tables were already getting busy even before the public was let in!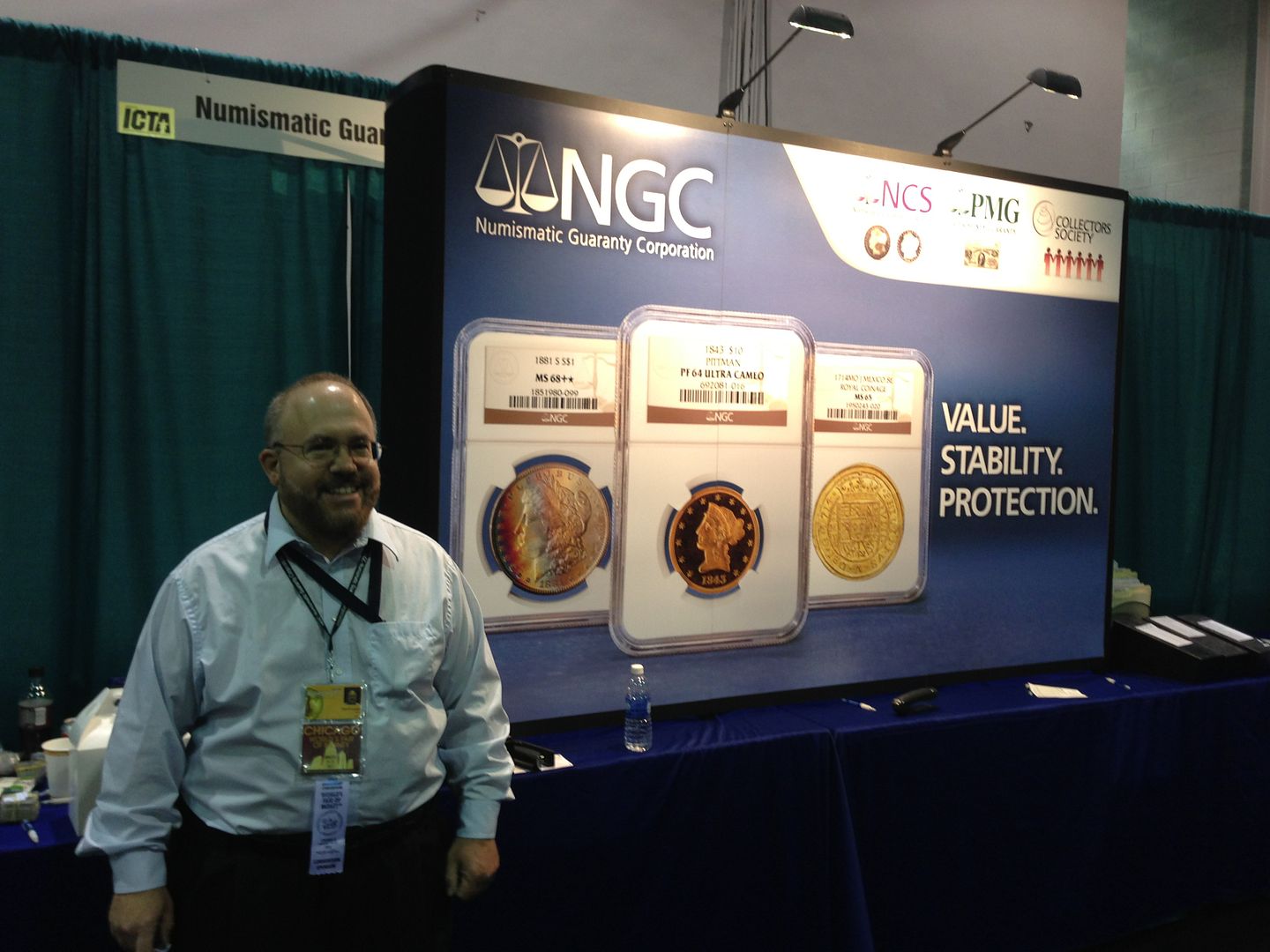 This is the opening ceremony where they cut the ribbon with oversized scissors!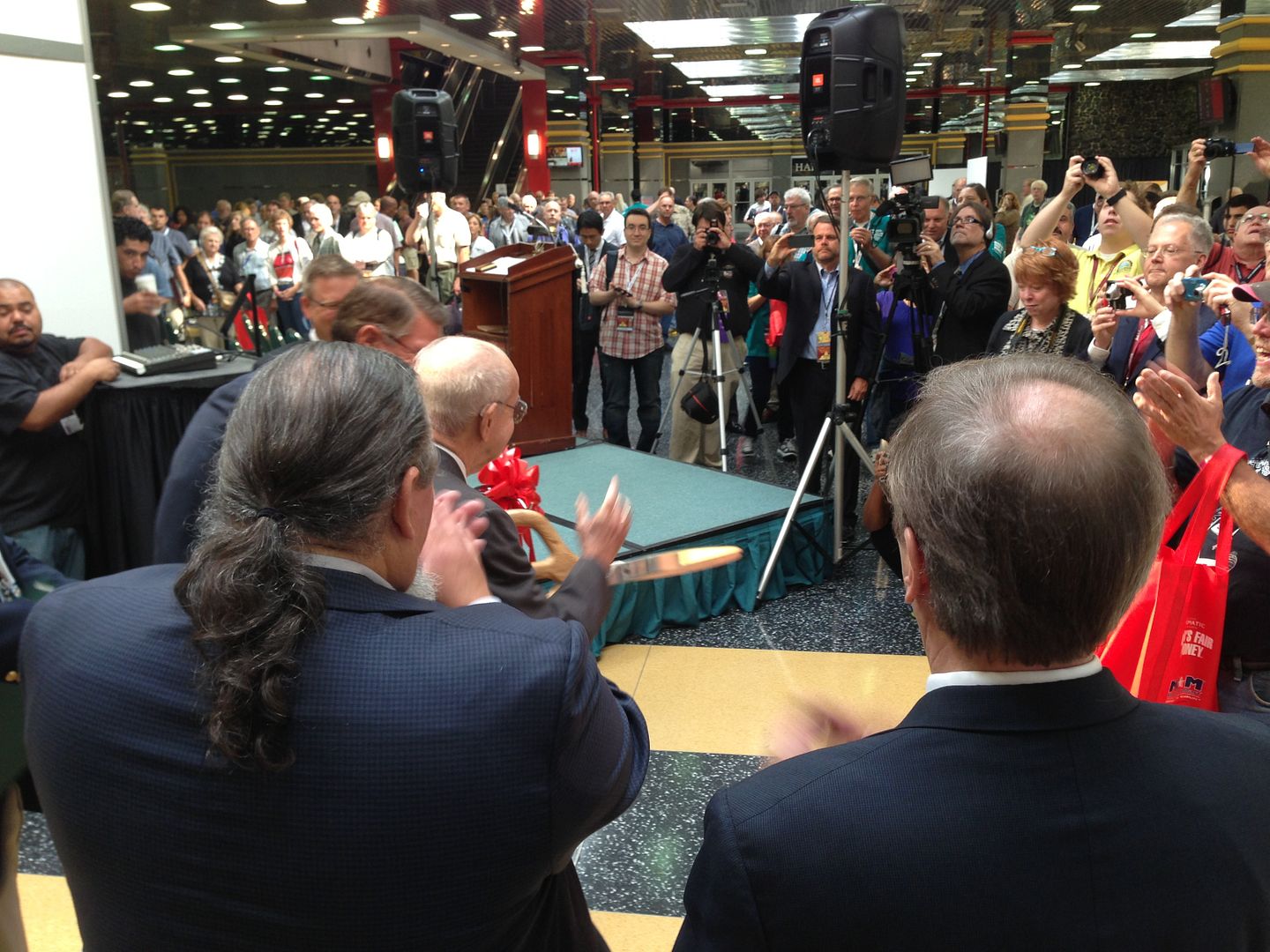 Then the public came flowing in!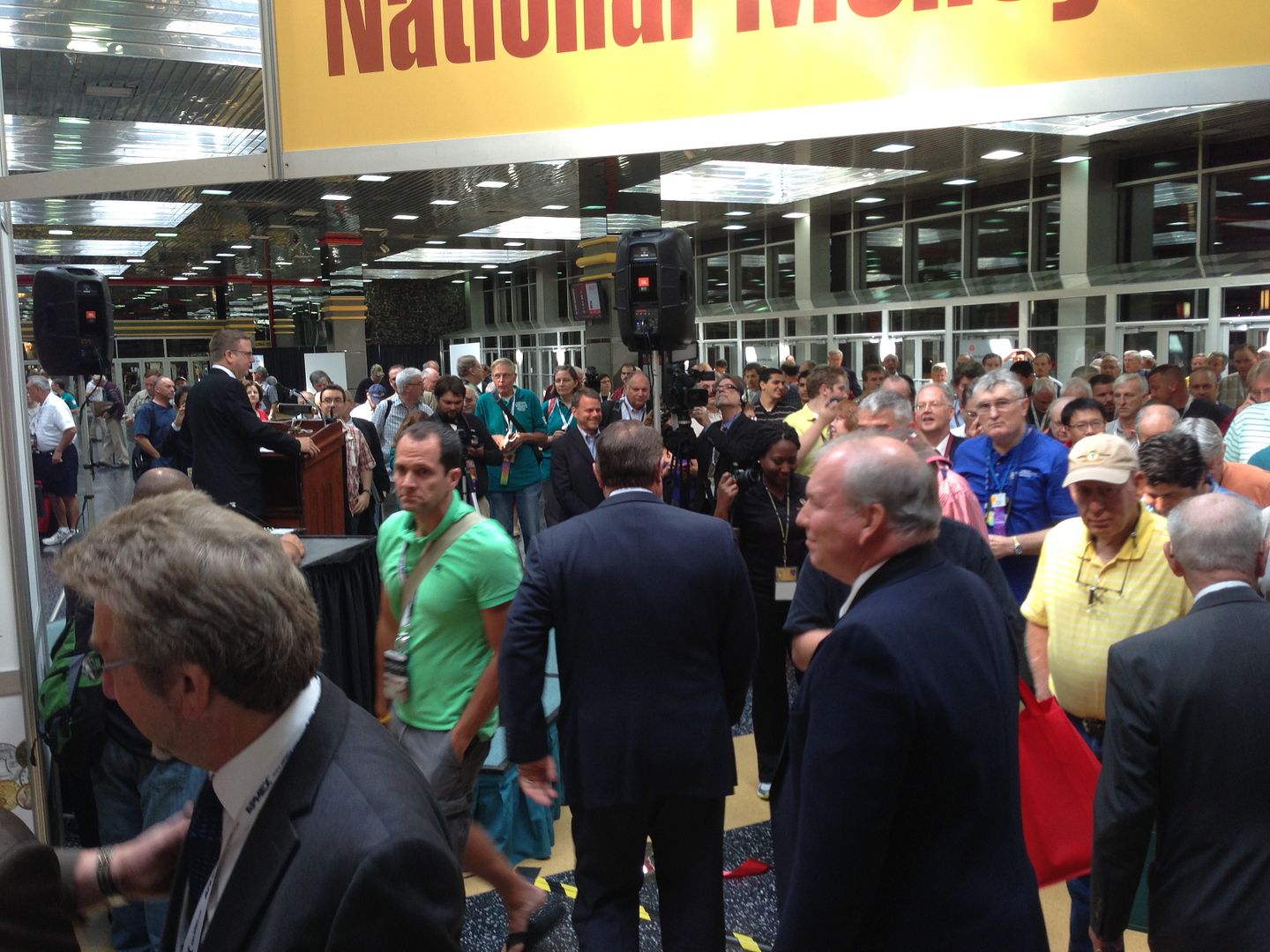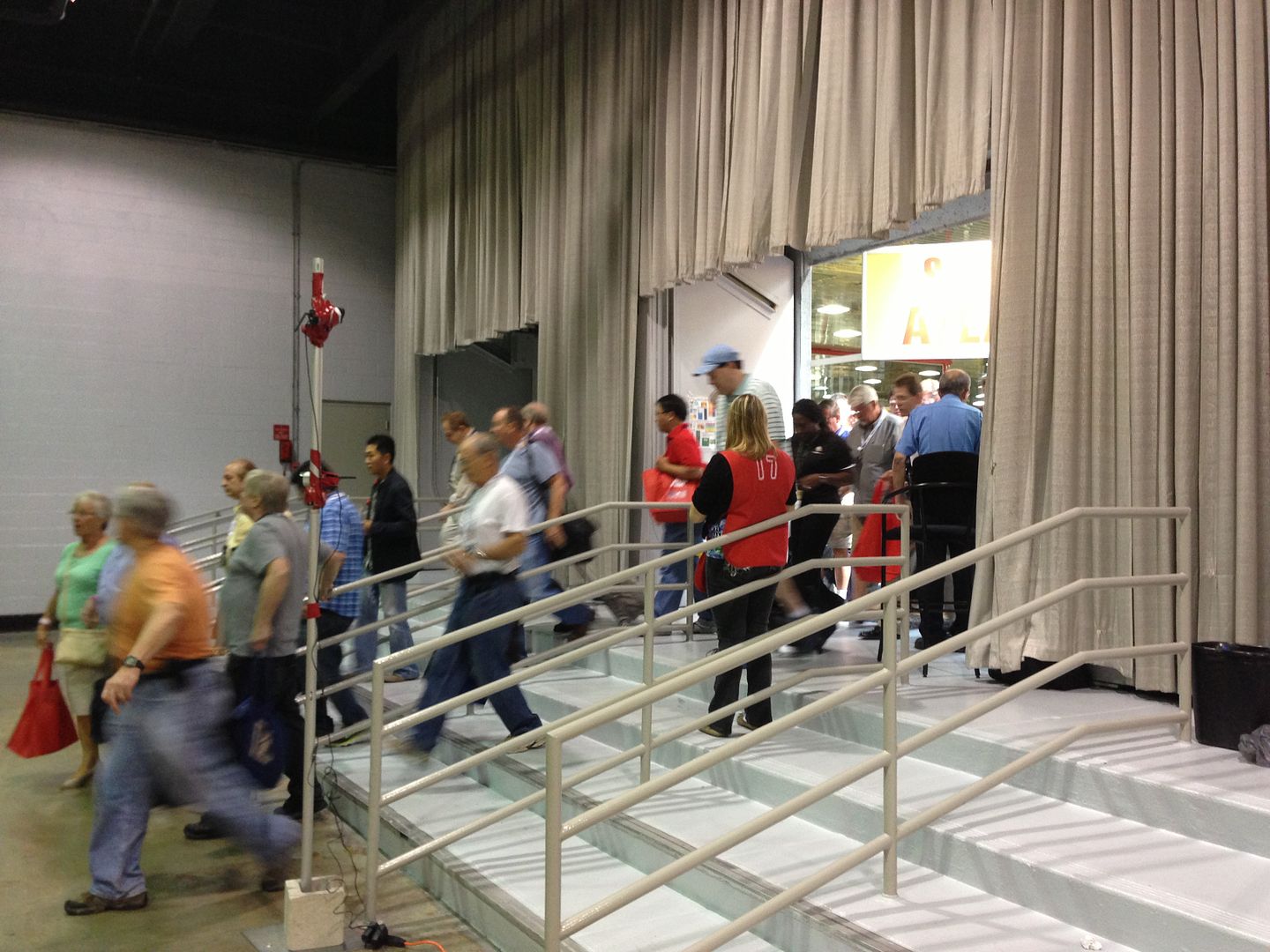 The World Mint area
Soon forum members began stopping by to say hi!
Dennis Forgue stopped by to say he liked my exhibit. He then said he had something for me and handed me this enameled bracelet of various copper coins, a Lincoln penny spinner, and a beautiful Lincoln cent pocket mirror. These were very cool pieces and I was thrilled to see some penny exonumia that I didn't have. I asked how much he wanted for them, and he simply said "they're yours." I was shocked! What a very sweet man!! I plan to add them to my exhibit!!!
Then a regular customer of mine (Chuck) who has an amazing and rare set of Pattern Cents stopped by to show them to me. I was in awe!!!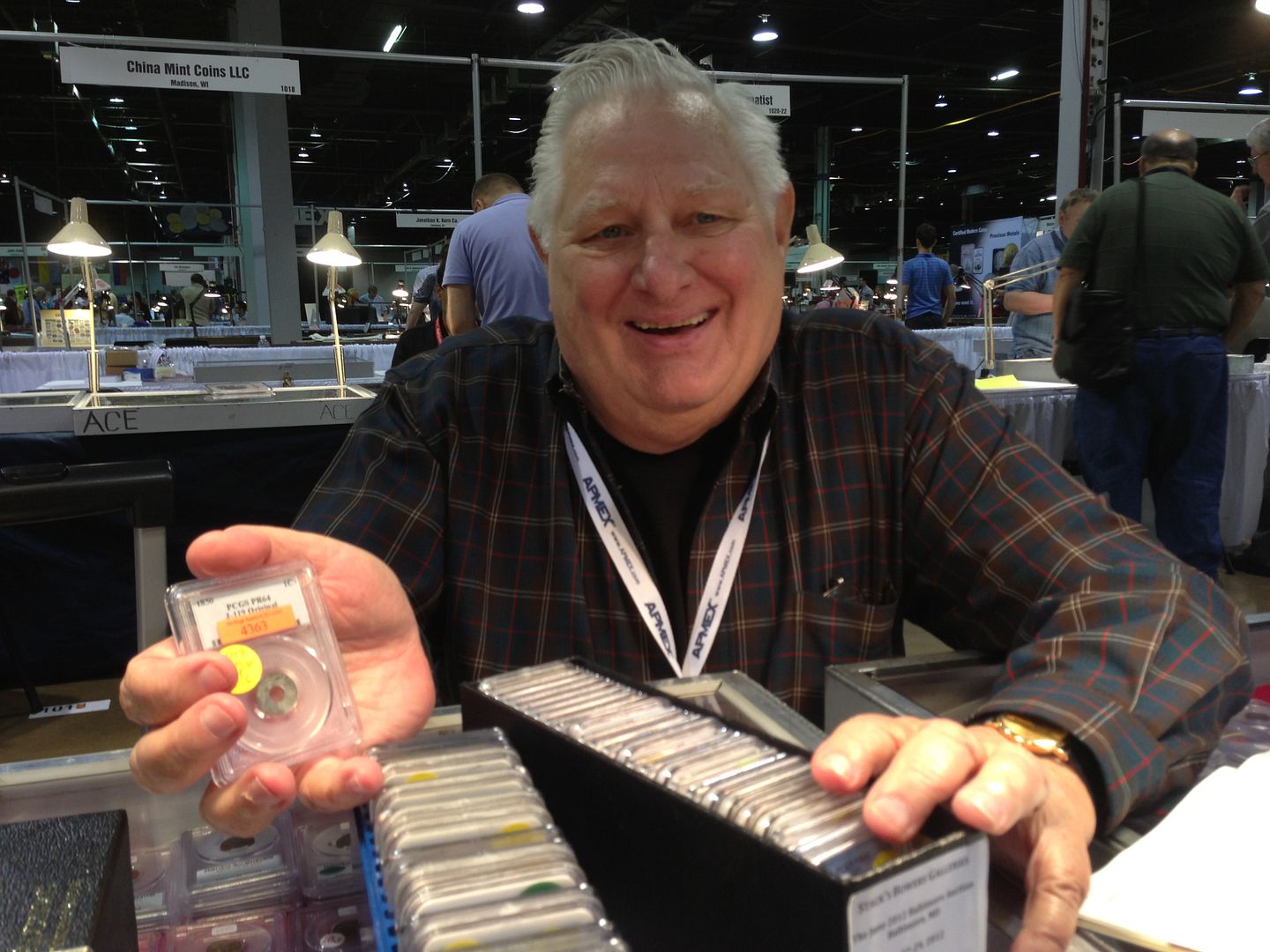 Another very nice guy and fellow Facebook buddy - Greg Heim/HalfCentMan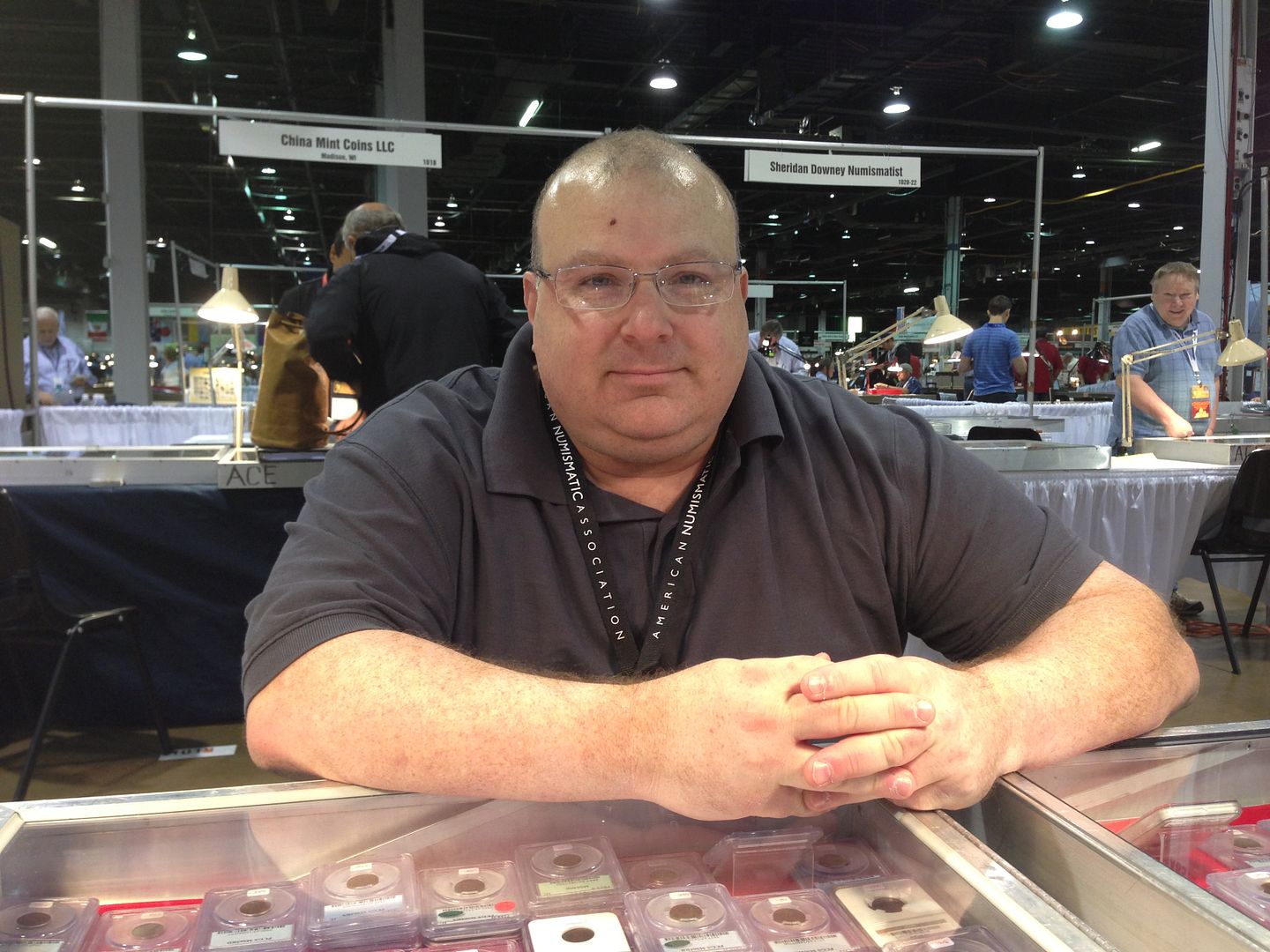 Carl Waltz/FUNwithMPLs – he wrote this Collector's Guide to Matte Proof Lincoln Cent Dies. Carl is one of the most enthusiastic people I know, not to mention extremely knowledgeable about MPL's. He ended up buying a couple of my Matte Proof Lincolns, including a beautiful scarce 1916. Carl also said he really liked my exhibit and was adamant in telling me I would do very well in the competition.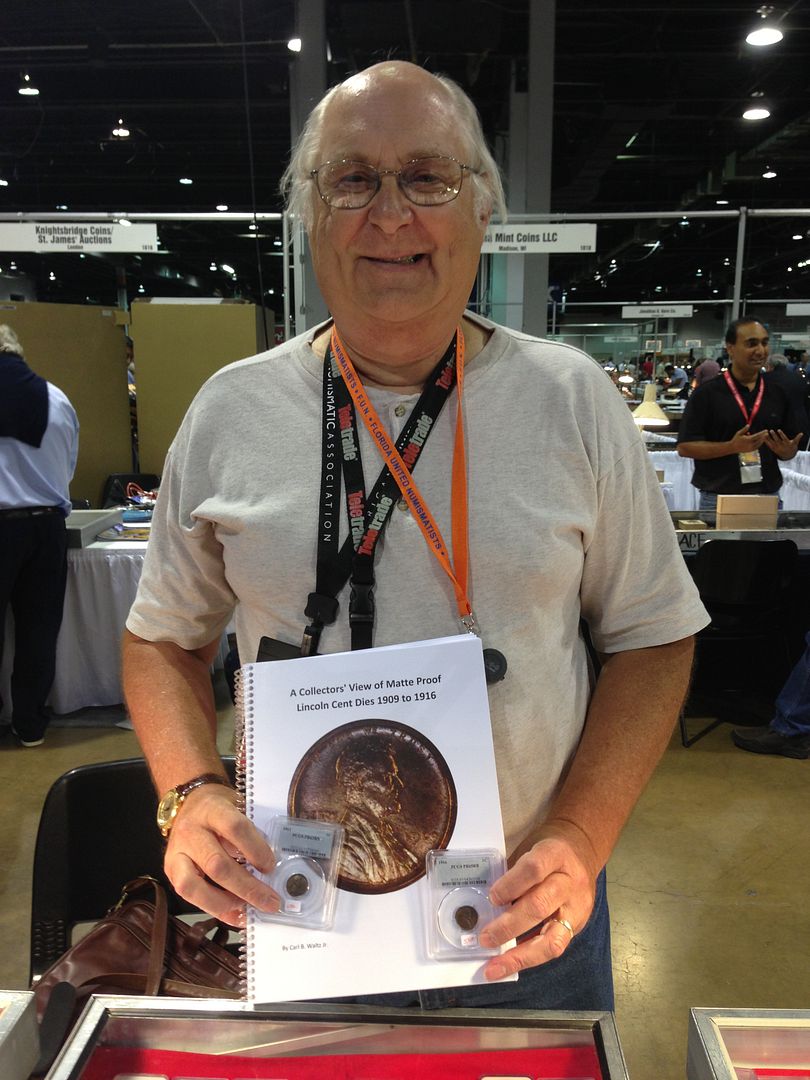 Jeff/JustMakesCents is another fun forum member I always enjoy seeing!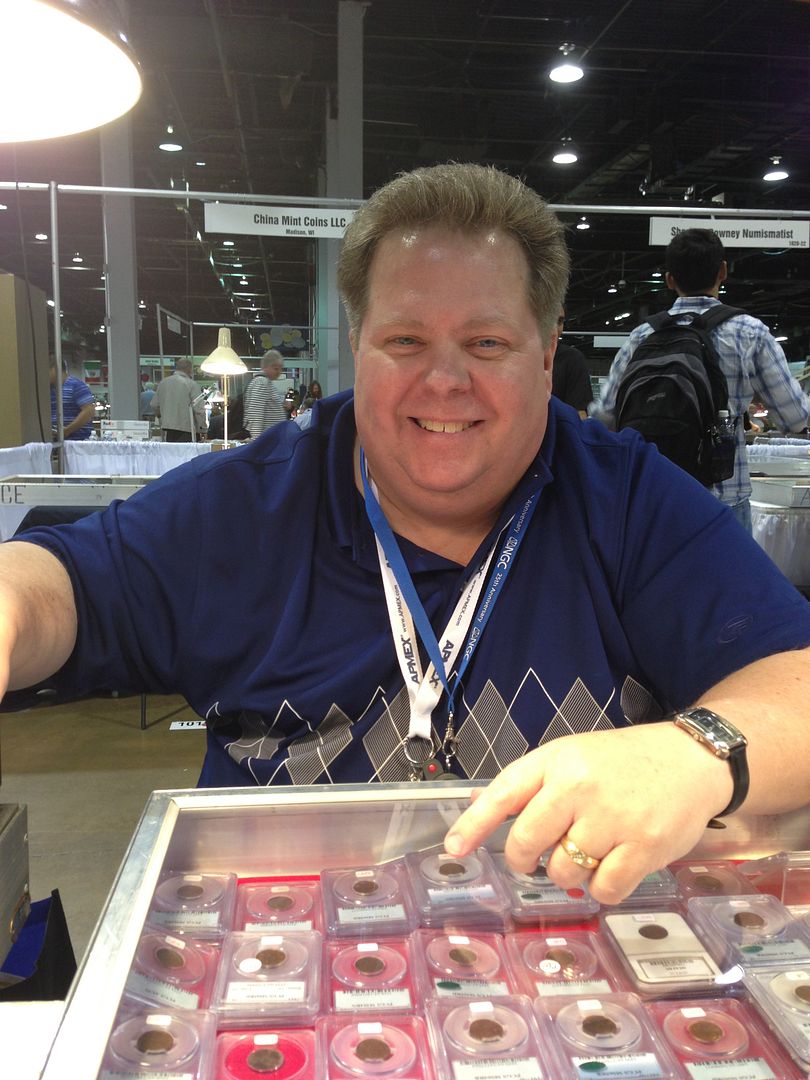 The big ANA Cubs event was scheduled for right after the show on Tuesday. They had reserved 5 buses to take everyone to the rooftop restaurant where the event was being held right across from Wrigley Field. I can tell you that they definitely needed each one of those buses! These people who are milling around right outside the convention center all had reservations to attend this obviously very popular event!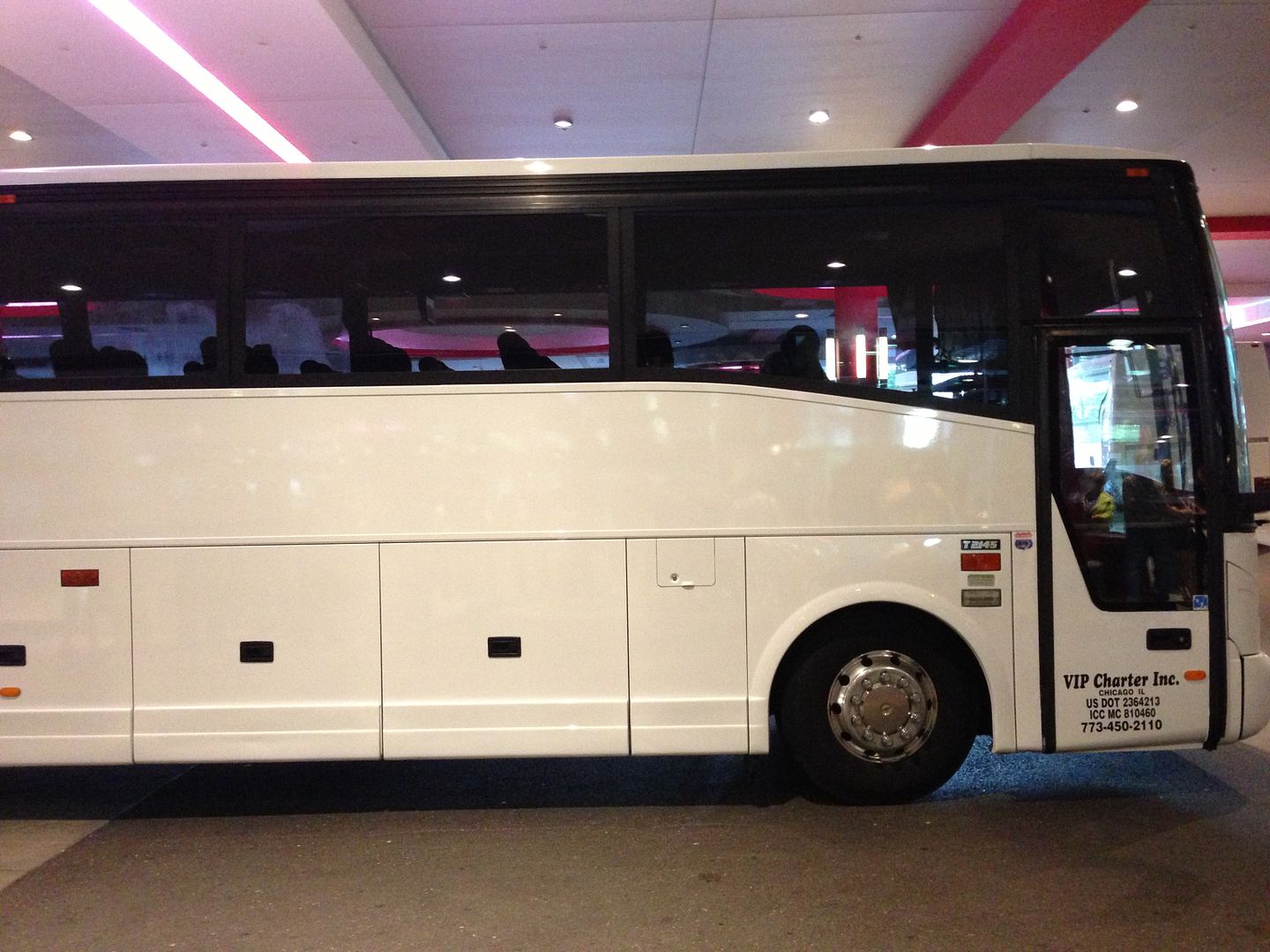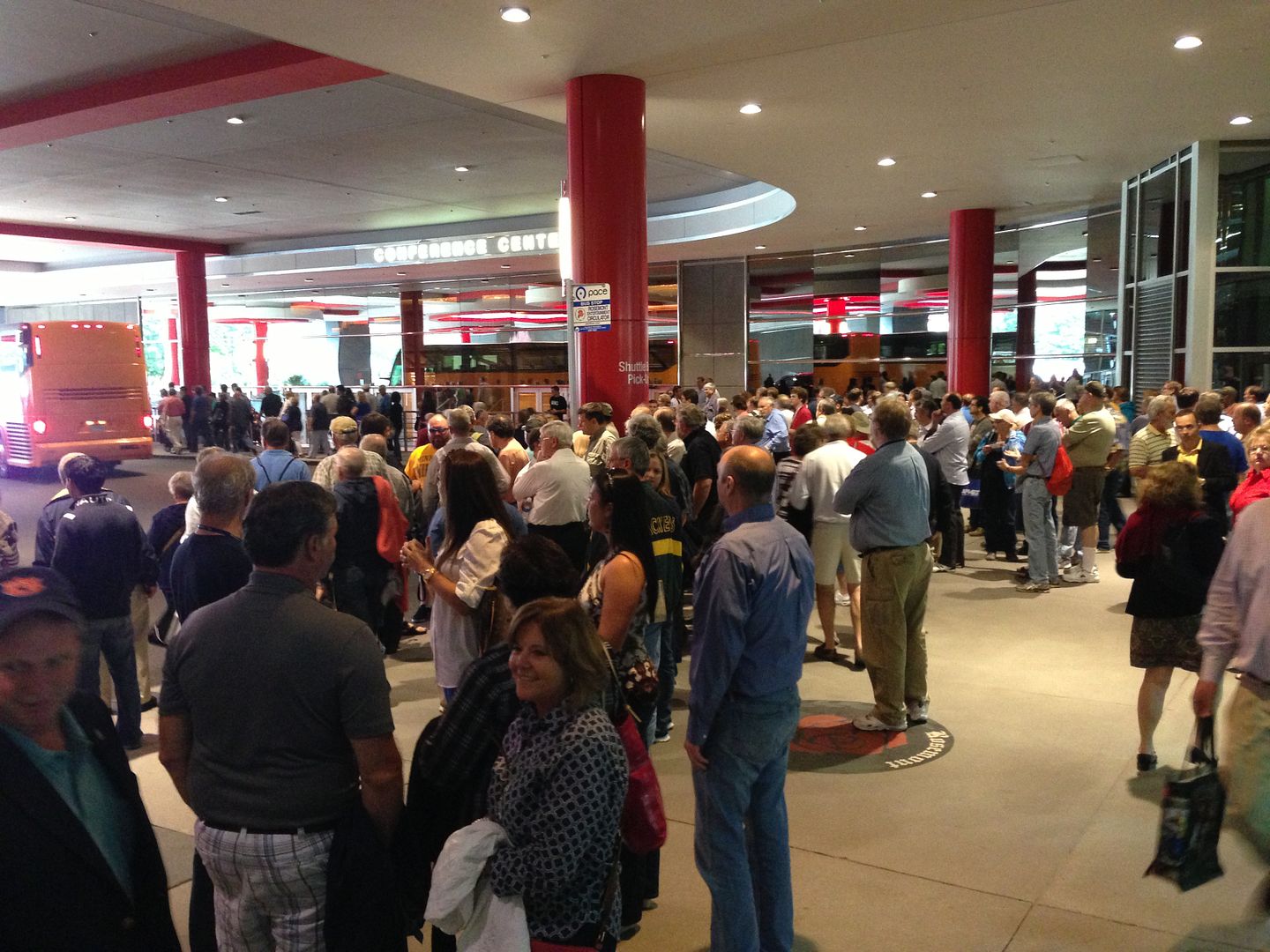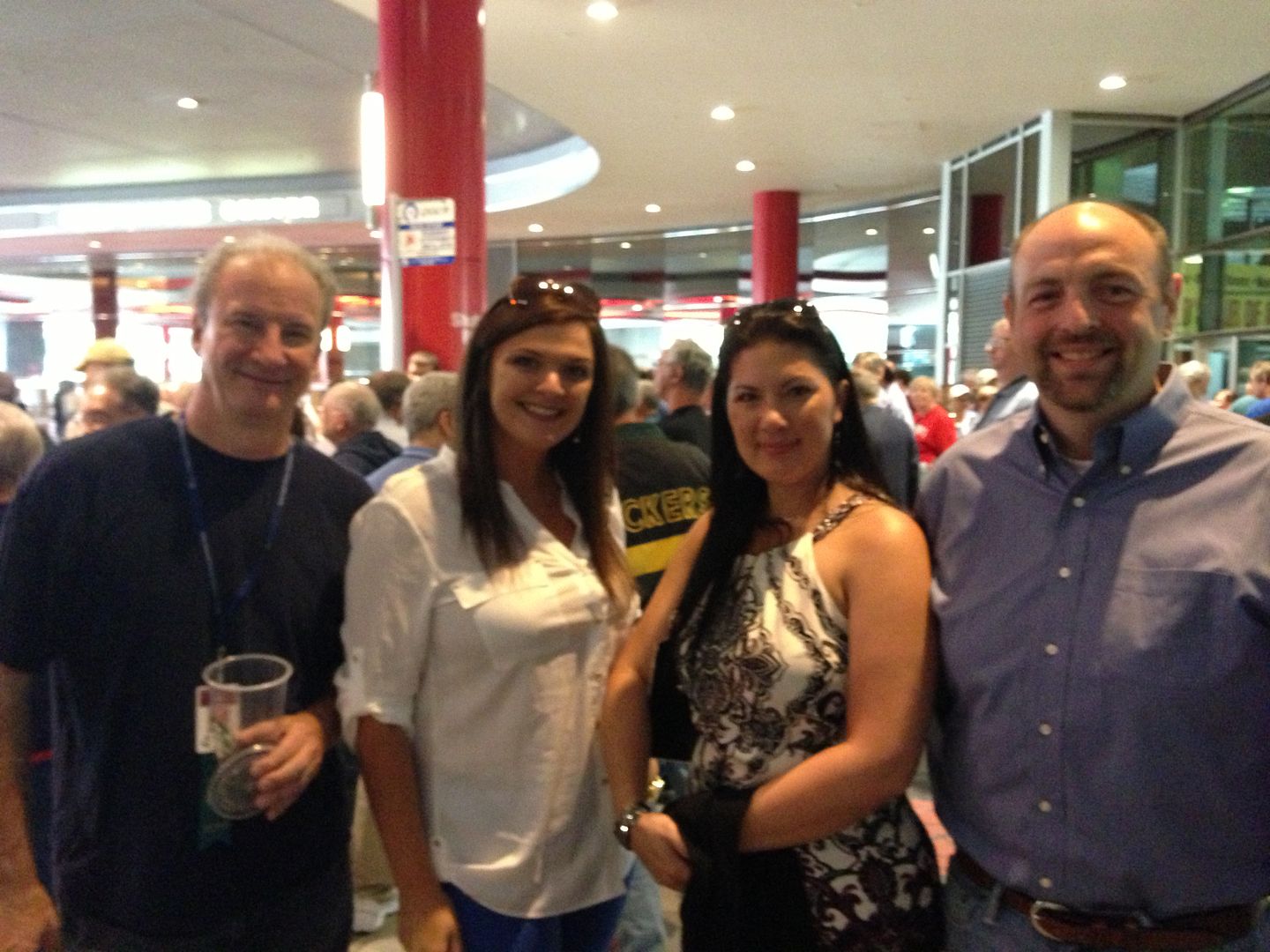 We were having a great time from the get go! (This photo was taken before our bus filled up.)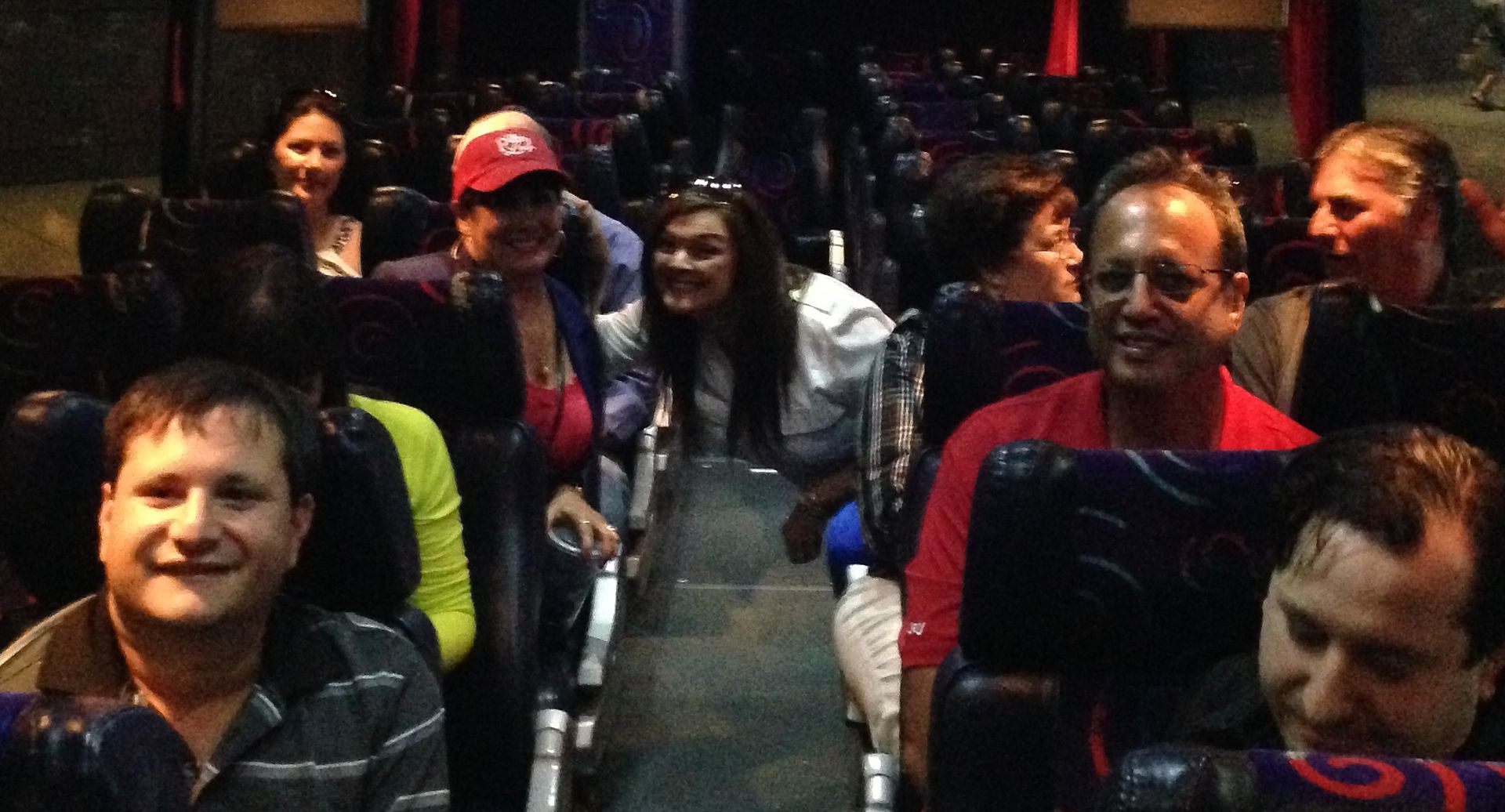 This is the building from where we watched the game.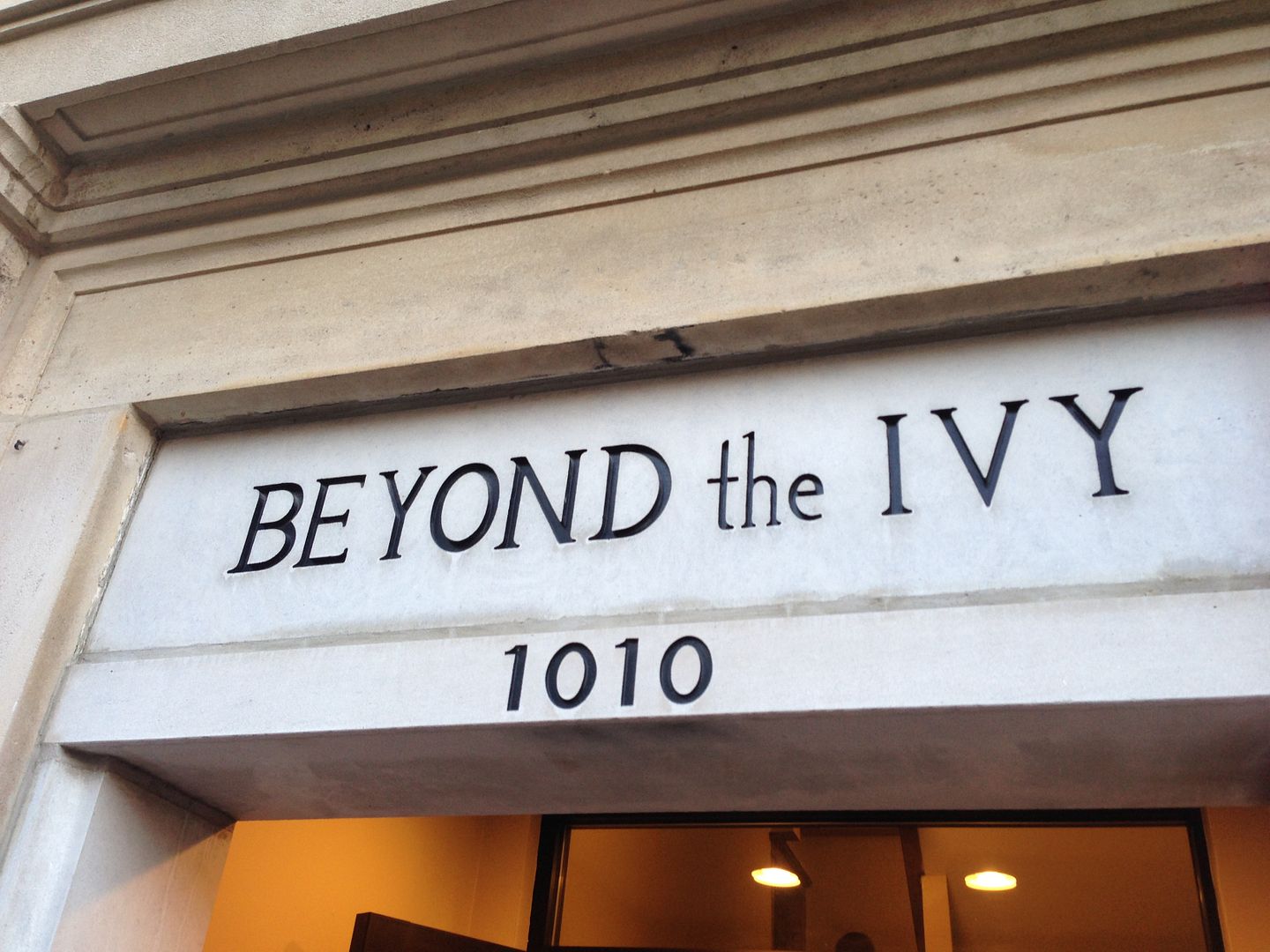 And that's the rooftop where the event was held.
The first bar area was up 3 flights of steps, then the food and another bar area was up one more flight, then there was yet one more level that held the bleacher seats to watch the game.
This is a view of Wrigley Field from the roof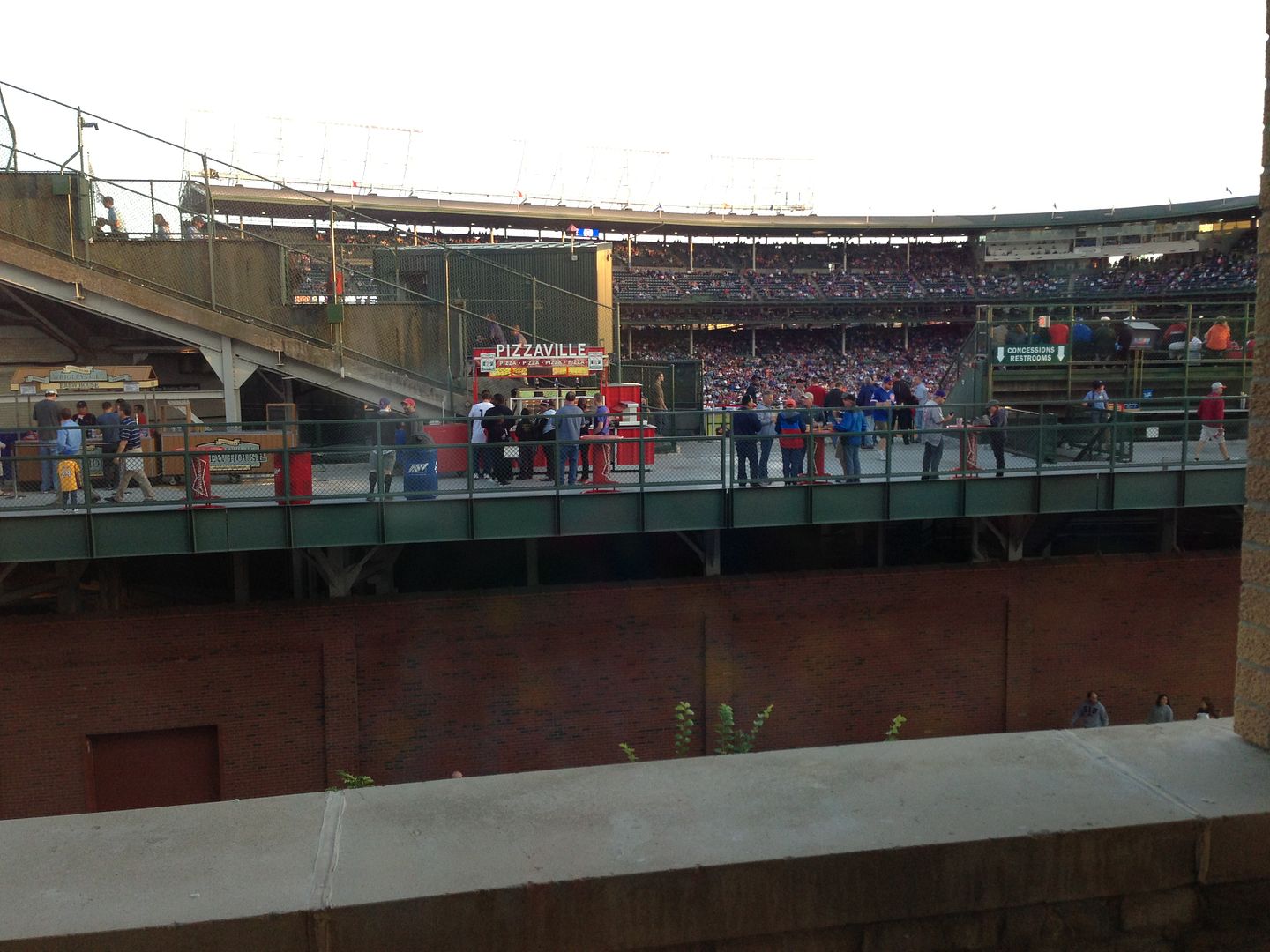 The food line! That's ANA's Rod Gillis waiving.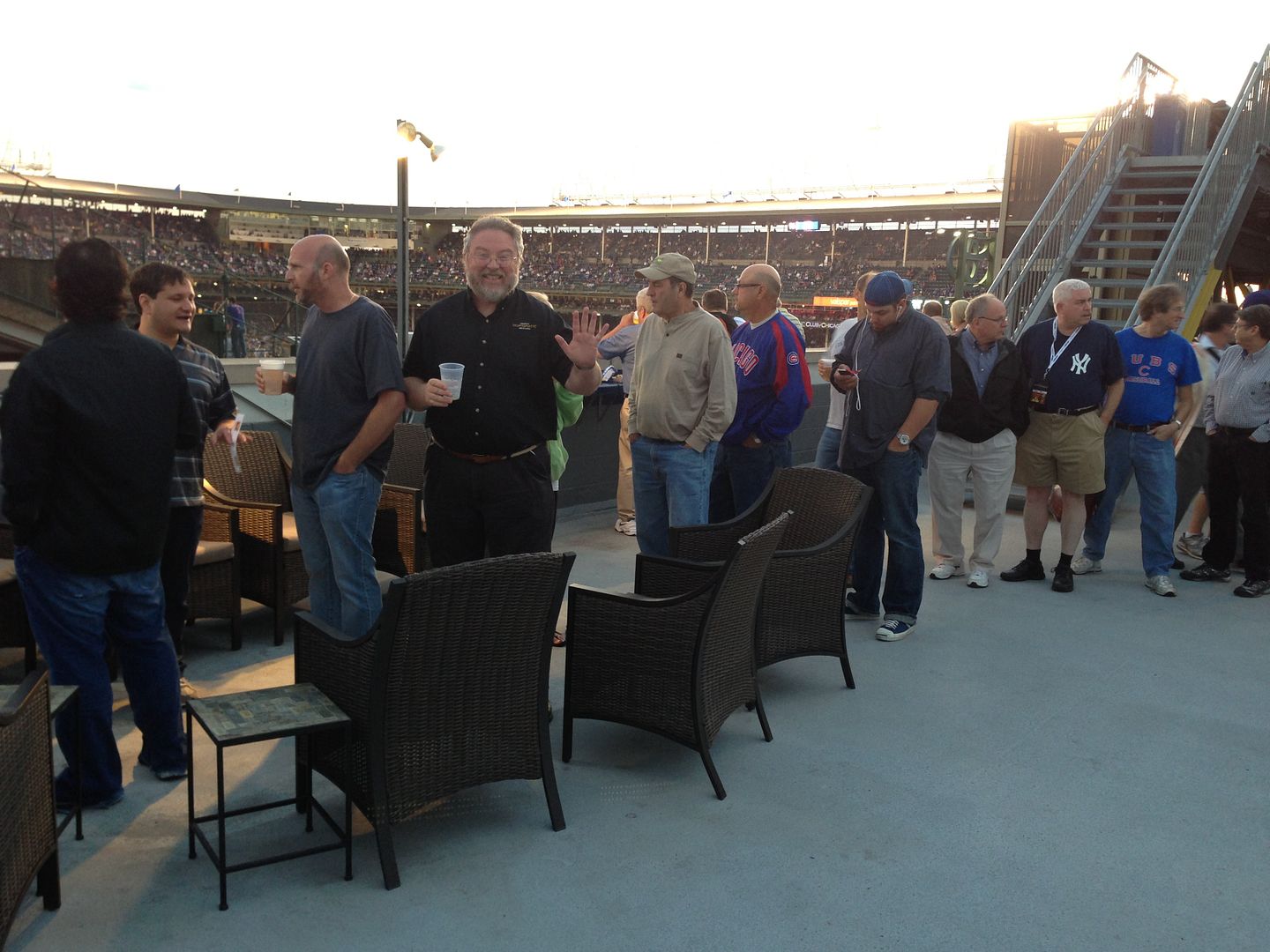 The guys behind the grills!
Lil ol me!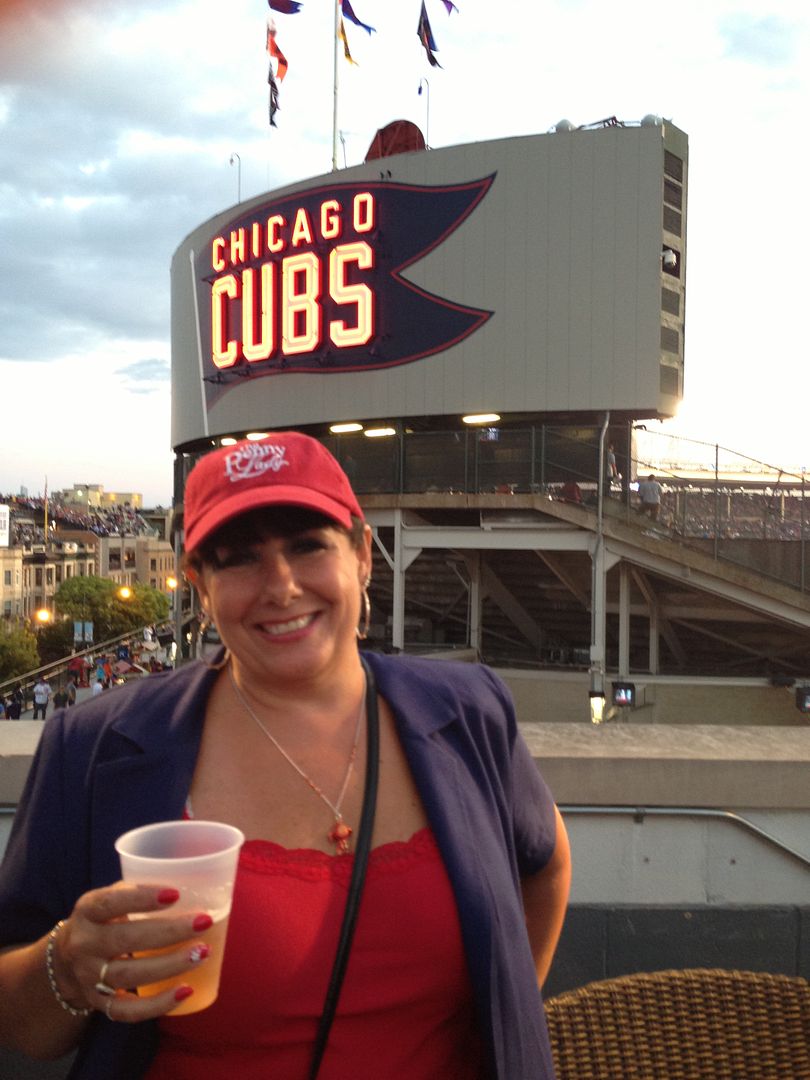 A view of the city from the roof
And of course -the game – taken from the bleacher rooftop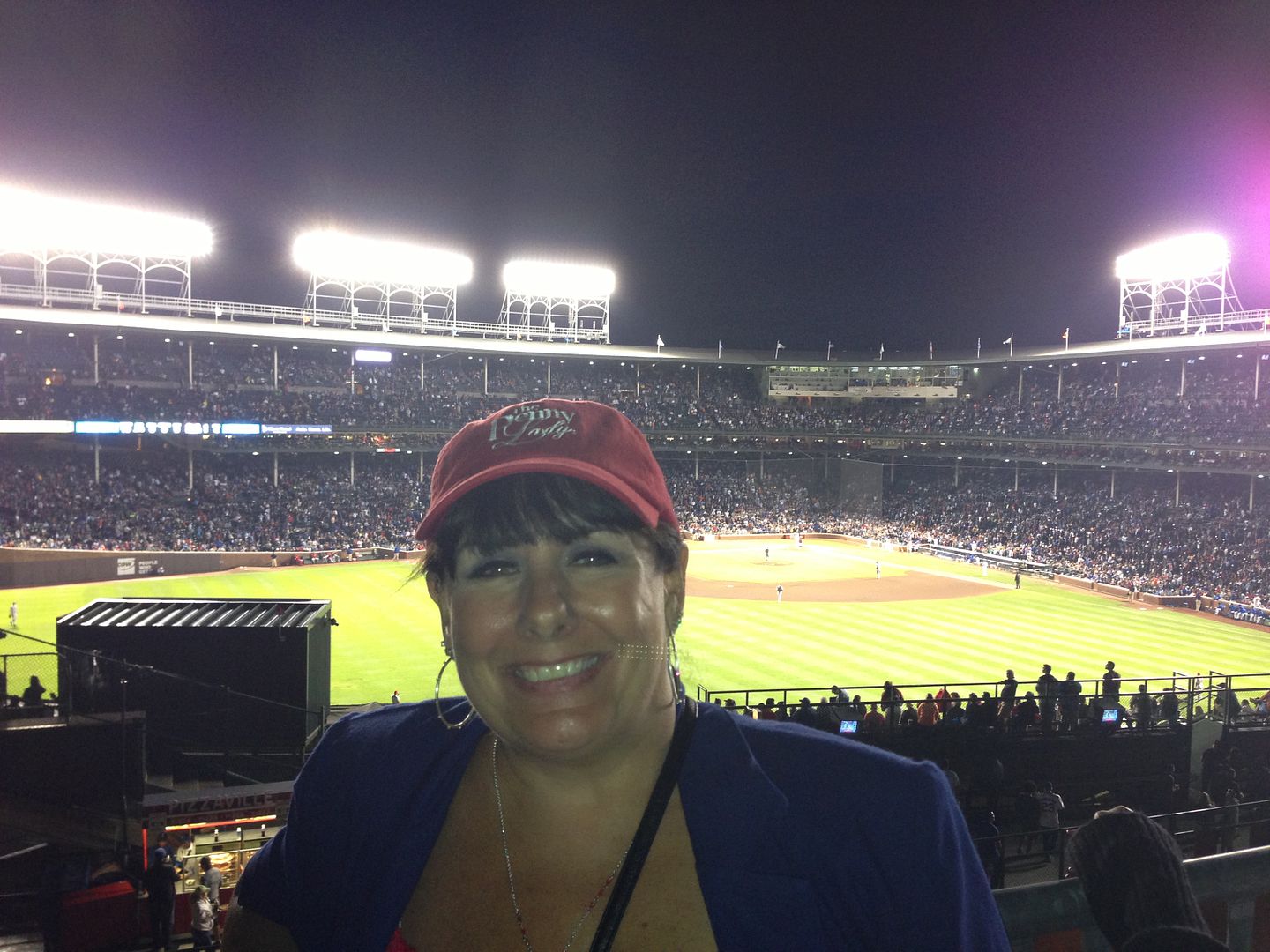 Neil (Rick Snow's FBI friend) and his wife Barbara, and Rick's Office Manager Karin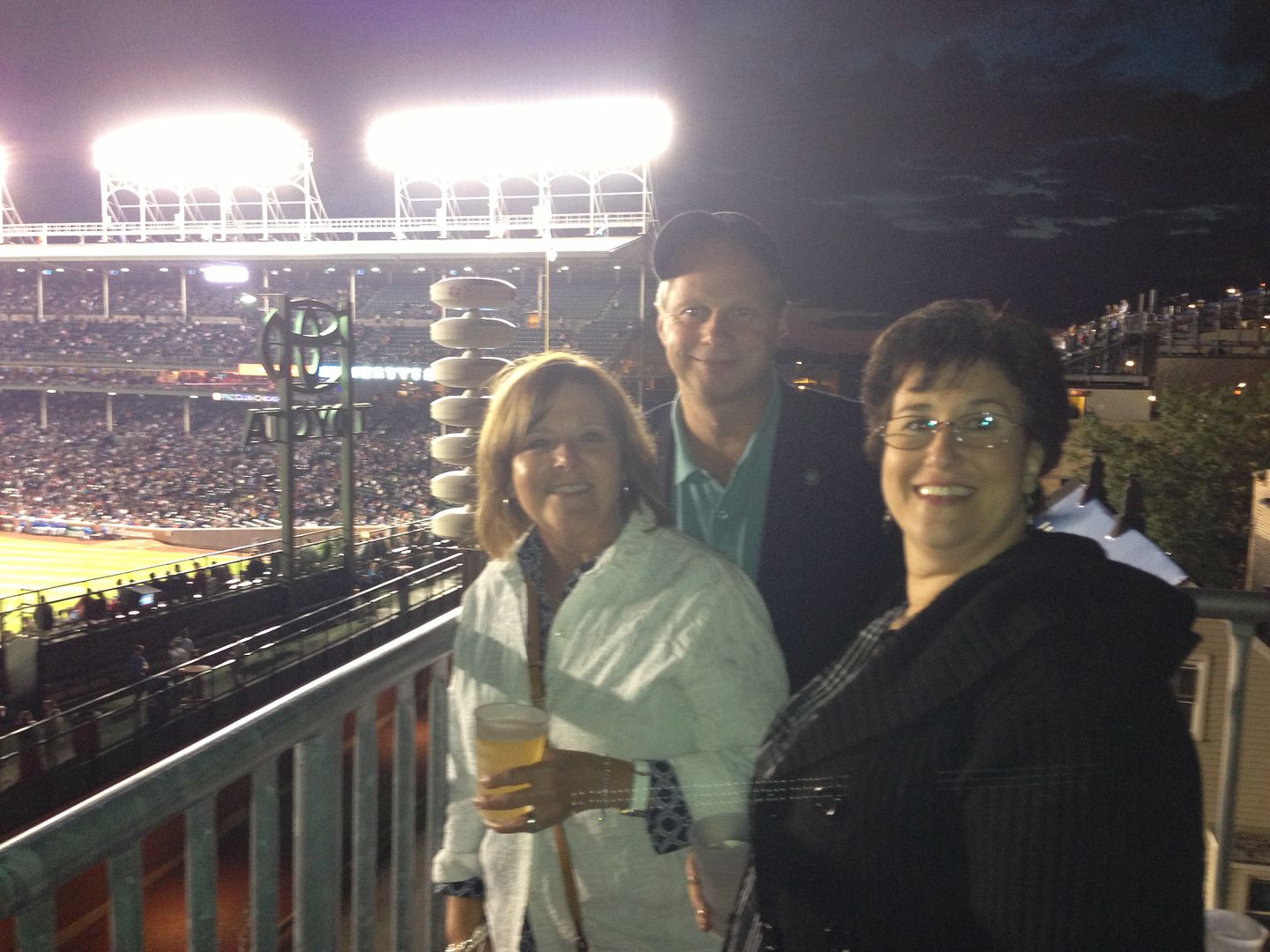 Looking down to the street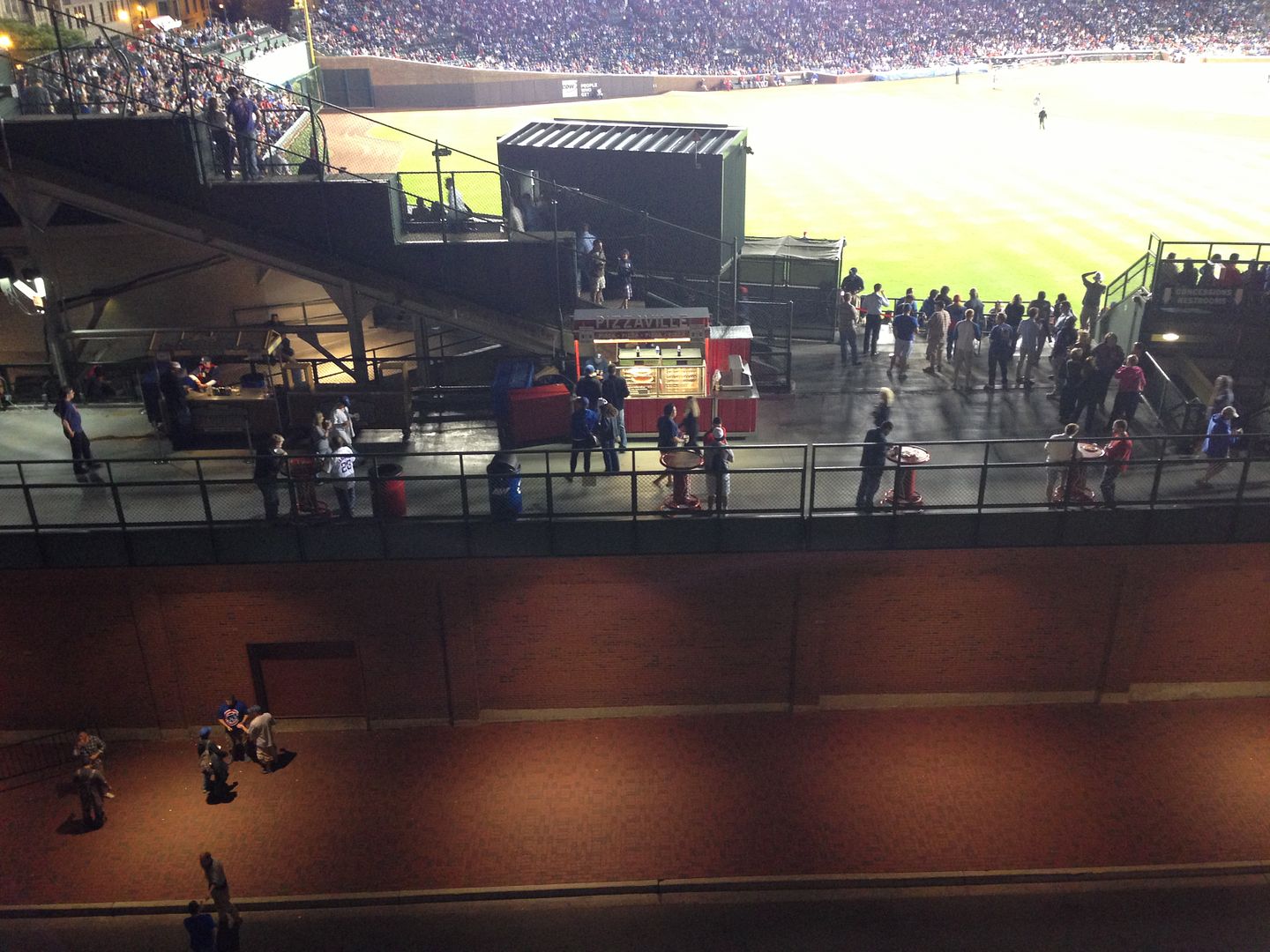 The bleacher folks!
My ANA buddy David Truesdell and me!
David and Rick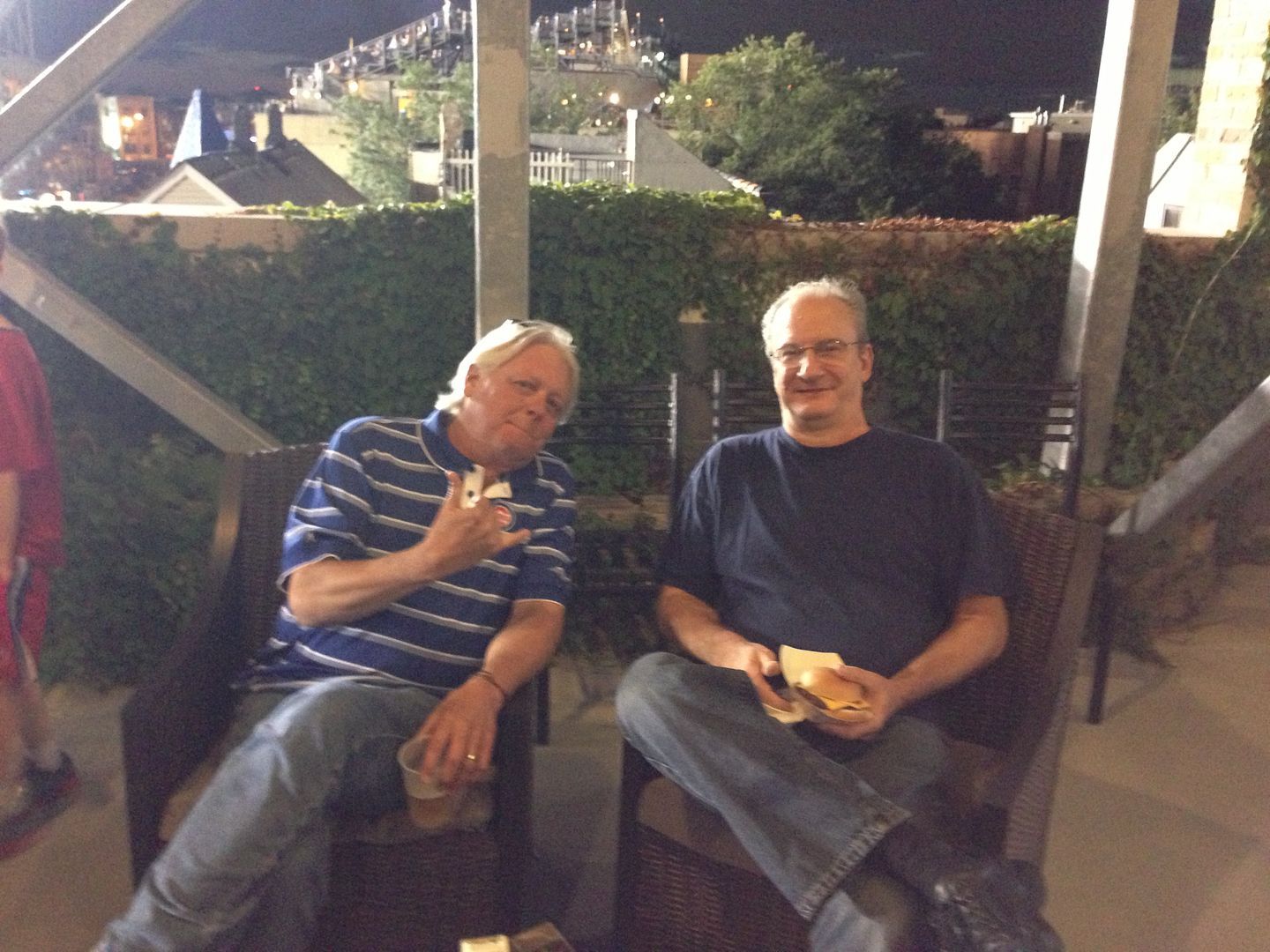 Me and NGC's David Lange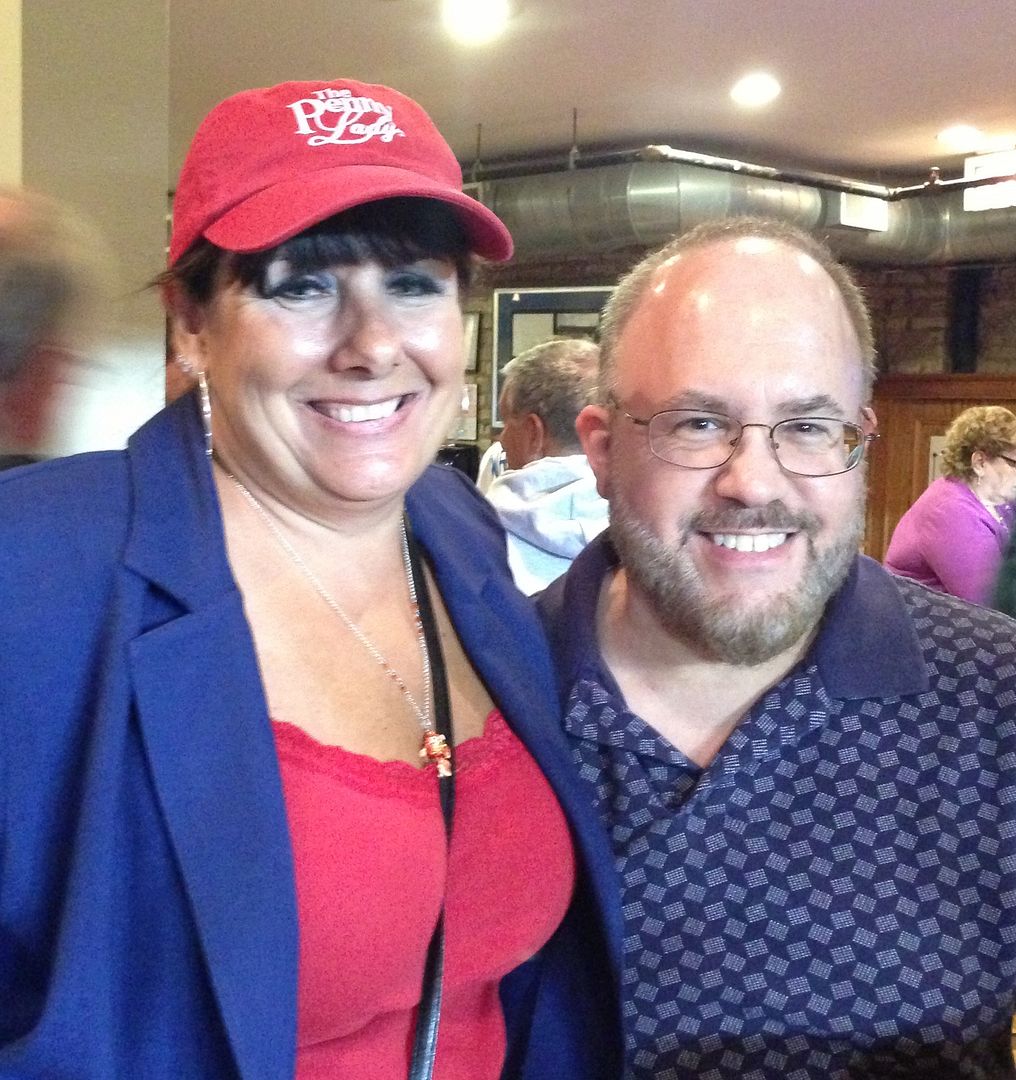 During the 7th inning, the NGC folks – David and Maggie and Melissa – and I decided to walk down the street to one of the local pubs – Bernie's – where we watched the game on a big screen tv.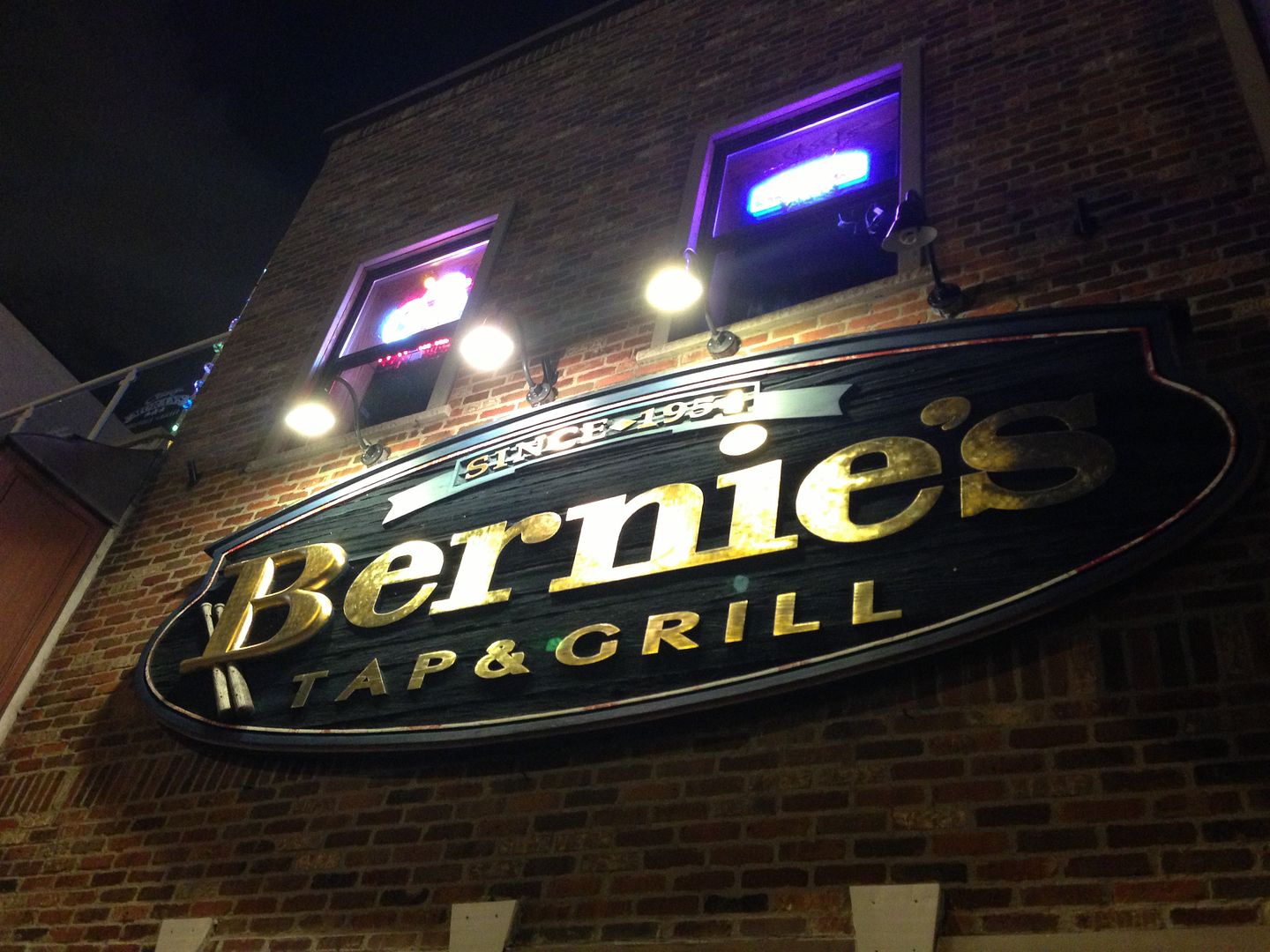 Those are Patron shots in the plastic cups!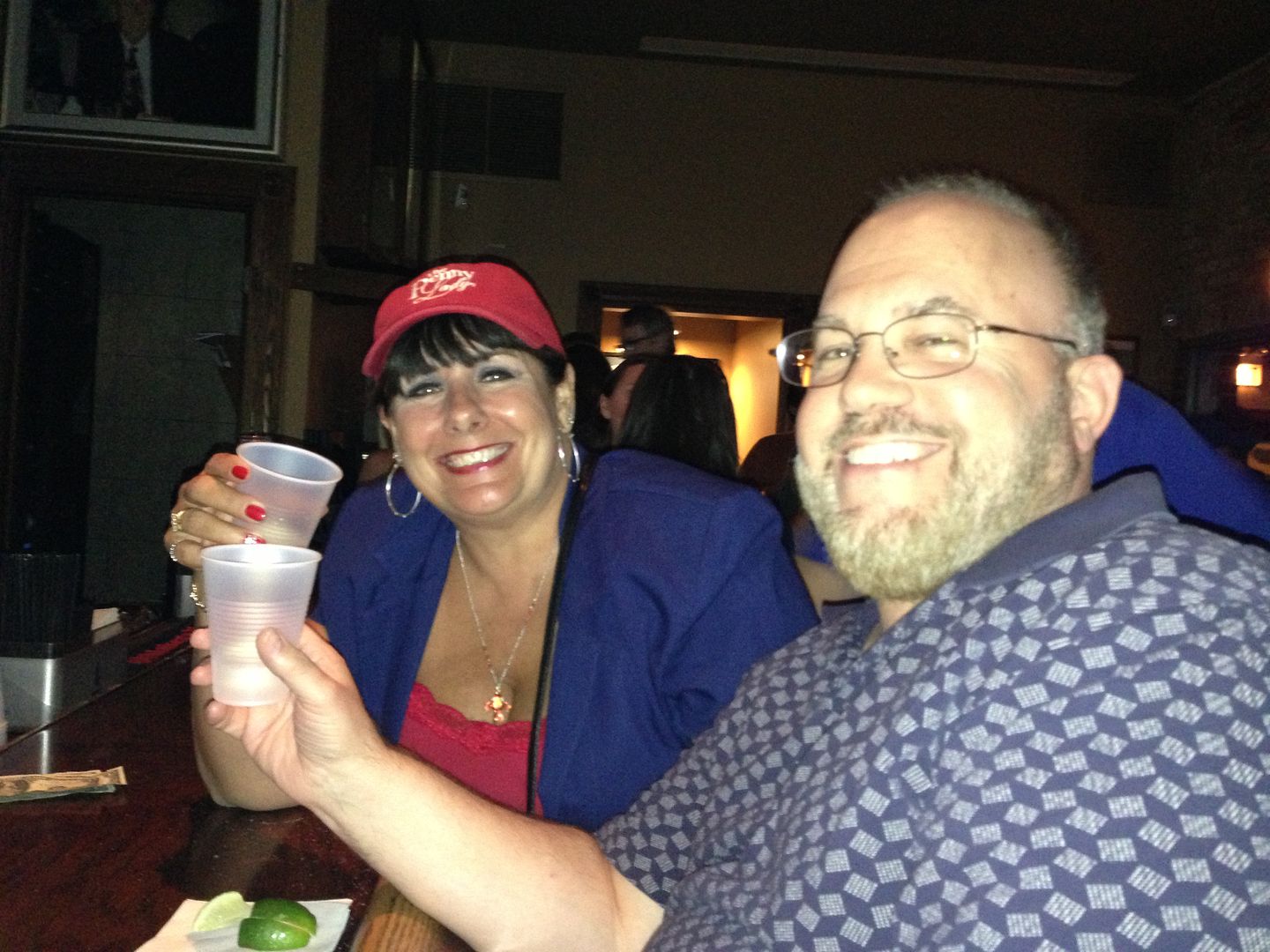 The game was tied all the way through the 11th inning, and our little group ended up being on the very last bus home!
On Wednesday, I walked around the exhibit area to see the other exhibits that were in my class, which was "Engraved Coins." This is the love token exhibit
This was another exhibit in my class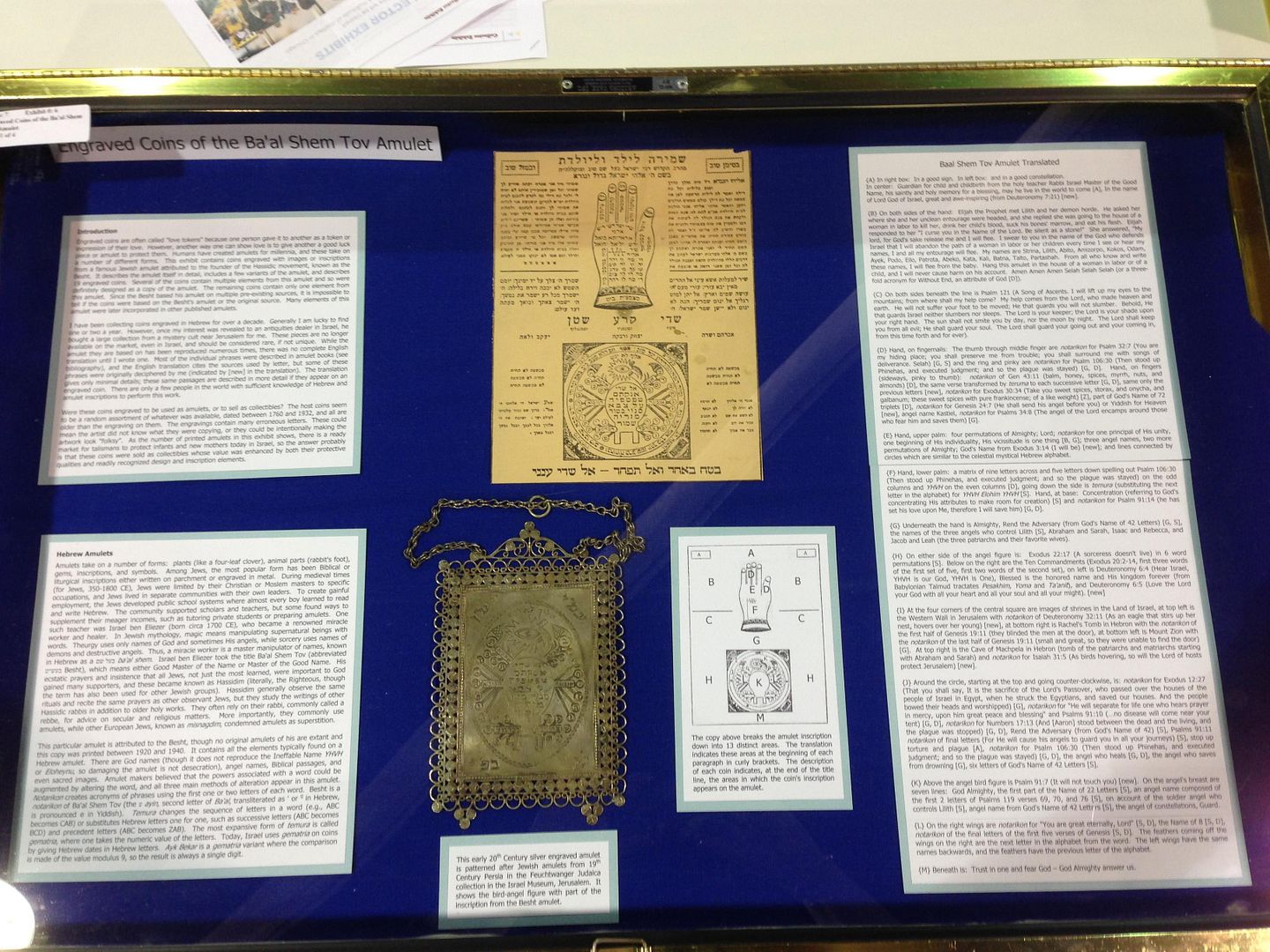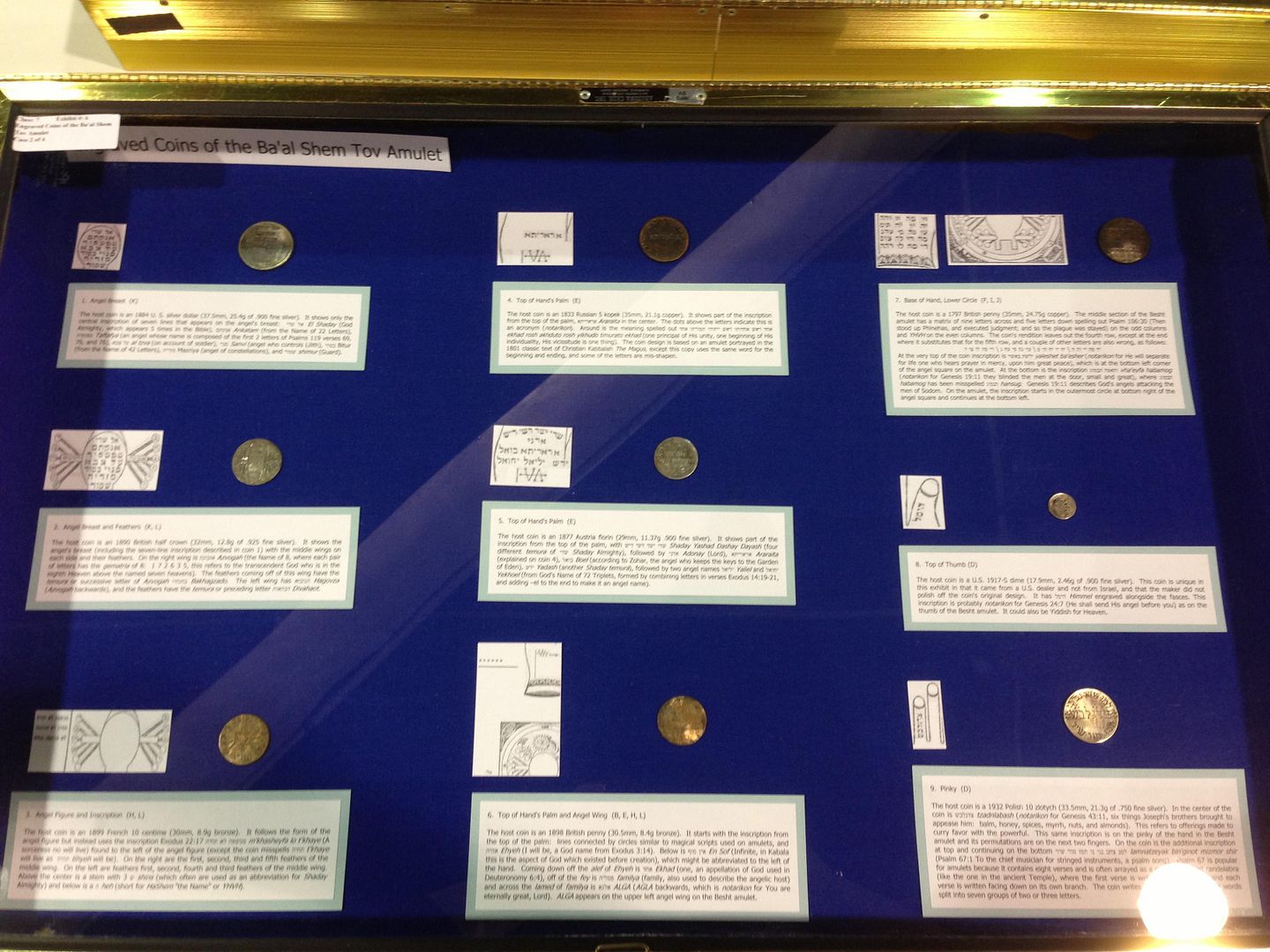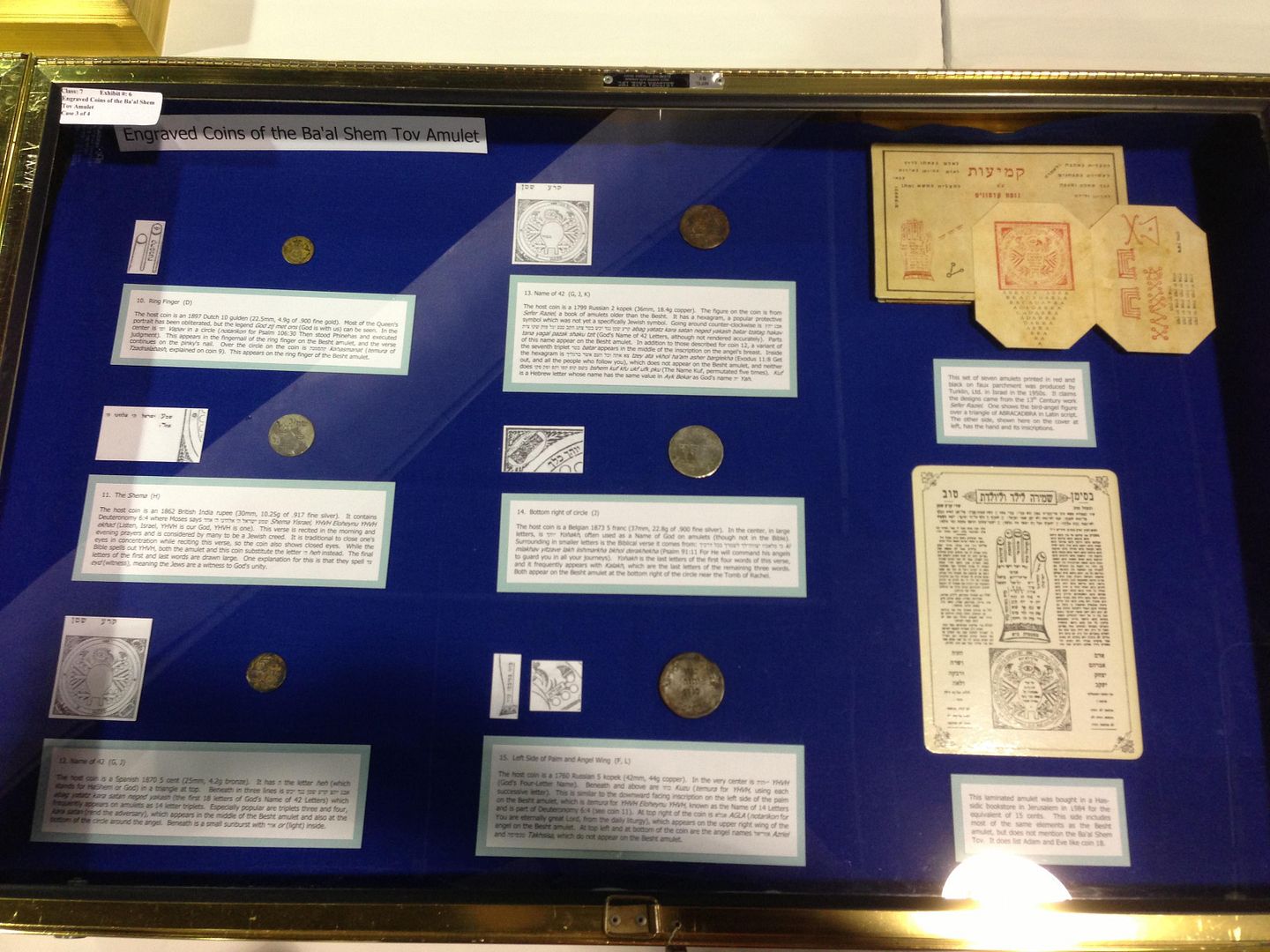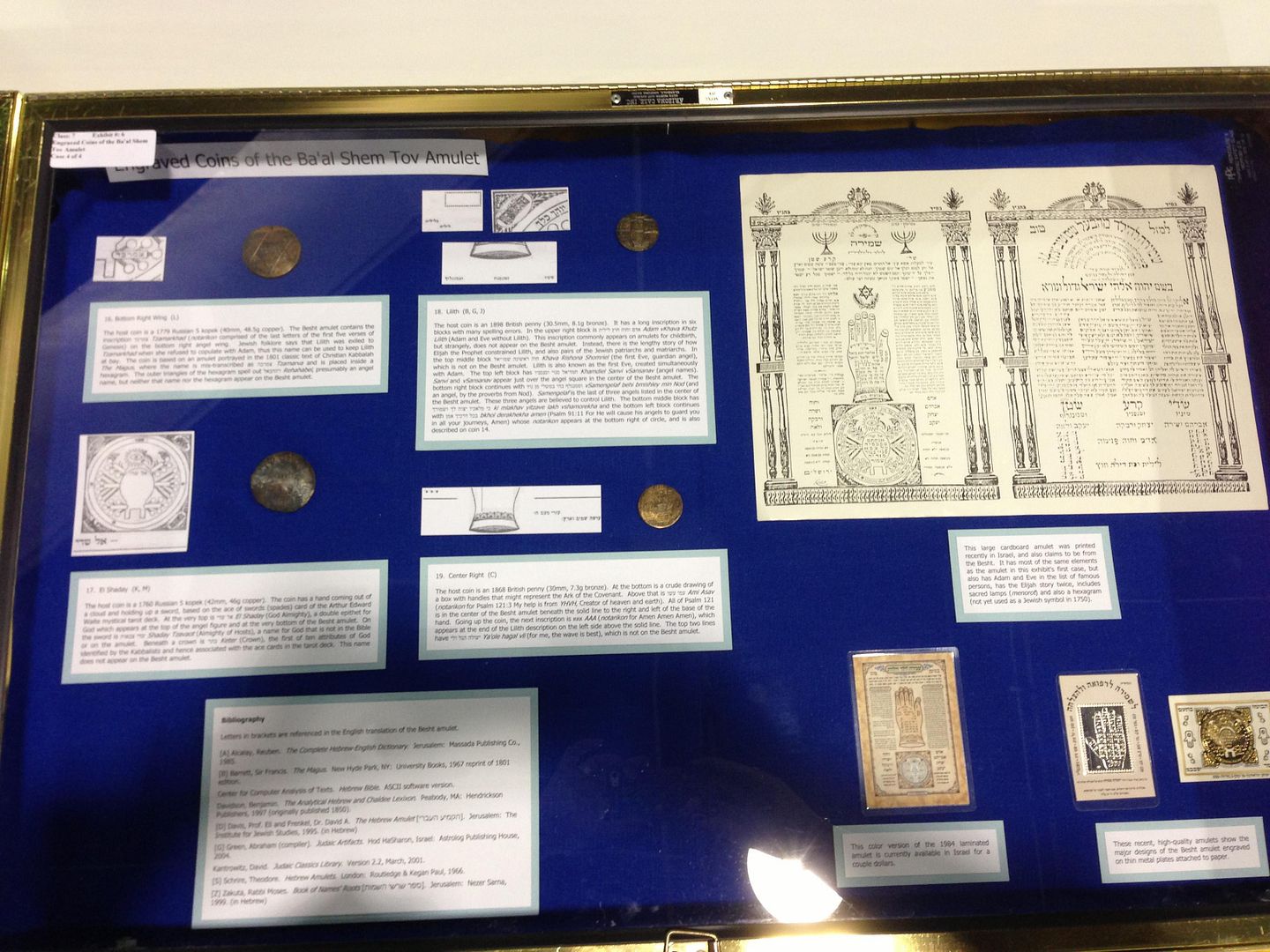 This shoeshine guy was set up right in between the exhibit area (which was next to the restrooms) and the snack bar. Every time I went back to that area, he seemed to be having a good time, dancing, singing to the music he was playing, always happy!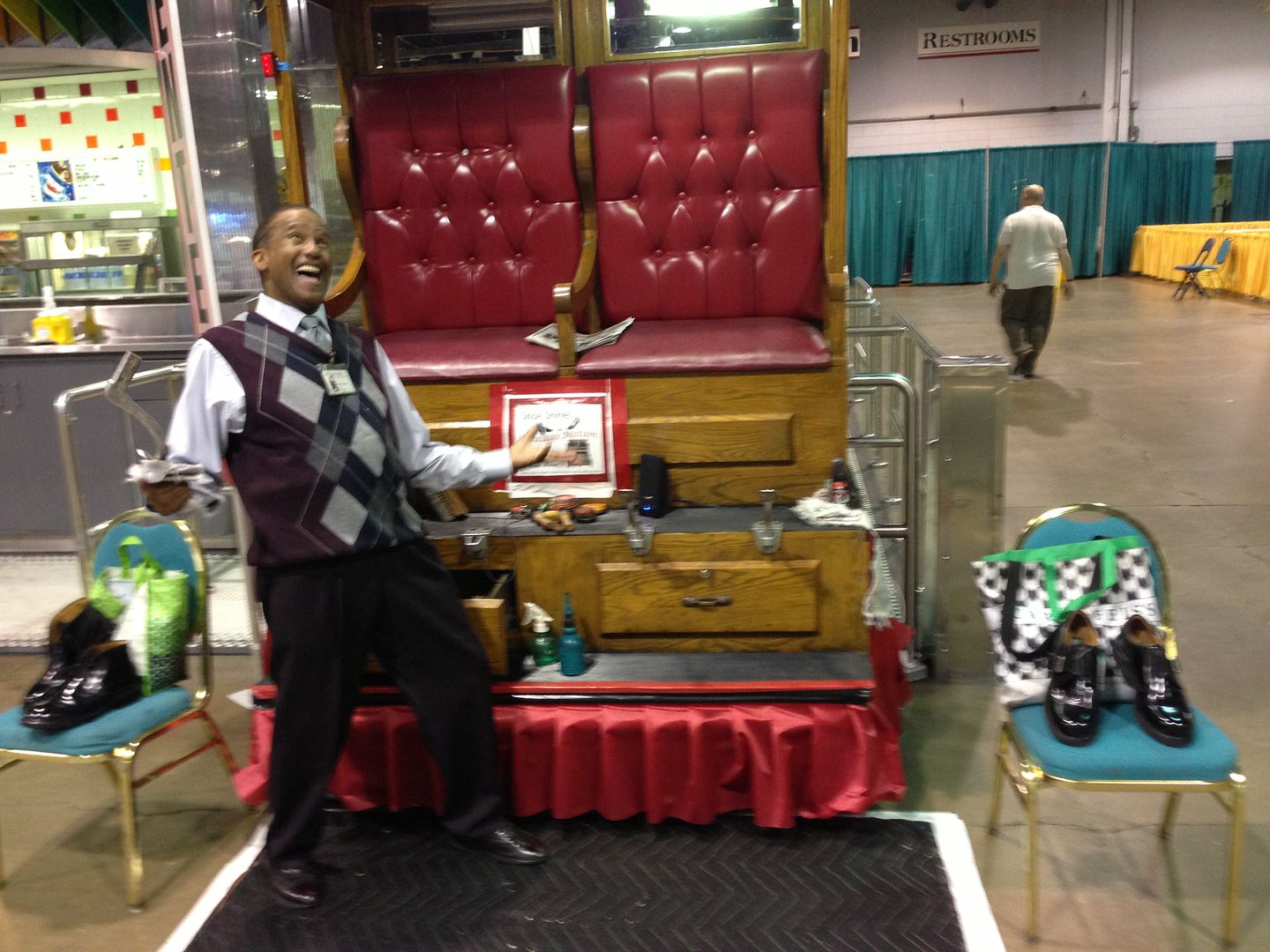 On my way back to my table, I came across these amazing medals in a dealer's case. I had never seen such large Lincoln medals and plaques before!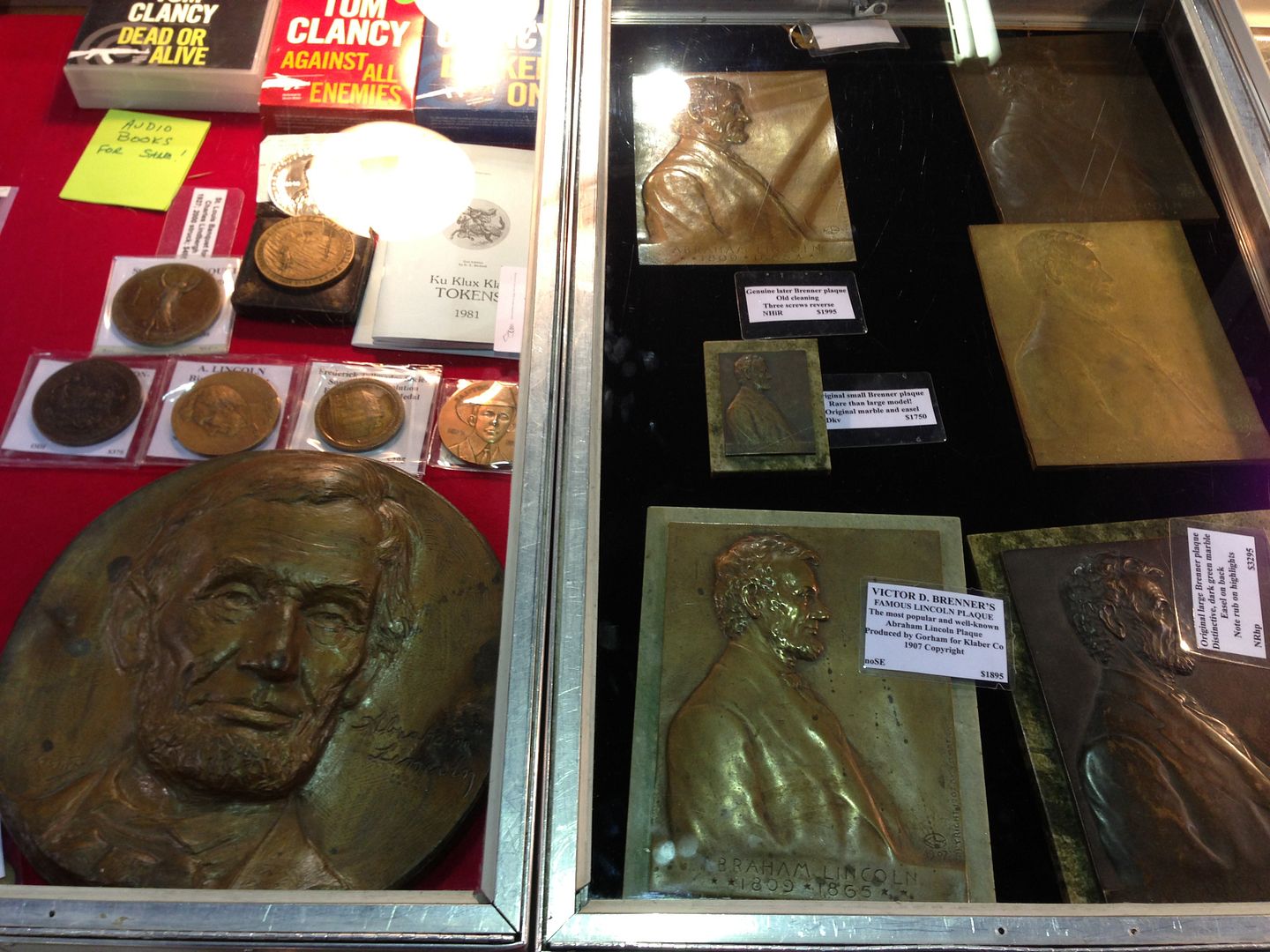 I also saw this humongous bar of gold at the Apmex table. It was in a case with a hole in it so you could try and pick it up.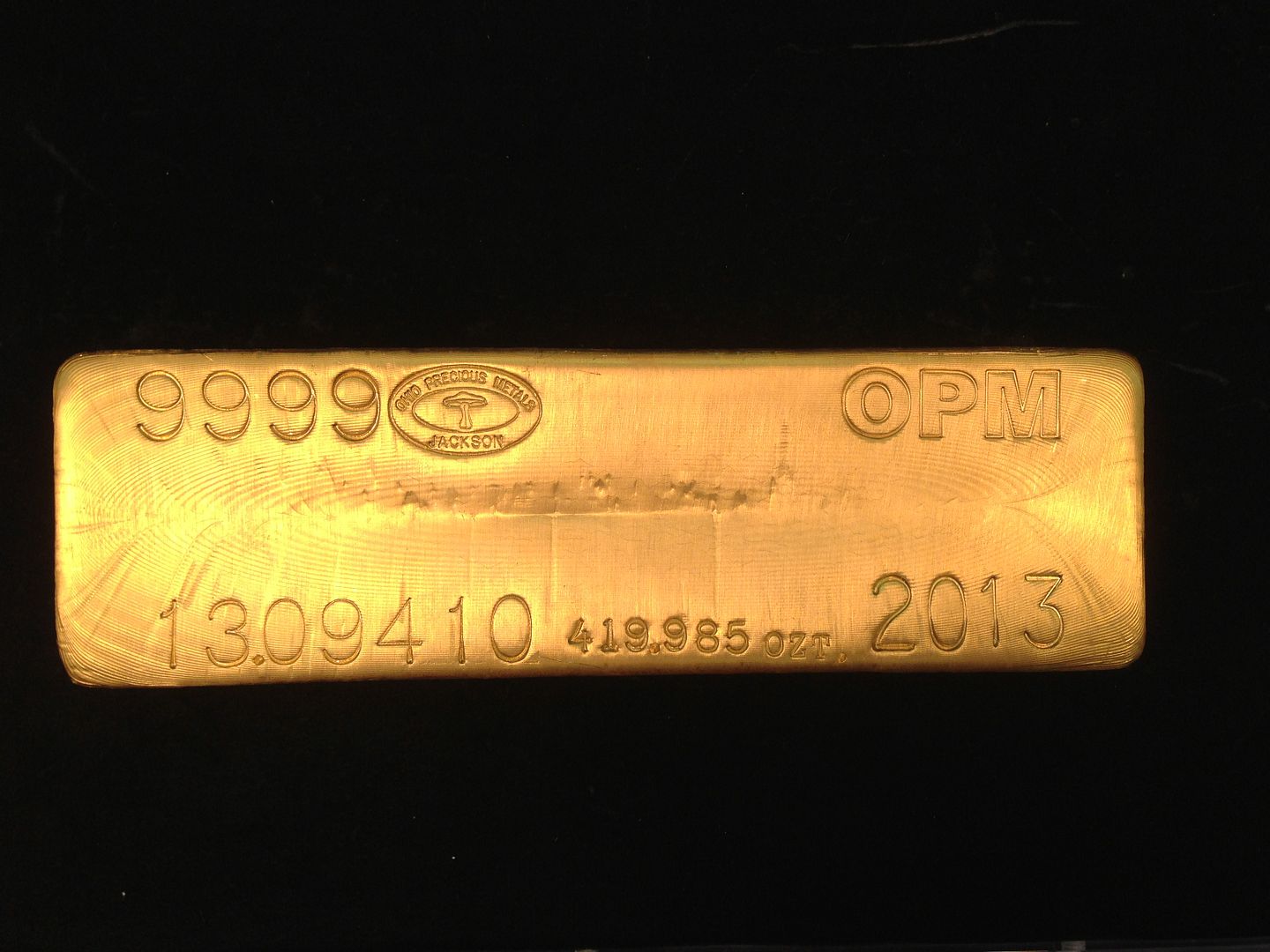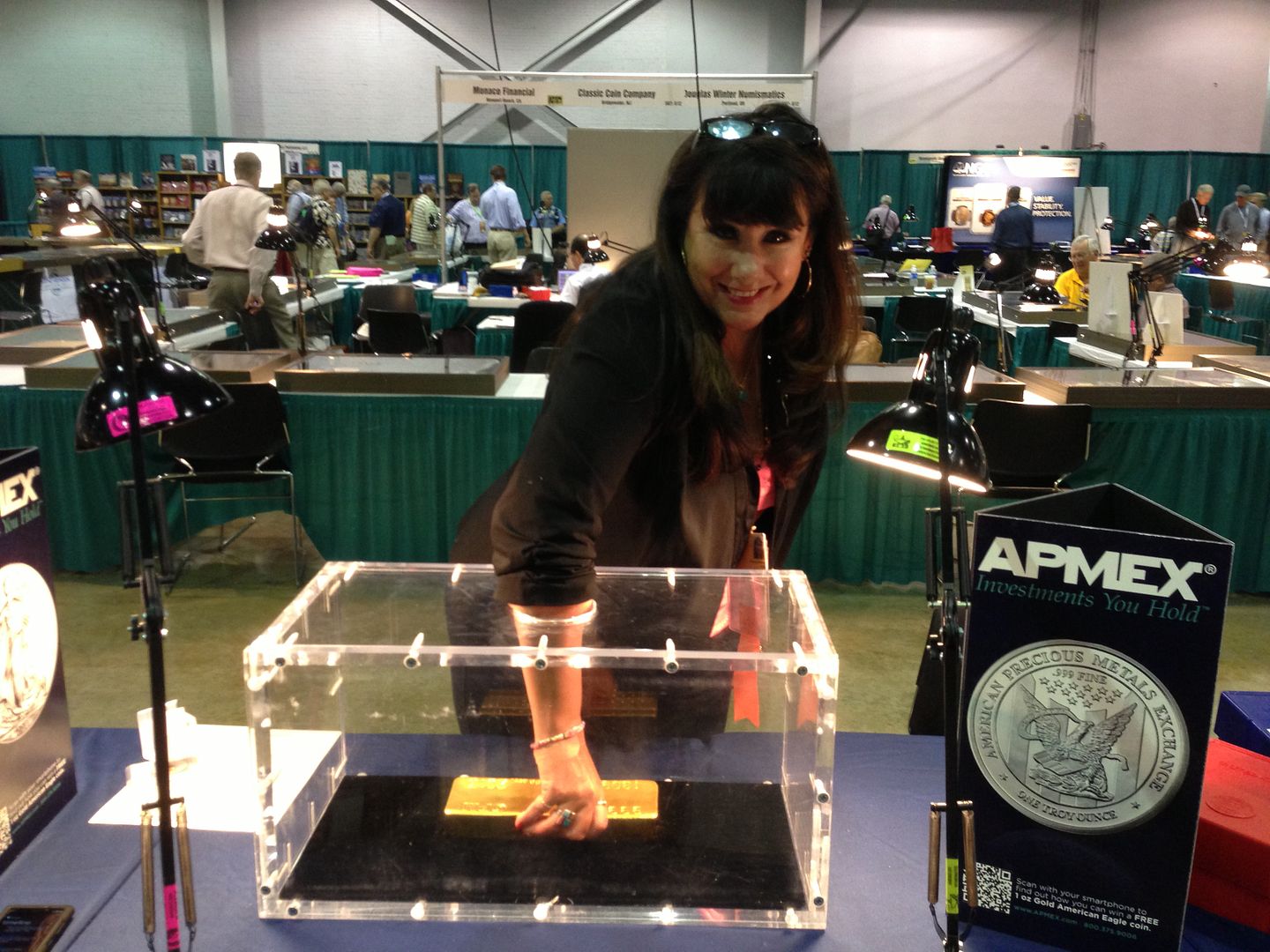 I also stopped by John Kraljevich's table since he always has some interesting items right up my alley. And he did not disappoint me! There was a small yellow envelope with my name on it behind his table with these three goodies waiting for me!
This is a scarce 1890's British marriage token.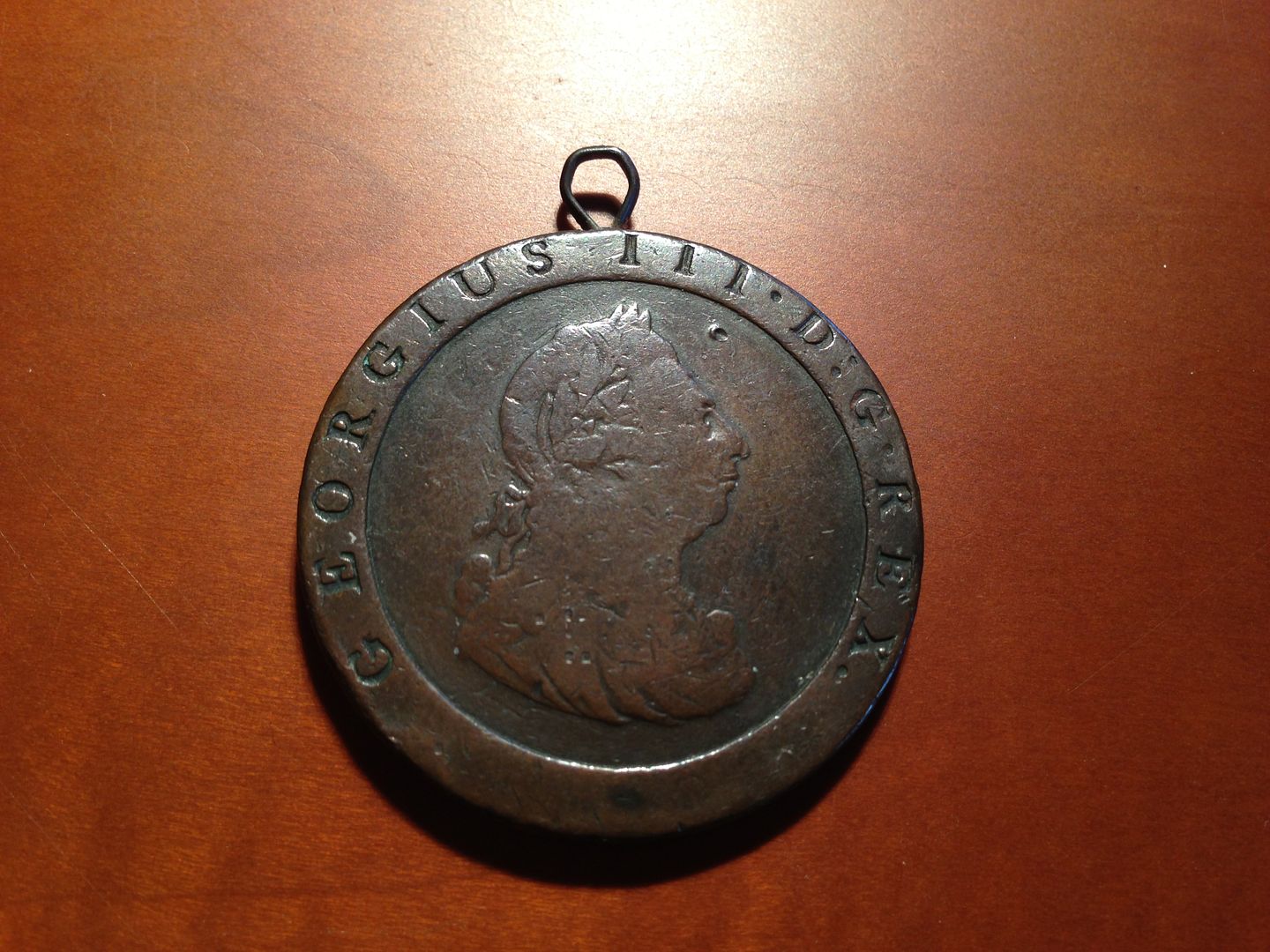 A very nice Admiral Byrd capped cent
And a pretty Henry Ford cent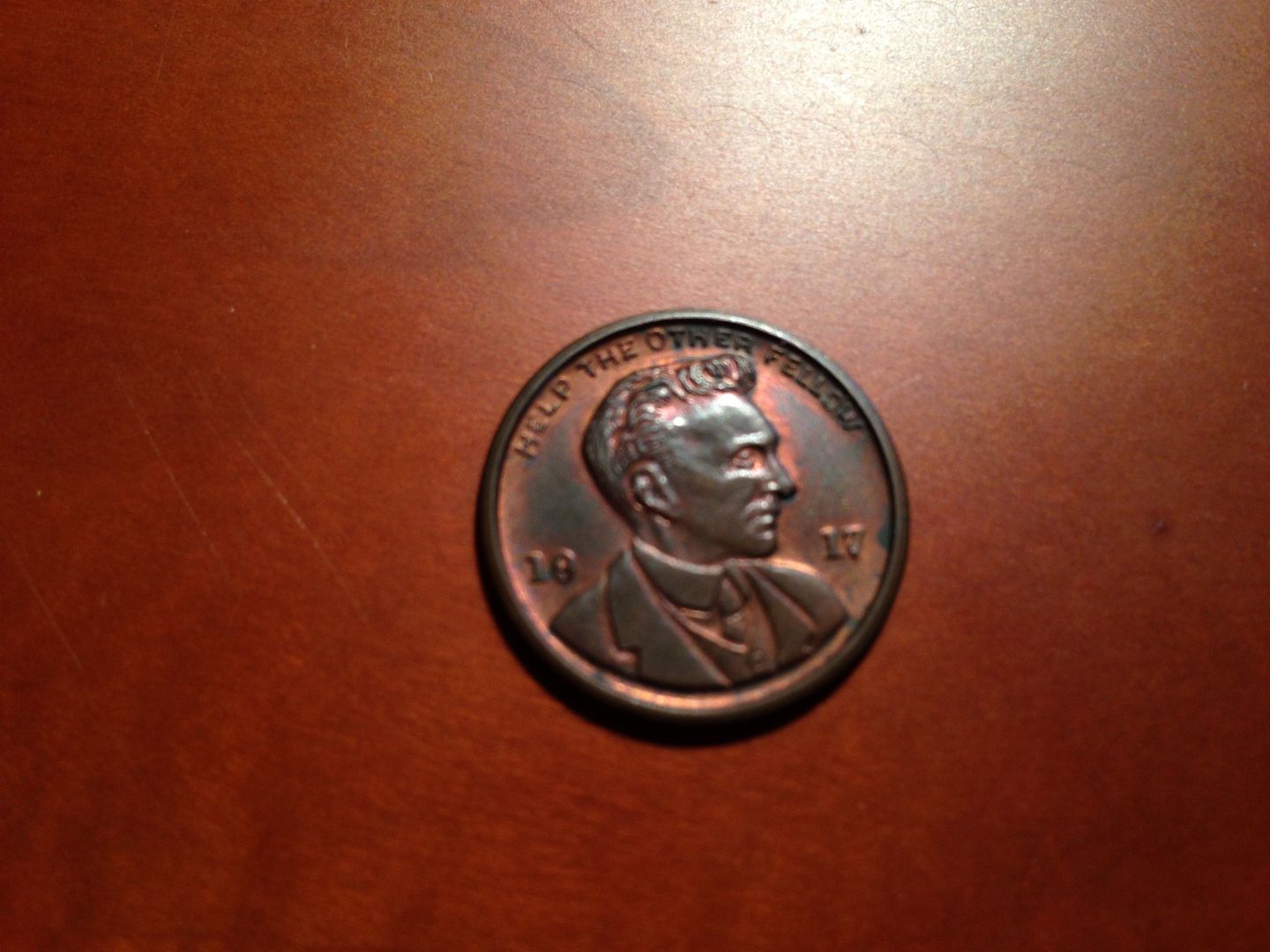 These just might go very nicely in my Penny Potpourri exhibit!
Ron/Liberty Coins brought this bottle of Cult wine which we had with dinner that night!
Mel/SaltyDog stopped by my table and bought this pretty Indian cent from me.
Winston/Stone is an amazing young man! I love when he stops by and lets me know what he's been up to.
Doug/CoinJester is another fun person to chat with!
An adorable young numismatist working on the Treasure Trivia hunt!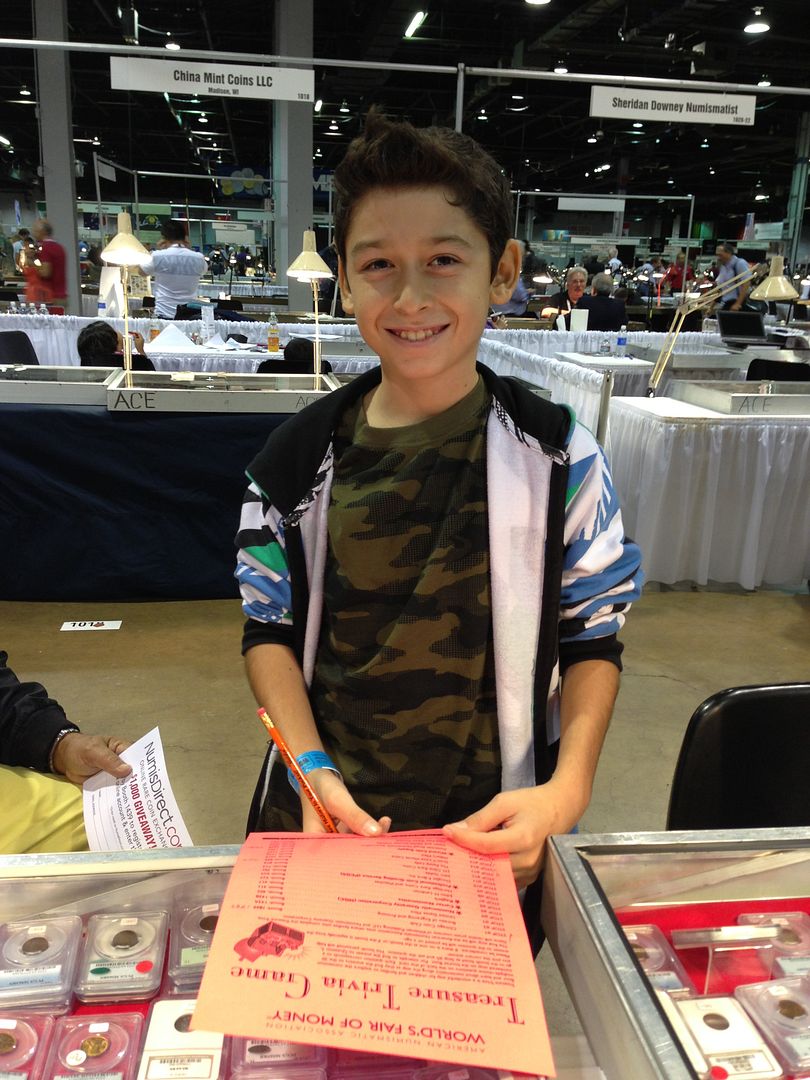 My booth mates – Todd Pollock and his dad Roger – along with Tony (far left) from Northern Nevada Coins and Glenn/PonyExpress (far right) from Holsonbake Coins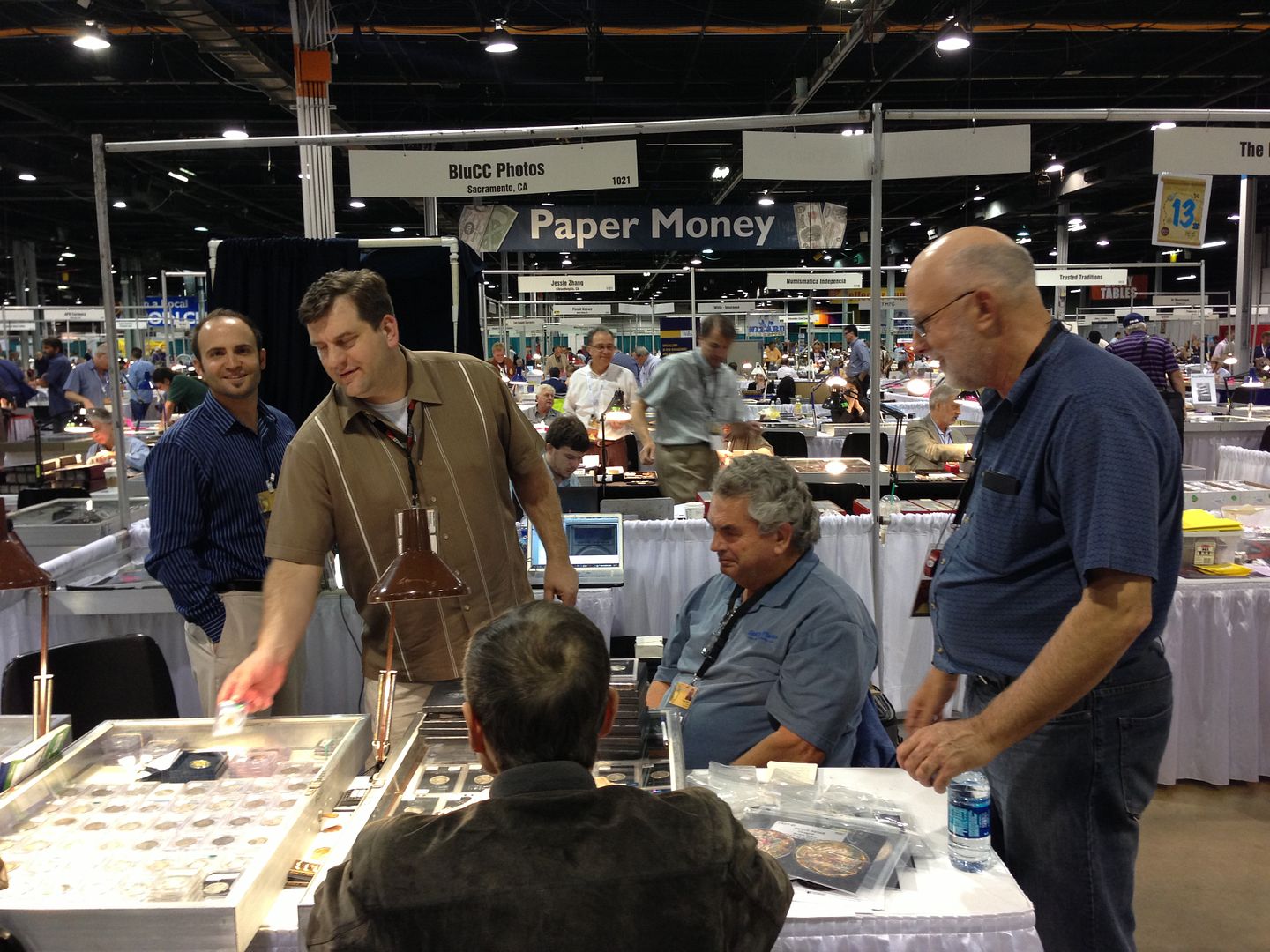 Frank/Treashunt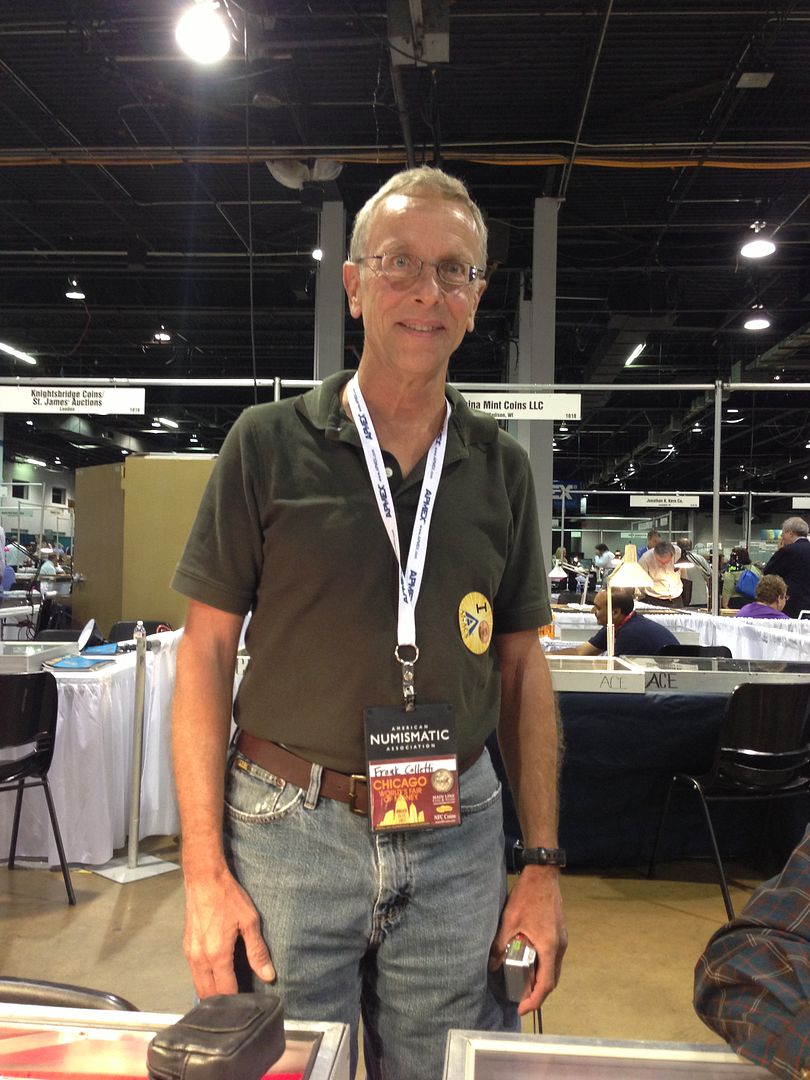 I picked up a few bottles of wine from a local store and was pleasantly surprised to see they had very decent California wine!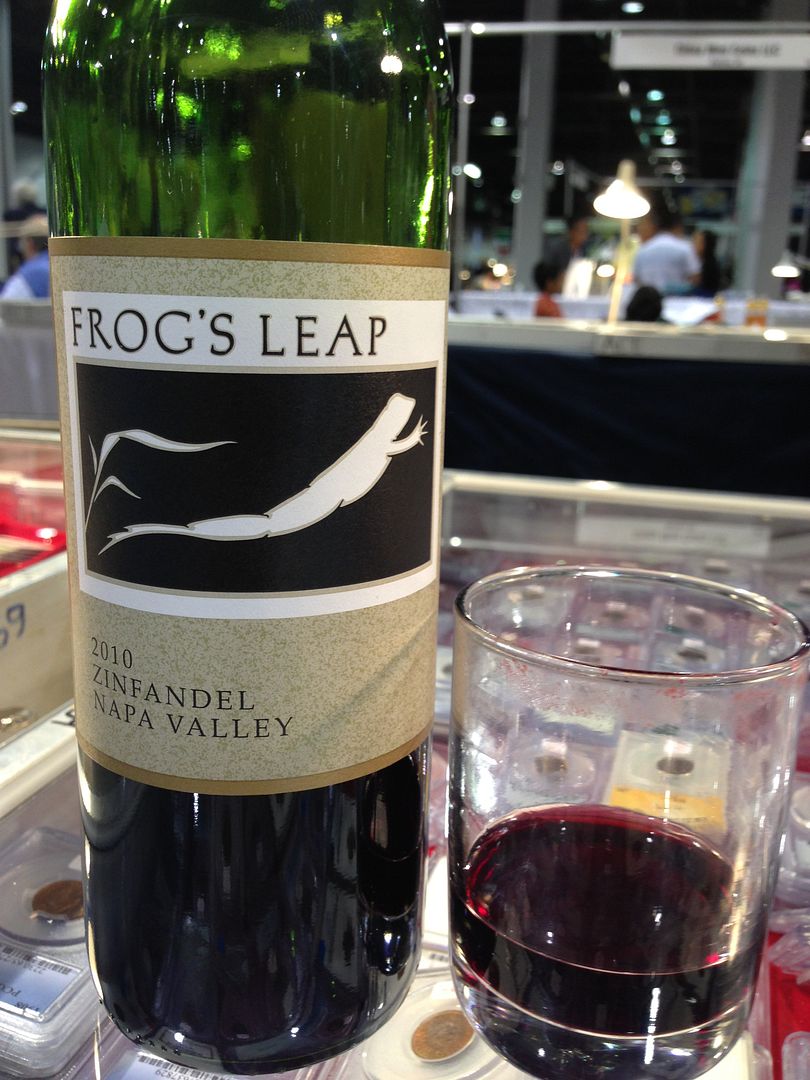 My friend Chuck returned for some wine and cheese, and ended up buying a beautiful 1820 large cent I had just purchased (see, my serving wine to my customers really does work! ;-)
Dennis/Dennis88 stopped by to wine, errr, for some wine too!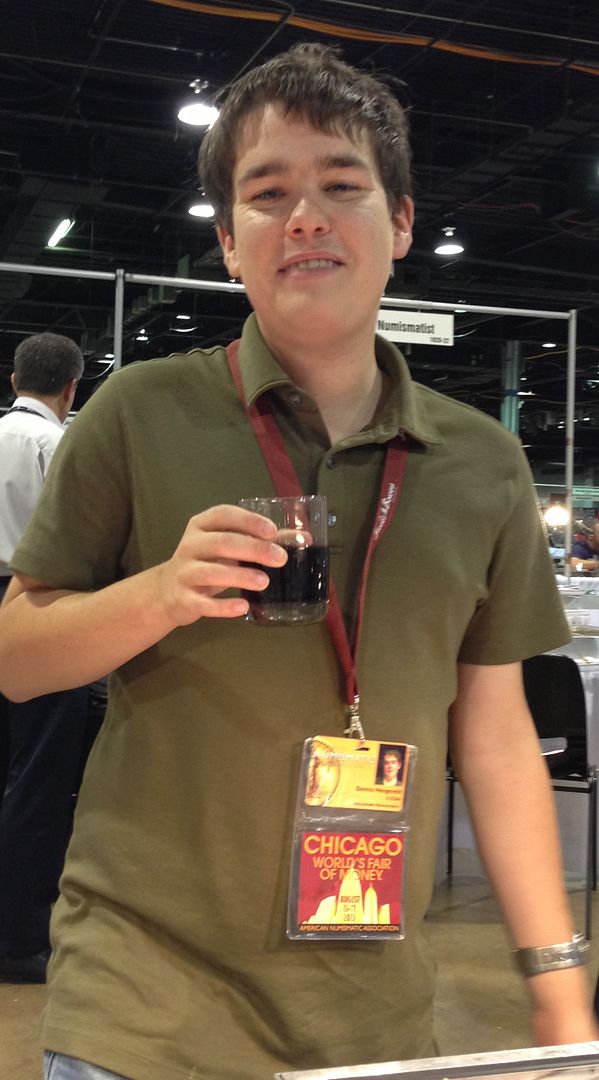 This is my ANA Summer Seminar instructor, Larry Sekulich, and his wonderful wife Linda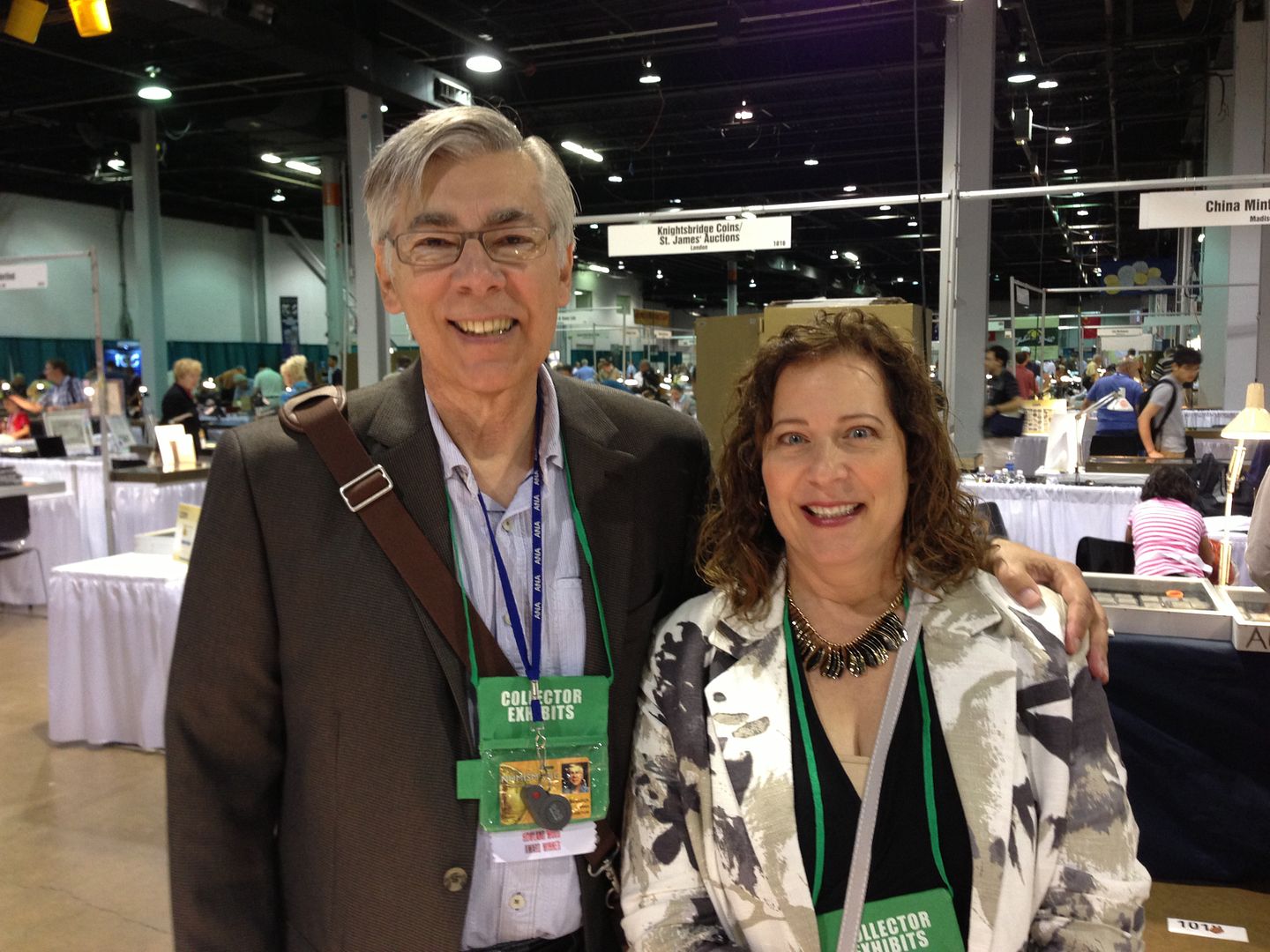 And here is Larry's fascinating exhibit which took the Best in Show award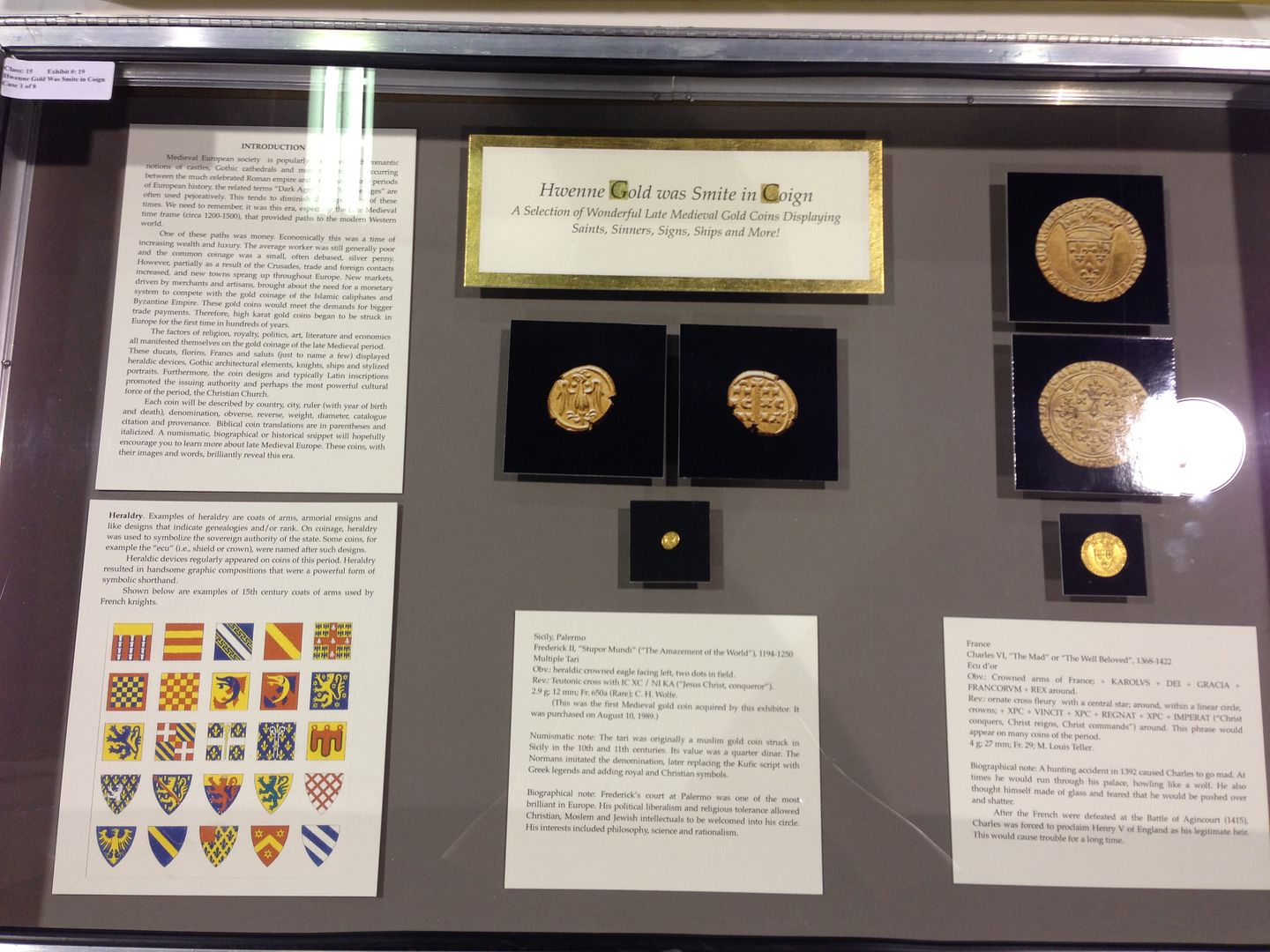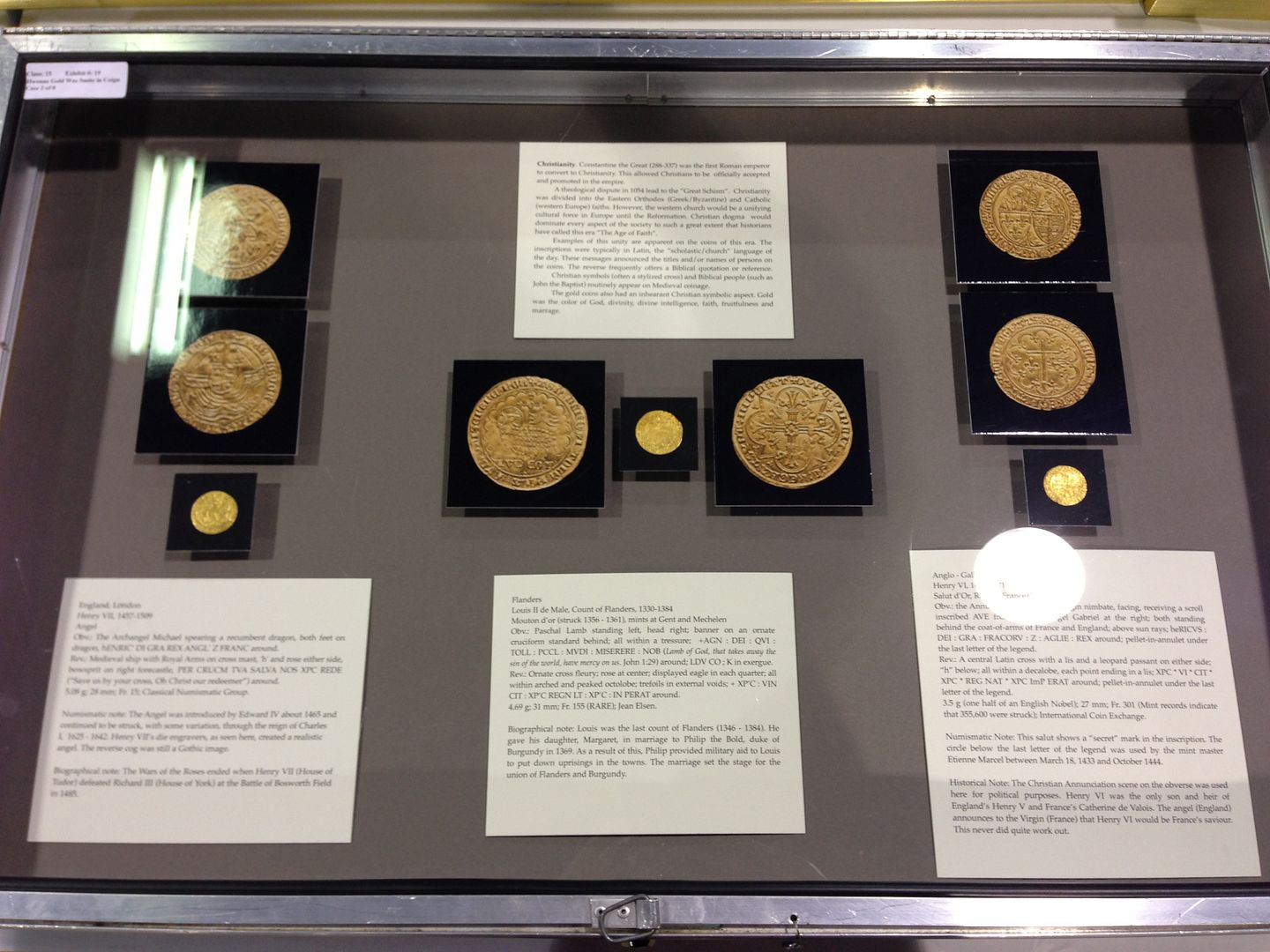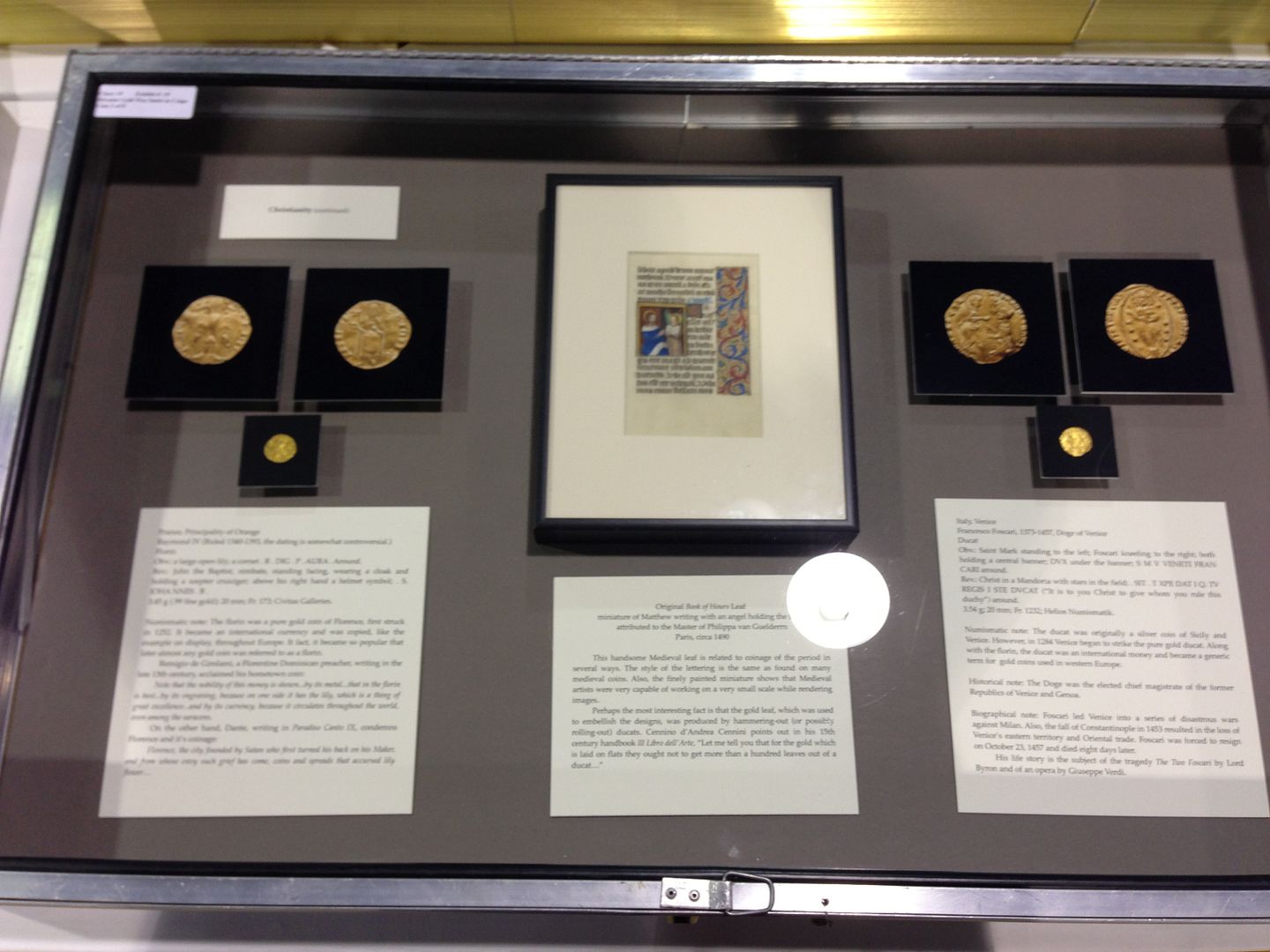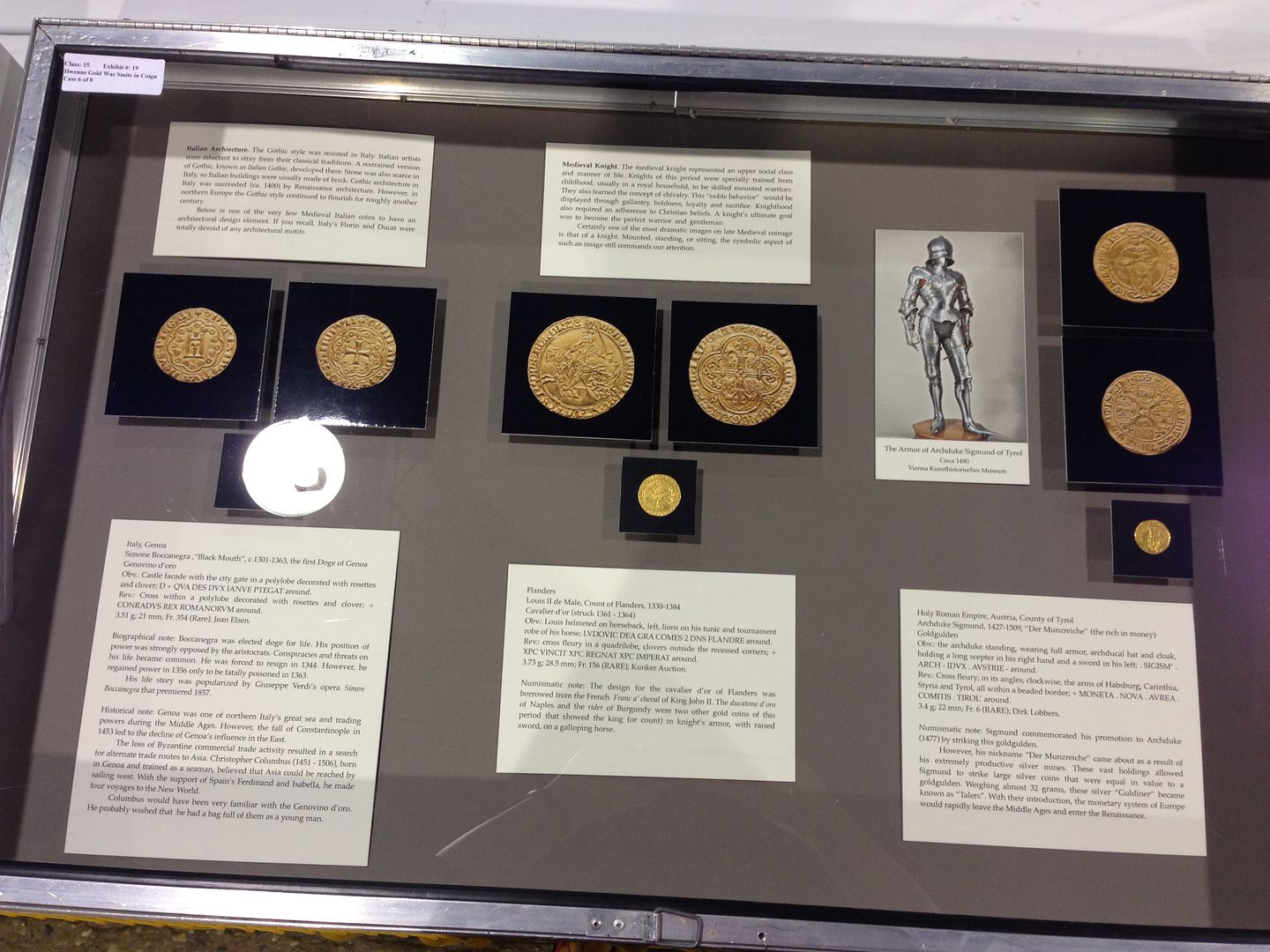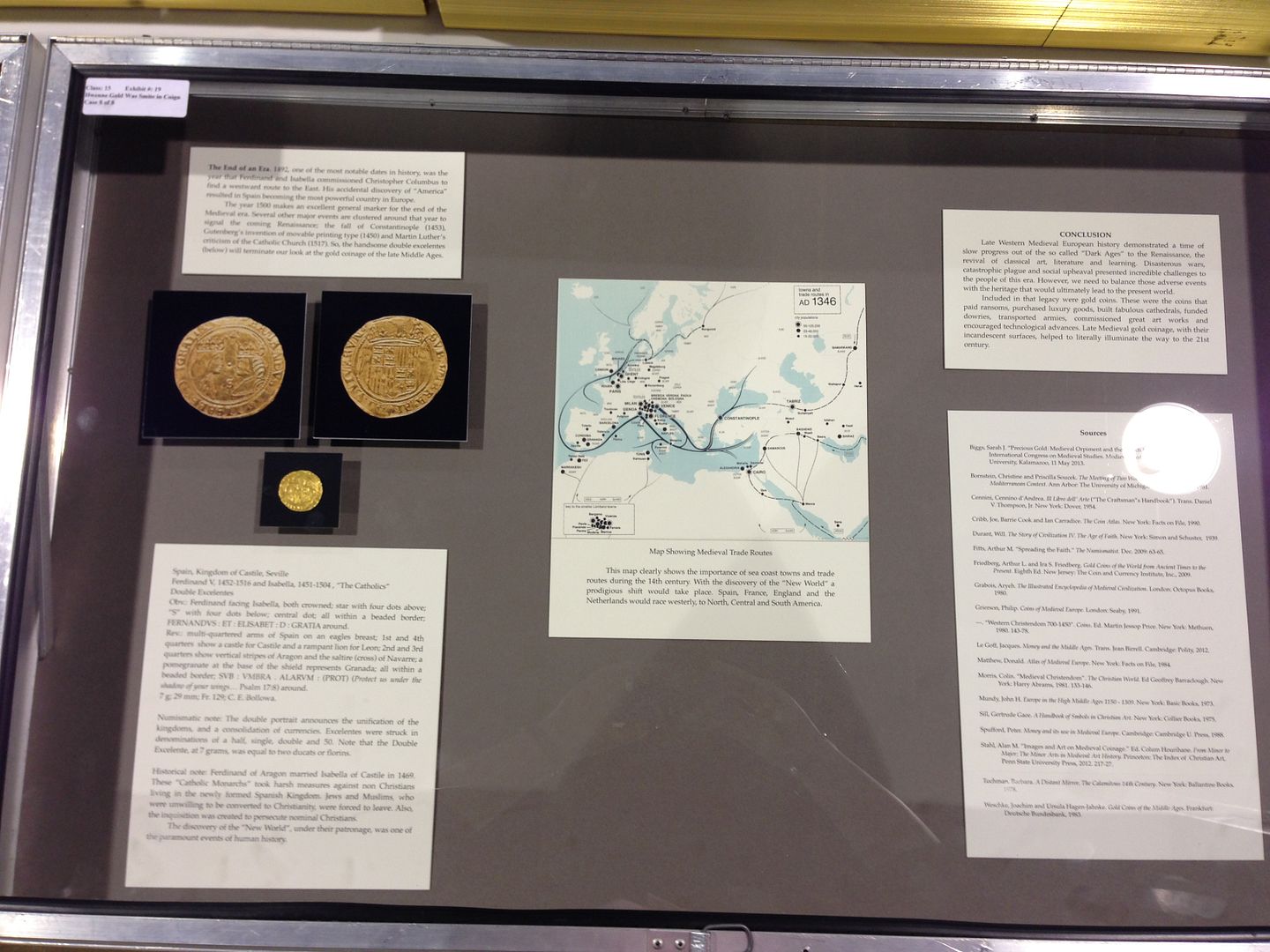 The bourse floor on Wednesday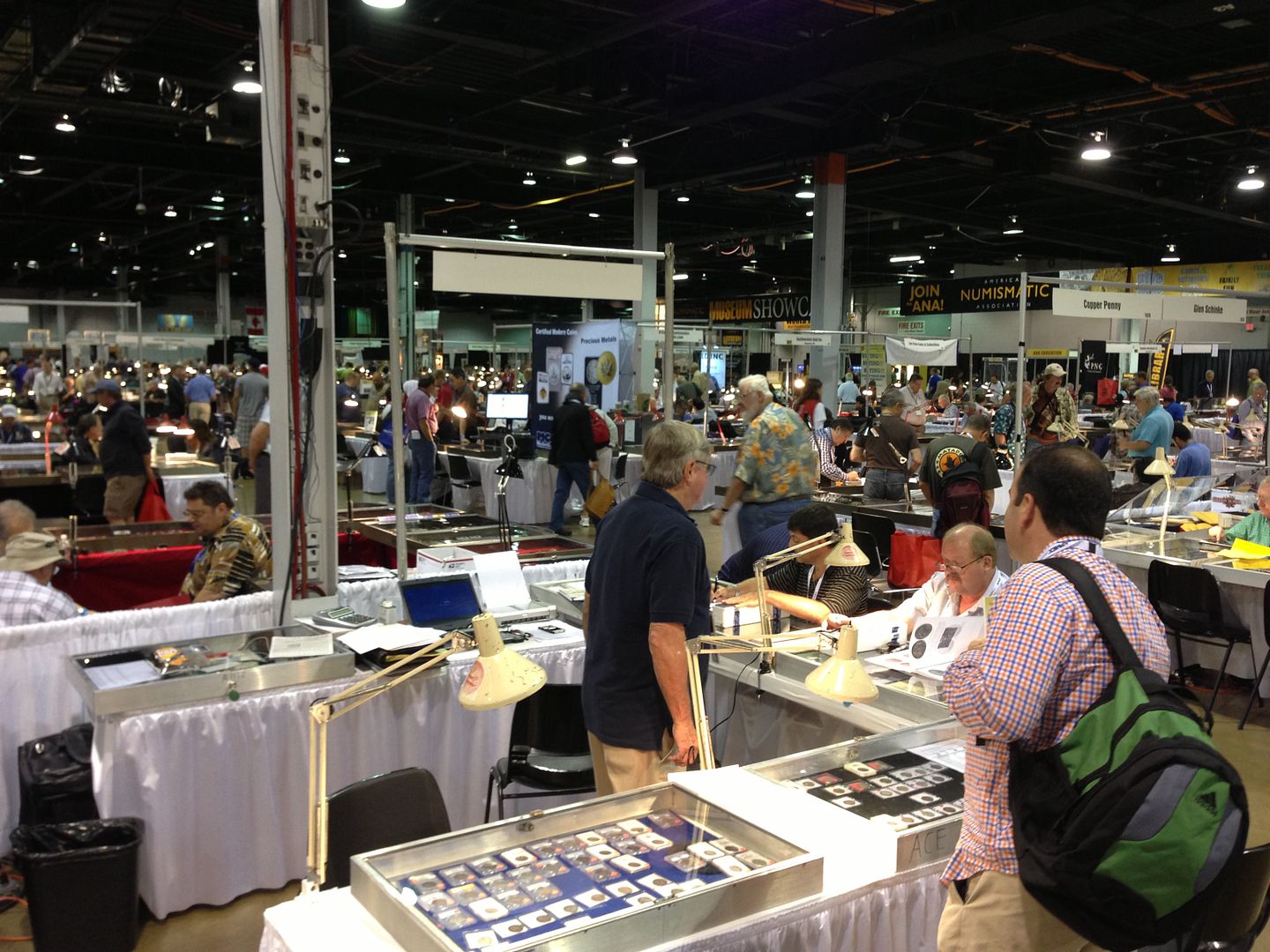 That evening we headed over to the Harry Carey restaurant for dinner. Since the weather in Rosemont was so amazing the entire week – it reminded me of home – we enjoyed a nice relaxing dinner outside on the patio.
This Cult wine that Ron brought was the best wine I had all week!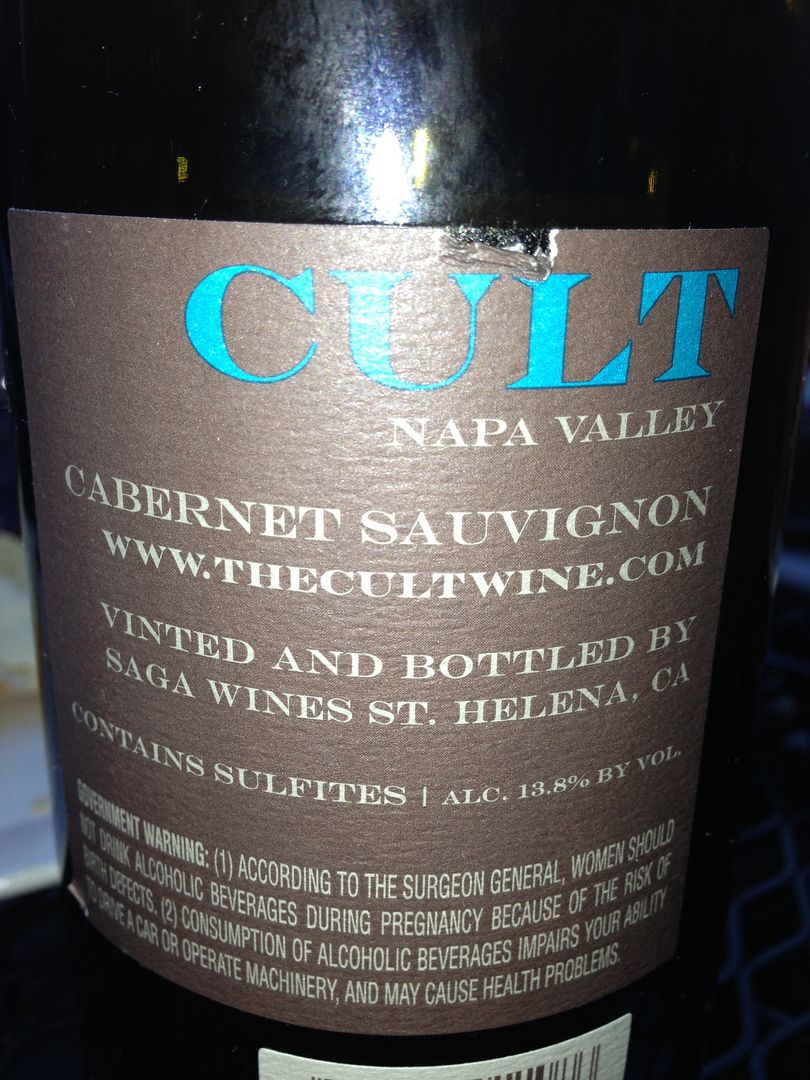 There were so many appealing items on the menu so I took pics of several of the dishes we ordered
I tried to mix up my usual favorite steak dinner with some fish and this sole was wonderful!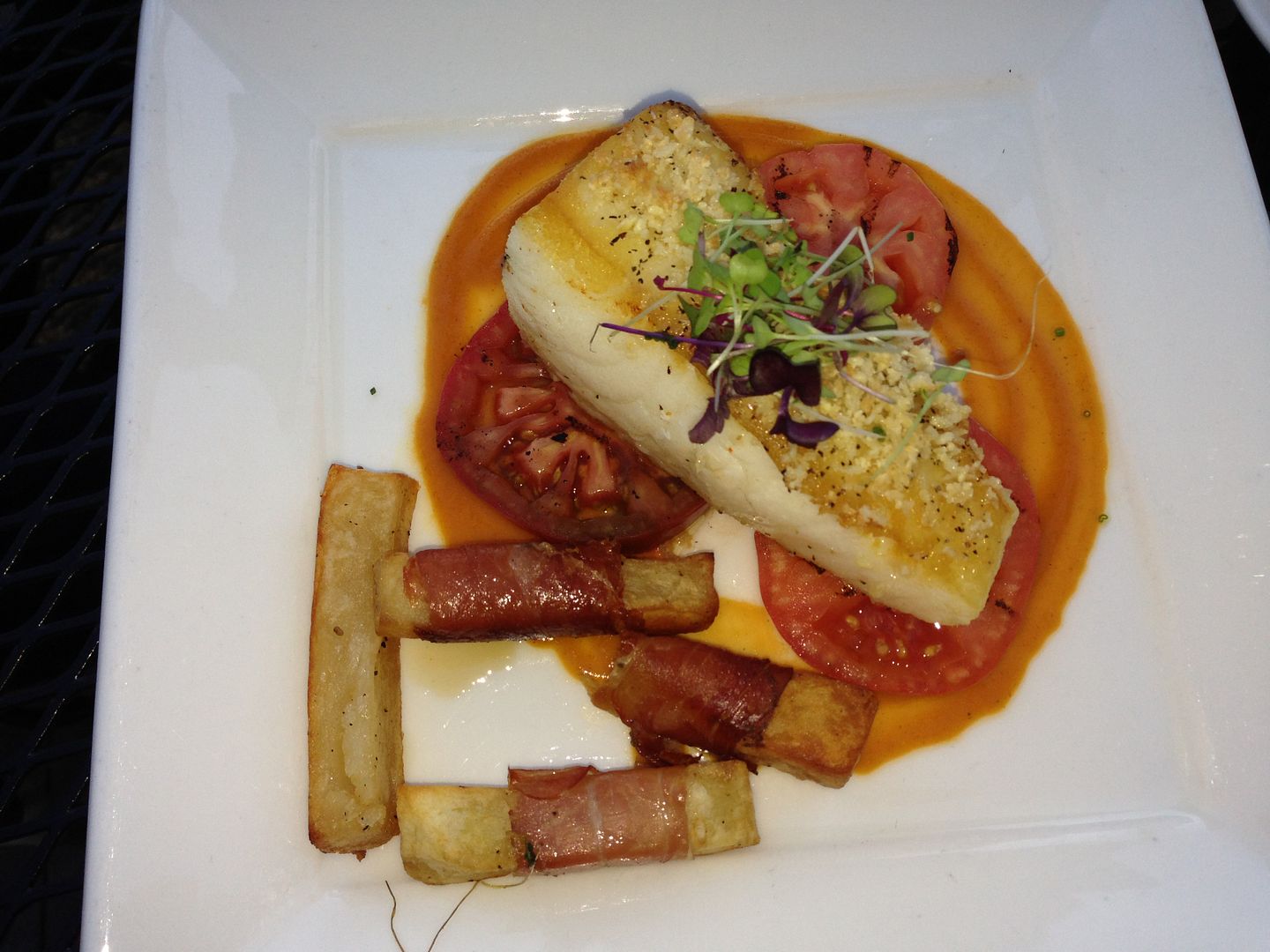 – eggplant parmesan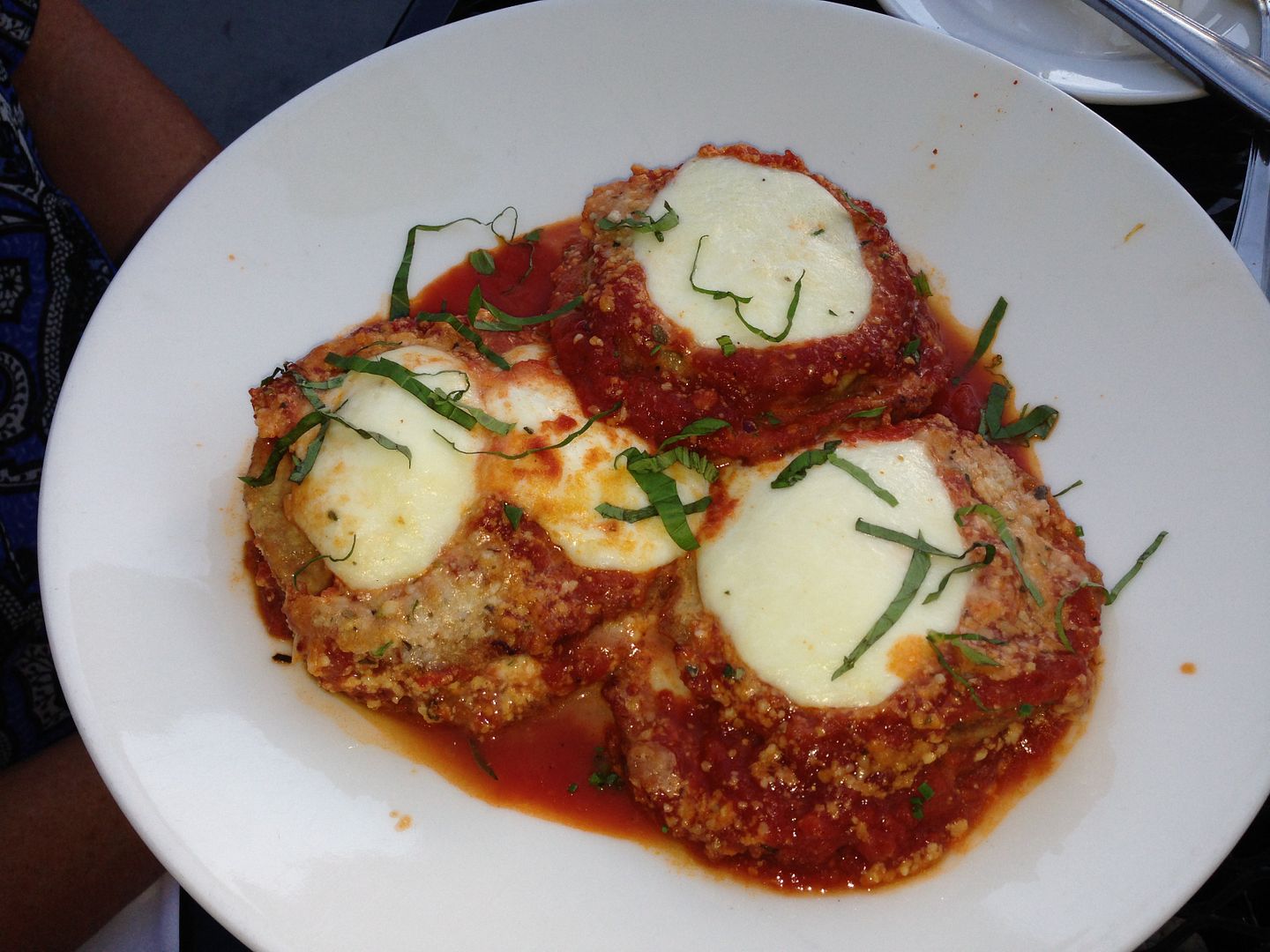 A wonderful sausage dish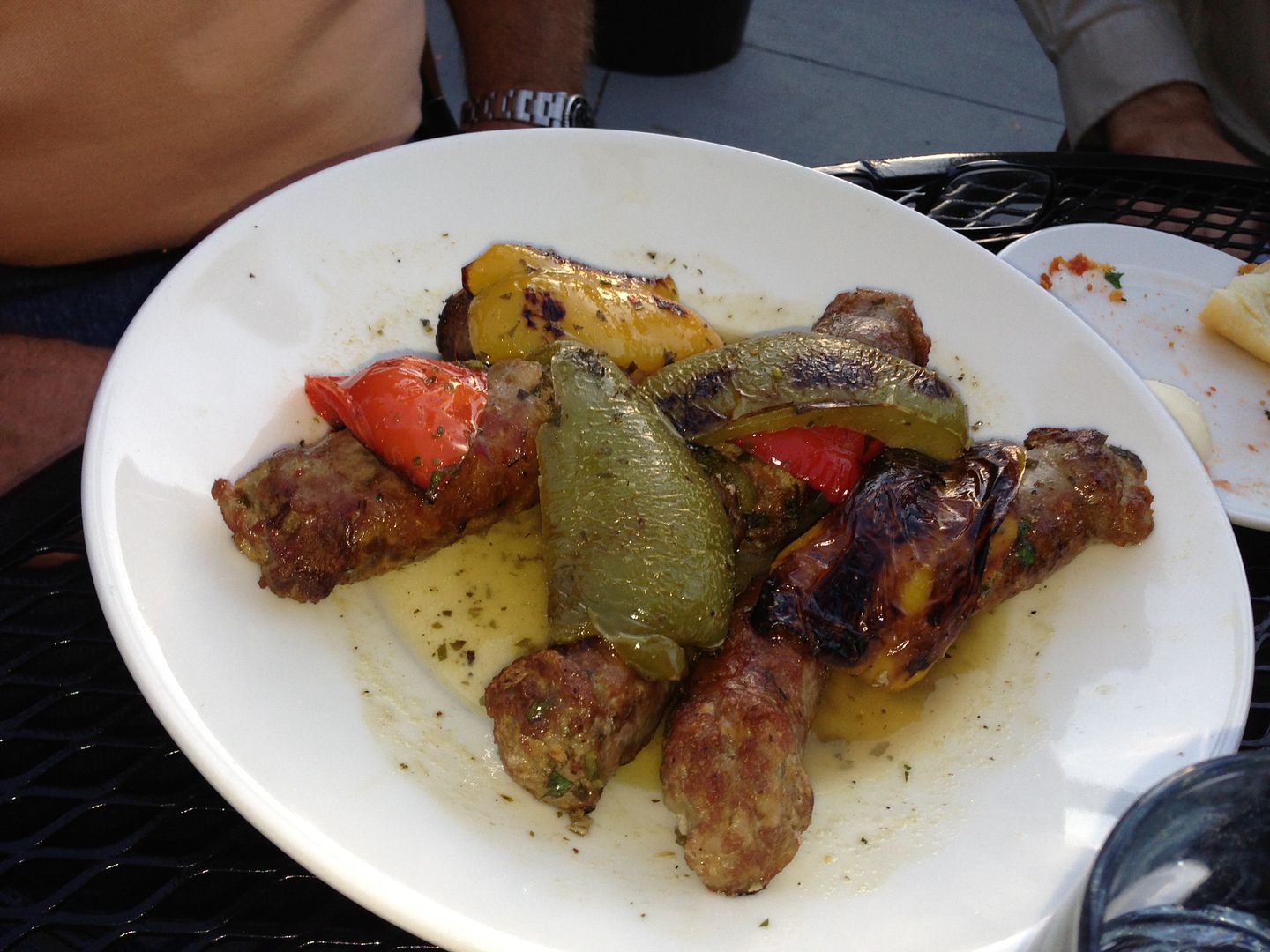 Seared ahi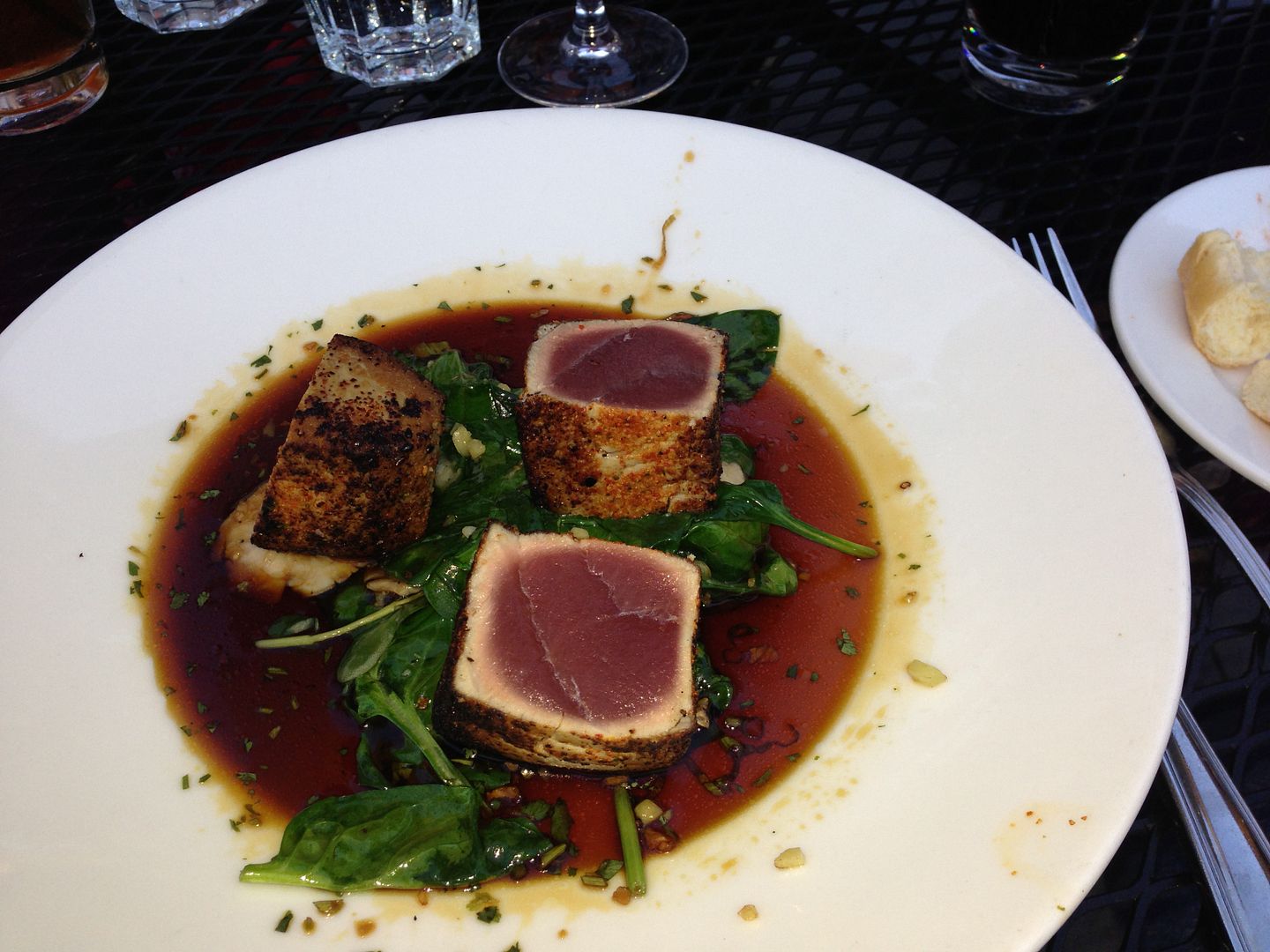 They had a small museum inside the restaurant honoring the famed sportscaster!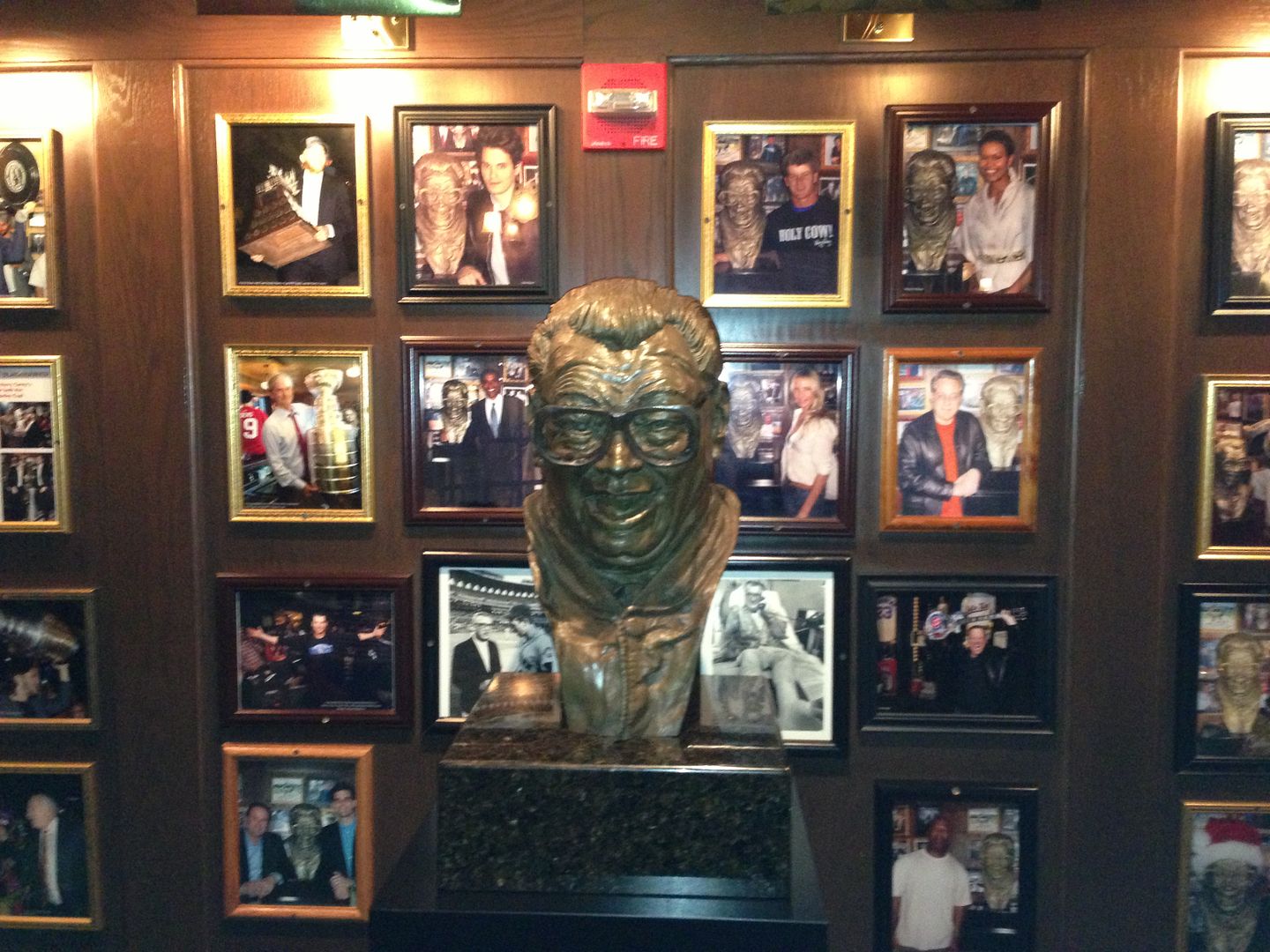 And they had an amazing wine selection!
On Thursday, there was quite a crowd of people in the lobby waiting to get into the show!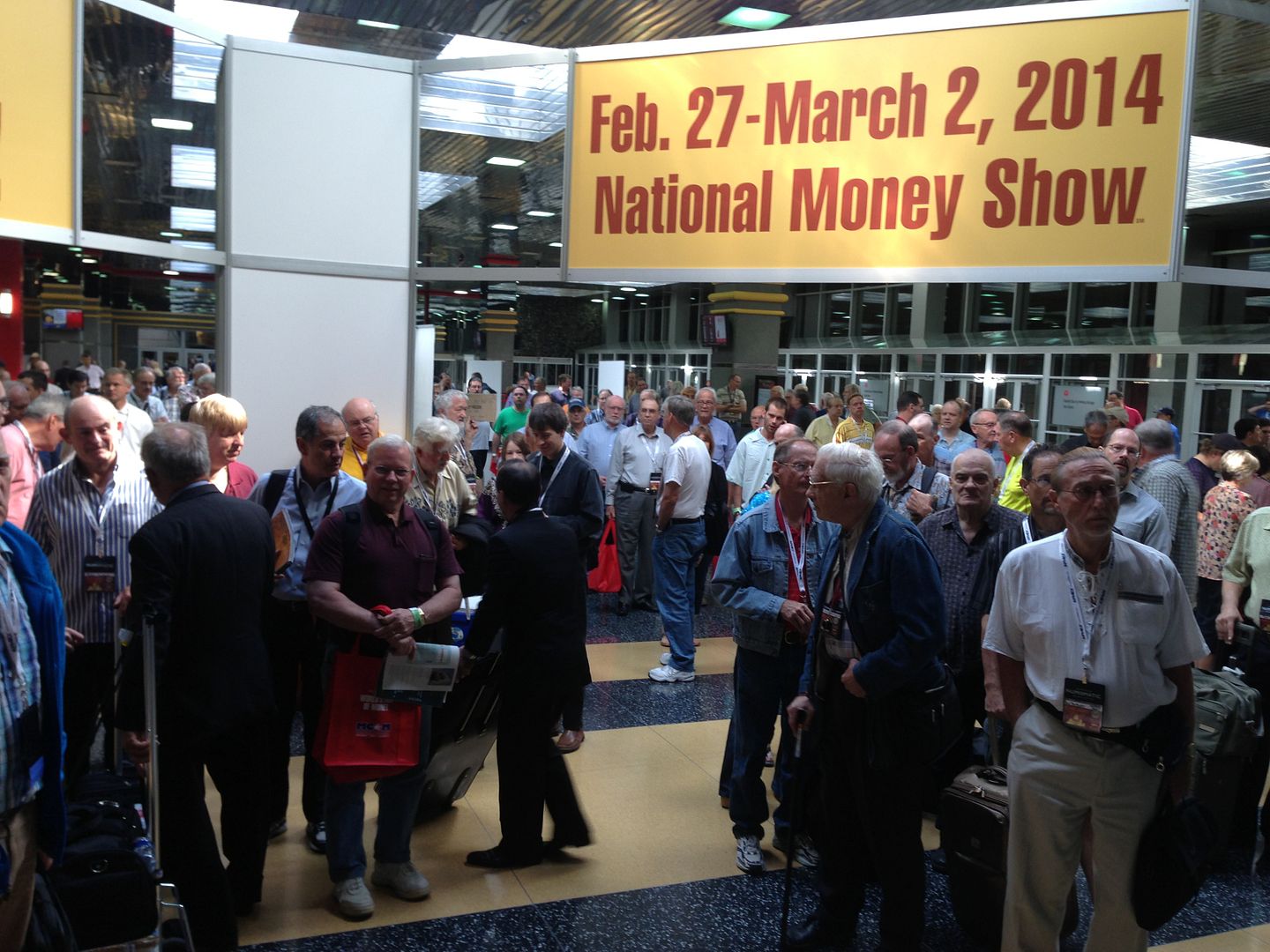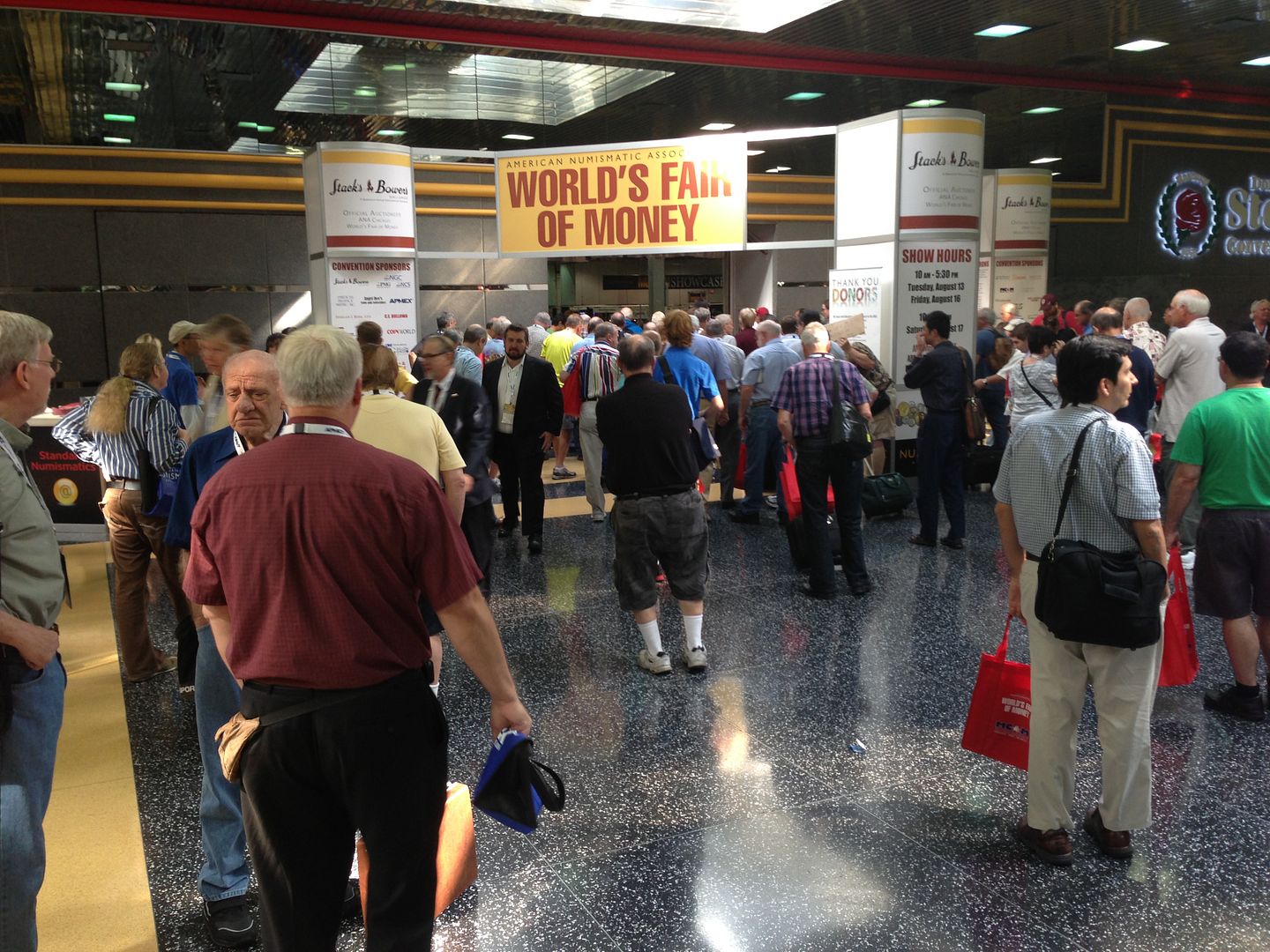 Here's another very cute young numismatist who stopped by my table during the Treasure Trivia hunt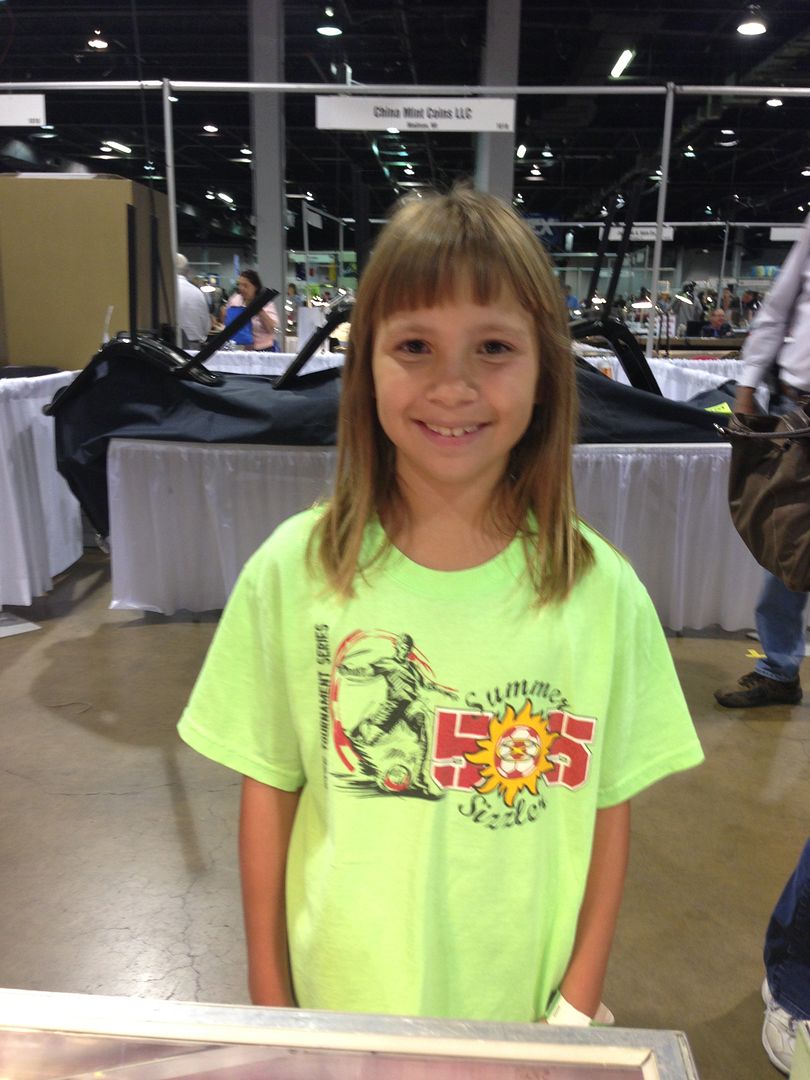 Mark/Raisthis2 – an NGC forumite!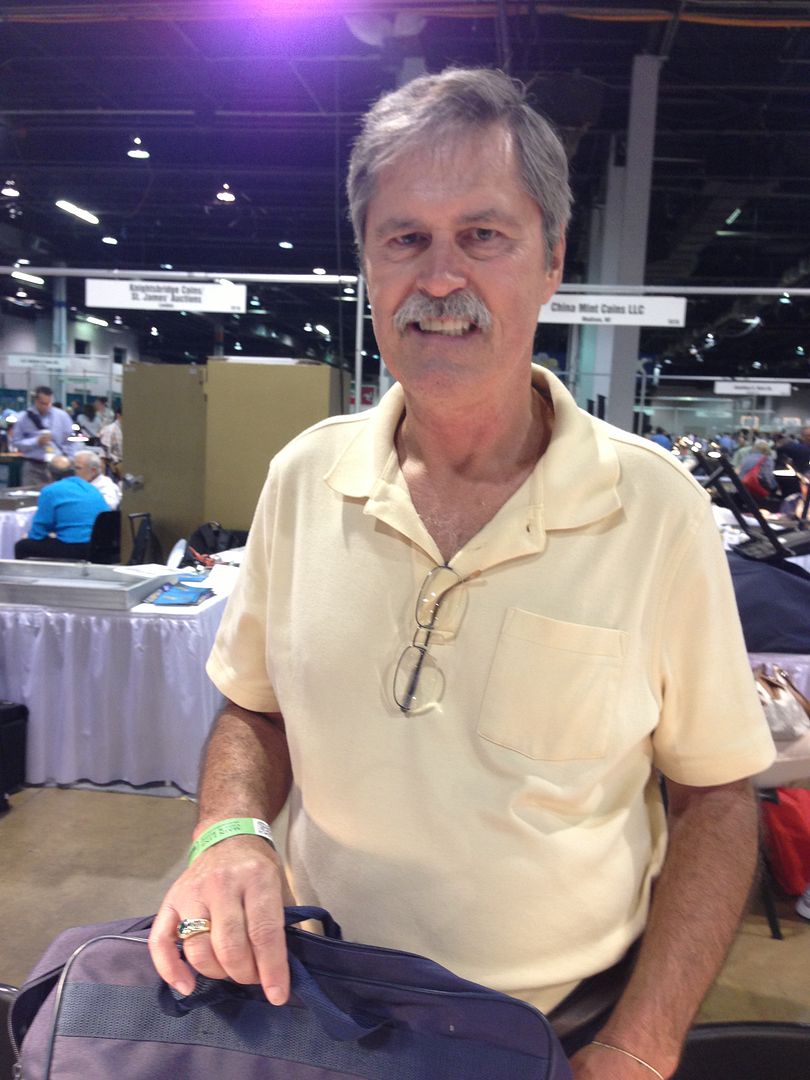 Two awesome ANA folks!
So Thursday was the day the exhibit judges gave us our score sheets for the class awards –and this made me very nervous! Also, I had been told that one of the exhibits in my class was prepared by a very experienced exhibitor who usually submits several exhibits at each World's Fair of Money and has already won several awards, so I had some stiff competition.
For the World's Fair of Money, there are 22 competitive exhibit classes. Initially my exhibit was put in the Tokens category, but based on the content of my exhibit and the definition of the categories, my Penny Potpurri exhibit actually fit better in in the Engraved Coins category so it was moved to Class 7.
Various sets of 3 judges are assigned to each class and each judge prepares a separate score sheet for the class that they judge. There are 10 judging elements for each exhibit, totaling 100 points. During the exhibit class I took at the Summer Seminar, our instructor (Larry Sekulich) had told us that getting 80% out of 100 for a first-time exhibitor was a very good score. Other than viewing exhibits at the various shows I attend, I really had no experience with the judging, scoring, criteria, etc., so my hopes were that I would score at least above 70%.
Well, low and behold, was I in for the first shock of my exhibiting career! Take a look at my 3 score sheets….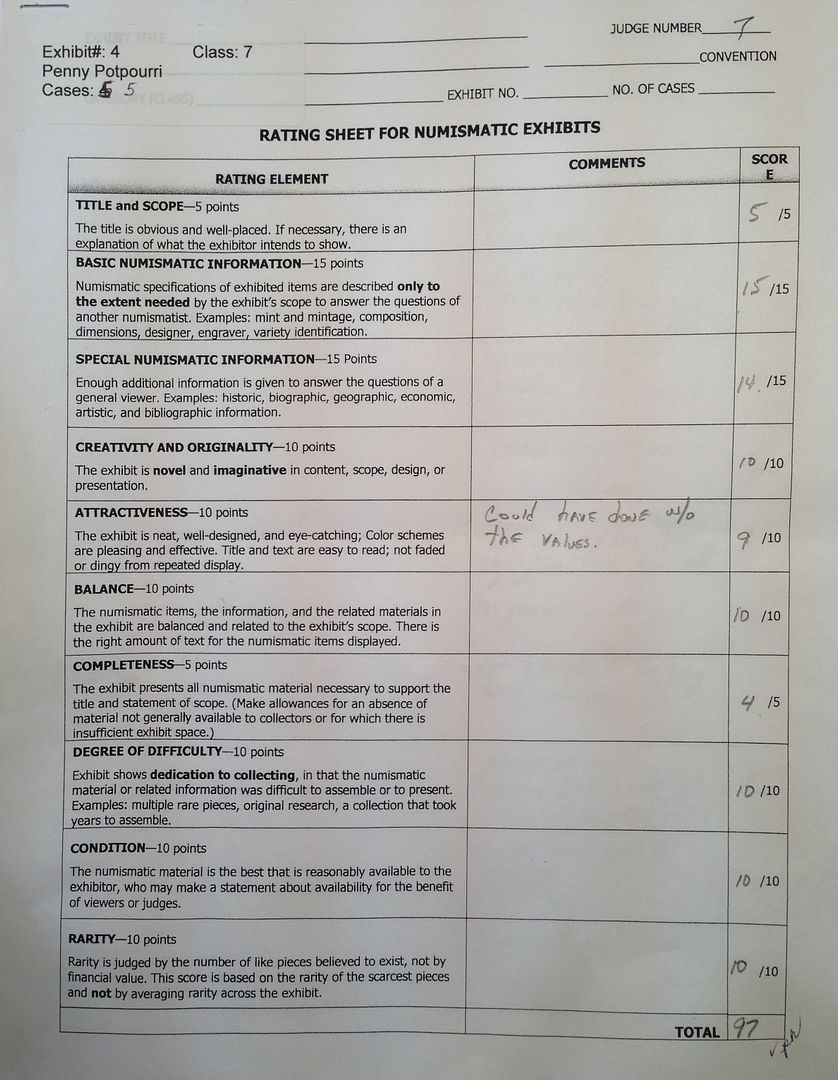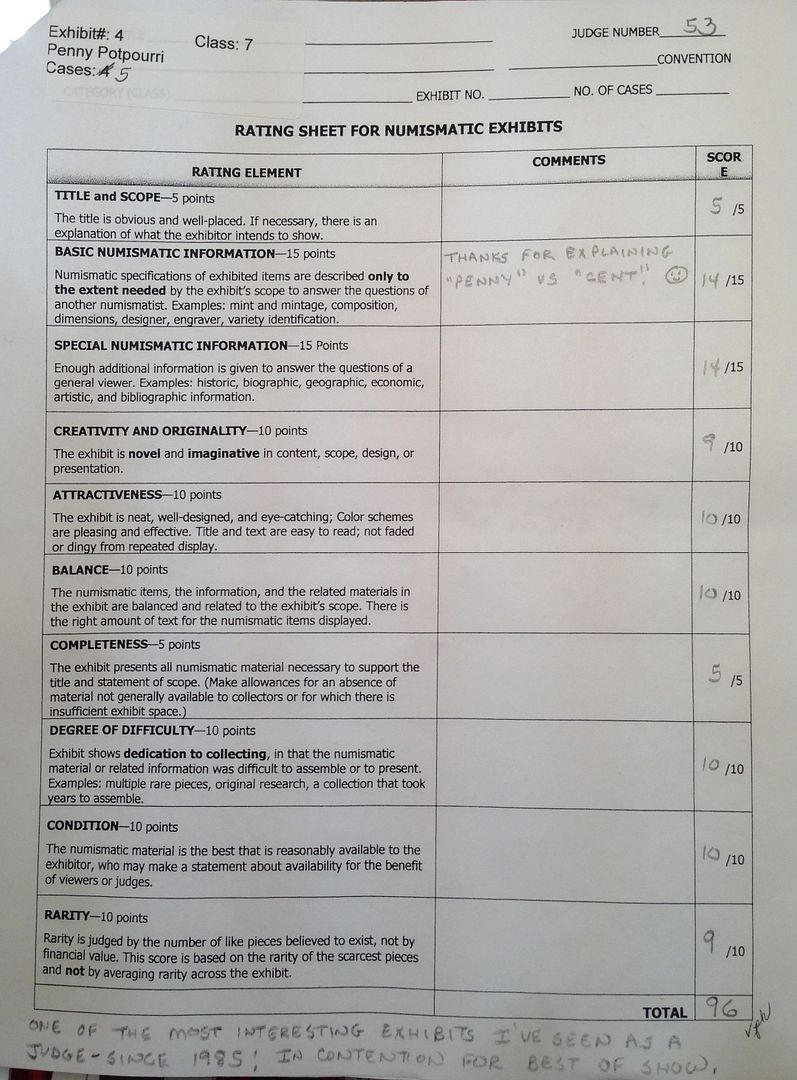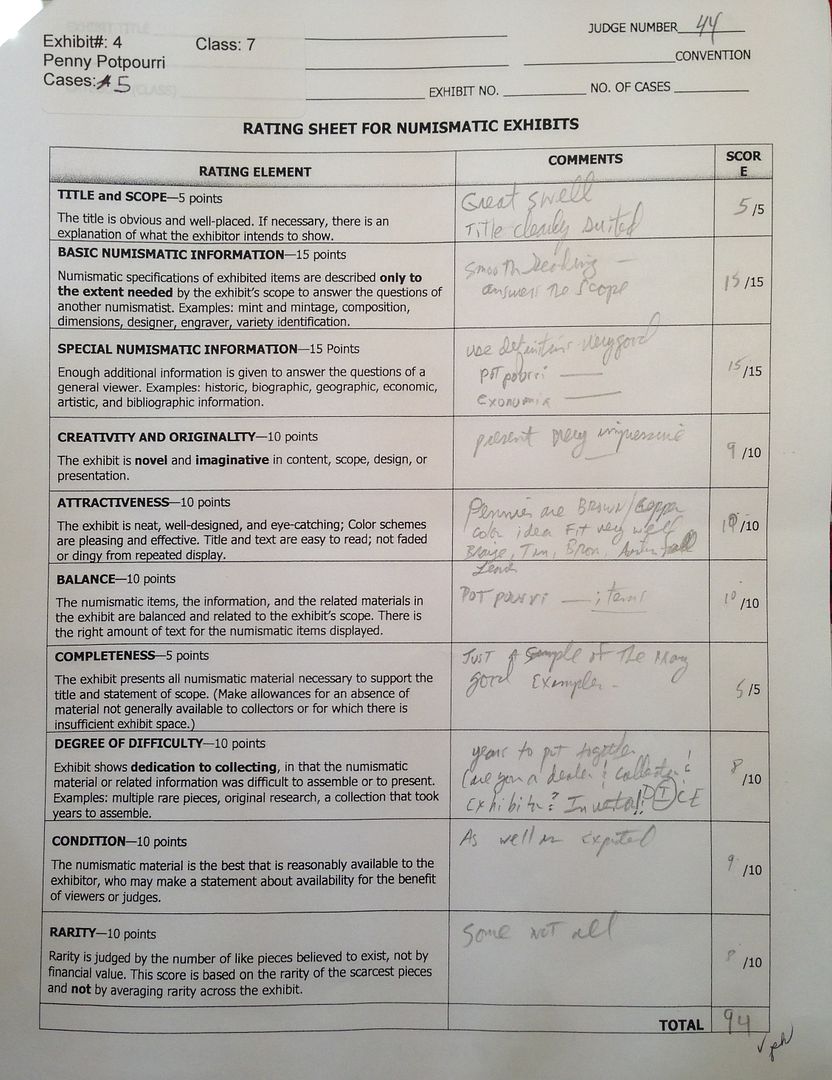 I was standing back in the exhibit area when I first saw my scores, and I think you could hear my yelps of joy all the way to the front of the bourse floor! I was soon told that my scores were extremely rare, not just for a first-time exhibitor, but for any exhibit. One judge even wrote at the bottom of their score sheet that it was the most interesting exhibit they had seen since they began judging exhibits in 1985, and that they thought it was in contention for Best in Show. However, even though I received high scores, this didn't necessarily mean that I had won 1st place in my class. I would have to wait to find that out.
So word soon got around about my scores (probably because I was so excited that I showed them to anyone who walked by), and people began stopping by my table to see my score sheets. I even ran into Joe Boeling, the head judges, on the bourse floor who asked me if I had gotten my banquet ticket for the Friday night awards banquet. I said, "no, why?" He just looked me in the eye and said, "You need to get your banquet ticket." I said, "ok, but why?" He said he had seen all the scoring sheets and again firmly told me that I needed to go get my banquet ticket. It finally dawned on me what he was talking about, and tears began to flow, so I quickly turned around before he could see my teary eyes and went to get my banquet ticket.
Greg Lyon/ANA Board of Governors, was so kind to bring me this wonderful bottle of wine.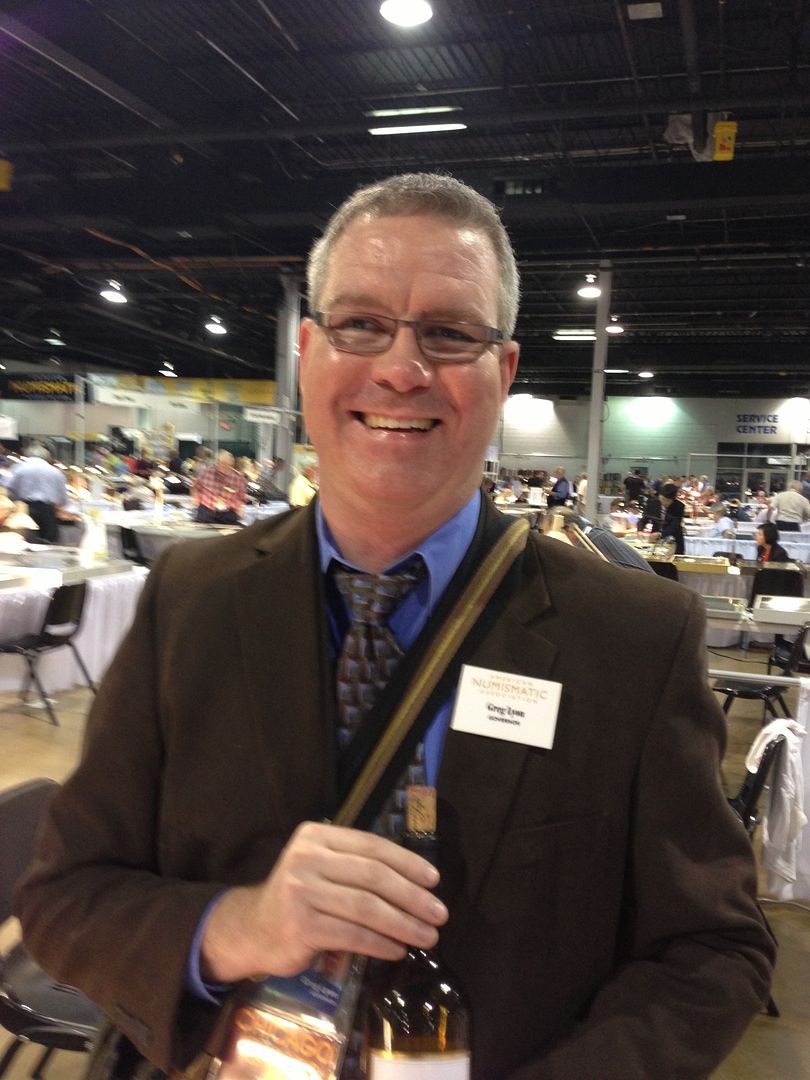 He later stopped by my table and casually showed me a photo on his cell phone. At first I was a little confused and couldn't tell what it was. So I put on my glasses and saw that he had a photo of my exhibit case with TWO ribbons on it!!! One was for 1st place in my class, and another was for Best New Exhibitor!!! WOW!! Again, I'm sure everyone could hear my squeals of joy all over the bourse floor! I very quickly skipped over to the exhibit area to see the ribbons for myself!!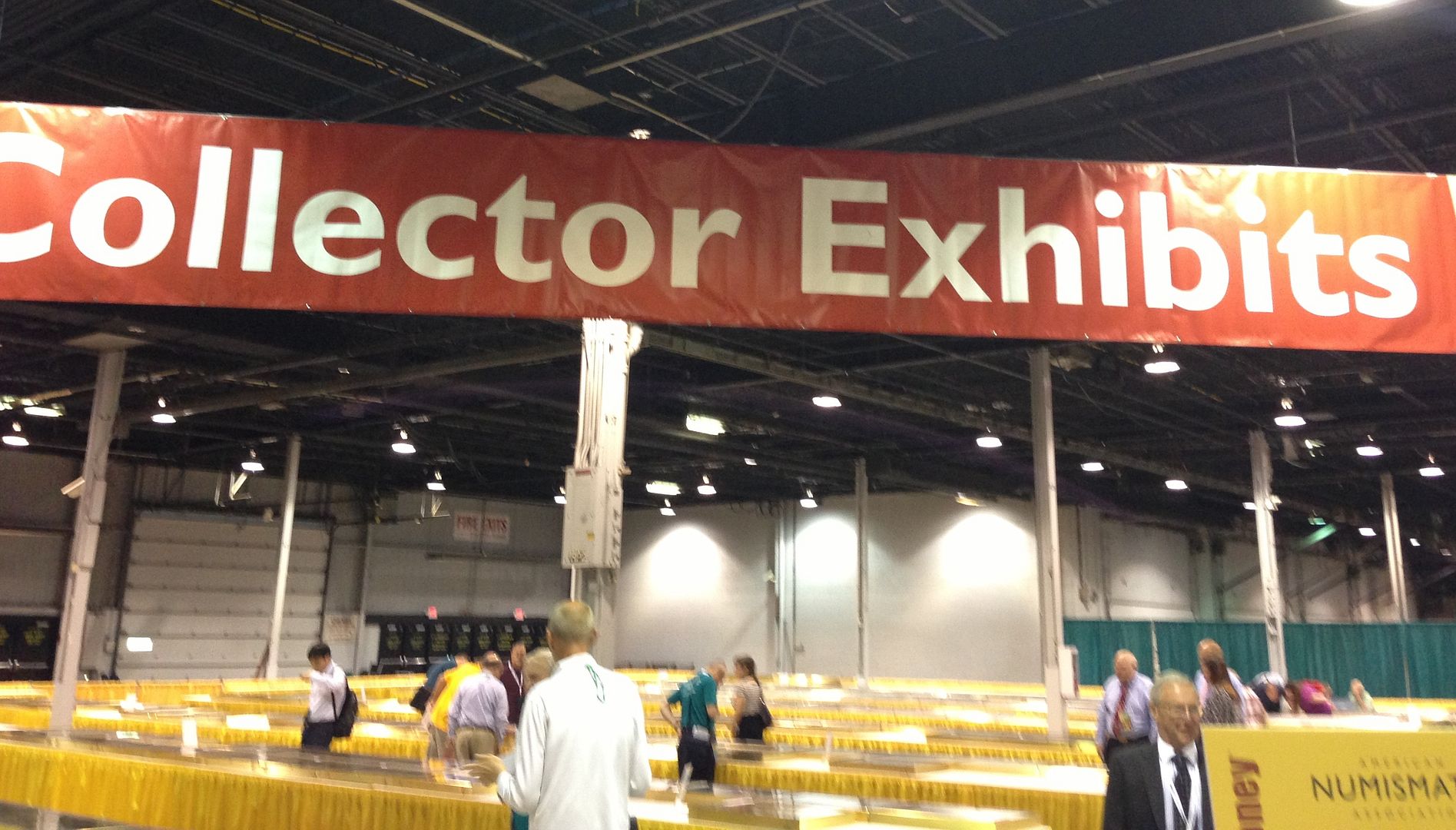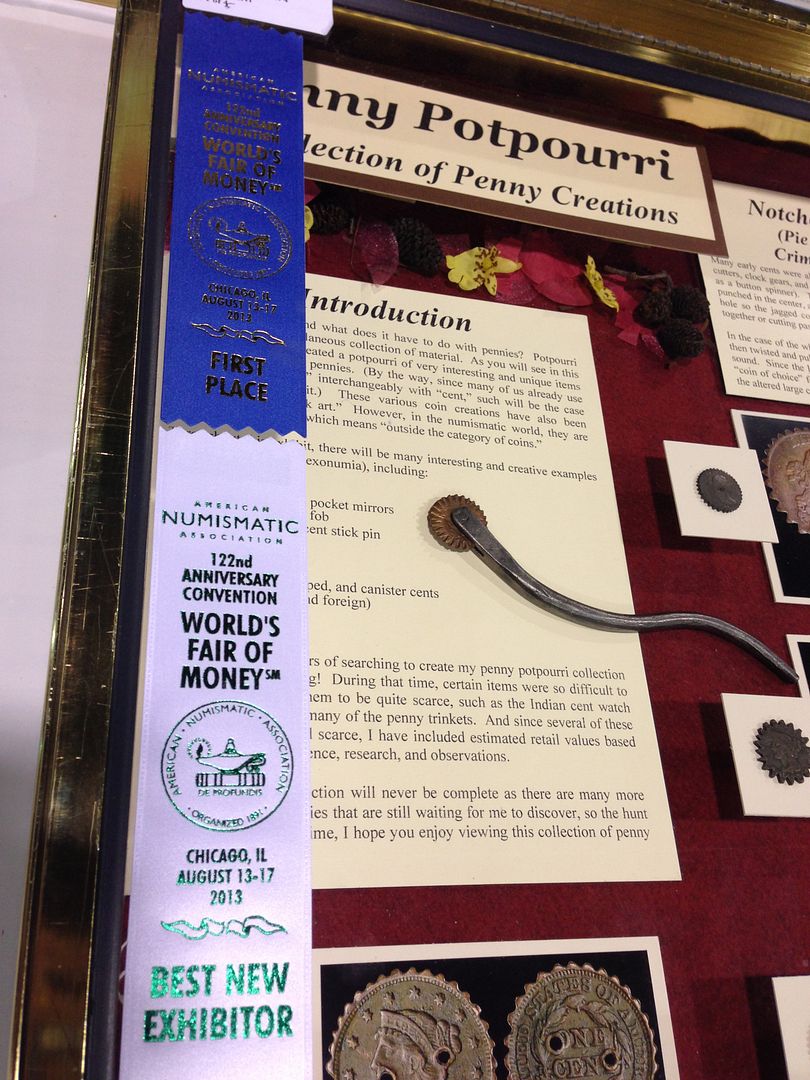 Since I won First Place in my class, that made me eligible to compete for the Best in Show award which would be given out at the banquet later that night. I also was eligible for the People's Choice award.
Emily Silver/ANA Convention and Exhibit organizer, stopped by and told me how much buzz there was over my exhibit!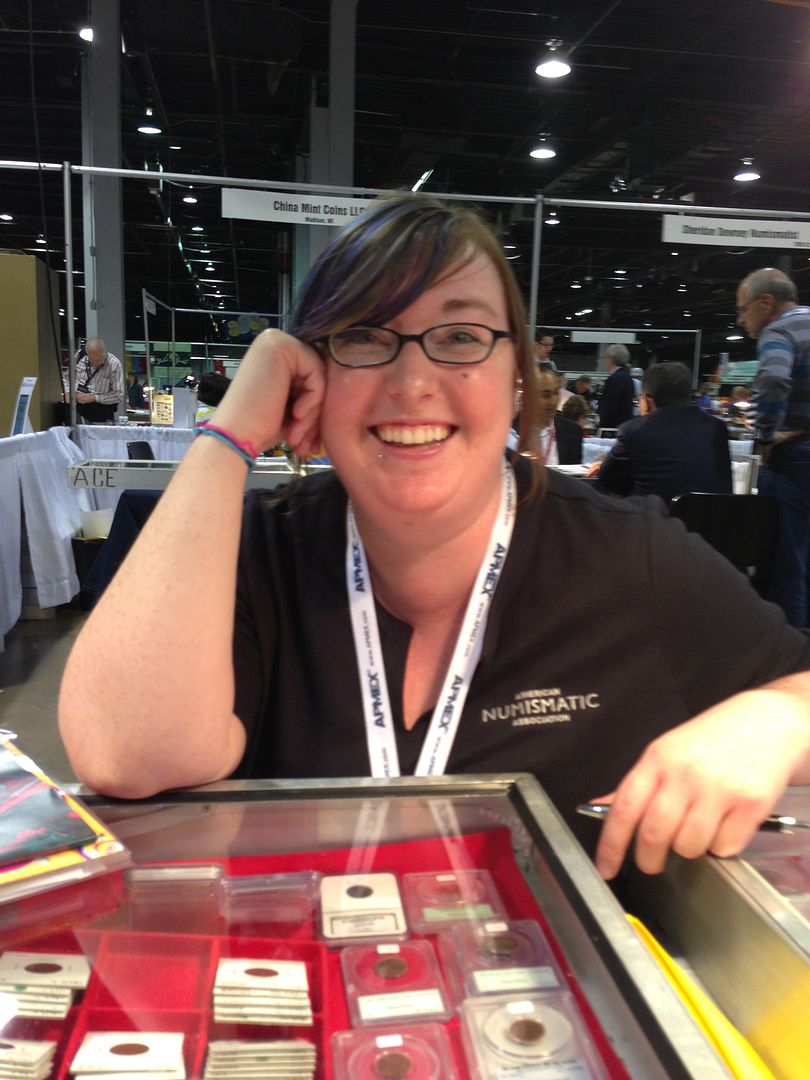 Steve D'Ippolito brought one of his past exhibit medals to show me
Also on Thursday, David Bowers was honored for his 60 years of numismatic service!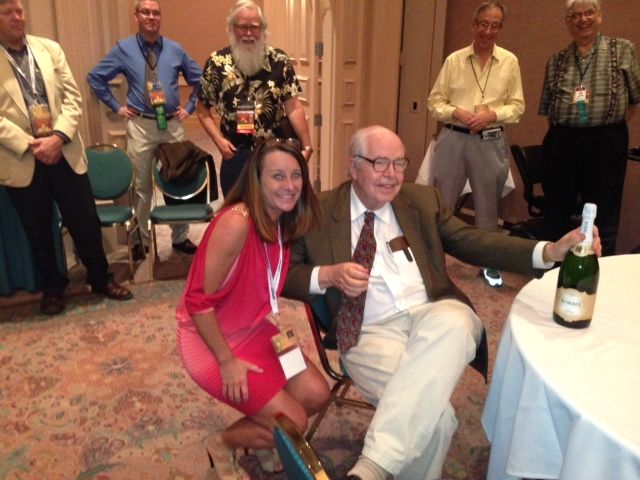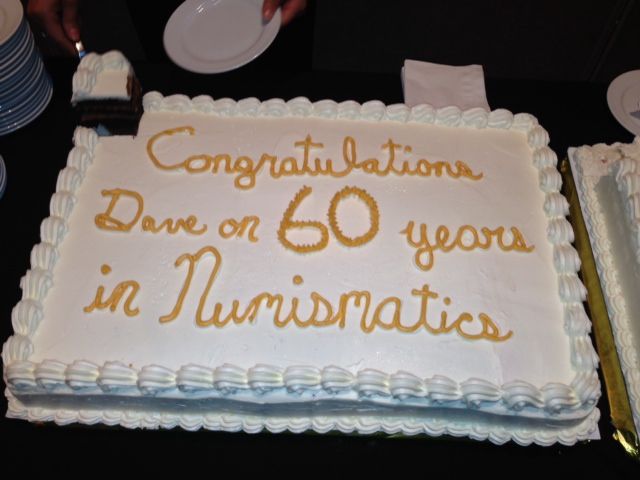 More forum members stopped by to say hi, and to let me know they had seen my exhibit!
Bryce/BryceM said he voted for my exhibit for the People's Choice award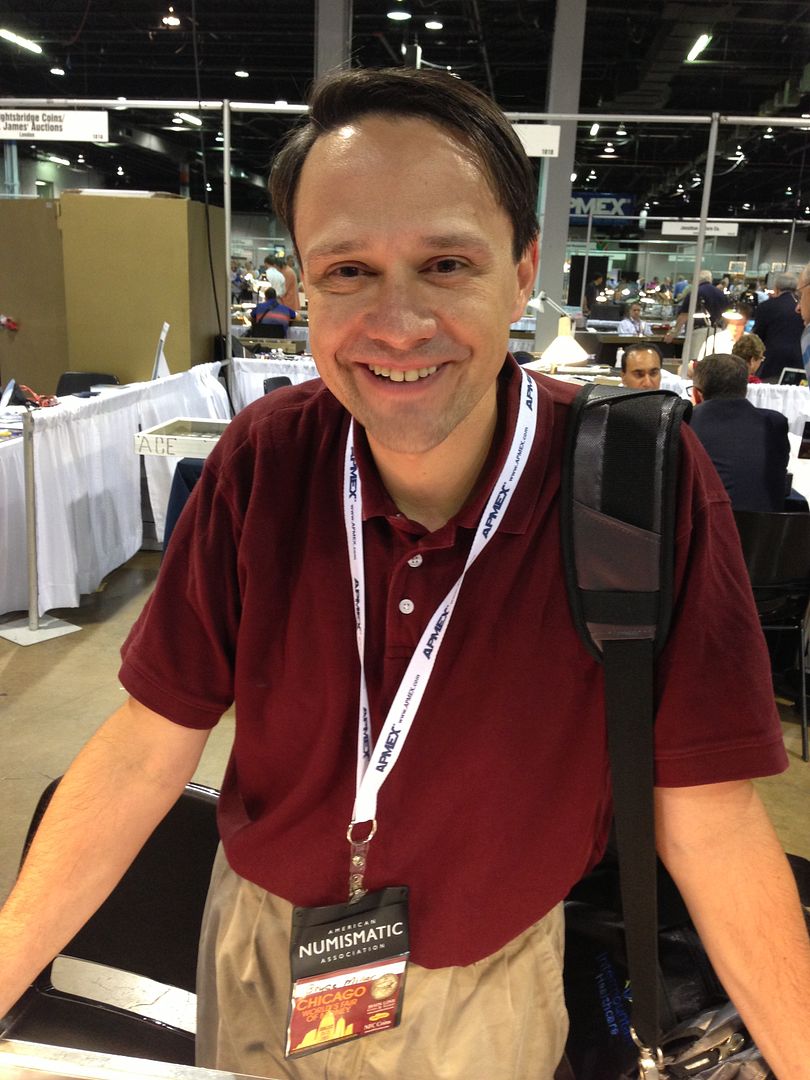 Jon/DimeMan stopped by to say hi!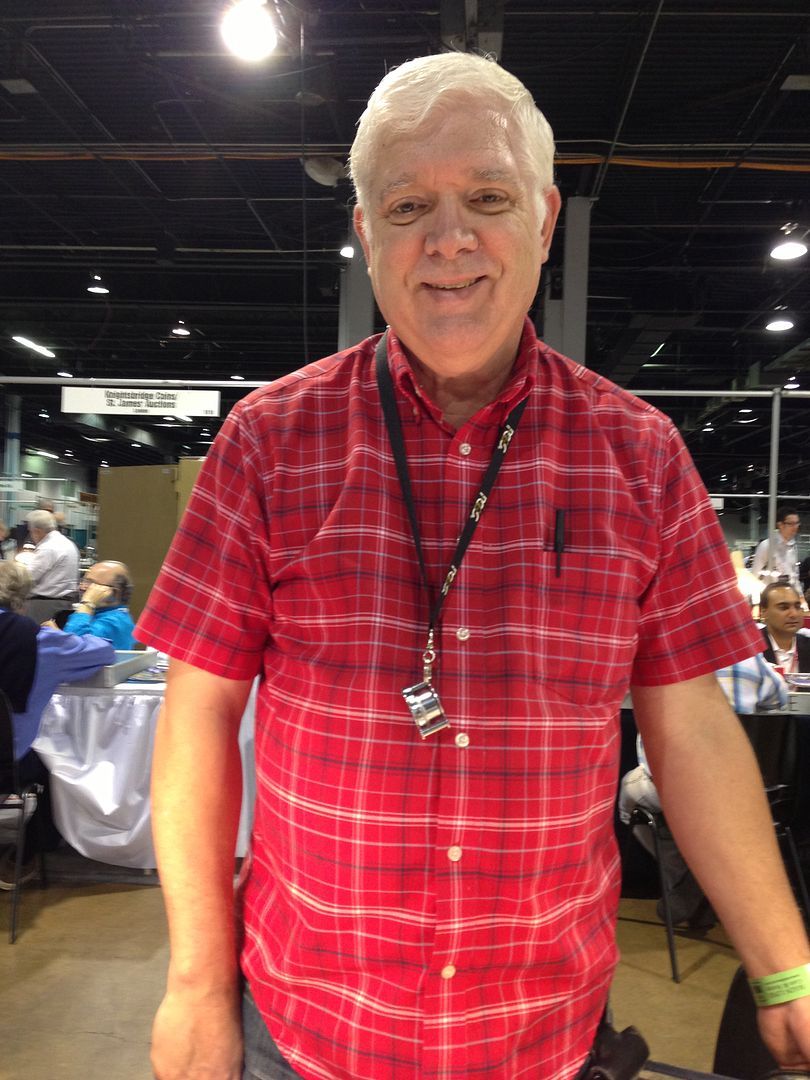 This is the wine I opened on Thursday, and it went fast!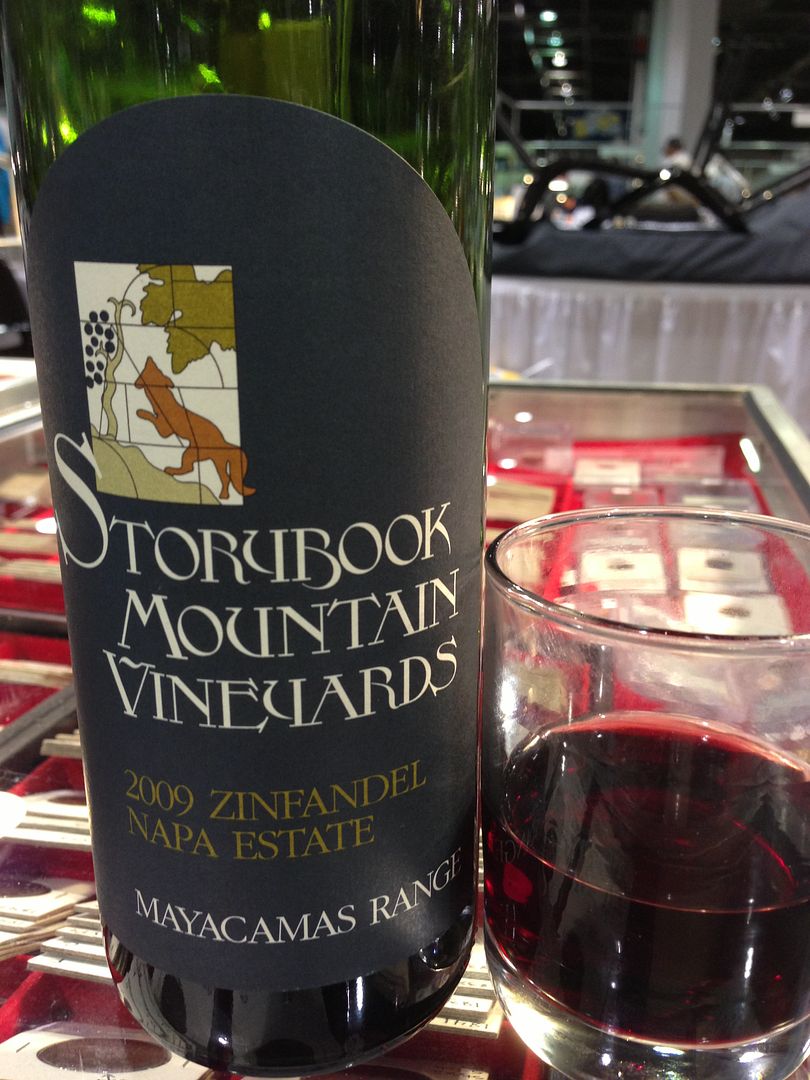 After the show on Thursday, we decided to go into Chicago for dinner and to listen to some blues music. Since a cab would cost quite a bit with all the stop and go traffic, we took the train instead.
Ron, Rick, Neil, and Karin
Neil happened to sit next to this very entertaining drunk guy. He could barely talk, but boy did he take a liking to Neil! They became BFF's - he even serenaded Neil!! It was extremely amusing. Neil even got up and offered his seat to others standing nearby, but they all politely declined and preferred to stay where they were.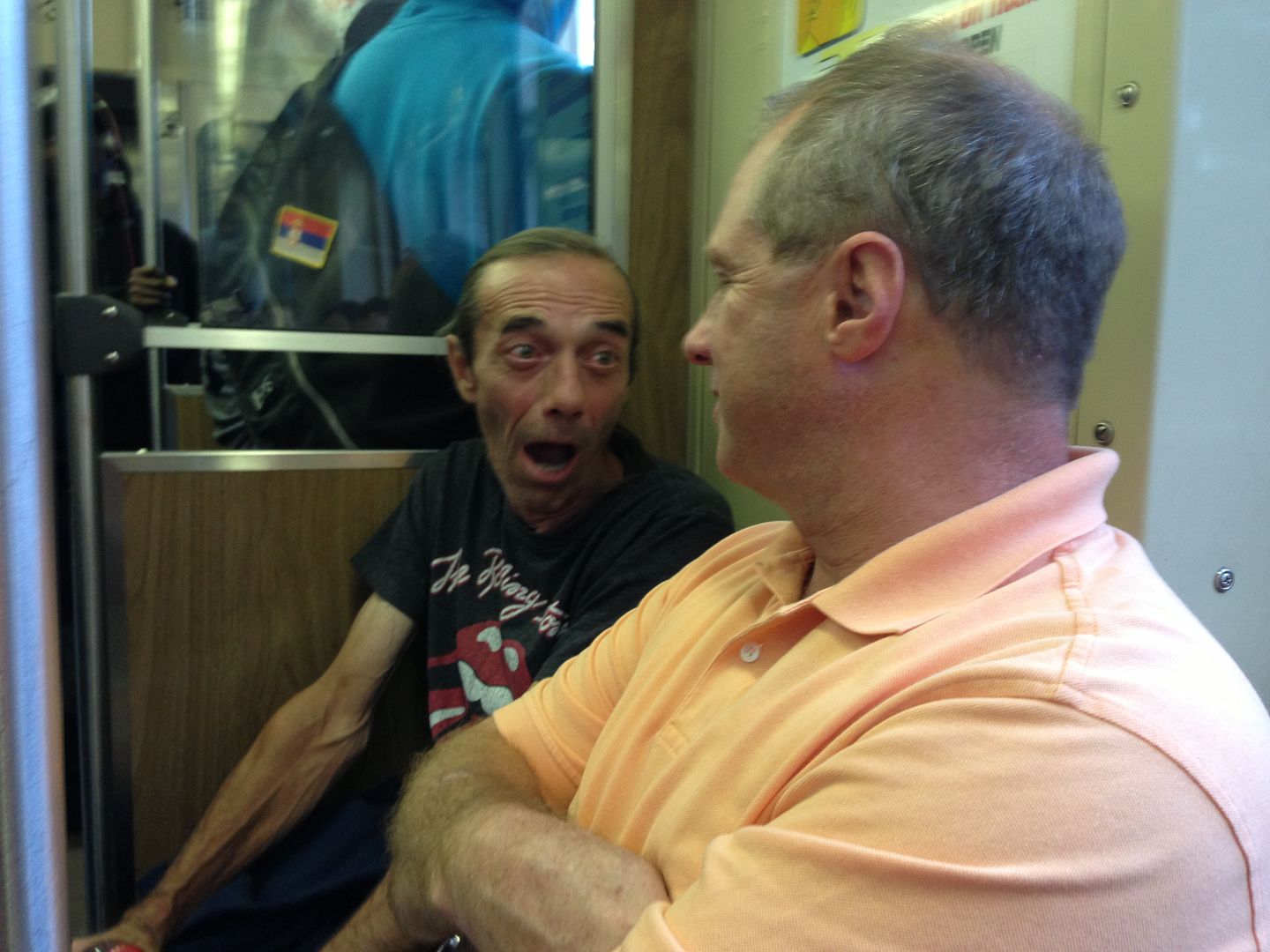 Awwww – CHICAGO!!!
This is a really interesting building – you can see the parking structure takes up the bottom quarter of the building.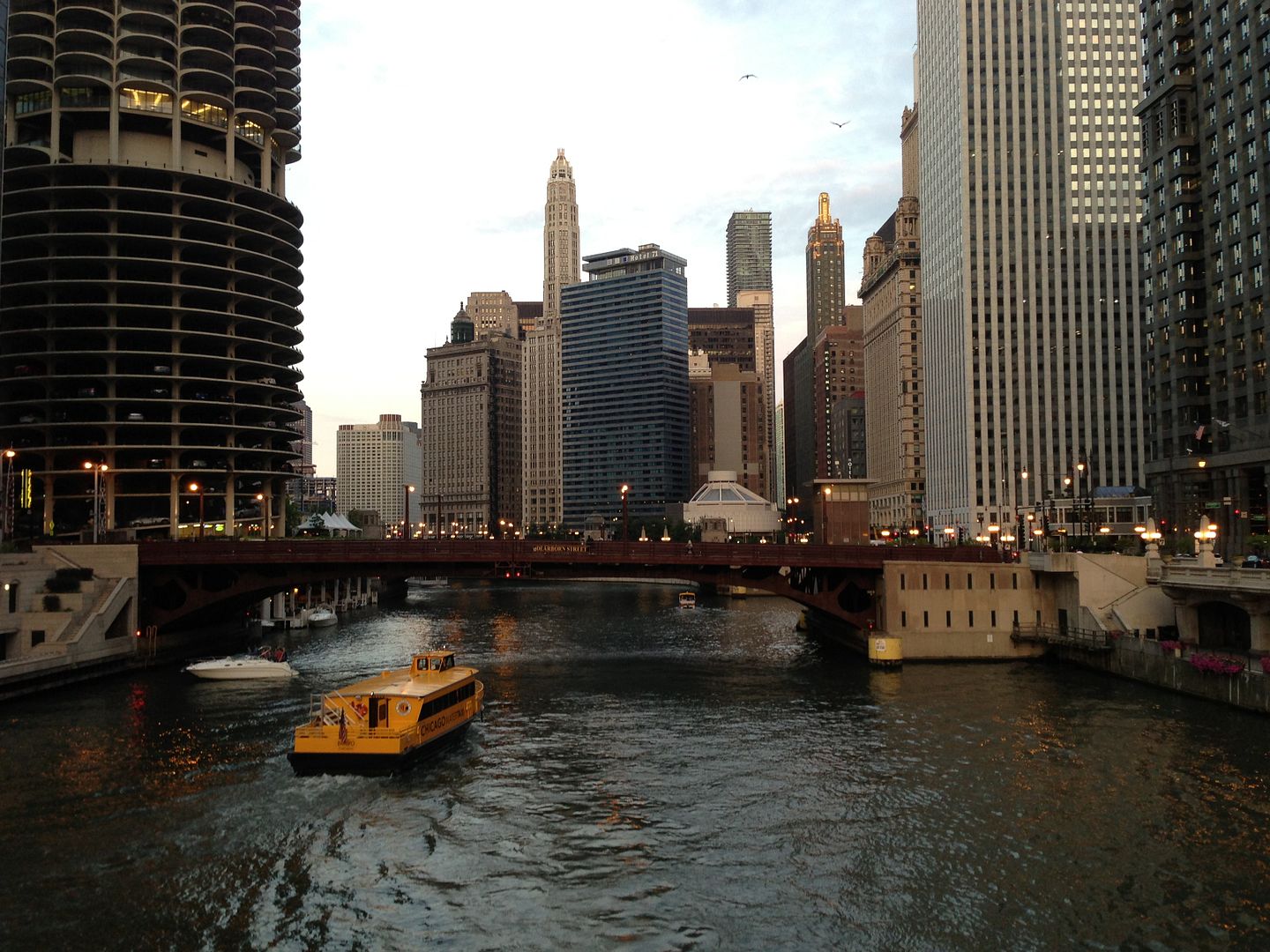 We ran into a street fair fundraiser for military veterans. They had a live band - the music was fantastic!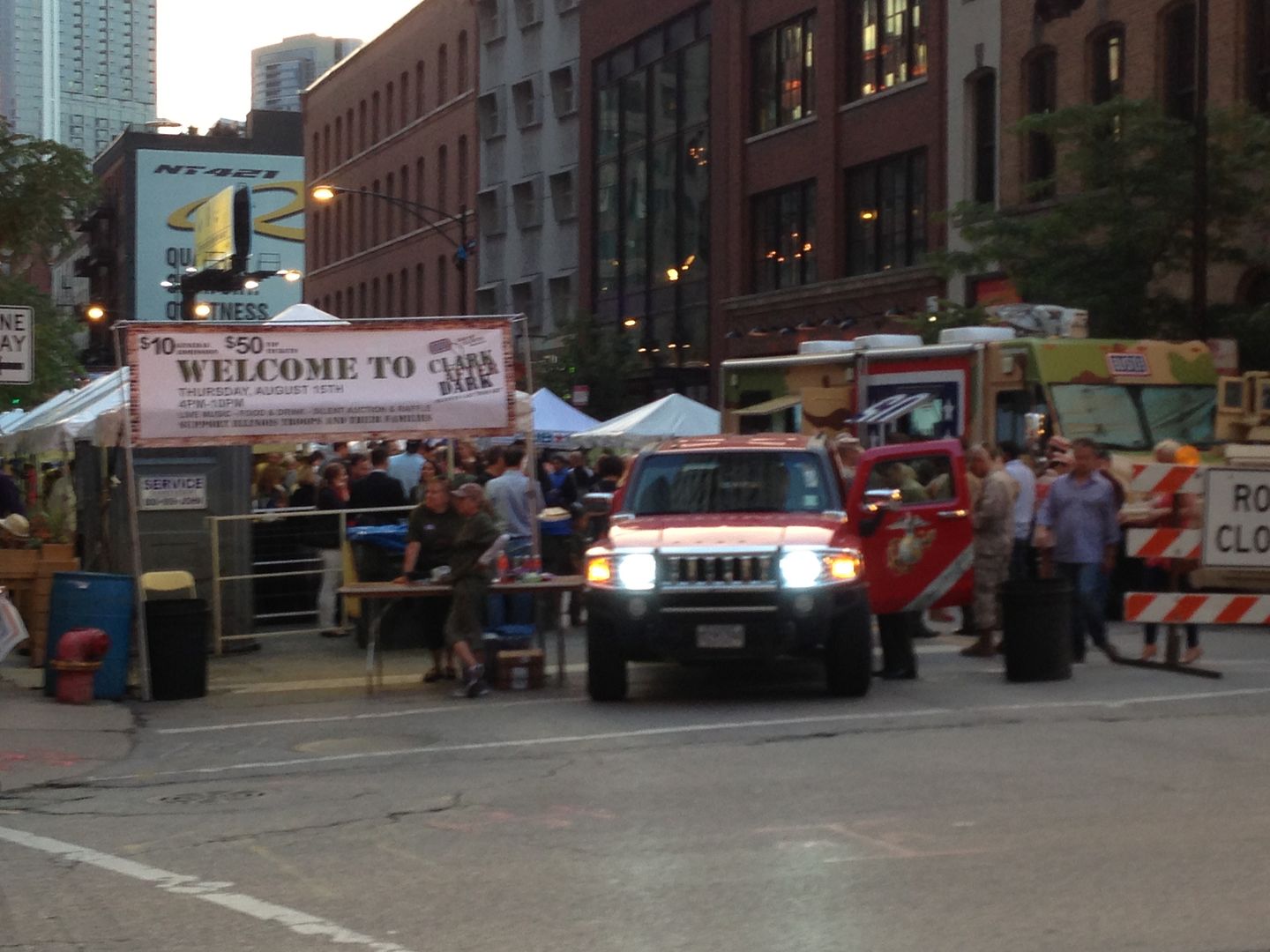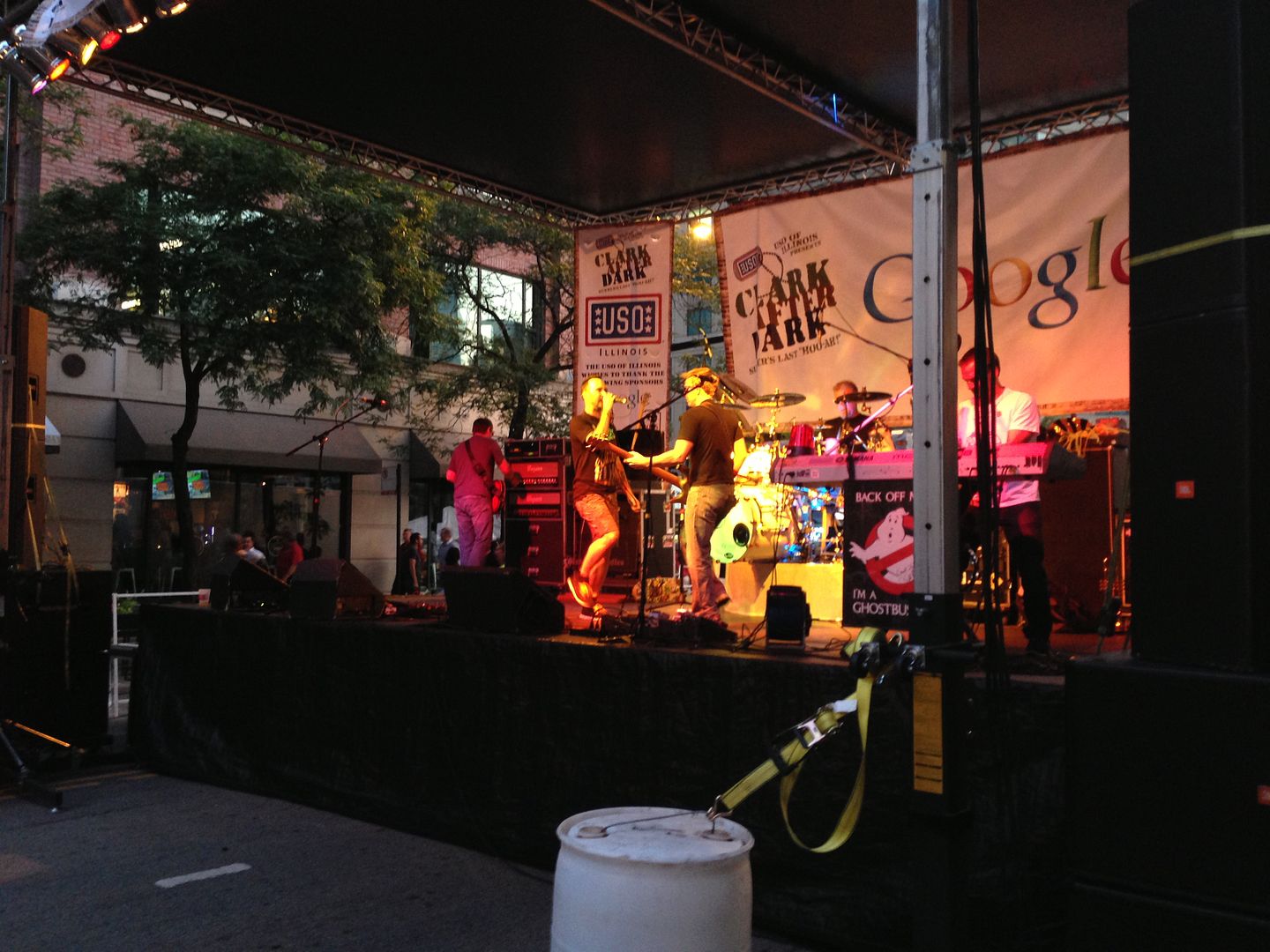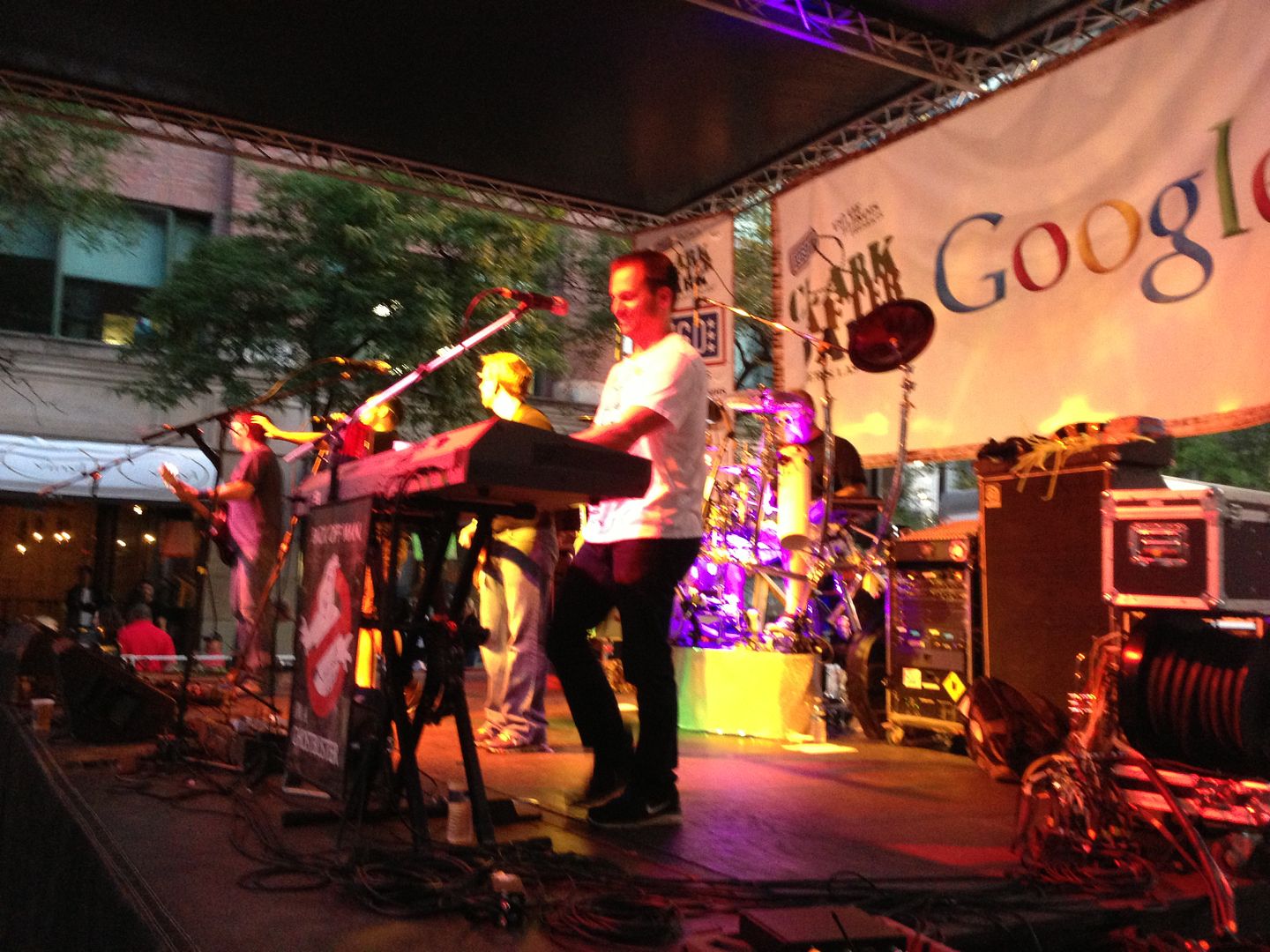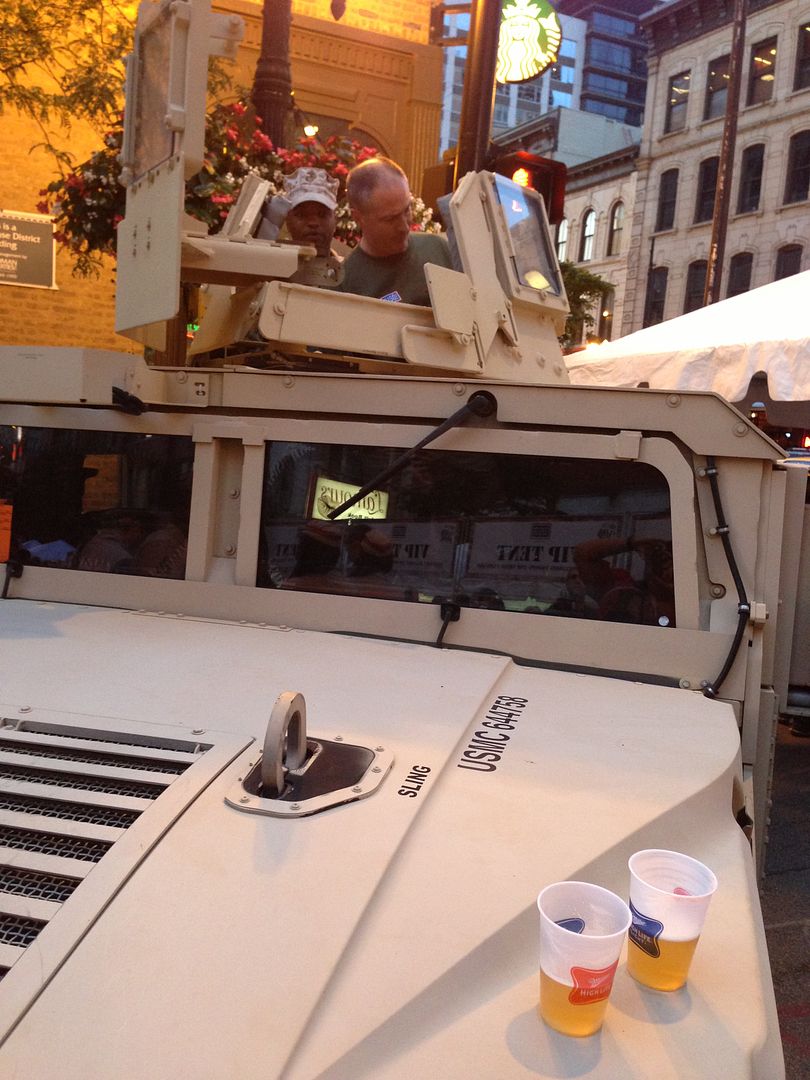 We had dinner at Sullivans – a fantastic steakhouse with an equally fantastic wine selection!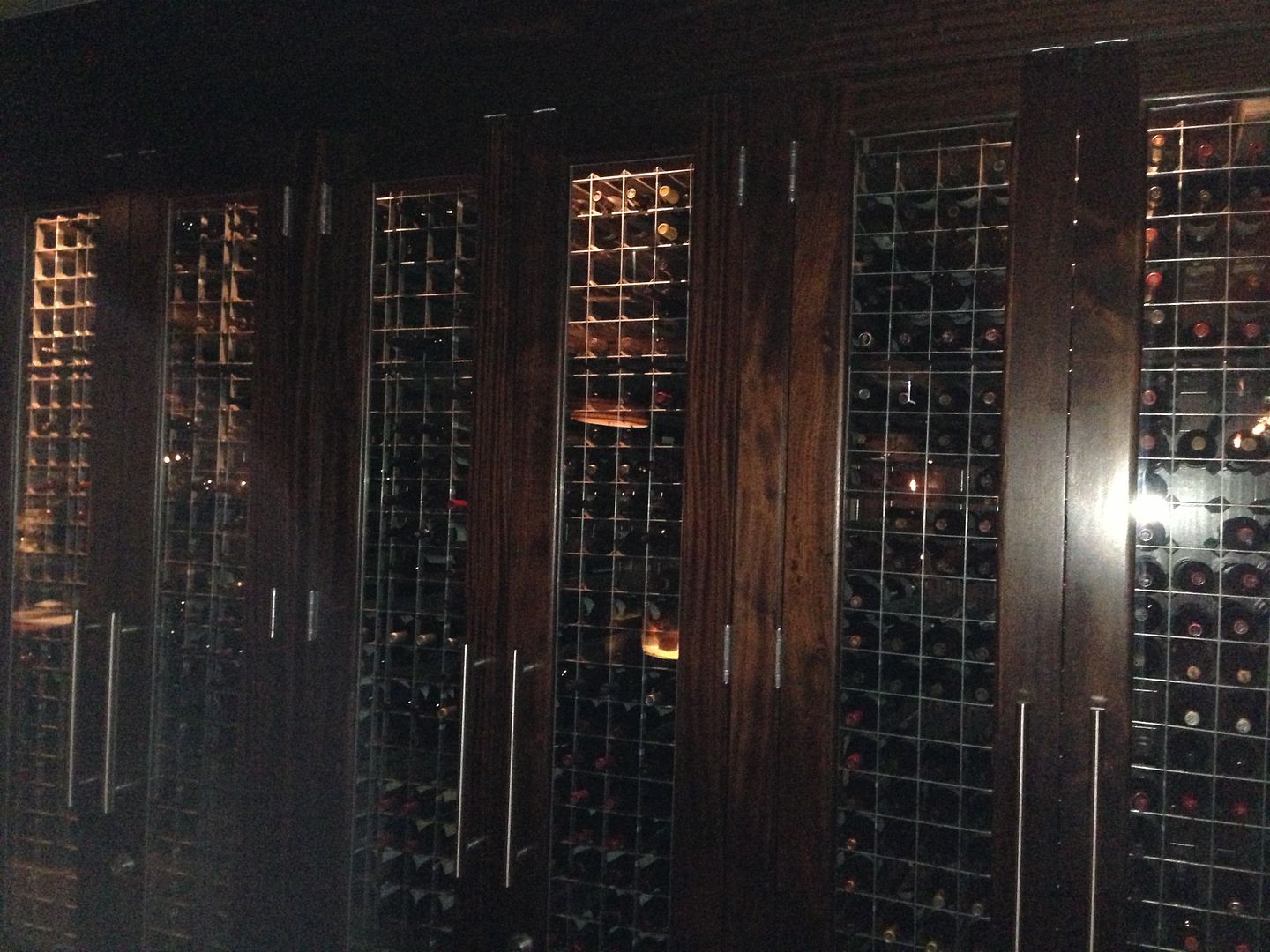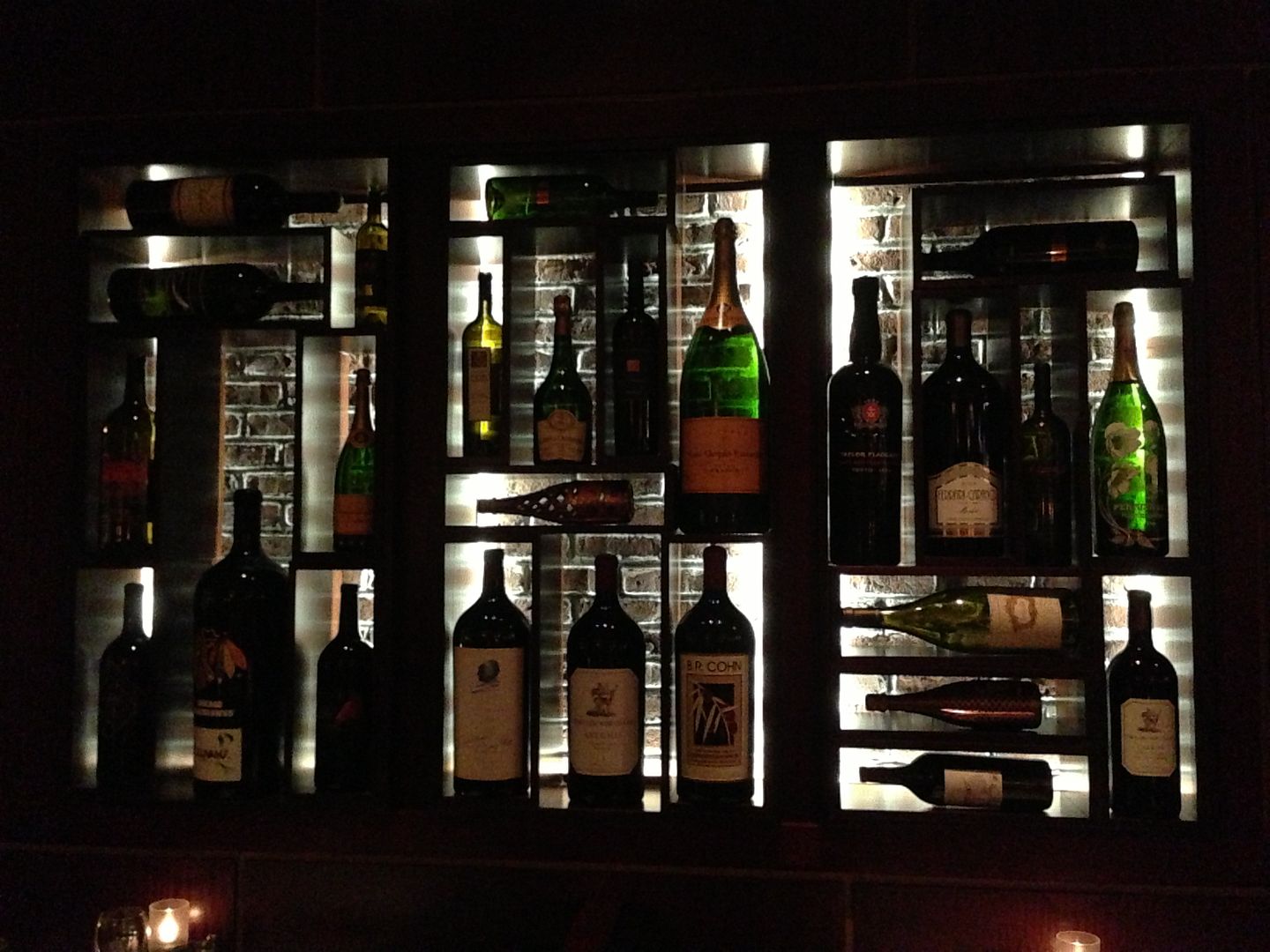 Even with that huge wine selection, I decided to have a very refreshing blueberry lemondrop martini instead!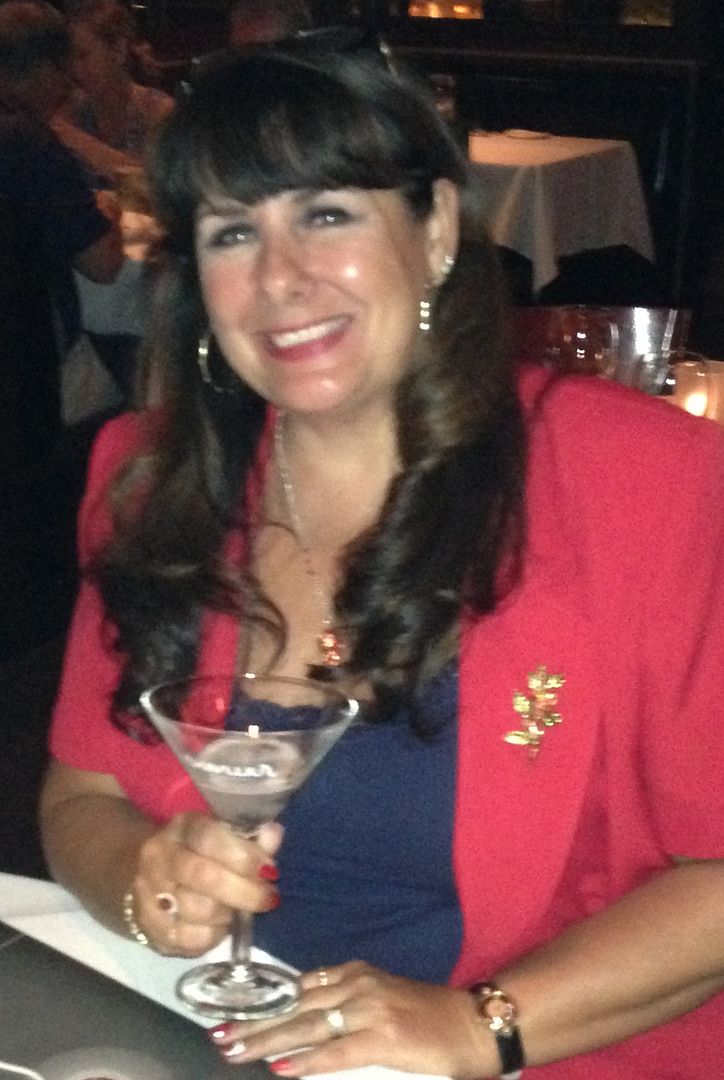 For dinner, I had two small filets with different toppings and a small lobstertail which were fantastic!
After dinner, we went back to a blues club we had enjoyed a couple years ago – Blue Chicago – it was packed but well worth it!!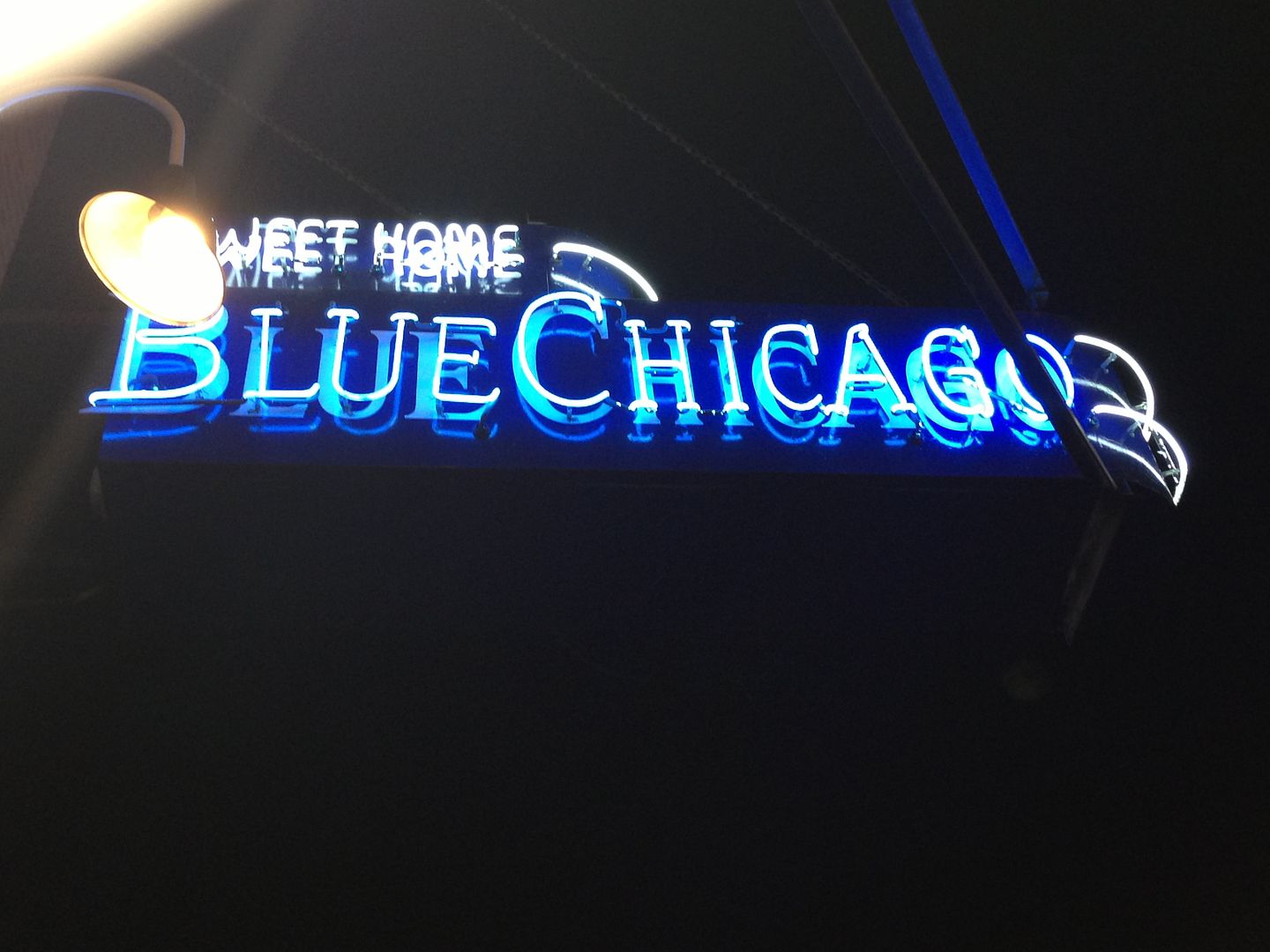 When it was time to head back, since there were 5 of us, we tried to get a taxi van but couldn't find one. Neil solved the problem for us but climbing into the back of a taxi that had a hatchback!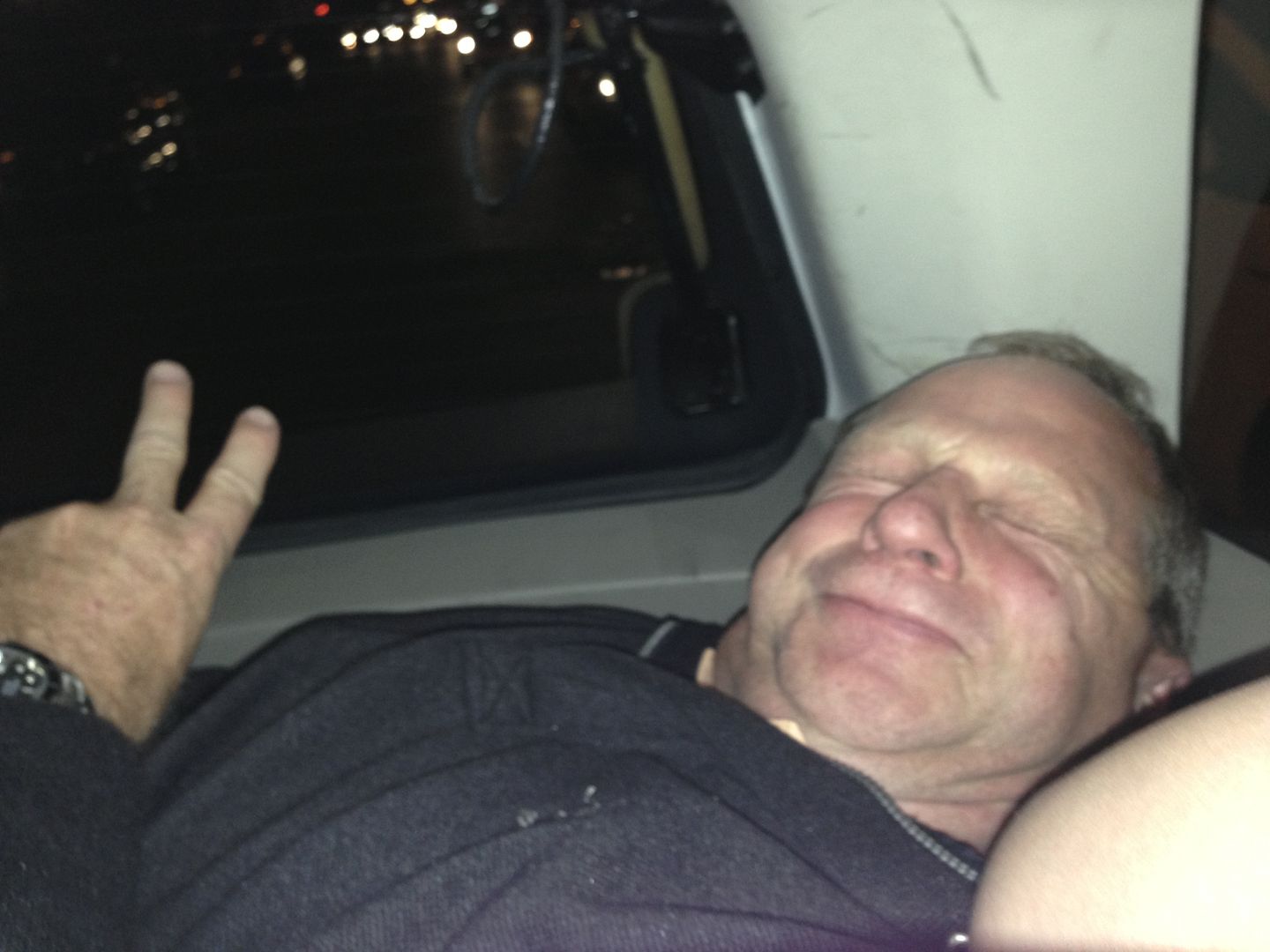 Friday morning I had an 8am WIN (Women in Numismatics) board meeting, followed by a general meeting at 9am. Even after being out quite late Thursday night, I made it to my meeting on time!! However, I think because I was so tired, I accidentally volunteered to be the next WIN President!!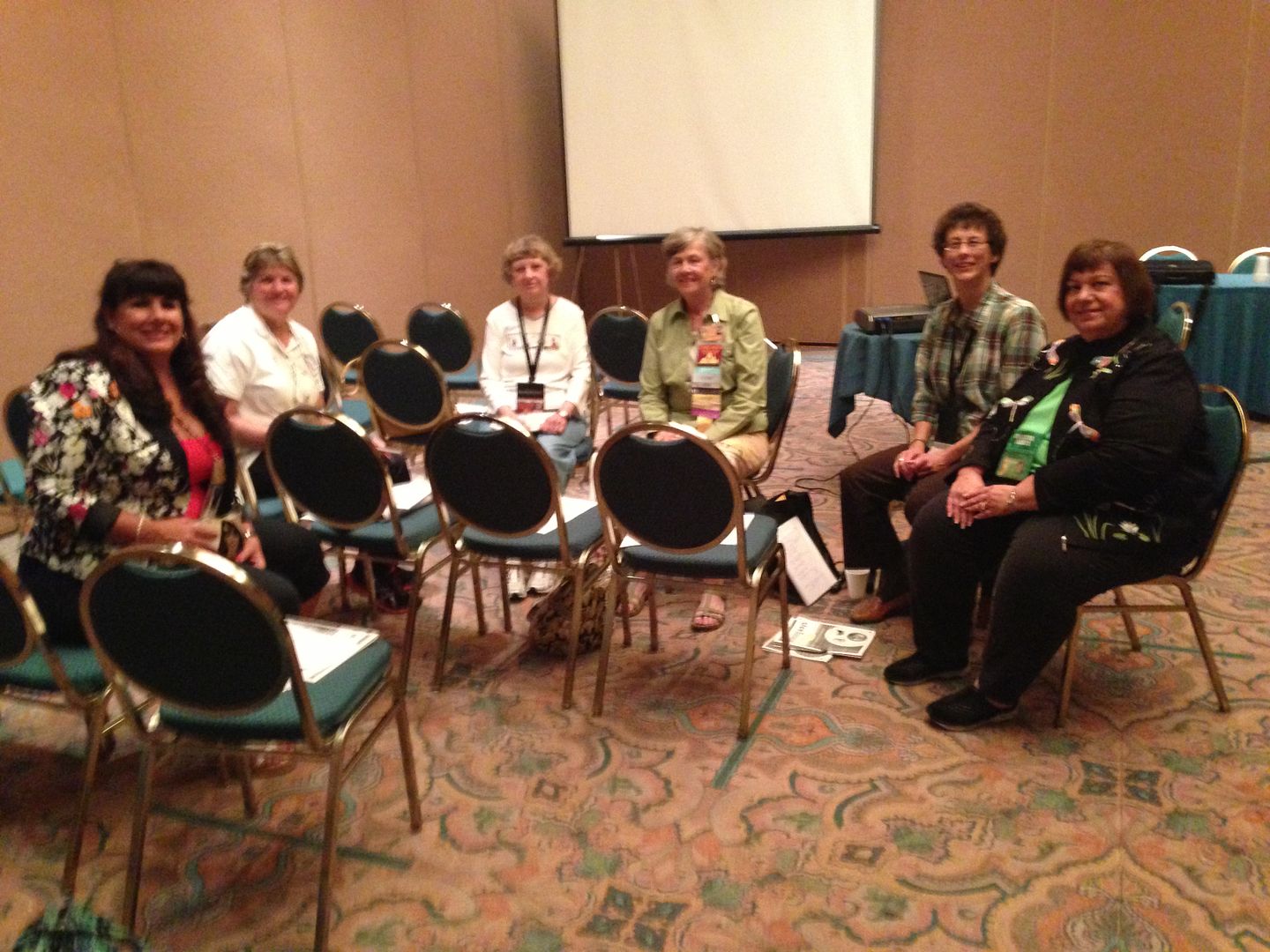 After my meeting, I went to the bourse to get my table ready. The lobby was once again packed, but I soon learned that this time there was a special reason for the crowd! The Mint was releasing the gold buffalo coin and everyone was anxious to get in line for it – and what a line it was!!!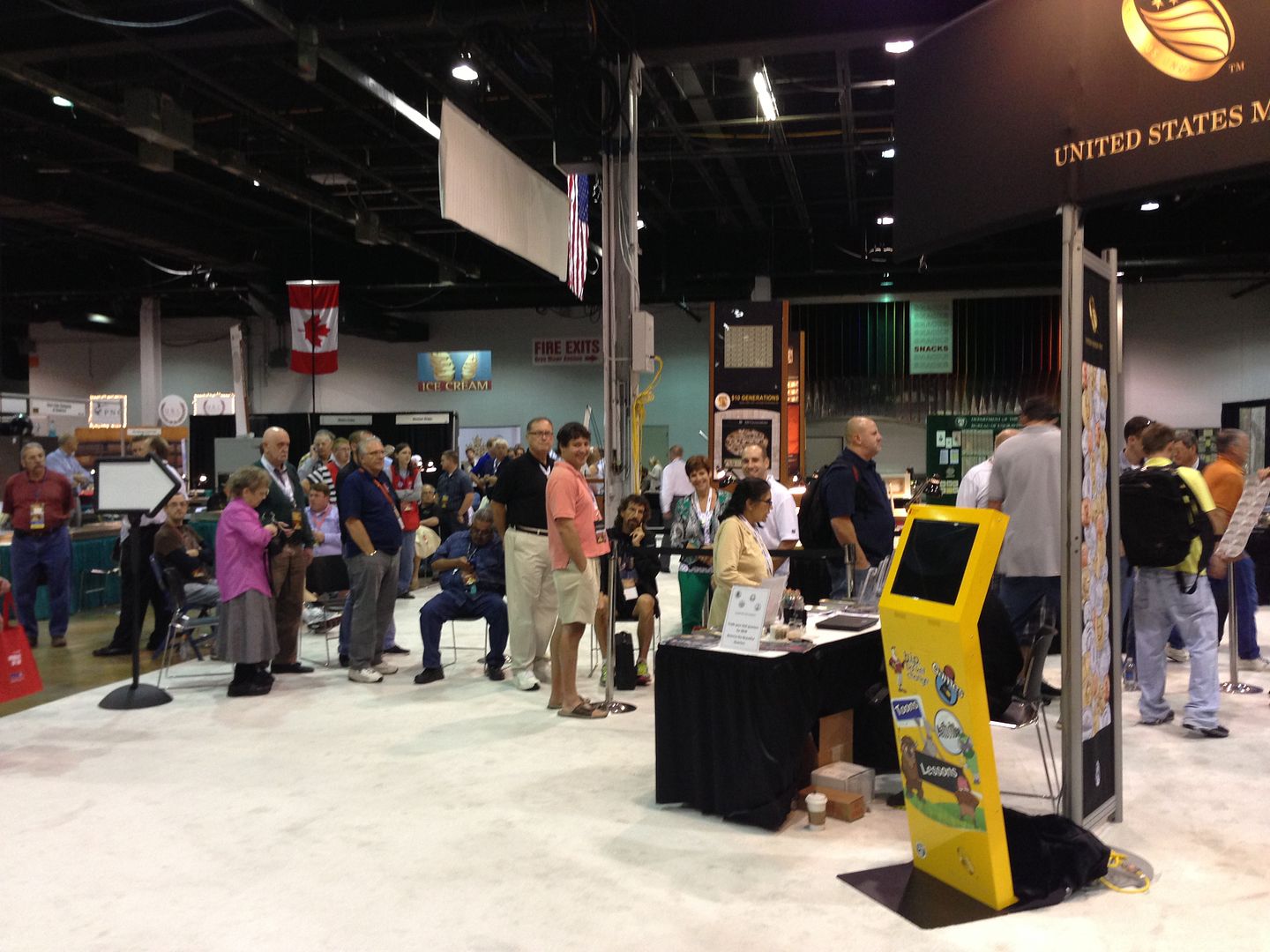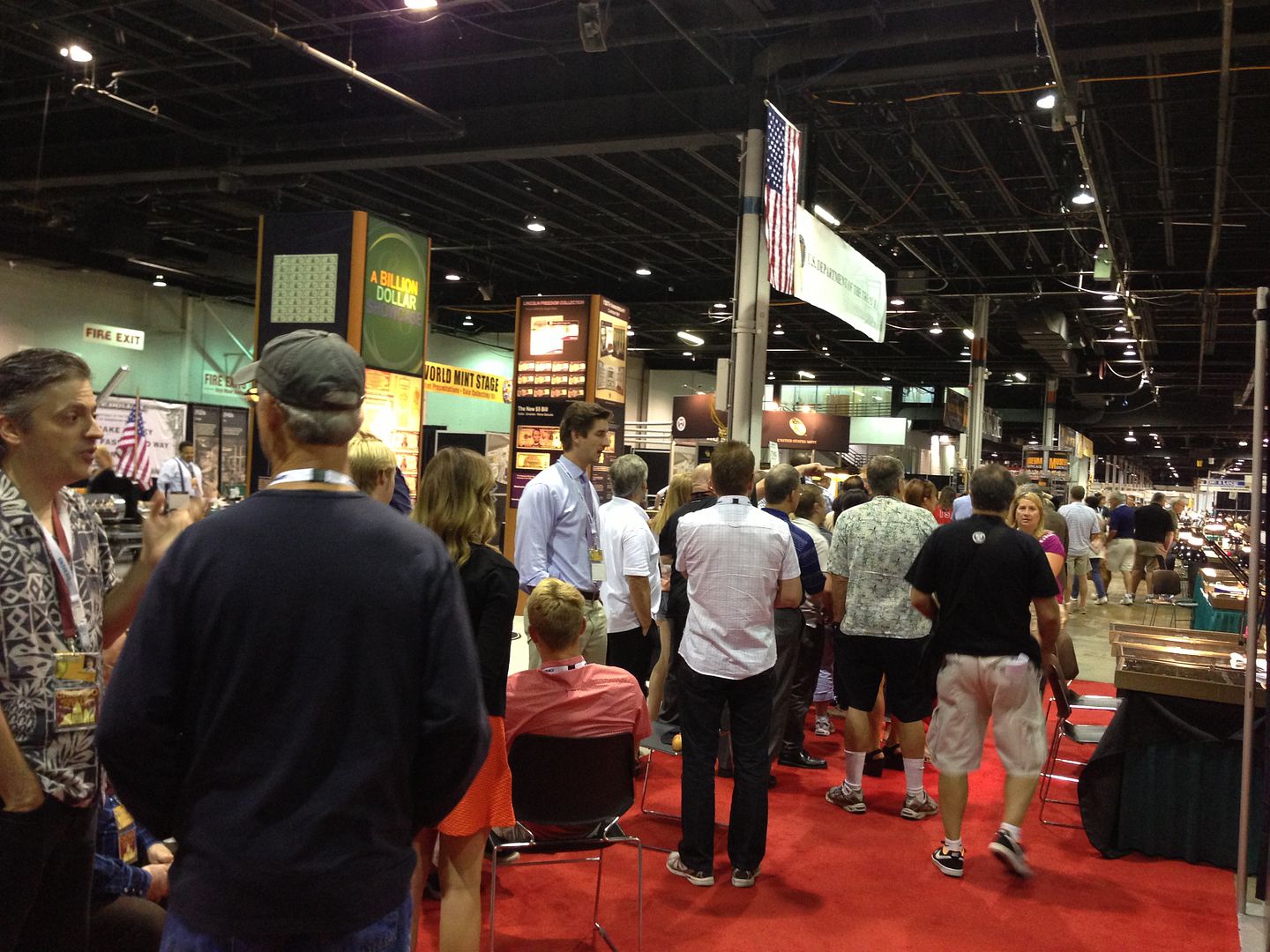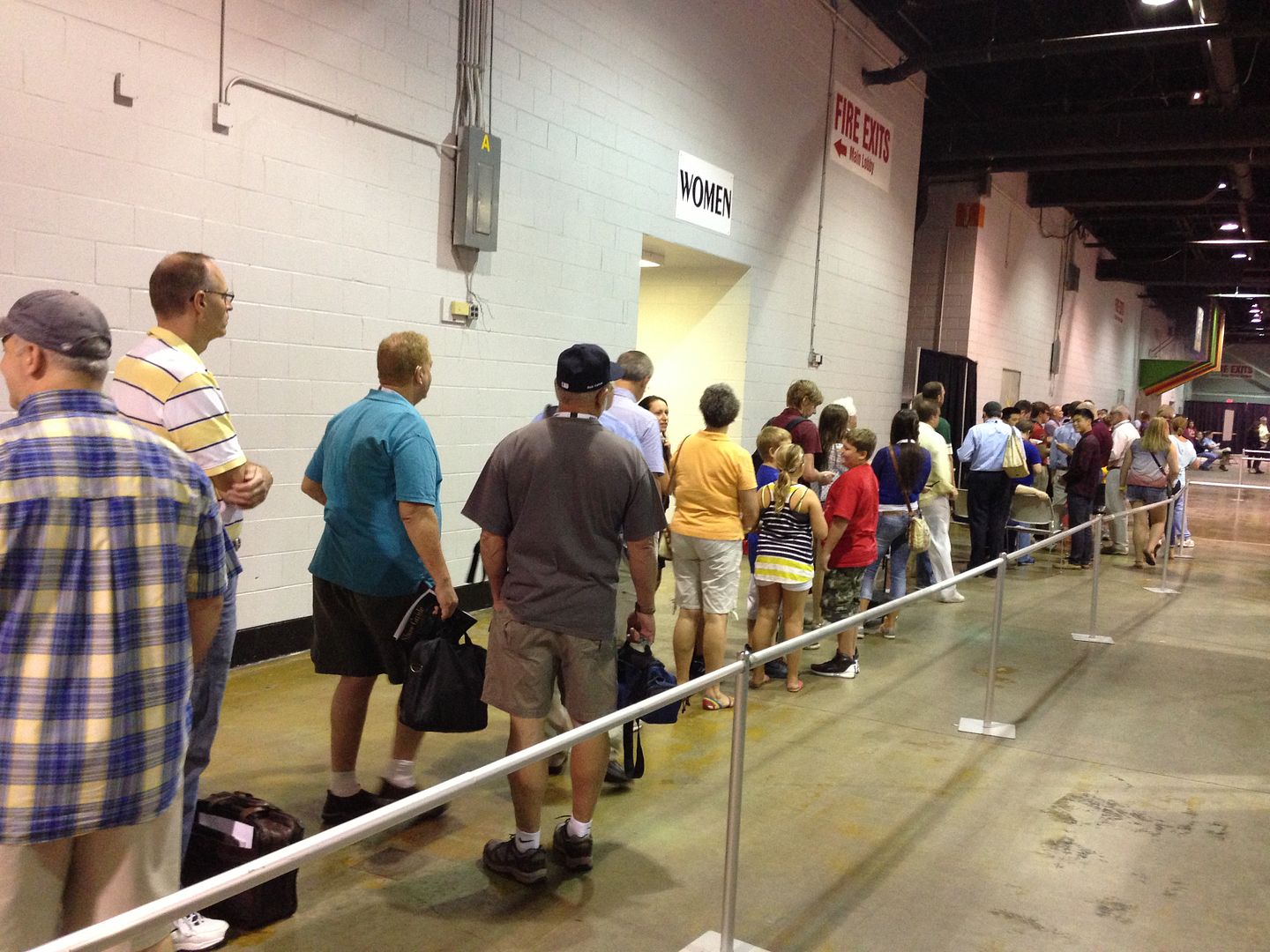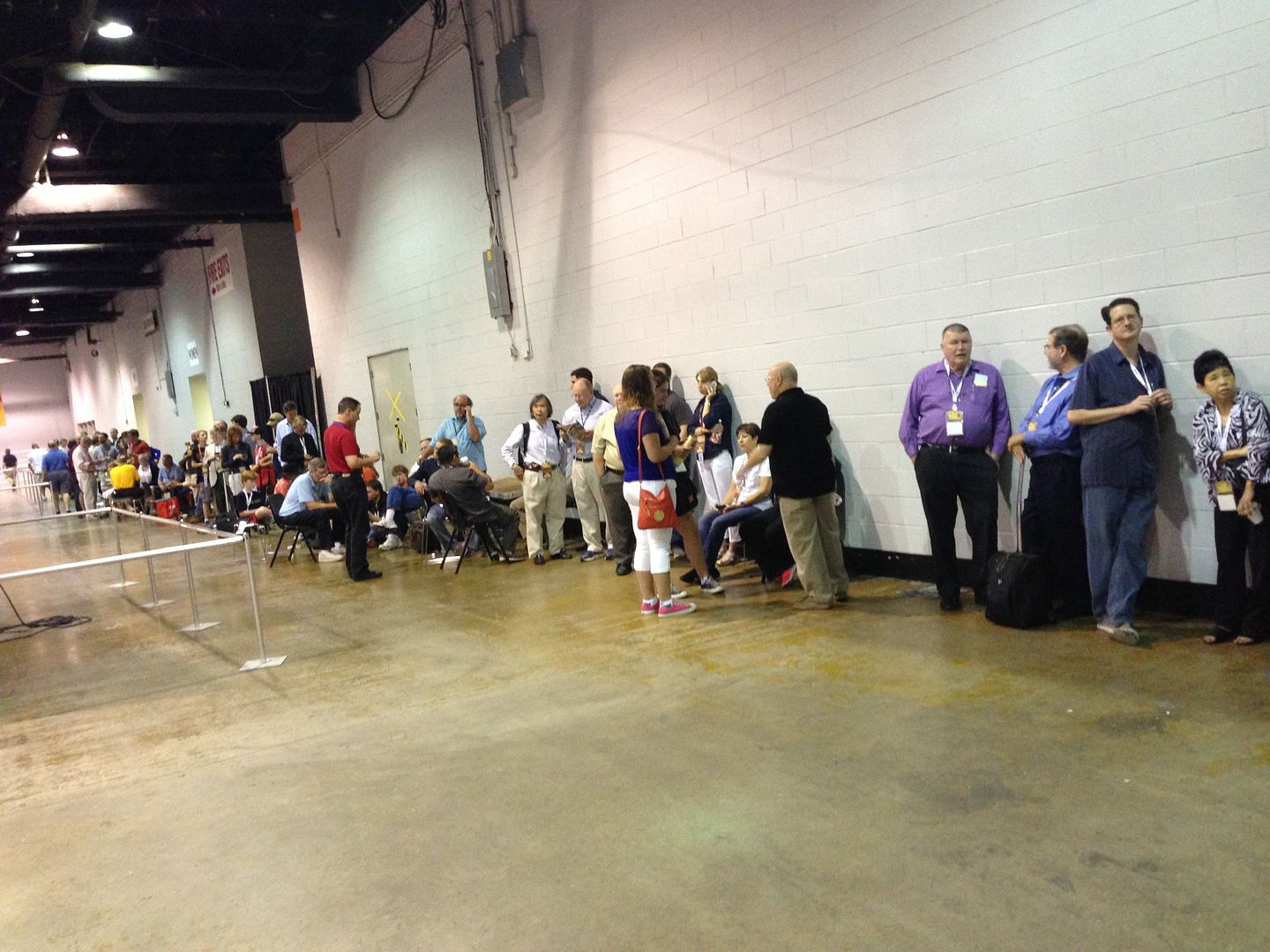 This is a view from one end of the bourse floor looking towards the other end – you really needed a skateboard to get around!
Todd showed me this coin he was photographing for a customer – he said it was very special. I don't know that much about gold coins, but I had to agree, it was definitely a beauty!! According to the PCGS guide, the coin is worth $56,000 – but I'm sure this particular coin is worth even more!!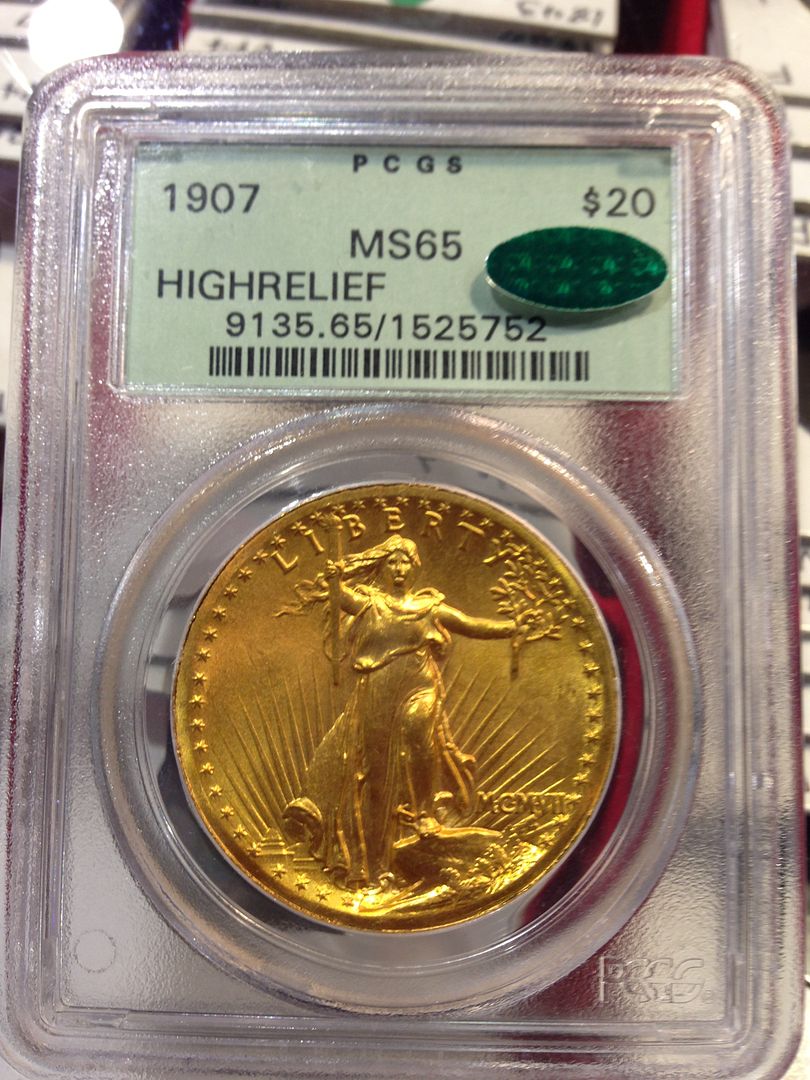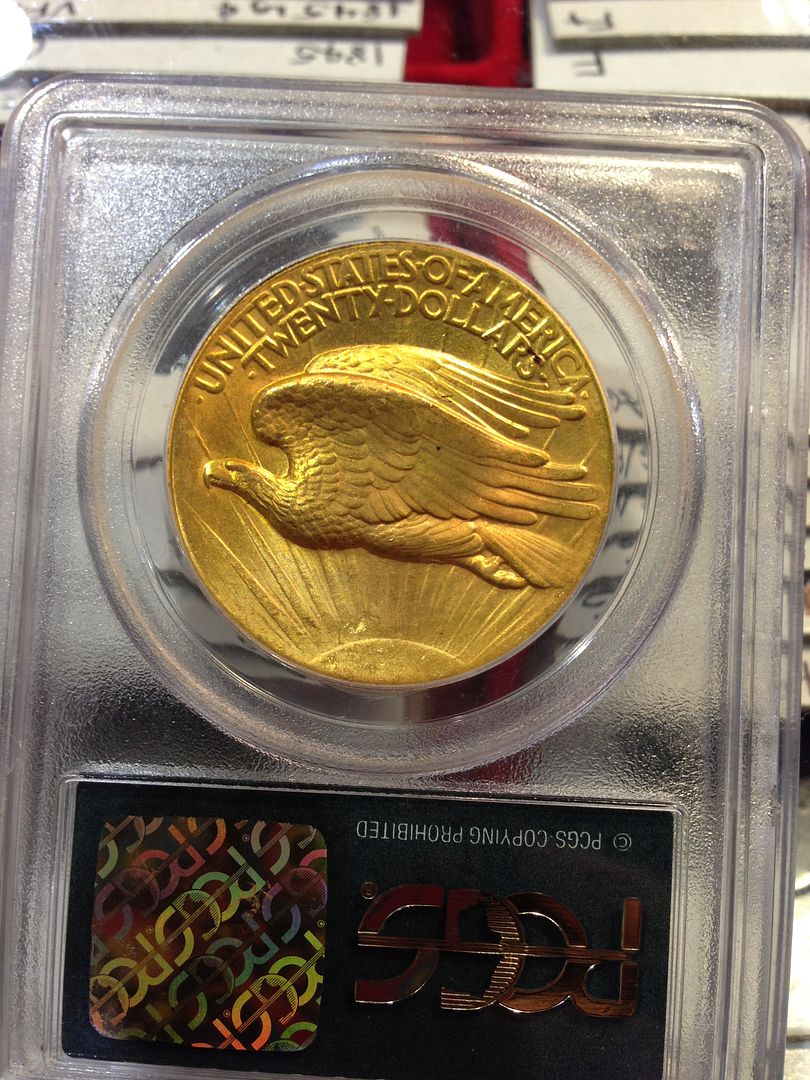 At 1pm, it was time for the Exhibit Class awards presentation and reception (which happened to be in the same room as my WIN meeting). I was so excited that my exhibit was to be honored! Here are photos of the awards presentations for my First in Class and Best First Exhibitor awards, and a photo of all the other First in Class award winners who were there….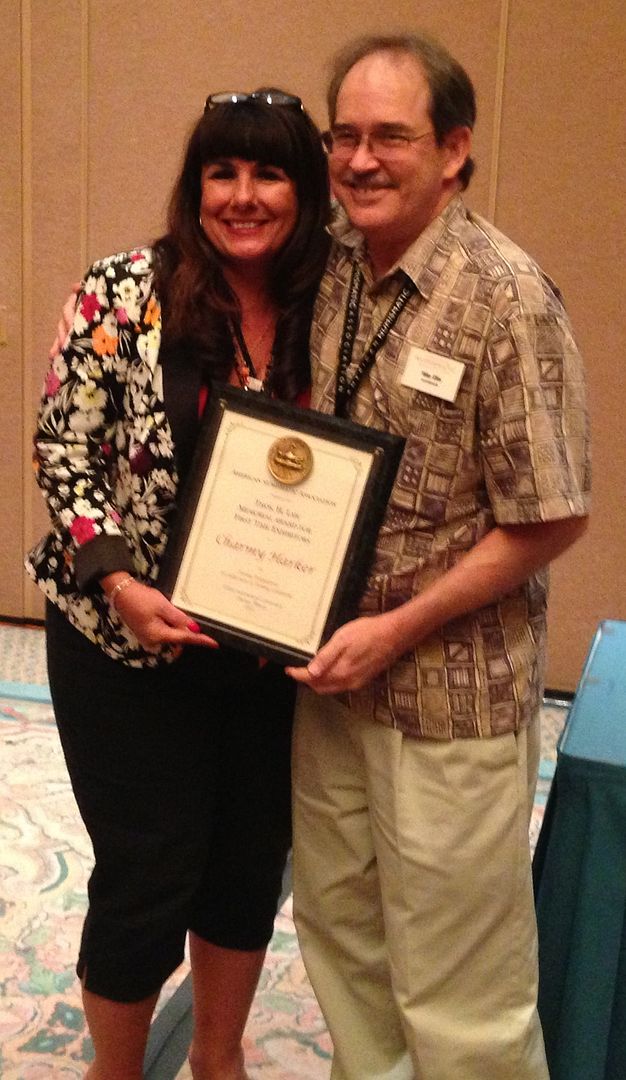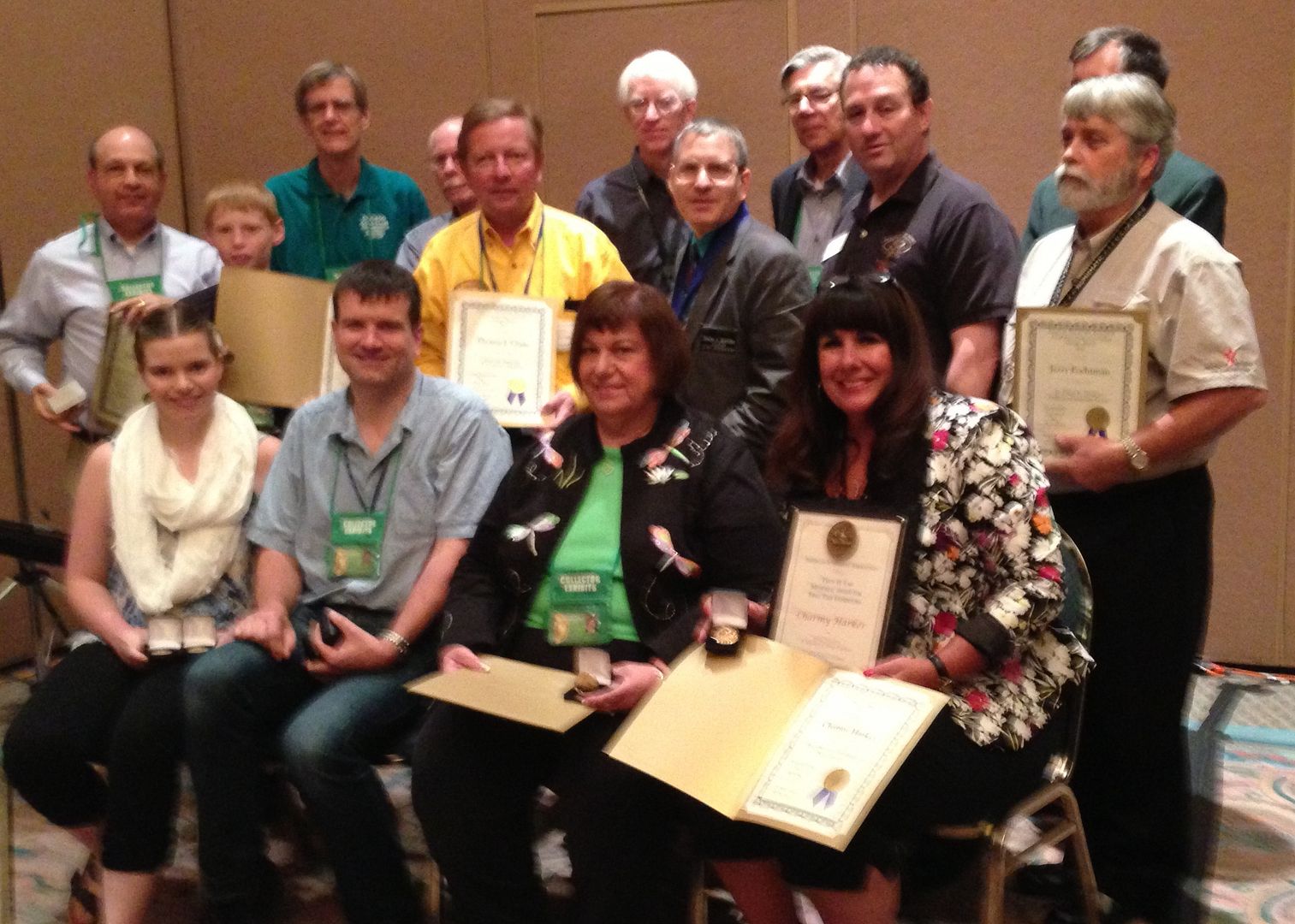 More forum members (CoinTalk)
Krusty/Rzage and Bill/PennyGuy
Another very adorable YN!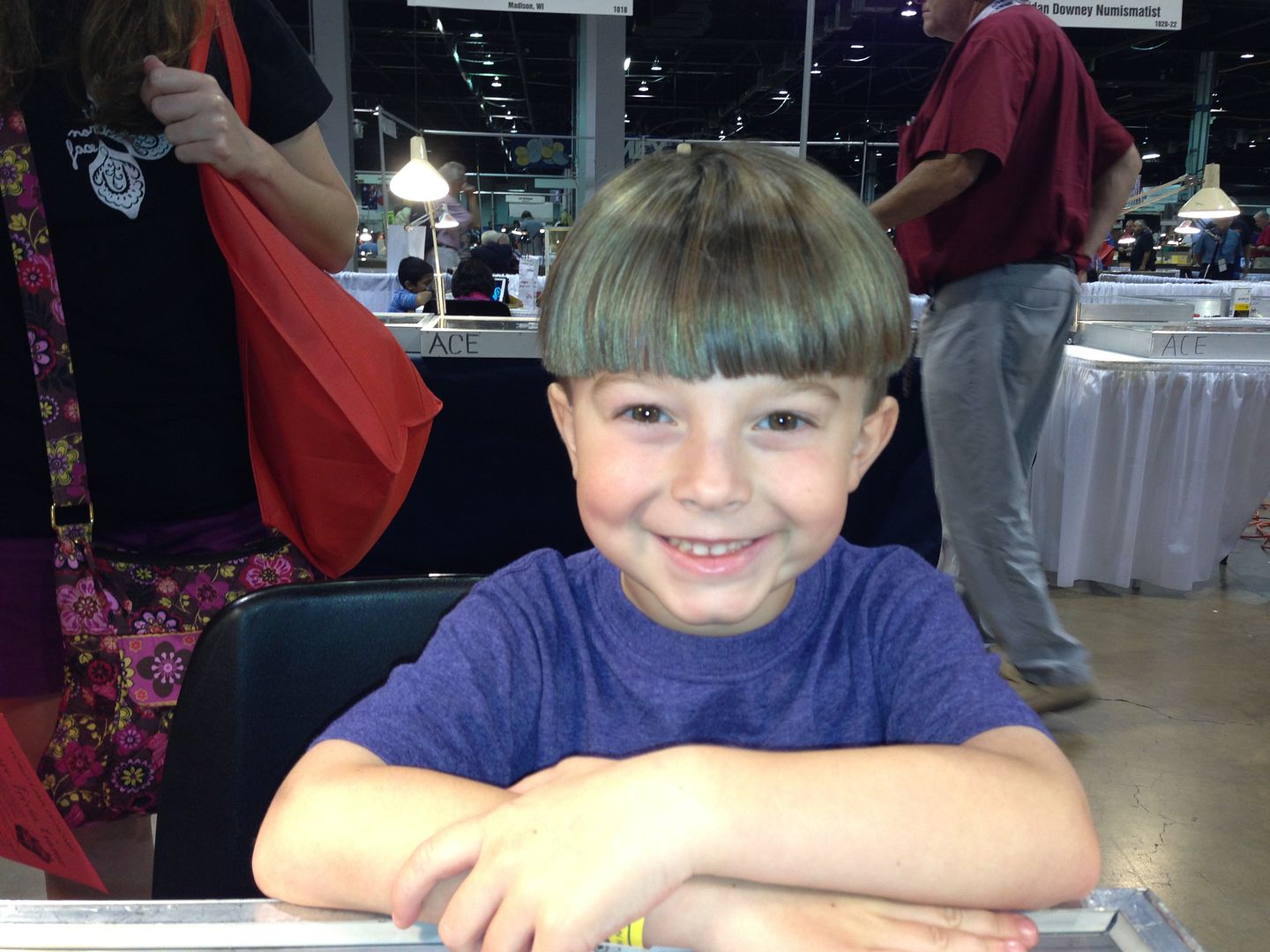 A fellow dealer, Dave Weigant, was honored with a birthday cake – however, he turned 84, not 94, so I'm not sure whether someone was teasing him or not!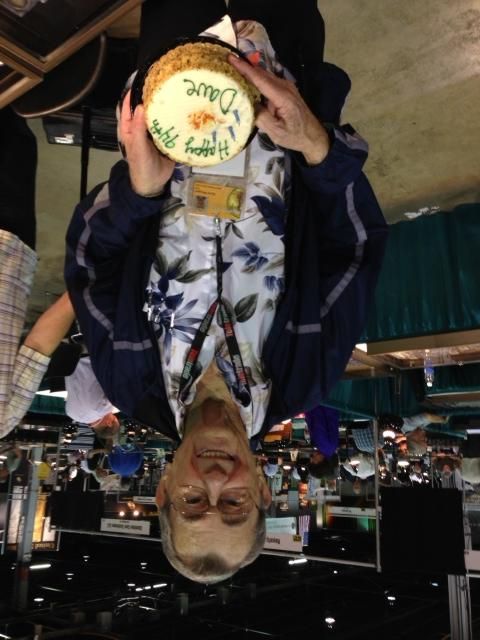 Soon it was time for the awards banquet reception and ceremony back at the Hyatt hotel. The show ended at 6pm, so we went over to the hotel bar for a couple drinks which I sorely needed to relax. The reception started at 7pm and the dinner banquet was at 8pm. I was getting more and more anxious and giddy, not knowing really what to expect. The room was very crowded since the new ANA officers were also being installed.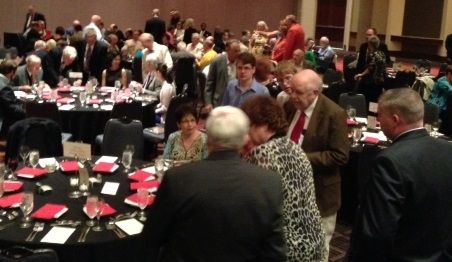 This is me with David Lange and Neil.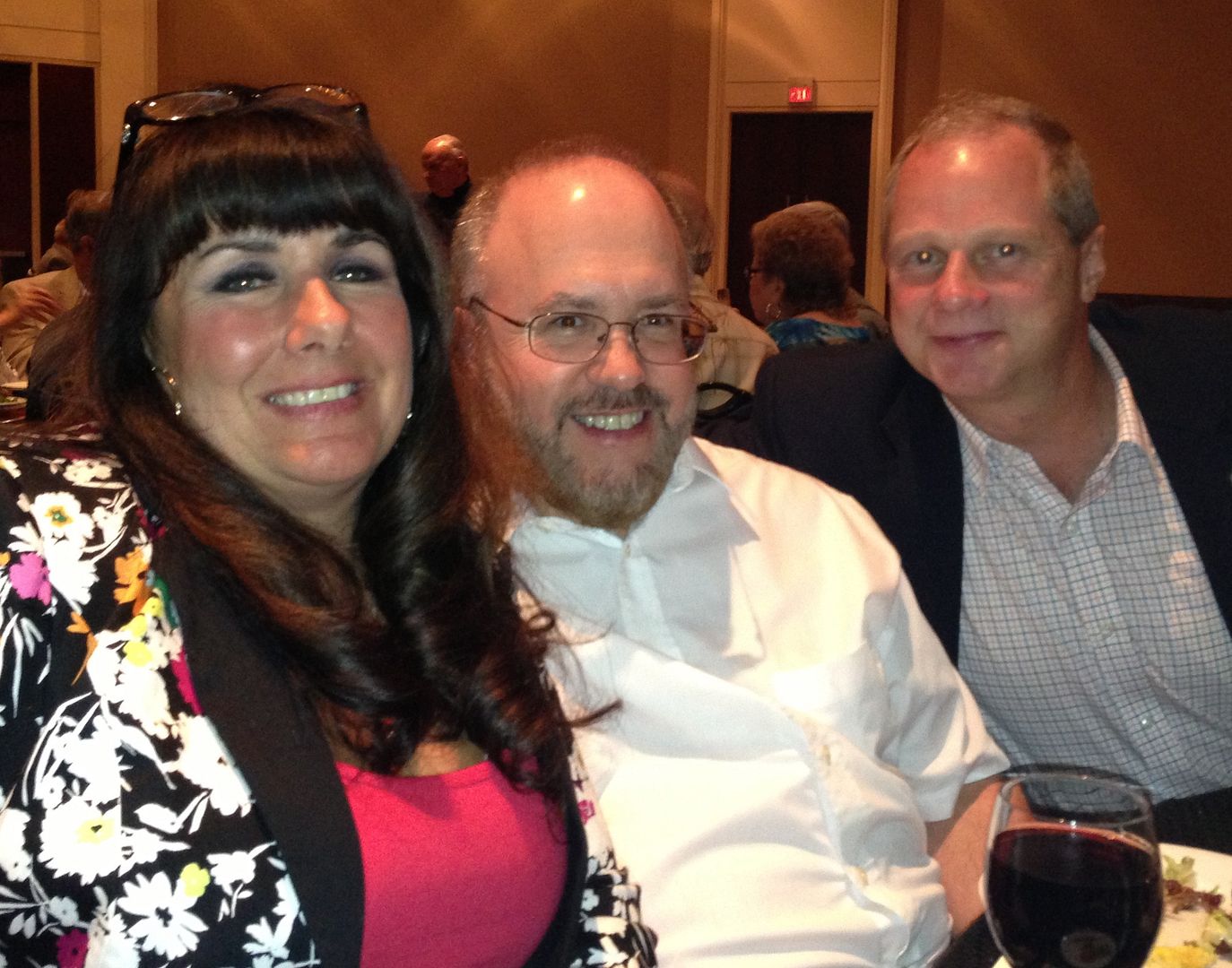 The wine they served was very good.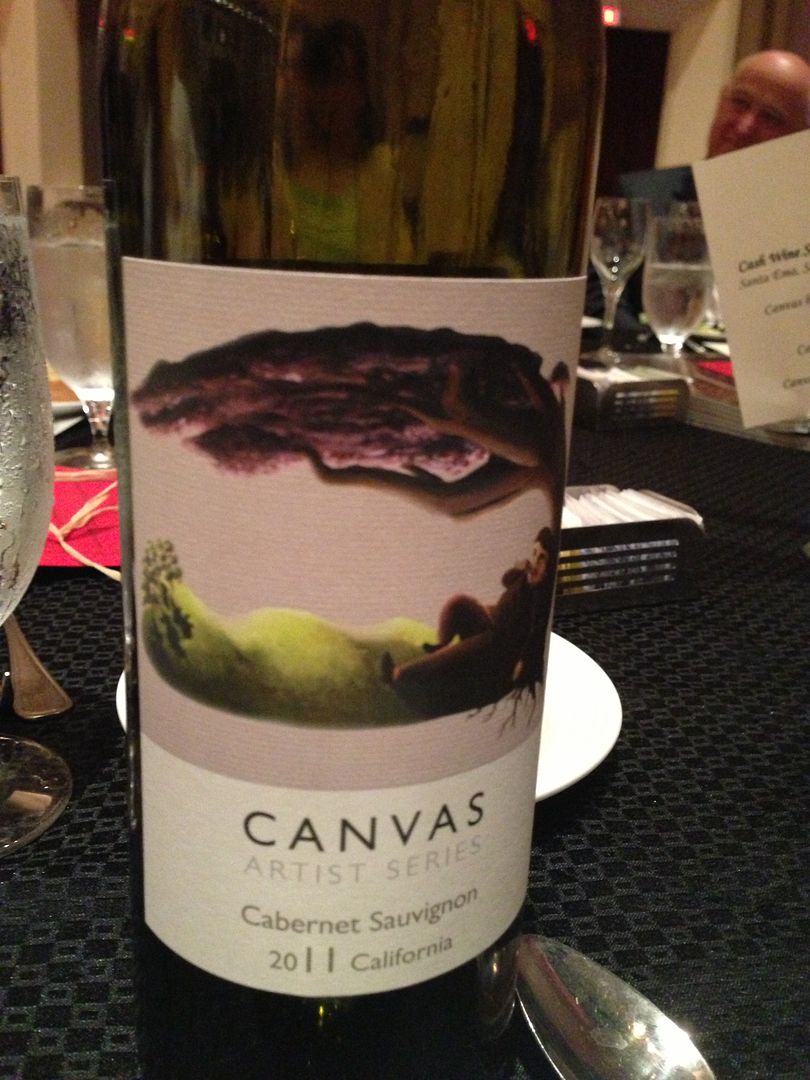 I really liked my exhibit because it was mine and I was proud to show off my little penny creations. But when other people kept telling me how much they liked my exhibit, it just wasn't sinking in that my Penny Potpourri exhibit was all that special. But I guess I was wrong because when they began announcing the awards, I was again shocked to hear my name called for the prestigious People's Choice Award! WOW!!!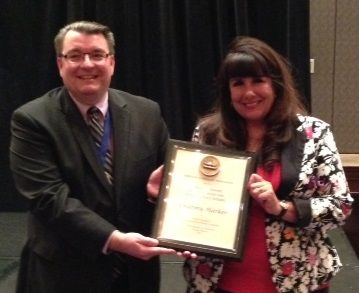 Then very shortly after that, I heard my name being announced again! This time it was for First Runner Up for the Best in Show Award. You can see I'm making a funny face in this photo – that's because I was biting my lip trying so hard not to cry!!!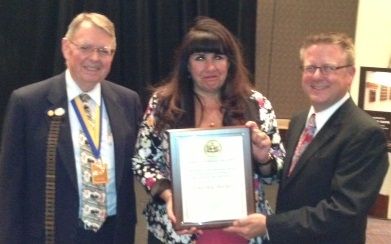 Here are the Best in Show award winners!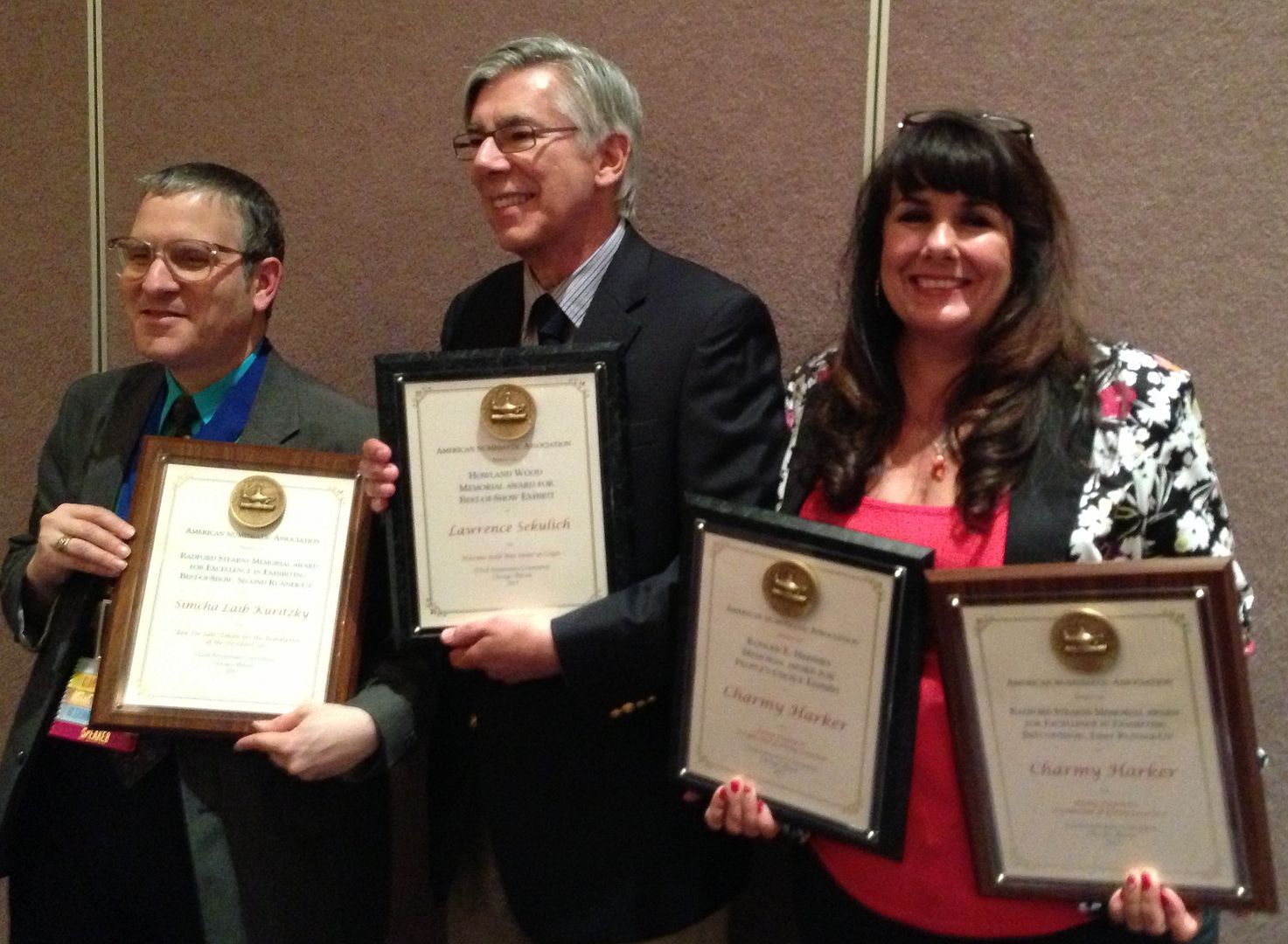 Larry Sekulich (above in the middle), who was my instructor at the ANA Summer Seminar, won the Best in Show award for his wonderful exhibit "Hwenne Gold was Smite in Coin – A Selection of Wonderful Late Medieval Gold Coins Displaying Saints, Sinners, Signs, Ships and More!"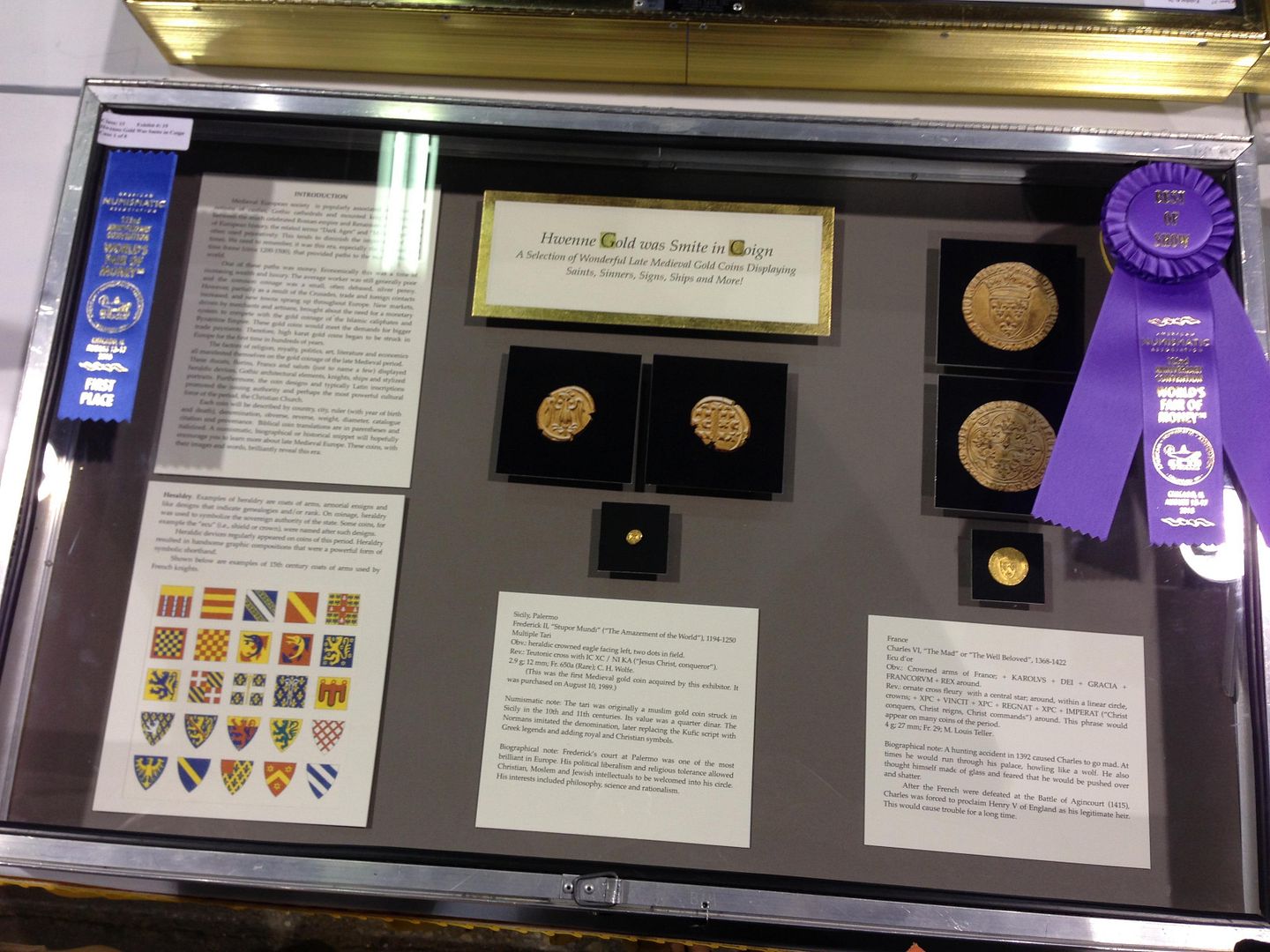 On Saturday morning, someone came up to me and told me my exhibit case now had FOUR ribbons attached! On my!
I realize how blessed I am that people really liked my exhibit – I sort of felt like Sally Field when she gave her Oscar acceptance speech saying "You really like me – you really, really like me!" I am so proud and humbled to be honored by the numismatic community like this, especially for something I love collecting. Someone suggested that I set out my plaques and medal, so since Todd and his dad had already gone home on Friday, I put them on his table next to mine.
The plaques were quite large and heavy and wouldn't fit in my suitcase, so I had to package them up and ship them home!
Soon it was time to pack up my booth, then pack up my exhibit and head home. Phew, what a whirlwind show it was for me!!! I sold a lot of material, bought a great group of new material, and had a fantastic time exhibiting my penny exonumia collection!
I made the short trip to the airport, had a pre-flight beverage, then settled into my comfy seat for the 4-hour flight home. Here is me so very HAPPY to be headed home!
Coming in to Orange County!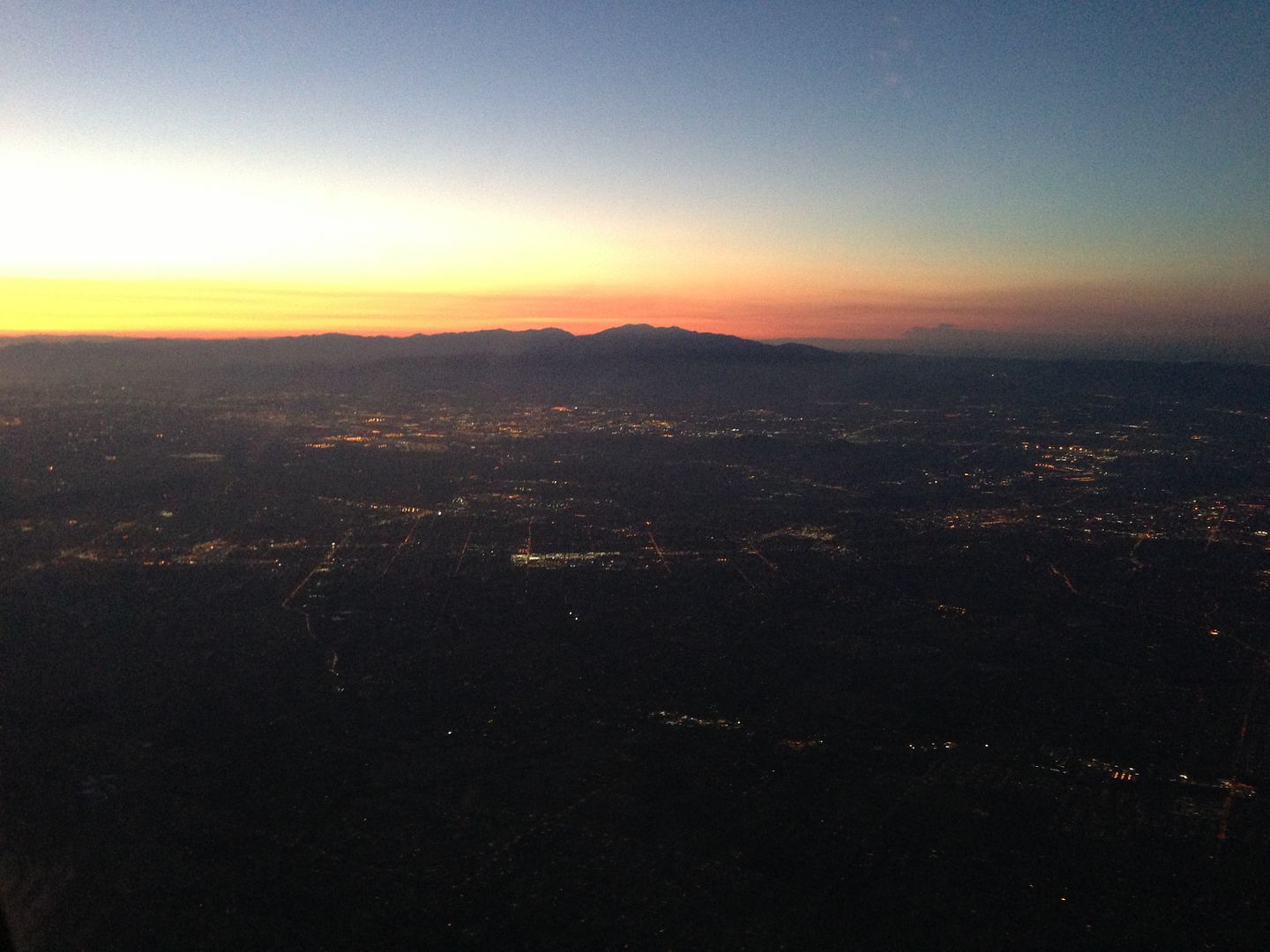 Next up – Lake Havasu for a few days with my hubby, then the new Santa Clara show, then Las Vegas Palace Station, then Long Beach (skipping Philly this time)!
Charmy Harker - The Penny Lady®
President of Women in Numismatics
ThePennyLady.com