Home
›
U.S. Coin Forum
1897 S Barber 25c Rare Center Mint Mark. NGC XF40 Crossed to PC-35 as anticipated TomB had similar f
SAM5969
Posts: 1,215
✭✭✭
While there is a thread for all things Charles Barber, I would like to share this anecdote with the general forum ... Hope I do not bore the forum... Read on if your interest has been sparked
Some 2 months ago while browsing Collector's Corner, a certain dealer from Connecticut (I will assume it is improper to mention more details so I will leave it at that) had the coin below listed for sale. It was housed in an NGC XF40 holder and listed for $975. I immediately bought it. Not only for the rare Center Mint Mark for the 1897-S issue, but more (or at least equally) for the pure unmessed with originality the coin appeared to have. Collectors unfamiliar with the series are generally in tune with how difficult it is to locate circulated Barber coinage that has not been tortured, mutilated and abused. And within that same tangent, many collectors not specializing or necessarily familiar with the Barber Quarter series may also know the difficulty of:
A. Finding ANY
problem free
1897-S Quarter in G.. Followed by the increasing rarity of ..
B. Trying to find a
problem free
example in any grade above Good. Trying to find a F-12 or better in unmessed condition is downright scarce to rare
C. Locating a
problem free
1897-S Quarter with a center mint mark in ANY condition is RARE !
The Original Complete Guide to Barber Quarters by Lawrence made no mention of a center mint mark for this date, 1897-S. The Guide broke all dates and mint mark positions down for each coin in the series along with all varieties. And this guide which was exceptionally well done, laid it all out in tedious and tremendously attentive detail ..
But ..
D. To find a mid-grade - VF to XF 1897-S Barber Quarter WITH a center mint mark in unmessed with condition, fully original with excellent eye appeal is likely an event bordering on a winning the Nigerian Lotto (insert punch line: Scam Alert - it doesn't exist!) .... OK -hyperbole used for effect ... But point should be well taken.
I discovered the coin was for sale on a Sunday morning. The outfit selling the coin was closed and no one answered the phone, nor replied to my email. Even at that first glance of the seller's images, I recall thinking that this coin appears to be a borderline VF-35/XF40. Not that I cared much about that, other than obviously preferring the highest state of preservation possible whilst maintaining the identical condition ... and the of course the seller asking "XF money". The coin was still well below what it COULD be sold for with all the aforementioned reasons listed, a premium of up to $500 could easily be in order. For the next 18 hours I sweat it out hoping my email would be acknowledged first; that my purchase from Collector's Corner would be "The first person in line ... Fortunately, when Monday morning rolled around I did receive an email confirmation confirming the coin was available and would be sold to me pending my payment (I would have driven a Big Wheel on 2 flat tires from Boston to Connecticut to pay in person if that was what had to be done).
Once I received the coin and studied it for several days I was positively elated with the unmessed originality. Upon further scrutiny, I was more convinced the proper grade was 35 and not 40 but the wholesome condition of the coin far outweighed the likely down grade the coin would receive if I sent it to PCGS .. After I vocalized my opinion of the grade, I sent the coin to be viewed in hand by 3 deeply passionate and long time Barber collectors - all from this forum . After in hand inspections, all 3 declared it to be a true XF. The coin was eventually returned to me where I reviewed it again and stuck with my original assessment of the 35 grade although I am by far the least experienced of the group of collectors within the circle (Barber Keys, Lucanus, Paesan). I have just received the cross over submission back. The 1897-S Quarter with the CMM was submitted along with 10 other Barber quarters all NGC graded and were the only type coins in this cross submission. All 10 coins crossed. Two came back one grade lower (this coin included as one of the two) and one coin upgraded (an 1892-S NGC MS61 went to PCGS MS62). All the others crossed at grade. Had I known that checking the option to cross at any grade, coins would have been cracked then evaluated/graded as opposed to graded then cracked if the min. grade is realized, I would have exercised the option to cross at any grade. The vast majority of the submission were AU and I was virtually 100% confident they were all properly graded or within 1 grade of being properly graded.
While the coin satisfied much of the Extremely Fine (not extra fine, a pet peeve of mine) criteria. Full lower band is visible, weak but virtually full wing tips, although the images do not show the true detail the wings exhibit. The coin is softly struck contributing to the "illusion" of wear. Other feather detail and all other criteria, were all in tune or very close to being fully satisfied. However, the amount of wear, lack of luster and the ever so slightly darker color led me to feel the coin didn't have quite enough wreath detail, and just missed in a couple other areas to be a true XF. The coin had a very even wear pattern, but was worn to a level that should just preclude it from being put into an XF40 holder (mind you I have certainly seen much worse in XF holders) .. I felt this coin to be a solid VF35 and an overall level of wear and look that just missed extremely fine.
Let me close by saying the point of this "anecdote" is NOT about "My grading opinion to have turned out to be correct" (I actually wish it weren't), or that PCGS grades "more conservatively than NGC" ..
There truly is NO point to this story. I am simply sharing an experience for what I find to be a very exciting coin. I am merely painting a picture of the events, conversations, thoughts and emotions that unfolded over a 2 month period. So there is NO point to this story. NO moral or lesson to be learned. NO controversy or request for help or information. This is just a story, nothing more and nothing less.
Today, I am just as excited to own this coin as the day I first saw it .. and I think this coin will remain in my collection for as long as continue to collect coins. The definition of priceless refers to an item whereby no amount of money can replace said item. And I feel this coin's value is entirely in the custody of ownership of the coin - I feel another opportunity to locate a coin like this in a condition like this are very far and few between - I feel I am unlikely to ever locate another 1897-S Quarter remotely similar to this coin again; and that makes this coin therefore priceless as far as I am concerned.
Original photos of seller's images - 1897-S Quarter NGC XF40 with center mint mark: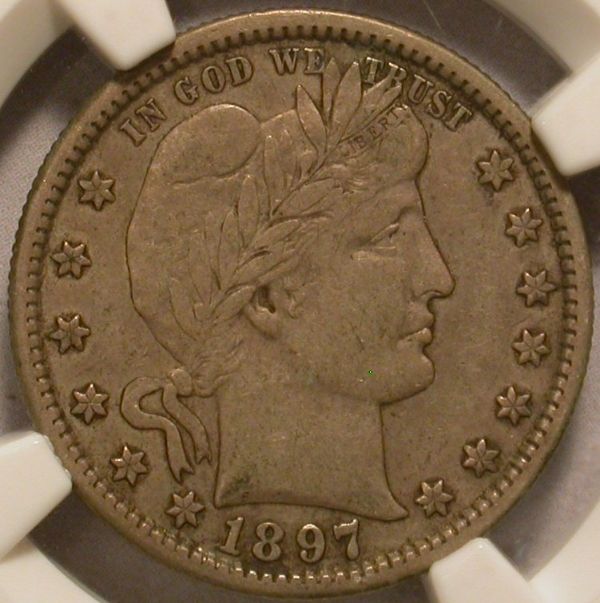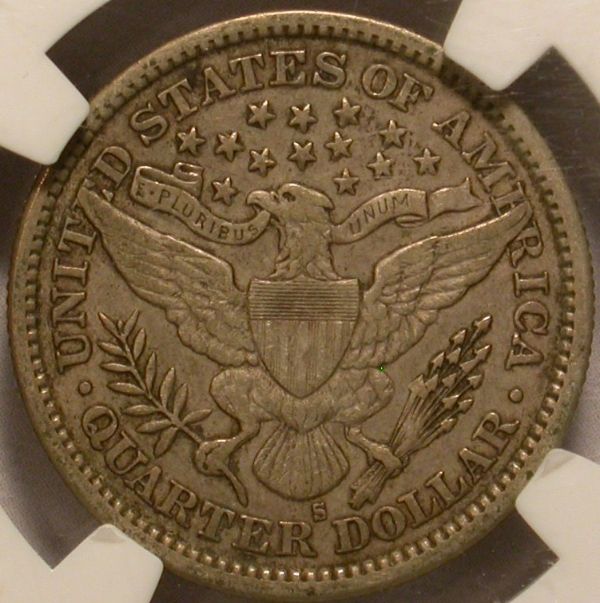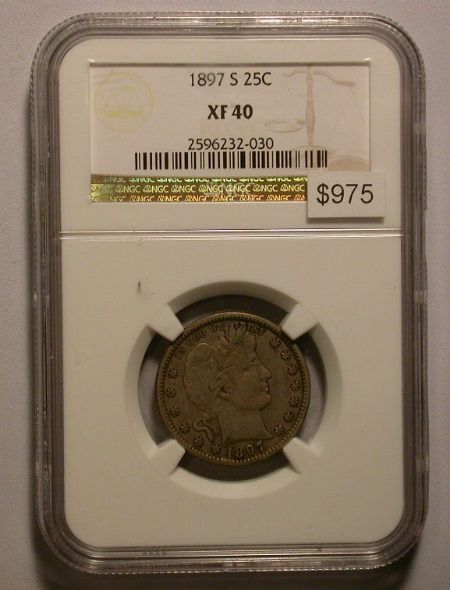 1897-S Quarter in it's new PCGS VF35 holder: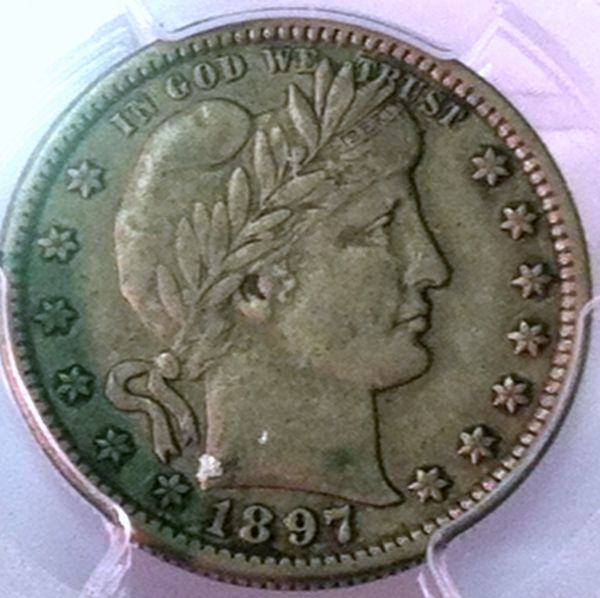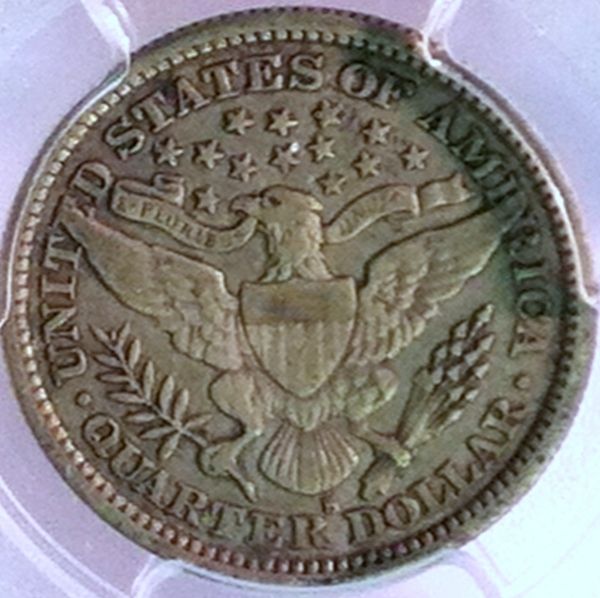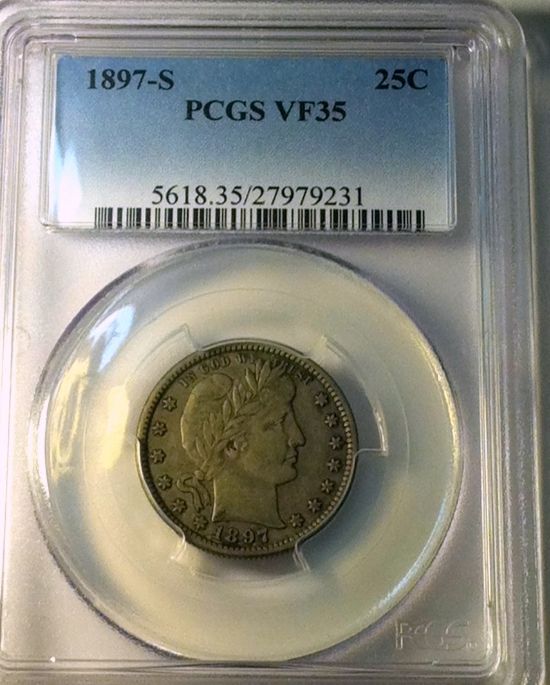 Leave a Comment