Home
›
Buy, Sell & Trade - Sports
FS:. Scan Heavy 55 Topps AA, 68 Topps, Ultra Insert Sets, 76 Wonder Bread set, Griffey Jr., Shaq S
corncobb
Posts: 519
This is all I had time to list today. A lot more sets to come tommorrow Including more Basketball, as Well as Baseball and some Non-Sport cards as well.
All of these sets are in beautiful top rate NM-MT to MINT condition unless otherwise Noted.
Please feel Free to PM me with any questions. Lots of scans! so it might take a moment to load.
Sometimes its hard to capture the shiney beauty of some of these modern foil Insert cards with a scan.
Some really need to be seen in hand to appricate them.
FOOTBALL SETS
1955 Topps All Americans
$35.00 each or Both Cards for $60 delivered
Pay-Pal Gift
1981 Fleer Team Action Football Set W/Stickers
SOLD
The Fleer Team Action Sets are some of the most overlooked Football sets in the hobby.
After seeing the fantastic action photos in these sets I decided to build the 1981 set first.
Centering is very difficult on these Fleer cards and aftering ripping a few boxes from BBCE
I was only able to assemble a few higher grade NM-MT sets.
I ONLY have two of these and each will come with an assortment of 30 different stickers,
as well as 10 of the Originall Wax Wrappers and 10 sticks of the original Gum.
$25 Delivered
Pay-Pal Gift
1976 Wonder Bread Football Vending Set
Very nice clean NM-MT to MINT vending set.
Sharp corners with beautiful color. NO: Creases, Stains etc..
$12.00 delivered
Pay-Pal Gift
1988 Swell Football Set
Ive busted quite a few wax boxes of these. A beautiful and very underrrated set IMHO.
It features beautiful photos of every Hall of Fame player up to that time.
It is harder than one might think to build a truely Mint set of these due to the poor quality control
(Print flaws, horrible centering issues, Manufactering Damage to edges)
The set I have to offer here is absolutely one one the nicest high grade sets you will find.
Every card was cherry picked from the 1000's I have opened. Your not going to find a nicer
1988 Swell set. Not on this planet and surely not for 20 bucks.
The set will also come with 12 original Wax Wrappers and 1 original empty Wax Box.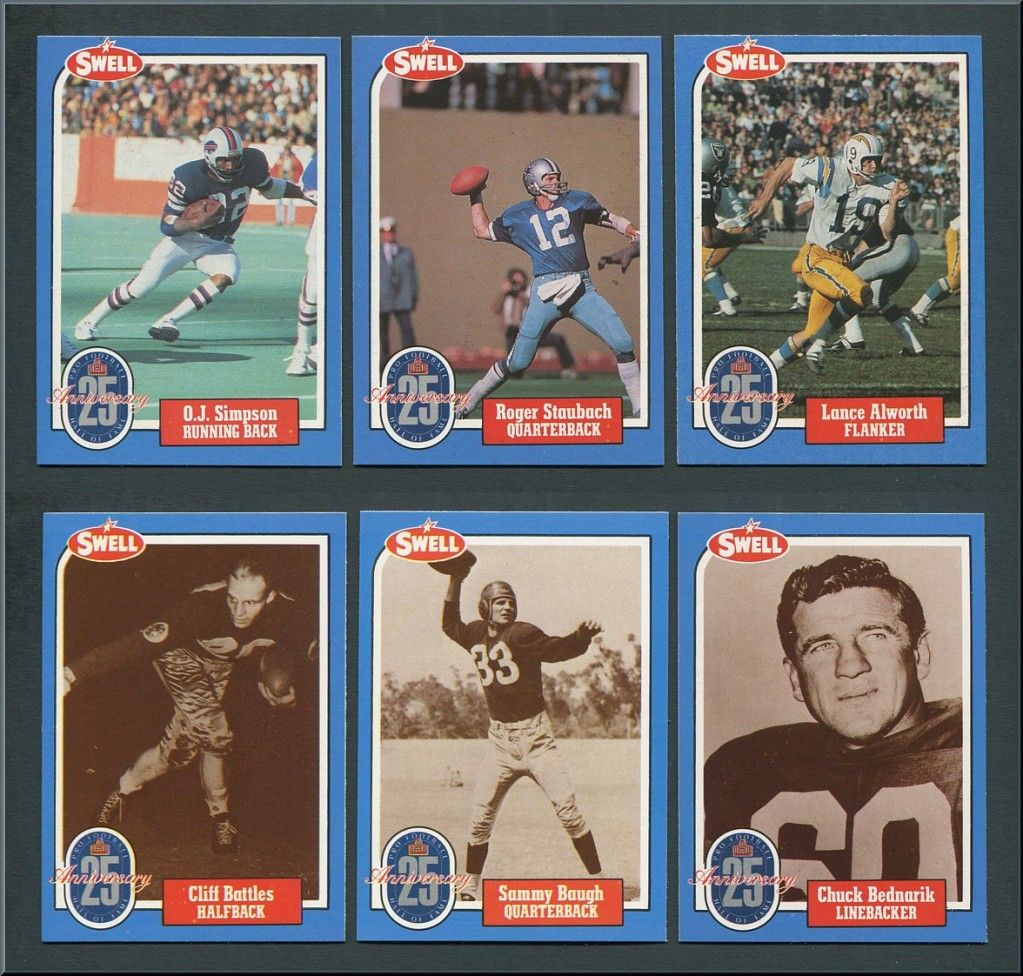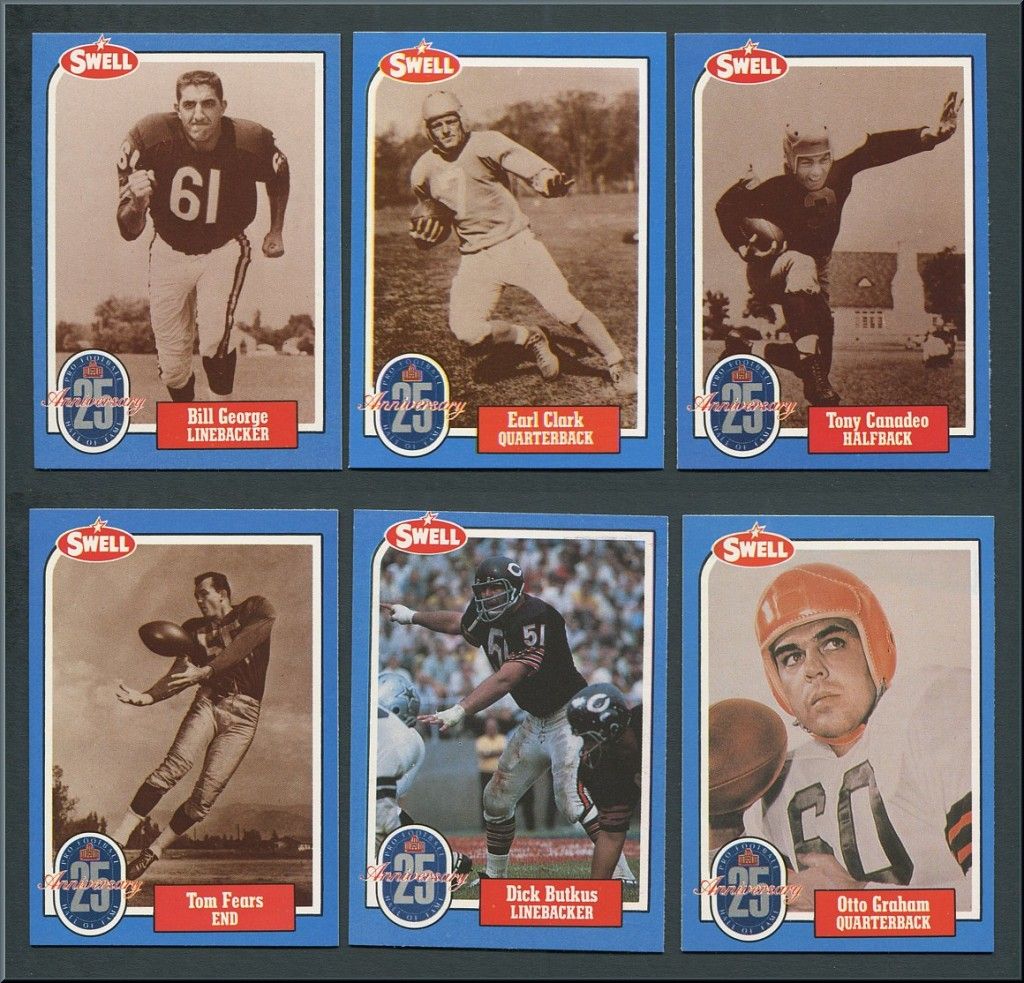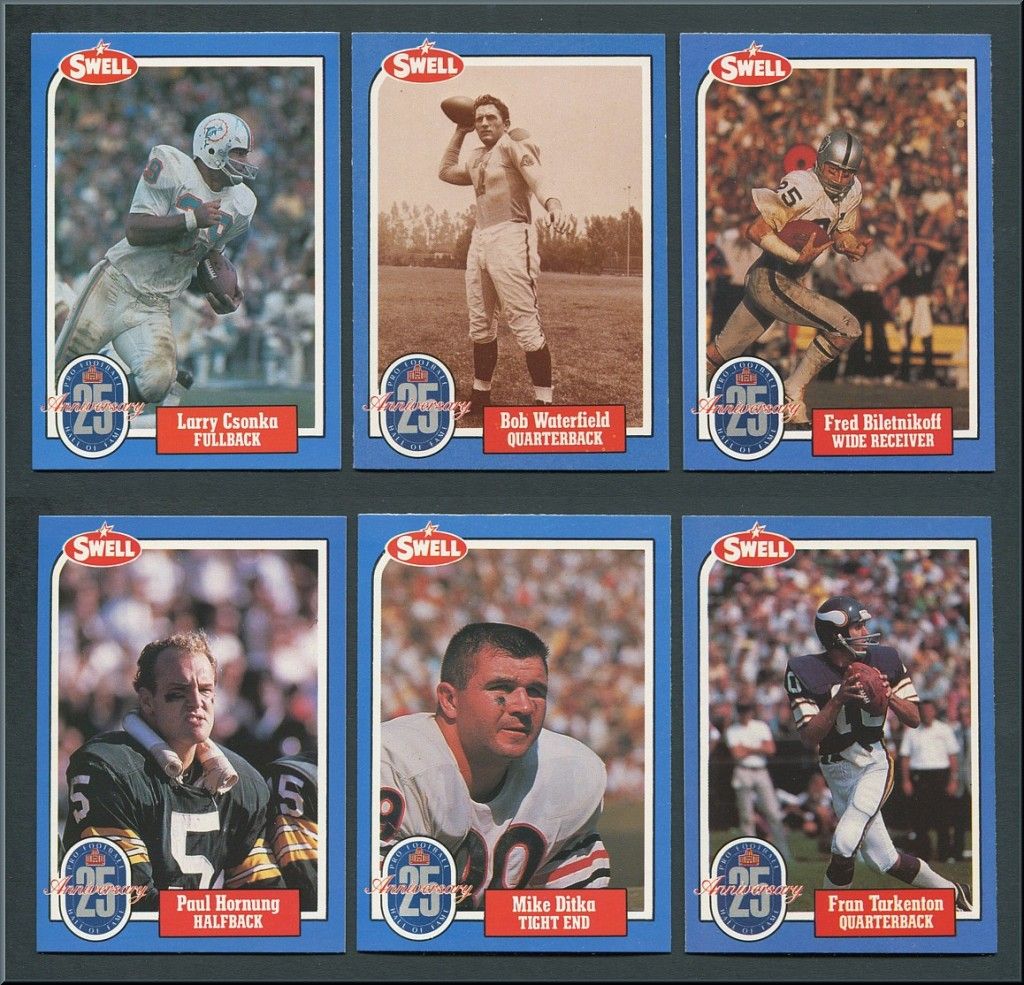 $25.00 delivered
Pay-Pal Gift
1990 Fleer All Pro Insert Set NM /NM-MT
$15.00 delivered
Pay-Pal gift
BASKETBALL SETS1996 Upperdeck Michael Jordan Tin Set
$25 Delivered
Pay-Pal Gift
1993-94 Skybox Shaq Talk Insert Set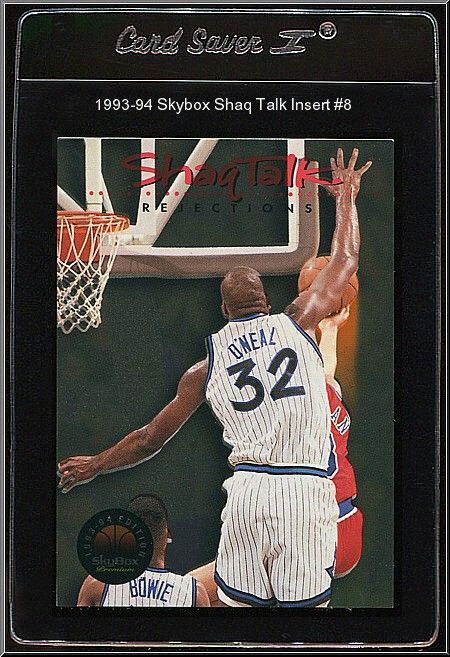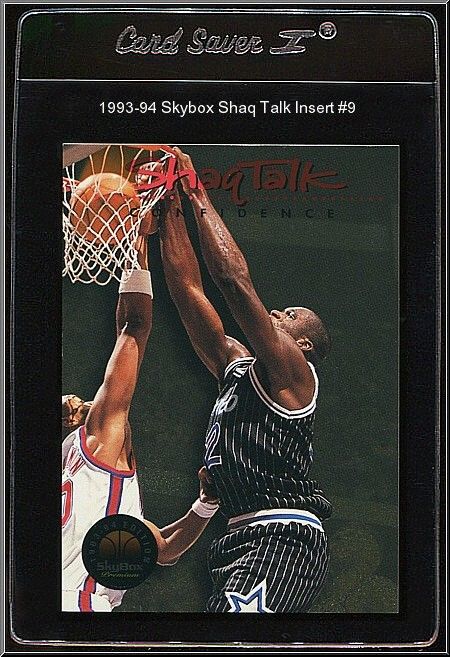 $12.00 Delivered
Pay-Pal Gift
1994-95 Collector Choice Trade/Debut Platinum Set
This 30 card foil set was available by Mail in only. It Features all the
traded players debuts on their new teams. Also features Magic Johnson's debut
comeback after the HIV announcment.
A beautiful set that was difficult to scan well.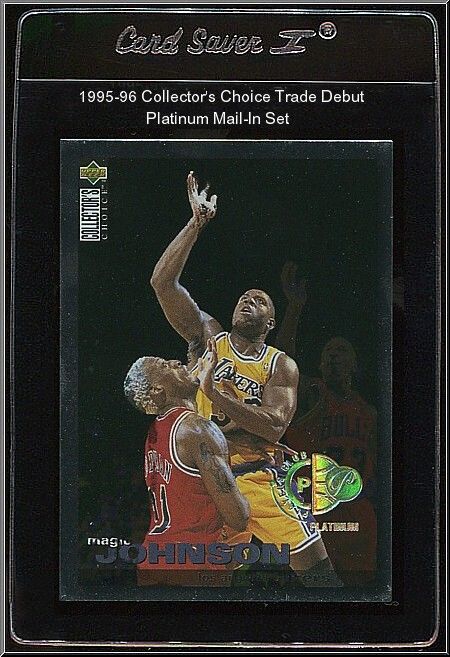 $15.00 Delivered
Pay-Pal Gift
1994-95 Fleer Flair Playmakers Insert Set
Here's a difficult 10-card Insert Set to assemble, as well as trying to scan. The gold foil logo just didn't scan well.
I made a close -up ofthe Logo to help show the detail. Rest assured once you get them in hand you will see the absolute
shinning beauty of them. NO: chipping or flaking of the gold foil areas.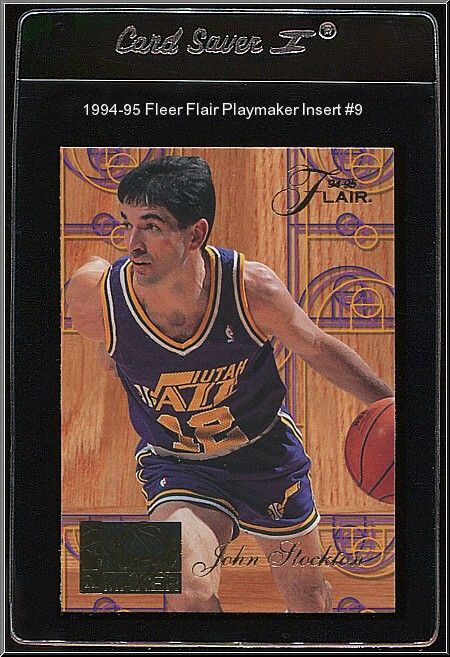 $15.00 Delivered
Pay-Pal Gift
1994-95 Fleer Team Leaders Insert Set
Wow! What an absolutely gorgeous 9-card Insert Set!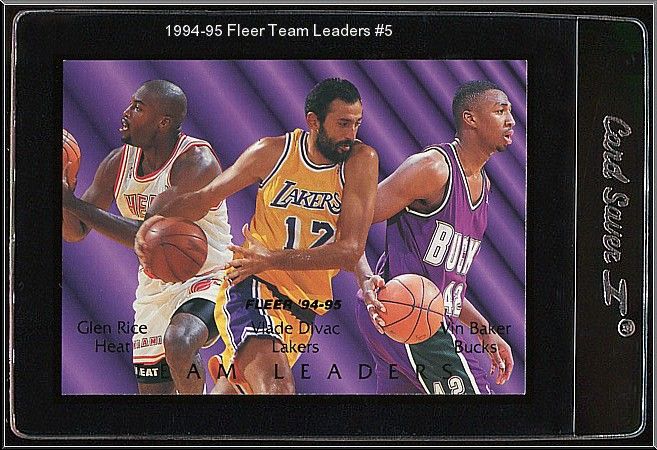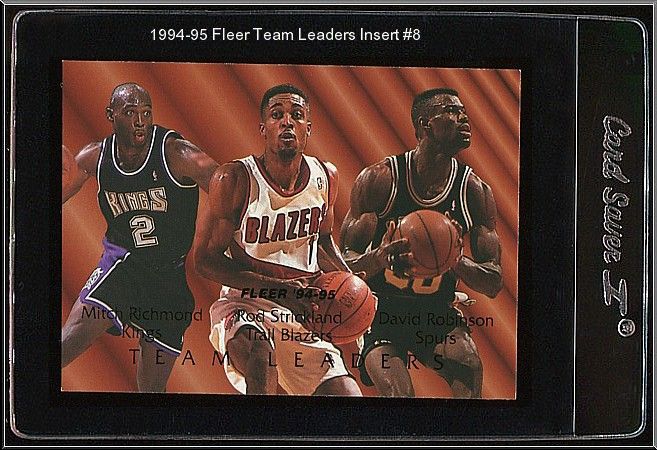 $15.00 Dlelivered
Pay-Pal Gift
1994-95 Fleer Tower of Power Insert Set
Another of the stunning Insert sets from Fleer that Year.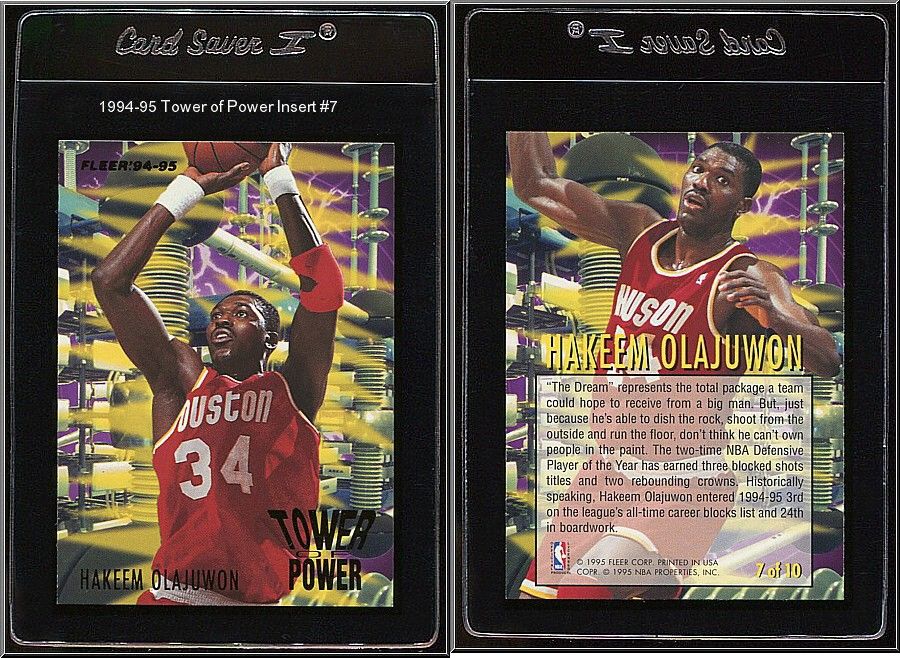 $25.00 Delivered
Pay-Pal Gift
1994-95 Fleer Ultra Rebound Kings Insert Set
$20.00 Delivered
Pay-Pal Gift
1995-96 Fleer Ultra Jam City Hot Picks Insert Set
$20.00 Delivered
Pay-Pal Gift
BASEBALL SETS1968 Topps Lot
Very nice 2-card lot. Both are 8, 8.5 quality cards
$6.00 Delivered
Pay-Pal Gift
1991 Fleer Pro-Vison Set
Very popular set, as well as a very condition sensitive Black border set.
This 12 card set is in absolutely stellar Mint condition. Also includeded are
the four cards from the factory set.
$12.00 Delivered
Pay-Pal Gift
1992 Donruss Diamond Kings Set
A killer set of 1992 Diamond Kings.
NO: finger prints smudges or chipping of any of the gold foil.
Beautiful Mint condition.
$18.00 Delivered
Pay-Pal Gift
1987 Kmart 25th Anniversary Stars of Decades Glossy Set
Complete 33 card set of super glossy cards.
Features all the Stars of the 60', 70's and 80's.
Set is in beautiful NM-MT condition with the exception of the Doc Gooden card,
which has a crease.
$10.00 Delivered
Pay-Pal Gift
Rookie Card Lot
$15.00 Delivered
Pay-Pal Gift
1989 Topps Traded Factory Set
Includes the Ken Griffey Jr. Rookie
$15.00 Delivered
Pay-Pal Gift
1991 Upperdeck Nolan Ryan Heroes Set
Complete 10 card Mint set. Includes the NNO header card.
$8.00 Delivered
Pay-Pal Gift
1992 Fleer Ultra Master Set with Inserts
I consider this to be very condition sensitive set. The high gloss cards are very vulnerable to finger prints and surface scuffs. the gold foil lettering and logos
are also prone to flaking and chipping as are most high gloss foil lettered modern cards.
Despite it's condition sensitive status the set I have here in beautiful well cared for MINT condition. I consider most of the cards to be Gem Mint 10 contenders.
The cards are free of any fingerprints or surface scuffing and there is NO chipping of the Gold Foil lettering.
My scanner didn't quite capture all the gold foil lettering and logos as well as I had hoped. Once in hand you'll be able to truely see the beauty of the set.
The set includes:
Series One (300 cards)
Series Two (300 cards)
Award Winners Insert Set (23 of 25 missing 1, 20)
All Star Insert Set ( 20 of 20 )
All Rookie team Insert set ( 10 of 10)
Tony Gwynn Insert set ( 8 of 10 missing 6, 9)
Tony Gwynn Mail-in set ( 2 of 2 )
More cards in the Set
$109 Delivered
Pay-Pal Gift
NON-SPORT SETS1979 Star Trek Set NM
Complete 88 Card set from the first Star Trek Movie in 1979.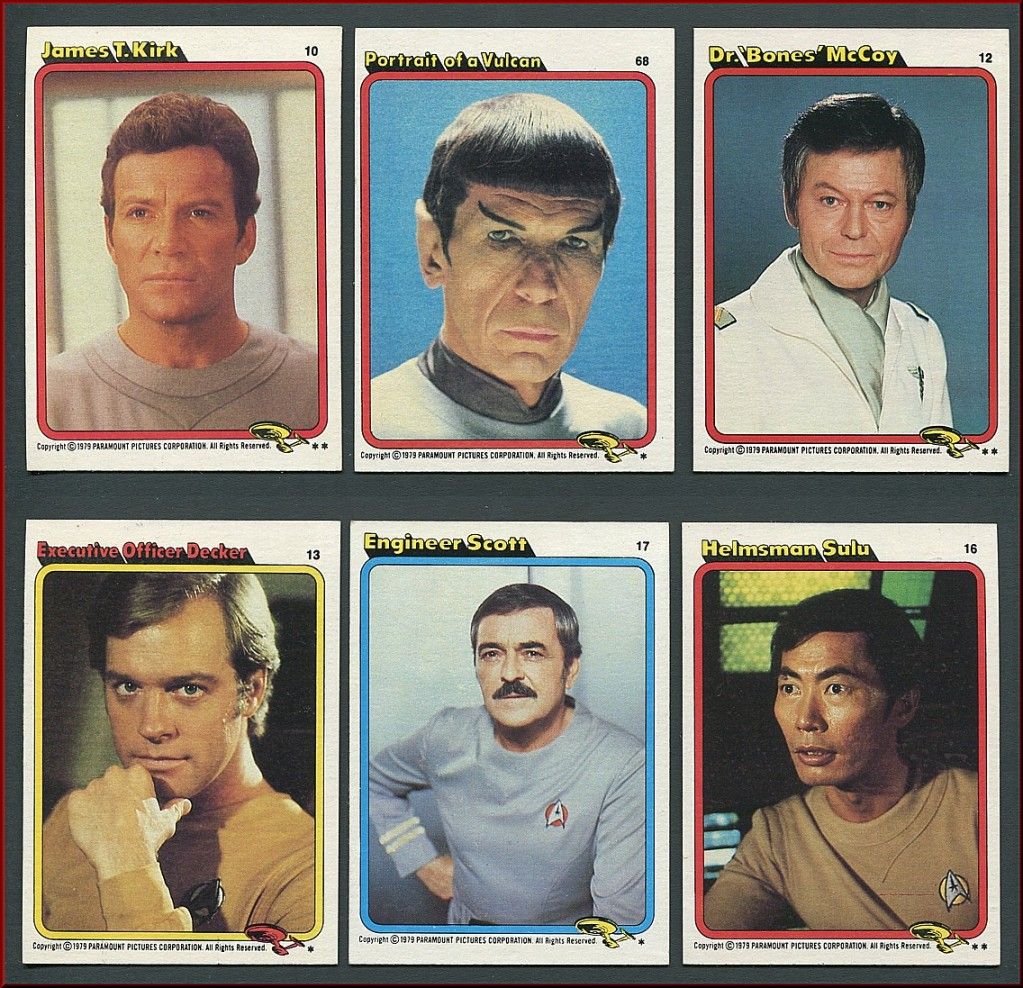 $20.00 Delivered
Pay-Pal Gift
1997 Kiss Preview Set
A tough 10-card preview set limited to 15,000 sets.
$12.00 Delivered
Pay-Pal Gift
1991 Pro-Set Gazette Promo Sets
These Nascar Promo Sets came from the Pro-Set Gazette Magazine
that Pro-Set issued back in the Early 90's
Listed Price is for both sets.
$8.00 Delivered
Pay-Pal Gift