Home
›
U.S. Coin Forum
Charmy's December 2011 ONTARIO COIN SHOW Report w/Pics!

ThePennyLady
Posts: 4,029
✭✭✭✭
The Ontario Coin Show is put on by CK Shows (Frank and Dawn) and, and as I've mentioned before, they do an excellent job of promoting this show. I don't know any other coin show promoters who work harder at putting a show together including having large billboard and print/online advertising, getting more and more dealers to participate, obtaining guest lecturers, having a strong security presence, and constantly seeking new ideas for improvement. I've heard these same comments over and over from many of the other dealers. Even though this particular show was probably slower than the summer one, the dealers feel much loyalty to Frank and Dawn because they truly care about improving the Ontario show, including asking each of us what we think they can do to improve it.
Set up at the show was Thursday from 9-noon. My inventory needed a little expansion since I had too many stacks of certified coins and didn't have room to spread them out. So I had Al Arnold (Arnold's Coin Exchange) make another showcase for me with the new one being 3 inches wider so it would hold three of my raw coin trays side by side. I was so excited when he delivered it to me at the Ontario show! It took me a little while to adjust to the new configuration, but it really worked out well, and I am quite pleased with the new case (of course, I can't take it to my fly-away shows so I will have to continue squishing in as much of my inventory into the smaller metal cases as I can!)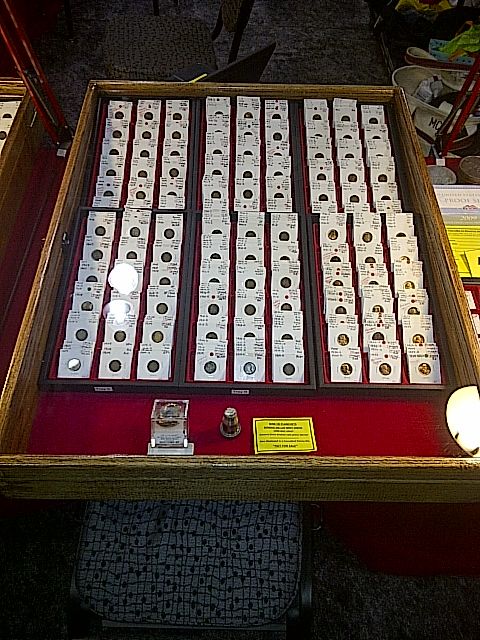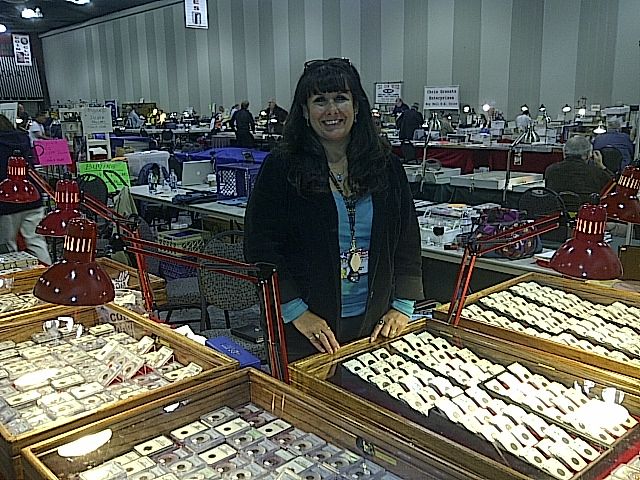 This photo was taken from the front door just before the public was let in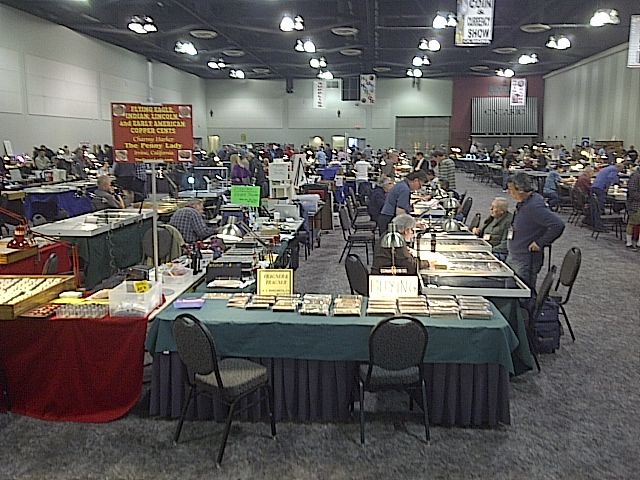 The show then opened to the public at noon and there were about 50+ people waiting at the door. The convention room we are in is quite large so there is plenty of room between the aisles. People kept streaming in so the room started to get a typical show "buzz" but at many of the recent shows I've attended, it is very clear that people seem to be much more cautious with spending their hard-earned money so many dealers reported slow sales.
A fellow dealer friend of mine brought me this wonderful bottle of Red Truck wine – as you can see, it was enjoyed and quickly consumed by several of us!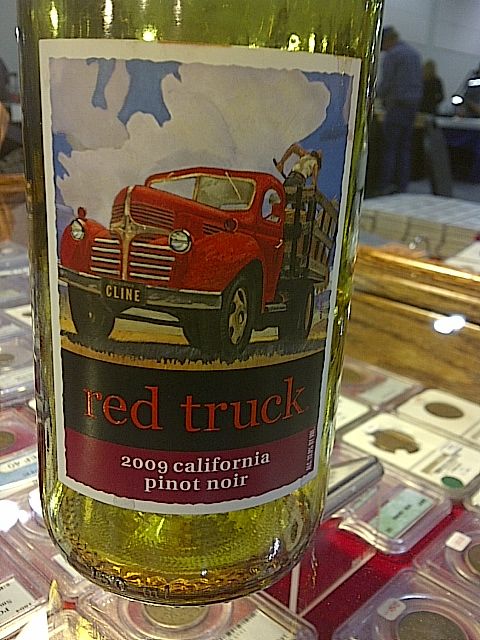 After the show on Thursday, I joined some other dealers in the hotel bar – it was a very friendly and charming bar/restaurant and we ended up spending the rest of the evening there along with several other dealers who stopped by.
These are my new BFF's Patrick and John from Sierra Gold & Coin of Grass Valley, CA.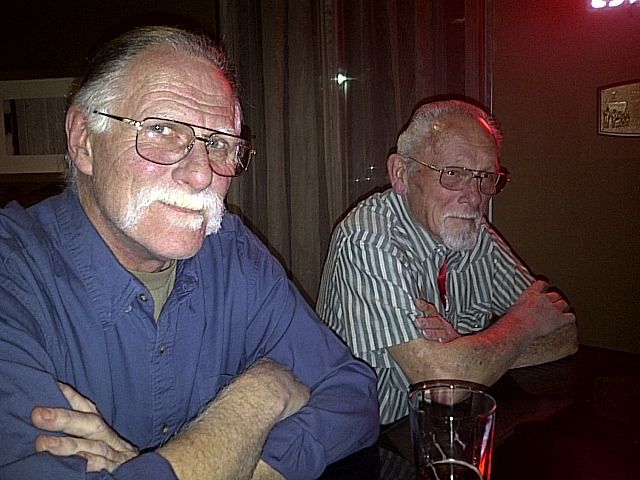 The showed got busier on Friday.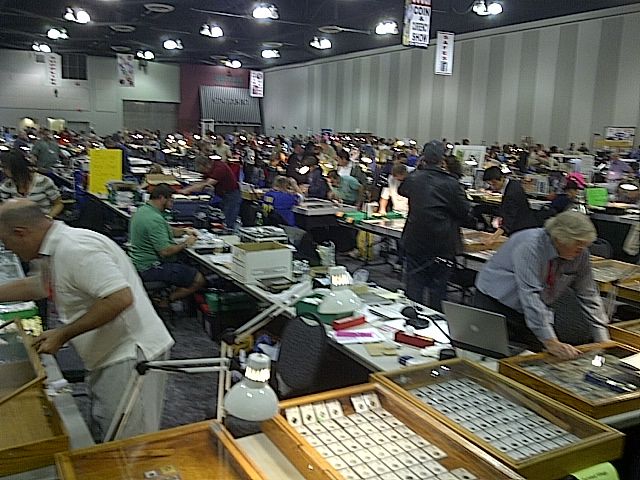 My good friend Glenn Frank put on display an ORIGINAL early morning edition of the newspaper his grandparents saved from the day that Lincoln died. It was featured on an episode of Antiques Roadshow who said the paper was "priceless" as few original newspapers from that day have survived.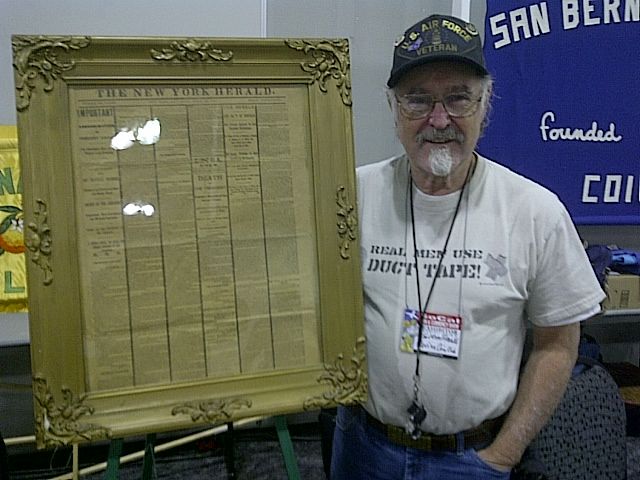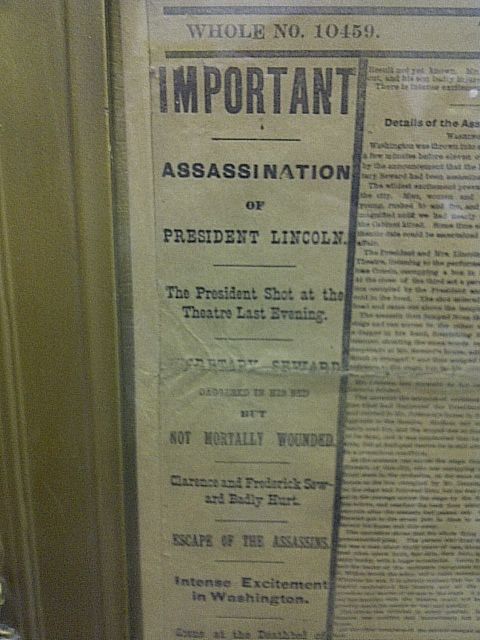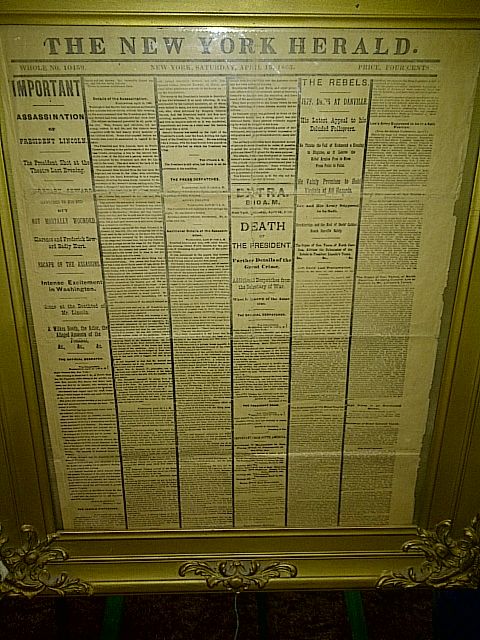 President Alex Jaramillo and Vice President Tony Micciche of the San Bernardino Coin Club
After the show on Friday, we went to Rosa's for dinner – it is a huge favorite of many of the dealers who attend the Ontario show. I had a dish of fettucini with a creamy sherry sauce and lobster, along with this wonderful lobster bisque.
Then I headed over to the San Manuel casino for some poker of course!
On Saturday, the scouts came in to work on their coin collecting merit badge
This is a booth that had really colorful gemstones and rocks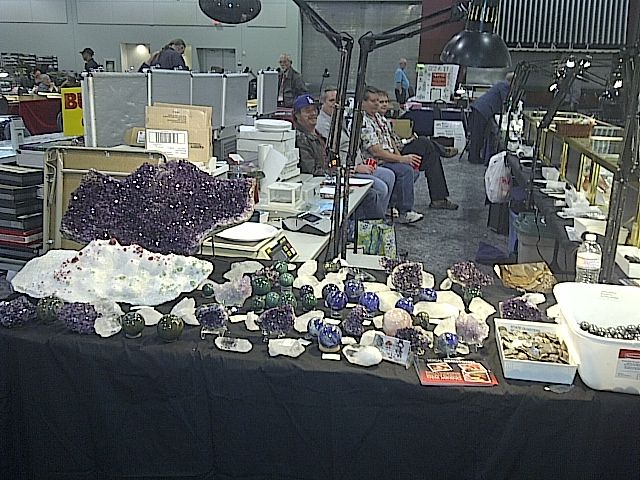 Glenn Holsonbake/PonyExpress and PQPeace/Larry Shapiro (playing Friends with Words)
Jerry and Donna at Baubles & Booty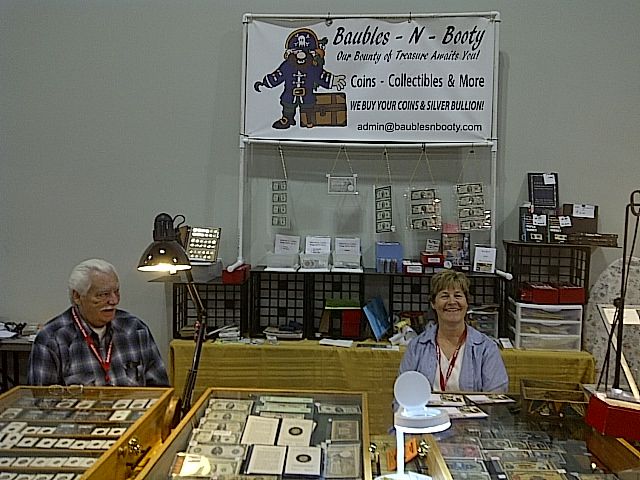 Logan McKechnie of VAMS & More is one of the most renowned experts on VAMS and was one of the guest speakers during the show – his class seemed quite popular and was very well attended.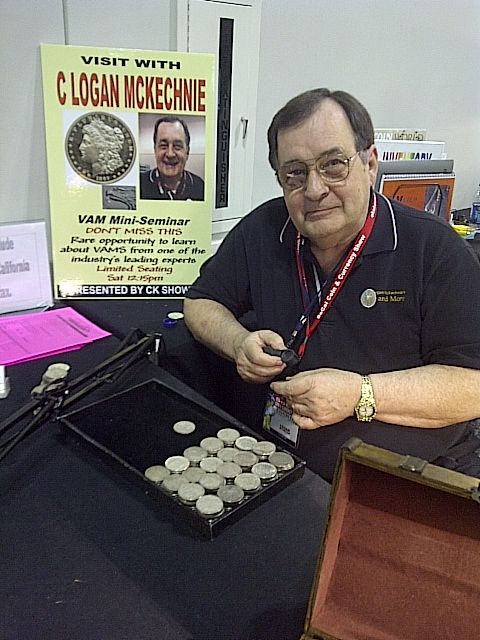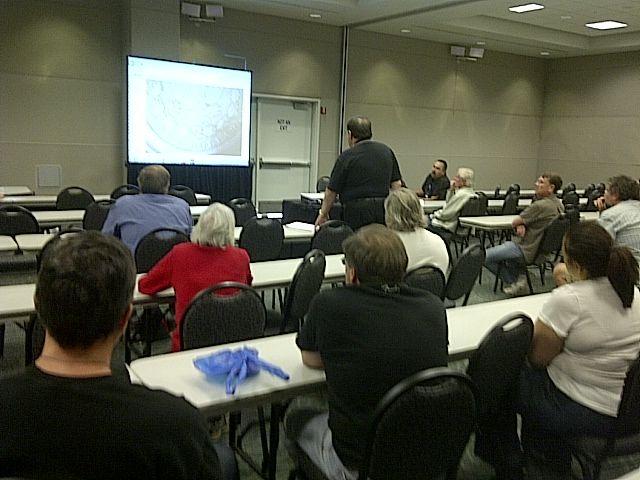 My good friend and booth helper brought me this very special bottle of wine for Christmas – I can't wait to open this one!
The booth across from my table had this HUGE diamond ring for sale – it has a 5 carat center diamond with two 1 ½ carat diamonds on either side. They were asking $95,000!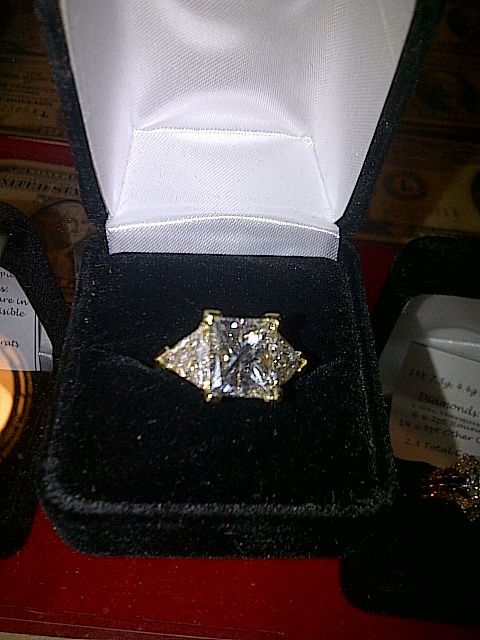 Sadly, however, this same dealer had an 1803 dollar PCGS AU50 ($8,000-$9,000 approx. value) stolen from his case on Saturday. So if anyone comes across this coin, please notify the Ontario Police Department.
So overall, the show was a bit slow but ended up being successful for me. And even if the show wasn't "in my backyard," for the reasons I mentioned above, I will definitely continue to support it!
Charmy Harker - The Penny Lady®
President of Women in Numismatics
ThePennyLady.com