Home
›
U.S. Coin Forum
UPDATED: Charmy's 2011 HOUSTON MONEY SHOW Report w/lots of Pics!

ThePennyLady
Posts: 4,029
✭✭✭✭
I landed in Houston Wednesday evening while the sun was going down. We had to sit on the tarmac for about half an hour since another plane was still parked at our gate, so I took some photos of the sun setting on Houston from the plane.
I ran into the Bruders at the airport so we shared a taxi to the convention center so we could unload our inventory at security before heading to our hotels. (It's funny, because I also ran into the Bruders a couple weeks ago at the Baltimore airport – unplanned – and we shared a taxi then as well!) I've never stayed at an Embassy Suites hotel before and was nicely surprised to see that I had a full living room, kitchen, and separate bedroom – all for just lil ol me!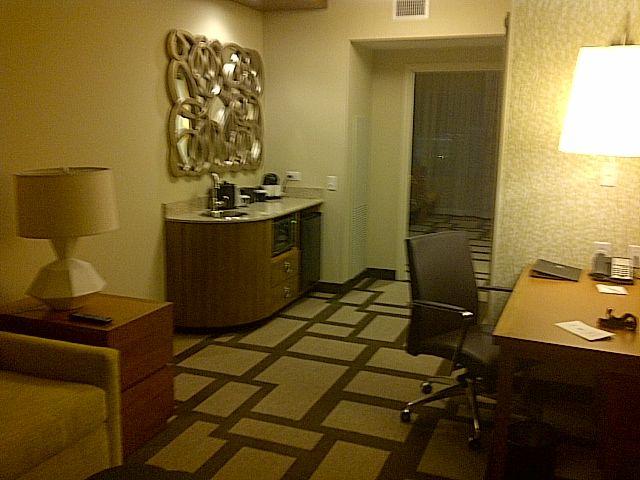 Here is the view of the convention center from my room at night and in the morning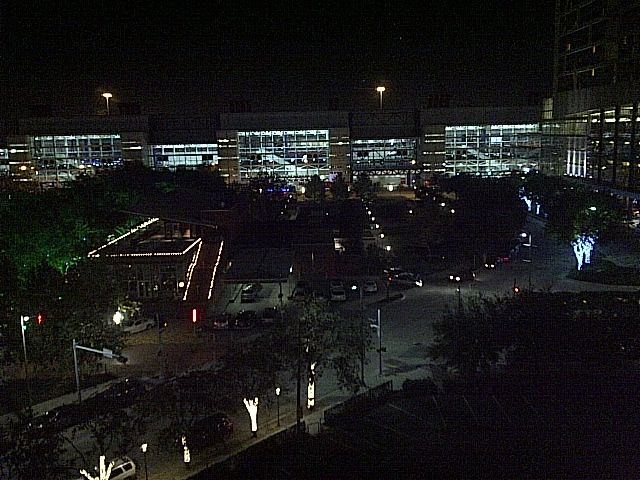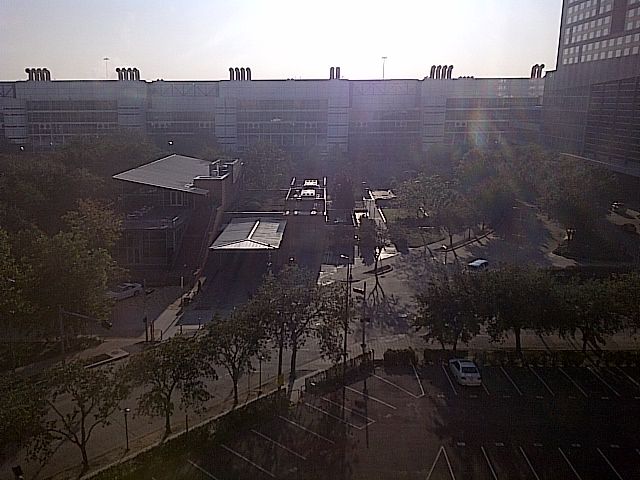 After I got settled in my room, I went back over to the Hilton to meet some friends – the Hilton is right across from the convention center and next to a very pretty park that is already decorated with lights.
In the morning I walked over to the grocery store to pick up some supplies, including of course a nice bottle of wine!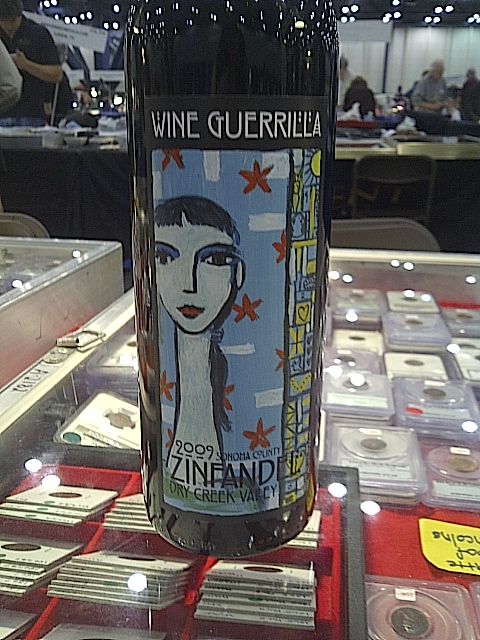 Here's the park in the daytime
Then I headed over to the convention center which is HUGE! Set up was from 9am to 1pm.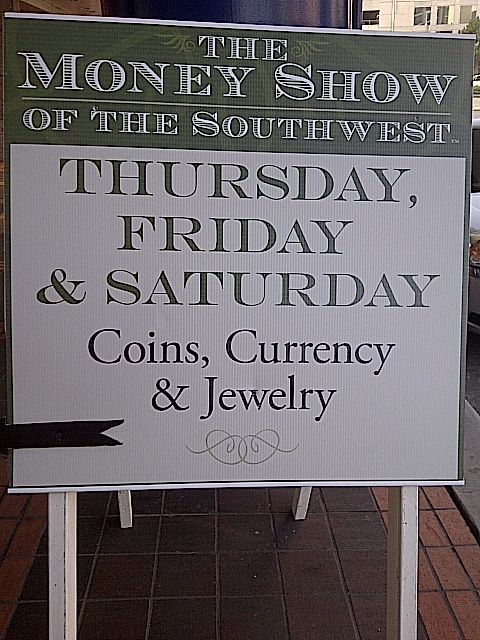 Here is the Greater Houston Coin Club's table – note their really cool table cover!
These guys at AOCS are the ones who created my copper Coin Card, and they are set up just up the aisle from me. Here is their pretty 1 oz. Christmas round, as well as their own Coin Card.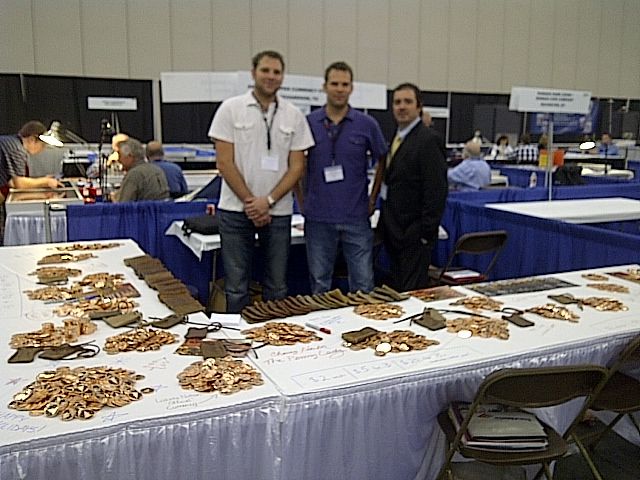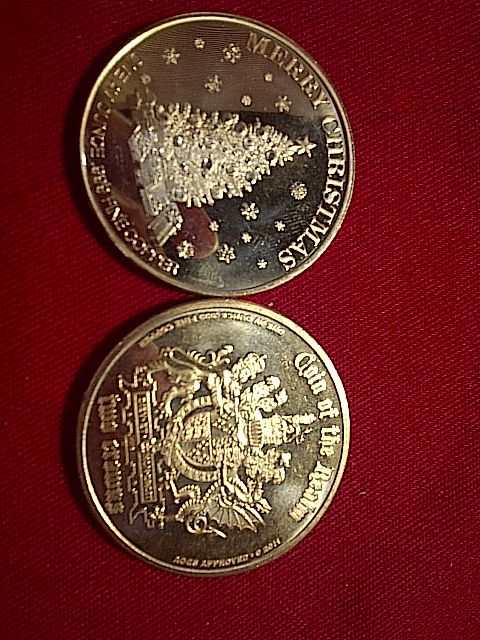 When the show opened, there were probably 50+ people waiting in line to get in. When I took this photo, the crowd of people were already entering and spreading out in different directions.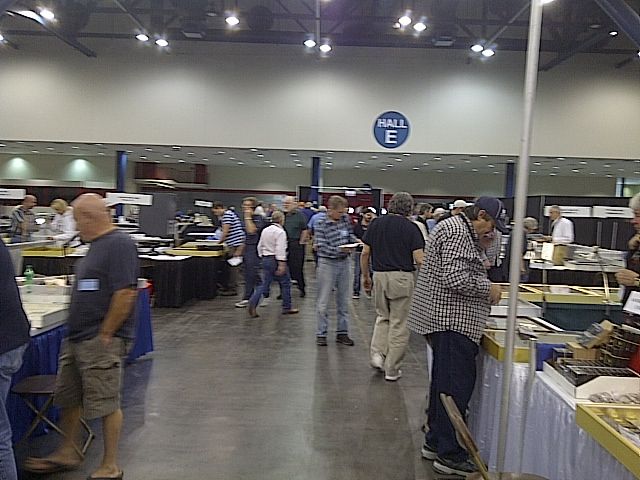 Here are the PCGS and NGC tables which were both very busy on Thursday afternoon.
One of the first people to stop at my table was Al/HardTimes – a local from Texas – he wanted to make sure I tried some of their yummy Texas wine so he brought me this wonderful bottle of Malbec from Fredericksburg, Texas. I opened it to let it breathe for a couple hours, and Al and I shared a cup together!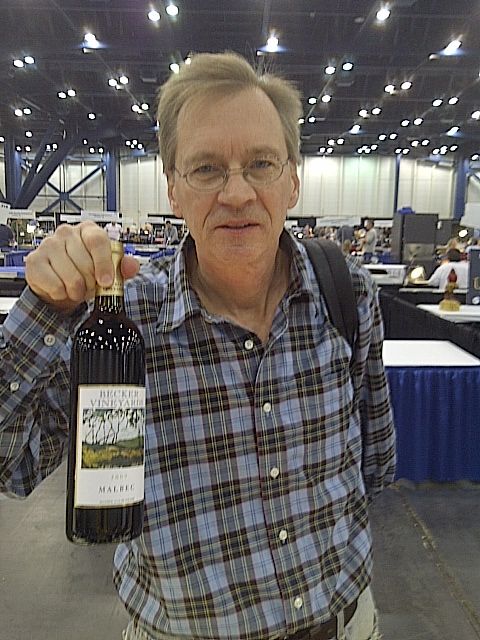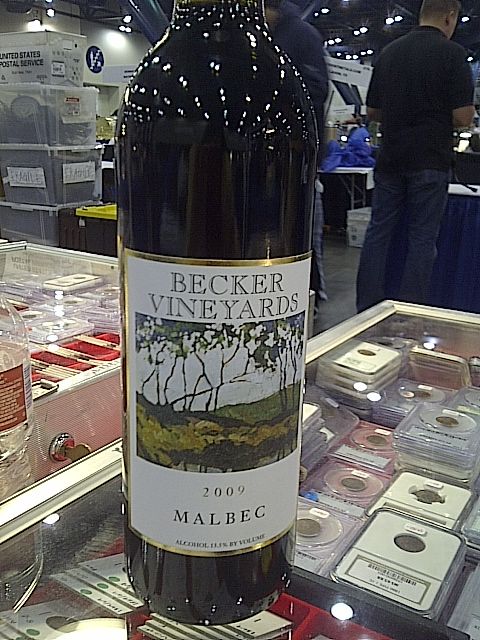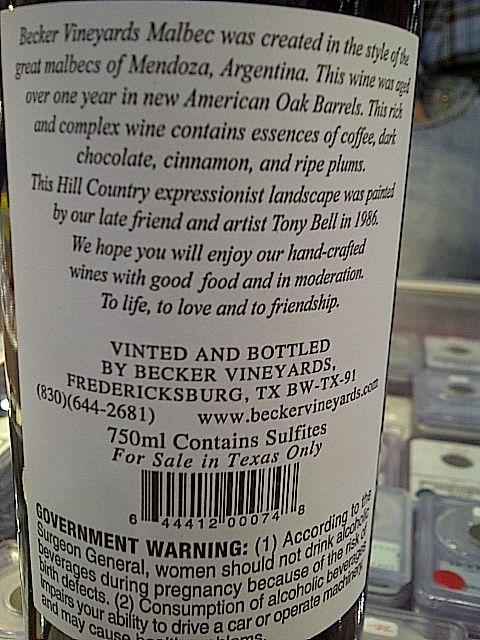 Several more forum members stopped by!
Christian/CMerlo1
Wade/FrankieFanatic (formerly MorganHunter2)
Joe/JoeFro
Edwin/Edix (who actually sang "Red Red Wine" so he could get one of my Coin Cards)!
Glen Holsonbake/PonyExpress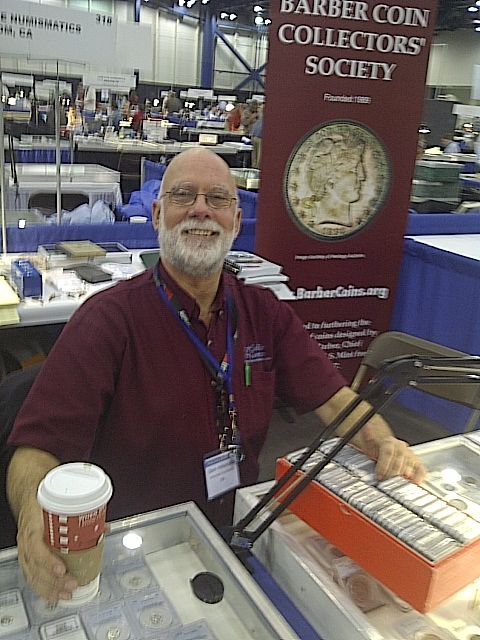 Carl and the rest of the Houston Coin Club volunteers do a great job putting on this show. They are very friendly and accommodating to both dealers and collectors, they spend a lot of money on advertising including several large freeway billboards, and are always walking the floor interacting with the dealers. Here are a few of the volunteers.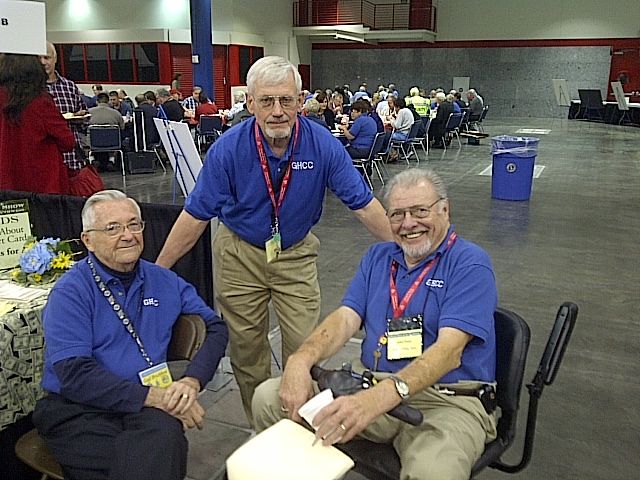 They even put on a bbq dinner with live music for the dealers at the end of set up day.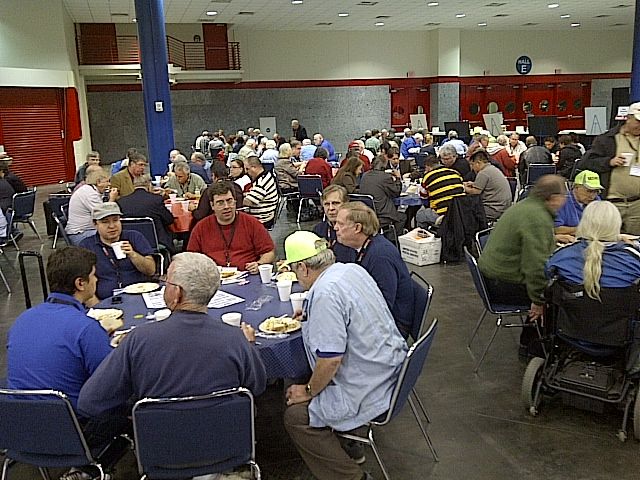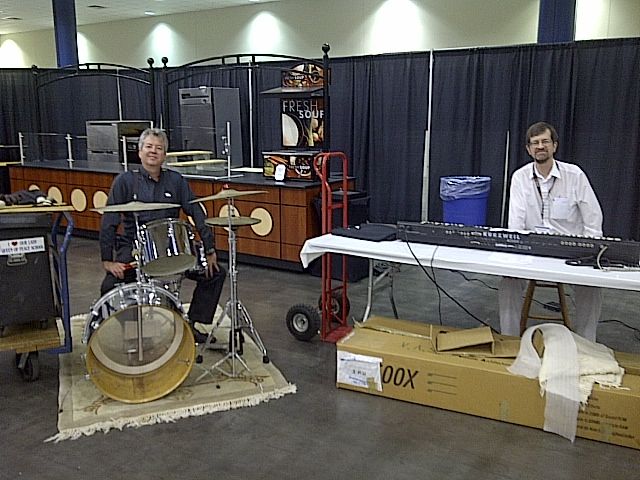 Even though I've heard the bbq dinner is very good, a few of us opted out and went to The Grove which is just across the street. The atmosphere there is wonderful, with hug open windows that look out on the park which had huge Christmas ball decorations and green floodlights.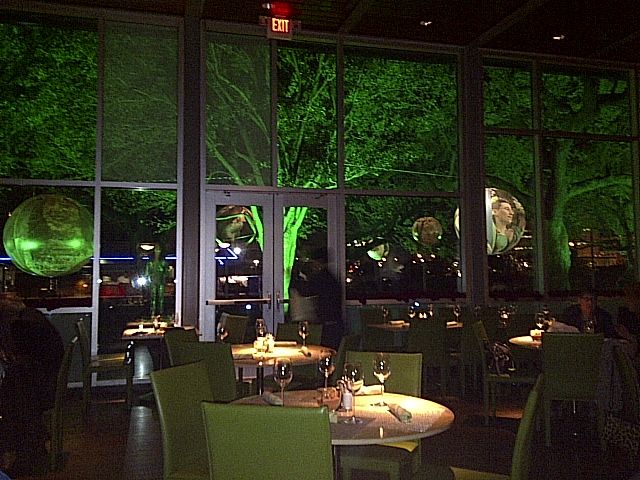 Ron chose this absolutely wonderful bottle of 2008 Italian Ca'Marcanda wine, one of the best bottles of wine I've had!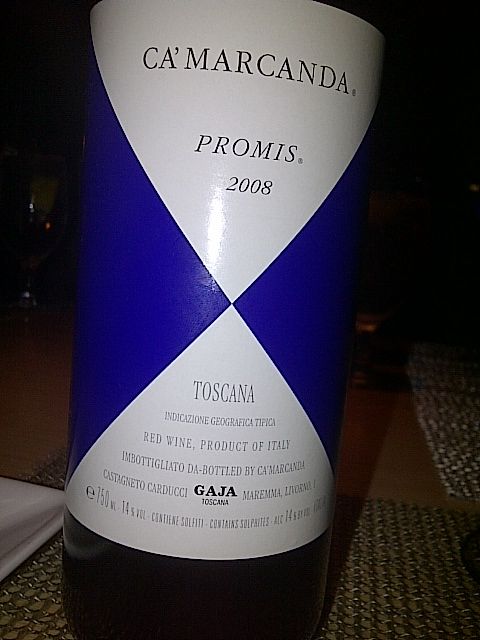 I also tried some quail for the first time – and it was actually very good!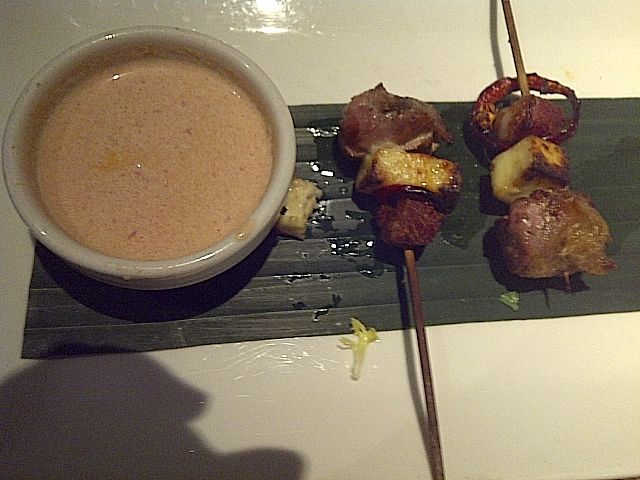 After dinner, we headed over to Sambuca's where we heard they had a band playing.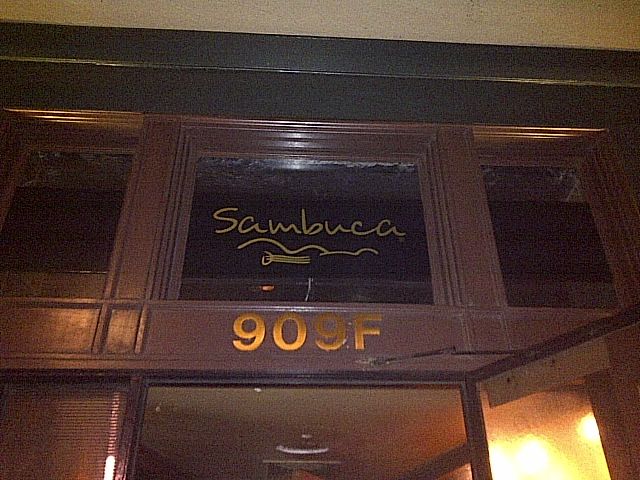 There also was this interesting character (Charles) who apparently is a fixture at Sambuca's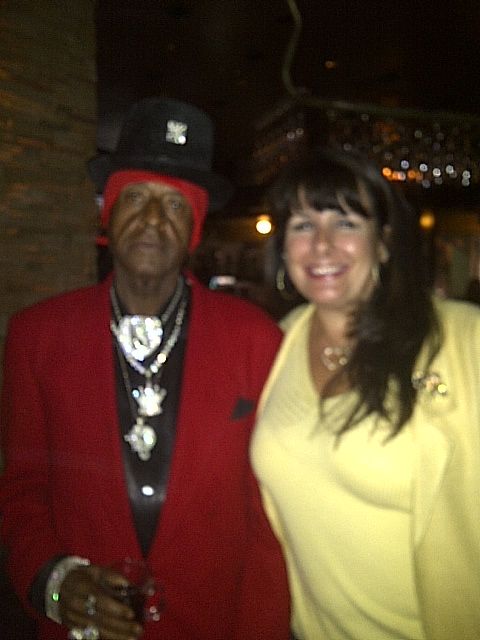 Parked outside the club was this wonderful horse and buggy.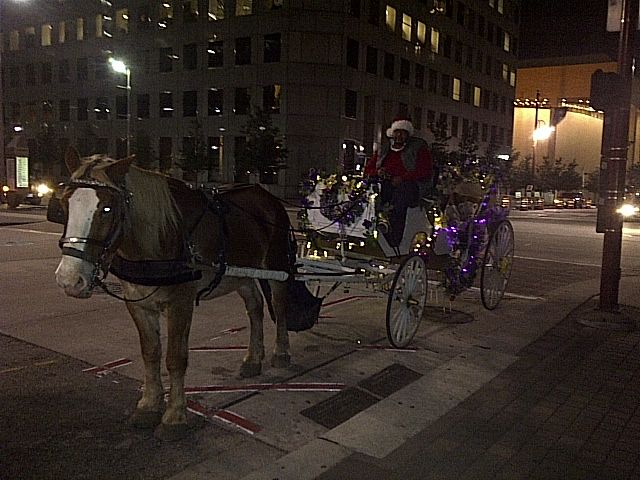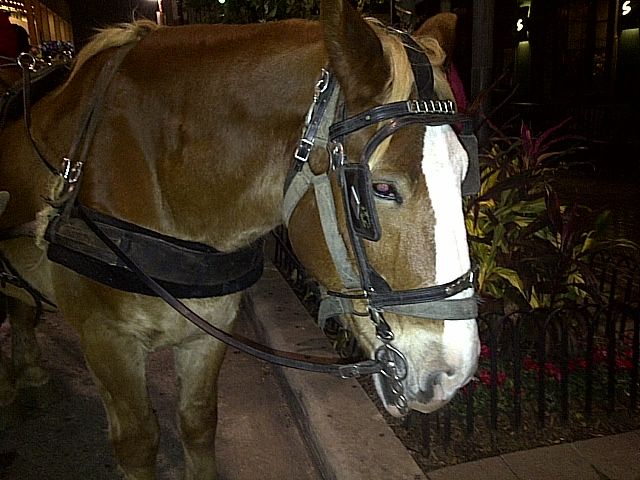 Here's is what the bourse looked like around 11:30 on Friday.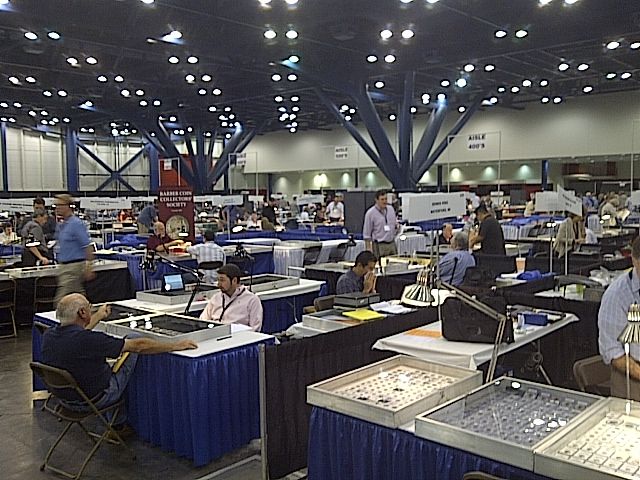 As far as how the show is going, though it was quite busy yesterday with good attendance, and in spite of the tremendous amount of advertising the Greater Houston Coin Club does to promote this show, most dealers are reporting that sales are very slow. And so far, unfortunately, today is not much better, and attendance is down quite a bit today. Hopefully, things will pick up, but most dealers are not holding out much hope for huge sales at this show. But we'll see as the day goes on. I'll post more later!
Charmy Harker - The Penny Lady®
President of Women in Numismatics
ThePennyLady.com