Home
›
Trading Cards & Memorabilia Forum
1988 Donruss #108 Ray Knight "Scar on Neck" Solved
richtree
Posts: 1,476
✭✭✭
Ok, so I haven't wrote anything up lately but there has been a few ebay sellers over past 5 years that had 1988 Donruss #108 Ray Knight "Scar on Neck" for sale.
It was often up for sale for 100's of dollars. I think we spoke about it here and some people even considered it a fake. Finally, I decided to due my own research and buy 1200 of these. I only pulled one of each scar variation and the
The results were that I found 3 different SCAR ON NECK variations. In addition to that The 'corrected' card or "no scar" card has 4 variations as well.
As many of you know the 1988 Donruss cards often came with the trademark missing, half missing, or completely printed. The Ray Knight "corrected" version has all 3 of these.
I would say 95% or more have a clipped "R" trademark logo -- the full "R" was very hard to find.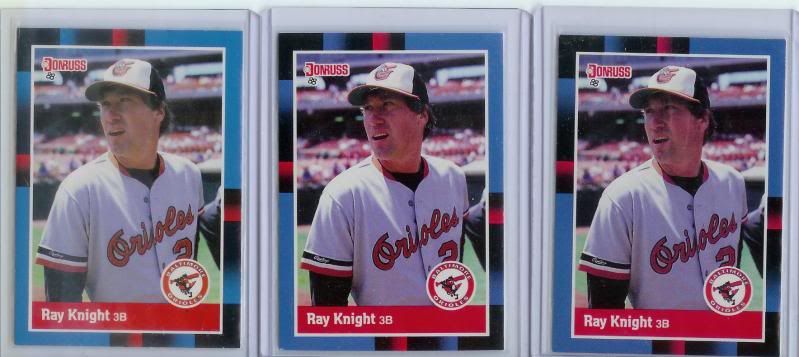 In addition, there are 3 versions of the SCAR VARIATIONS -- shown below -- White Scar, Half Black Scar, and Full Black Scar. This truly is a tough card to find, especially in good condition.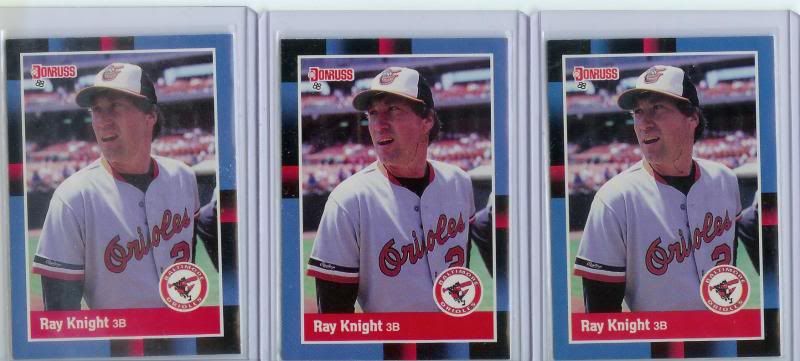 Lastly, there was a print dot variation (not so sexy) but I figured I would list since it came up. A dot on the nose and a dot next to his left eye.
So, I think this is a great look at this card. I didn't buy any of these from ebay, so I know they aren't fake from the one or two sellers that listed them for years.
I would love to see more, as I think there could be another variation of this card.
Please take a look and comment if you can add. Thanks !!
-rt
Buying:
Topps White Out (silver) letters Alex Gordon
80 Topps Greg Pryor "No Name"
90 ProSet Dexter Manley error
90 Topps Jeff King Yellow back
1958 Topps Pancho Herrera (no"a")
81 Topps Art Howe (black smear above hat)
91 D A. Hawkins BC-12 "Pitcher"