Home
›
Trading Cards & Memorabilia Forum
Reverse negative collection. Almost 20 years in the making!
RedHeart54
Posts: 2,213
✭✭✭
I love reverse negatives! They are to me the funniest and goofiest looking errors. I've posted my collection before but I have some updates.

The three cards going from top to bottom on the right side do not have corrected counterparts.
Peace bro. I just learned of this John Lennon. I'm amazed that even though I've collected reverse negatives for nearly 20 years there are still ones that I never knew about. Then again I didn't collect Pro Set Beetles cards. BTW, the Schmidt is reversed on the blue card.
Some well known ones here. The Blades is detected by the number 8 being in the wrong place. Up close you can see the word Seahawks is backwards on his helmet.
After all these years I realized the Bevacqua had been corrected!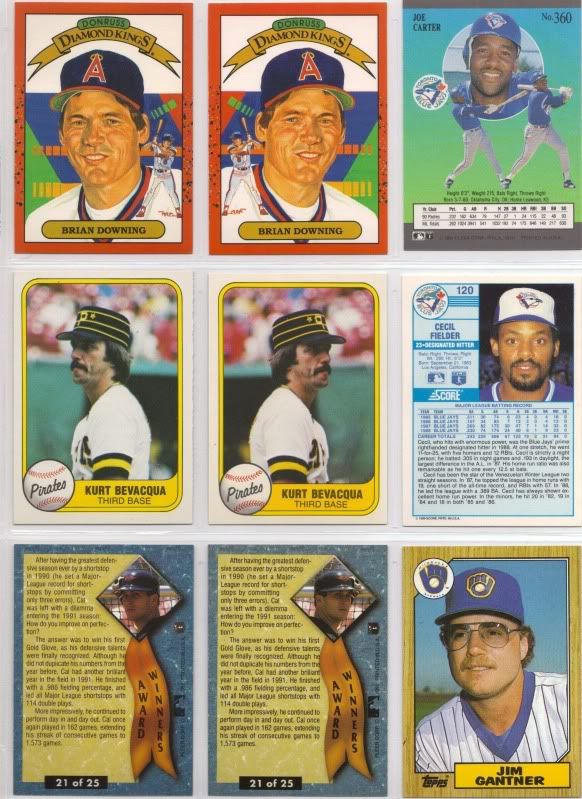 Someone please prove to me that this Mike Gallego is easier to find than the Dale Murphy because it took forever for me to find one.
Mirror, mirror on the wall, who's the goofiest looking commentator on ESPN of all?
Here's the money page with Murphy and Littlefield. I'm thinking I should have sent in the Littlefield. Could be a 9. The Darryl Johnston is an interesting freak of nature. The whole front is reversed and not only is the gloss is on the back, but so is Jerry Rice! Probably one of a kind but then again I've never searched for another.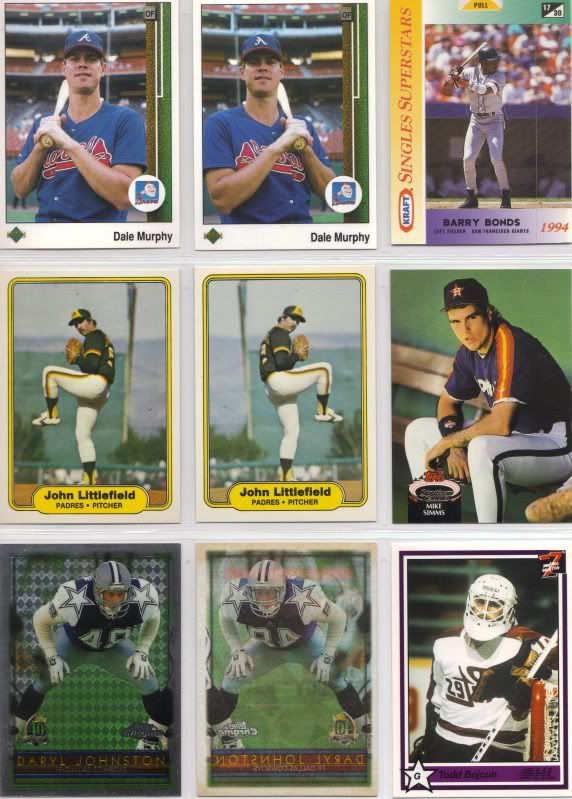 This is why I'm glad we can make good color copies with our computers now. The Thompson, Patrick, and White were one-of-a-kind Topps proofs that were obviously corrected before the final cards were made. I wasn't able to buy the originals but could at least make copies and make "cards" out of them. (Incidentally, if anyone has a crappy, raw 1975 Topps/OPC Craig Patrick lying around I could use it.)
The Alou was spotted by an eagle eye on these boards. Yes, the card states he bats right and is thus shown as a righty. However, he must have been a jokester a la Bob Uecker and posed as a lefty. Topps flipped the pic to make him a righty again. The "N" in the "NY" logo on his hat is backwards.
I have a Barry Zito 2000 Royal Rookies on the way with a reverse negative on the back. I still need the 2007 Topps Joba Chamberlain and the 2002 Topps finest Mike Schmidt autograph. They are usually available on ebay but I haven't liked the prices.

As always please let me know if there's anything I've missed or don't have that you know of. I always imagine there's some obscure minor league card or something that I don't know about but that's what has made this collection fun.