Home
›
U.S. Coin Forum
Numismatic Treasures #4: 1776 Continental Dollar
LeeG
Posts: 12,162
✭
In 1776, the Continental Congress approved the development of a design for a dollar coin for the new independent colonies. The Continental Currency "dollar" was the original proposed coinage of the United Colonies (soon to become the United States) early in the course of the Revolutionary War, but the rebels had no source of precious metals for minting, and the British shortly captured the two cities where the minting would probably have had to have taken place --New York and Philadelphia.
Continental Congress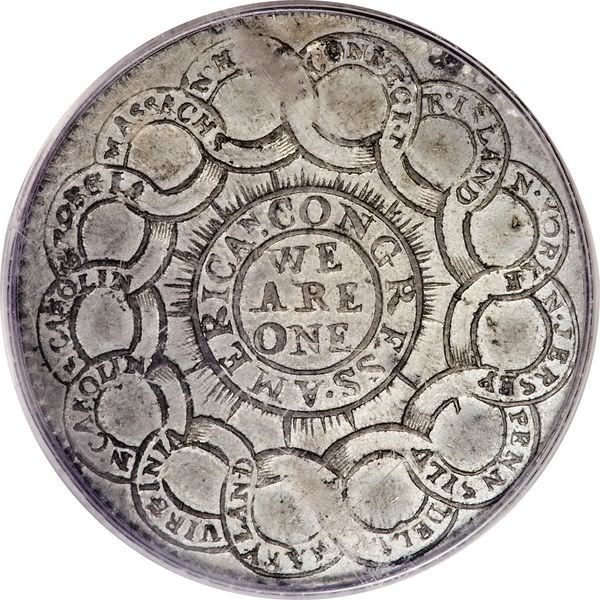 PCGS Pewter MS62. Crosby Pl. VIII, 16, Newman 2-C, Breen-1092, R.3. Sold for $60, 375 on 05/28/08
Benjamin Franklin designed the "Continental" coinage, and the contemporary Continental Currency paper money, as well. Franklin's designs typify his thinking. The sun-dial and sun with the word FUGIO ("I'm flying") meant that time passes quickly, so everyone should MIND YOUR BUSINESS. The reverse chain of thirteen links represents the United Colonies, each named on one of the links.
The E.G.FECIT ("E. G. made it") found on some specimens of the coinage is believed to refer to Elisha Gallaudet, who also made the plates for the Continental Currency fractional notes of 1776 (contemporary to the coinage issue). Gallaudet evidently signed only the one die for the coinage.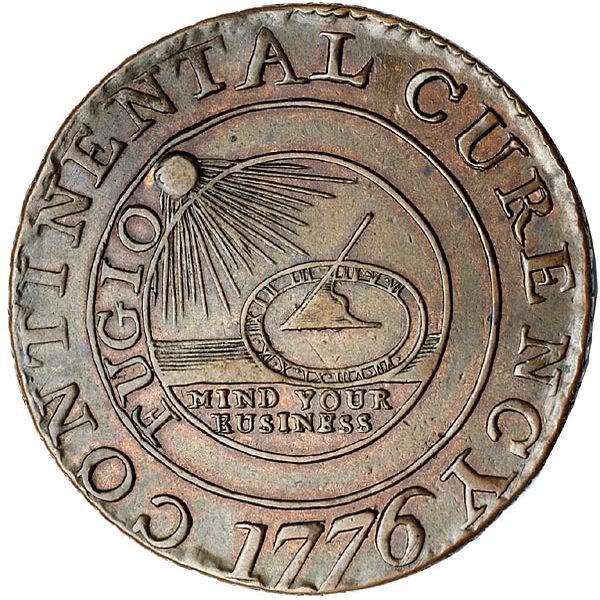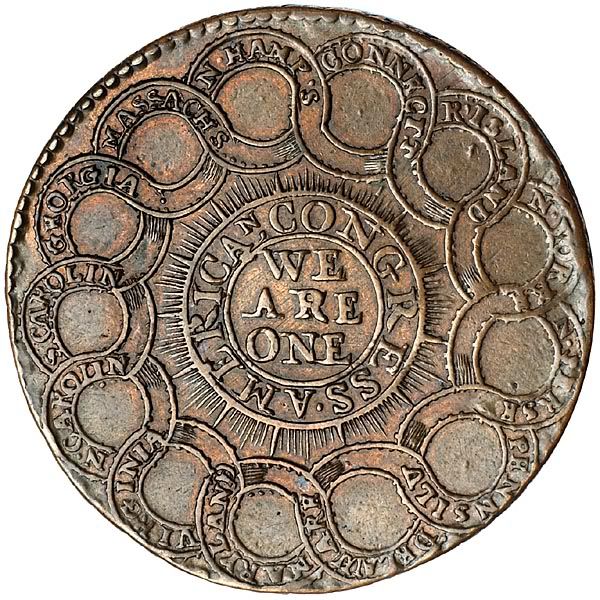 Newman 1-B. Rarity-7-. Brass, 236.1 grains. 37.4 mm. Choice About Uncirculated-55. Sold for $207,000 on 01/16/07. This piece has been previously classed as second finest known of all brass Continental dollars.
Researchers now believe that the Continental dollars were struck as patterns, intended to replace lower denominations of Continental Currency. Evidence for this comes from the designs themselves, which are similar to those on the February 17, 1776 notes. Eric Newman also noted that the dollar denomination was absent from issues of Continental Currency between July 1776 and September 1778. Although most Continental dollars are struck in pewter or tin, some are struck in silver, which is presumably the intended alloy had the series lasted beyond the pattern stage. Of course, the shortage of specie was the root cause of the issuance of Continental Currency to begin with. Had Continental dollars been issued in silver in quantity, they would have soon traded at a significant premium to their equivalent in unbacked Continental Currency.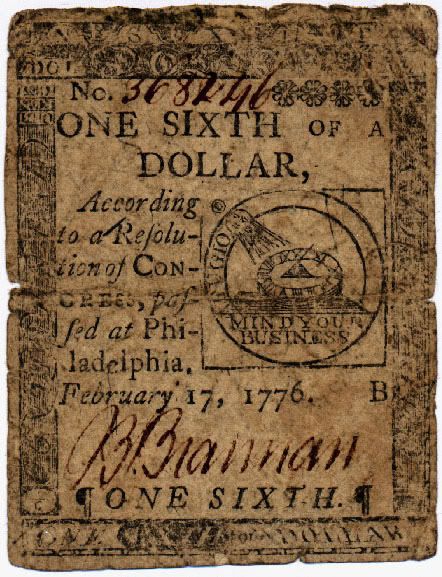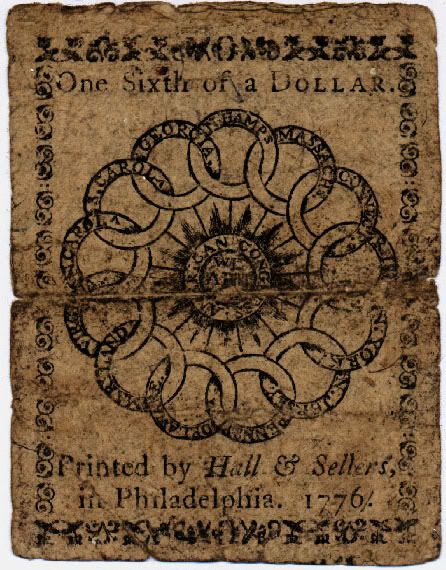 Leave a Comment