Home
›
U.S. Coin Forum
Some recent newps and one non-coin (still gold) for your viewing pleasure
DeplorableDan
Posts: 2,043
✭✭✭✭✭
I've been pretty busy these past few weeks, added quite a few newps to the stable and one vintage bar. Here's some links to my Instagram reels and I'll include some pictures as well. I'm not following any specific set or trying to fill holes, I simply wait until I like a coin and I feel like the value is there for me.
Very scarce date, solid original au53. Private through a mutual friend.
Scooped this on Facebook, coincidentally the coin was consigned by the collector who I purchased the 66 motto from. Absolutely love this as a 58
This was a GC purchase, I paid strong and the coin is very strong for the grade. I could see it an an AU holder and it's very collectible as a single year type and the first gold coin minted in New Orleans.
This coin looked mostly original and attractive as an ms61, and this date doesn't come up often. There's never been a public auction sale of a 61cac and even other grades are infrequent. This one has some minor issues I can live with but it's a cool date and the coin is mostly original.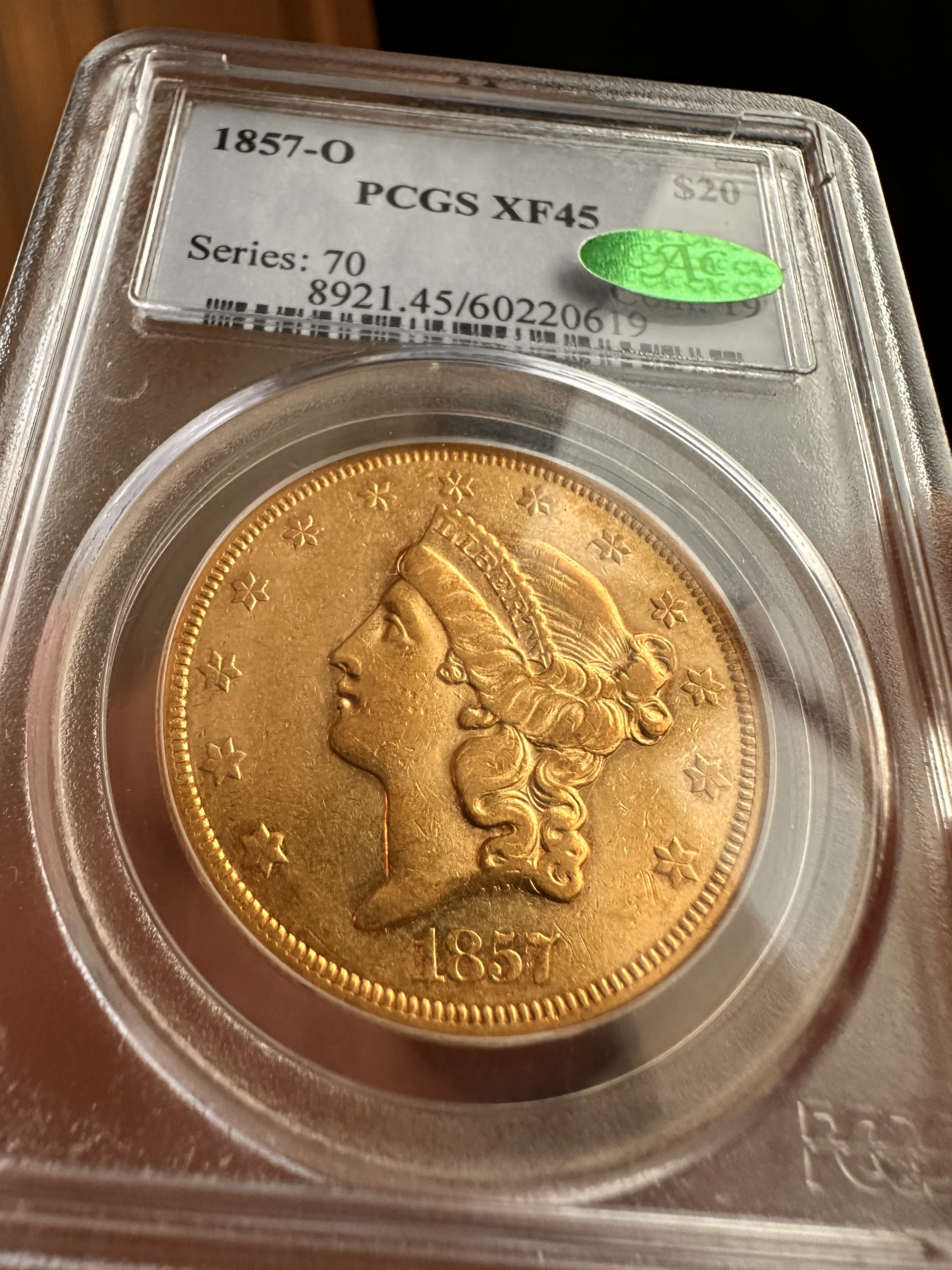 I liked the look of this coin when it was on GC, and i never followed through even though i intended to bid on it. It popped up on Doug Winters mailing list and he marked it up very reasonably so I bought it. Looks very solid as a 45. It's been dipped before but it's hard to find the ones that haven't, and I've always wanted an o mint double eagle.
Here's a video that sums up all of those coins:
https://www.instagram.com/reel/CtSSIMEsqUV/?igshid=MzRlODBiNWFlZA==
And here's the non coin I had to have that some of you may find interesting. These are tough to find with intact serials and good stamps, this ingot weighing in just under a kilo is very fun to handle. I had to pay up for it but they're hard to find and most of the people holding them don't want to sell them. There's not a whole lot of information about these, a few have passed through HA that I've seen.
https://www.instagram.com/reel/CtcQxf5PXtS/?igshid=MzRlODBiNWFlZA==
Leave a Comment