Home
›
U.S. Coin Forum
Proof Grading and Hairlines - A Guide
FlyingAl
Posts: 2,496
✭✭✭✭✭
A recent thread here got me thinking - how many collectors can actually identify hairlines?
I got an idea to try and solve this - here's my attempt to take a proof coin in a mid-grade state and show you every flaw with it. Here's the test subject:

And below will be images of the coin all marked up. Red is for hairlines. Orange is for striations. Green is for spots. Blue is for marks. Yellow is for die polish. Purple will be for spalling.
In areas where I circled a large section of field, it means there are many tiny hairlines in that area that slightly lower the grade from the "perfect" 70.
Some definitions:
Hairlines (red) are marks that appear on a proof coin (or MS coin) that are caused by sliding or contact with something after striking.
Striations (orange) are pre-strike marks, that IMO do not affect grade based on what I've seen from PCGS and NGC. They usually run up to and under the devices.
Spots (green) are something that got onto the surface of the coin and caused a reaction with the metal in a small area.
Marks (blue) are like hairlines, but heavier and more concentrated.
Die polish (yellow) is a mark or series of marks that is on the die and appears on every coin struck from that die. They do not affect grade.
Spalling (purple) is a faint cracking and chipping of the fields due to striking pressure.
Recutting (Cyan) is what mint Engravers did to strengthen details of a die once they wore out or were polished too much. It was generally of low quality in the 36-42 era.
Some of the things I circled will not appear in a picture. They will, however, hopefully show in the video I will include. This is merely a guide for proof grading - the only way to really get what I'm saying is to pull out one of your coins and look for what I mention in this post. Use the video and pictures as a good example of what to look for.
Unedited pictures:

Edited Pictures:

Video (It appears to take the forum a bit to buffer the video, clicking the link might work better):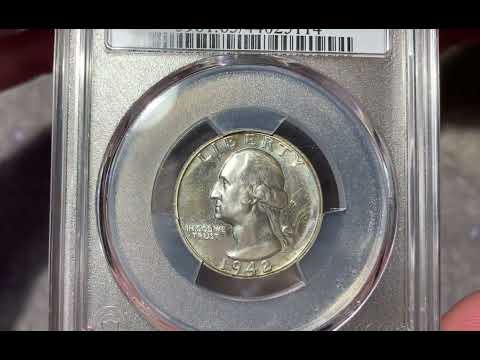 https://youtu.be/CN-kS8ozpns
I do apologize for the slab scratches this first video (they do look like hairlines unless you know what you're looking for).
Here's a video of the obverse with my 10x loupe, which removes most of the scratches (the slab scratches appear somewhat blurry and above the coin). Due to how the majority of the slab is in the way for the reverse, I couldn't do the same for that side of the coin. However, the obverse is where the majority of things are, and recutting is easy to see in images. THIS BELOW VIDEO IS THE VIDEO TO WATCH! It was shot vertically, so it uploaded as a vertical video which the forum won't support unfortunately. You'll have to click the link.
https://youtube.com/shorts/RM07qo9E-7o
Take those two videos and compare it to the images I marked up above. Look for each of the things circled. Once you see them, you're getting it. The most obvious thing to look for is the right obverse field hairlines.
Each of these marks/hairlines/spots lowers a proof's grade. Since the coin is a 65, it should have some pretty obvious hairlines, which we see in the right obverse field. Those are what dropped the majority of the grade (probably by 4-5 points), with everything else coming together to make up the rest of the grade drop.
Even a 68 will have a few hairlines. The difference is how light they are. The hairlines in the right field are heavy and pop out at you right away. A 68 might have two or three very light, wispy hairlines. It's like bag marks - the more there are and the more severe, the lower the grade.
I do hope this helps!
Leave a Comment