Home
›
U.S. Coin Forum
New most ridiculous SNAD reason: *TONED* Coin removed from PCGS holder, whizzed, put back, resealed
airplanenut
Posts: 21,756
✭✭✭✭✭
I'm well aware that no eBay transactions are truly "no returns" because a buyer can always file a SNAD. I've decried bogus SNAD reasons before, but this one I recently got takes the cake. I normally just accept the return and let that be it, but this was a rare case where I thought replying was worthwhile simply to be on the record that no, this reasoning makes no sense. As an aside, I shared this with a friend at PCGS and, unsurprisingly, got a note from someone else at PCGS that they agree with my points.
Yes, the coin in question is Canadian, but the buyer also trades in US coinage, so, fair warning.
First, listing details:
Title: 1935 PCGS MS65 CANADA SILVER DOLLAR S$1
Description: A lustrous piece with lovely toning. Some parts of the raised edge of the slab on the reverse side have chipped.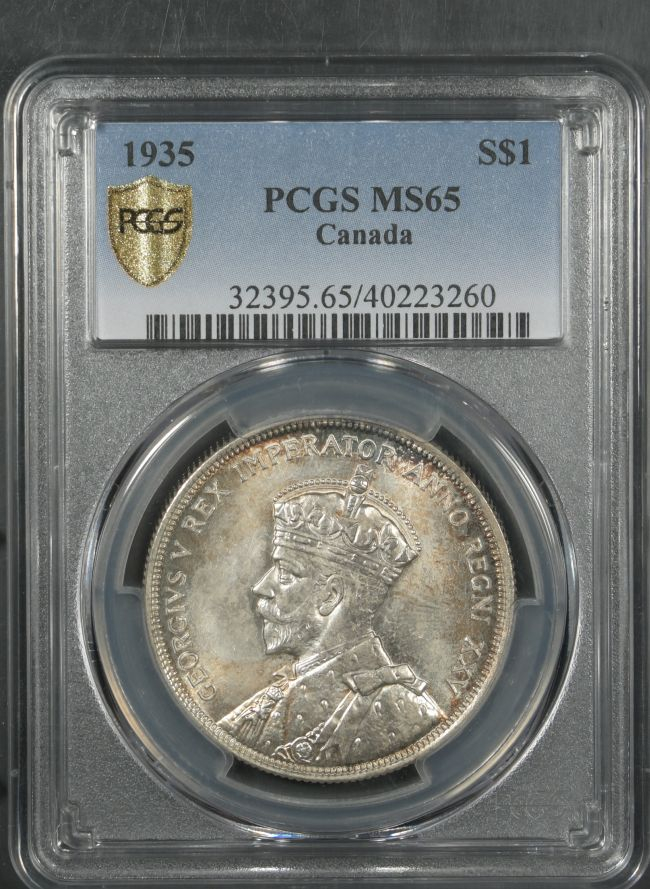 TrueView (I didn't know this existed and it wasn't included in the listing. Depending on how you look at the coin, I think both it and my photos are accurate representations of the coin):

And now for the SNAD:
Buyer's message:
Reason for return: Doesn't seem authentic
Details: The reason this slab has the cracks on the back that you mentioned, is that the slab was broken open. If you look at the slabs seam all the way around with a 10x magnifier, you ll see that the slab was opened and resealed. The coin was removed, the obverse whizzed and then it was returned to the slab. The whizzing is obvious, it s not die polishing. I checked the image on the PCGS site and you can see the subtle differences. You say you don t accept returns, but this item is not authentic.
My reply: Hi, If you don't like a coin you receive, you are always welcome to return it--you just need to email me. The idea of selling a tampered coin/holder is not one that I take lightly, and I would like to address your concerns first:
1- The raised edge is a weak point on PCGS holders, and they routinely chip. This particular coin's holder chipped when sent to me, as did a few other holders because the sender didn't pad them very well.
2- PCGS holders, especially the newest style (like this one) are extremely hard. They require heavy duty snips or bolt cutters, or a band saw, to open the plastic, and doing so absolutely destroys the holder. You can look around the edge of any PCGS holder and see an opaque pattern around the seal with the naked eye--it's just how they look when sealed. Tampering would be extremely obvious to the naked eye, and magnification would definitely not be necessary.
3- Whizzing takes off a thin layer of metal from the coin. If this coin were whizzed, it would be stripped of its toning. The PCGS TrueView toning pattern matches the coin, indicating the surfaces have not been altered (whizzed or otherwise) since grading (had they been prior, PCGS would not have graded the coin). The before and after of a toned and then whizzed coin would be glaring, not subtle, differences. The differences in intensity and shade of color between my photos and those of PCGS can be attributed to lighting and my shooting through plastic while PCGS shoots the coin raw (Canadian silver dollars have a satiny lustre which illuminates best when directly lit, which can't be done without a significant glare if the coin is in a holder).
Again, if you wish to return the coin, that is fine, but I can absolutely assure you that the coin I photographed and sold is the exact one, untampered, which PCGS graded. Thank you, Jeremy Katz
Buyer replies: Good morning. Regardless, I would like to return the coin. I don't like returning items I purchased but, in this case, I am truly unhappy with the product, not casting any blame your way. Thank you.
Item comes back, refund gets issued, and buyer then leaves this positive feedback: "As described, prompt shipping, perfect transaction, thank you."
Oh, the joys of eBay. And yes, my blocked bidder list got a new addition.
Leave a Comment