Home
›
U.S. Coin Forum
My Baltimore Coin Show report
TPRC
Posts: 3,734
✭✭✭✭✭
Everything worked out perfectly for me to attend the Baltimore Coin Show on Thursday afternoon, as I was able to arrange a meeting in Baltimore on Wednesday afternoon, stay overnight in Owings Mills, MD, attend another meeting on Thursday morning, and stop in Baltimore in time for the noon opening on Thursday. Foot traffic was quite heavy and steady and there was a long line to enter at noon. I really didn't have much of an agenda, other than to see some dealer-friends, search for Irish coins and a specific medieval coin, make some submissions to NGC, and do some show grading at PCGS. I will return on Saturday morning for my show grades. Overall, I had a great time.
I was able to see some old friends and acquaintances at the show, including Mr. Eureka, Dave Kahn, local dealers Andy Singer, Terry Hess, Jimmy Long, and others, and I walked the entire floor. Prices looked robust, but in the end, I did not buy a single item.
There was almost no Irish coinage of note at the show, other than, of course, at Del Parker's table, and he always has some high end stuff. So, I struck out there. Last month's Numismatist had an interesting article on the early medieval follis, particularly those of Anastasias, Justin and Justinian I, so I thought I would look for one with nice surfaces (which are incredibly hard to find), but again, I did not see any. I was told that Harlan Berk had some nice ones, so maybe I'll head back on Saturday.
I walked the entire bourse over several hours. On the U.S. front, as stated, prices ranged from robust to downright crazy. There was a fair amount of dreck, but also a lot of nice U.S. coinage, though, to my eye, again, prices were high. Most dealers I spoke with reported very good shows.
I mainly wanted to do some submissions at both NGC and PCGS. As an aside, let me add that the folks at both PCGS and NGC could not have been nicer and more accommodating, even though their traffic was steady and at times had substantial lines. I'm guessing they are getting a lot of flack these days for turnaround times, and I even managed a few gentle jibes on the topic, but both services' reps took it in stride. It is a reminder that at the end of the day these folks are just good people doing their jobs.
In any event, I submitted some GSA CCs to NGC and some better CWTs as well. I was torn on the tokens because I generally prefer PCGS, but the price differential led me to try out NGC. At PCGS, I submitted a tough foreign piece and paid the $150 fee but was told that they might not be able to grade it here because of the lack of World graders at the show. However, if they could not do it here, they advised that they would return it to me in short order, which was fine.
I also submitted some U.S. coins. Bolstered by some former-grader buddies (as opposed to former-buddy graders) who opined that this coin would grade, I submitted it. It is an 1889 $1 and it is shown below. I admit that the toning, particularly the reverse toning, gave me pause. We all pretty much agreed on the details grade. Let me know your opinions on the toning, whether it will grade, and the grade, and I will update you later when I get it. I also submitted a high end 1950 S/D quarter for grading, but I do not have a photo. Here is the dollar:
EDITED TO ADD:
I should also add that I brought a PC 63 1925 $20 in an early rattler with me thinking I might sell it there. I like the coin, but I don't think it is under-graded in its 63 holder, as some/more than some, gold rattlers are. I offered it to one person, who politely declined. On reflection, I may just hold on to it, since it is a rattler, after all. I would also be interested in your opinions on this coin and grade. Here are a few inferior pics of that as well.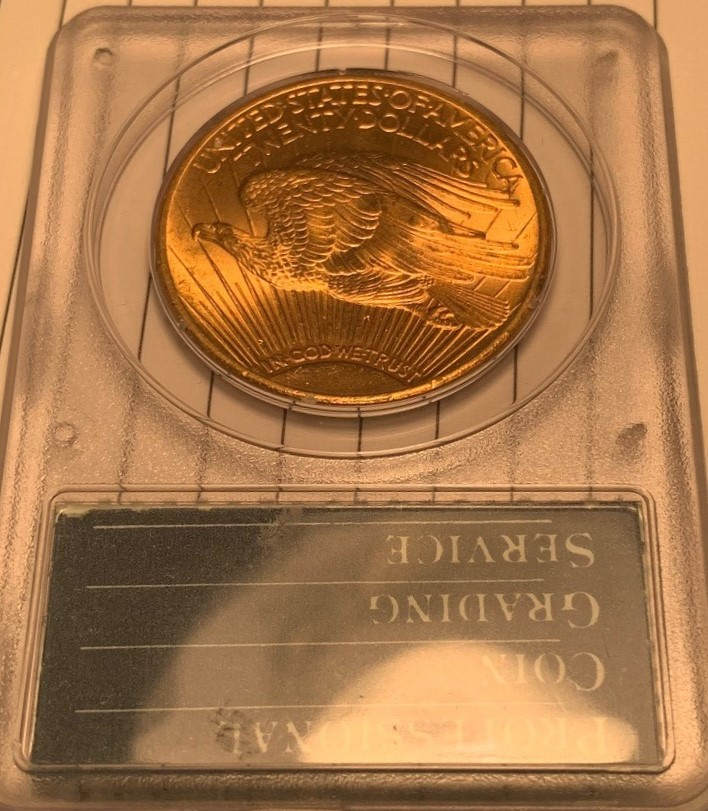 Overall, I had a great show and look forward to returning on Saturday morning.
Leave a Comment